Cocktail-Filled Ice Ball
Original Recipe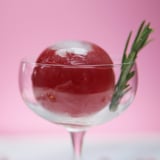 Ingredients
4-ounce spherical ice cube, hollowed out
1 1/2 ounces Smirnoff No. 21 [1] Vodka
1 ounce pomegranate juice
3/4 ounce cherry juice
1/4 ounce lemon juice
Dash simple syrup
Ice
1 sprig rosemary for garnish
Directions
1. Make the ice ball: Fill a spherical ice mold [2] with water and freeze for two-and-a-half hours. Pop out of the mold, carefully drill a hole through the surface, then remove the water from inside with a syringe [3].
2. Make the cocktail: Fill a cocktail shaker with ice and add the vodka, juices, and simple syrup. Shake vigorously, and strain into a lowball glass.
3. Assemble the cocktail: Using the syringe again, carefully fill the ice ball with cocktail. Serve it in a coupe glass, garnished with the rosemary. Crack* (a gentle tap should do it) and drink!
*Use caution when hitting the ice ball, since breaking the glass could result in injury.
Information
Category

Drinks, Cocktails

Cuisine

North American

Yield

1 cocktail

Total Time

9 minutes, 59 seconds