Coffee Ice Cream With Kahlúa Fudge and Maple Coconut Flakes
Instagram user ixta.belfrage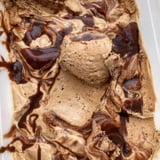 Ingredients
For the Ice Cream:
1 1/2 tablespoons instant coffee powder (not granules)
1 1/2 teaspoons cocoa powder
1 1/2 tablespoons filter coffee grounds
2 tablespoons vanilla bean paste
2 egg whites (use good quality as they will stay raw)
90 milliliters maple syrup
300 milliliters double cream
A good pinch of sea salt
For the Kahlúa Fudge Sauce:
90 grams tahini (mix very well before using, to combine the solids and fat)
40 milliliters maple syrup
1 1/2 teaspoons soy sauce
1 1/2 tablespoons cocoa powder
1/2 teaspoon vanilla bean paste
60 milliliters Kahlúa or another coffee liqueur
For the Coconut Flakes:
80 grams dried coconut flakes
2 1/2 tablespoons maple syrup
1/4 teaspoon flaked sea salt
1 teaspoon filter coffee grounds
A good grind of cracked black pepper
Directions
Using an electric whisk or stand mixer, whip together all of the ice cream ingredients on medium-high speed for 2 1/2 minutes to form medium-soft peaks.
Transfer the smooth mixture to a wide container and smooth the top with a spatula.
Seal the container with a lid or plastic wrap and freeze for 30 minutes.
For the fudge sauce, use an electric whisk or stand mixer to whisk together all the ingredients until they're smooth. Set aside.
Remove the ice cream from the freezer and swirl in two thirds of the fudge sauce to form marbled streaks.
Replace the seal and return the ice cream to the freezer to let it set for two to three hours.
While the ice cream is chilling, preheat the oven to 320° Fahrenheit.
In a medium-size bowl, mix together all the ingredients for the coconut flakes so they are fully coated.
Spread the coconut flakes out on a parchment-lined baking tray and bake for 16 to 18 minutes, or until they are crisp and have turned deeply golden-brown.
Once the ice cream has fully set, serve it with extra fudge sauce and a sprinkle of coconut flakes. Enjoy!
Information
Category

Desserts, Ice cream

Prep Time

2 hours 35 minutes

Cook Time

17 minutes

Total Time

2 hours, 51 minutes, 59 seconds