Homemade Sourdough Pop-Tarts
Adapted from Little Spoon Farm [1]
Notes
If you use salted butter instead of unsalted butter, use less salt than the recipe calls for (like a pinch).
You can use whatever filling you like, from blueberry or strawberry jam to Nutella.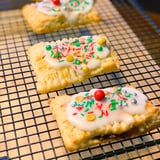 Ingredients
Crust
1 cup all-purpose flour
8 tablespoons unsalted butter (cold)
1/2 teaspoon fine sea salt
2 tablespoons granulated sugar
1/2 cup (125 g) sourdough discard
1 teaspoon white vinegar
Filling
1/4 cup brown sugar
1 teaspoon ground cinnamon
1/2 tablespoon flour
1 egg lightly beaten
Glaze
1/2 cup powdered sugar
1 teaspoon water
Sprinkles (optional)
Directions
To Make the Crust:
Whisk together the flour, sugar, and salt. Carefully (watch those fingers) and quickly use a cheese grater to grate the cold butter into the flour mixture — as anyone who's watched The Great British Bake Off knows, you gotta keep that butter cold. Cut the butter into the flour using a pastry cutter (or bench scraper) until you have large crumbles.
Add the sourdough starter discard and vinegar, using a fork to combine the dough (remember, you're trying to avoid melting the butter). If it's too dry and crumbly, add a teaspoon of ice water at a time until it's cohesive, but be careful not to overdo it. Shape the dough into a rectangular shape.
Wrap the dough in plastic wrap, then use a rolling pin to flatten it a little and give it a nice smooth shape. Chill it in the fridge for at least one hour but up to 24 hours if you want to prep it early!
To Assemble:
Preheat your oven to 350°F, and line a baking sheet with parchment paper.
Lightly flour your surface, then roll the dough into a rectangle, with around a 1/8-inch thickness. Cut the dough into 4 strips, and brush all around the edges with the egg wash.
Mix together the brown sugar, ground cinnamon, and flour for the filling.
Add a heaping spoonful of filling to one side of each rectangle, and fold the dough over itself. Use a fork to press and seal the edges. Brush the egg wash on top of each pop tart.
Place the pop tarts onto the baking sheet, and bake for 20-25 minutes (watch for a golden brown crust). Transfer to a cooling rack to glaze.
To Glaze:
Whisk the powdered sugar and water together until it's smooth and spreadable (you may need to add a little extra water). Spoon onto each pop tart while it's still warm, and sprinkle with coarse sugar or sprinkles.
Information
Category

Desserts, Pies/Tarts

Yield

4-5 pop-tarts

Total Time

24 minutes, 59 seconds