Homemade Brown Sugar Cinnamon Pop-Tarts
These Homemade Pop-Tarts Earned a "That Was the Best Thing I've Ever Eaten" Review
Like so many others, I jumped on the sourdough bread train of 2020, and as anyone who has kept up the hobby knows (except for the monsters who throw it away . . . you know who you are), the real struggle is finding a creative way to use your sourdough starter discard.
Although I haven't gone as far as using my sourdough starter discard as a face mask, I have made some really delicious recipes, from soft pretzels to pancakes to tortillas. (I've also had some fails; my sourdough chocolate chip cookies weren't my best work.) Now I'm adding these homemade sourdough pop-tarts to my repertoire, because they are so. damn. good. No seriously, my sister-in-law immediately texted me "that was the best thing I've ever eaten" after I gave her one. And I am far from a professional baker here, folks!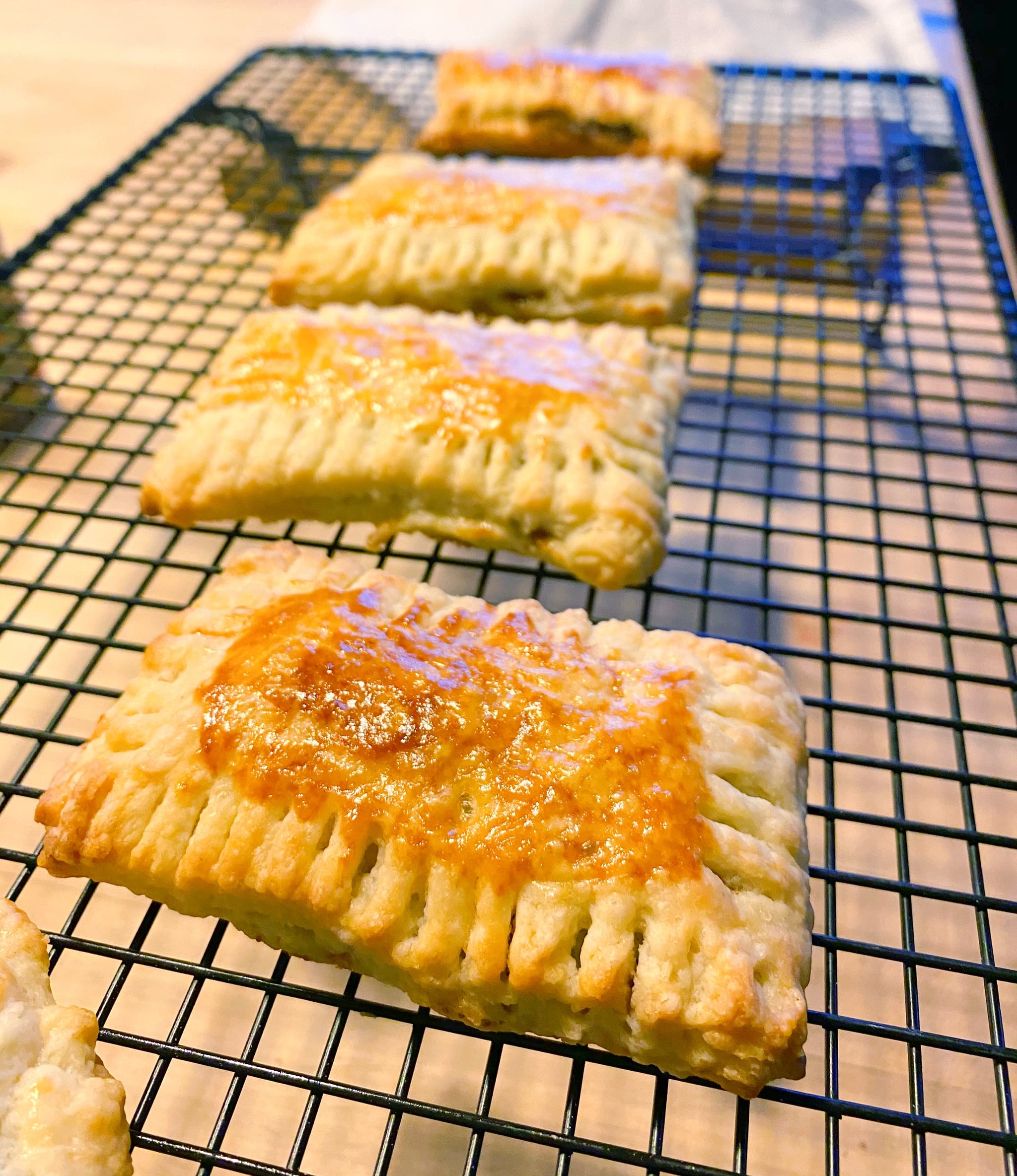 First, let's get something straight. These homemade pop-tarts do not taste like sourdough bread. The sourdough starter discard doesn't have that signature sour taste (especially after it's sat in my fridge for a week or so), so we're talking sweet, buttery pastry here. The crust is similar to a pie crust, so they are kind of reminiscent of a Toaster Strudel or a hand pie.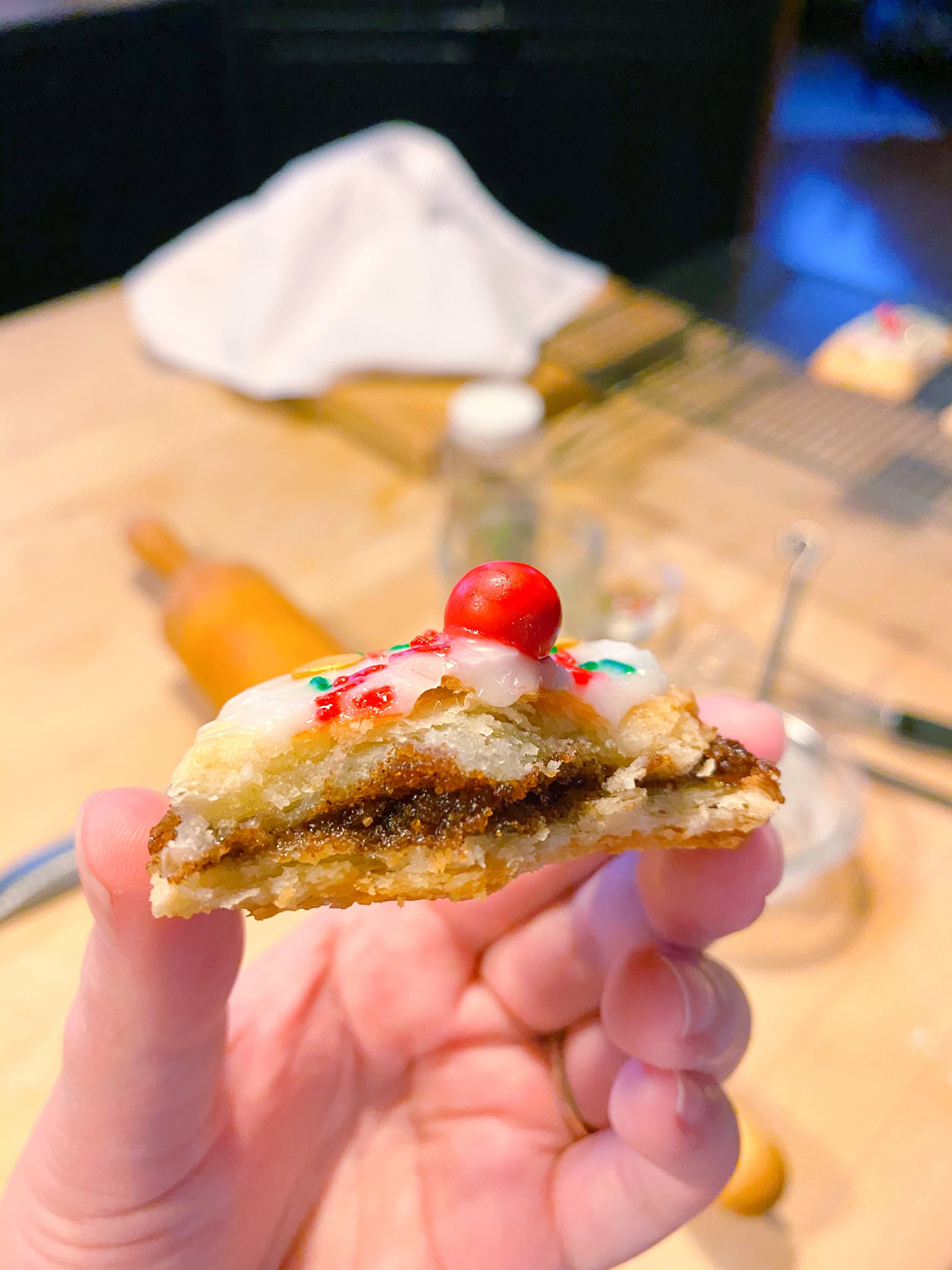 While you can use any filling (i.e. strawberry or blueberry jam, Nutella, etc.), I went with brown sugar cinnamon because it's my favorite Pop-Tart flavor. Don't skimp on the filling, and if a little oozes out, who cares, they'll be devoured in minutes anyways. I topped mine with icing and sprinkles (these Christmas-themed ones are from Fancy Sprinkles), but feel free to use the topping of your choice. Get the recipe, ahead!
Notes
If you use salted butter instead of unsalted butter, use less salt than the recipe calls for (like a pinch).
You can use whatever filling you like, from blueberry or strawberry jam to Nutella.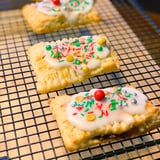 Ingredients
Crust
1 cup all-purpose flour
8 tablespoons unsalted butter (cold)
1/2 teaspoon fine sea salt
2 tablespoons granulated sugar
1/2 cup (125 g) sourdough discard
1 teaspoon white vinegar
Filling
1/4 cup brown sugar
1 teaspoon ground cinnamon
1/2 tablespoon flour
1 egg lightly beaten
Glaze
1/2 cup powdered sugar
1 teaspoon water
Sprinkles (optional)
Directions
To Make the Crust:
Whisk together the flour, sugar, and salt. Carefully (watch those fingers) and quickly use a cheese grater to grate the cold butter into the flour mixture — as anyone who's watched The Great British Bake Off knows, you gotta keep that butter cold. Cut the butter into the flour using a pastry cutter (or bench scraper) until you have large crumbles.
Add the sourdough starter discard and vinegar, using a fork to combine the dough (remember, you're trying to avoid melting the butter). If it's too dry and crumbly, add a teaspoon of ice water at a time until it's cohesive, but be careful not to overdo it. Shape the dough into a rectangular shape.
Wrap the dough in plastic wrap, then use a rolling pin to flatten it a little and give it a nice smooth shape. Chill it in the fridge for at least one hour but up to 24 hours if you want to prep it early!
To Assemble:
Preheat your oven to 350°F, and line a baking sheet with parchment paper.
Lightly flour your surface, then roll the dough into a rectangle, with around a 1/8-inch thickness. Cut the dough into 4 strips, and brush all around the edges with the egg wash.
Mix together the brown sugar, ground cinnamon, and flour for the filling.
Add a heaping spoonful of filling to one side of each rectangle, and fold the dough over itself. Use a fork to press and seal the edges. Brush the egg wash on top of each pop tart.
Place the pop tarts onto the baking sheet, and bake for 20-25 minutes (watch for a golden brown crust). Transfer to a cooling rack to glaze.
To Glaze:
Whisk the powdered sugar and water together until it's smooth and spreadable (you may need to add a little extra water). Spoon onto each pop tart while it's still warm, and sprinkle with coarse sugar or sprinkles.
Information
Category

Desserts, Pies/Tarts

Yield

4-5 pop-tarts

Total Time

24 minutes, 59 seconds
Image Source: POPSUGAR Photography / Tara Block