Copycat Starbucks Pistachio Latte
Six Clever Sisters
Notes
This recipe makes two lattes, so I cut it in half. I don't have an espresso machine, so I used 1/4 cup of black coffee instead and it was perfect!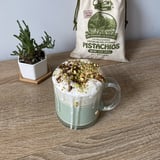 Ingredients
2-4 shots espresso, or 1/2 cup strong black coffee
1 1/2 cups milk
1 tbsp butter
1 tsp pistachio flavoring
2 tbsp sugar or sweetener of choice (I used white sugar)
1/2 tbsp brown sugar
Optional: 1-2 drops green food coloring, whipped cream, and crushed pistachios
Directions
Heat the butter in a small saucepan over medium heat, stirring constantly until the butter is browned. Watch closely - once it starts to brown, it browns very quickly! Once all of the butter has turned brown, pour it out of the saucepan and into a small bowl. Removing it from the saucepan ensures that it won't burn.
Heat the milk in microwave until it's hot but not boiling. If you have a milk steamer, steam the milk instead. You can also froth it for an extra foamy latte. After the milk is heated, stir in the pistachio flavor, half of the browned butter, and white sugar. Stir until well blended.
Divide the milk mixture into two cups and pour the espresso or coffee over the top, dividing it equally between the two cups.
In a small bowl, combine the remaining browned butter and brown sugar to make the brown butter cookie topping. If you're using whipped cream, divide it evenly between the two lattes.
Top the lattes with the brown butter cookie topping and optional crushed pistachios. Enjoy!
Information
Category

Drinks

Yield

2 lattes

Total Time

9 minutes, 59 seconds