Starbucks Pistachio Latte Recipe and Photos
This Copycat Starbucks Pistachio Latte Is Twice as Insta-Worthy as the Original (and Just as Good)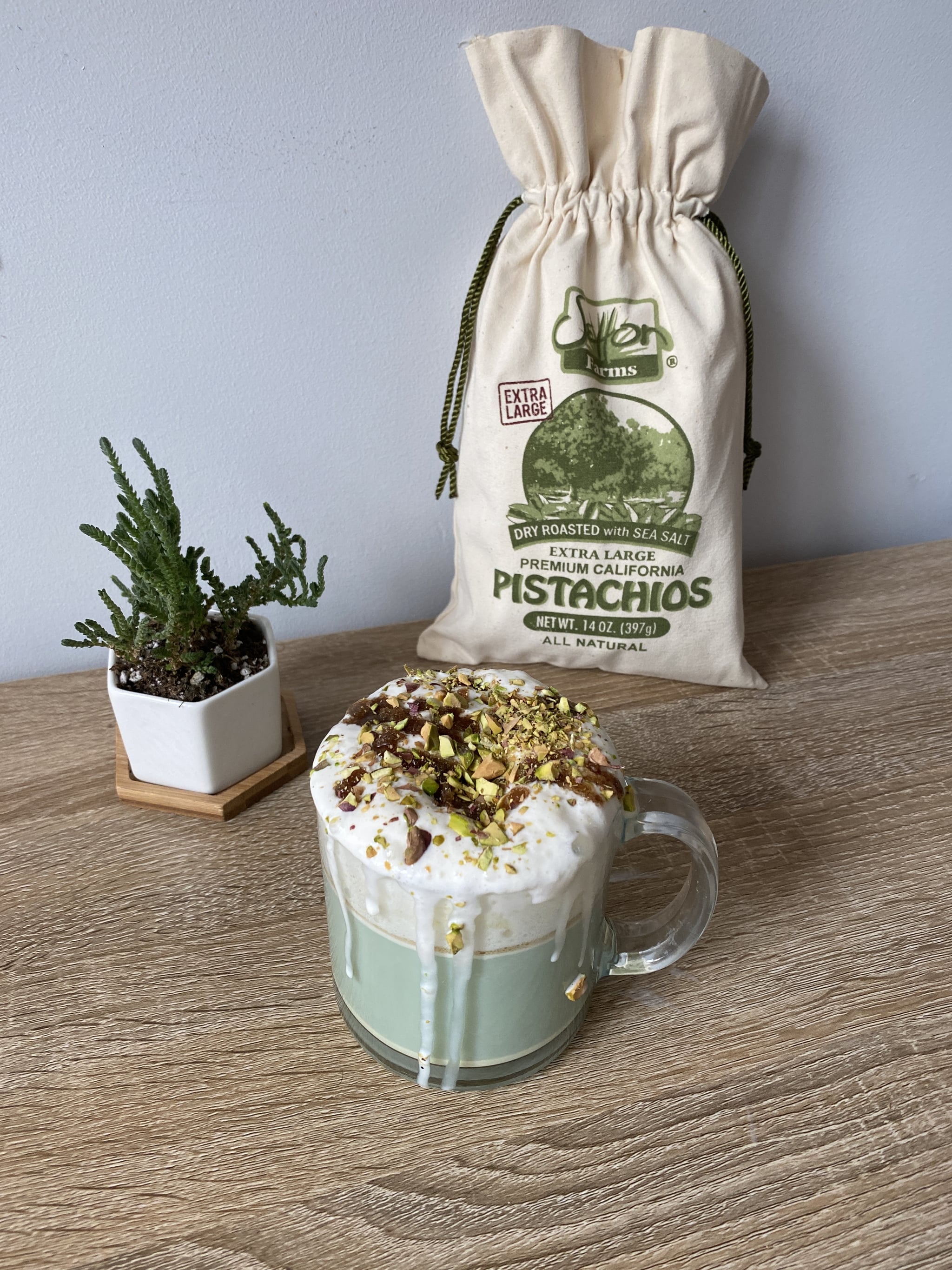 I love trying the new drinks that Starbucks comes up with. I also love anything pistachio-flavored, so the coffee chain's new Pistachio Latte is right up my alley. And as much as I want to walk down that alley every day, a girl has her budget to think about, so I resolved to try and make this latte myself. I worried it would be a tricky drink to replicate as the flavors aren't as familiar as your standard caramel or chocolate, and the Salted Brown Butter Cookie Flavored Topping is as unique as it is delicious.
Thankfully, a quick search brought me to a copycat recipe that was fairly easy and only required one ingredient that wasn't already in my pantry: pistachio extract! You can buy it on Amazon for around $10 (I went with the one that the recipe suggested). I love pistachio flavor and definitely plan to make more of these lattes, so I thought it was a worthwhile investment. I also love that buying the extract lets you control the amount of sugar in your latte, since the extract provides all the pistachio flavor.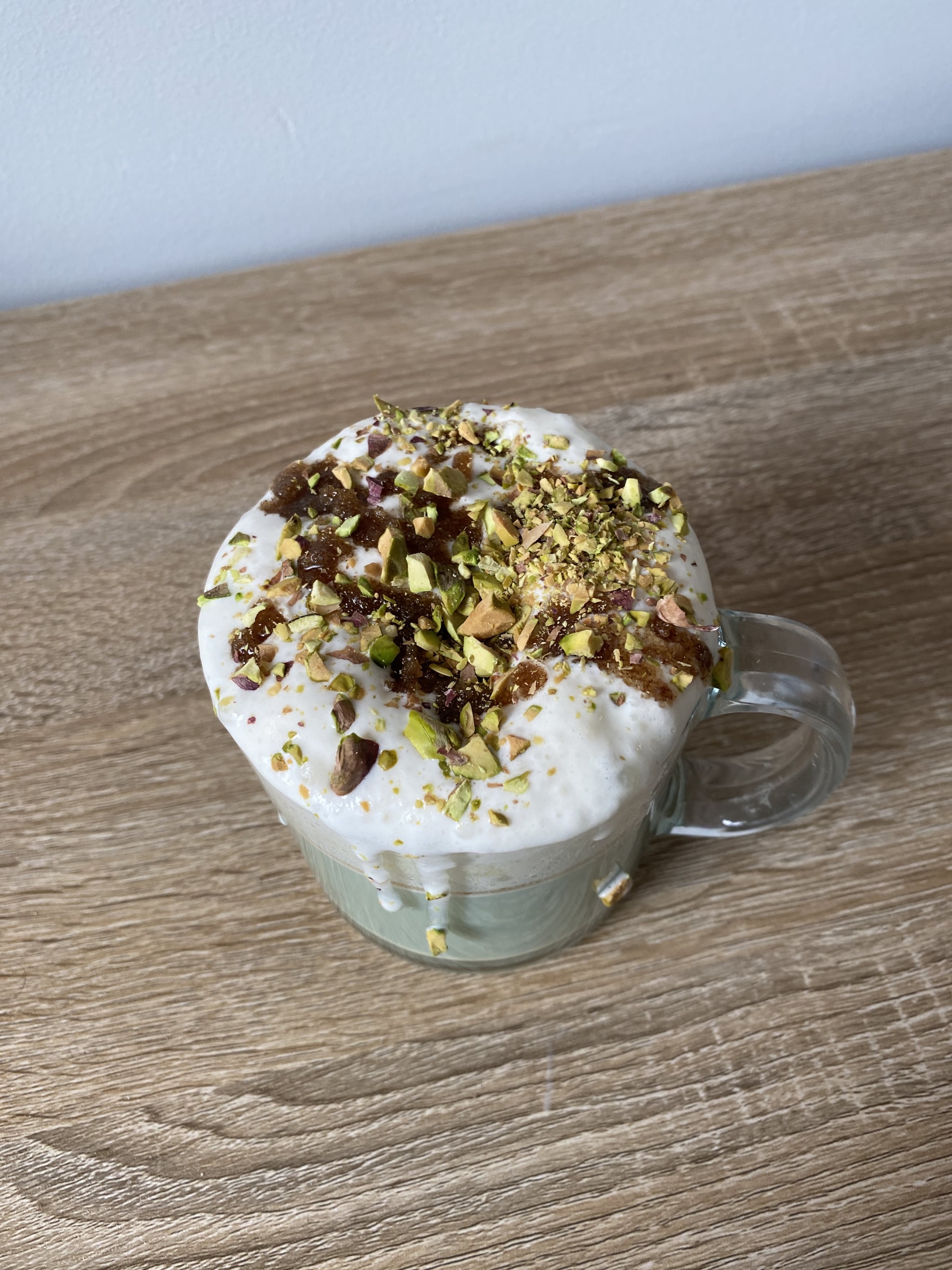 This latte is a little more labor-intensive than strolling up to your local Starbucks, but if you have 10 extra minutes between Zoom calls or want to treat yourself on a weekend, I promise it's worth it. Personally, I love knowing exactly what's in the food that I'm putting in my body, so homemade lattes are my favorite way to healthily indulge. I also savored this latte a lot more because I knew I'd made it myself. The brown butter cookie topping isn't an exact Starbucks replica, but it still adds delicious flavor and depth to the latte. Just be careful when making the brown butter: it browns very quickly since there's only a tablespoon of it. Your end result should take less than five minutes and look something like this (you can also find a video tutorial here).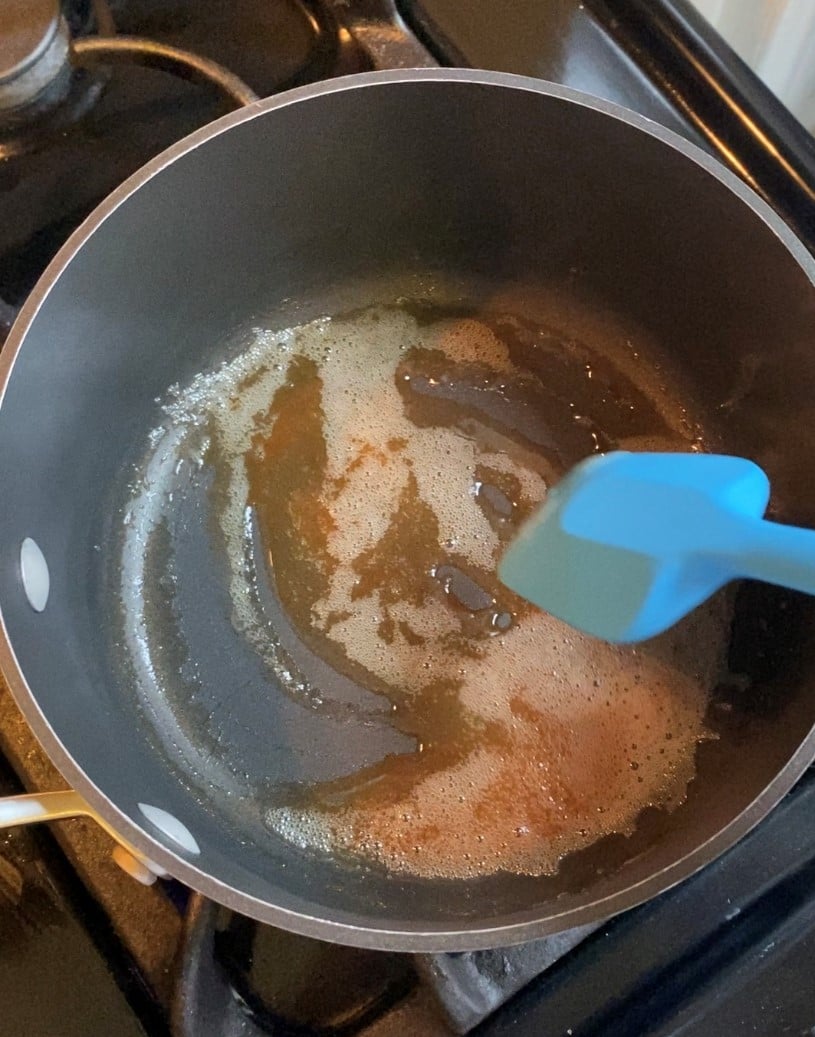 In addition to the brown butter cookie topping, I added whipped cream and my favorite pistachios from Setton Farms, just because I was feeling fancy. And by feeling fancy, I mean I devoured the whipped cream, brown butter, and pistachios with a spoon before even trying the latte! You can certainly skip the whipped cream and crushed pistachios, but I recommend them both for the flavor and honestly, for the 'gram. Besides, as you can tell by the photo below, the pistachios make a major aesthetic difference! I also highly recommend green food coloring if you're going for that pistachio look — 1-2 drops is perfect for giving this that pastel green color.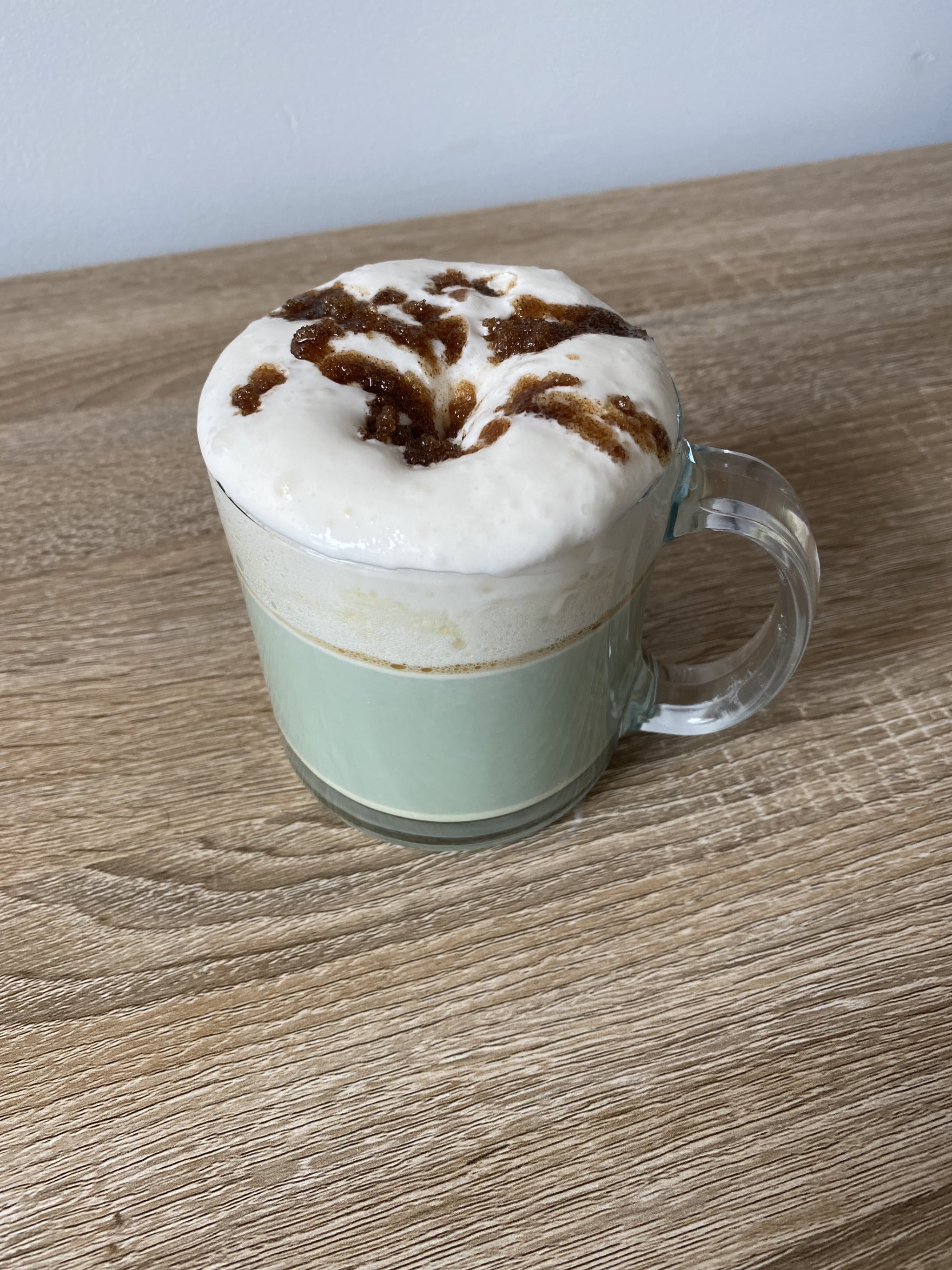 Copycat Starbucks Pistachio Latte
Six Clever Sisters
Notes
This recipe makes two lattes, so I cut it in half. I don't have an espresso machine, so I used 1/4 cup of black coffee instead and it was perfect!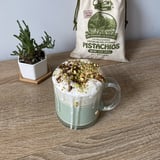 Ingredients
2-4 shots espresso, or 1/2 cup strong black coffee
1 1/2 cups milk
1 tbsp butter
1 tsp pistachio flavoring
2 tbsp sugar or sweetener of choice (I used white sugar)
1/2 tbsp brown sugar
Optional: 1-2 drops green food coloring, whipped cream, and crushed pistachios
Directions
Heat the butter in a small saucepan over medium heat, stirring constantly until the butter is browned. Watch closely - once it starts to brown, it browns very quickly! Once all of the butter has turned brown, pour it out of the saucepan and into a small bowl. Removing it from the saucepan ensures that it won't burn.
Heat the milk in microwave until it's hot but not boiling. If you have a milk steamer, steam the milk instead. You can also froth it for an extra foamy latte. After the milk is heated, stir in the pistachio flavor, half of the browned butter, and white sugar. Stir until well blended.
Divide the milk mixture into two cups and pour the espresso or coffee over the top, dividing it equally between the two cups.
In a small bowl, combine the remaining browned butter and brown sugar to make the brown butter cookie topping. If you're using whipped cream, divide it evenly between the two lattes.
Top the lattes with the brown butter cookie topping and optional crushed pistachios. Enjoy!
Information
Category

Drinks

Yield

2 lattes

Total Time

9 minutes, 59 seconds
Image Source: POPSUGAR Photography / Kaley Rohlinger