Everything Bagel Rolls
TikTok user @bakedbymelissa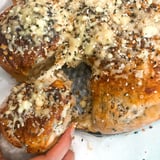 Ingredients
For the dough:
1 cup milk, warm (105°F-110°F)
1 packet dry instant yeast
2 large eggs
6 tablespoons butter, melted
4 cups AP flour
For the spread:
1 8-oz. packet cream cheese
2 tablespoons butter, softened
1 teaspoon garlic, grated
3-4 tablespoons everything bagel seasoning
1 cup mozzarella cheese, shredded
For the topping:
Everything bagel seasoning
Mozzarella cheese, shredded
Directions
In a large bowl, combine warm milk, yeast, eggs, and butter.
Start incorporating the flour into the milk and yeast mixture with a wooden spoon, then finish mixing the ingredients with a dough hook until it comes together into a smooth dough.
Let the dough rest.
Heat the oven to 350°F, and line a square or circular baking pan with parchment paper.
While the dough is resting, combine the cream cheese, butter, garlic, everything bagel seasoning, and mozzarella in a large bowl. Set aside.
On a floured surface, roll the dough out into a 3/4-inch thickness in the shape of a rectangle.
Spread the cream cheese in an even layer across the surface of the dough, then sprinkle additional bagel seasoning and shredded mozzarella on top.
Starting from one short end of the dough, gently roll the dough onto itself until it is in the shape of a thick log.
Slice the log into 8 equal pieces.
Add a few dollops of butter and everything bagel seasoning to the bottom of the baking pan, then place the cream cheese rolls on top.
Sprinkle additional bagel seasoning and mozzarella cheese on top, then place the rolls in the oven.
Bake for 25 minutes or until the rolls are golden brown.
Remove the rolls from the pan, and pull them apart to enjoy.
Information
Category

Breakfast/Brunch

Cuisine

North American

Yield

9 Rolls

Prep Time

25 minutes

Cook Time

25 minutes

Total Time

49 minutes, 59 seconds