Vegan Puerto Rican Coquito
original recipe
Notes
-To make one flax egg, combine 1 tablespoon of ground flaxseed with 2 ½ tablespoons of water. Allow to sit for five minutes.
-Be sure to buy cream of coconut, not coconut cream. If cream of coconut is not available, you can use coconut cream, but it will likely be unsweetened, so you may want to add more sugar to your liking.
-To keep the coconut fats from clumping up too much as the coquito sits, make sure to shake the container of coquito vigorously at least once a day until it's gone.
-Coquito tastes best when it sits for at least 24 hours and can lasts for weeks in the refrigerator.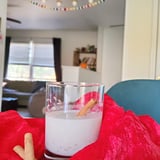 Ingredients
2 Cans cream of coconut
1 Can unsweetened coconut milk
1/2 Cup granulated sugar
7 Ounces condensed coconut milk
7 Ounces unsweetened, plain almond milk
2 Cups white rum
2 Flax eggs (optional)
Ground cinnamon
Cinnamon sticks
Bottles, jars or pitchers with lids for storing
Directions
1. Fill a large bowl or pan with very hot water and submerge the unopened cans of coconut milk, condensed coconut milk, and cream of coconut in the water. Allow to sit for 10 minutes. This will melt down any coconut fat that has solidified, making it much easier to mix later on.
2. If you prefer the thicker consistency of coquito made with eggs, you can replace them with flax eggs. See recipe notes for instructions. Once your flax eggs are prepared, use a whisk to thoroughly combine them with the sugar in a large mixing bowl.
3. Next, add all of the coconut products and the almond milk to the bowl and whisk until everything is incorporated. Add ground cinnamon to taste. I use about two teaspoons here, but you can start with less or more.
4. Add 1 ¼ cup of white rum.
5. Give it a taste! Add more cinnamon and/or rum to your liking.
6. Add one cinnamon stick to each bottle, jar, or pitcher that you will be storing your coquito in. Then, using a funnel and a ladle, pour coquito into containers.
7. Seal containers with appropriate caps or lids.
8. Refrigerate for at least 24 hours. Enjoy and share with your friends and family!
Information
Yield

18 servings

Total Time

19 minutes, 59 seconds