Sushi Waffles
Inspired by TikTok
Notes
If you plan to use raw fish, make sure it's labeled as sushi grade.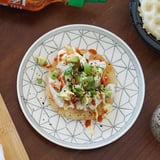 Ingredients
1/2 cup steamed white rice (or more for larger waffle irons)
1/4 teaspoon sesame oil
2 tablespoons shredded crab, fish, or your favorite sushi filling
2 tablespoons diced cucumber
2 tablespoons chopped avocado
1 tablespoon scallions
Furikake and sesame seeds for garnishing
Sriracha and mayonnaise, to taste
Soy sauce, to taste
Directions
Chop cucumber, scallions, and avocado, and set aside.
Measure out a half cup of steamed white rice, and mix with sesame oil.
Roll rice into a tight ball, and press into greased waffle iron.
Let waffle iron run for one cycle or until the rice reaches your desired level of crispiness.
Top waffle with crab, cucumber, avocado, and scallions.
Drizzle on sriracha and mayonnaise, then garnish with furikake seasoning and sesame seeds.
Shake on some soy sauce, and enjoy!
Information
Category

Rice, Main Dishes

Yield

1 serving

Prep Time

10 minutes

Cook Time

15 minutes

Total Time

24 minutes, 59 seconds