I Tried TikTok's Sushi Waffles; Here's How to Make Them
TikTok's Viral Sushi Waffles Are Surprisingly Simple — and Totally Delicious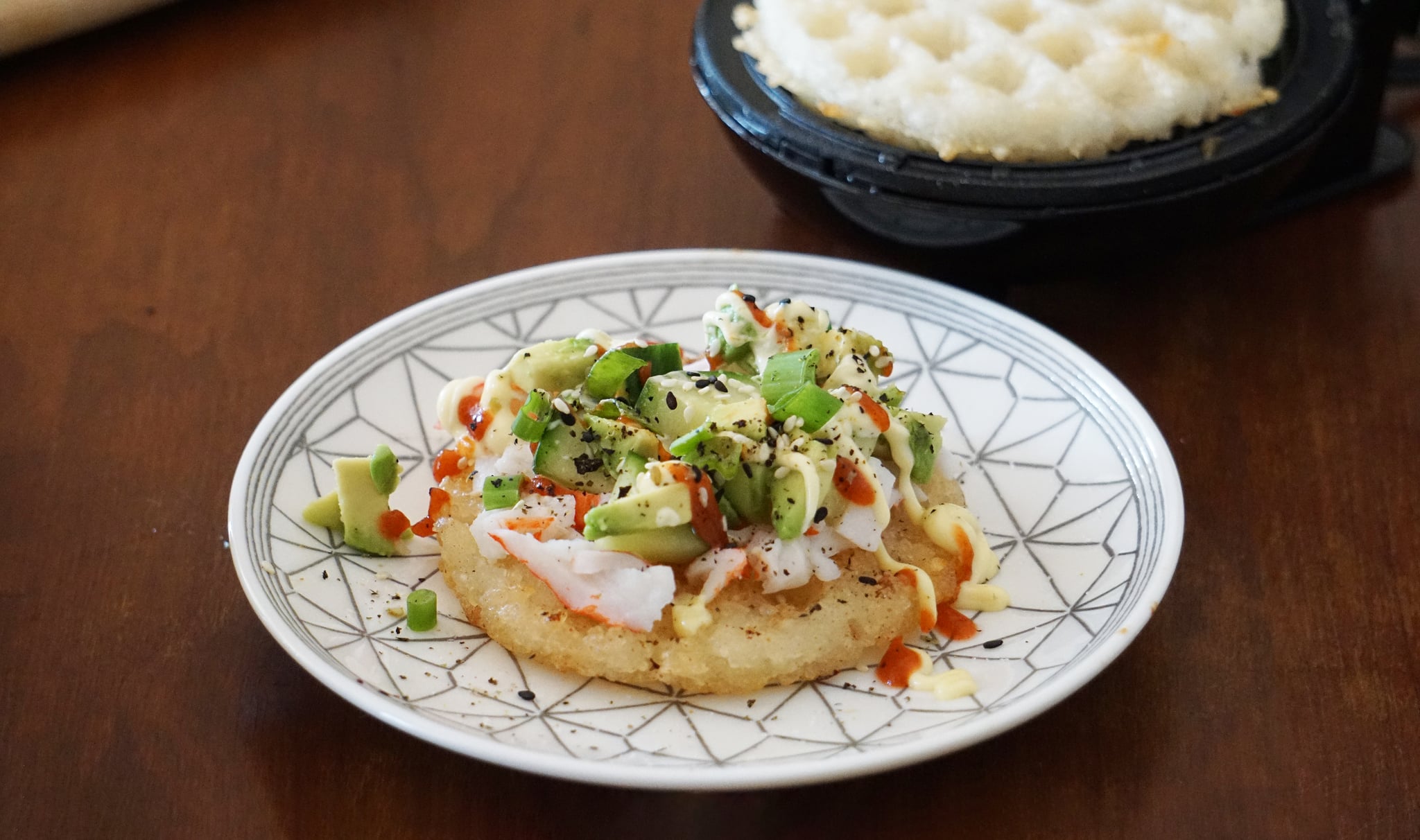 It may have the word "waffle" right in the name, but in my house, the waffle iron is hardly ever used to make the breakfast classic it's intended for. Instead, thanks to TikTok, it sits on my counter ready to go whenever I want to quickly whip up some cinnamon rolls, hash browns, or even just an extra-crispy grilled cheese. Sushi though? You probably wouldn't expect a waffle iron to come in handy, but as it turns out, it's a pretty good shortcut to making the crispy-rice variety of sushi.
A modern creation popularized by Japanese seafood restaurant Nobu, crispy-rice sushi is similar to nigiri, except the rice is fried to a crisp and the sashimi is chopped up instead of sliced. Other common sushi ingredients like avocado, scallion, cucumber, and sriracha mayo are also layered on top. Sushi waffles, as TikTok has dubbed them, are made following the exact same formula. Rather than pan frying the rice, however, you just stick it in a greased waffle iron without having to deal with any of the flipping and oil splattering. What results is a patty of crispy rice, which is actually a Korean dish called nurungji.
Crispy rice made in a waffle iron (or nurungji, if you prefer) offers plenty of surface area to work with, and that means you can pile on as many different sushi toppings as you please. Just make sure you really pack the rice into the waffle iron so it doesn't fall apart when you take it out and add your toppings. For best results, I'd recommend mixing either a splash of sushi vinegar or sesame oil into your rice prior to adding it to the iron so it becomes almost gluey. Plenty of TikTokers have skipped this step with no issue, but it ensures you end up with a fully intact waffle — plus, the bit of extra flavor goes a long way.
If you are a fan of sushi and already have a waffle iron on hand, there's no reason not to try out this recipe. It might not be an exact replica of Nobu's, but it definitely hits the spot and is simple enough to pull together. To learn the steps to make this sushi nurungji hybrid, read on for all the details.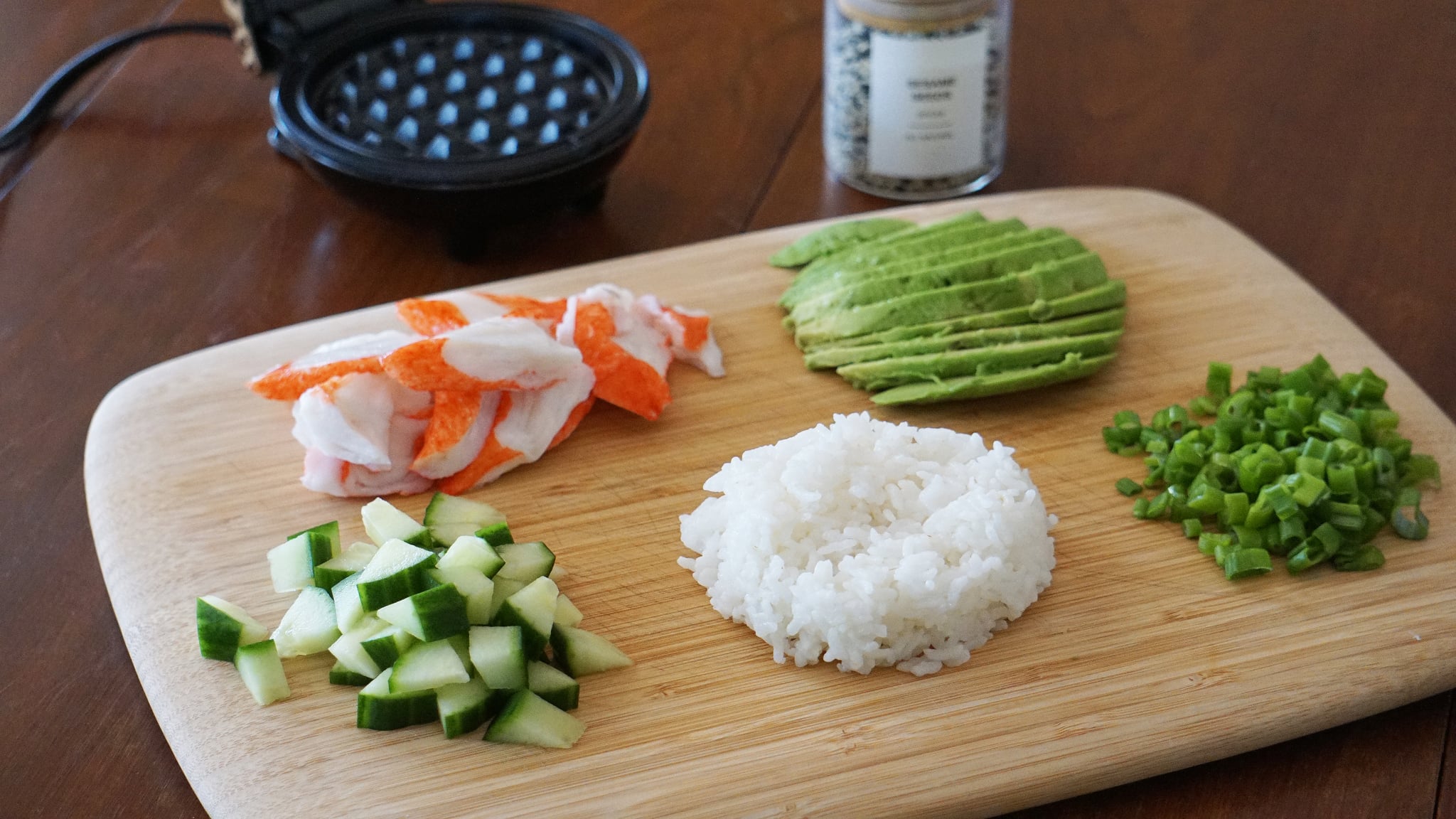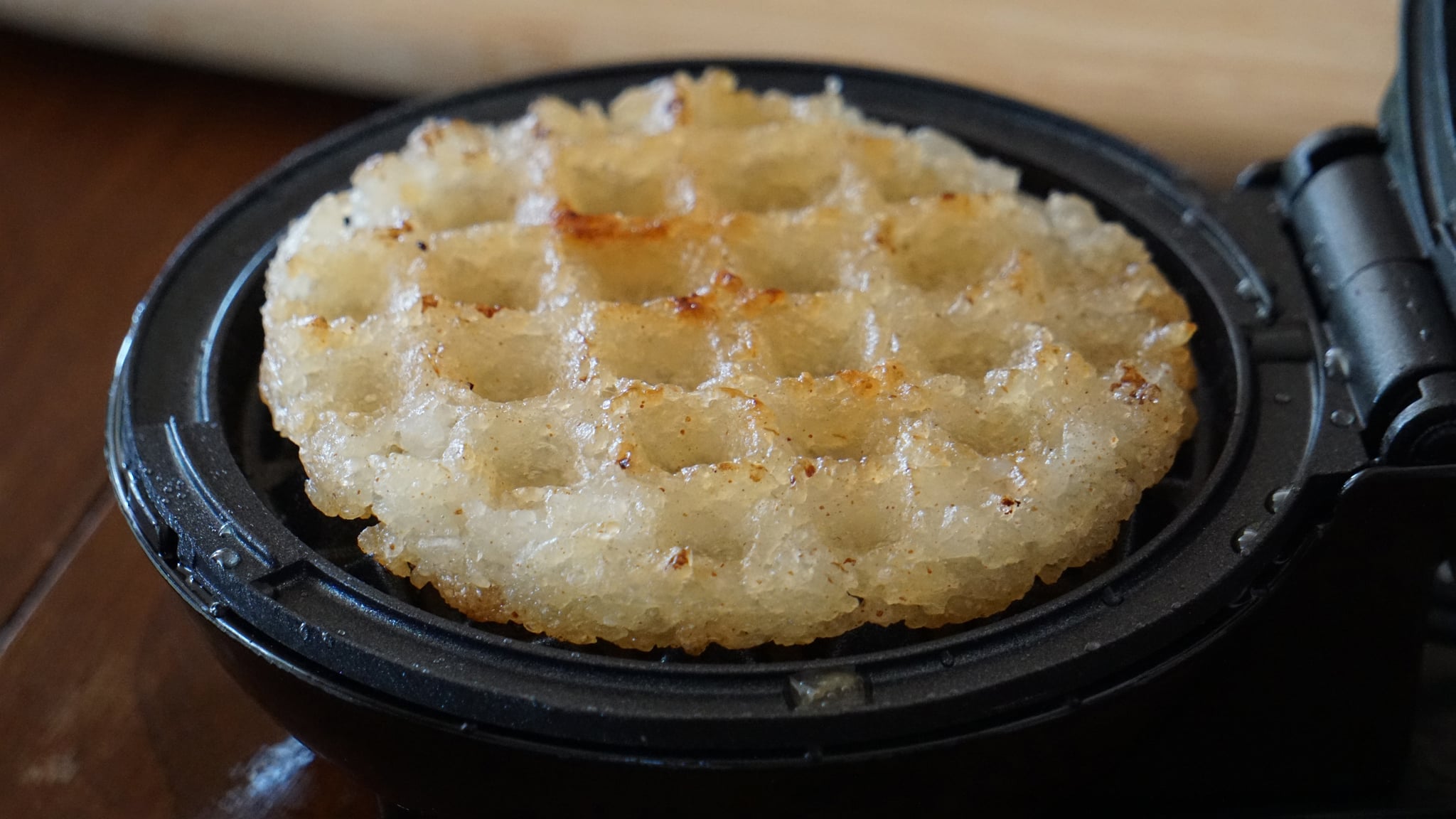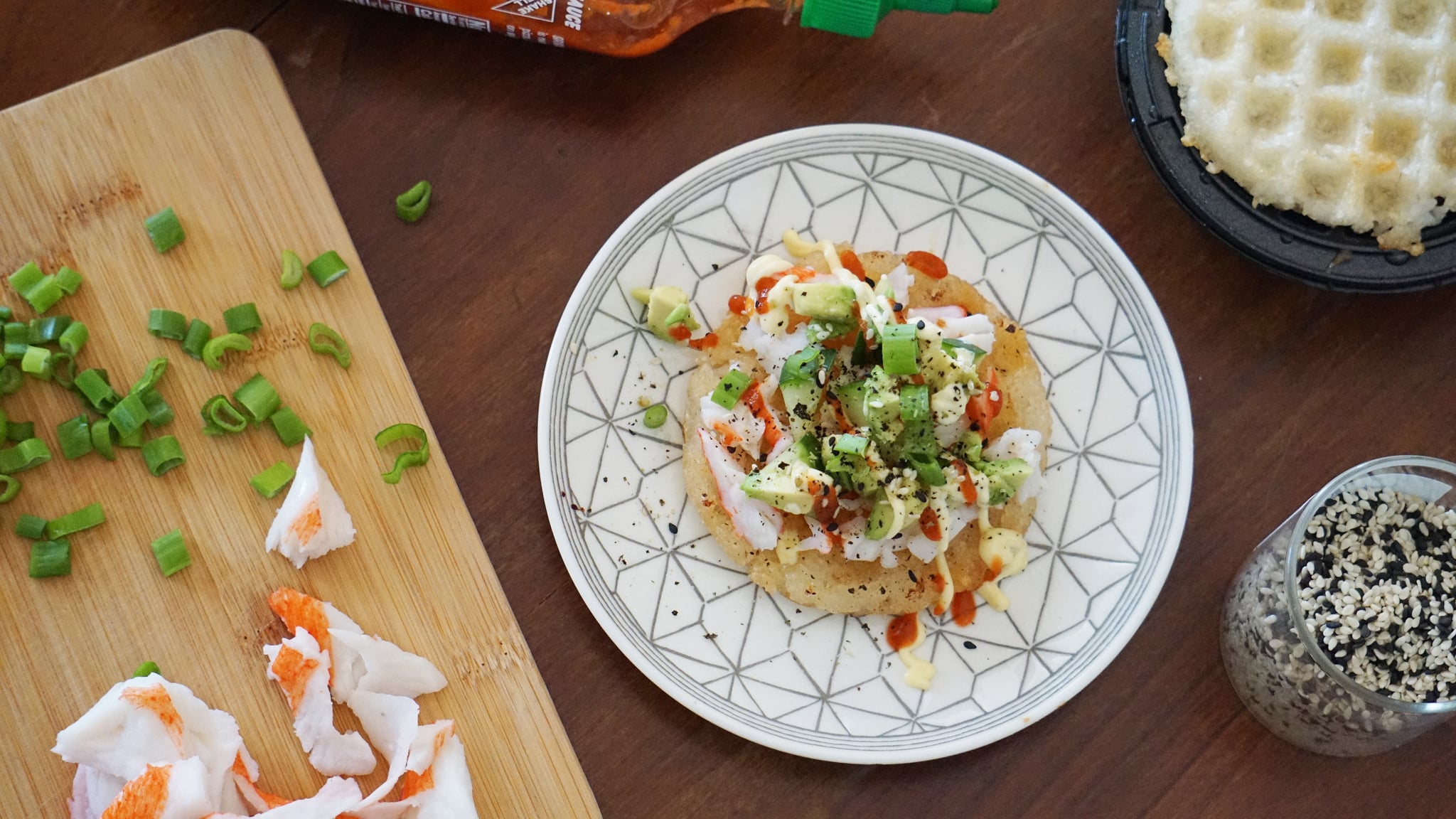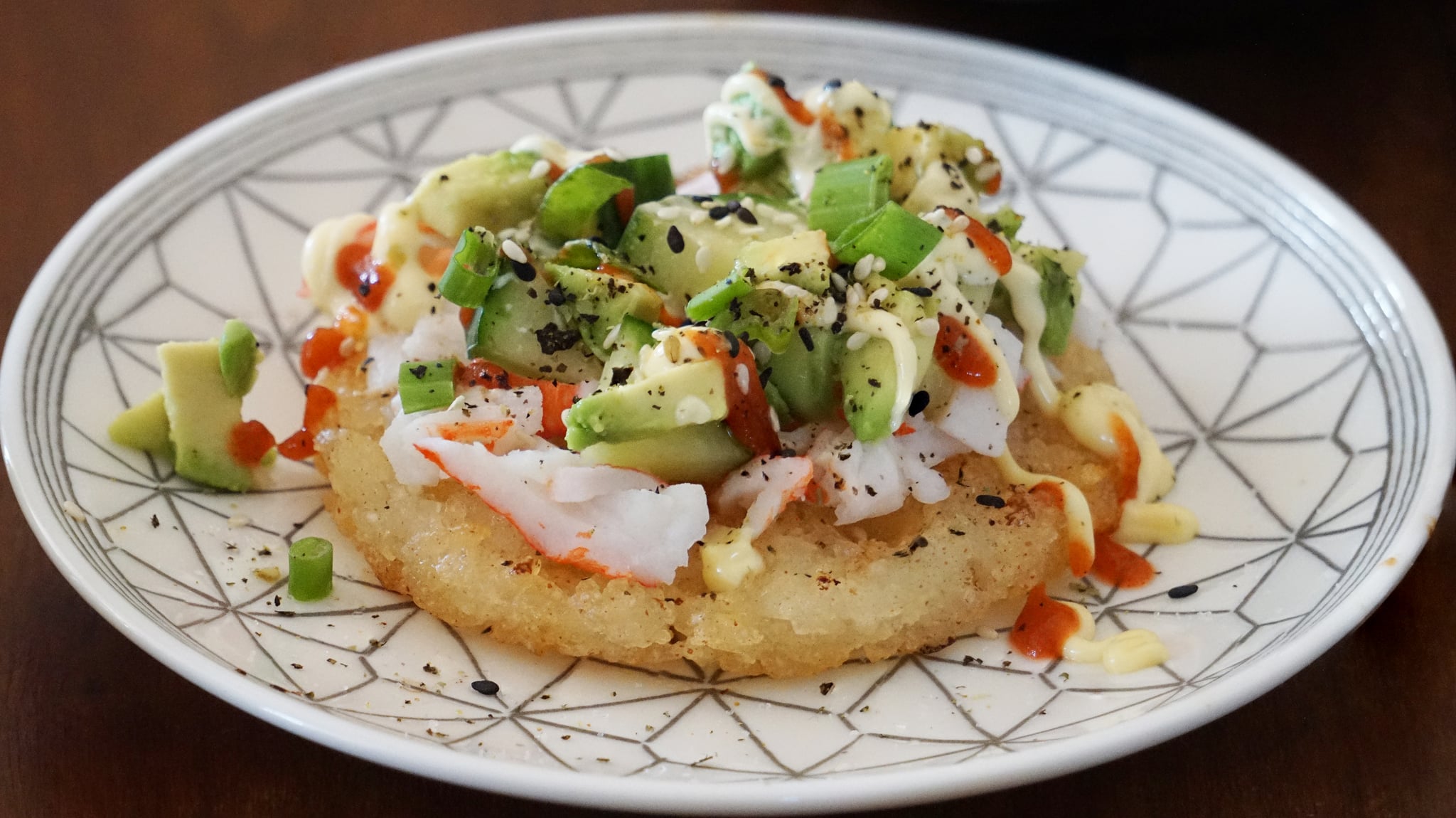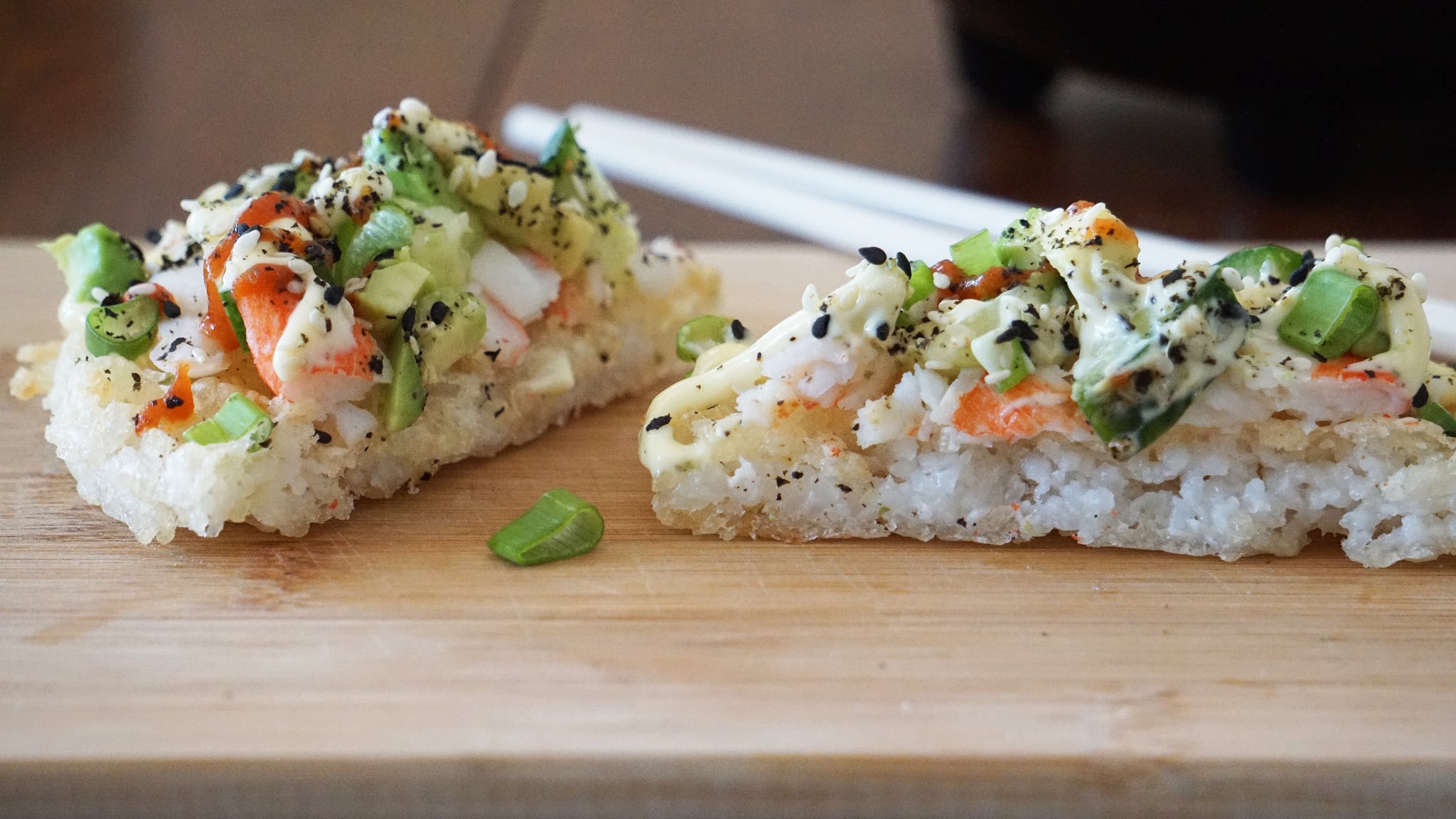 Sushi Waffles
Inspired by TikTok
Notes
If you plan to use raw fish, make sure it's labeled as sushi grade.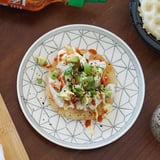 Ingredients
1/2 cup steamed white rice (or more for larger waffle irons)
1/4 teaspoon sesame oil
2 tablespoons shredded crab, fish, or your favorite sushi filling
2 tablespoons diced cucumber
2 tablespoons chopped avocado
1 tablespoon scallions
Furikake and sesame seeds for garnishing
Sriracha and mayonnaise, to taste
Soy sauce, to taste
Directions
Chop cucumber, scallions, and avocado, and set aside.
Measure out a half cup of steamed white rice, and mix with sesame oil.
Roll rice into a tight ball, and press into greased waffle iron.
Let waffle iron run for one cycle or until the rice reaches your desired level of crispiness.
Top waffle with crab, cucumber, avocado, and scallions.
Drizzle on sriracha and mayonnaise, then garnish with furikake seasoning and sesame seeds.
Shake on some soy sauce, and enjoy!
Information
Category

Rice, Main Dishes

Yield

1 serving

Prep Time

10 minutes

Cook Time

15 minutes

Total Time

24 minutes, 59 seconds
Image Source: POPSUGAR Photography / Kalea Martin