You're spending a lot on your wedding [1], so one of the easiest places to save some money is with your favors [2]. Check out these cute, useful, and cheap favor ideas — don't worry, your guests will love them [3] and they'll still feel personalized and unique. Some are edible, some are DIY [4], and some are just unexpectedly fun. The one thing they have in common is that they are super affordable. In fact, they're all under $1. It doesn't get much better than that! Check out the best wedding [5] favor ideas that won't break your budget ahead.
— Additional reporting by Haley Lyndes
Personalized Tic Tacs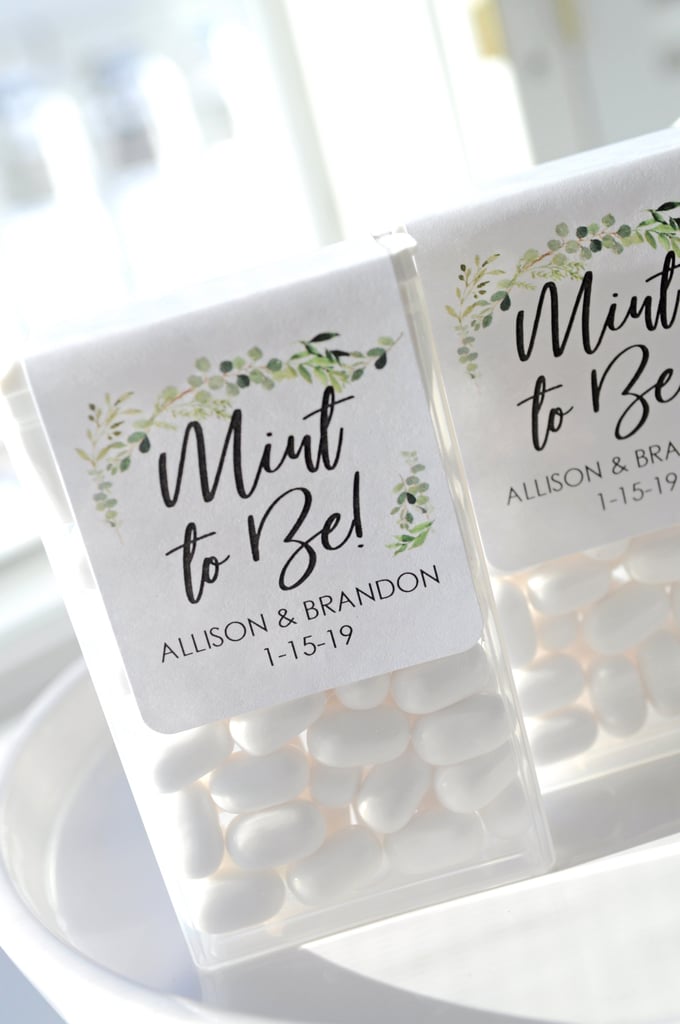 You can't go wrong with good breath! Give regular Tic Tac Mints [7] ($23 for 24) a fancy upgrade with personalized stickers like these darling Mint to Be Tic Tac Labels [8] ($10 for 24).
DIY Candy Buffet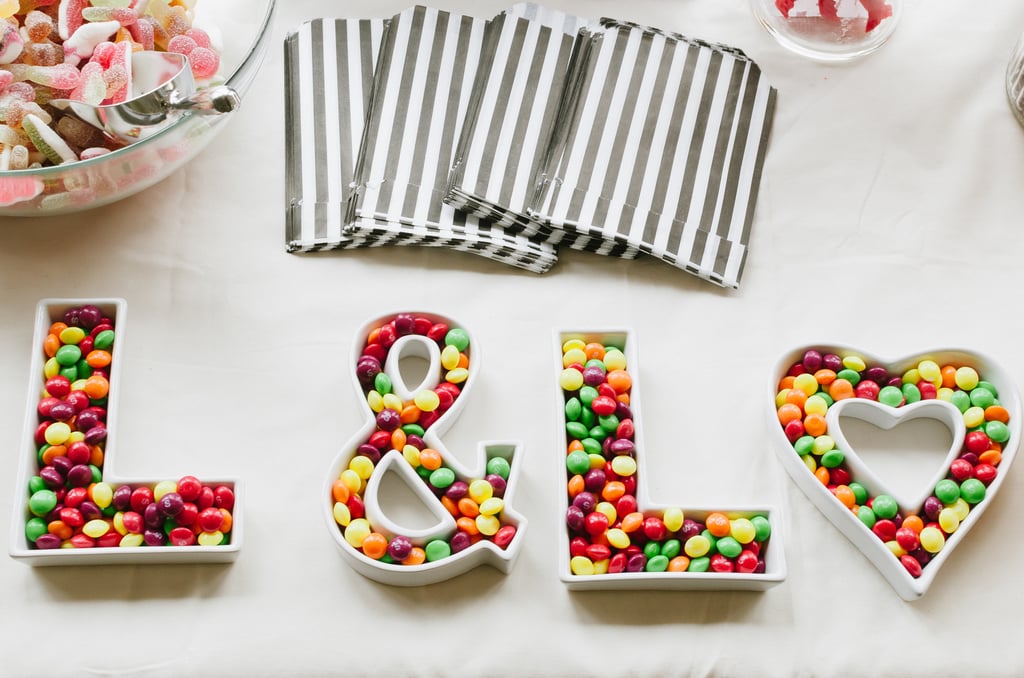 Lay out a buffet of candy, and guests can take home what they want in cute packaging. This saves a lot of money, and you know that people aren't obligated to take home favors they will trash.
Be careful, though — candy buffets can cost a pretty penny. Save on candy by buying in bulk online or mixing up the colors. Use jars you already have for the display, get them from bargain stores like the dollar store, or buy gently used pieces from other weddings. You can buy cellophane bags from Amazon [9] ($13 for 200 bags and ties) for cheap.
Etched Mason Jars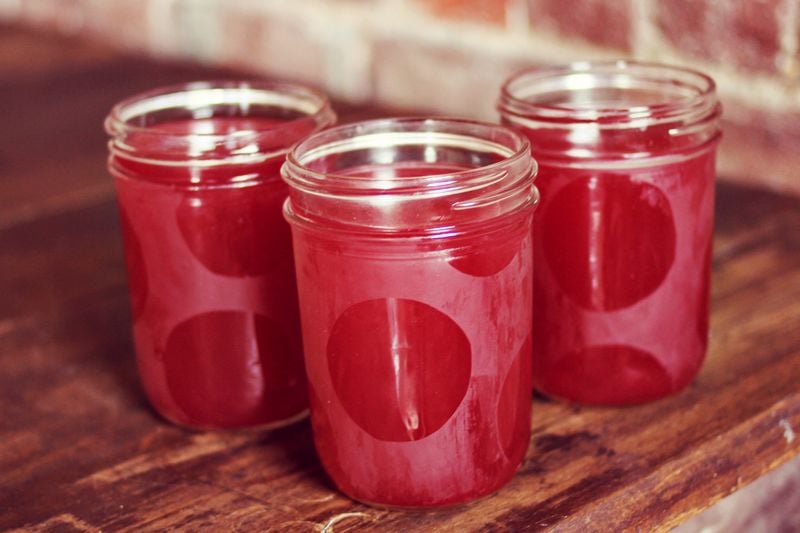 Mason jars cost around $0.70 to $0.80 if you buy in bulk. You can get mason jars from Amazon [10] ($8 for 12) for less than $1. Get an etching kit and your trusty group of bridesmaids to help with this personalized favor.
Suitcase Candy Boxes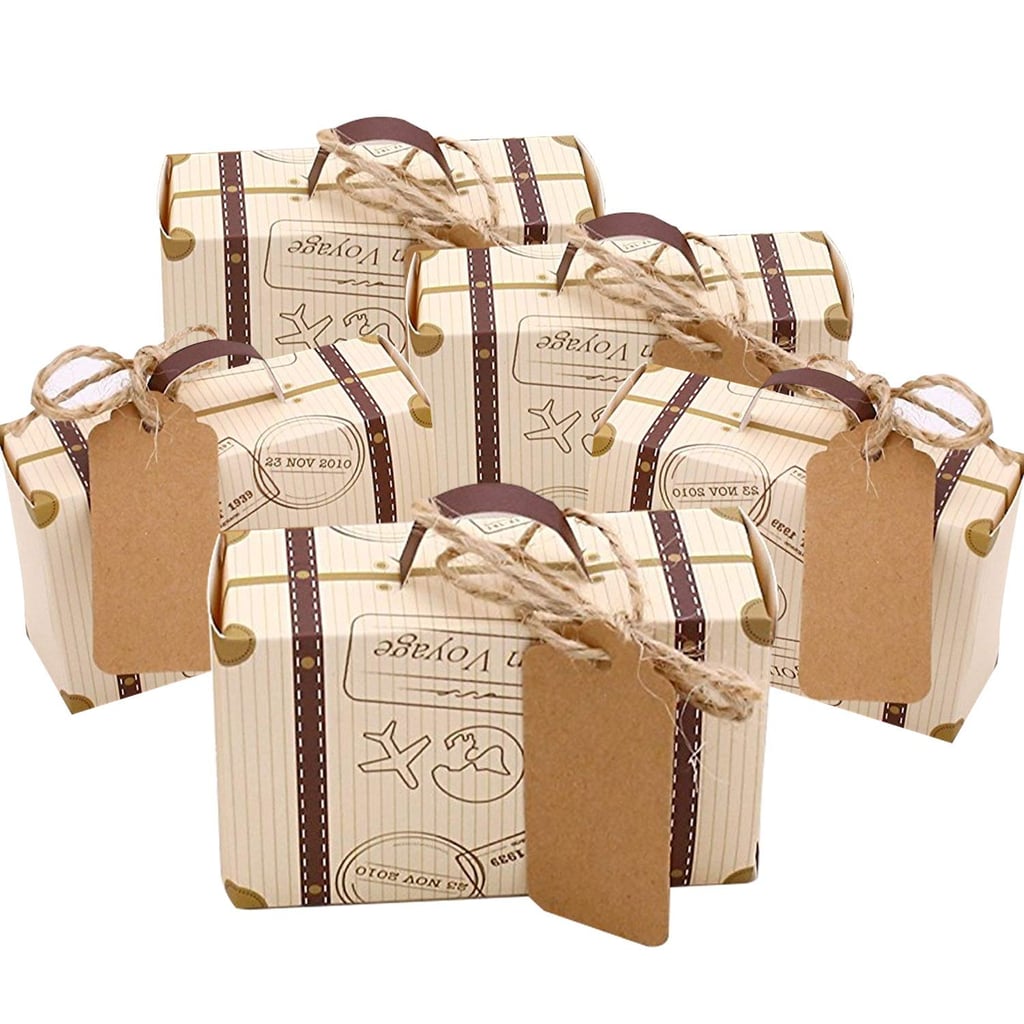 If you're having a destination wedding [11], these Faylapa Travel-Themed Suitcase Candy Boxes [12] ($17 for 100) are the sweetest gesture.
Macarons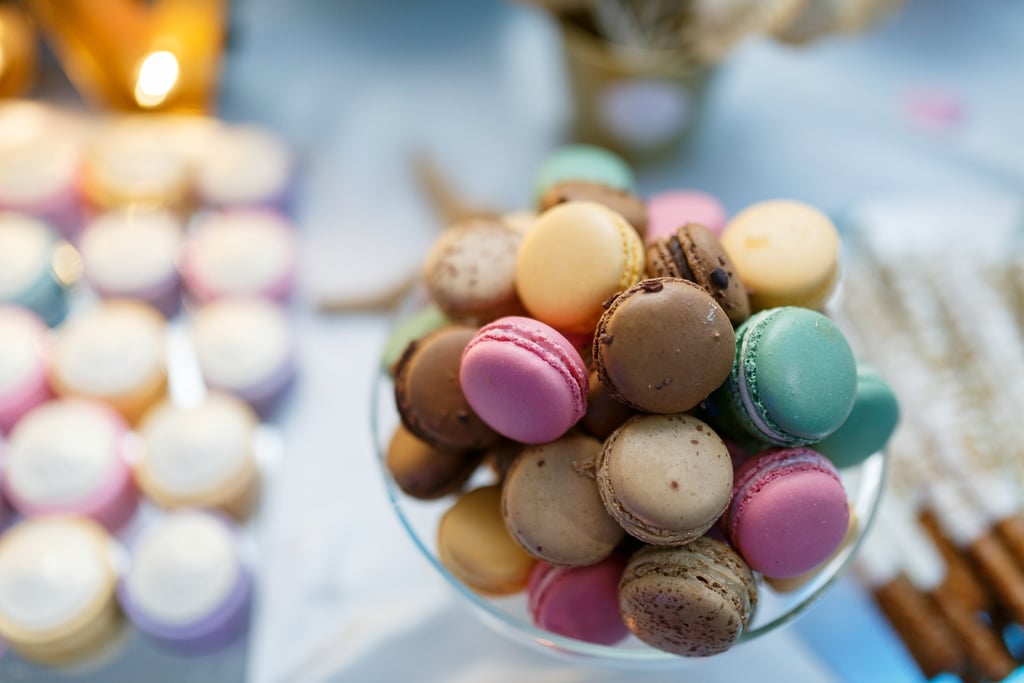 Macarons are such pretty desserts that all you need to do is put them in a clear box, attach a cute tag or ribbon, and they're good to go!
Making them yourself is the frugal way to go. Here is a great macaron recipe [13]. Package them in clear boxes you can get from Amazon [14] ($16 for 50) for cheap.
S'mores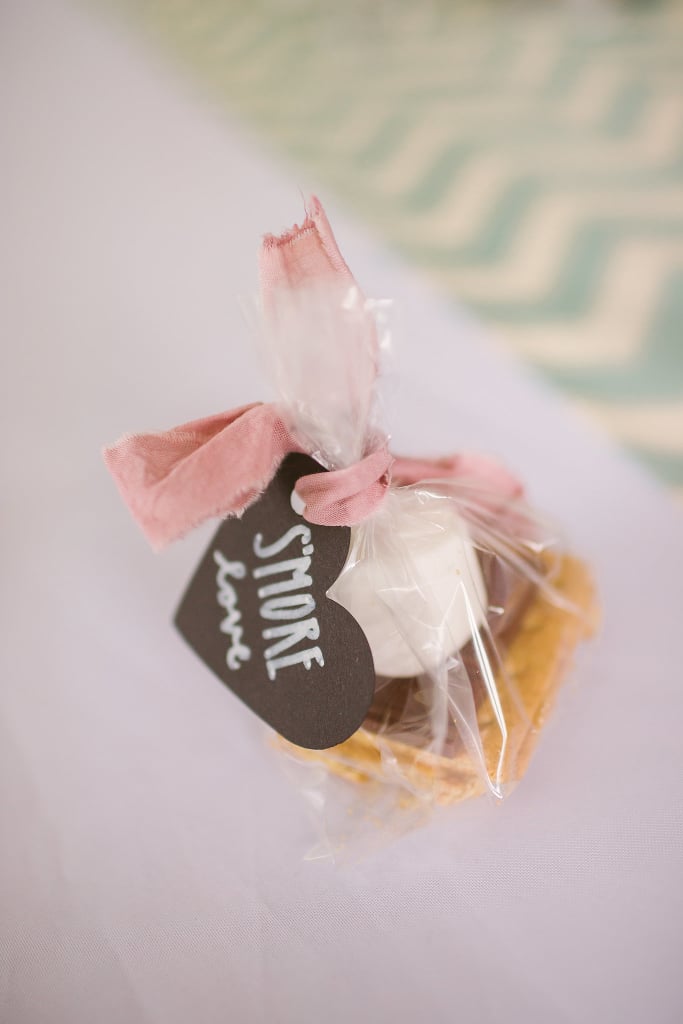 This might be a good treat for receptions held at night. Guests will get to bring home a quintessential late-night snack, and writing a sweet note like "S'more love" adds the perfect tie-in to your wedding [15].
You can find treat bags at craft stores and bargain stores like Walmart. If you want to buy them online, there are a ton of affordable options on Amazon, like these Flat Glassine Wax Paper Sandwich Bags [16] ($7 for 100). Customize them yourself with some pretty calligraphy.
Ceramic Hearts
Showcase your love in a tangible way with these darling White Ceramic "Love" Hearts [17] ($1). Set each table with them and surprise guests when they take a seat.
Candles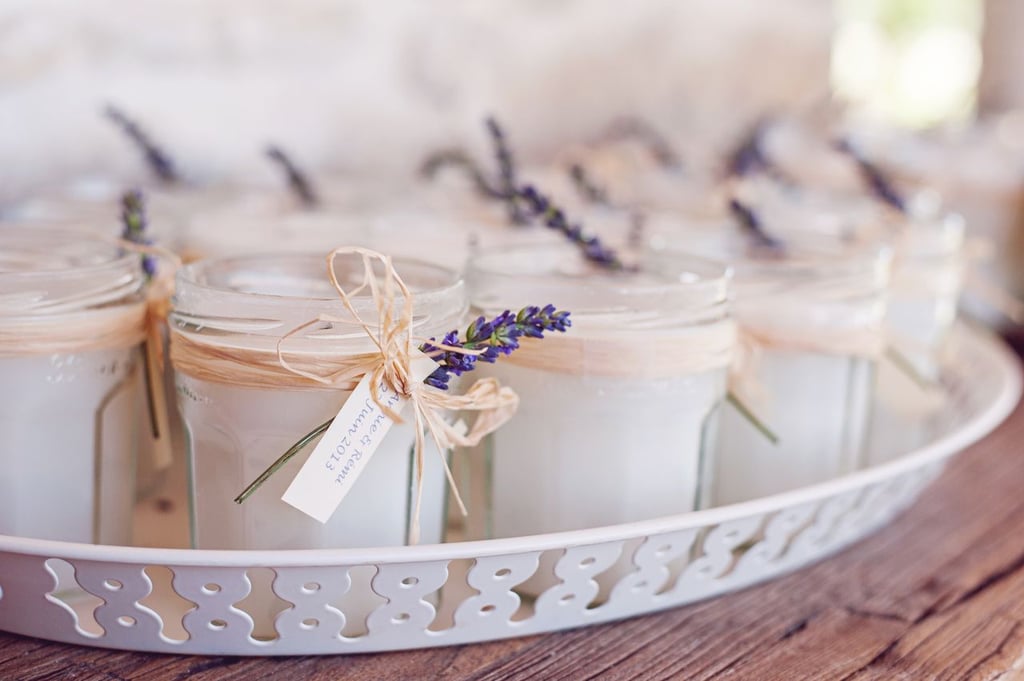 People can always do with more candles, and making your own is a nice touch. Try to choose a scent that has significance to you, perhaps the smell of both your favorite desserts or fruits.
You can use baby-food jars to hold the candles and make your own candles using soy-wax flakes that you can buy in bulk from a candle store or online. Here are instructions on how to make cute candle favors [18]. Cookie-cutter candles [19] will make cute favors for Winter weddings.
Fruits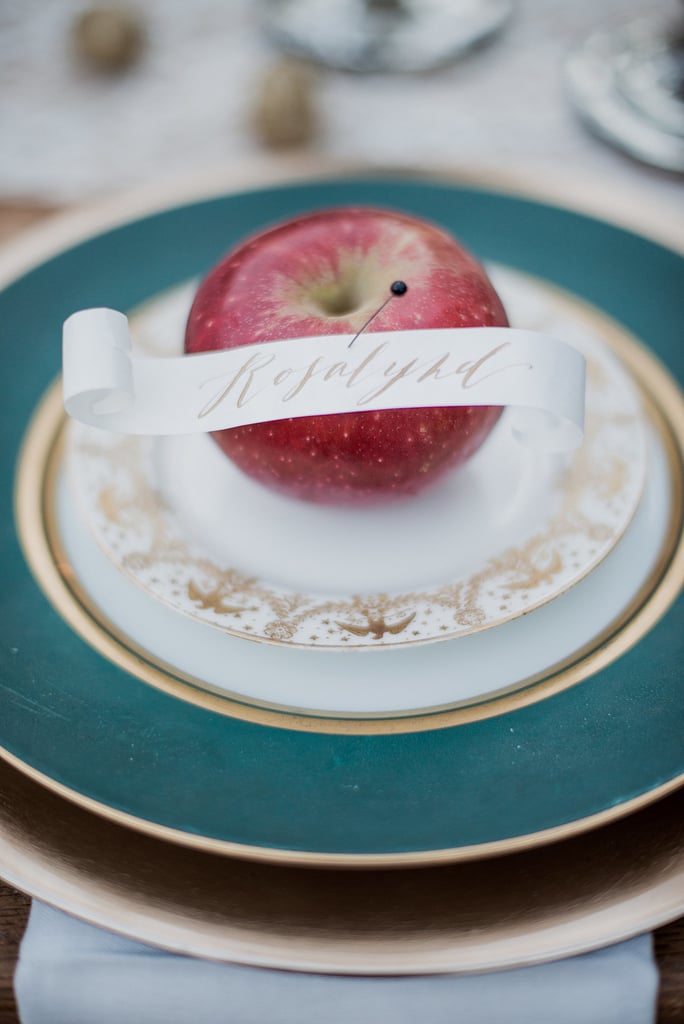 Keep your guests happy and healthy with fruity flavors. Think apples, berries, pears, and more! Get cheaper fruits from picking them at a farm, farmers market, and ethnic markets. Or better yet, find a friend who has a fruit tree. Be sure to pick in-season fruits for a better deal.
Put a cute tag on it like these White Paper Heart Tags [20] ($3 for 20), and the fruit favors will make a great frugal choice.
Sandalwood Fan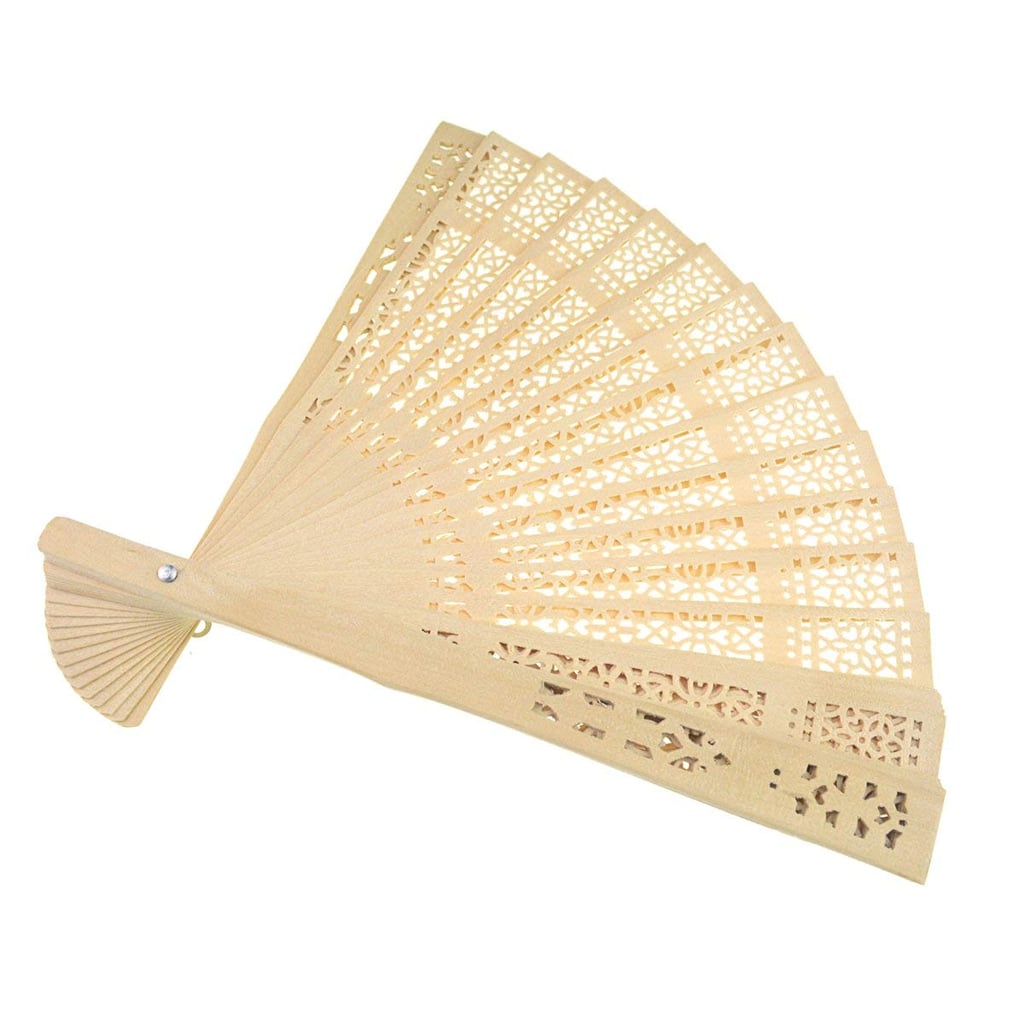 If friends and family get a little too hot on the dance floor, then the Dxhycc Sandalwood Fan [21] ($39 for 48) will keep them cool.
Water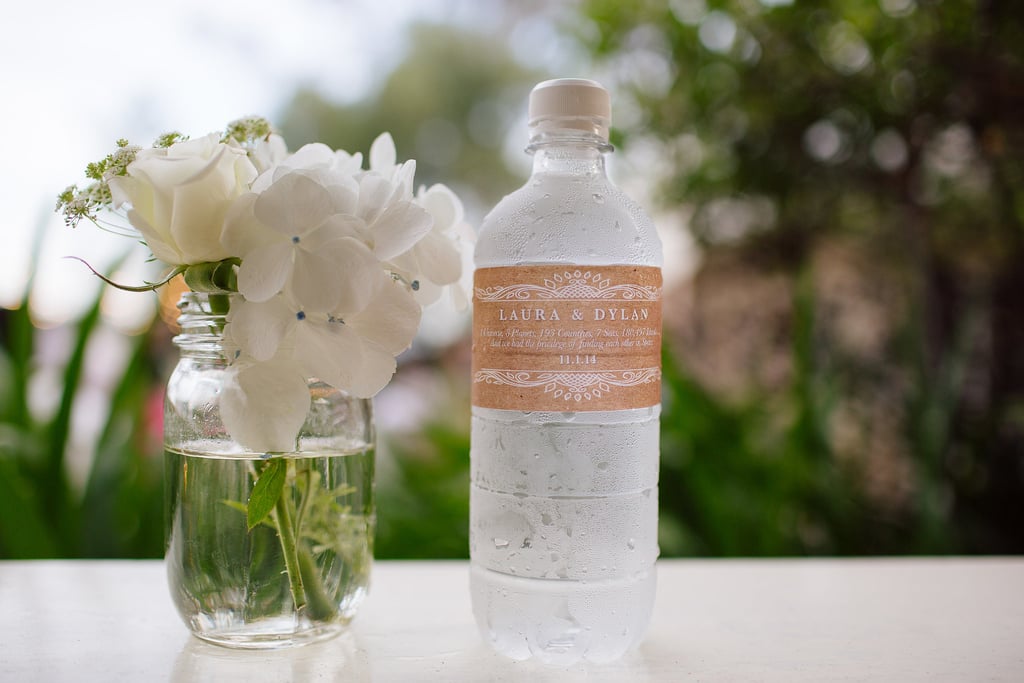 Since everyone drinks water, you know the liquid is most definitely going to be consumed when you give these bottles away. Water is also the perfect favor for hot outdoor weddings.
You can get bottled water from Costco for an affordable price or on Amazon, like this case of Kirkland Signature Premium Drinking Water [22] ($30 for 80 8 oz. bottles). Slap on a customized sticker, and you're all set! You can get the custom water-bottle labels on Etsy [23] ($45 for 100) or make your own using printable waterproof labels [24] ($9 for 40).
Nuts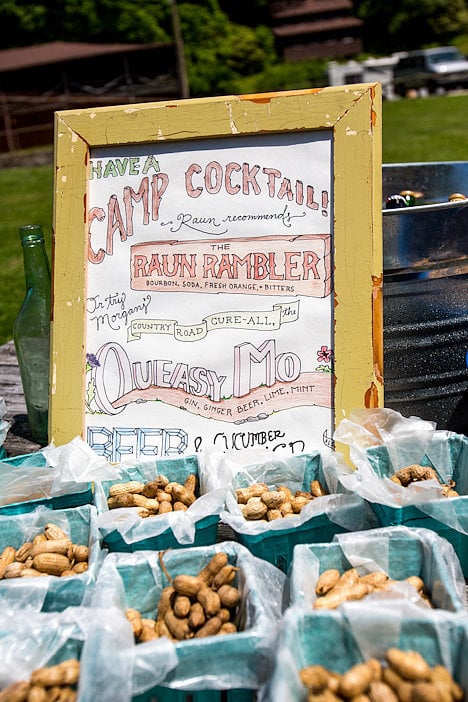 Perhaps one of the best things about nuts as favors is the endless amount of love puns you'll be able to dream up. Buy them in bulk to save.
Baroque Key Openers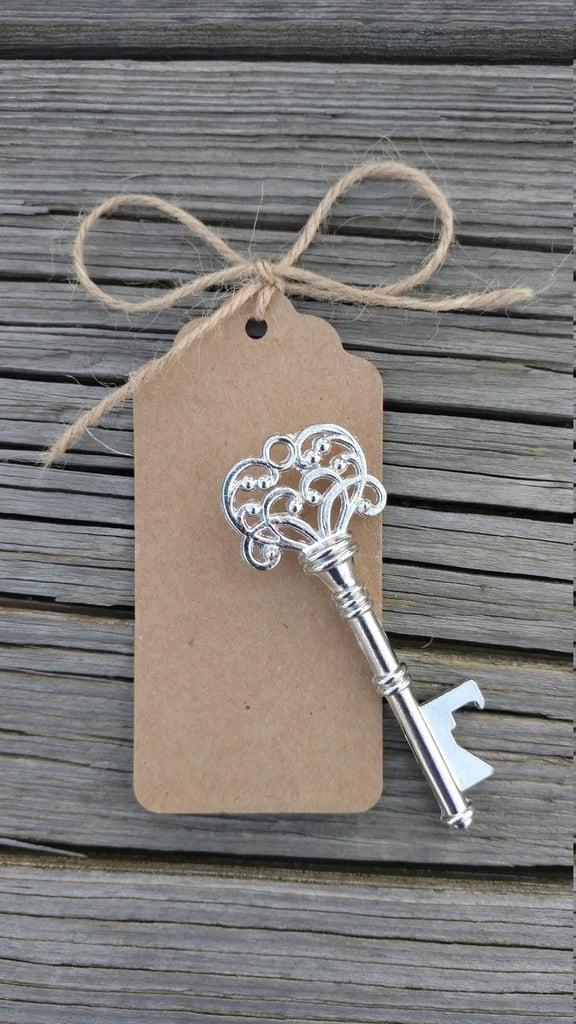 Gift friends and family something they can use and pick up these Baroque Key Openers [25] ($95 for 100). The classic-looking key attaches onto key rings like a breeze, so your guests can remember your wedding [26] day wherever they go.
After-Meal Mints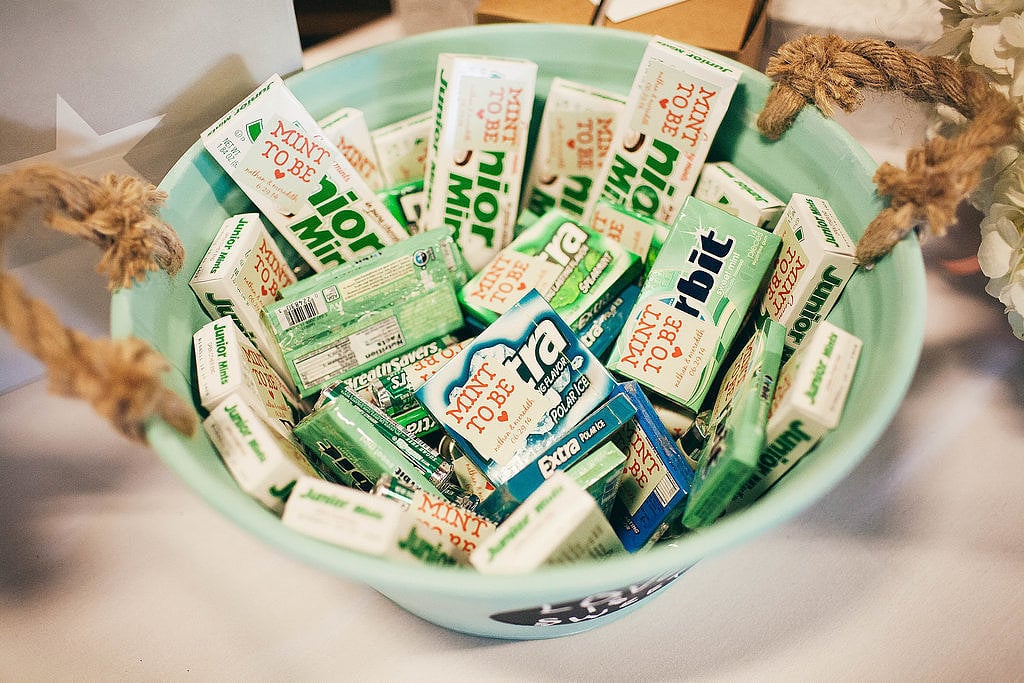 After a lovely meal, guests will appreciate the help with freshening their breath. You can find plenty of options for customized mint tins or just cute mint tins from Amazon [27] ($19 for 24) for $1 or less.
Bird Seed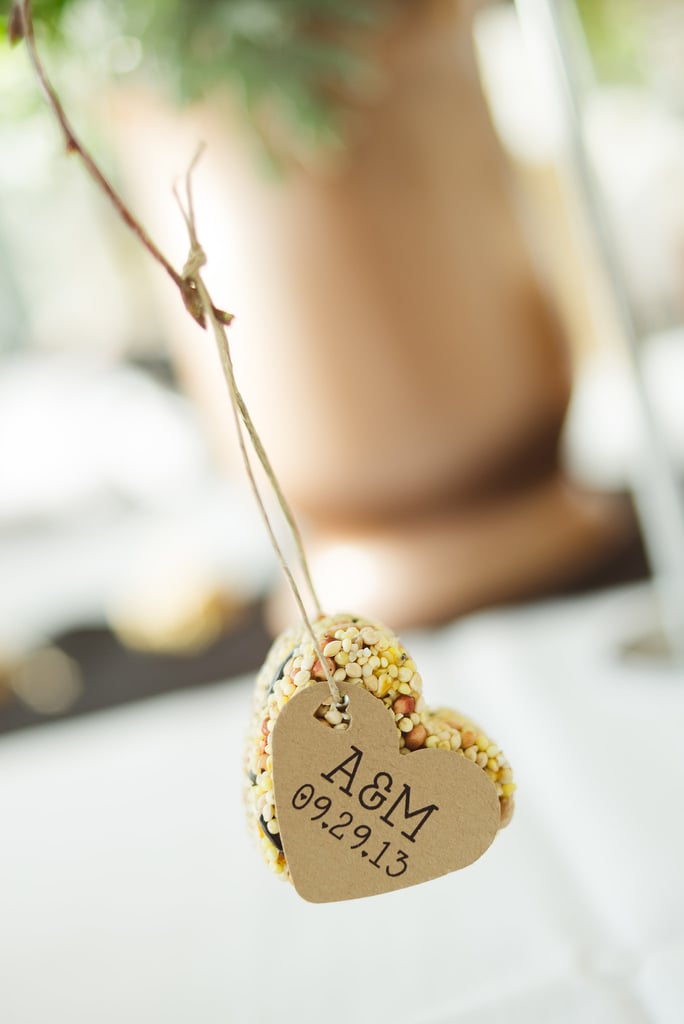 Using bird seed as a favor is a fun way to incorporate the tradition into your wedding [28], and it's a practical favor that your guests will use.
Matches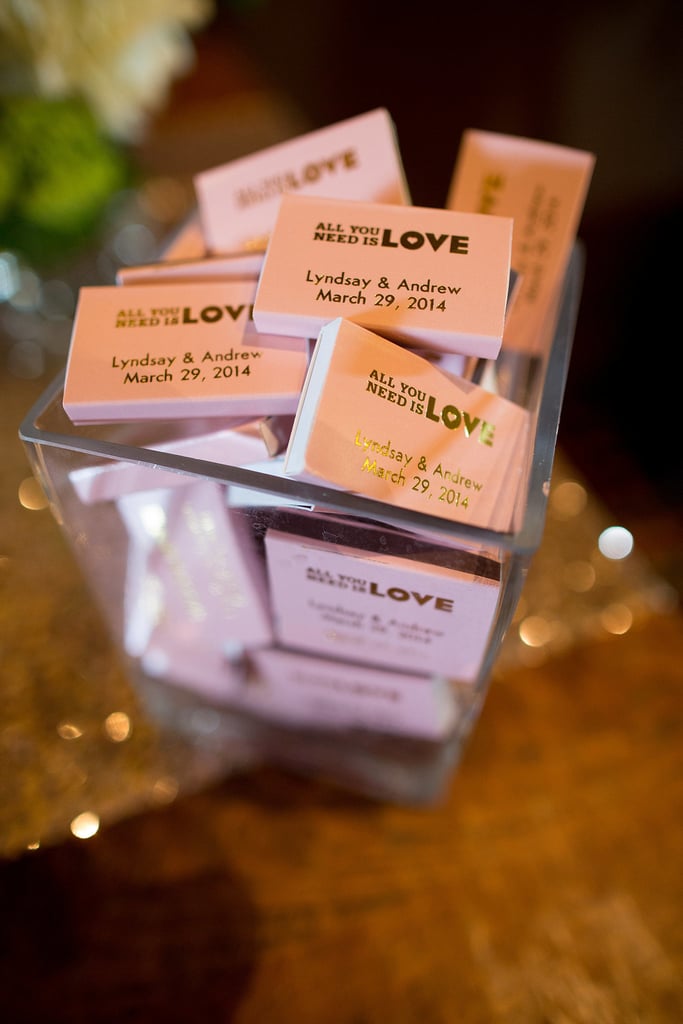 Matches are always handy in a home. Guests can use them to light a candle, fireplace, and more. You can easily get customized matches for under $1. For Your Party has great personalized matchbooks [29] that are $39 for 50.
Chocolate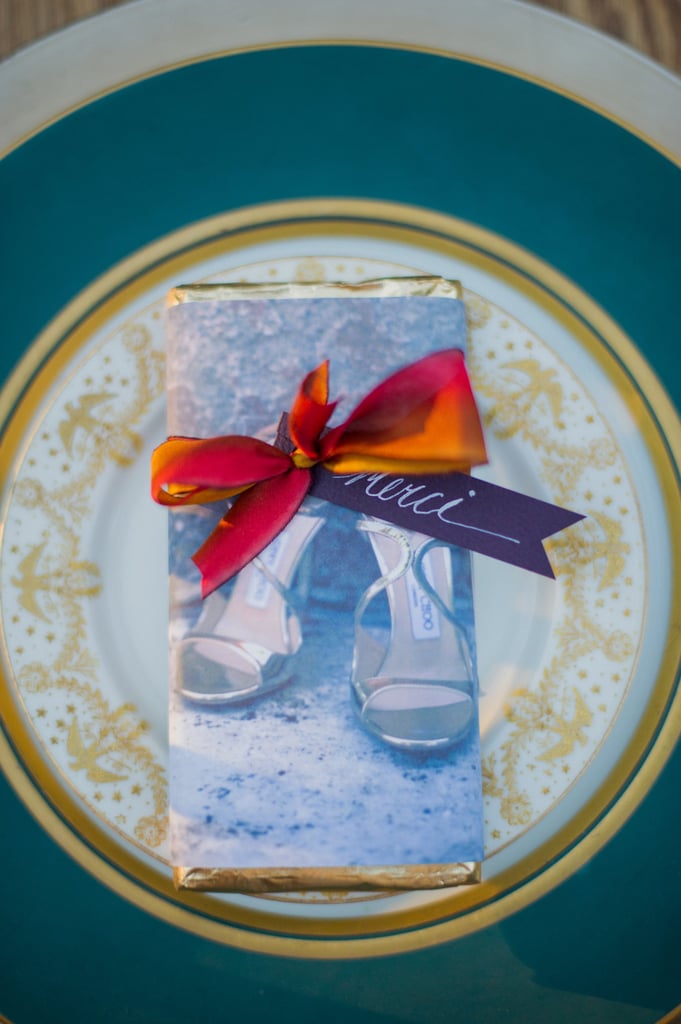 Get creative by picking interesting shapes and designs for chocolate favors. You can make them yourself with unique molds or customize the packaging like with these Mr. & Mrs. Gold Candy Bar Wrappers [30] ($17 for 24).
Mini Air Plants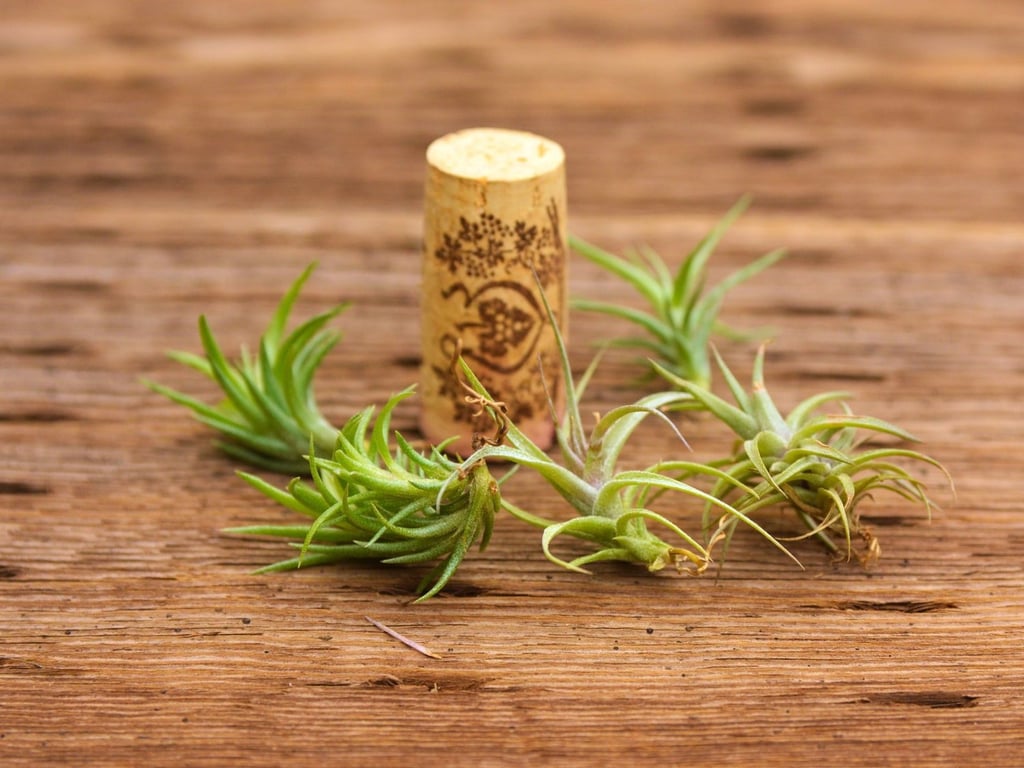 Regardless if your friends and family are plant people, these Mini Air Plants [31] ($49 for 55) are extremely hard to kill — and look great as part of table decor.
Soaps
Soaps are very practical favors to give out, and you can always make them look good by choosing different colors or packaging. These soaps can cost you less than $1 if you make your own [32] or close to $1 each if you buy them in bulk like these custom mini soap favors [33] ($110 for 100) that come in a variety of scents.
Seeds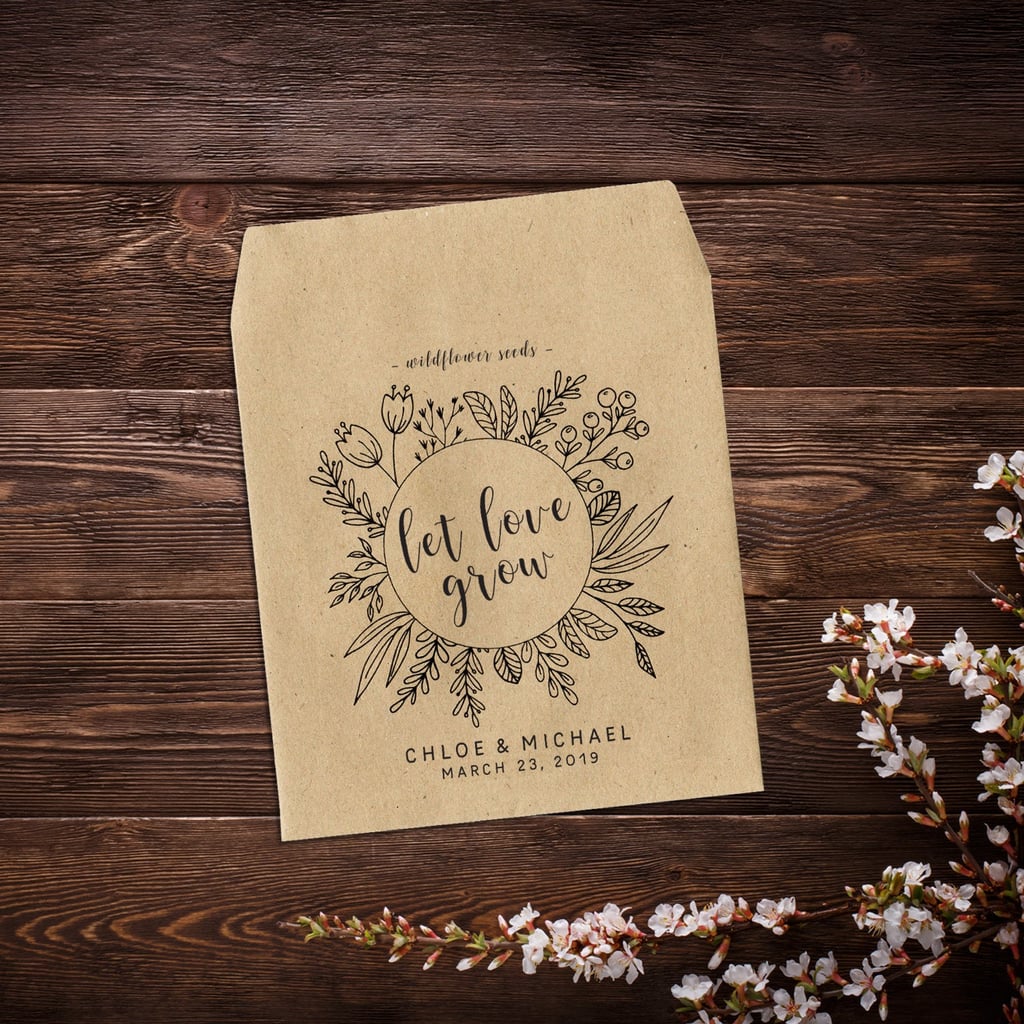 Many people give out seeds as wedding [34] favors because not only are they affordable, but they're also an eco-friendly gesture. However, keep in mind that not everyone has the space in their home or a yard to grow plants.
You can make the seed packets yourself or buy customized ones online like these cute Kraft Customized Seed Envelopes [35] ($0.70 each)).
Spices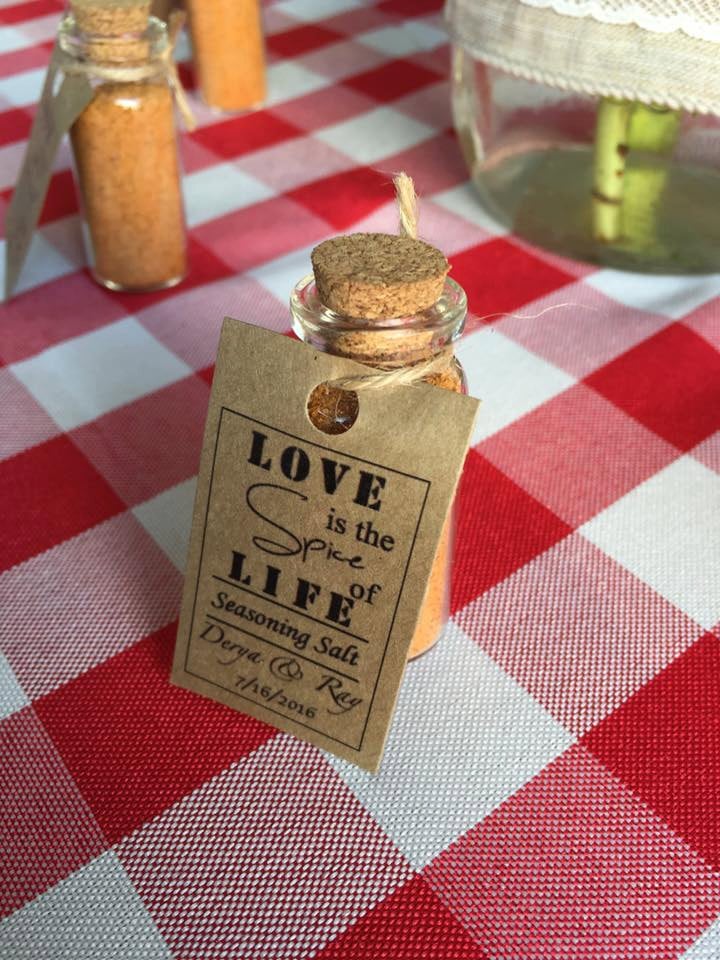 Spices are definitely a favor that will have a spot in every guest's pantry. We also love the idea of letting guests choose sweet or spicy! Buy them in bulk for cheap at international food stores, bargain stores like Walmart, or the dollar store. Store them in Mini Glass Bottles With Cork Stoppers [36] ($14 for 24).
If you don't feel like making them yourself, you can these already-made Mini Spice Jars [37] ($48 for 30) for a little more money.
Lotto Tickets There's no other favor that will give your guests a thrill like a lottery ticket. Package the lotto tickets up nicely, perhaps in a pretty envelope like this one [38] ($18 for 25) or paired with a small snack. Giving them on their own may come off as tacky because the tickets aren't very visually appealing.
Rustic Soap Favors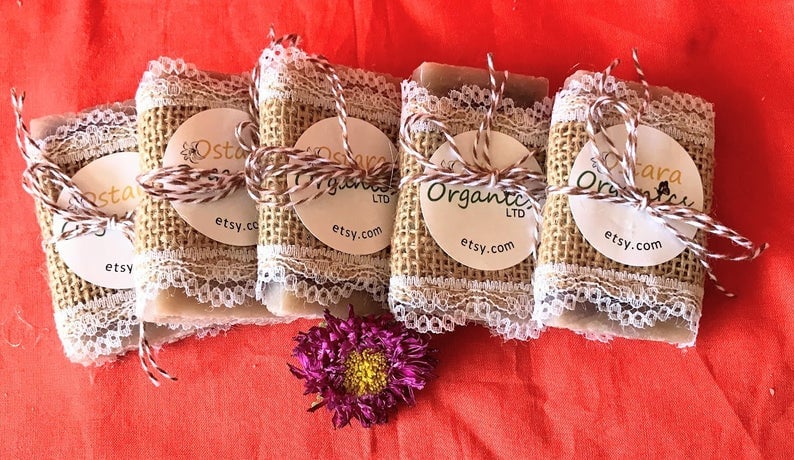 Present your guests with burlap and twine-wrapped Wedding Soap Favors [39] ($0.95). The decorative soaps blend seamlessly with country-style weddings.
Hot Cocoa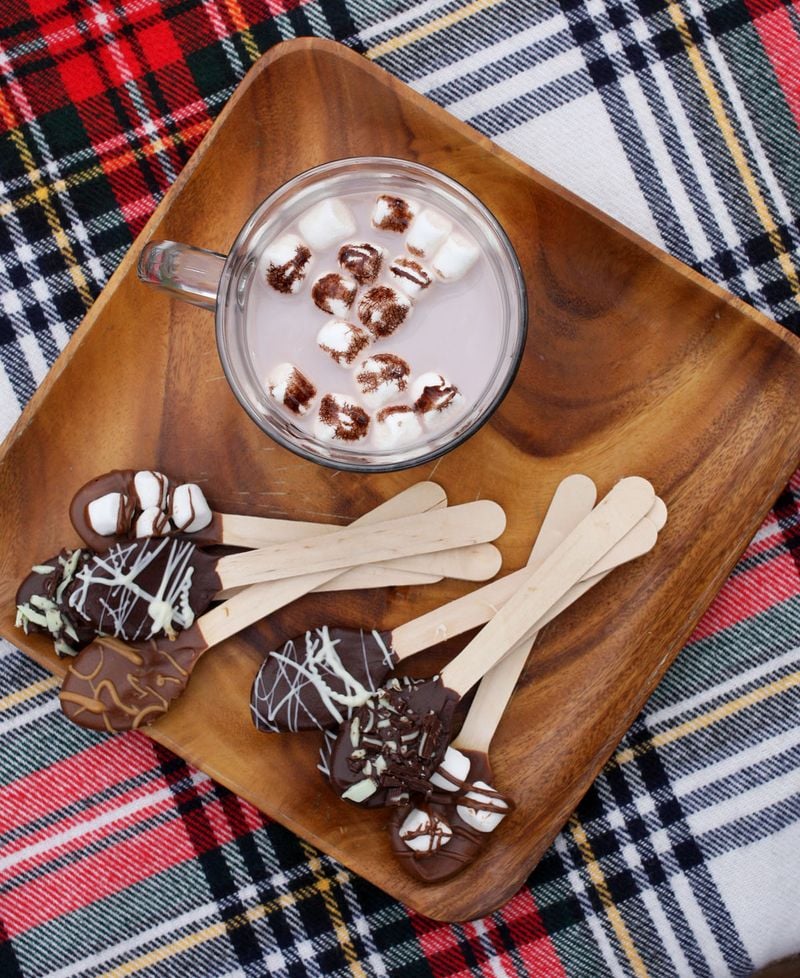 There's nothing more comforting than a cup of hot cocoa. You can make the favor more visually appealing if you include different flavors and place the mixture in a small clear jar you can get from Amazon [40] ($32 for 40) for cheap, or you can create these cute hot chocolate spoons [41].
Glitter
Glitter is one of those fun items you can never get enough of. Buy it in bulk in your wedding [42] colors. You can get mini glass bottles here [43] ($5 for 20).
Vending-Machine Capsule Favors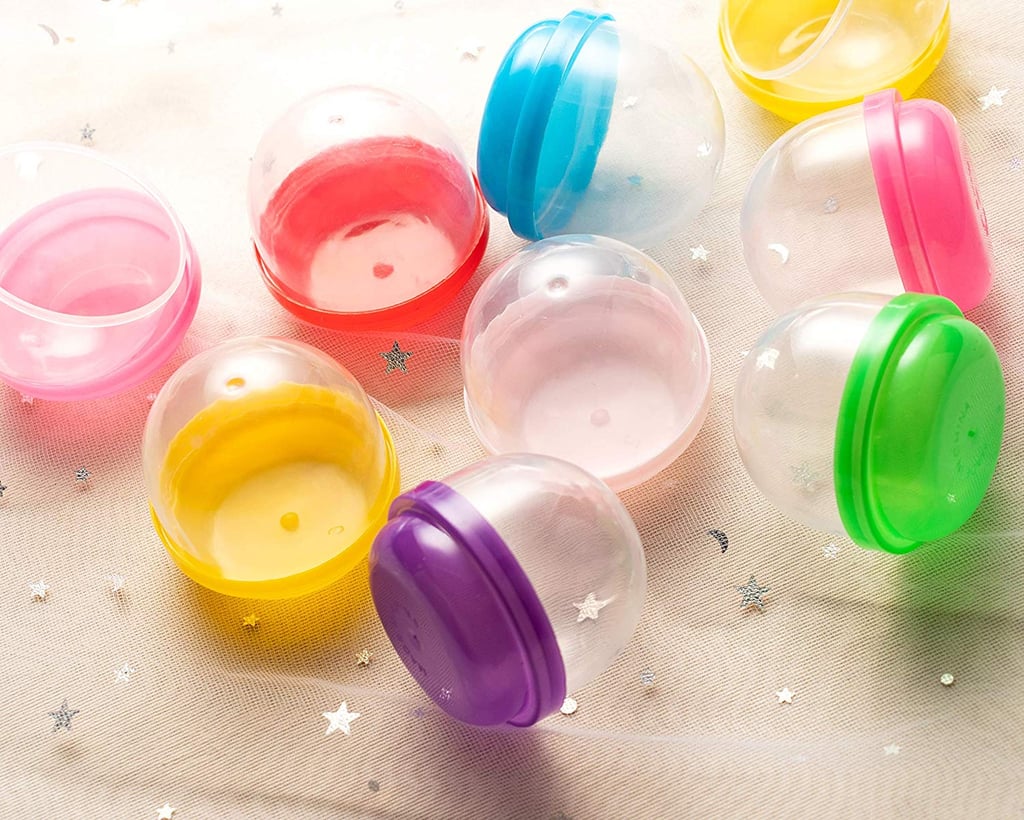 Stuff candy into vending-machine capsules for cute favors. We love these rainbow-colored Vending Machine Capsules [44] ($14 for 105) that are crazy cheap.
Olive Oil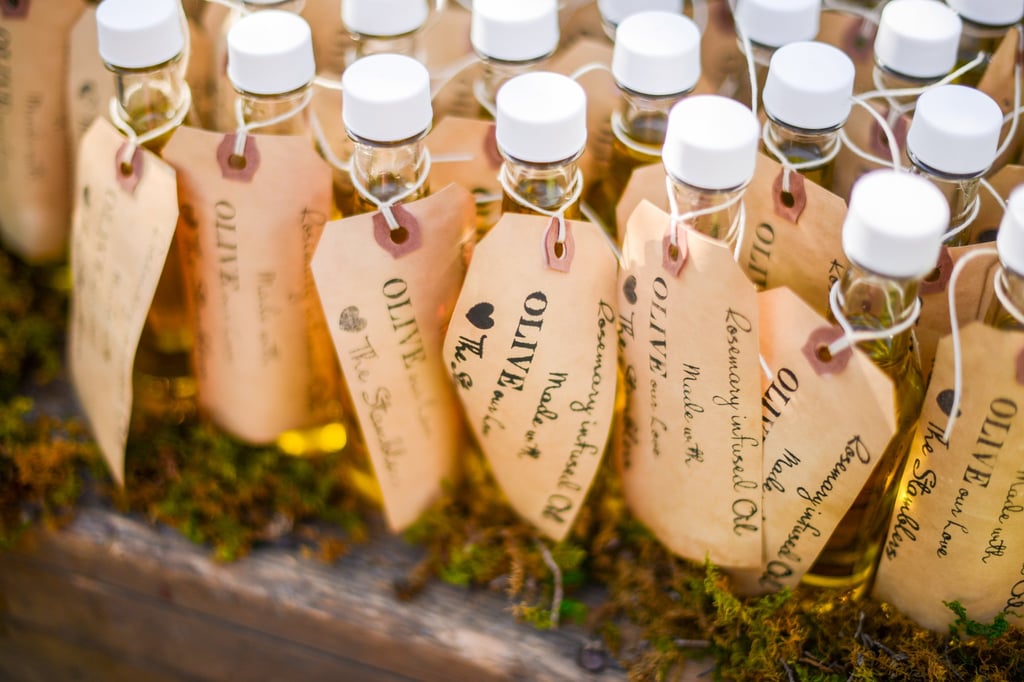 Olive oil is such a functional kitchen staple, but you can make it fancy by infusing it with a flavor like rosemary. You can buy some affordable Mini Glass Bottles [45] ($18 for 24) and tie on custom stamped tags for dressing up the packaging.
Personalized Reusable Plastic Cups
These "Vows Are Done Let's Have Some Fun" Personalized Reusable Plastic Cups [46] ($88 for 100) are the perfect useful take-home items to remember your special night with.
Sugar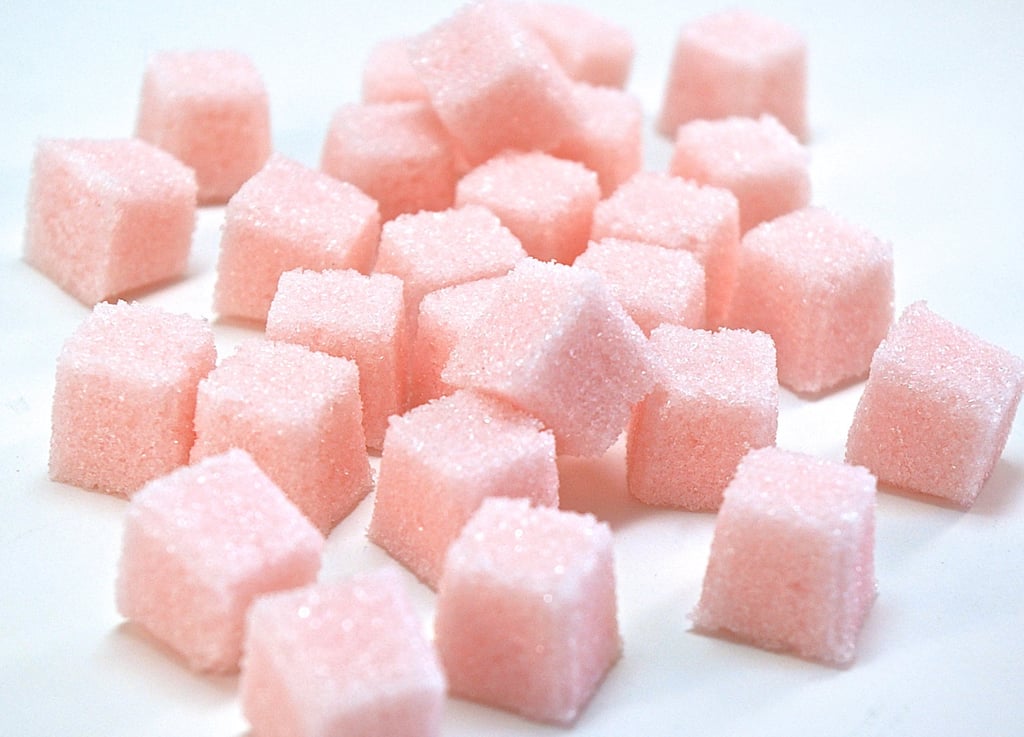 Keep it simple and sweet with customized sugar cube favors [47] ($50 for 150). Buy Small Glass Jars With Airtight Hinged Lids [48] ($30 for 30) and print out customized labels from your computer with a cute pun like "love is sweet."
Recipes and Ingredients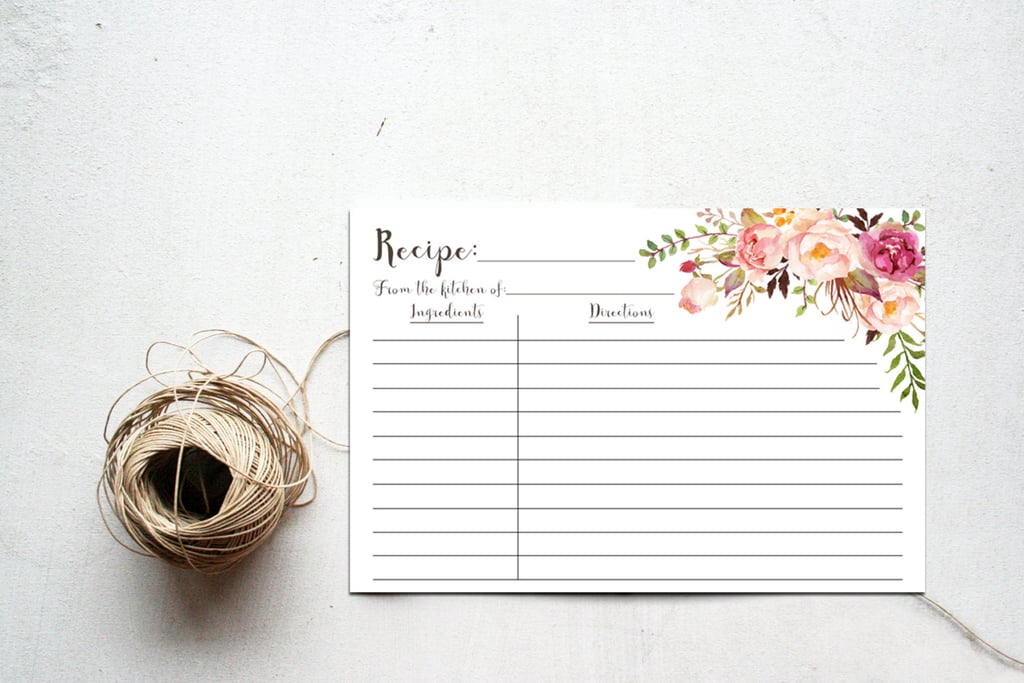 These pretty printable recipe cards [49] ($5) are perfect for sharing your favorite secret or not-so-secret recipe that everyone always asks you about. You can even include one of the recipe's ingredients to go along with the wedding [50] favor and package it up in a Drawstring Cloth Sachet Bag [51] ($19 for 100).
Honey or Jam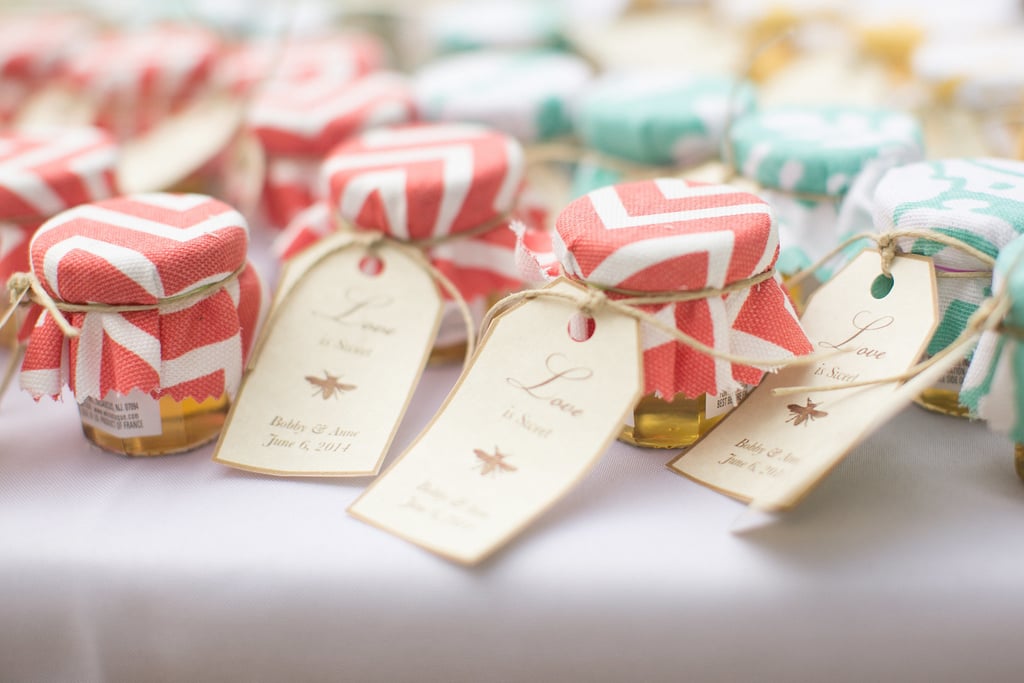 Jars of honey or jam are the perfect thank-you presents for wedding [52] guests. They both have long shelf lives and are such a sweet treat! You can buy mini glass jars from Amazon [53] ($16 for 24) and honey from somewhere local or an online shop like GloryBee Honey [54].
Tea Bags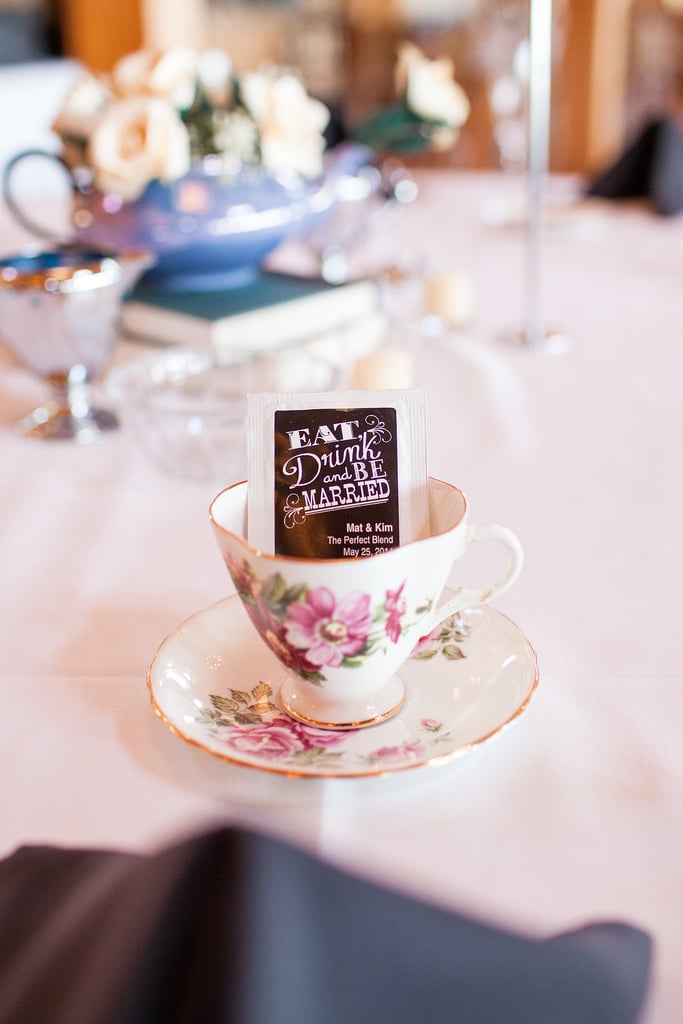 Shower your guests with packets of tea and pick your favorite blends, or even create your own specifically for this special occasion. For packaging, print cute custom tea bags [55] ($11).
Personalized Treat Bag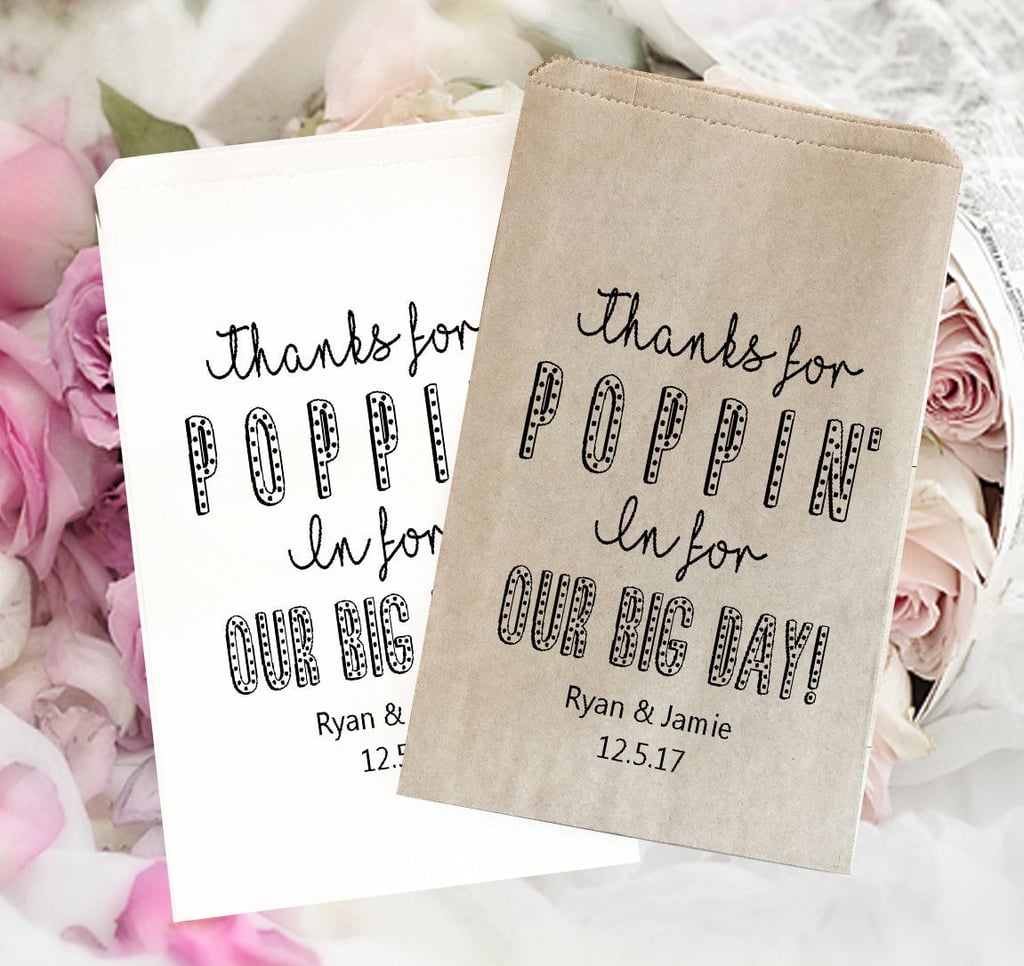 Fill this Personalized Wedding Treat Bag [56] ($52 for 100) with candy, popcorn, baked goods, and more edible goodies.
Sunglasses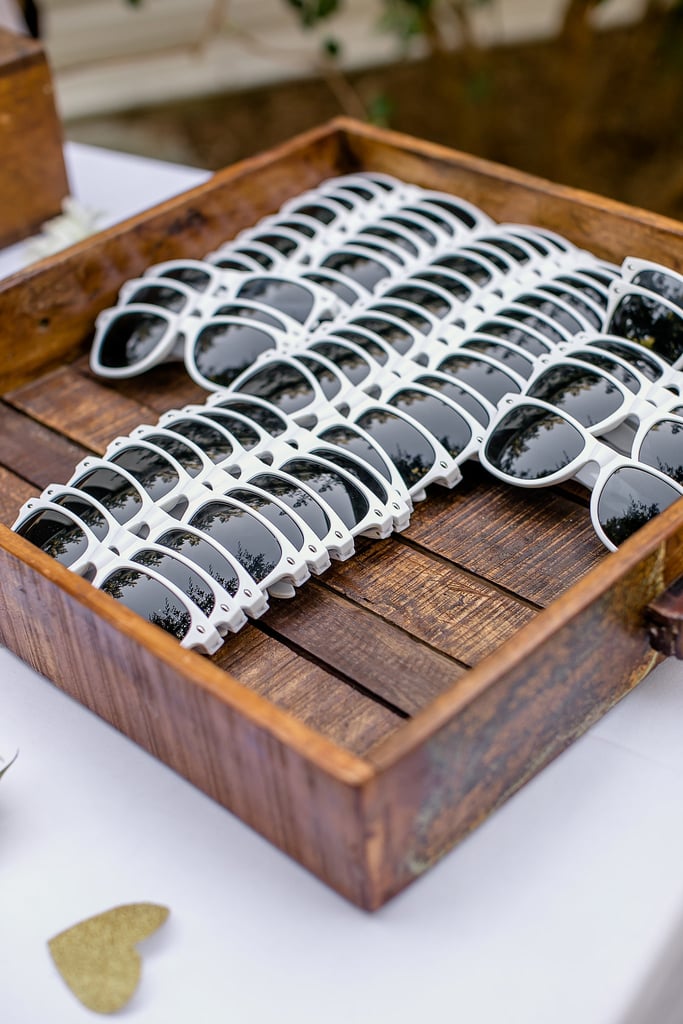 Perfect for Summer weddings, sunglasses are a cheap and fun favor. Check out these custom sunglasses options from Sunglassville [57] for under $1.
Lavender Sachets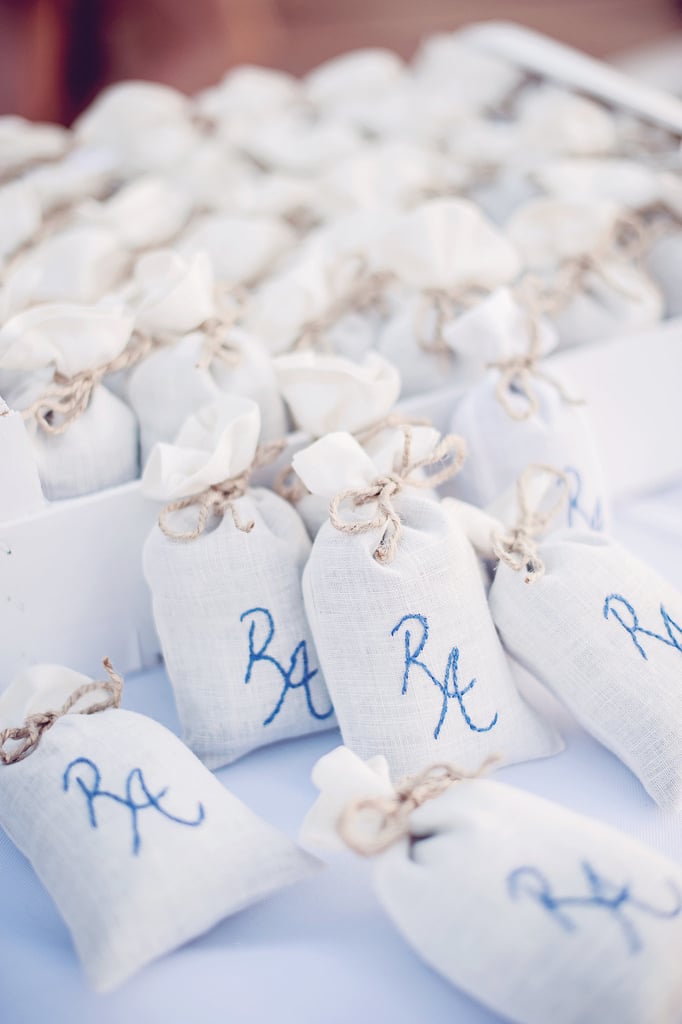 Get Small Cotton Drawstring Bags [58] ($10 for 12) and buy Dried Lavender Buds [59] ($33 for three pounds) online in bulk from places like Amazon or craft stores like Michaels and Jo-Ann Fabric.
Donations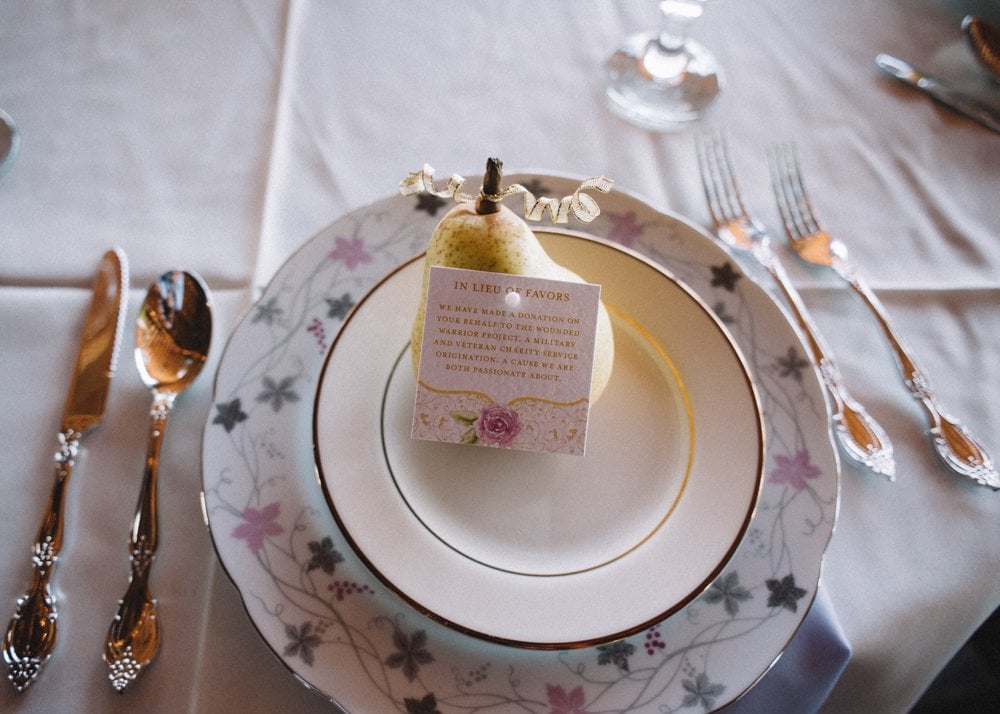 In lieu of favors, place a card at every table explaining that you chose to donate money to a charity that has a lot of significance for the both of you. This is such a heartwarming and thoughtful gift, but be really careful when selecting the nonprofit lest you offend someone.
The donation route can be the more budget-friendly option, as you're controlling the amount you're planning on donating. The cards won't cost much, since you can just design and print them out at home. And if you don't want to do the artwork, you can always download a wedding donation favor template from Etsy [60] ($7).
Marshmallows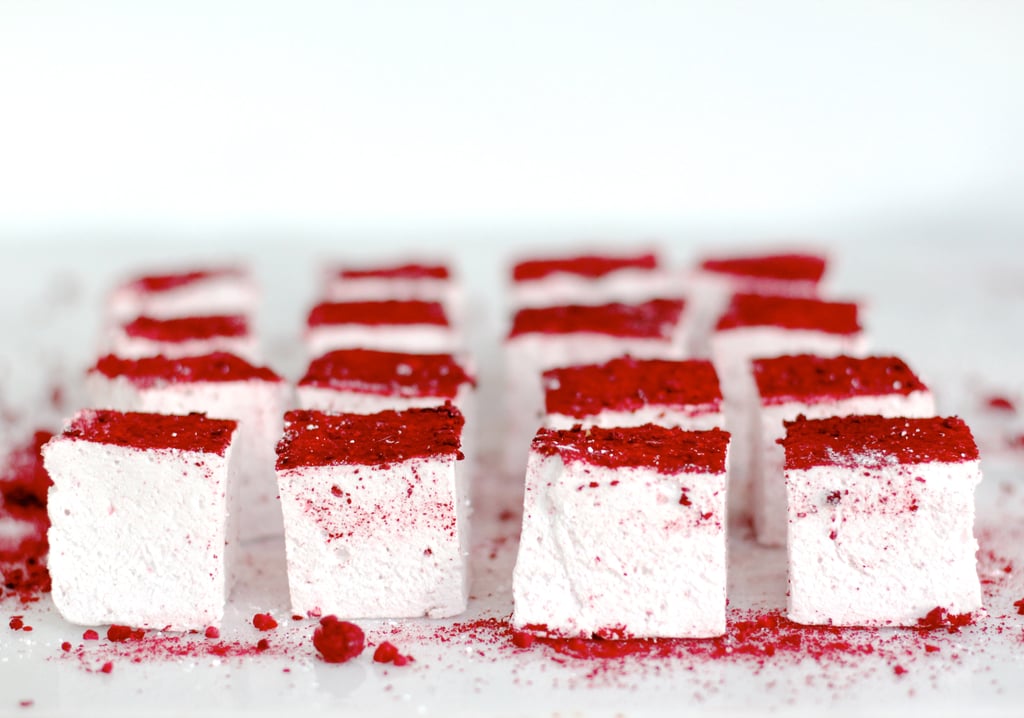 Fluffy marshmallows are always a sweet surprise. Make them for cheap with this easy marshmallow recipe [61], or you can get even more creative and make raspberry marshmallows [62]. As usual, you can get cheap packaging from Oriental Trading [63], Paper Mart [64], craft stores, or bargain shops like the dollar store. We like these Clear Treat Bags With Multicolored Twists [65] ($11 for 200).
Custom Tags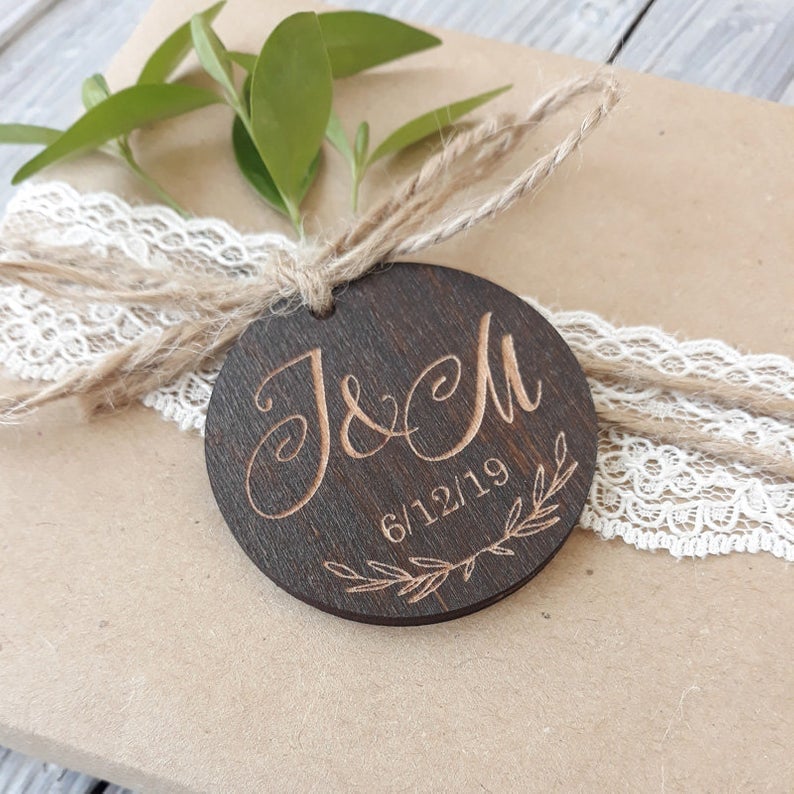 Show your thanks and give everyone a beautiful Custom Wedding Tag [66] ($58 for 100) to take home with them. The tag can attach to gift boxes filled with edible favors.
Popcorn
This is a great, light snack that guests can pop into their mouths when they feel like it. And it's easy on the wallet if you make and package the popcorn yourself.
To package the popcorn, you can buy cellophane bags from craft stores or popcorn bags from Etsy [67] ($18 for 40).
Coffee Beans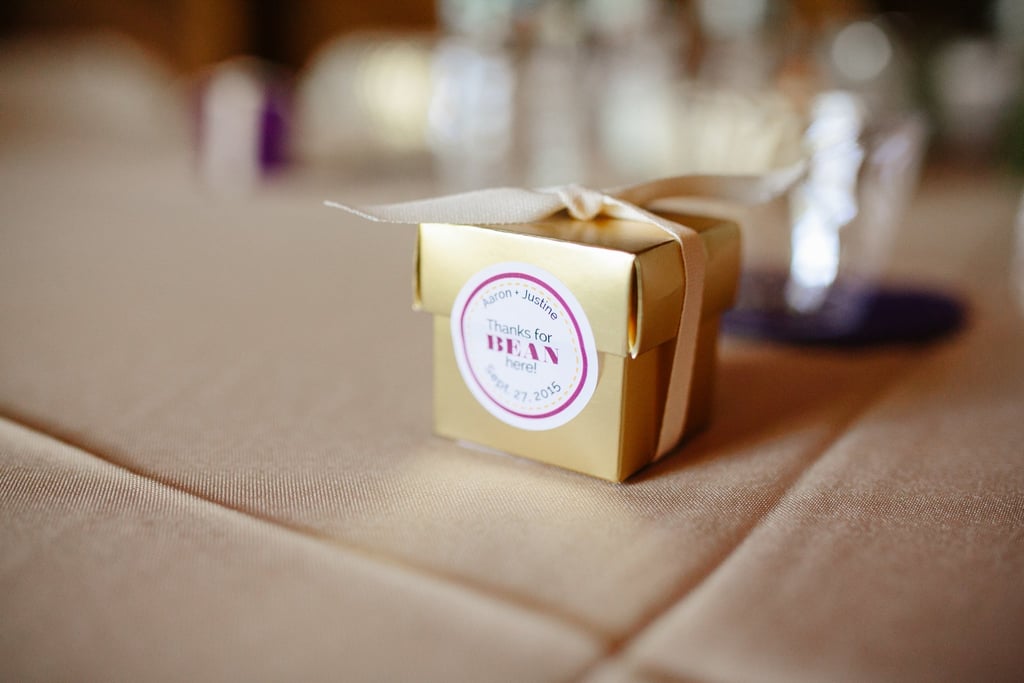 Share your favorite local coffee with guests by buying the beans in bulk and putting in cute packaging like these little boxes [68] ($4 for 24).
Champagne Bubbles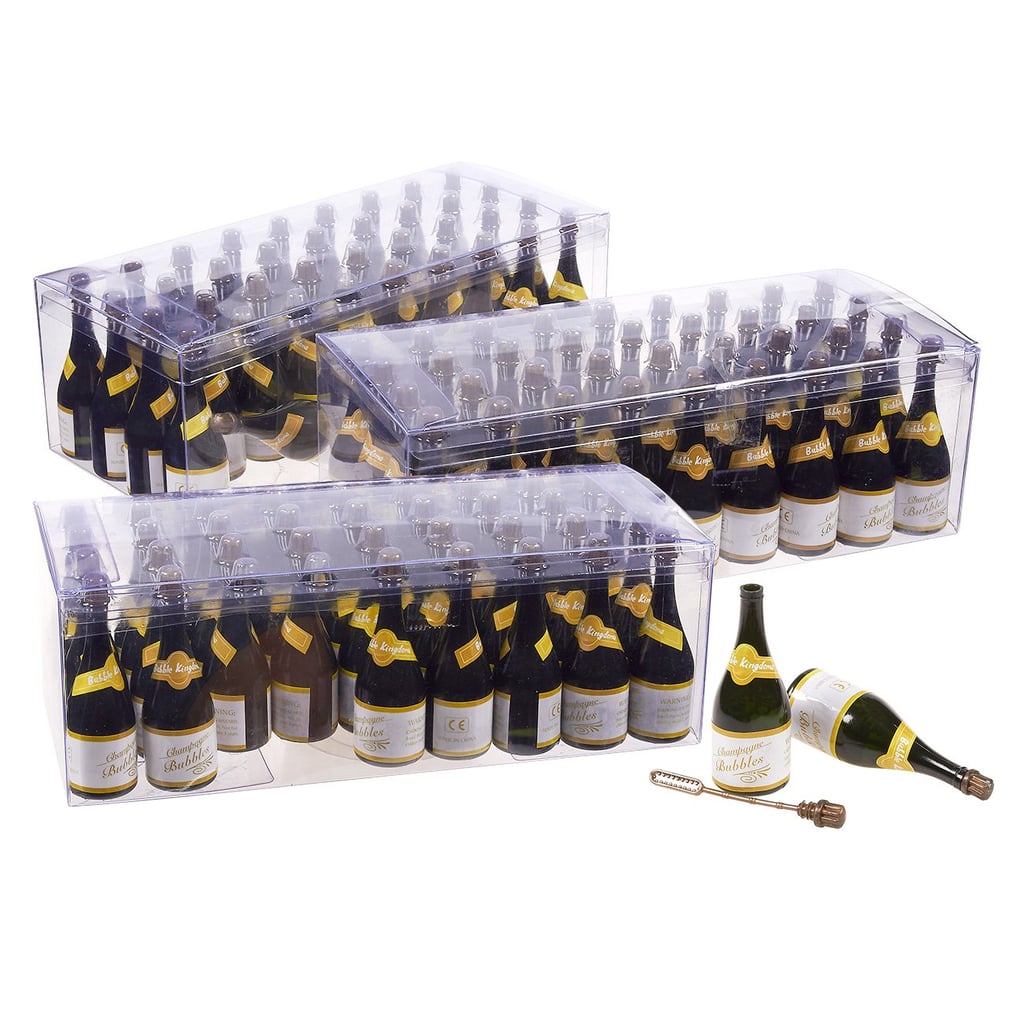 There's nothing better than blowing bubbles out of a bottle of "Champagne," and the Bulk Bubble Wand Party Favors [69] ($33 for 108) will allow everyone to do just that.
Buttermints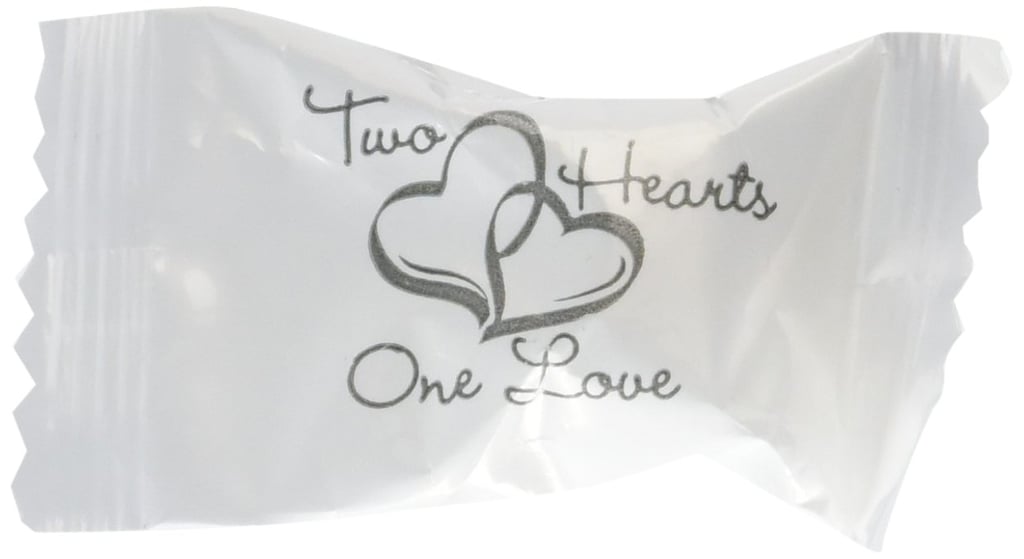 Give everyone a taste of something sweet with this adorable Two Hearts Buttermints Wedding Candy [70] ($11 for 108). It's a classic!
Black and Gold Dotted Gift Boxes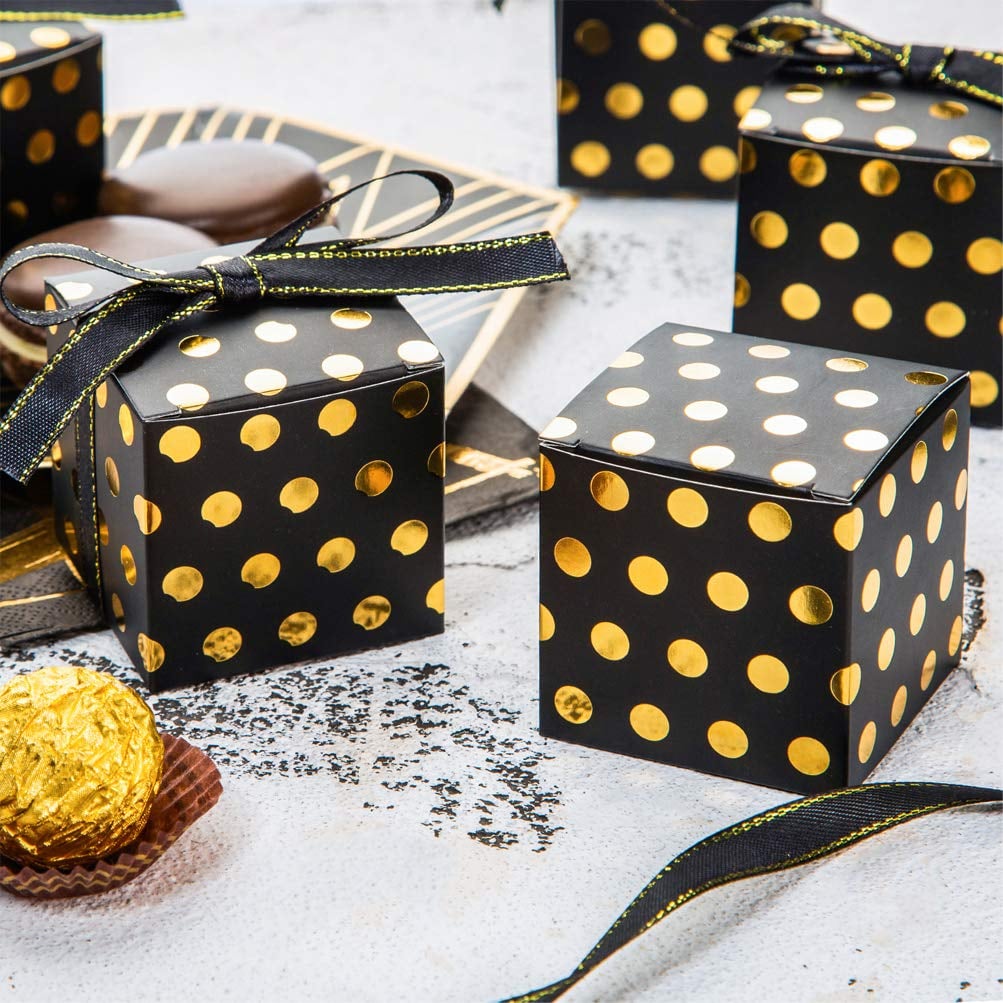 Fill the Black Gift Candy Box With Gold Dots [71] ($13 for 50) full of treats for everyone to snack on.
Wedding Bubbles
Make your wedding [72] day magical with these fun Diamond-Shaped Wedding Bubbles [73] ($16 for 24) as favors. Not only are bubbles a huge hit for guests and their children, but they come in a pretty diamond-shaped bottle that blends with decor.
Pin It!