Microsoft, the maker of the most used operating system on the planet, has a new commander in chief. His name is Satya Nadella [1], and he represents a changing tide as the company turns 39 this year (practically centuries in the tech industry!).
When Bill Gates founded the company, Microsoft's original mission statement [2] was "a computer on every desk and in every home, running Microsoft software." Now, with Satya at the helm, that purpose should be reworked to read "a Windows Phone on every desk and in every home." The new Microsoft man in charge is honing in on mobile and cloud services, two technologies he believes will drive the company further into the future.
We're excited about the prospects — so we went under the hood to investigate a bit further: who is Satya Nadella? Scroll down to find out more about the supereducated, cricket-loving family man of the moment.
A "Mobile First, Cloud First" Vision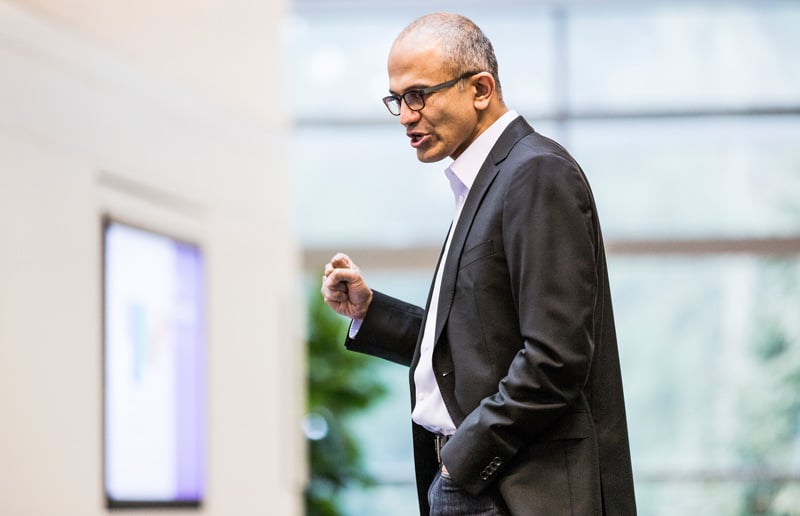 In an introductory video [3], Satya repeatedly mentions two tech buzzwords: mobile and cloud.
He said, "Going forward, it's a mobile first, cloud first world. We need to . . . take our heritage of being the productivity company to being the do-more company, where we help every individual get more out of their life."
Can Satya take a tech old-timer into the modern age? A vision with mobile and cloud as its focus could mean big things for software properties like Office, which are set to become fully touch optimized in 2014. We're lookin' at you, Office for iPad!
This could also have implications for Xbox. Sony is already working on video-game streaming [4] for the PS4 — and perhaps Xbox will follow suit with a streaming platform of its own.
His Wingman? Bill Gates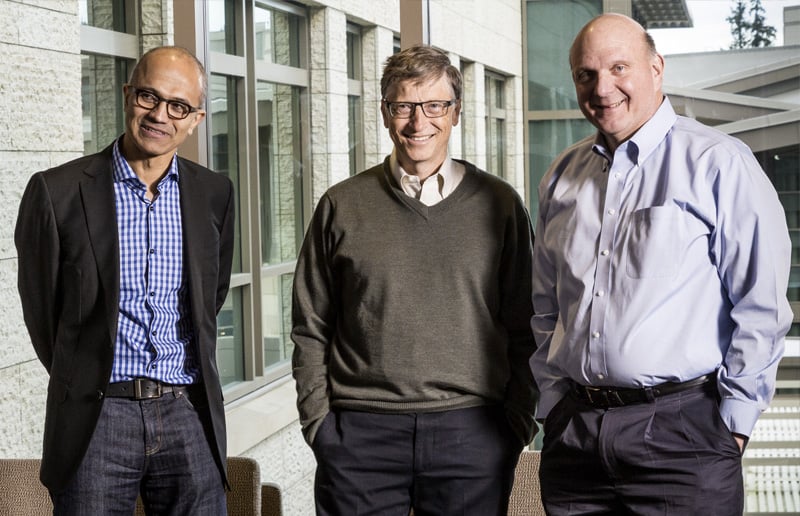 A familiar face is rejoining the company: Bill Gates. The Microsoft founder is leaving his post as chairman of the board and stepping into a more hands-on role as "technology adviser [5]."
There's no better sidekick to help develop new products than the original Microsoft visionary. We're thinking that when Microsoft officially acquires Nokia this year, Bill will play a big part in shaping the next generation of Windows Phone devices.
He Married His High School Sweetheart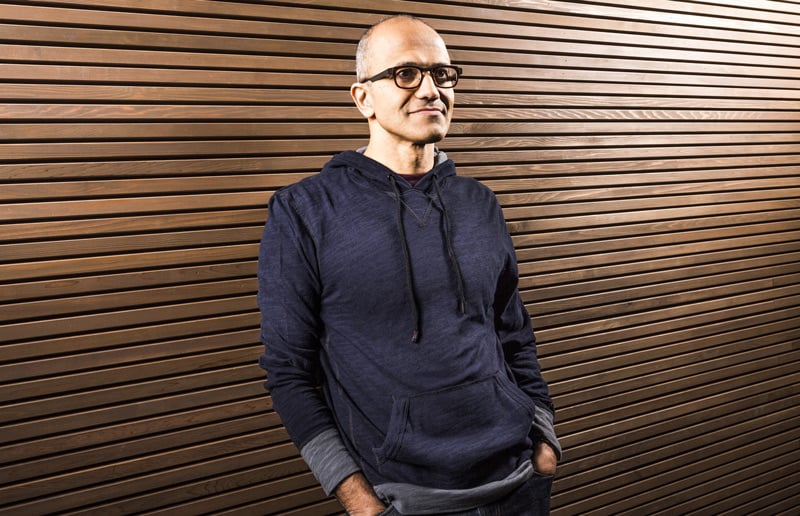 Well, isn't this sweet? Satya has been married for 22 years to the woman he met in high school. They met at Hyderabad Public School [6] in Hyderabad, India, where he was born and raised. In fact, Satya joins a list of other notable alumni from the public school, including Adobe Systems CEO Shantanu Narayen.
Satya's also the ultimate family man and shared beautiful thoughts with The Indus Entrepreneurs on what it's like to raise three children [7], two with special needs: "At home, raising kids, or maintaining a loving relationship, realizing that you have achieved — something fantastic is much harder to see. For example, making sure you are at home, reading to your kids every night, just trying hard to be a great parent with just hope that it may make your children great people and parents themselves, but that for most people, you won't know the result of your efforts for 20 years, and nothing is certain."
He's Been at Microsoft For a VERY Long Time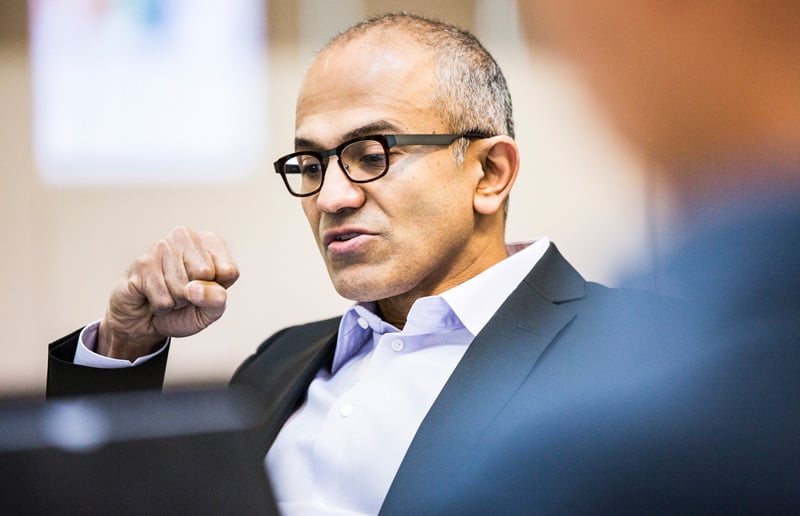 In 1992, a 24-year-old Satya was just one of many Microsoft engineers. He'd just started then and probably didn't imagine that he would one day become the chief executive of the company he joined as a twentysomething.
Now, Mr. Nadella is 46 and has 22 years at Microsoft under his belt. He's dabbled in the company's business division and top-secret research and development group — but he's best known for bringing Window's cloud servers to life. It's the infrastructure that powers services like Bing, Xbox Live, Office 365, and much more.
His ascension at Microsoft is no coincidence. He has a degree in electronics and communication engineering from Manipal University in India, a master's in computer science from the University of Wisconsin, and an MBA from the University of Chicago. In his first internal email as CEO [8], Satya admitted, "I sign up for more online courses than I can complete."
Adding Diversity to the Fortune 500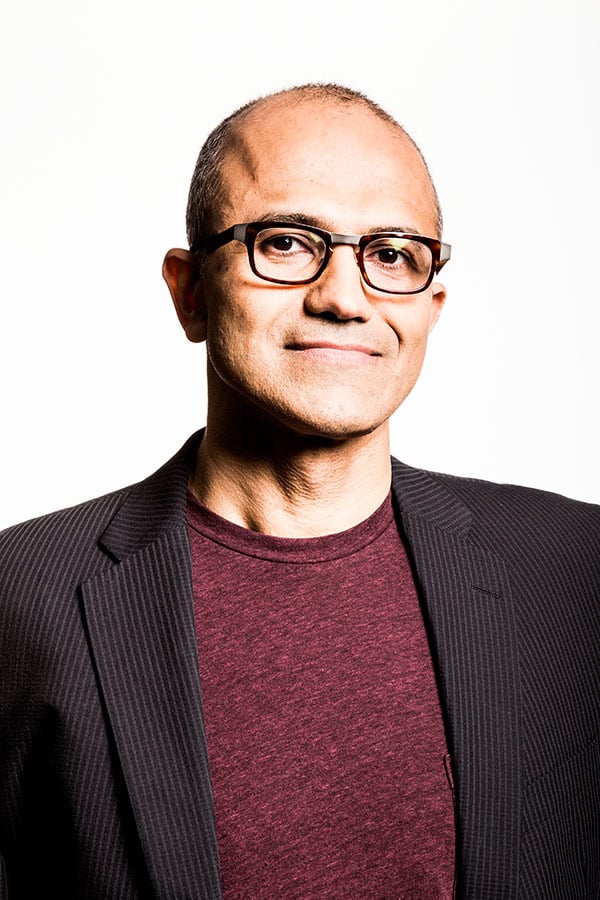 Satya's hometown of Hyderabad, a city in India's Andhra Pradesh state, has been a hub for information technology and IT-enabled services since the 1990s. The area is one of many tech-forward locales in India, a country that is home to many data centers for conglomerates like Microsoft, Google, IBM, and more.
Just 1.8 percent of CEOs [9] in the Fortune 500 are of Asian descent, and Satya is now one of them. Two other notable Indian-born chief executives are PepsiCo's Indra K. Nooyi [10] and MasterCard's Ajay Banga [11].
Hip hip hooray for more diversity!