In the latest spoof of The Bachelor, Jesse Tyler Ferguson is the guy handing out the roses, taking on the role of the first-ever gay bachelor. He runs into a few hilarious issues, though, particularly when the guys start to make connections among themselves. Also cracking us up this week was Jimmy Kimmel's amazing prank, a Catching Fire spoof, and Jennifer Lawrence's press-tour antics. See all of this week's most hilarious videos and pictures:
The First Gay Bachelor
The popular reality TV show The Bachelor has never featured a gay bachelor — until now. A new Funny or Die video stars Jesse Tyler Ferguson as the first gay bachelor who struggles for attention as his dates find connections among themselves. Bonus points for a Lance Bass cameo and an *NSYNC reference.
Jimmy Kimmel's Christmas Prank
Jimmy Kimmel and John Krasinski have been pranking each other back and forth for years, but Jimmy's holiday prank this season will be hard to top. With the help of a 15-person crew, the late-night host transformed John and Emily Blunt's house into a Winter wonderland, wrapping their entire house and bringing in fake snow, a chorus, and an elf.
Jennifer Lawrence's Mint Mishap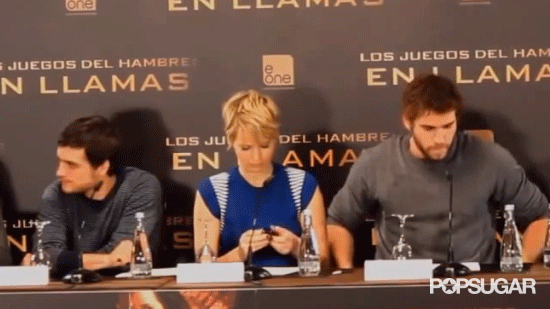 While the Catching Fire cast was in Madrid, Jennifer had a clumsy moment during a press conference, spilling her mints and cracking up her castmates. The look on her face says it all.
For more funny videos and pictures, just keep reading.