Brad Pitt is the latest star to join the famous wedding crashers club after he stumbled upon a couple's nuptials in England over the weekend. Other stars who have popped up at regular folks' big days include John Travolta, who is a serial crasher, Conan O'Brien, and even Robert Pattinson. Read on to find out which stars have made appearances at weddings.
Brad Pitt
Brad Pitt sort of crashed Abi and Daniel Lingwood's wedding when he showed up at a hotel bar in Buckinghamshire, England, on Friday and ran into the newlyweds. The bride thought her husband was joking when he spotted him in the hotel, and the two couldn't pass up the opportunity to ask him for a photo. The actor is filming his latest film, Fury, nearby.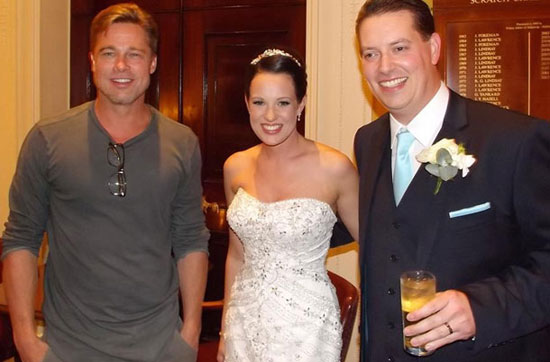 Conan O'Brien
Conan O'Brien showed up at the Atlanta wedding between Wes and Victoria Hoffman back in April after he had been jokingly invited by a fellow partier on Twitter. Much to everyone's surprise, the late-night host showed up at the reception and took photos with all the guests.
Justin Bieber and Selena Gomez
Fans got a two-for-one treat when Justin Bieber and Selena Gomez crashed a beach wedding in Malibu back in July 2011. According to Justin, he heard his song "One Less Lonely Girl" playing at the reception while going on a stroll with his then-girlfriend, so the two decided to make an appearance at the party.
John Travolta
John Travolta got a last-minute invite to attend a couple's wedding after he ran into them the day before the nuptials in Georgia. To the bride and groom's surprise, John actually showed up and posed for photos with the entire wedding party. This wasn't the first wedding that John crashed — he revealed several years ago that he and Robin Williams decided to pop by a random wedding in 1977 in Santa Barbara.