Lemon and Lavender Popsicle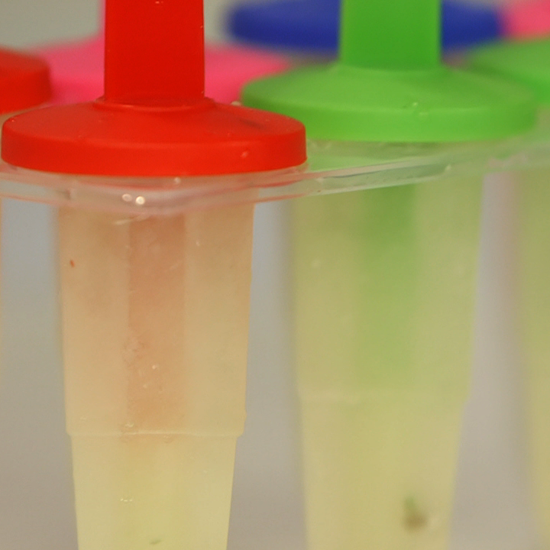 Veronica Bosgraaf, founder of Pure Bar, shared this easy-to-make recipe for refreshing lemon-lavender popsicles. Made using only five ingredients, the not-too-sweet icy treats are perfect for Summer get-togethers and backyard BBQs.
View Transcript »
Transcript
Summer popsicles are usually loaded with refined sugar and artificial flavors but they don't have to be. I've invited Pure Bar founder, Veronica Bosgraaf, to show us her vegan lemon lavender popsicle recipe. So here's what you'll need: six large lemons; one cup of water; half a tablespoon of fresh lavender which is ground; half a tablespoon fresh mint leaves, chopped; two tablespoon agave. So it's really very simple. All you need to do is take your fresh fruit like your lemons. Perfect. And squeeze it into using a lemon squeezer. Great. And you're gonna wanna mix it one to one. So if you're using a cup of water, we'll have enough lemon juice to do one to one. Okay, so now you've got your lemon juice squeezed and you just add one cup of water. Great. And add the lemon juice. And then you add your herbs. So if you want your herbs to be finer, you can put them in a coffee grinder and grind them up. And then they just kind of blend and add color. Let me add the lavender. So now we're ready to add a little agave to make it sweeter. Perfect. And you can add your agave to taste. Some people like it a little more tart, some people like it a little more sweet. And I'm just gonna add a couple of tablespoons. And if you're not partial to agave, you can always use honey or another alternative sweetener. Yes, definitely you can do that. So now we've got it all mixed together and we can pour it into our popsicle molds. All right. And they look beautiful too. They are. They really are impressive. It's a great little dessert to serve at a dinner party too. Yeah, I was gonna say, a summer barbecue or picnic, perfect. You know, adults love popsicles too. It brings us back to our childhood. Sure does. All right, and then you pop them in the freezer? Yeah. Overnight? Overnight. Perfect. and they'll be ready to go. I can't wait to try them. All right, so these guys have been freezing over night. Yup. They are ready for the FitSugar taste test. So dig in. Okay, let's do it. They're amazing. They're so fresh, they're tart but they just have the right amount of sweetness. I can taste the hint of mint and lavender. So refreshing. Thanks for showing us your recipe, Veronica. You're so welcome. Thank you for having me. Of course. We'll see you next time on FitSugar TV.
Source: POPSUGAR Studios