Solange Knowles Pictures After Jay Z Elevator Fight
Solange Knowles Steps Out Smiling After Elevator Attack
ADVERTISEMENT ( more slides)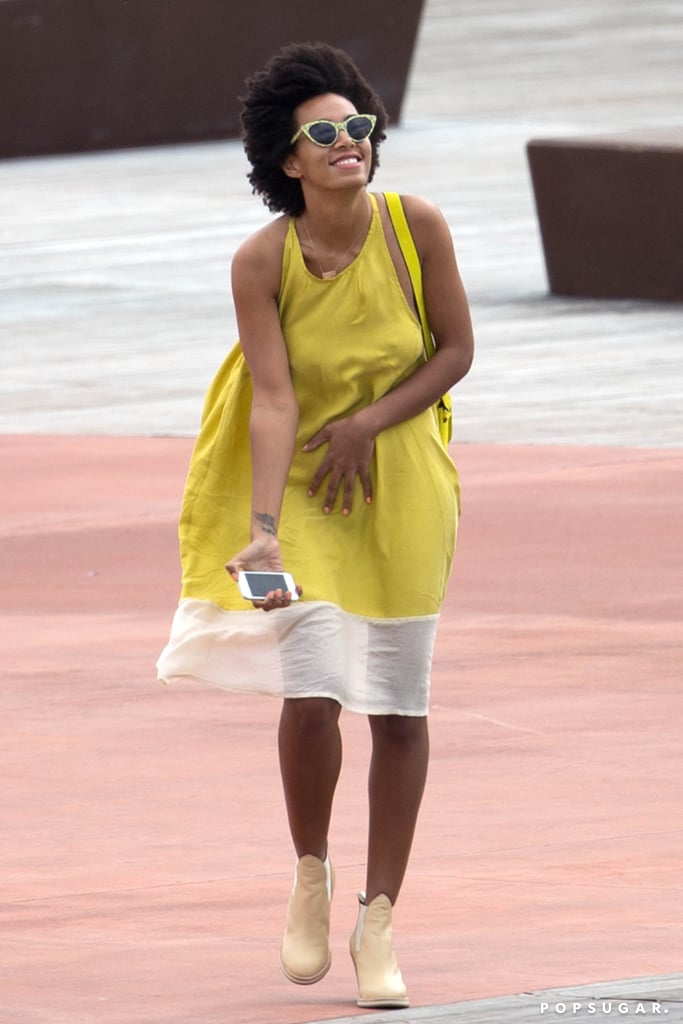 1
Solange Knowles Steps Out Smiling After Elevator Attack
Solange Knowles stepped out with her boyfriend
, Alan Ferguson, for an afternoon stroll in New Orleans on Wednesday. The singer was all smiles in a yellow dress while showing PDA with her guy. It seems as though Solange is trying to keep a low profile since news broke of her
disturbing fight with Jay Z
in an elevator after the Met Gala. Video of the attack went viral this week and shows Solange hitting and punching her brother-in-law as her sister, Beyoncé, stands by. Since then, the world has been speculating about what possibly could have gone wrong between the trio, and
many theories have popped up regarding what set Solange off
and where her relationship with Beyoncé stands; though the sisters have
traded subliminal messages on Instagram
, they reportedly traveled to Costa Rica together to celebrate
Kelly Rowland's wedding last weekend
. On Thursday,
Solange shared a series of childhood photos
of herself and her older sister via social media and
Beyoncé and Jay Z released a statement
saying, "We've put this behind us," so it appears as though the tree could be on the mend. Scroll down for the exclusive pictures of Solange and her boyfriend.