Jackets to Wear With Dresses | Outfit Ideas
Ditch the Parka For These Fancy-Occasion Coat Options
Like us on Facebook
There's a reason the fashion crowd looks forward to New Year's Eve. The parties, the shiny accessories, the excuse to get dressed up — it's all pretty exciting, to say the least. But when the dress code calls for anything but casual, finding a cozy and cute coat to go with your fancy ensemble can oftentimes be tricky. Because sure, that parka may be warm, but it won't do your chic LBD any favors.
So we went ahead and paired a few great toppers with some festive dress choices to help solve your styling dilemma.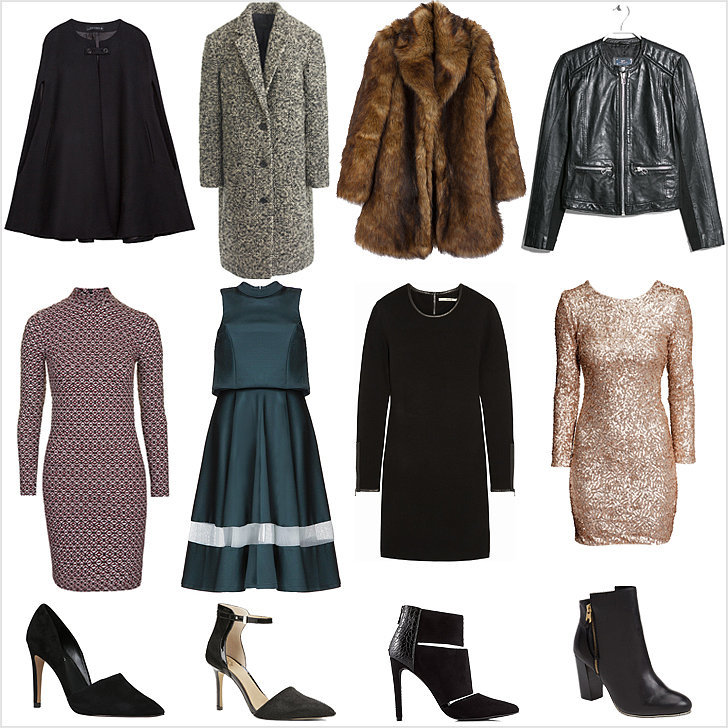 Perhaps one of the biggest trends of the season is the cape. We've seen them all over the red carpet and found inspiration from Nicole Richie, who recently wore one over her long, white body-con. Thinking about going with a fuller skirt? Opt for something that'll cover, like a classic, menswear-inspired topcoat. Add a bit of spice to that simple black dress by pairing it with something furry. And just know that when it comes to sequins, leather will finish off your look nicely.
Are you digging our picks? Shop them all, here:
Shop top to bottom, left to right: Zara cape ($189), Topshop dress ($60), Aldo heels ($100); J.Crew topcoat ($450), Pixie Market dress ($80), Ann Taylor heels ($138); Front Row Shop coat ($178), J Brand dress ($420), Express heels ($98); Mango jacket ($190), H&M dress ($70), Elliott Lucca boot ($139).
Image Source: