Egg-Free, Grain-Free Chocolate Chip Cookie Dough Balls
A Reader Recipe: Grain-Free Cookie Dough Truffles
Like us on Facebook
Sometimes, you just need some cookie dough. FitSugar reader AllieNic knows how to satisfy those cravings. First, make a healthier cookie dough using almond meal and honey, then drop these balls into melted chocolate to make grain-free cookie dough truffles, which she posted in our Healthy Recipe group.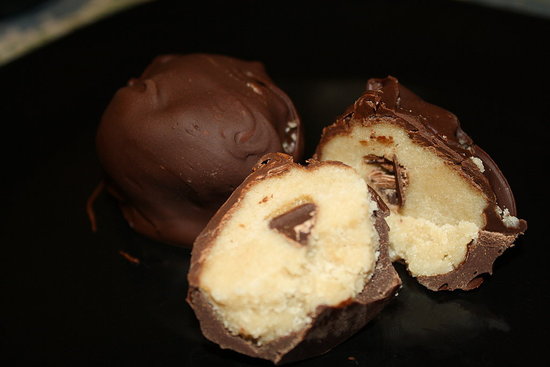 It's been about four million years since I made anything containing chocolate.
This doesn't mean I haven't been eating chocolate — I have — I just haven't made my own sweet treats.
Find out how she makes these cookie dough truffles after the break.
Last night, I made these:
Ingredients (for cookie dough)
2 1/2 cups almond meal (I used Bob's Red Mill)
1/4 tsp sea salt
10 Tbsp  butter
1 Tbsp vanilla
1/3 cup honey
Makes 30 cookie dough balls.
Read the rest of the recipe (hint: melted chocolate ahead) for these indulgent treats at AllieNic's blog, the Frisky Lemon, and don't forget to post your own recipes in our Healthy Recipe group!