Vegan Gluten-Free Pumpkin Cookies
Vegan and Grain-Free Pumpkin Chocolate Chip Cookies
Like us on Facebook
Pumpkin isn't just for Thanksgiving, and if you're a fan of pumpkin pie, then these cookies are a real treat. Soft, chewy, and only 86 calories per serving, the recipe is vegan and also grain-free. If the cold weather inspires you to head to the kitchen for some baking, then give this easy recipe a try. Bonus: since they contain no eggs, you can lick the bowl clean!
Ingredients
1 cup creamy almond butter
1/2 cup pumpkin puree
1/4 cup pure maple syrup
1 teaspoon cinnamon
1/2 teaspoon nutmeg
1/8 teaspoon ground cloves
1 teaspoon vanilla extract
1/4 teaspoon sea salt
1/2 cup dark chocolate chips (optional)
Directions
Preheat your oven to 350° F, and line two baking sheets with parchment paper or a Silpat.
Combine all the ingredients in a medium bowl, and mix until a smooth batter is formed. If adding the dark chocolate chips, then fold them in now.
Using a spoon, drop the batter onto the lined baking sheet almost like you're making pancakes.
Bake at 350° F for 12 to 15 minutes, until the edges are golden.
Allow to cool completely before using a spatula to remove from the baking sheet. Enjoy immediately. Store leftovers in an airtight container (they'll become softer and cake-like).
Makes two dozen cookies.
Here's the nutritional information for one cookie: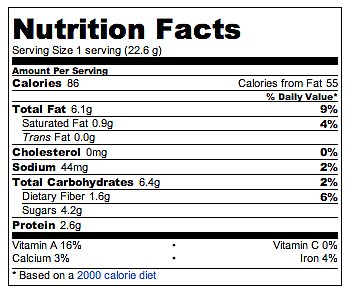 Source: Calorie Count
Information
Category

Desserts, Cookies