Ever used hashtags in normal conversation? Well, it sounds pretty ridiculous based on Jimmy Fallon's latest sketch with Justin Timberlake. Jimmy also cracked us up this week with an outrageous lip-sync-off alongside Joseph Gordon-Levitt, who rocked out to "Super Bass." Oh, and did you know Justin Bieber got spanked by Zach Galifianakis in the middle of an interview? See that and more with this week's funniest Internet finds:
Hashtags Gone Wild
Jimmy Fallon and Justin Timberlake's latest skit collaboration makes fun of the hashtag craze, with the pair sharing a hashtag-filled back and forth. #LOLOLOL, indeed.
The Epic Emmys Photobomb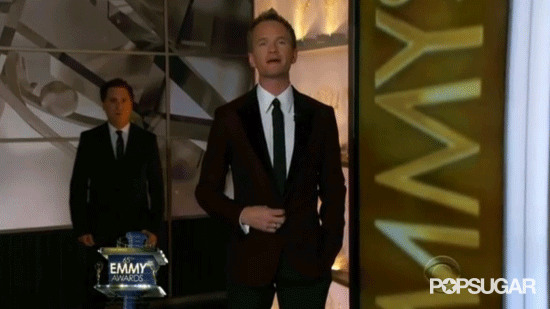 This year's Emmy Awards show was filled with some seriously funny, GIF-worthy moments, but none as hilarious as this man slinking away in the background while Neil Patrick Harris spoke to the camera.
Justin Bieber

Gets Spanked

This may just be the first interview to involve both a spanking and a sliming. When Justin Bieber sat down with Zach Galifianakis for the latest edition of Between Two Ferns With Zach Galifianakis, things quickly took a funny turn when Zach said, "It's really exciting to talk to you, especially right in the middle of your public meltdown."

Keep reading for more funny videos.