If you've been following us on Instagram [1] (and you really should be!), you know that we spent much of this week at the 2014 Toy Fair, scouring the aisles for the sure-to-be-hot toys of the year. Along the way, we saw life-size Lego creations, an encouraging number of STEM-related toys, a surprising number of defecating toys (yes, this seems to be an unsettling trend), and enough Frozen-related merchandise to make any Olaf or Elsa fan squeal with delight. Read on for a behind-the-scenes look at the toys and playthings that will be hitting store shelves throughout the year, and stay tuned for our continuing coverage of the trends will be making their way into your kids' toy boxes.
Barbecue Party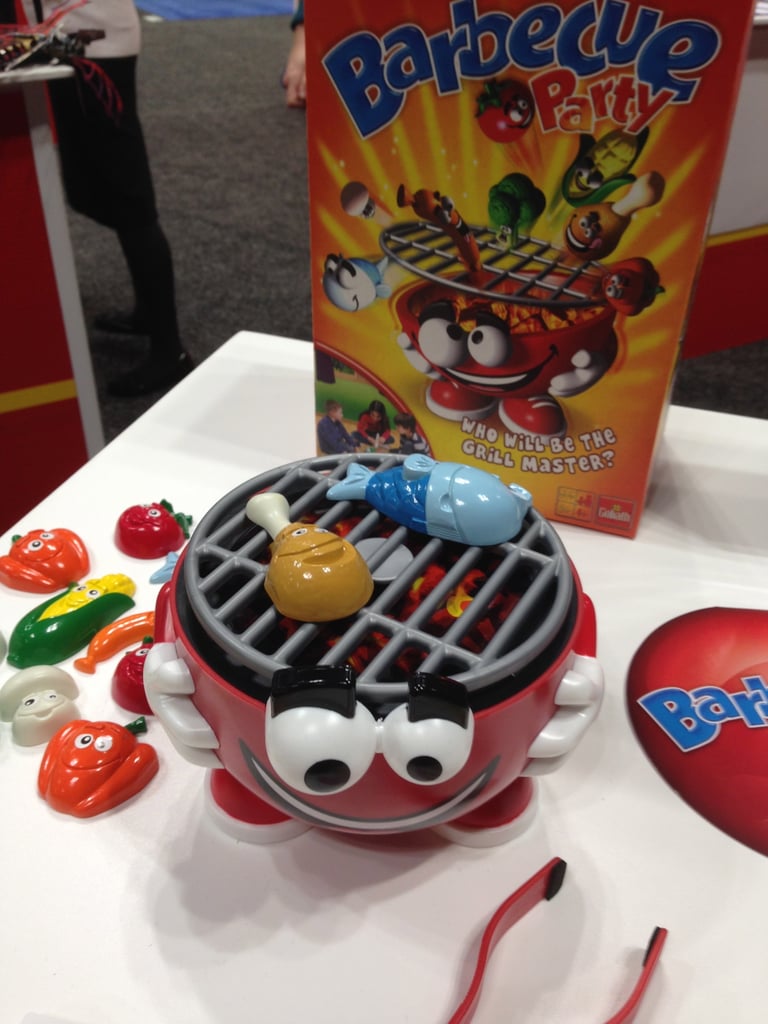 All of Goliath's games had awesome elements of surprise, and this grill master's special is no exception!
Cars Play Set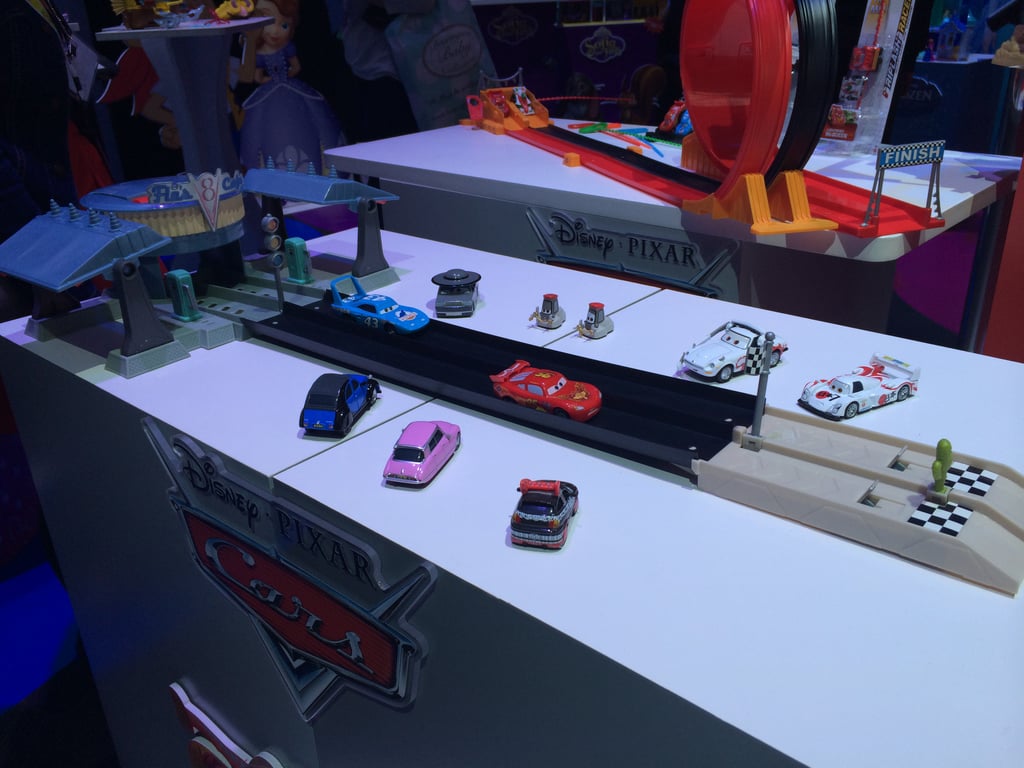 Mattel's line of Cars toys will expand with Flo's Cafe race track.
Barbie Iron-On Style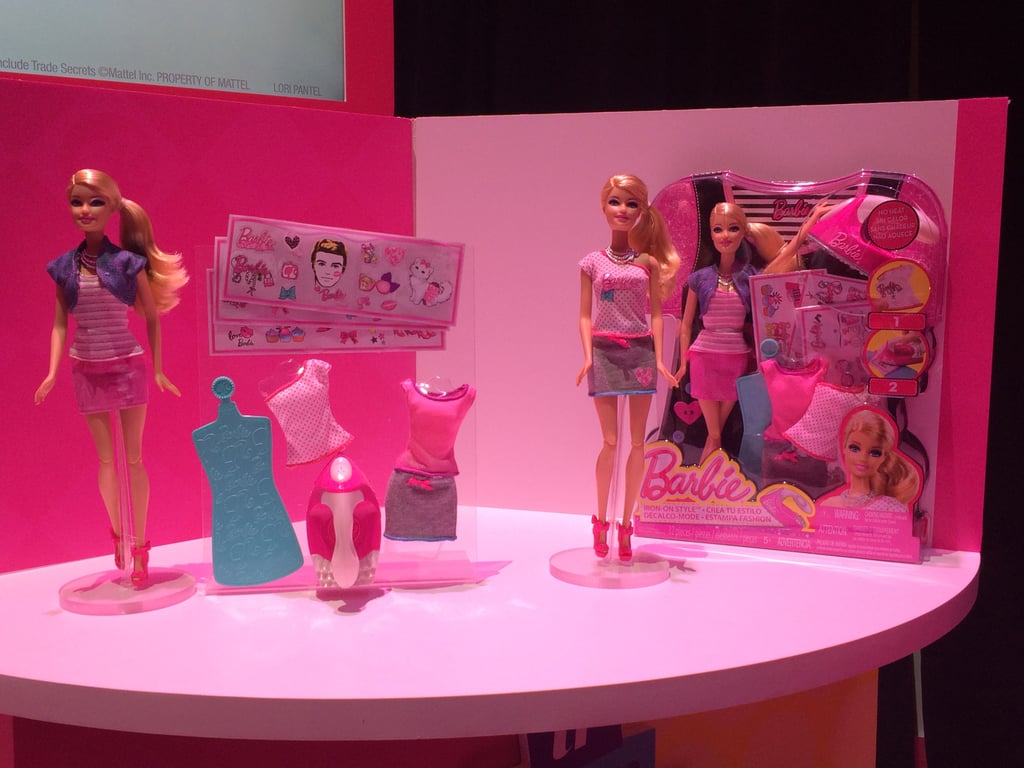 Fashion designers can help design Barbie's clothes burnishing iron on decals onto the pieces.
Adjustable Fisher-Price Jumperoo
A multifunctional bouncer, jumper, and walker for baby's first year.
Roominate Modular Furniture Building Sets
Roominate, created by two engineers out of Caltech, MIT, and Stanford, encourages girls to learn to use circuits to make their self-built dollhouses more realistic with moving elevators, working lights, and anything else they can create.
Lego Juniors Introduction
Lego will introduce a new line of bulding sets that will fill the void between Duplo and classic Legos. Lego Juniors is for kids ages 4+ and has simpler instructions than the bigger sets.
Alex Magnetic Ducks in the Tub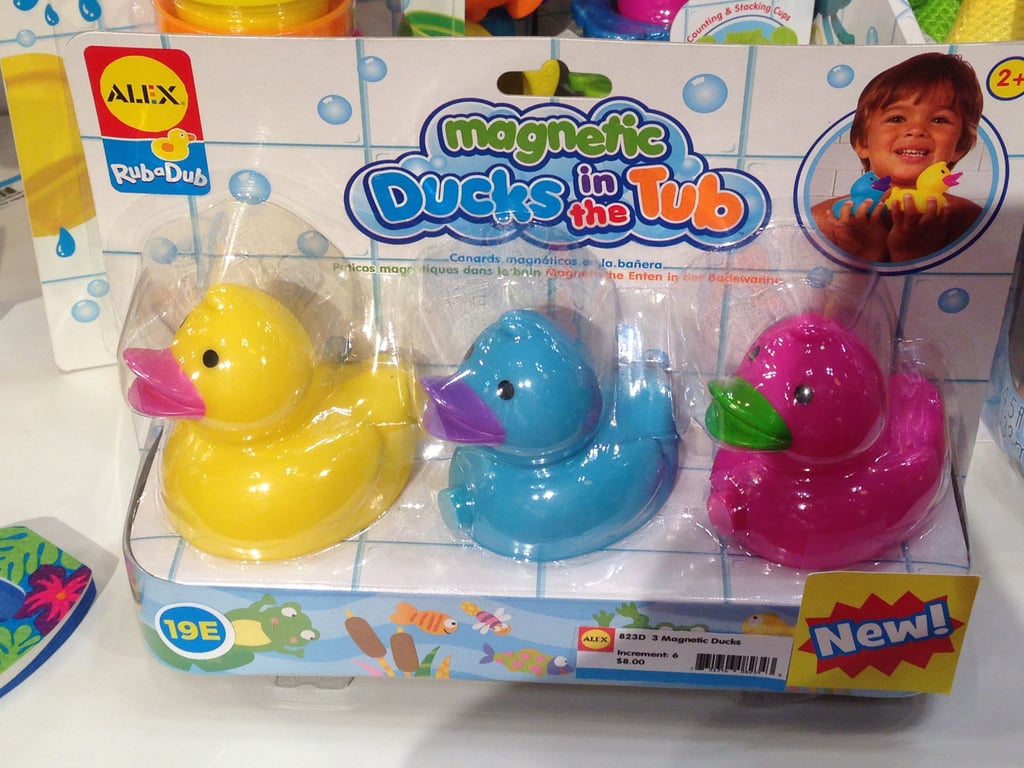 The familiarity of a chain of magnetic toys hits the bathtub with this colorful trio of rubber duckies.
Monster High Catacomb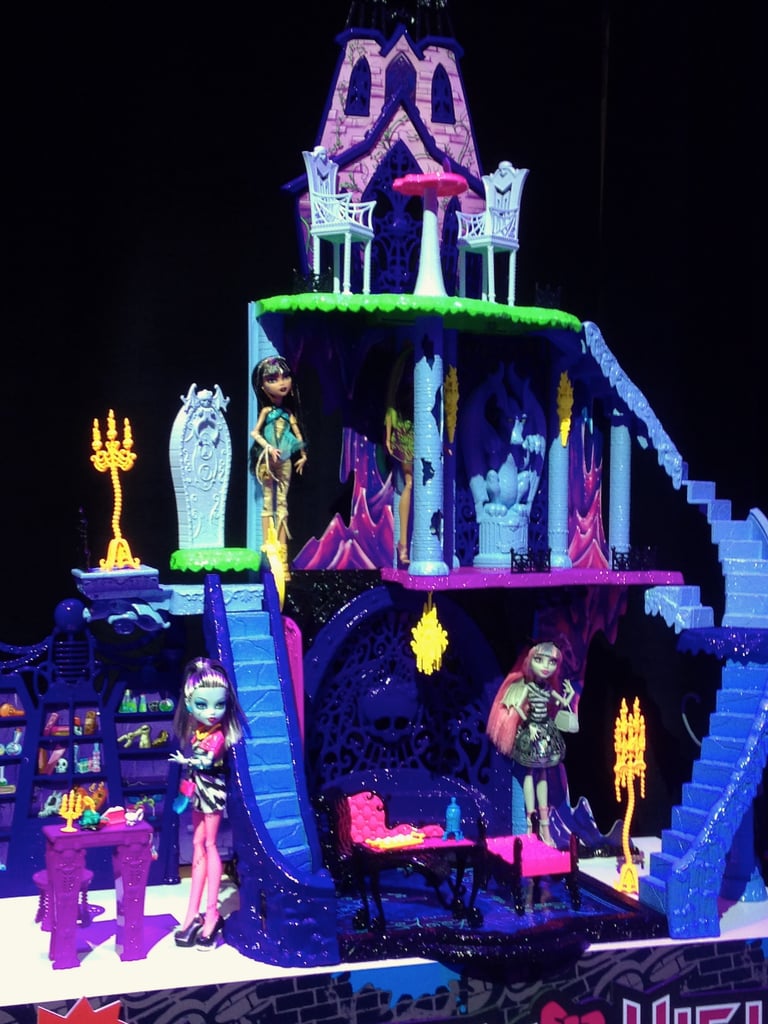 The ultimate play-display piece for Monster High fans.
Thomas Wooden Track Set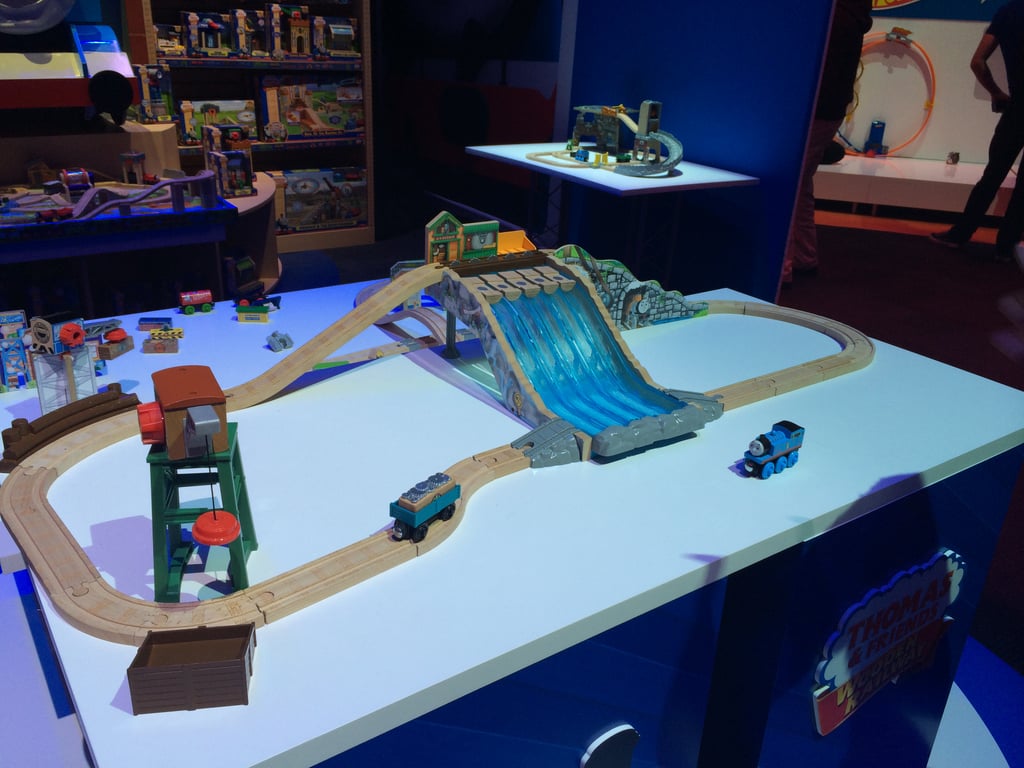 This addition to the Thomas line includes this waterfall-themed set.
Monster High Inner Monster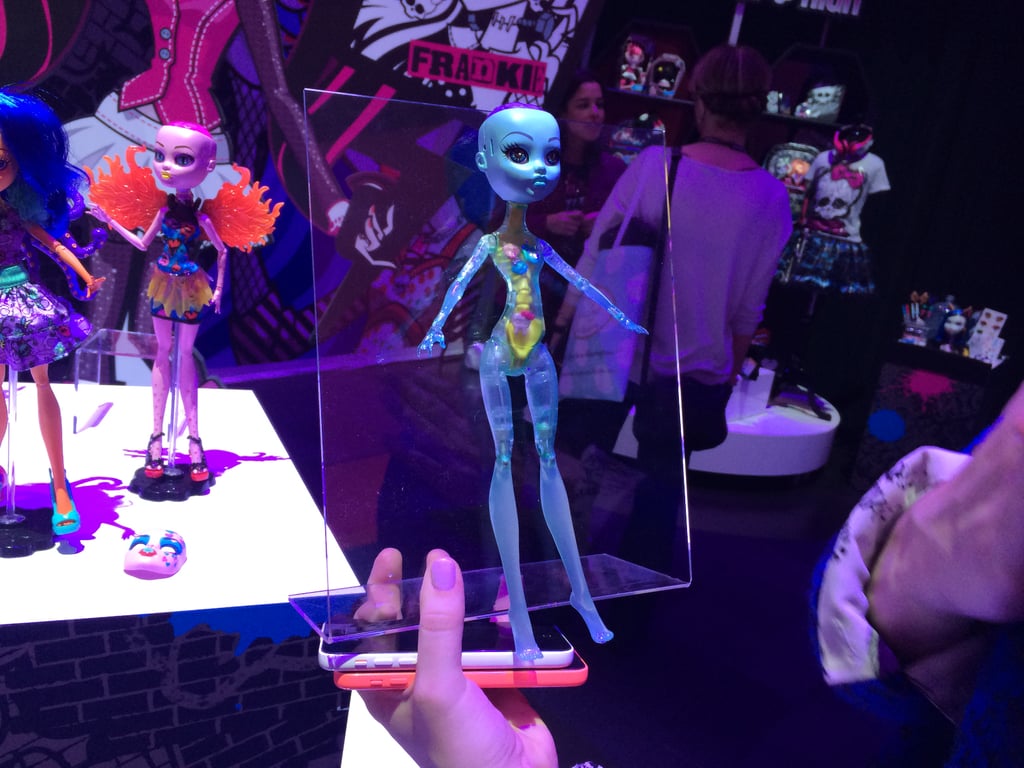 This Monster High doll comes complete with butterflies in her stomach!
Oregon Scientific Smart Globe Infinity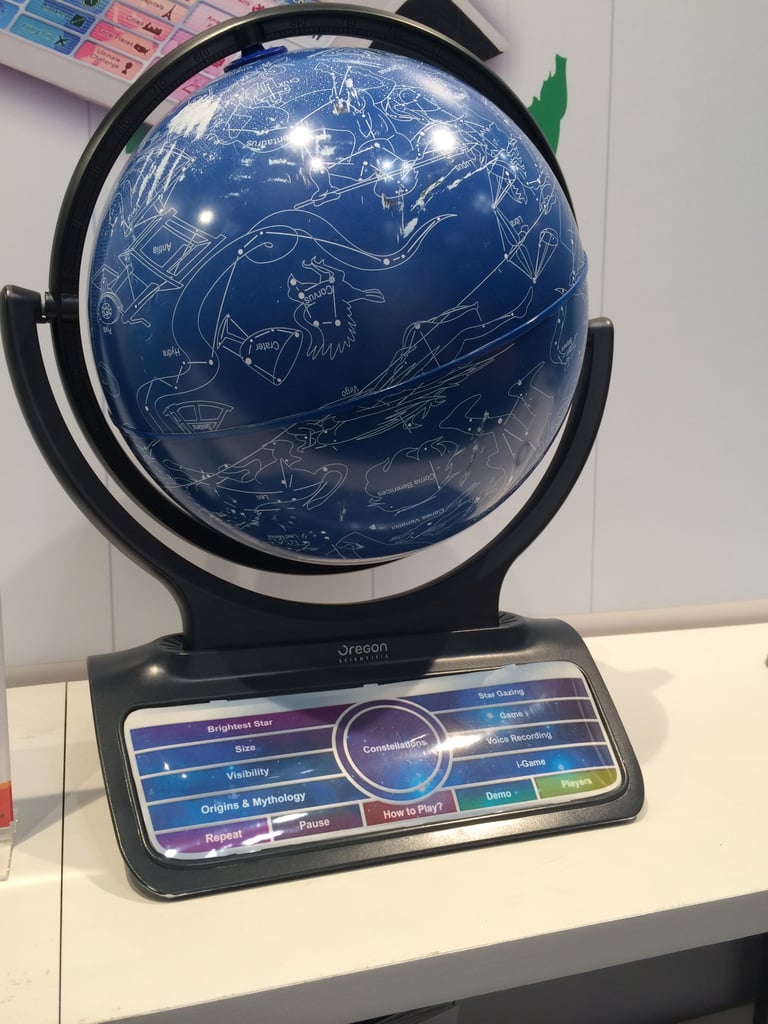 With this new globe, kids can buy additional globes that swap into the frame — each teaches about something different such as the solar system or constellations
Hexbug Vex Robotics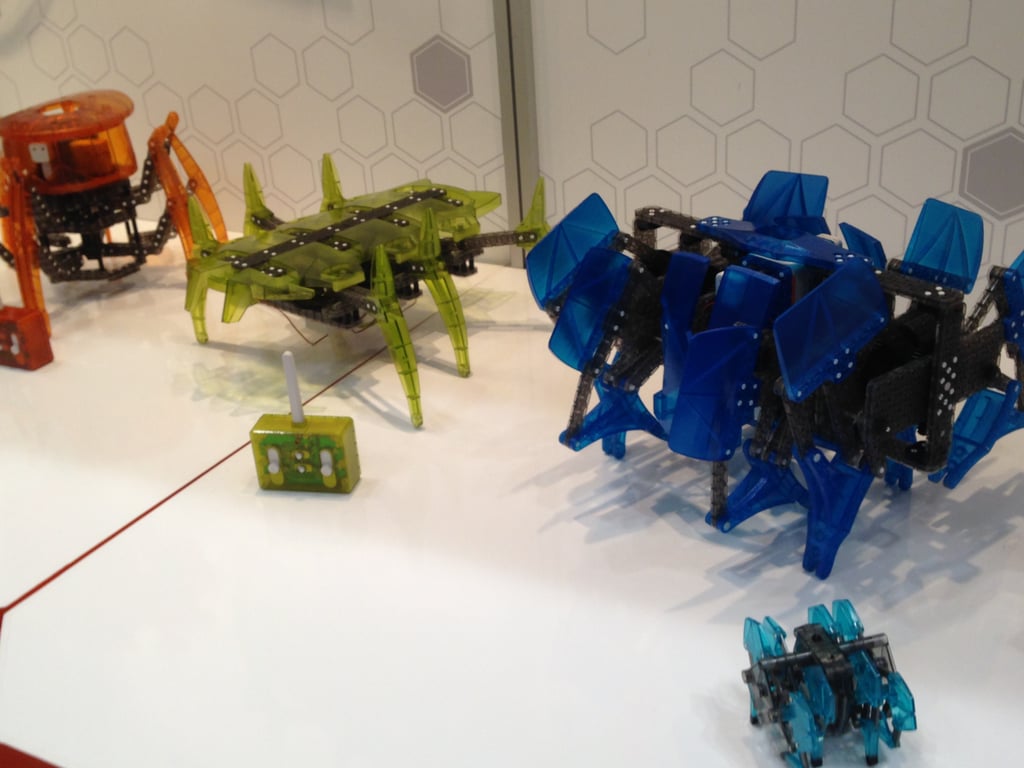 These DIY [2] Hexbugs should take your little engineers about three hours a piece to construct — and they're HUGE!
Spot It! Freeze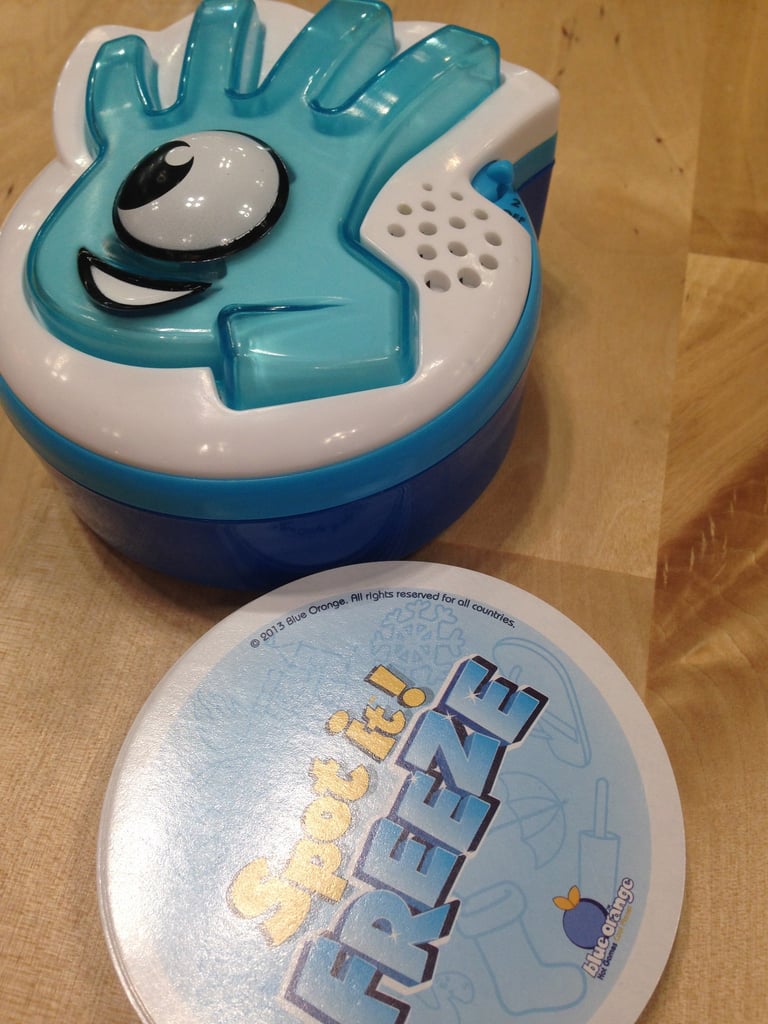 The latest addition to the Spot It! line is this "Freeze" game full of icy graphics.
Good Night Moon Game
What kid wouldn't want to play a game based on the favorite book.
Alex Colossal Art Set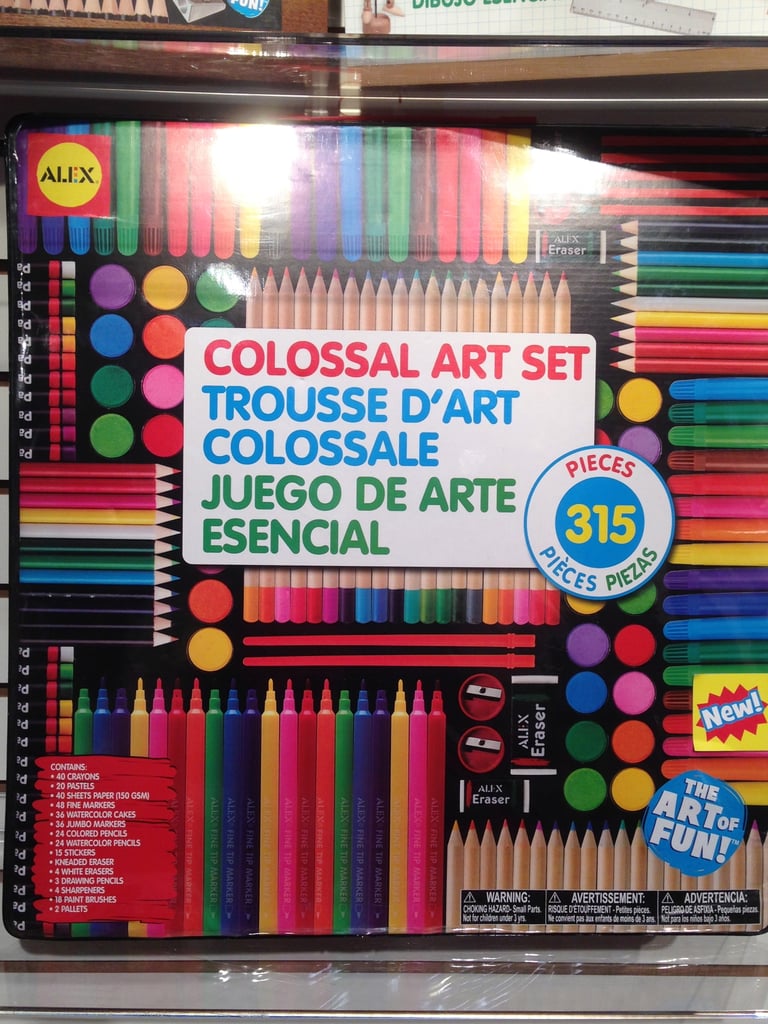 This would be the ultimate birthday gift for your favorite Picasso in training (and it's under $50!).
Green Toys Train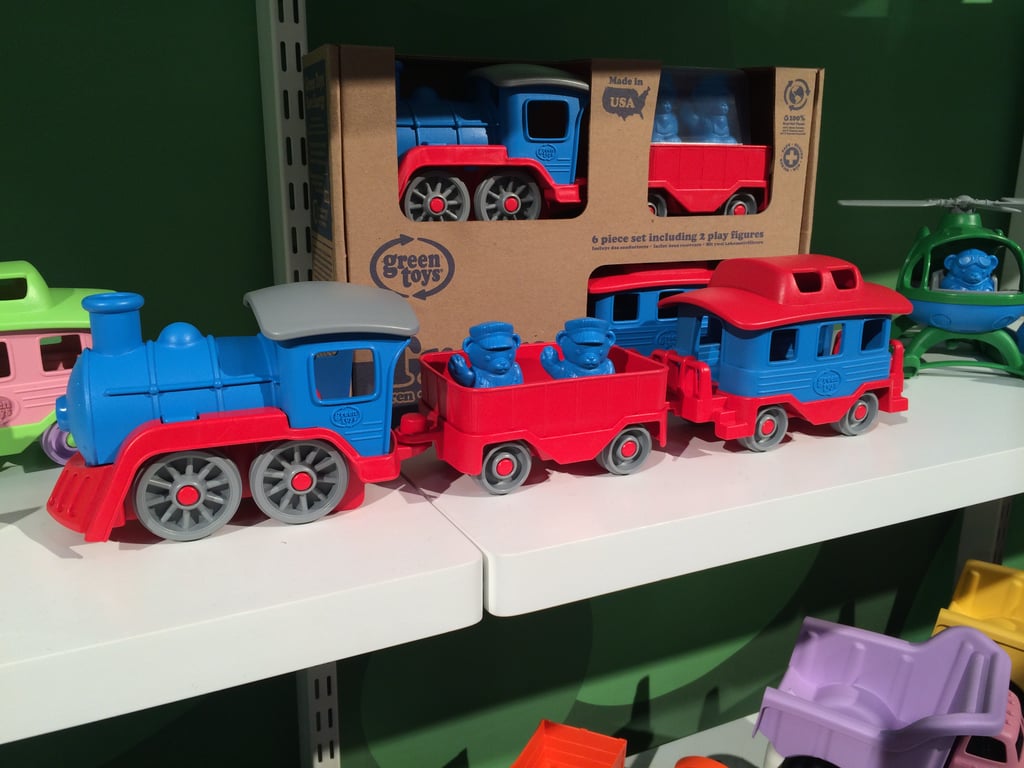 Green Toys's Facebook page was filled with fan requests for a train — so the company complied!
Rabbios Invasion Mystery Figures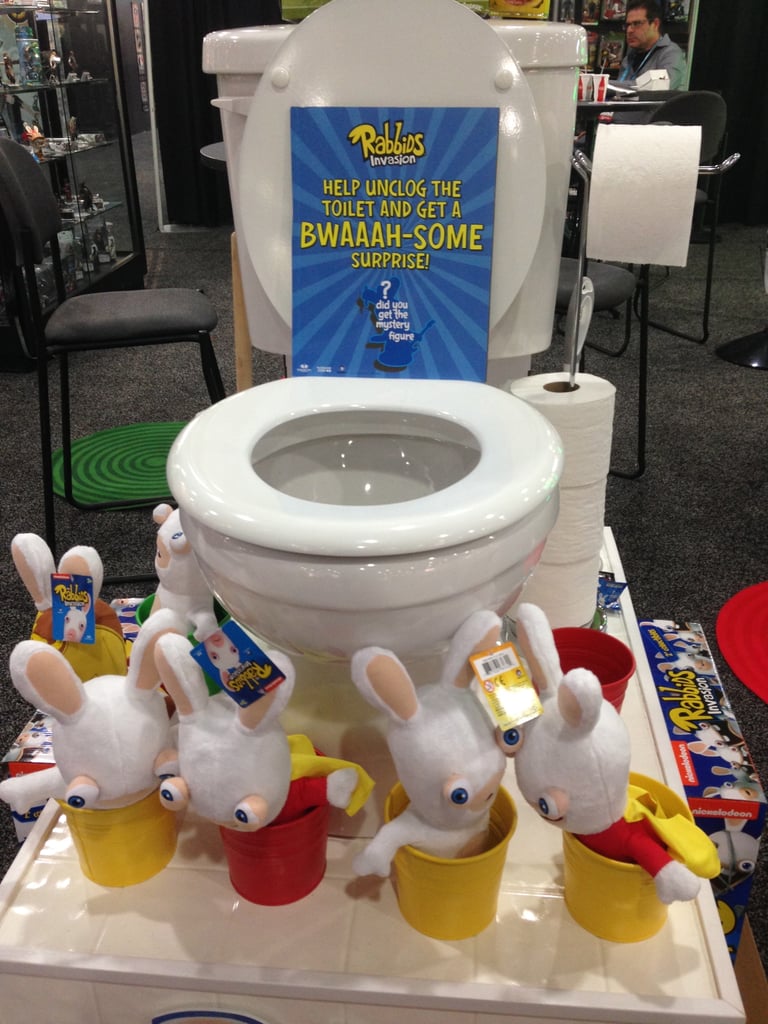 We told you potty humor was en vogue!
My Little Pony Rainbow Rocks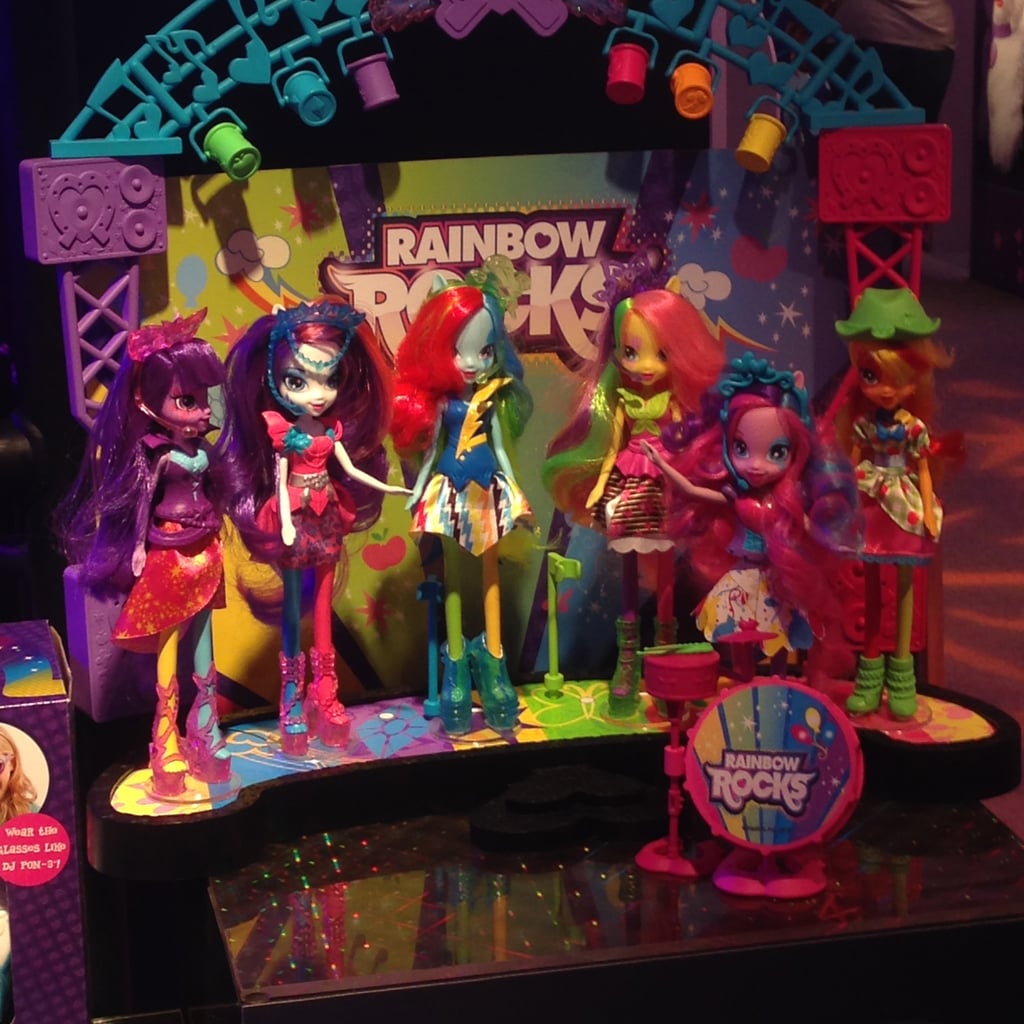 Everything was coming up rainbows at My Little Pony!
Lego The Simpsons House
The Lego Simpsons House celebrates the animated show's 25th anniversary.
Maleficent Figure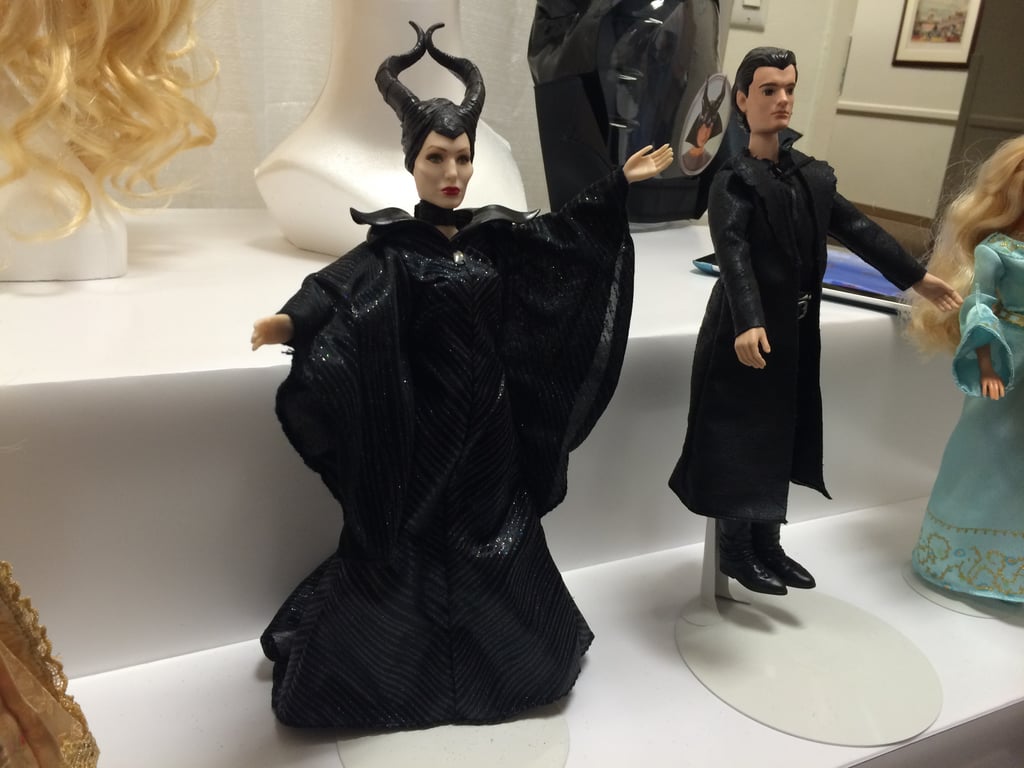 Just in time for the movie's release, kids can get their hands on the Maleficent star Angelina Jolie [3]'s doll.
Crayola Virtual Design Pro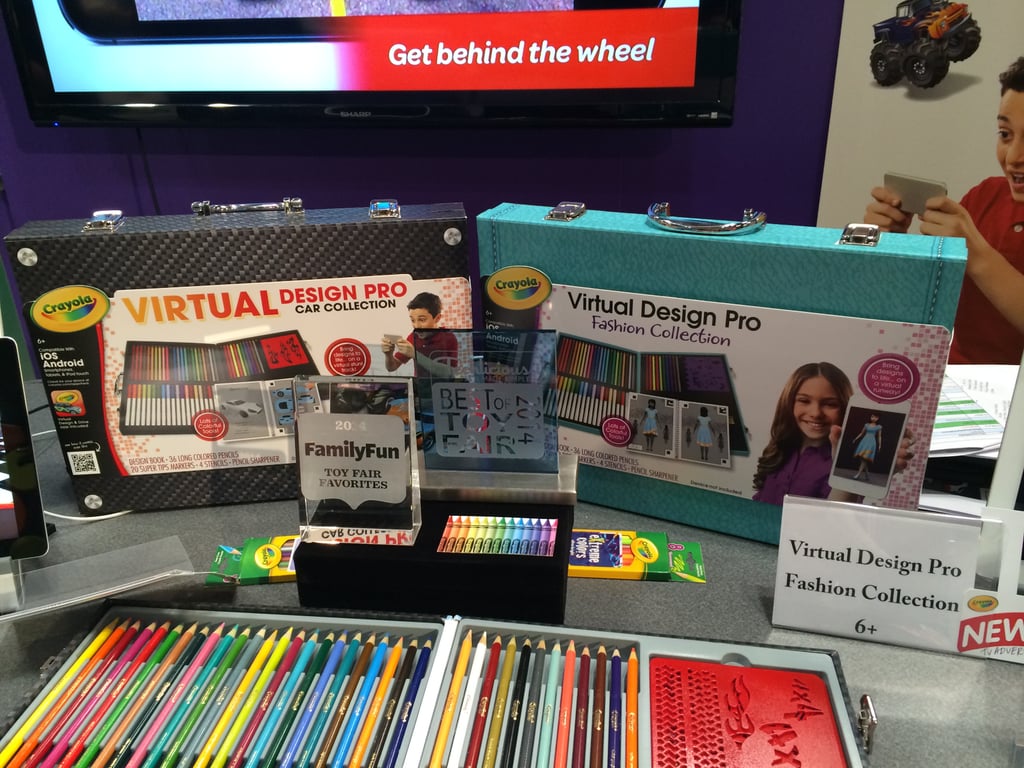 With the new Crayola Virtual Design Pro, kids can design their own race cars or runway fashions and bring them to life on their tablets.
Hot Wheels Super Loop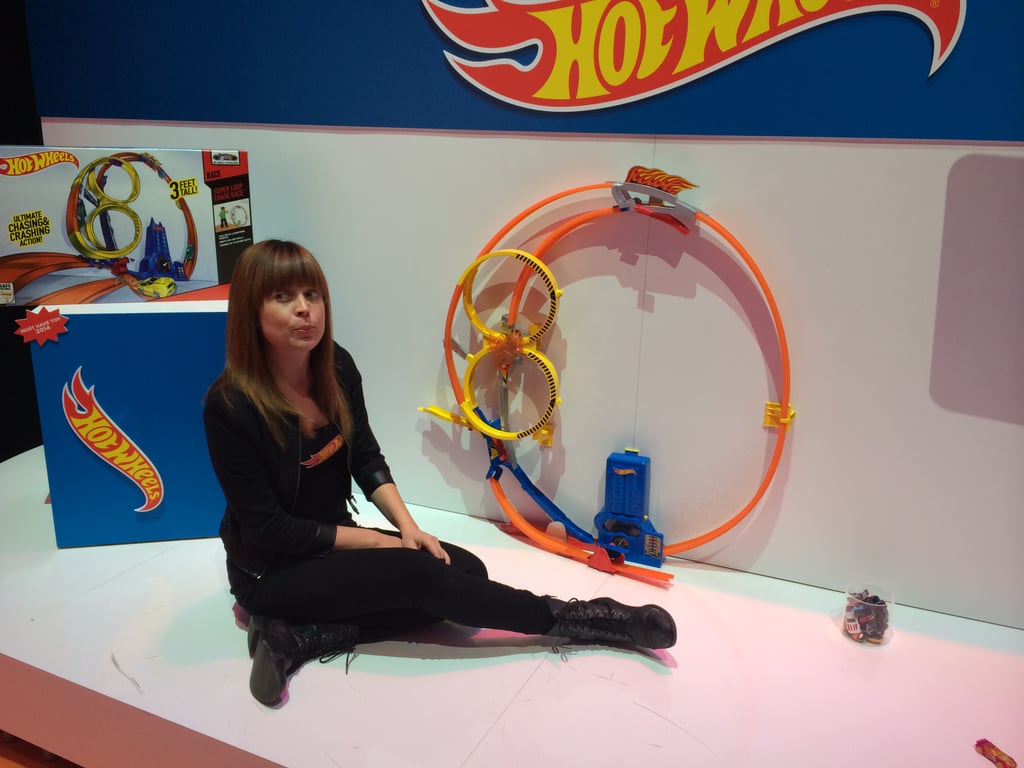 At three-feet tall, this is the largest loop Hot Wheels has ever made.
Mooshka Fairy Tales Dolls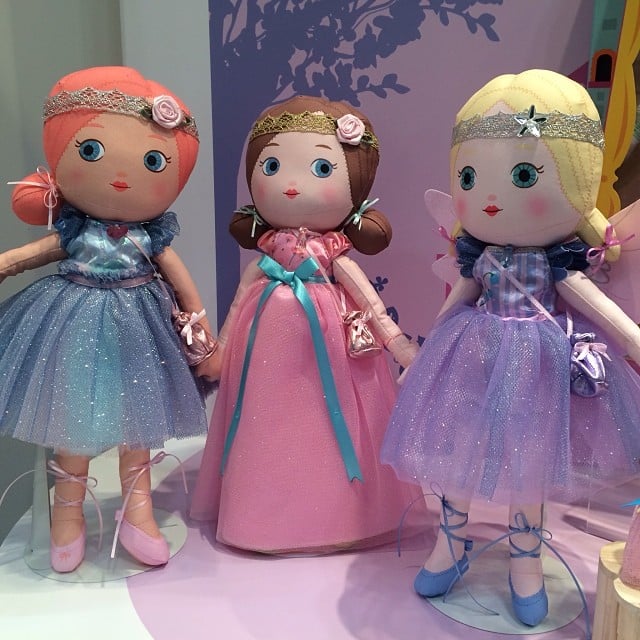 We love these sweet new Mooska Fairy Tales dolls. Soft dolls with fabulous colors and great glitter skirts!
Plush Craft Foxy Pillow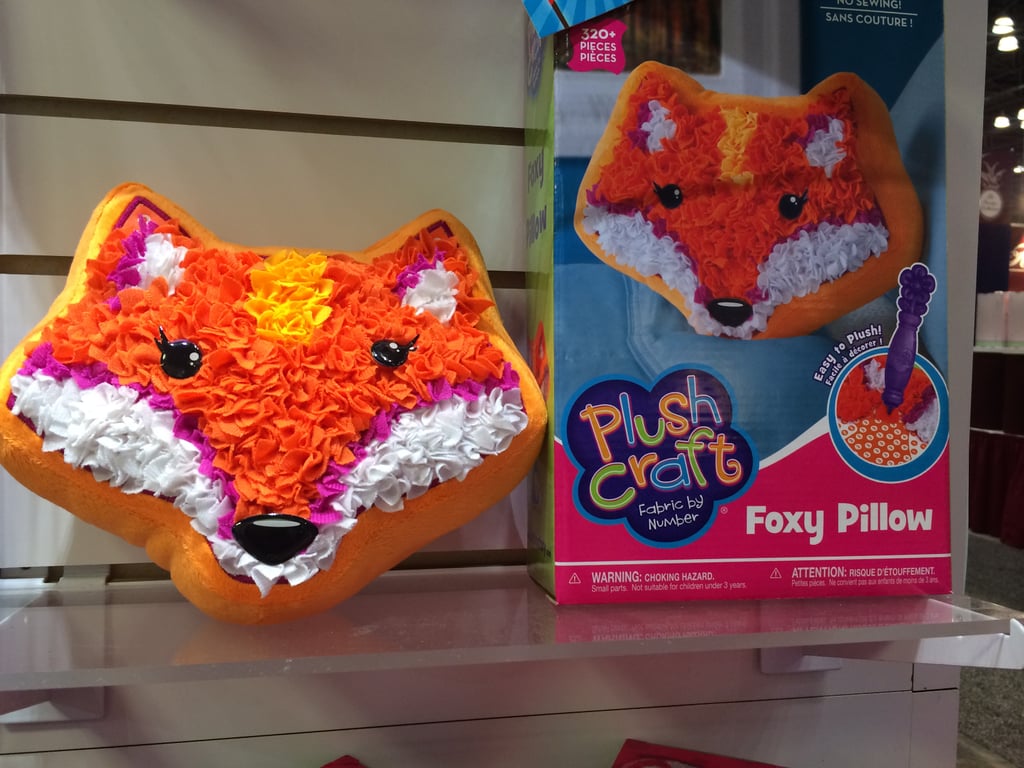 Even young kids can create an on-trend pillow with this easy craft.
Le Toy Van Cappuccino Maker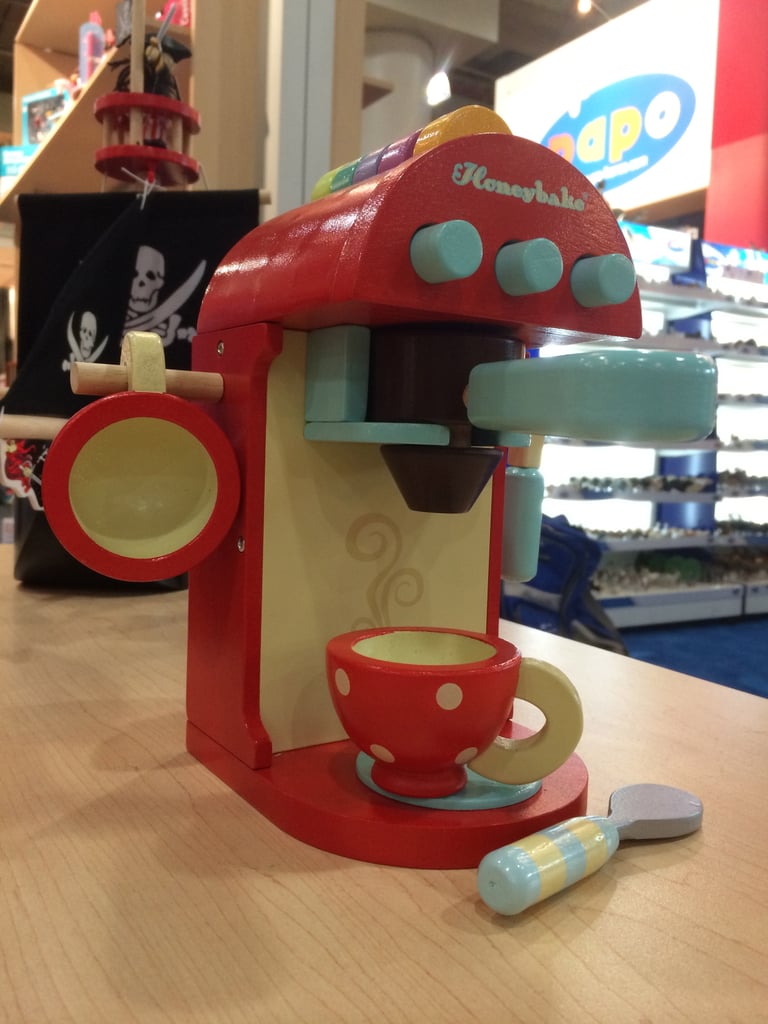 Kids can mimic their parents' coffee habits with this wooden version.
Doh Vinci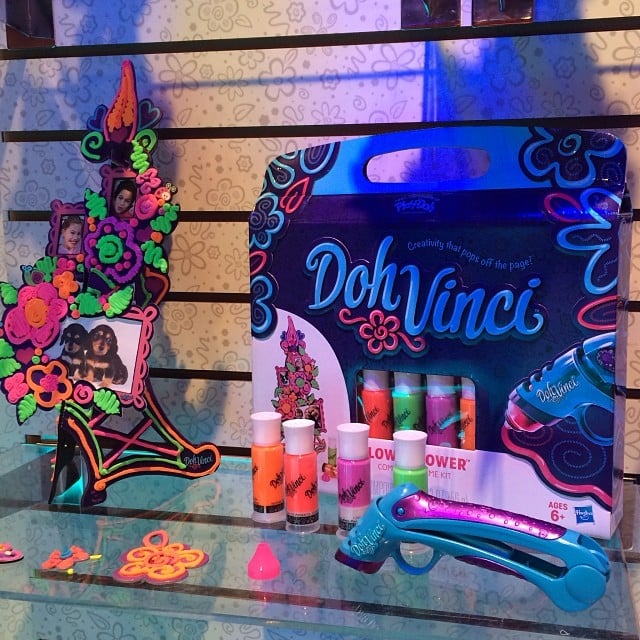 Everyone's favorite compound, Play-Doh, is growing up as Doh Vinci, a crafting material that is used like a glue gun and hardens overnight.
Melissa & Doug Stackable Puzzles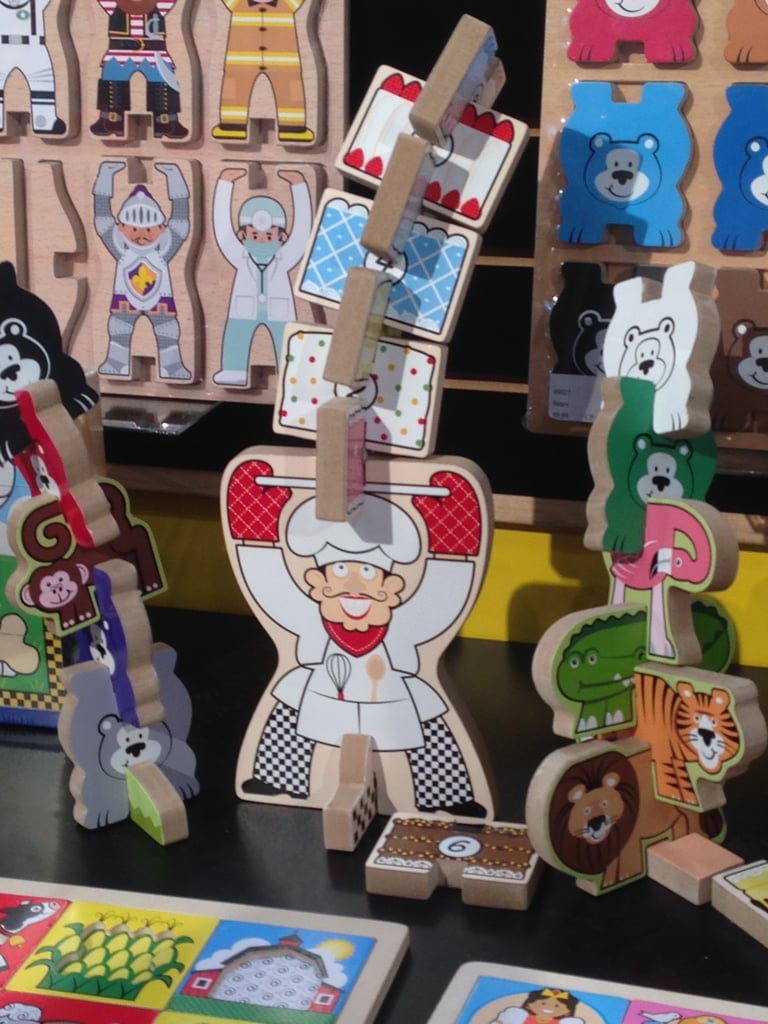 Mix and match these vertical puzzles for hours of interchangeable fun.
Sofia the First
Fans of Sofia will love her new play sets from Mattel.
Cloud b. Frog Prince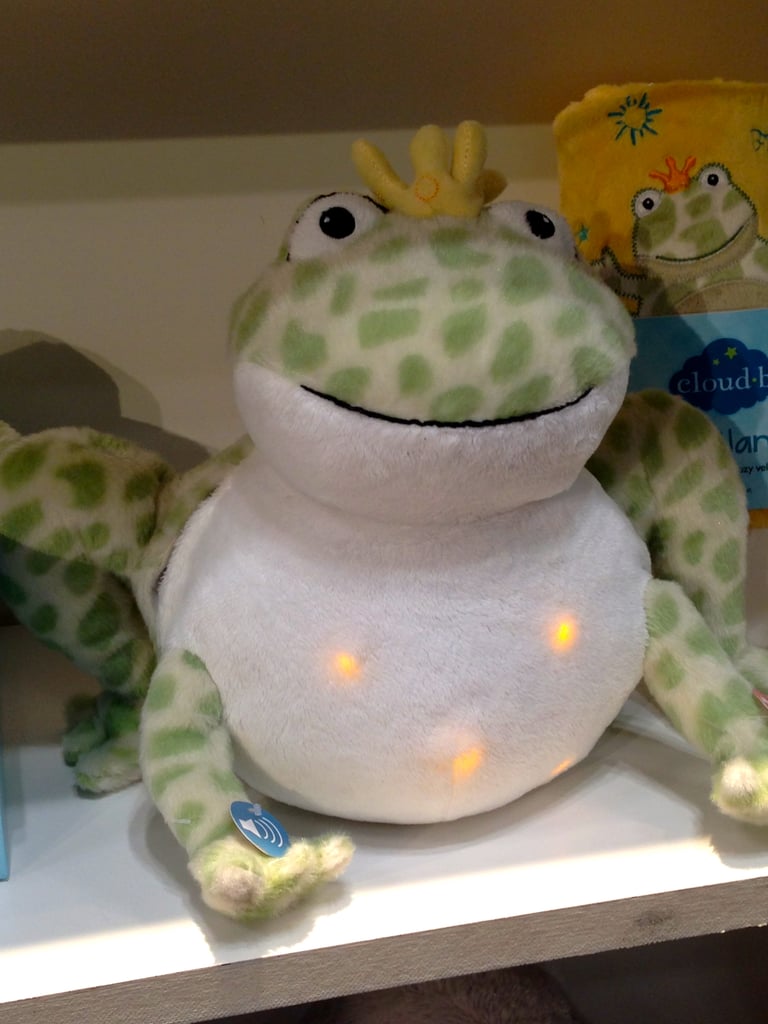 A huggable and soothing night-light worthy of your own royal baby.
Alex Sketch It Nail Pens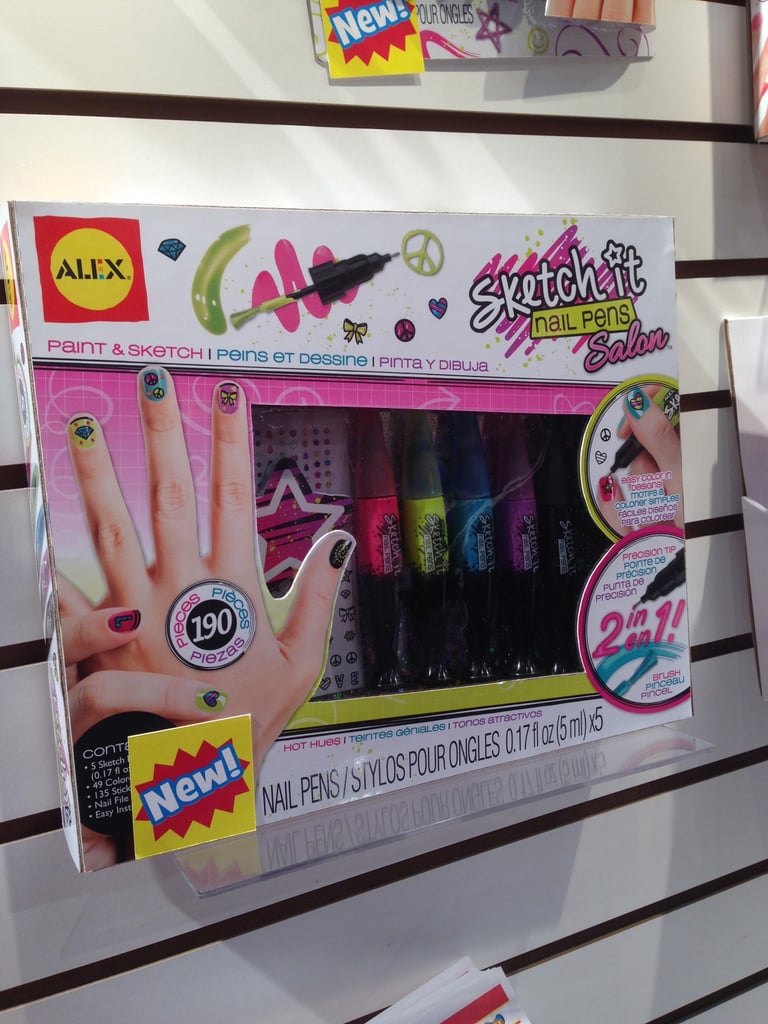 Nail art's a hot trend in the grown-up beauty world, and now tweens and teens can get in on the action and do it all on their own!
Fisher-Price Little People Go to Disney World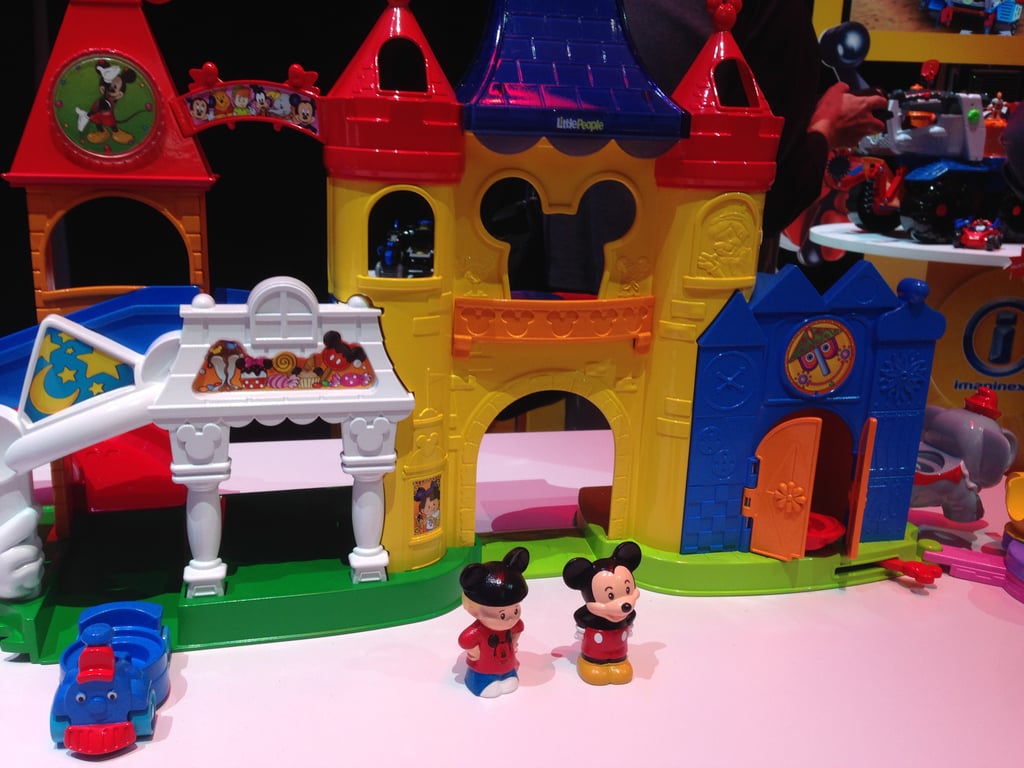 They didn't miss a detail . . . right down to the tea cups and "It's a Small World" soundtrack. What a fun way to get kids ready for a family vacation to the happiest place on Earth!
Seedling Enchanted Skipping Rope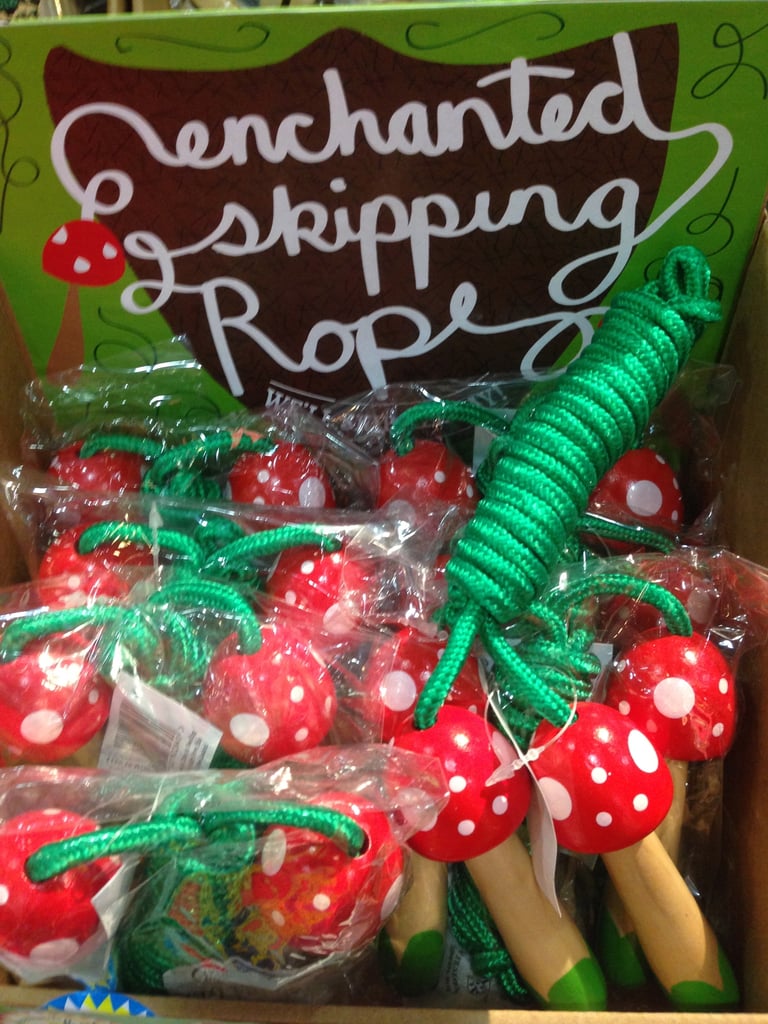 From Seedling's Pocket Money line, these Enchanted Skipping Ropes would be cute goody bag additions.
Pixel Jewelry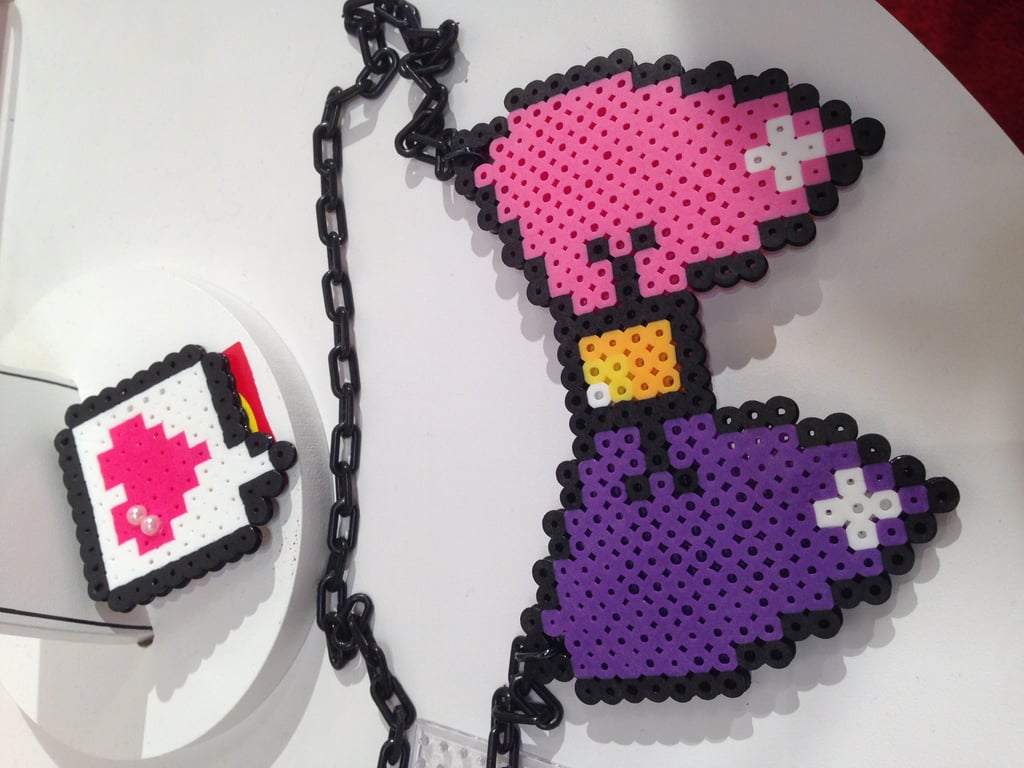 Go retro with this old-school favorite craft kit from Alex Toys.
Jake and the Neverland Pirates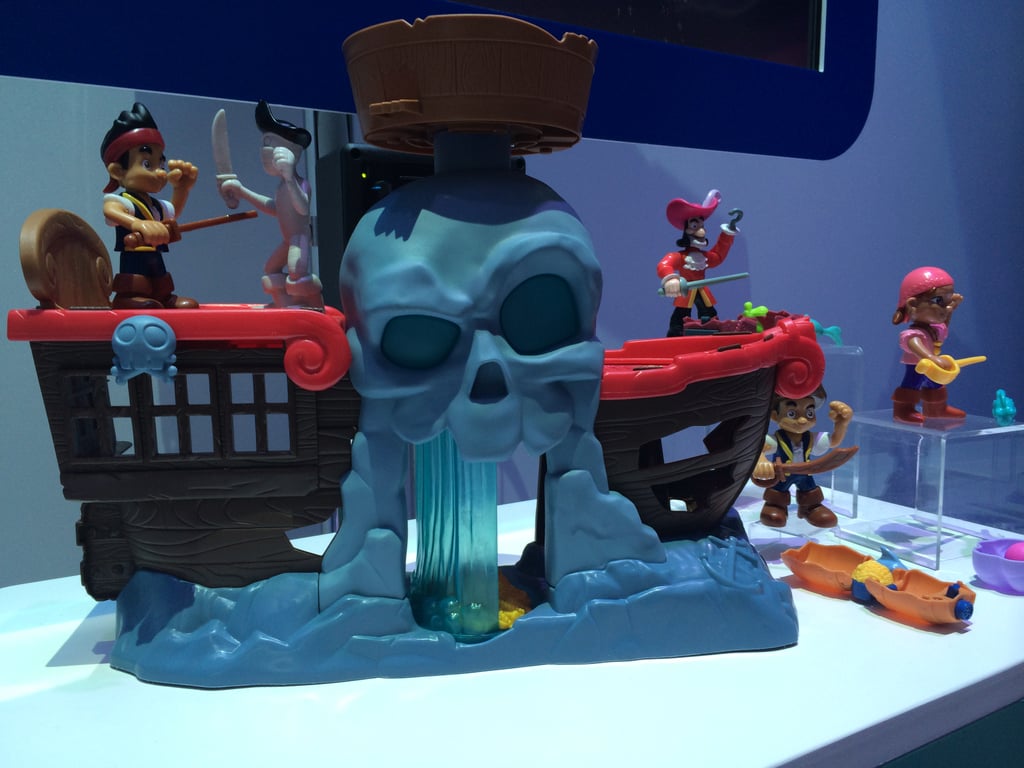 Mattel will expand their Jake and the Neverland Pirates collection to include this Skull Rock play set.
First Bike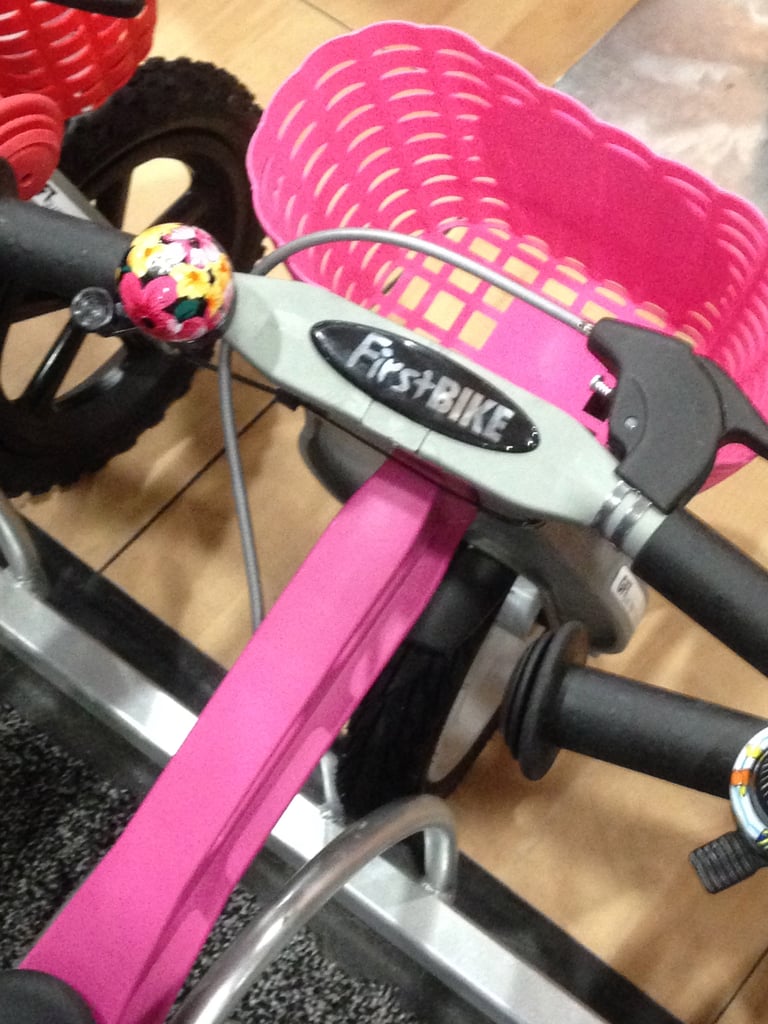 A European favorite makes its US debut with its virtually indestructible balance bikes.
Janod Backpacks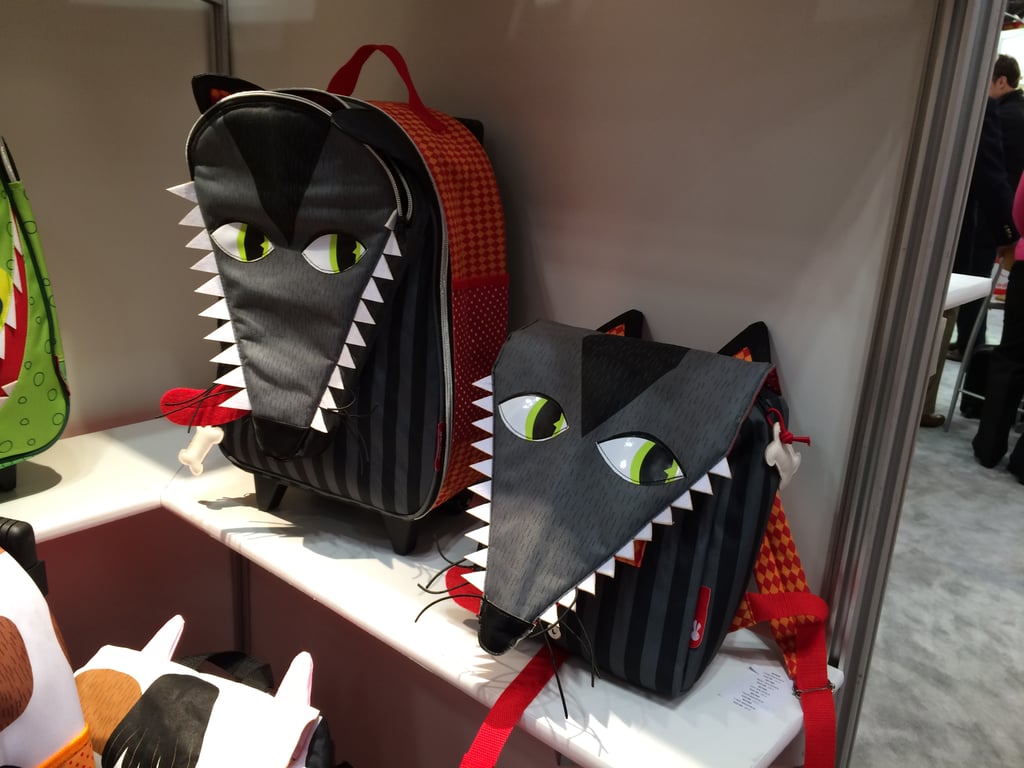 Janod is moving beyond wooden toys and into soft goods with the introduction of a line of suitcases and backpacks.
Mattel Elsa's Ice Castle Play Set
Elsa, Anna, and Olaf are all included in this play set.
Pugopoly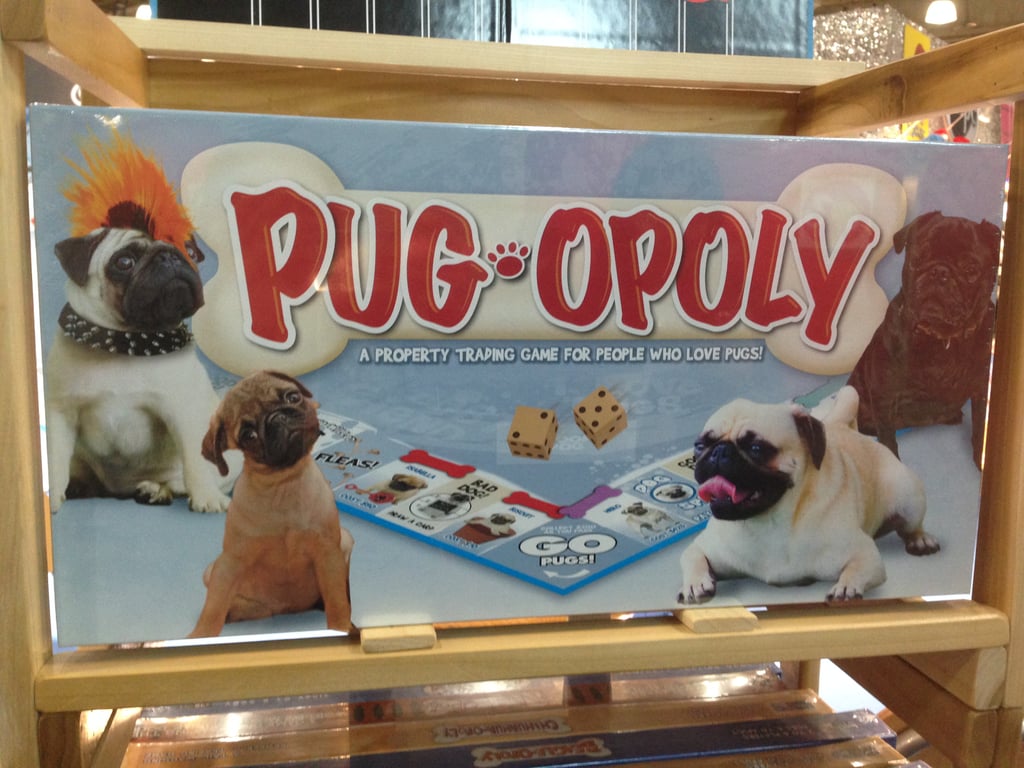 For canine-crazed Monopoly fans.
Nerf Rebelle Super Soakers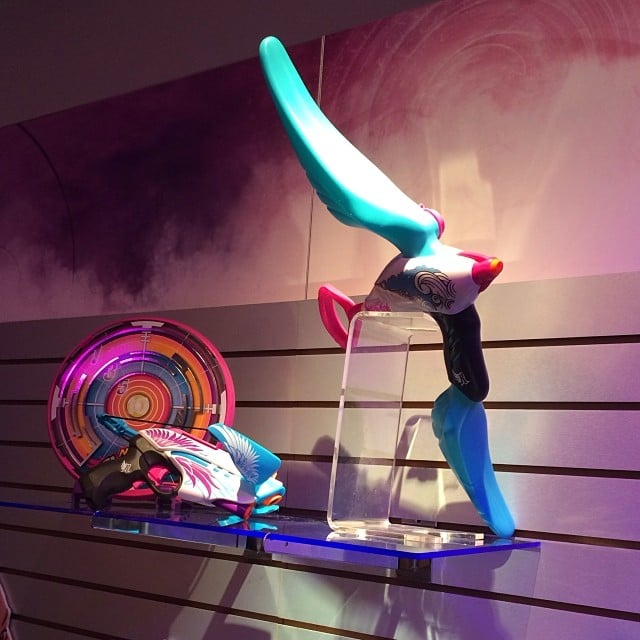 Can we talk about the upcoming line of Nerf Rebelle Super Soakers!
Sparkup the Magical Reader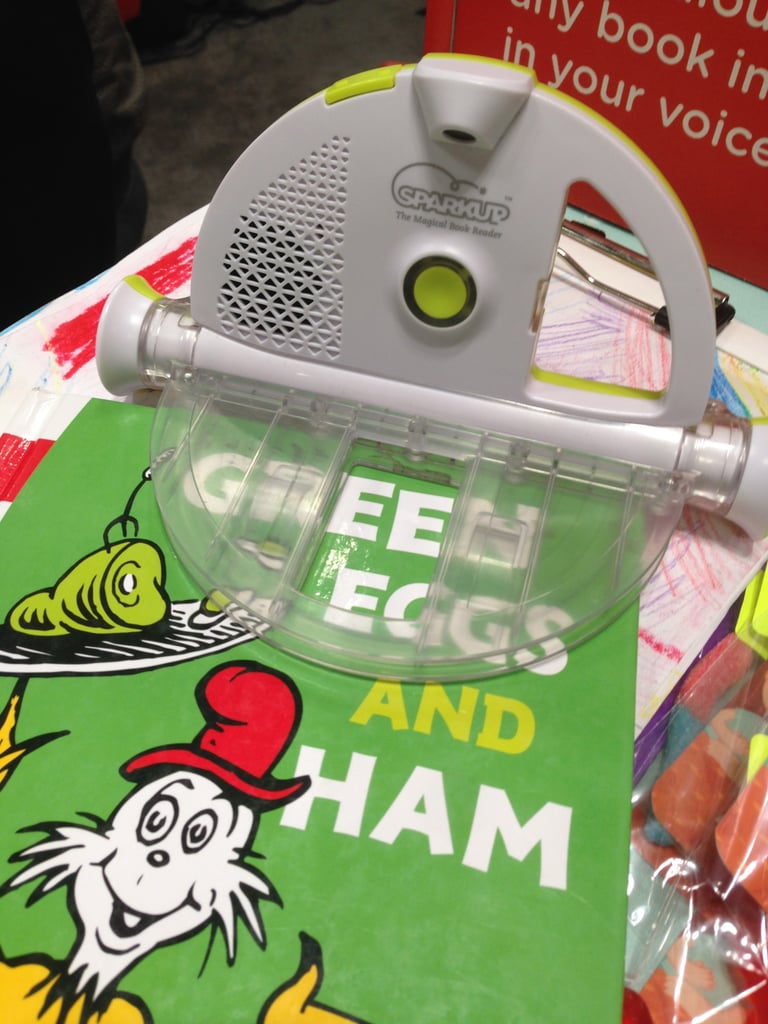 A great investment for long-distance grandparents, military families, or parents who travel frequently, this reading recorder lets kids share story time with their nearest and dearest, whether they're near or far.
Nickster Wagonimals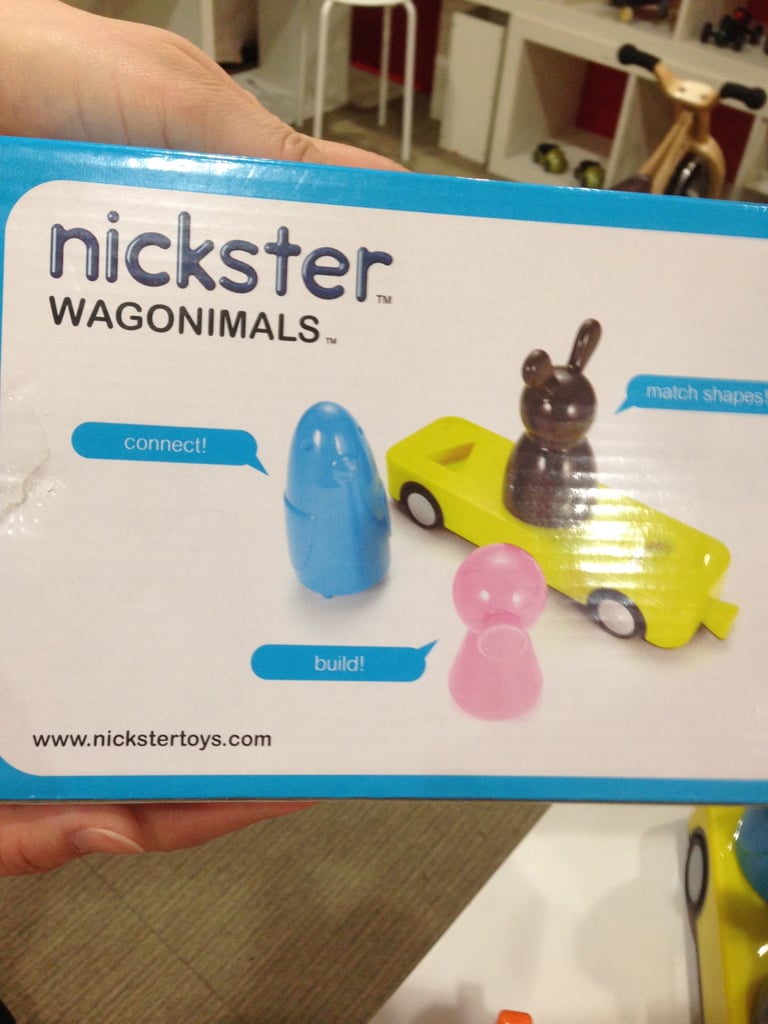 A great new line for little kids that features shape-sorting fun.
Duct Tape Crafts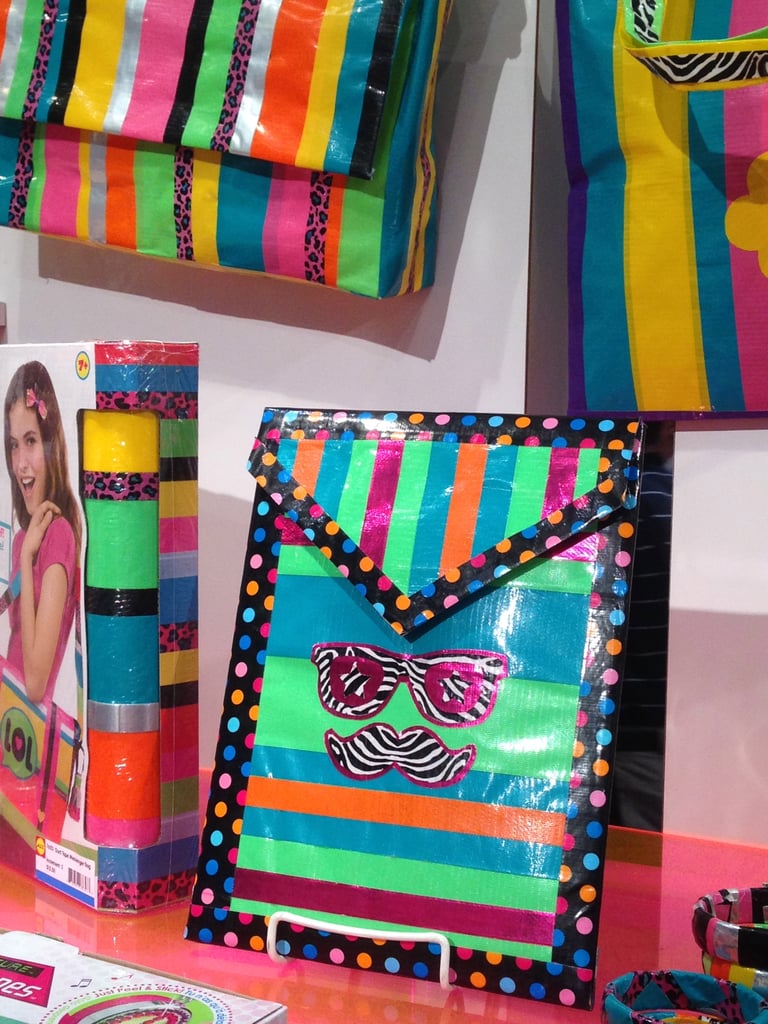 A fun and practical craft kit from Alex Toys.
Oregon Scientific ATC Chameleon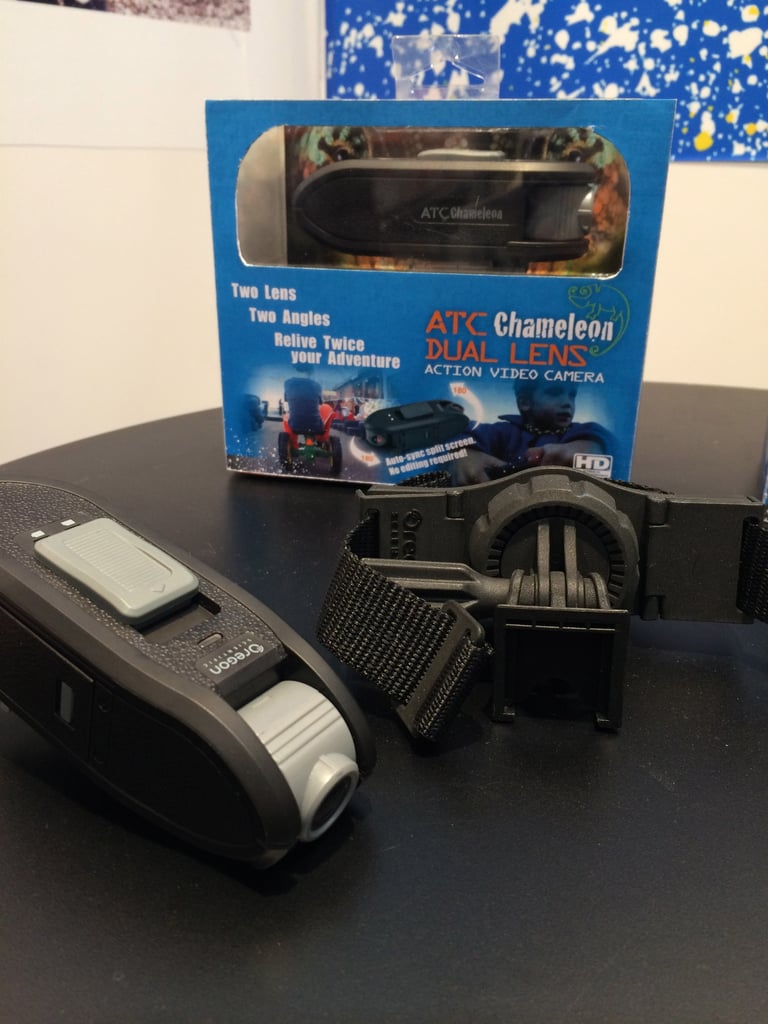 After the successful launch of the adult version of this dual-lens video camera, the company is introducing a kids' version that easily mounts on handlebars so they can capture both where they're going and their own reactions.
Frozen Elsa Glove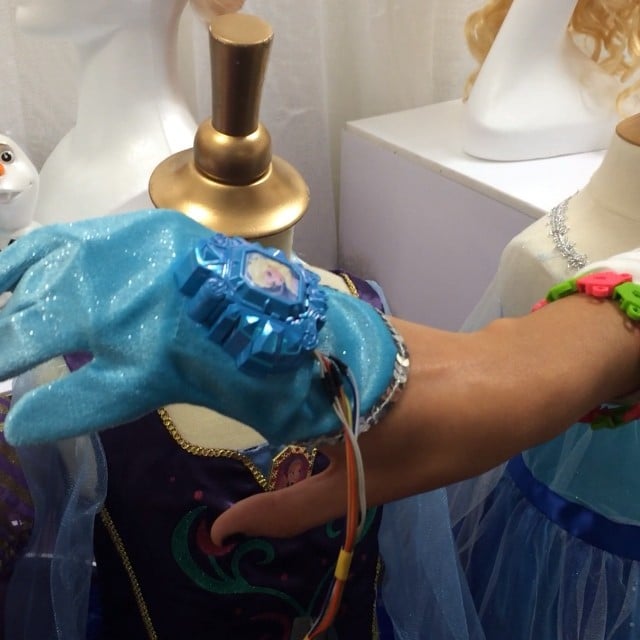 This JakksPacific Frozen glove plays "Let It Go" and makes ice sounds!
Hape Hedgehog Pull Toy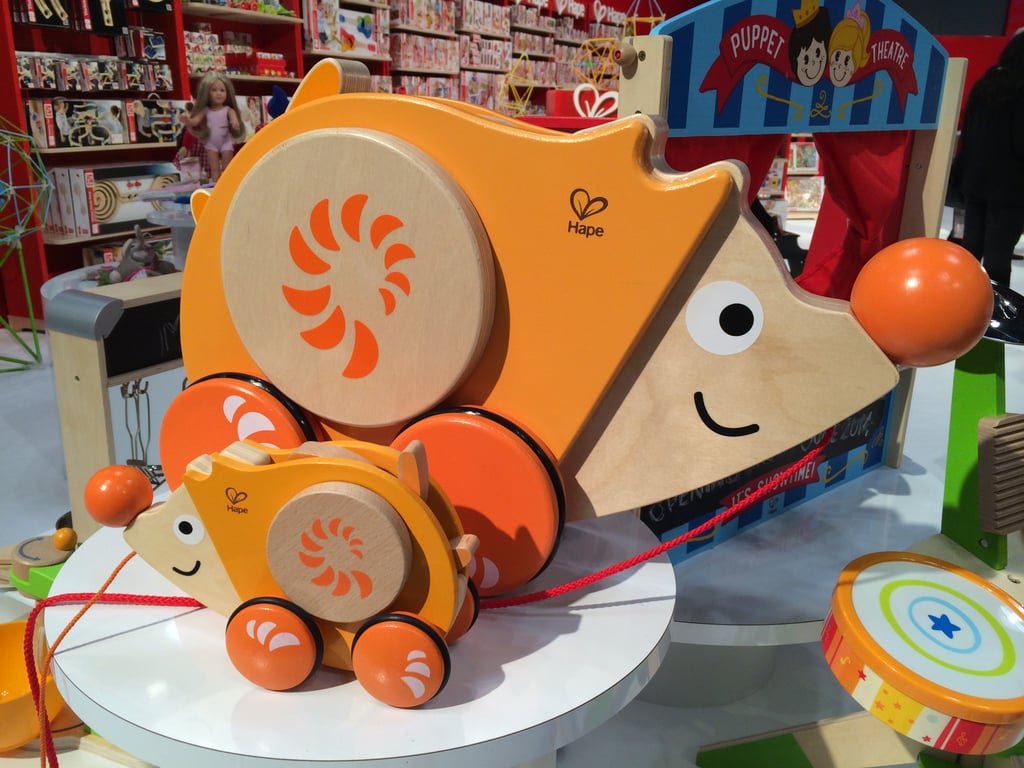 We couldn't resist this adorable pull toy shaped as one of the year's hottest animals.
Meet Shopkins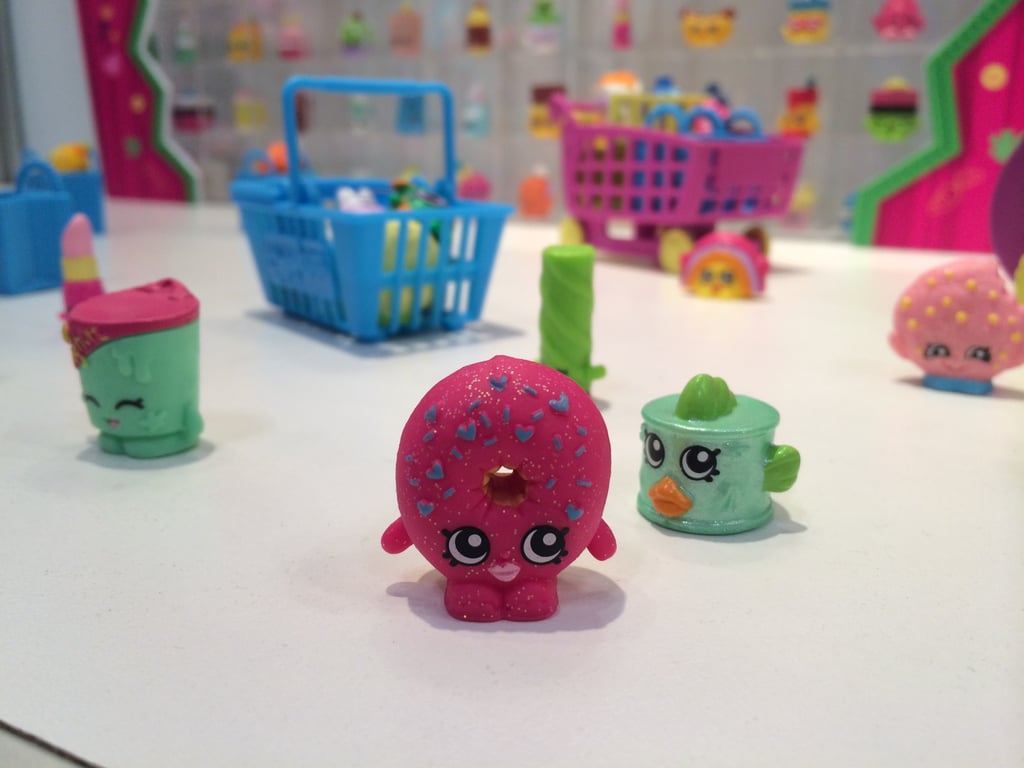 From the people behind Trash Packs come Shopkins, collectible items you can find in a grocery store — all found a shopping cart or basket.
Lego Movie Minifigures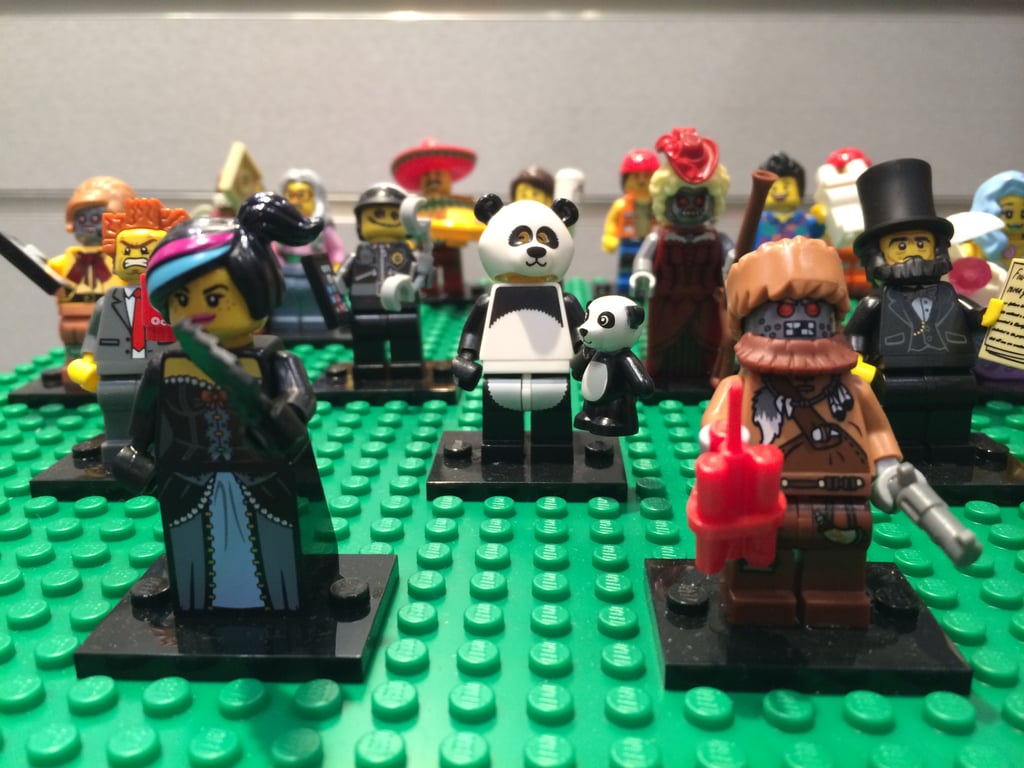 Sixteen minifigures from the movie are now available.
Plan Toys Electro Bus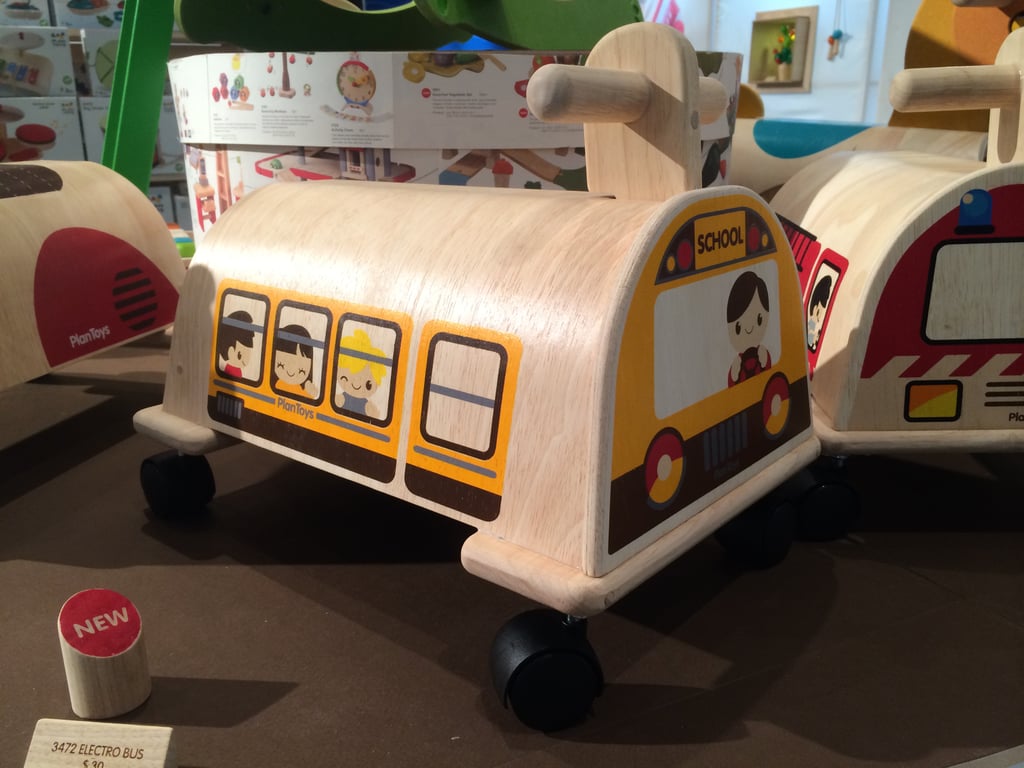 The name is deceiving, but Plan Toys's ride-on toy is completely powered by your little ones' feet.
Dora and Friends Doll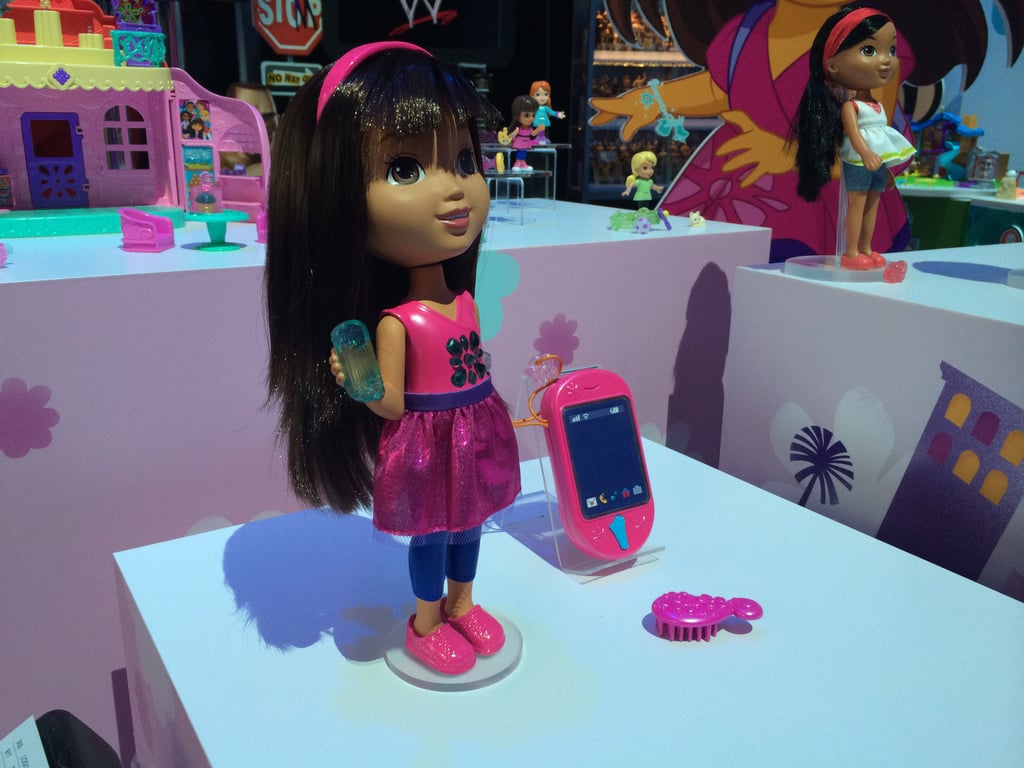 When the new Dora and Friends debuts this Summer, there will be a line of dolls to accompany it.
Teenage Mutant Ninja Turtles Blimp
Turtle play moves to new heights with this blimp, which actually allows the turtles to rappel down to the ground.
Janod Hedgehog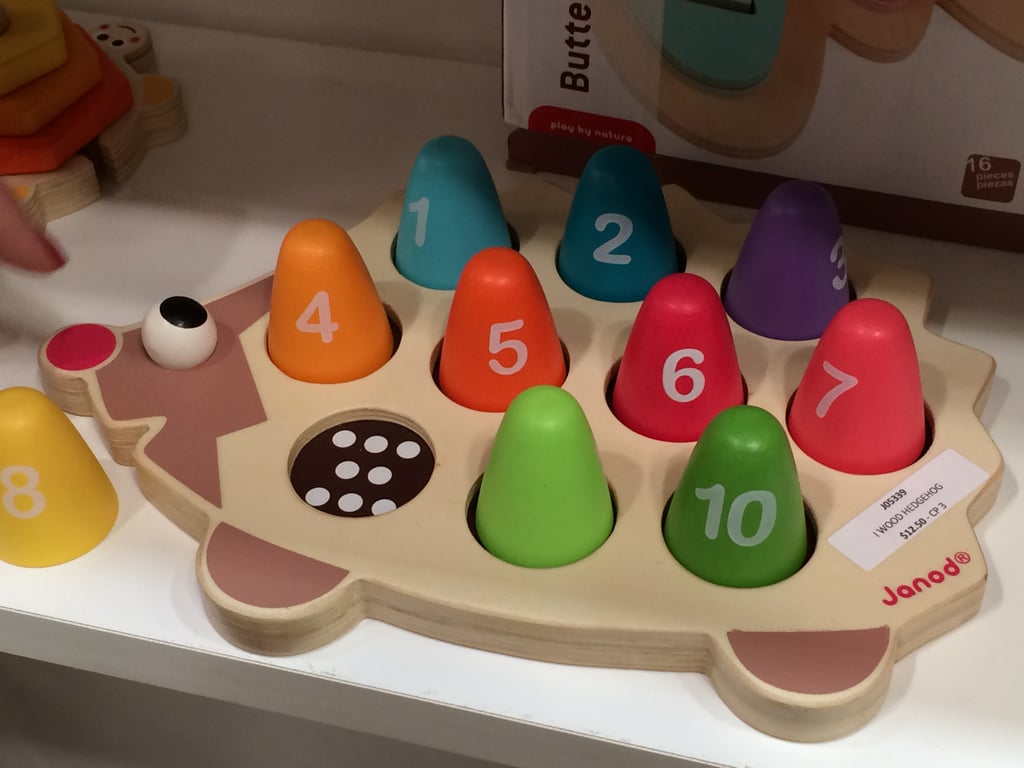 This adorable wooden hedgehog is actually a fun way to teach tots their numbers.
Melissa & Doug Stand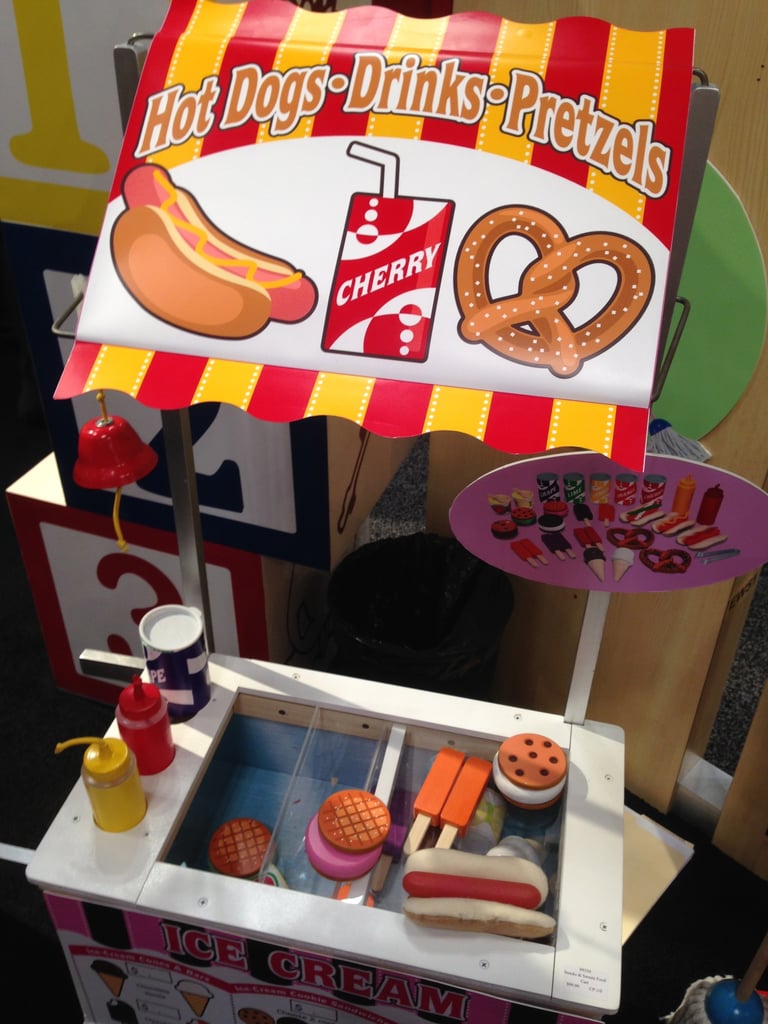 This two-for-the-price-of one snack space transforms to an ice cream stand — genius!
New Costumes From Melissa & Doug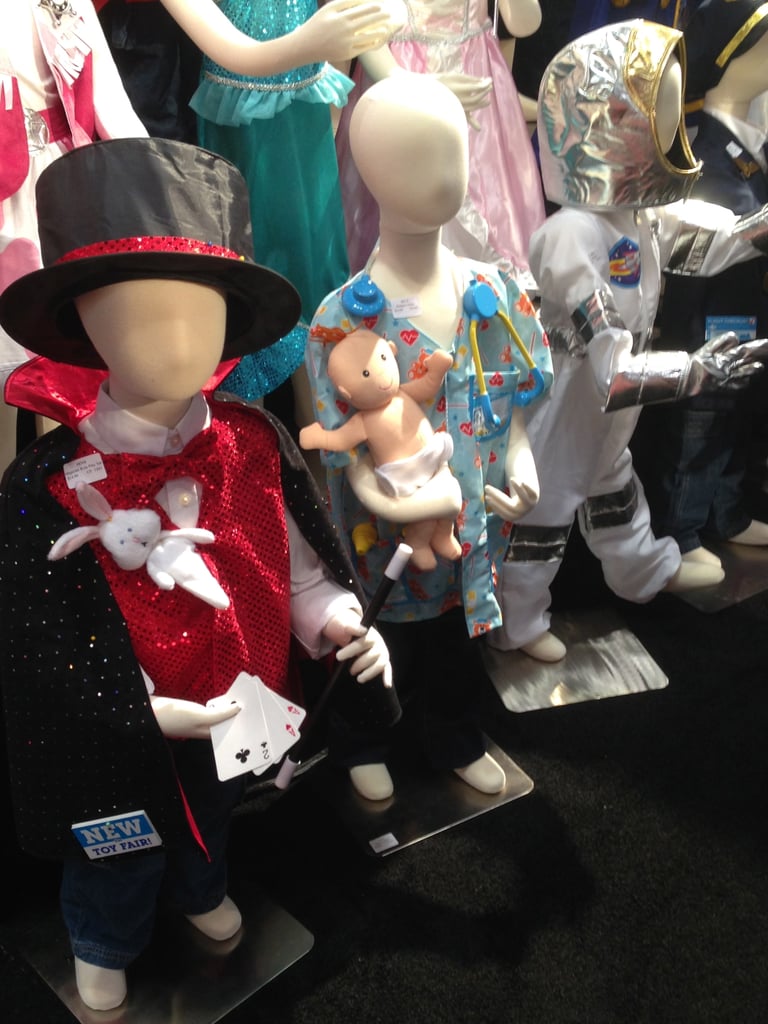 A magician, pediatric nurse, and astronaut are a few of the brand's new additions.
Hot Wheels Car Detailer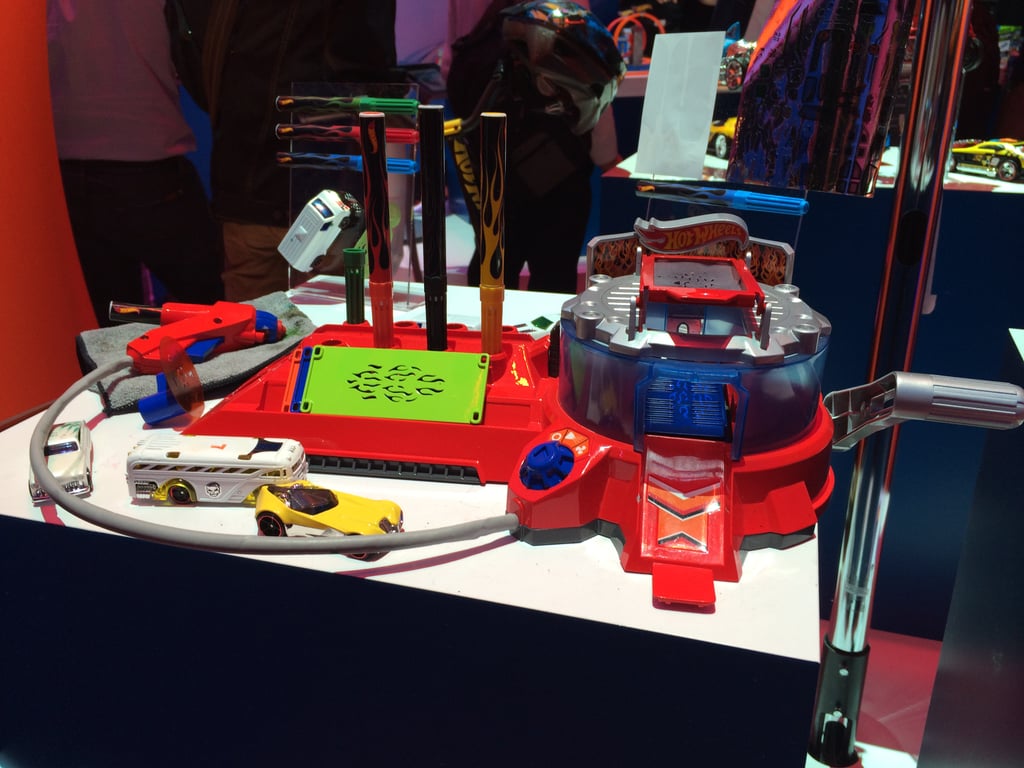 Get ready to customize your favorite Hot Wheels car with this new detailing set.
Dino XTeam Dino Hunter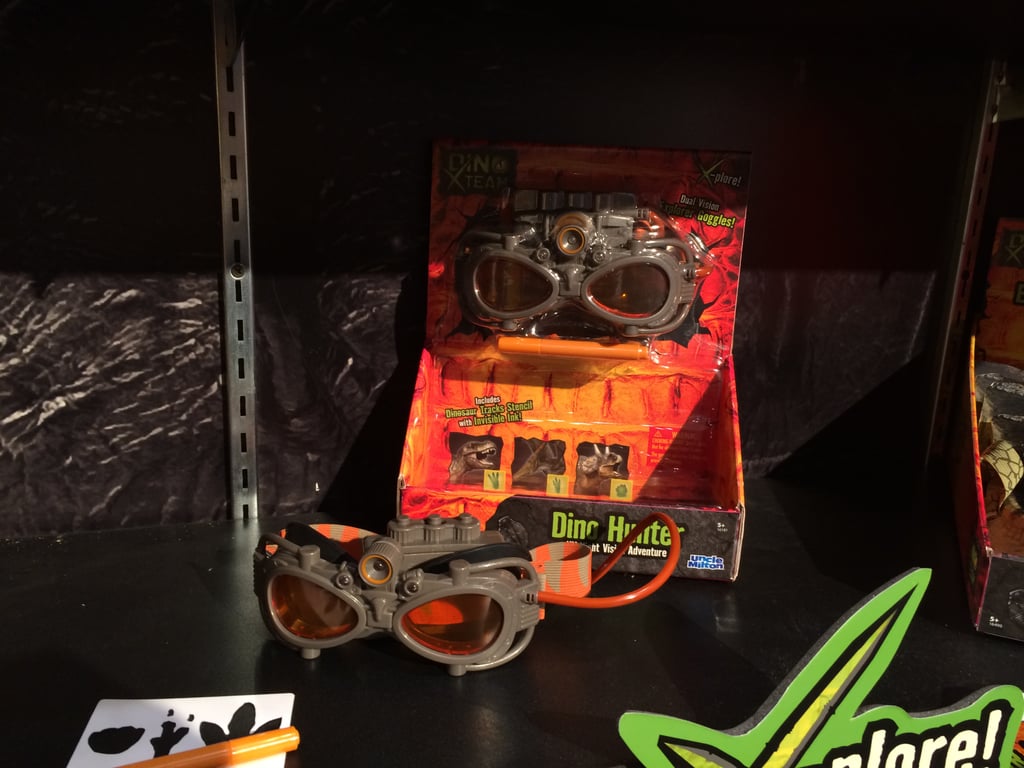 Uncle Melton is introducing a new line of dinosaur toys and gear, including these Dino Hunter goggles that help tots spy on dinosaurs.
Melissa & Doug Doctors Set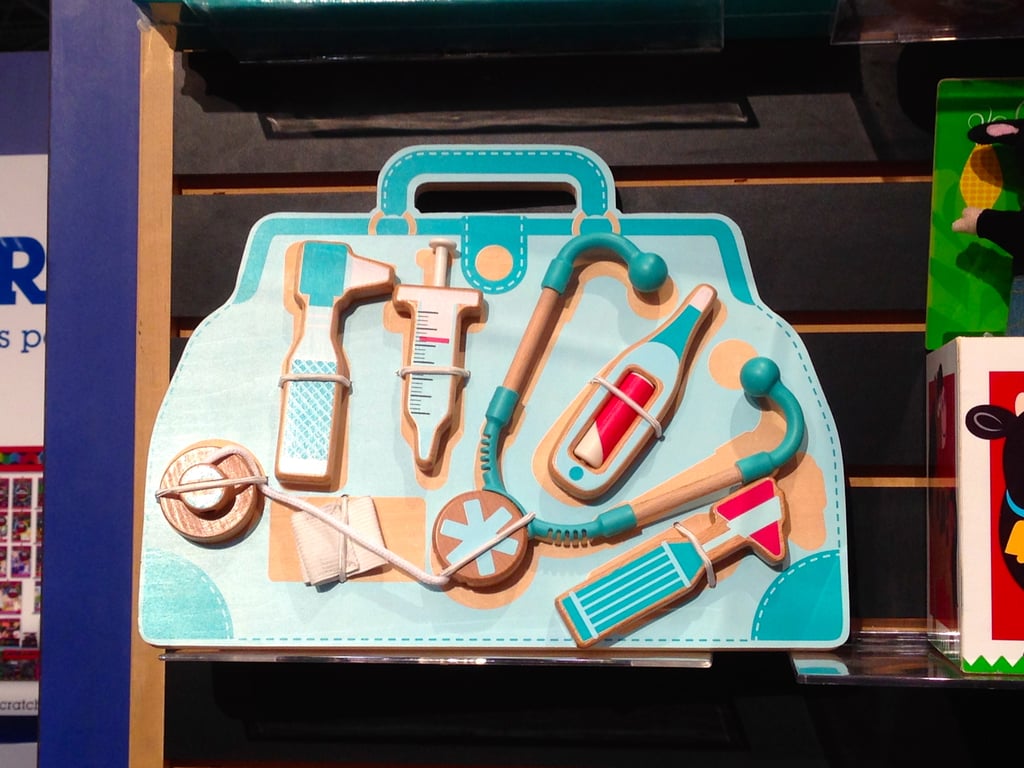 Melissa & Doug's doctor set offers fun grown-up role play for little girls and guys.
Kinetic Sand Dino Dig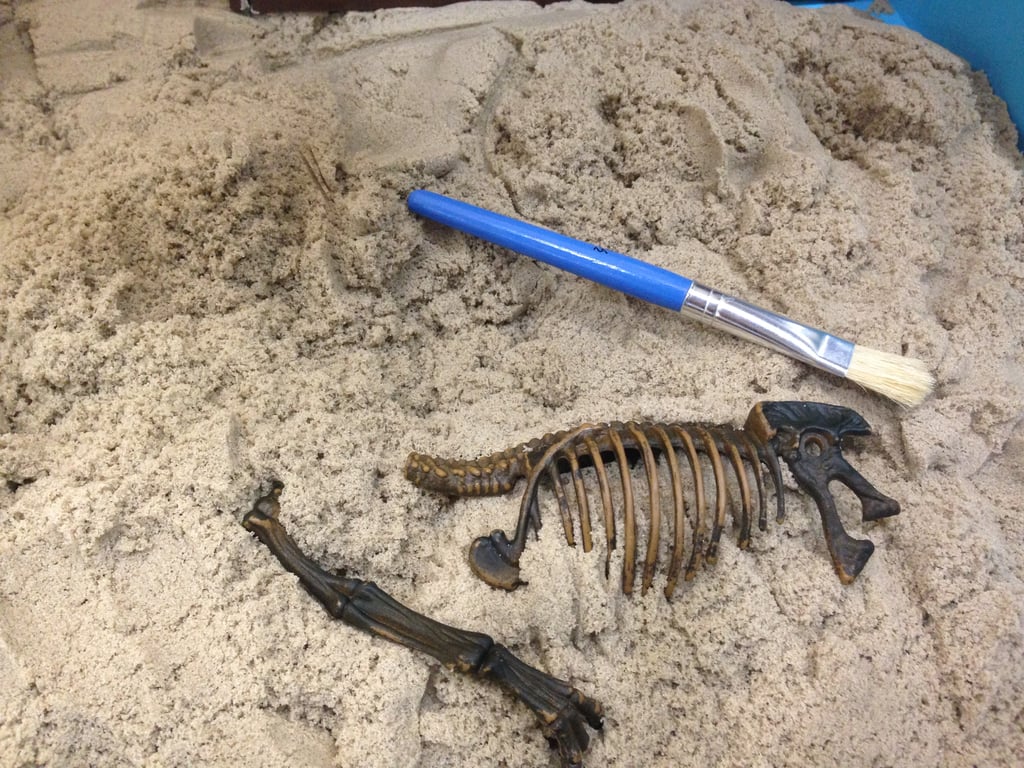 As if playing with Kinetic Sand weren't fun enough on it's own, now you'll be able to dig for dinosaur bones in the mess-free material. And best of all — because it is Kinetic Sand, you can do it over, and over again!
Little Tikes Jelly Bean Racer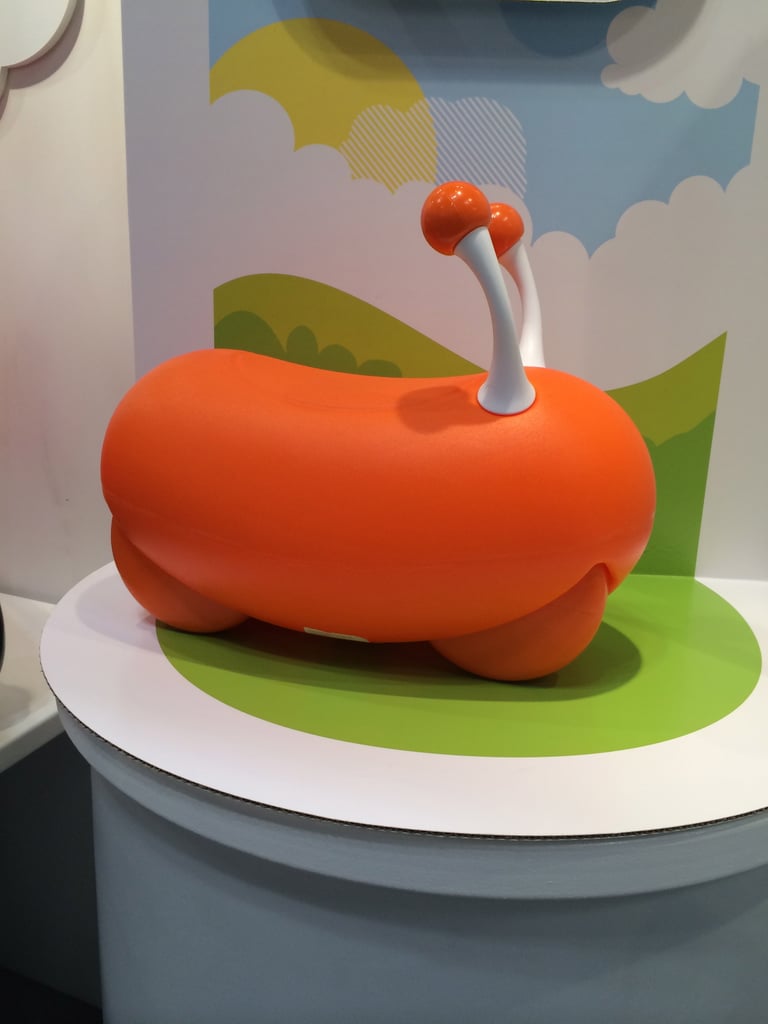 Little Tikes is moving beyond the Cozy Coupe and introducing this fun Jelly Bean Racer this Spring.
Battat Trucks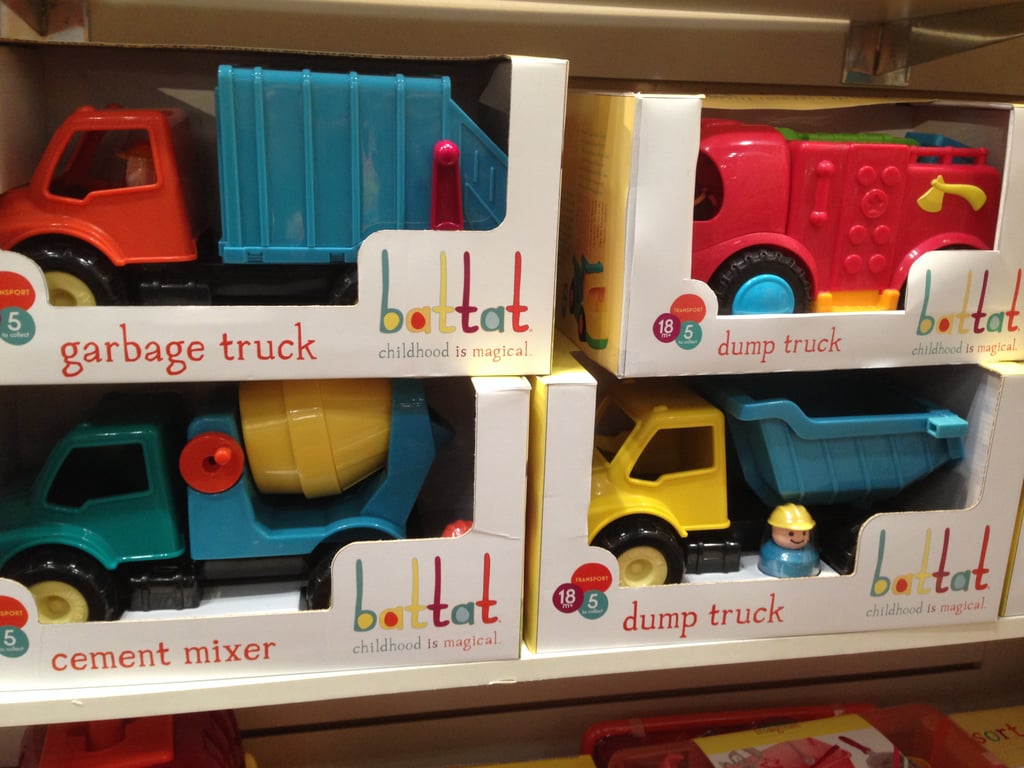 An old brand gets a new look, thanks to refreshed packaging and fun new products. This truck series is the perfect size for toddler playtime.
Kid-O Plui Cloud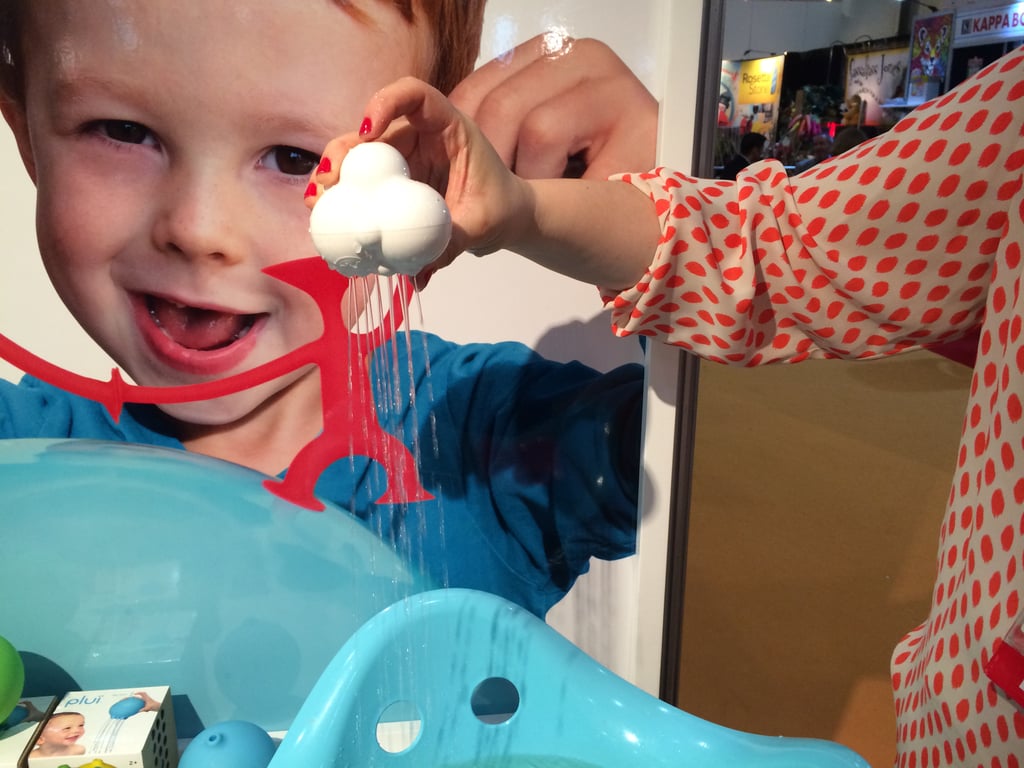 Bath play becomes even more fun with this rain-spurting cloud from Kid-O.
Lego Benny's Spaceship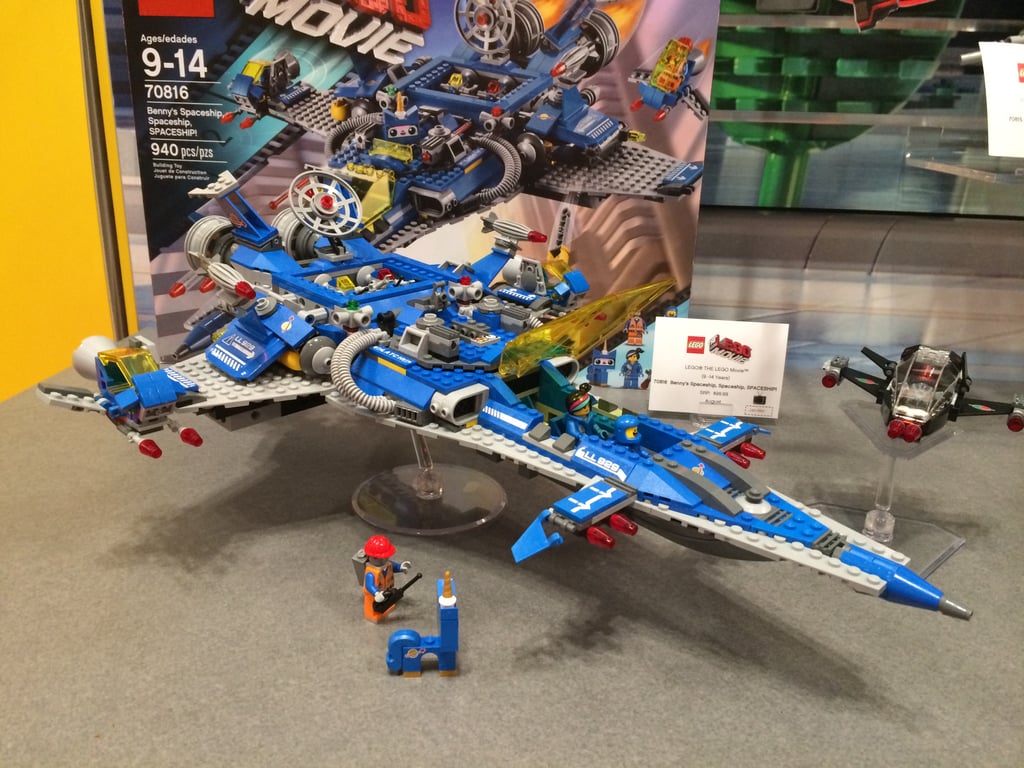 The Lego Movie fans will be excited to see more sets tied to the movie in June, including Benny's Spaceship.
Barbie Potty Trainin' Taffy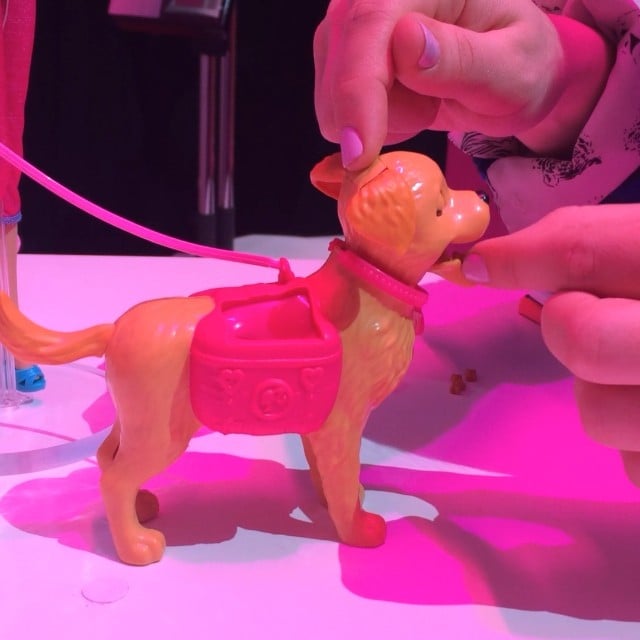 Barbie now has a pooping dog! Seriously. Potty Trainin' Taffy eats treats and then relieves them.
Play Toys Mini Golf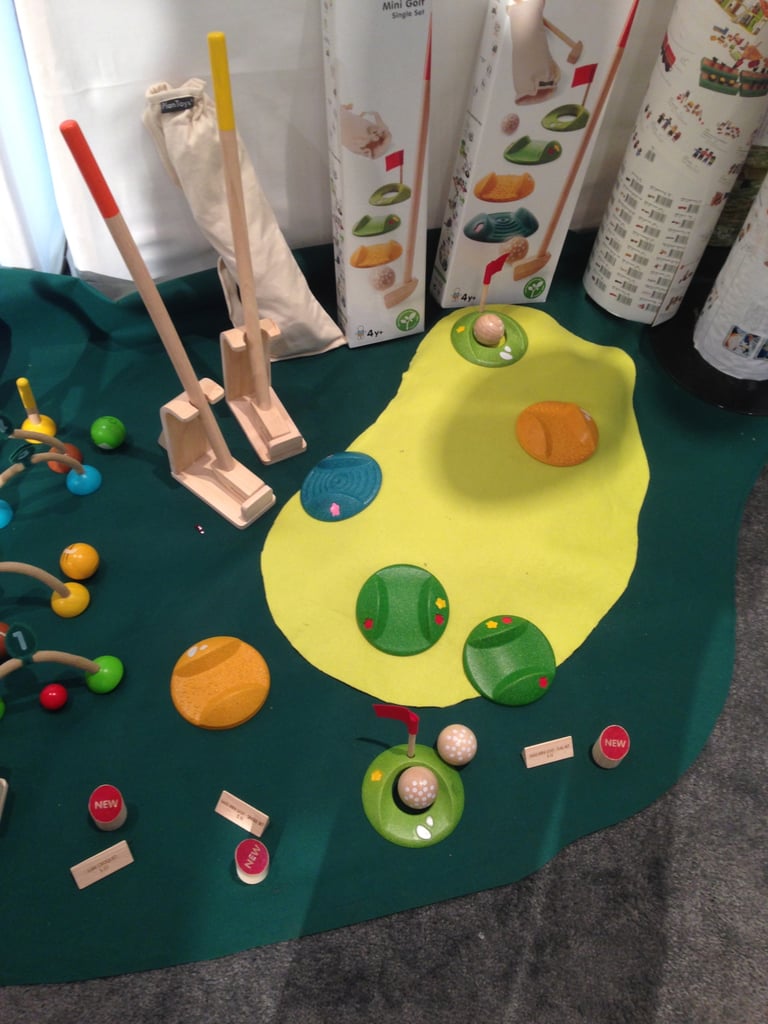 Train your tot to aim for those holes in one . . . before his first birthday!
Crayola Mini Meltdown Gift Set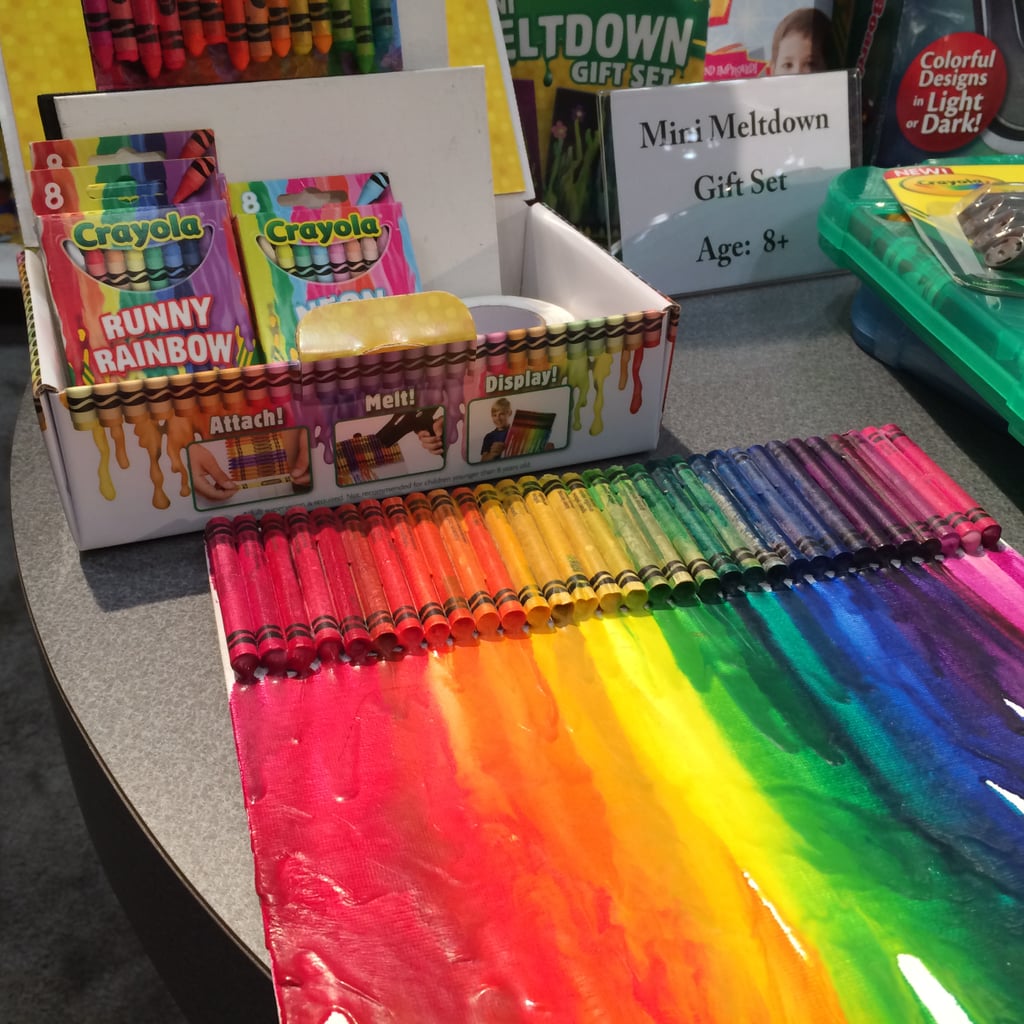 Inspired by all of the images on Pinterest, Crayola will introduce the Mini Meltdown Gift Set.
GoldieBlox and the Dunk Tank
The latest addition to GoldieBlox's line of engineering toys for girls ages 4-9.
Playmobil Fashion Mall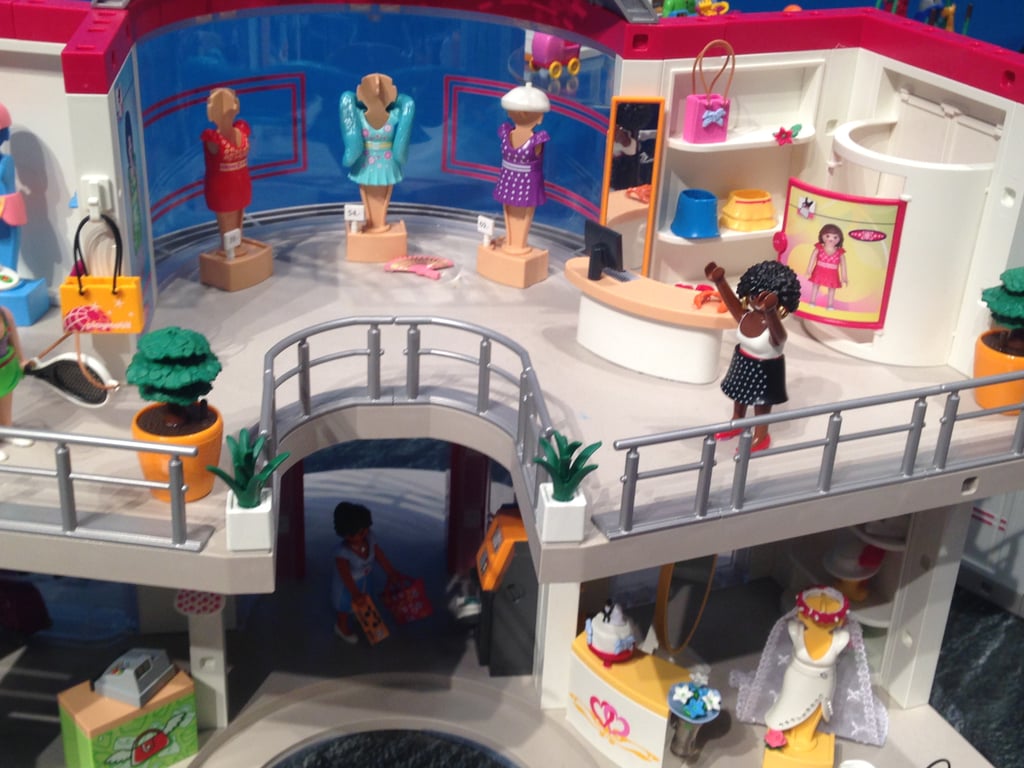 Mini fashionistas will love the interchangeable outfits that come with Playmobil's chic shopping center.
OYO Sportstoys Super Bowl XLVIII Authentic Gametime Set
For rabid sports fans, OYO Sportstoys collection of Lego-like playing fields and minifigures is sure to be a winner.
Archery Target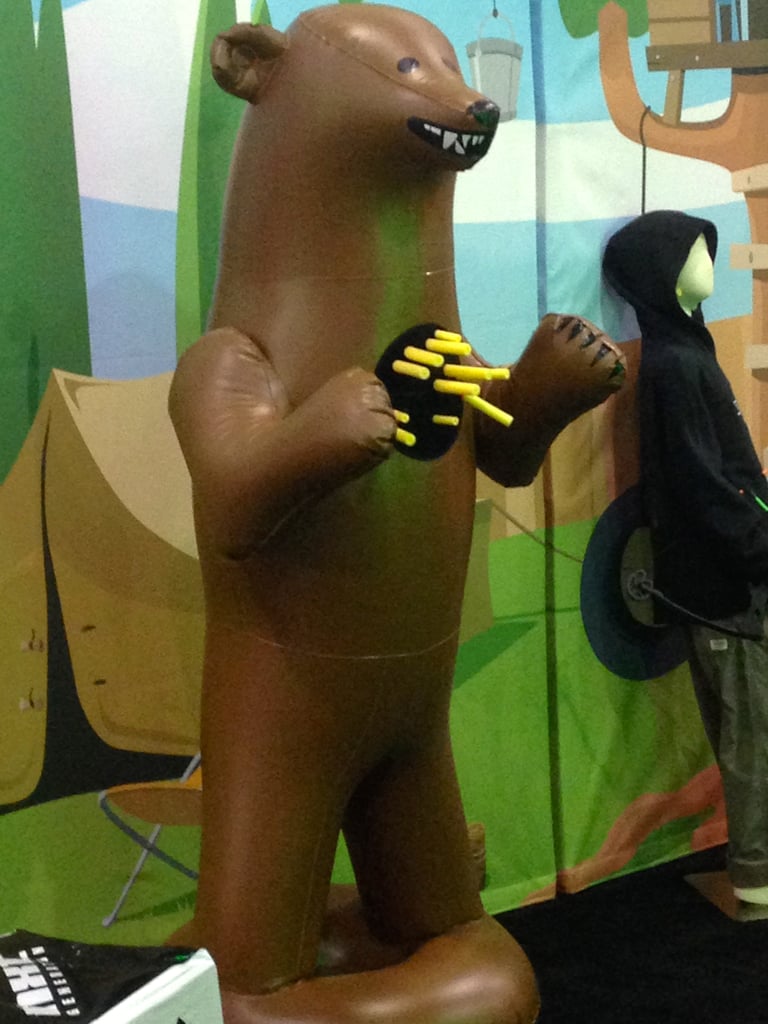 NXT Generation's inflatable bear target stood out in the crowd.
Automoblox Rescue Vehicles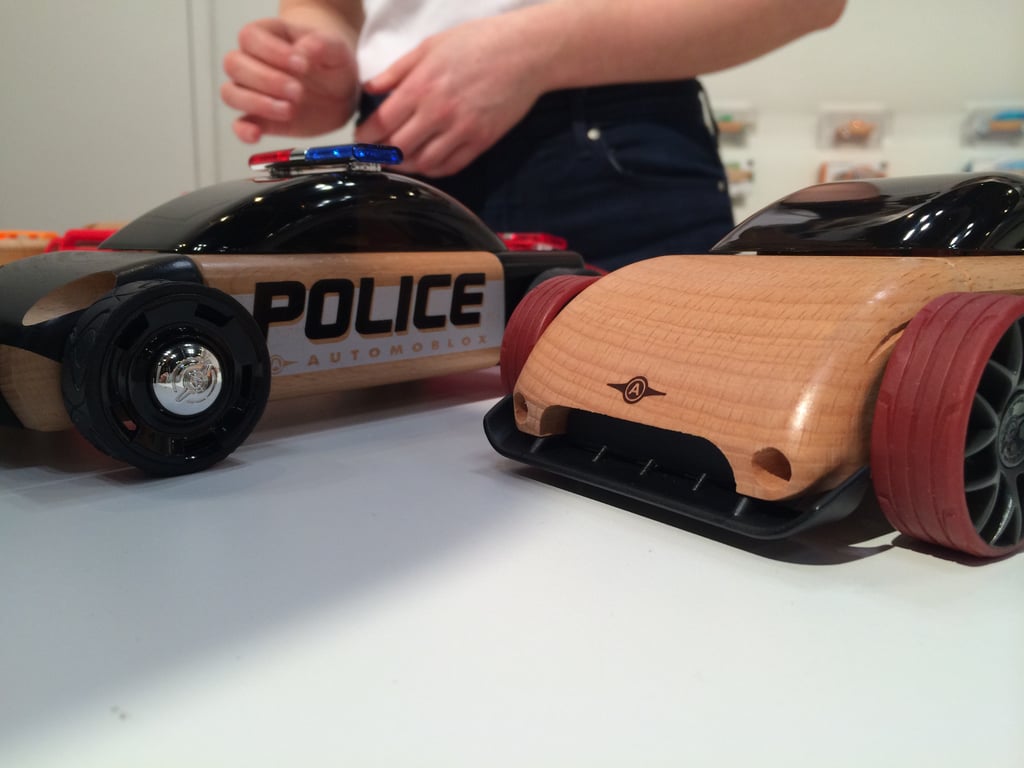 Pricey, yes, but these oversize, interchangeable rescue vehicles are something to behold.
Lego Ghostbusters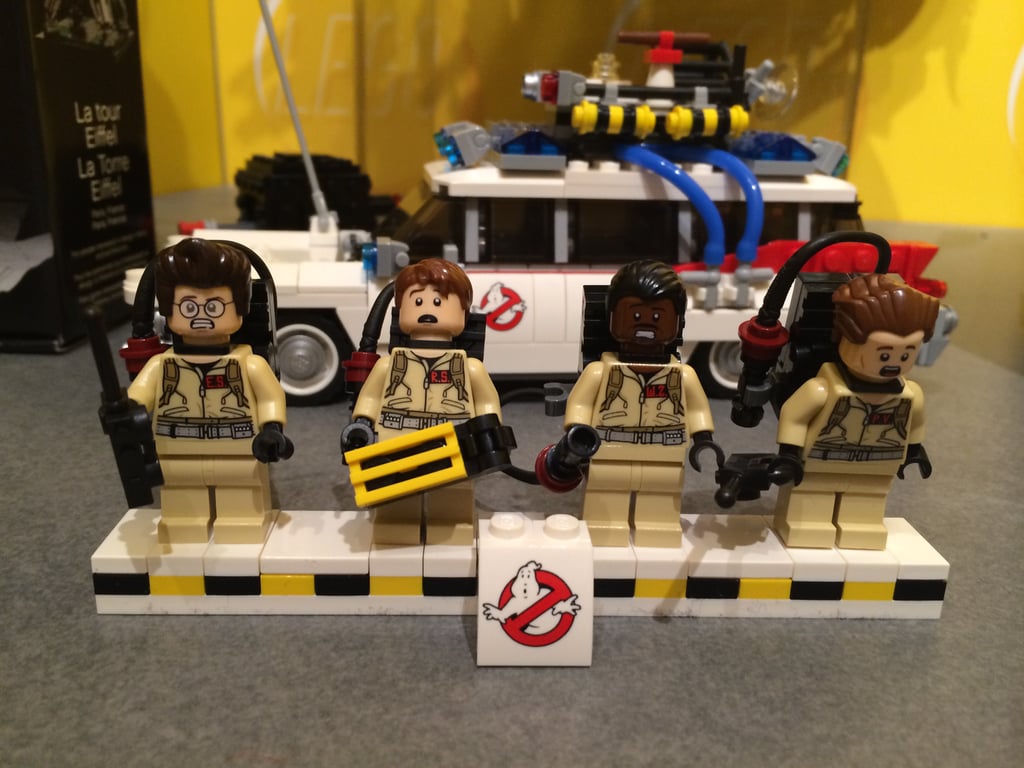 Lego fans voted for the company to create this classic scene from the Ghostbusters movie. The set will be available in June.
Ever After High Dolls
The premise of Ever After High combines fairy tale favorites with the very real challenges that kids face in middle and high school.
Switch & Go Dinos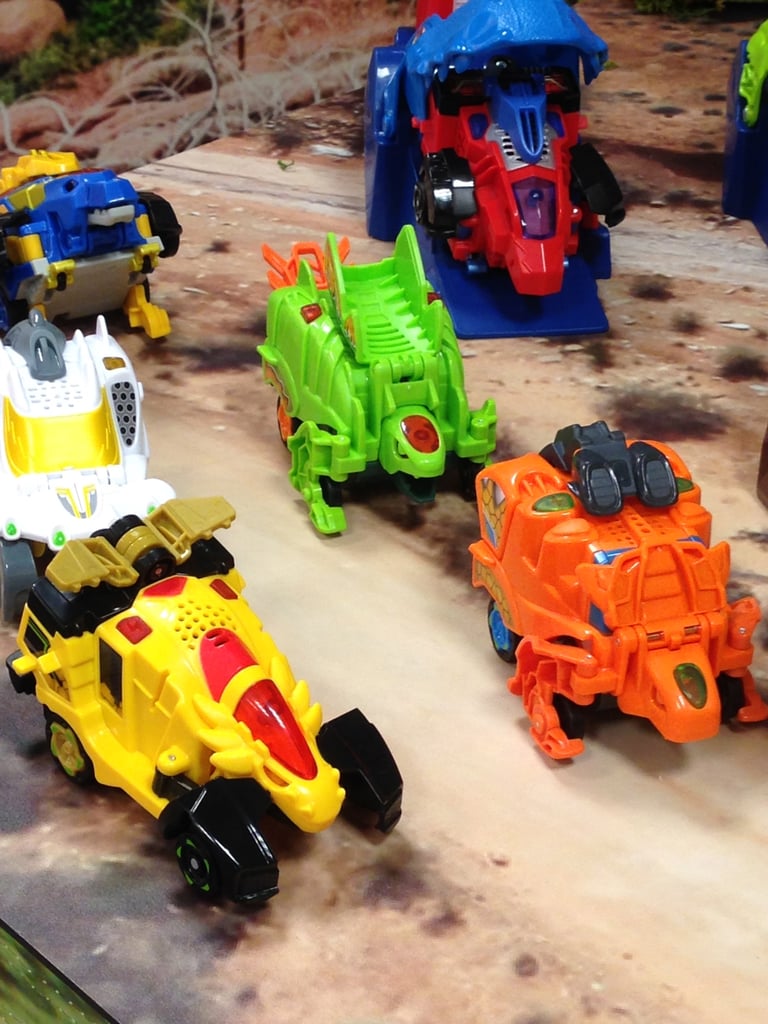 VTech's sleek autos transform into dinosaurs with one sleek maneuver.
Sno-Sculpture Kit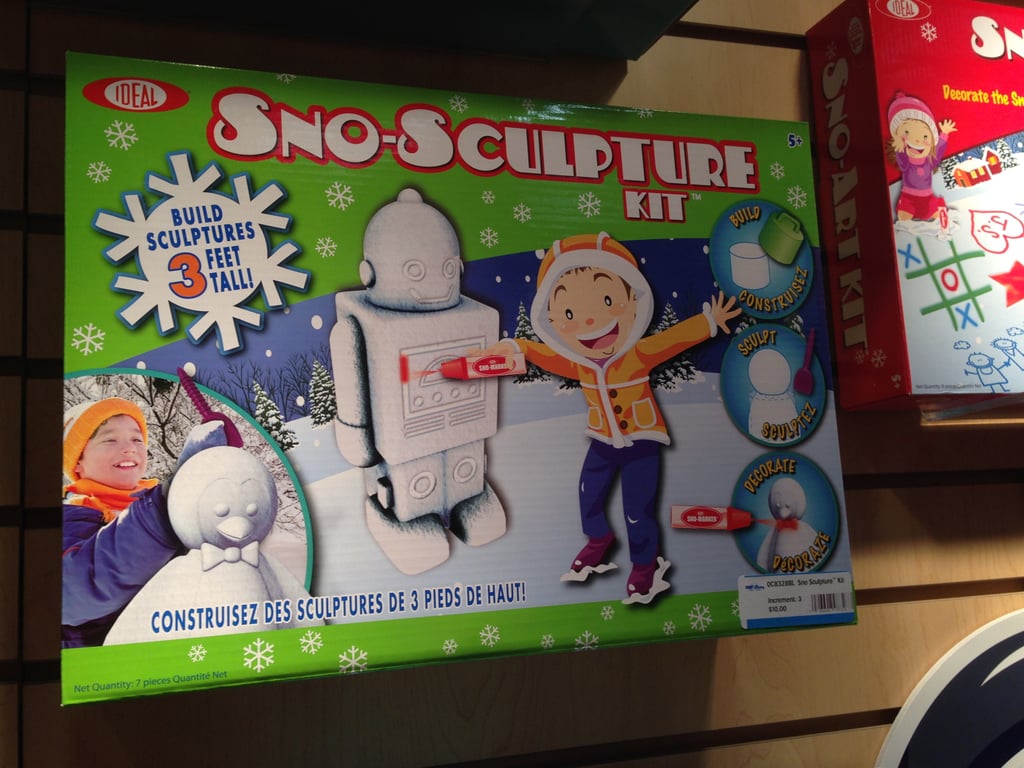 If next Winter's anything like this one's been, you'll want to plan ahead with this snow robot construction kit.
Breakfast's Ready From Melissa & Doug!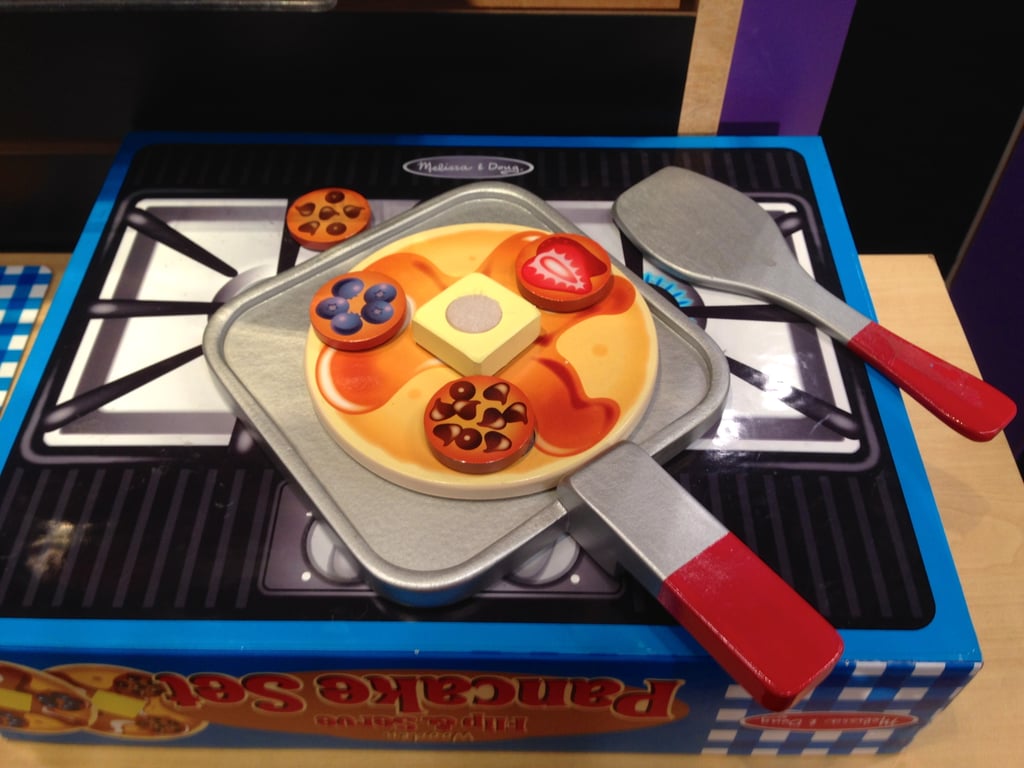 Pancakes and waffles are what's for breakfast in Melissa & Doug's play food department this year.
Phlat Balls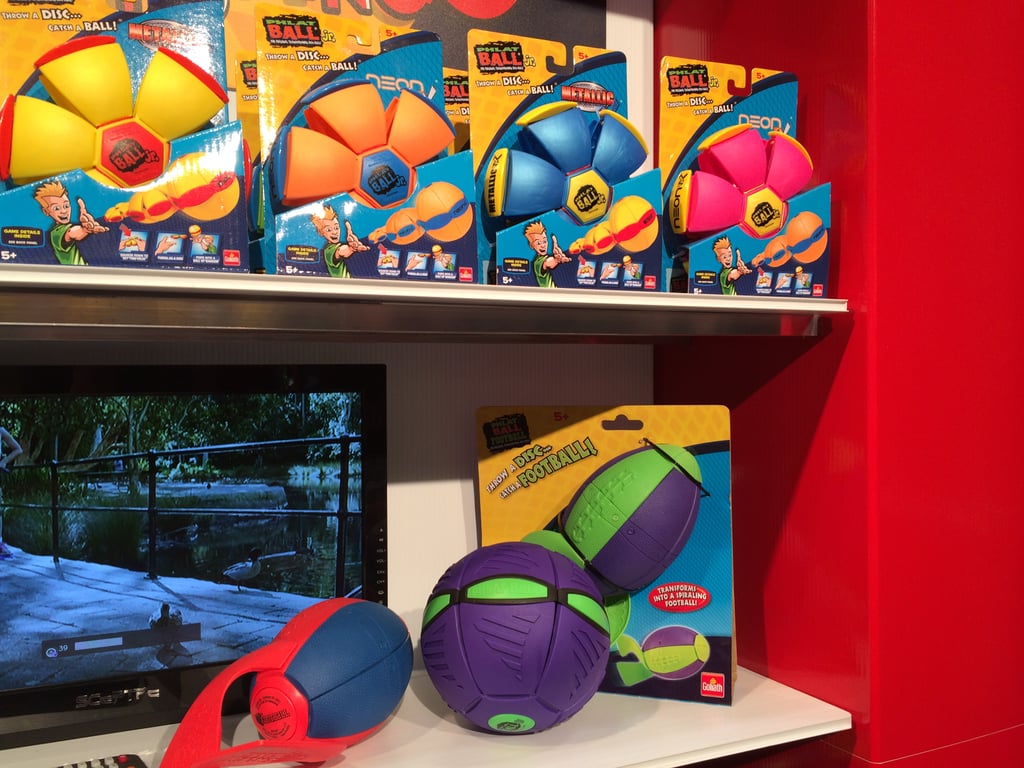 These fun outdoor balls can be used in their standard form or be flattened and used as frisbees.
Uncle Bubble
Want to amaze your kids with the coolest bubbles ever? Check out Uncle Bubble's Unbelievabubble!
Kid-O Baby Rattles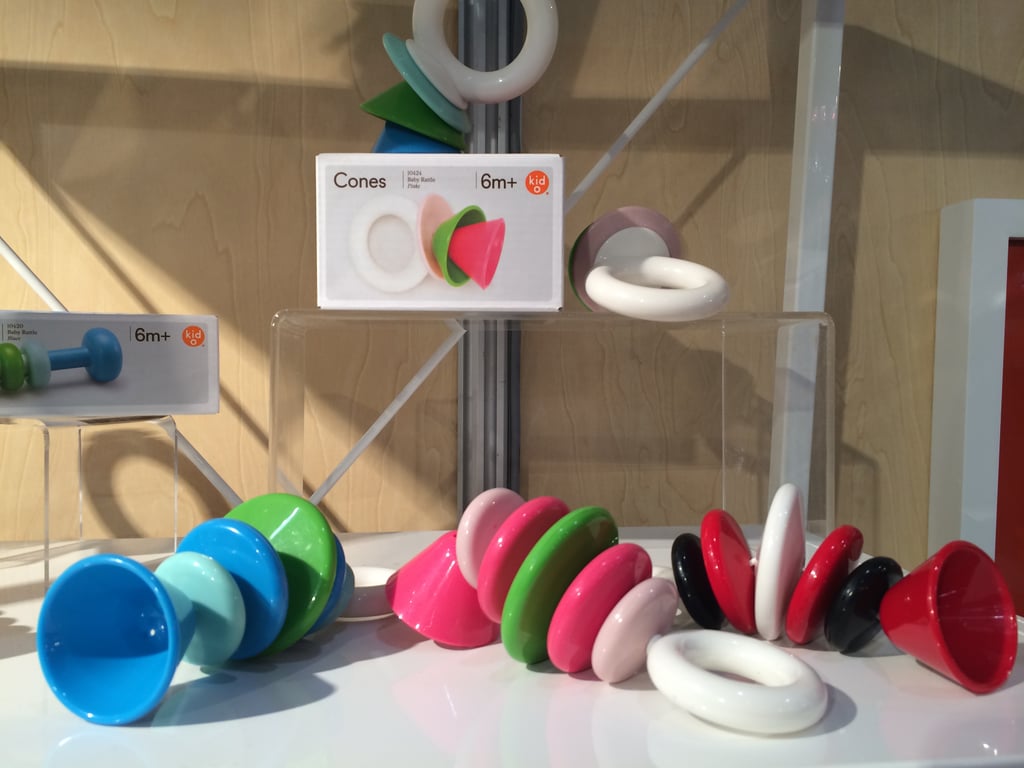 Kid-O will introduce a cute line of baby rattles this year.
Alex Jr. Play Table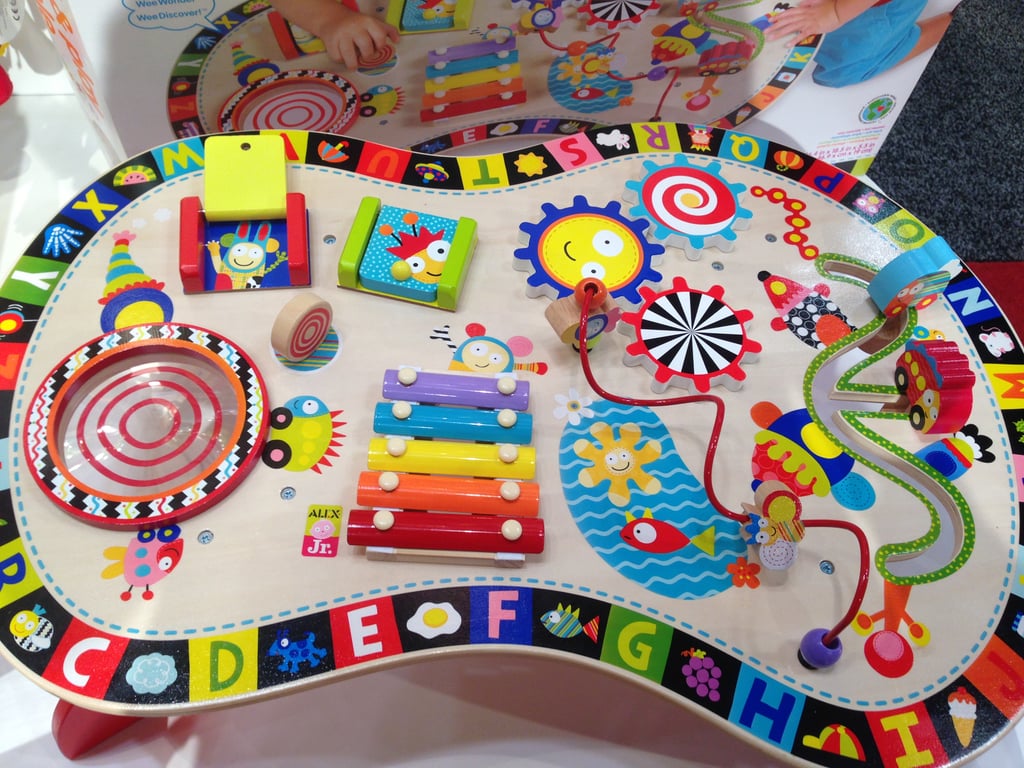 There's plenty of stimulation for solo play time or to share with friends at your baby or toddler's next playgroup.
Klutz Felted Friends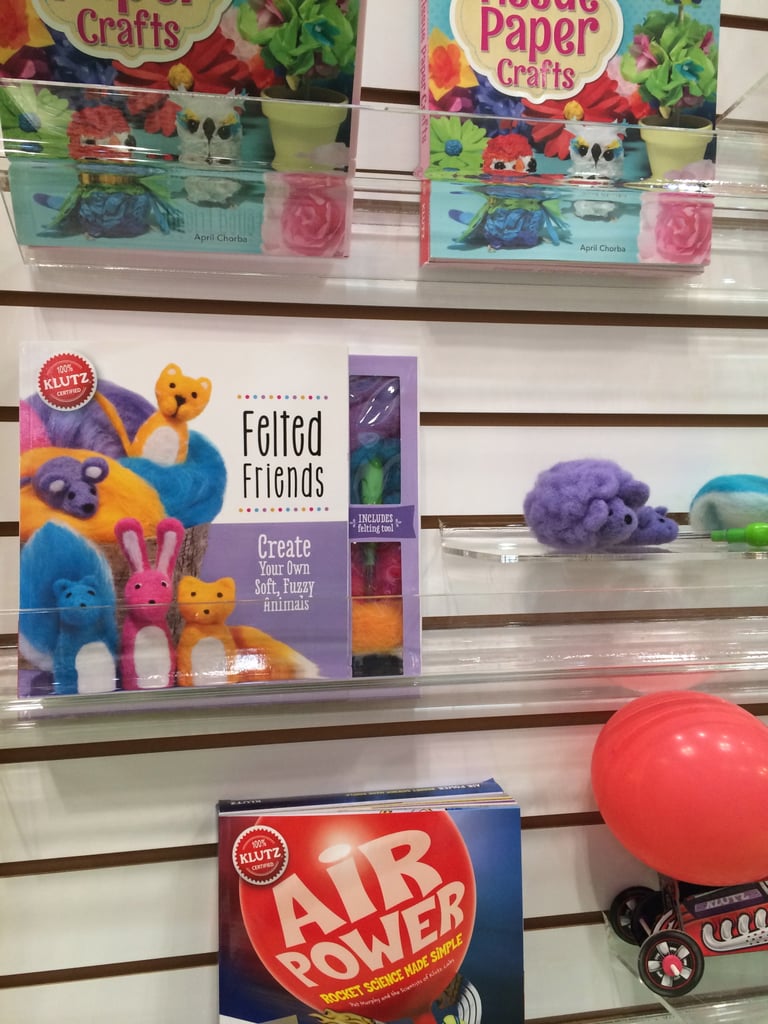 The Klutz Felted Friends book includes instructions for creating the cutest creatures.
Kid-O Tree Push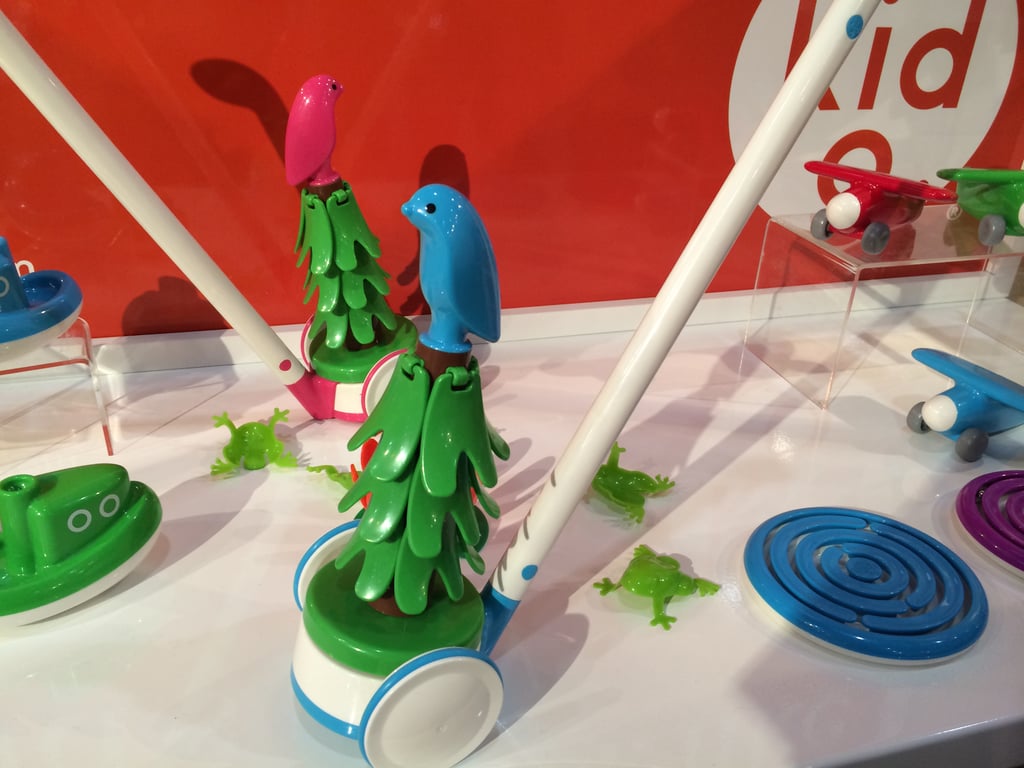 The walking toy gets a fun makeover with Kid-O's flapping bird and tree.
Let's Imagine Elmo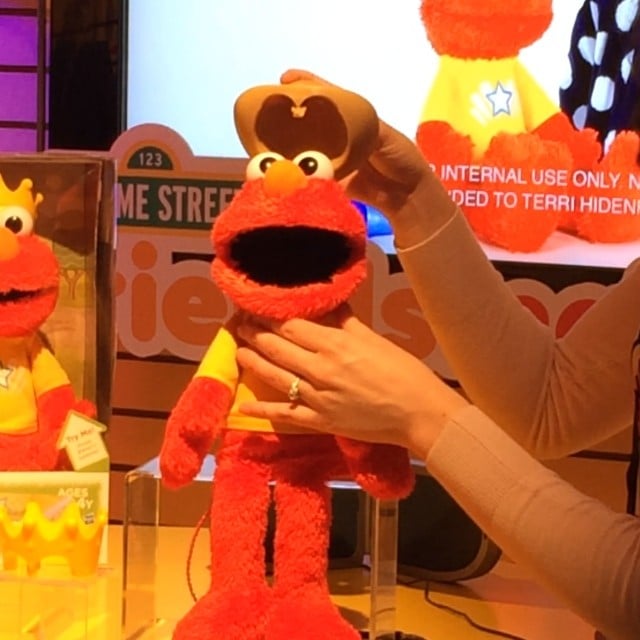 We already love the upcoming Let's Imagine Elmo.
Spherovelo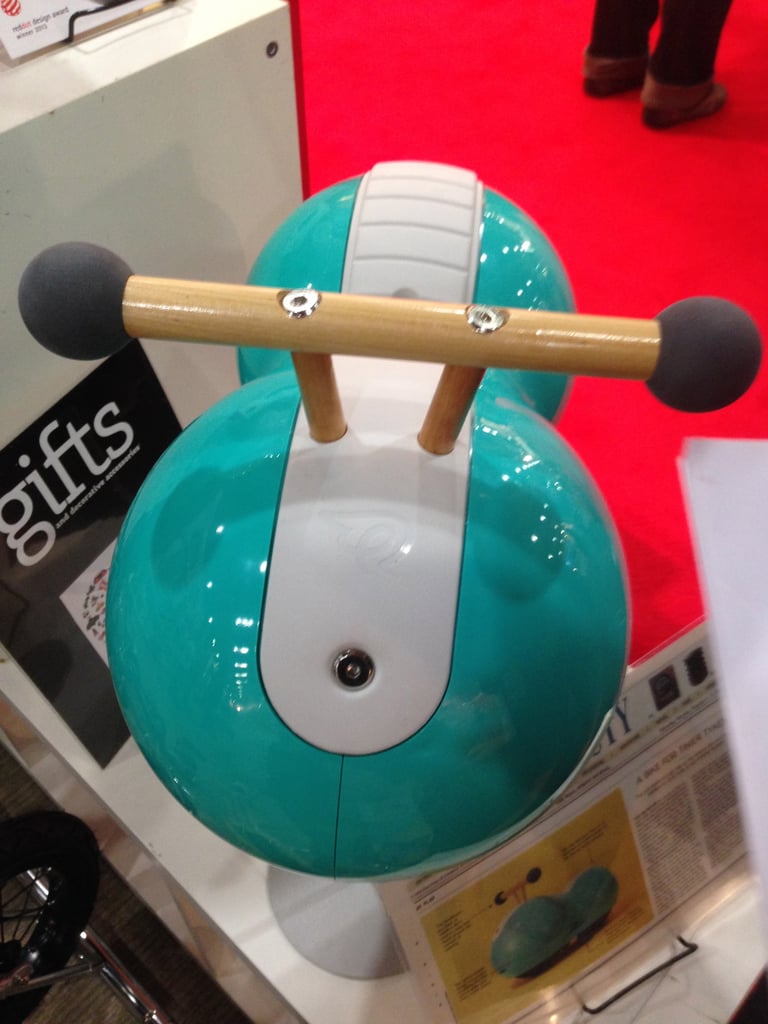 The world's first ride-on toy that helps 1- and 2-year-olds coordinate their senses and motor systems, the Spherovelo has also received multiple design awards.
Alex Toys Deluxe Hair Chalk Salon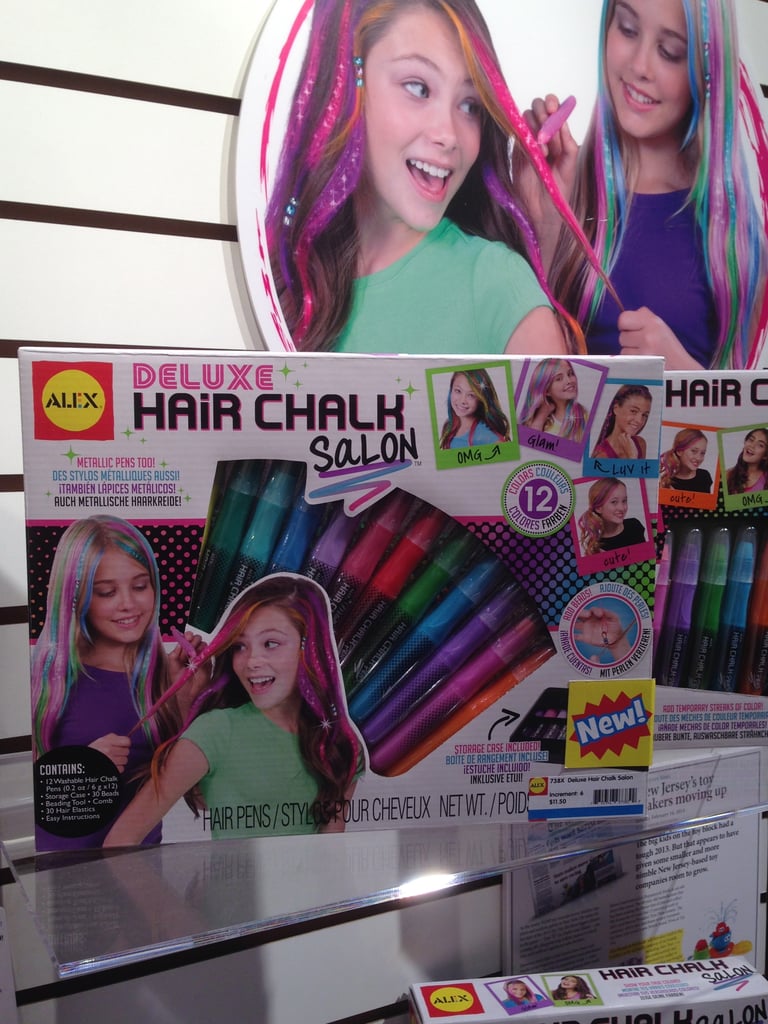 Bold streaks of hair color are a trend that's not going away anytime soon.
Fur Real Friends Get Up and Go Go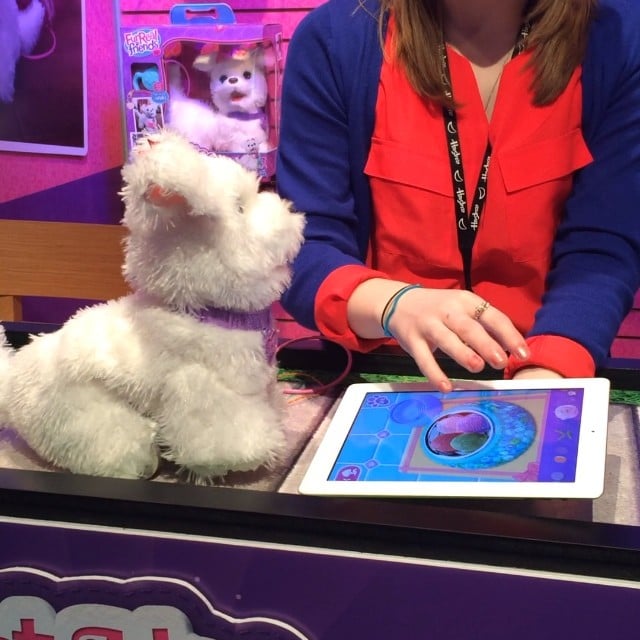 The upcoming Fur Real Friends Get Up and Go Go has "babble back technology" so it interacts with you. And you can command it via an app.
Seedling Mini Pirates Kit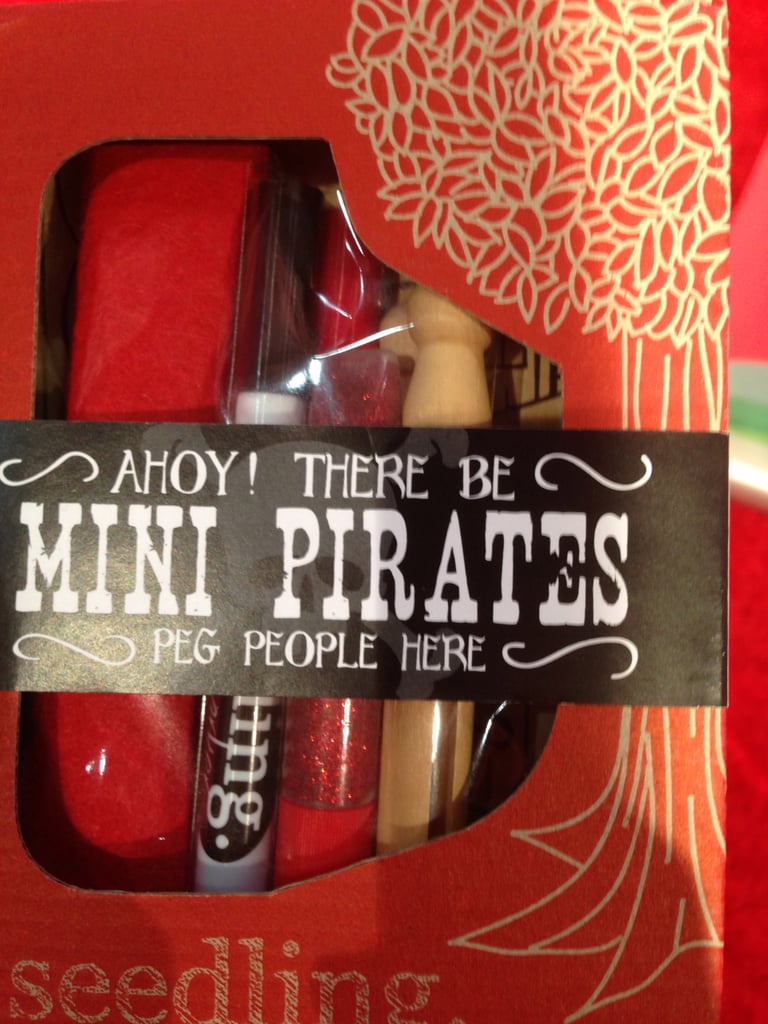 Kids can DIY [4] their own peg doll pirates with this cool Seedling kit.
Janod Race Cars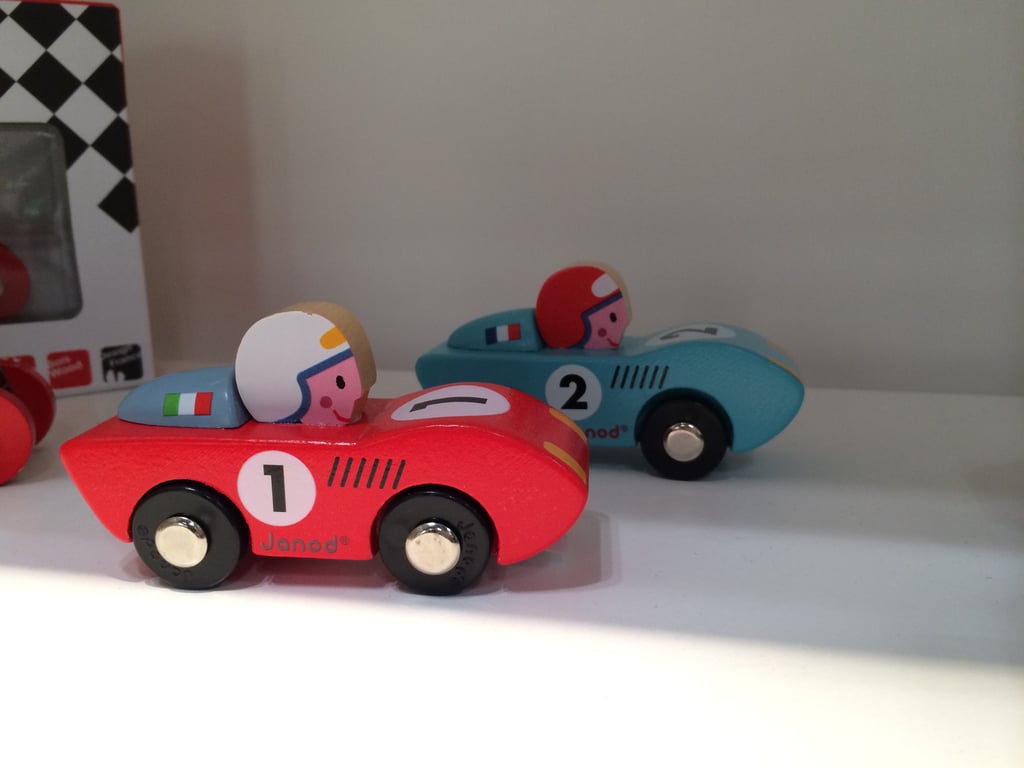 How adorable are these wooden race cars?
Bubbalooka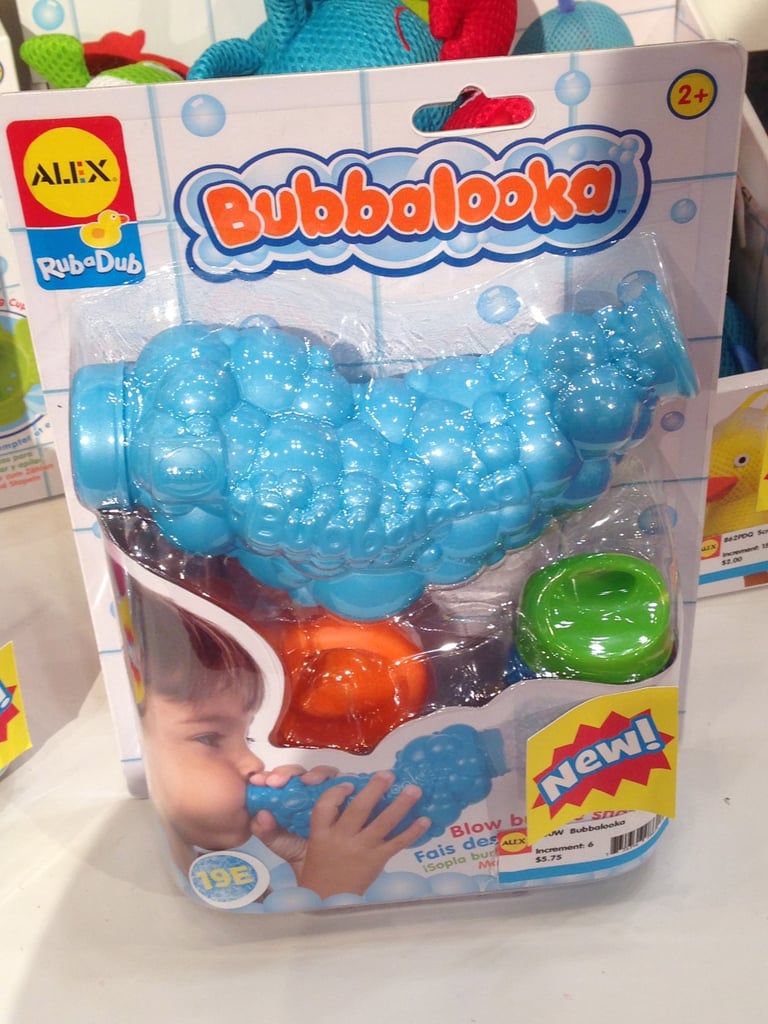 One crazy tub toy, this would also be fun at the park or pool.
Le Toy Van Doll Castle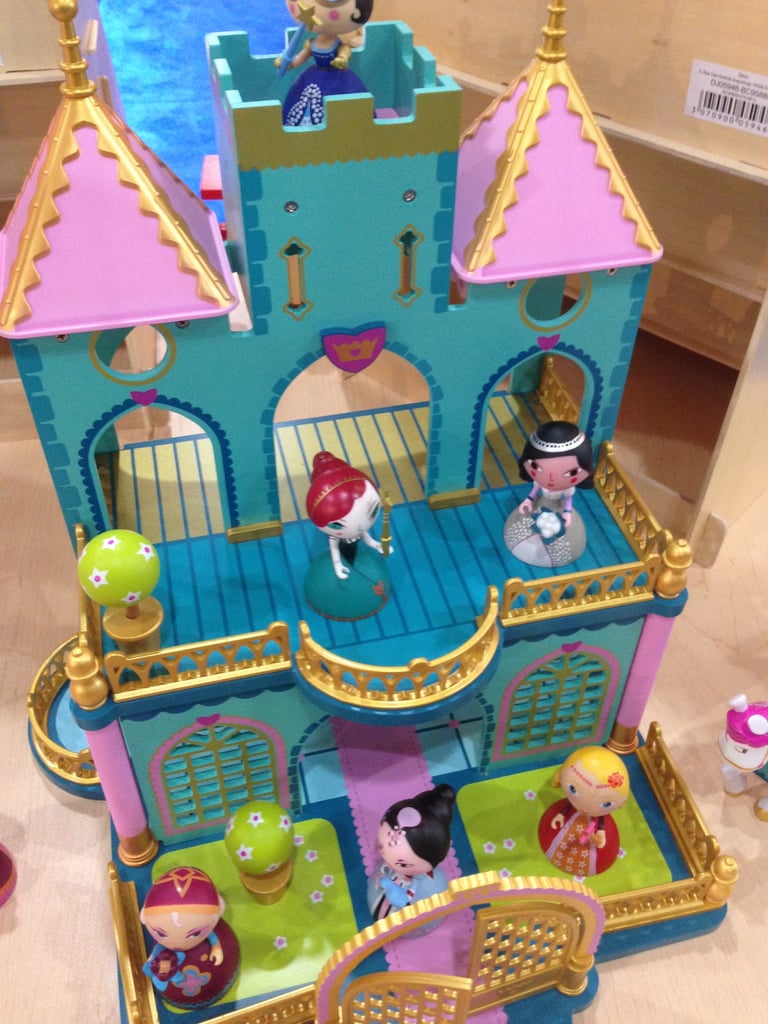 We love the bright colors and whimsical look of Le Toy Van's magical castle.
Early Riders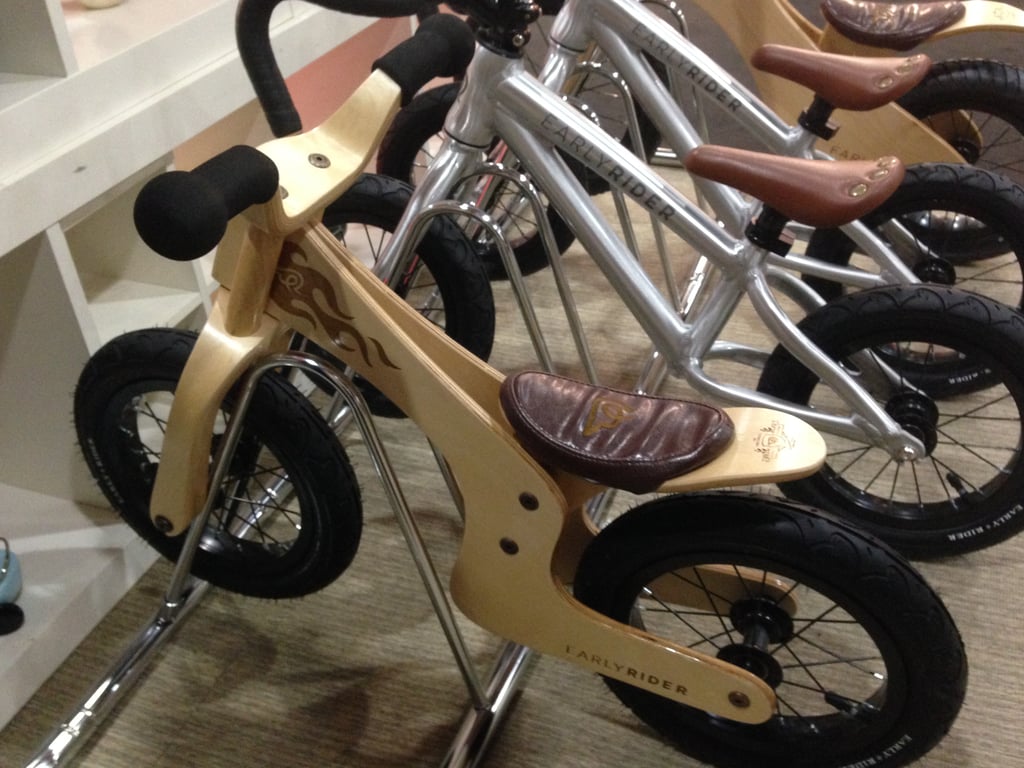 How cool is the retro look of these balance bikes (complete with real leather seats)?
For the Slinky Aficionado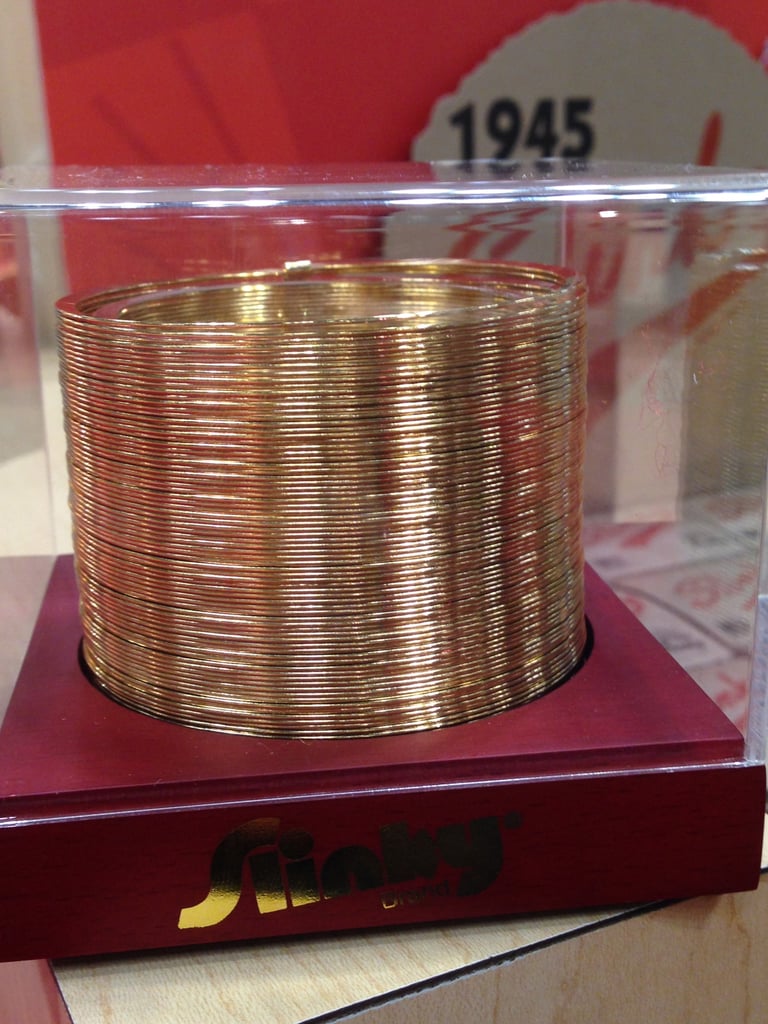 This one's more of a grown-up collector's toy than a kid-friendly plaything, but we simply couldn't resist a 14K gold Slinky!
Pictionary Frame Game
There's a new — really fun! — way to play everyone's favorite drawing game.
Thomas the Tank Engine Track Enhancements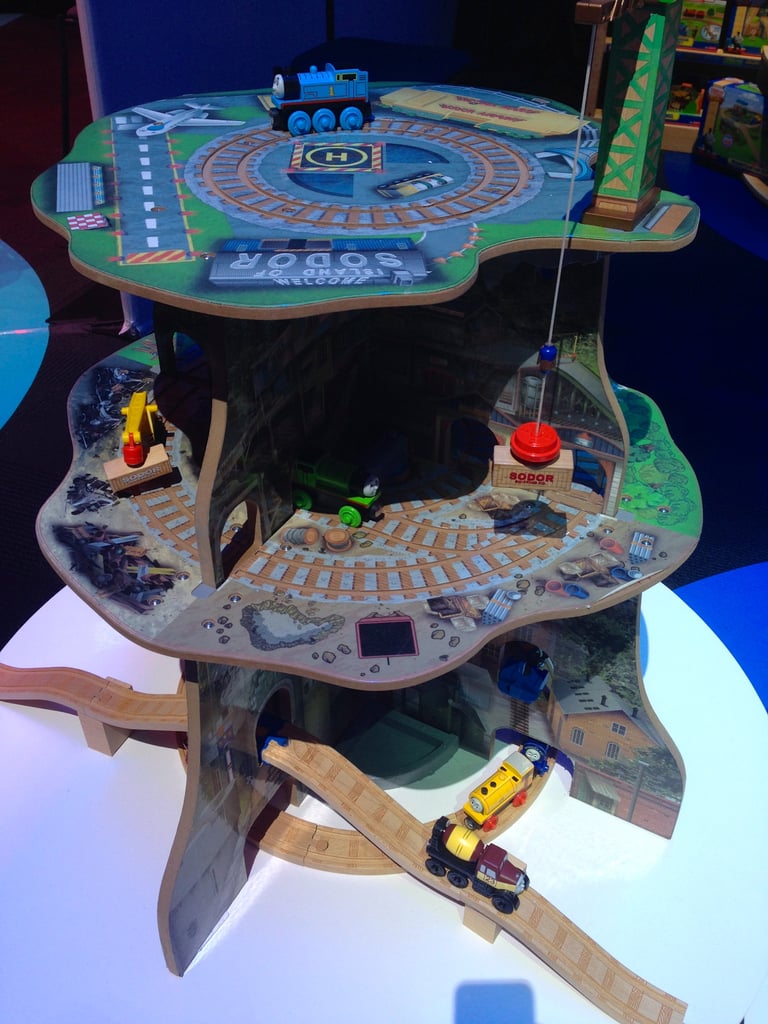 Tiered tracks add an element of vertical fun to kids' Thomas play sets.
VTech Chomp & Count Dino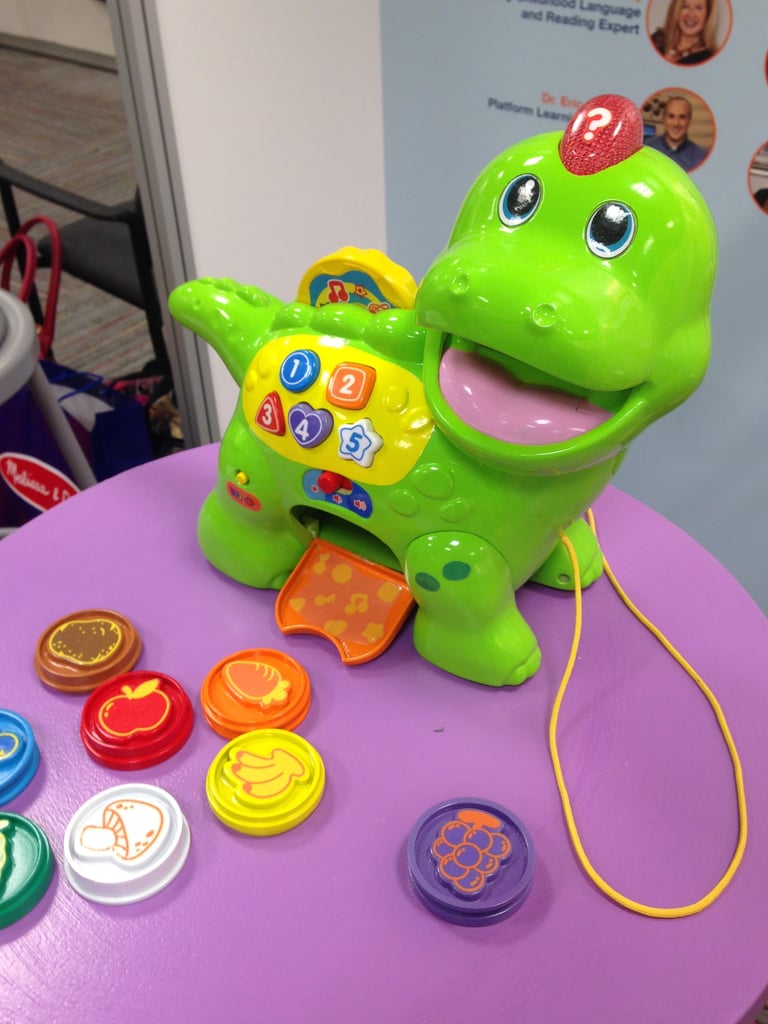 A multifunctional learning toy for toddlers features activities with shapes, numbers, colors, and more.
Plan Toys Braille Letters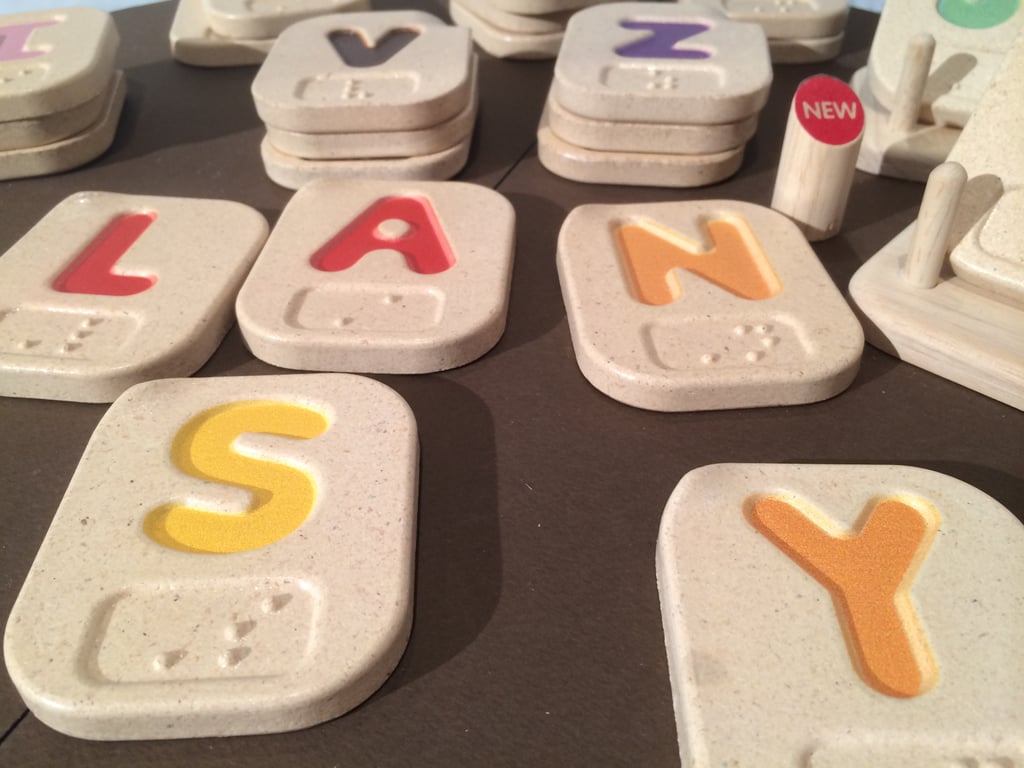 Plan Toys is teaching tots how to read Braille with their new letter tiles.
Green Toys Helicopter
After fans begged the company for a helicopter, the eco-friendly company complied with these cute choppers.
Little Live Pets Butterflies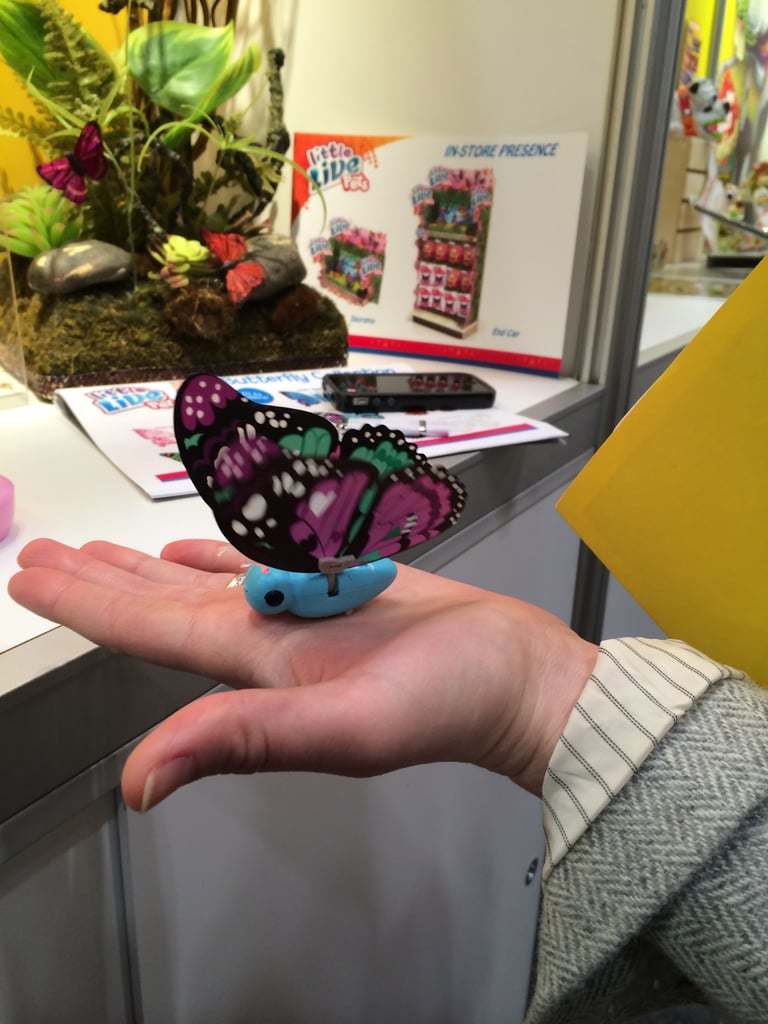 These rechargeable Little Live Pets look so realistic from afar, that your kids' friends will think they're actually holding butterflies in the palms of their hands.
Go! Go! Smart Wheels Launch & Go Storage Case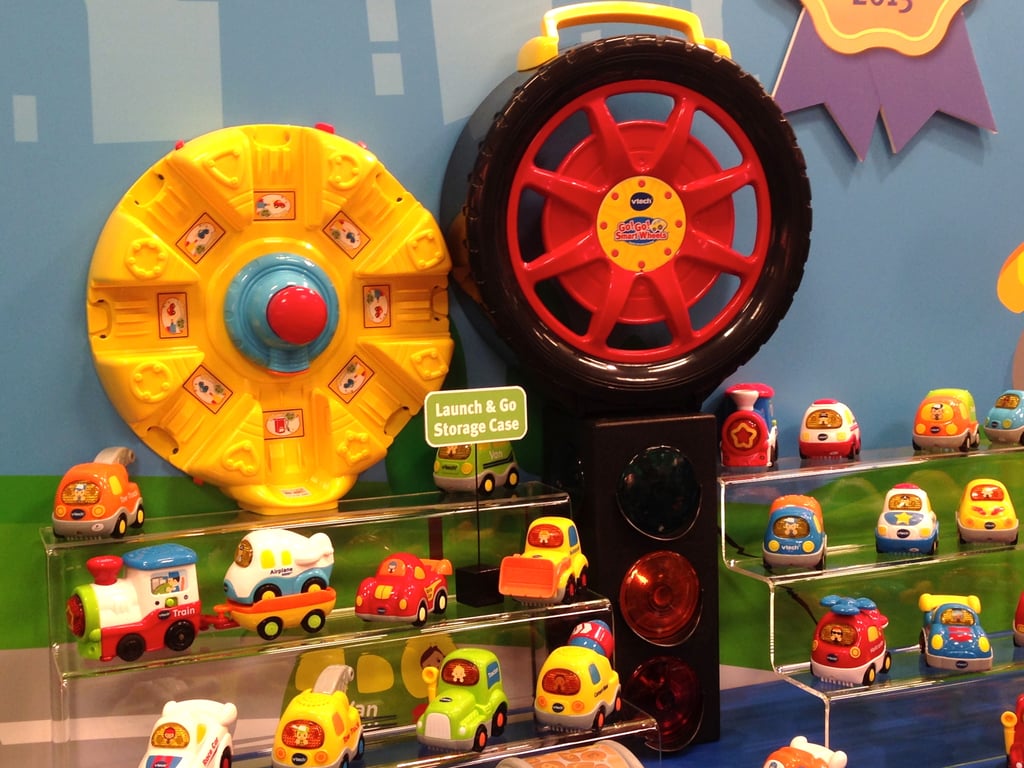 Hitting stores this Fall, VTech's Launch & Go Storage Case will make cleanup time fun.
Lego Friends Heartlake Shopping Mall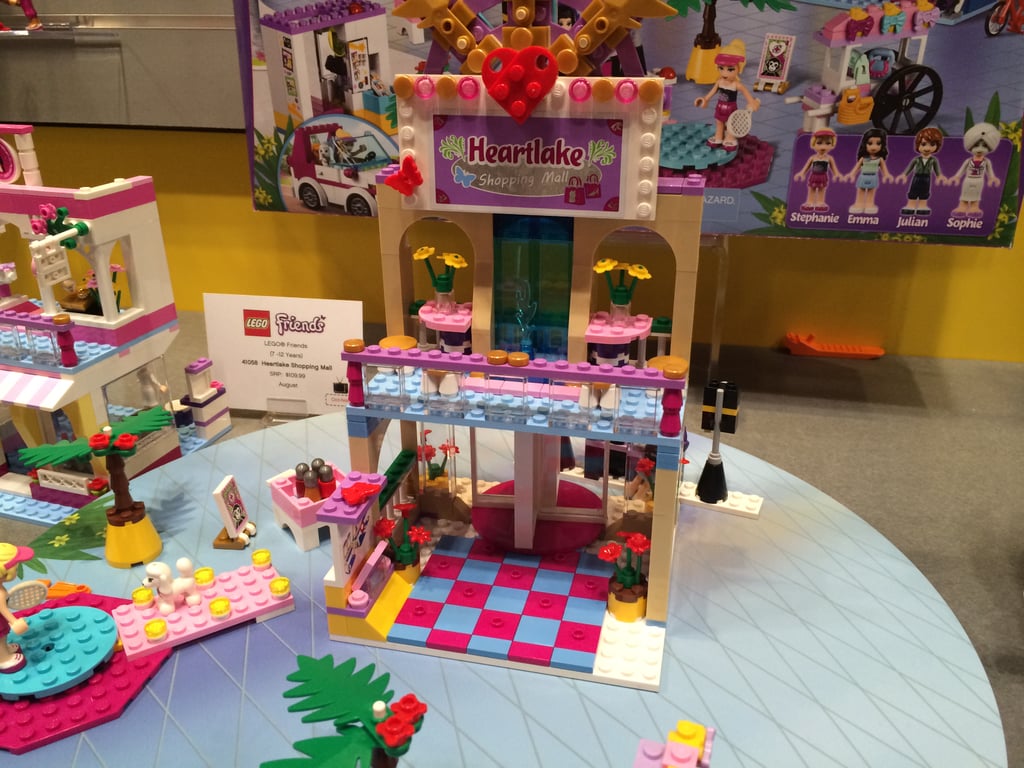 The Heartlake line expands with the 1,120-piece shopping mall that comes out in August.
Glitzi Globes
The DIY [5] snow globes line will introduce a Ferris wheel this Fall.
Jake and the Neverland Pirates Play Set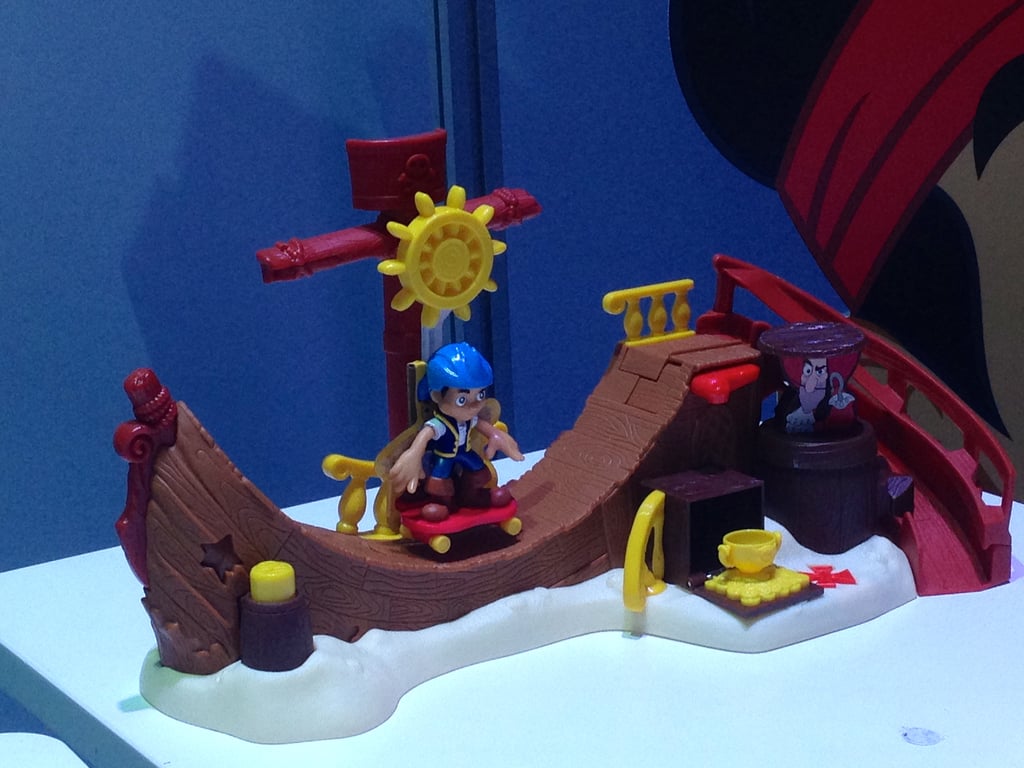 The gang's all aboard this pirate-ship play set.
Beach Stamps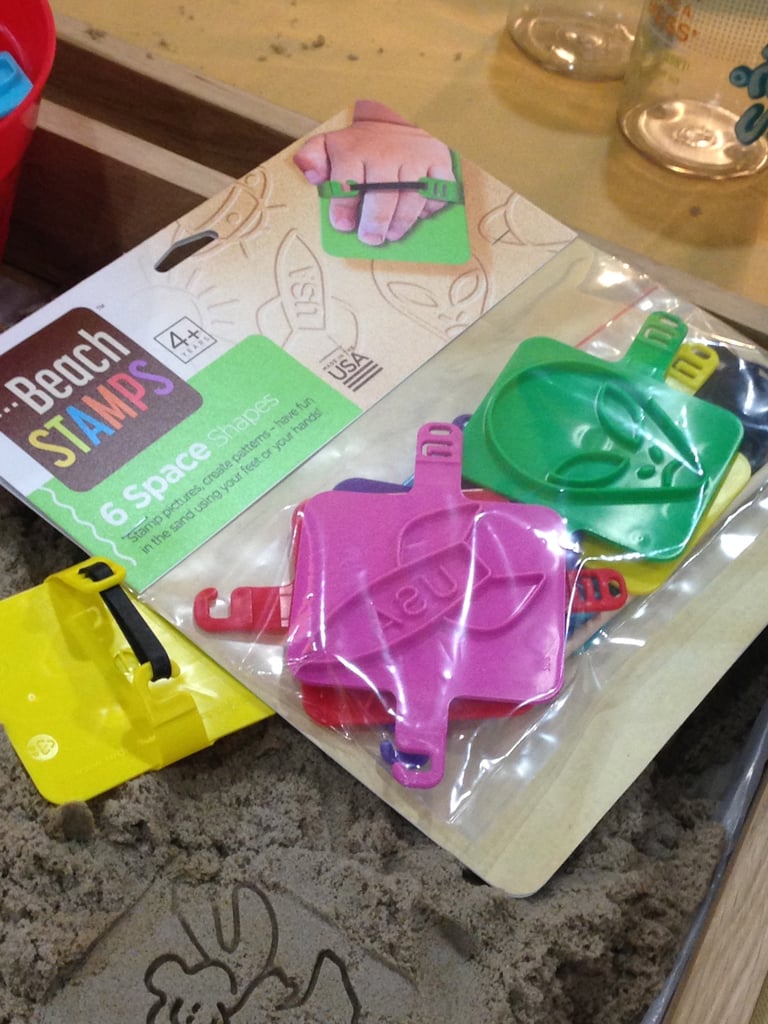 The coolest new way to play in the sand — so simple, so smart!
Doggie Doo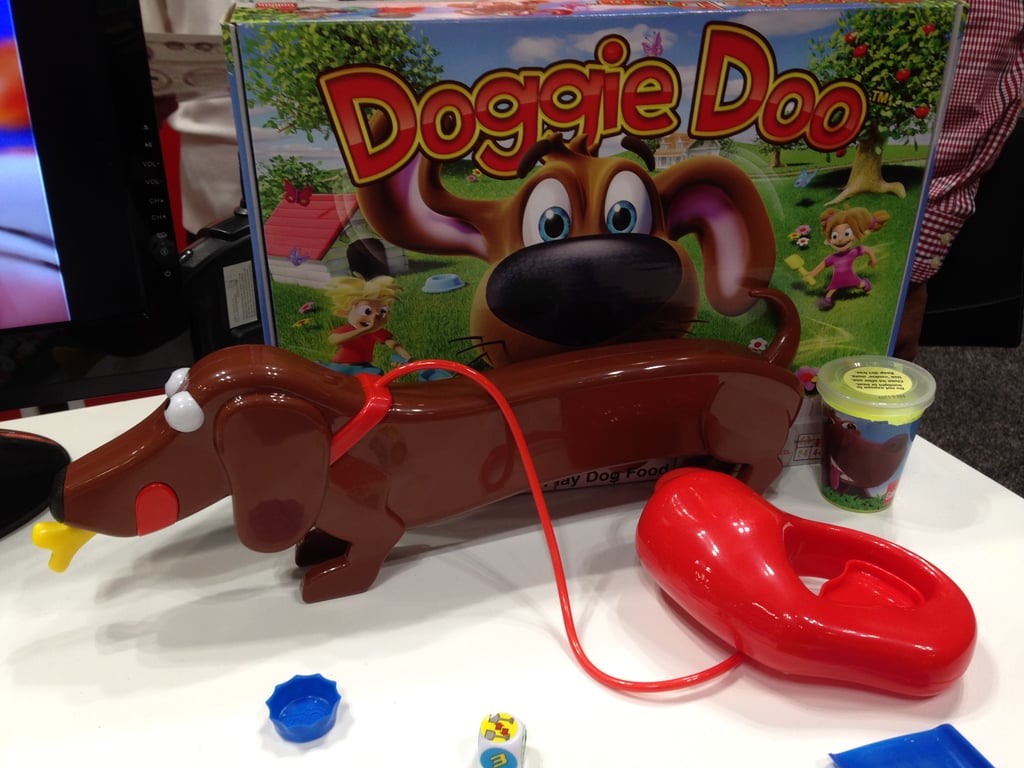 Another poop toy! Gross!
Hape DIY Dream House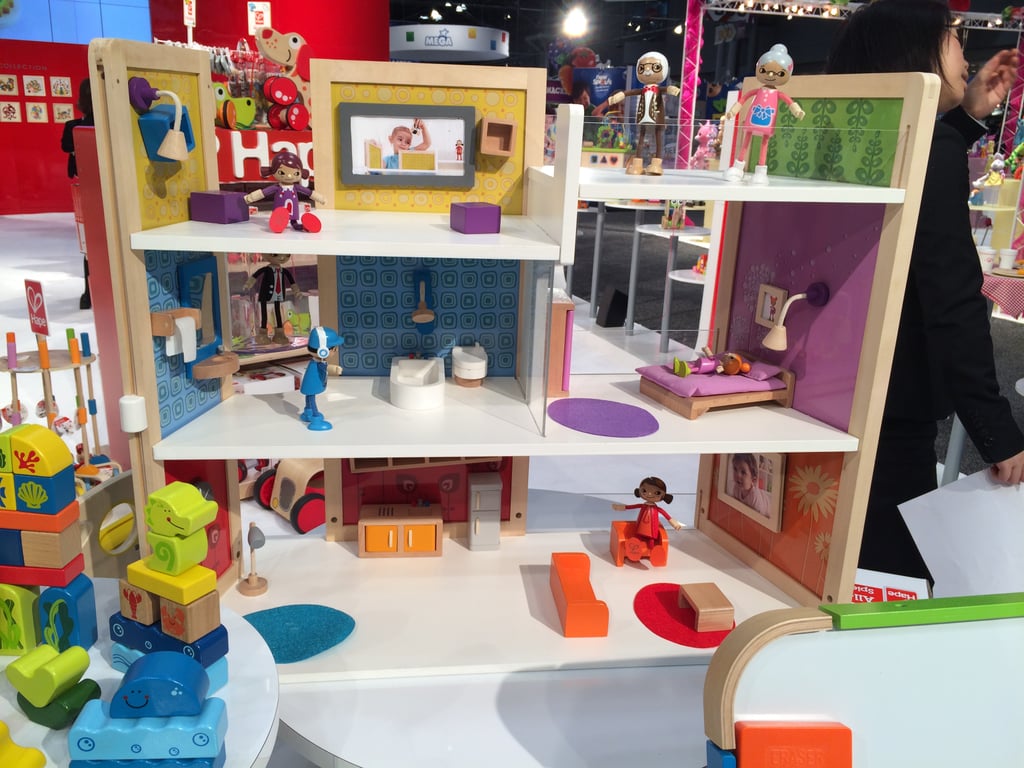 Kids can create the dollhouse of their dreams with this new structure that comes with magnetic furnishings, picture frames with removable artwork, and a chalkboard wall waiting to be decorated.
Melissa & Doug's Car Rug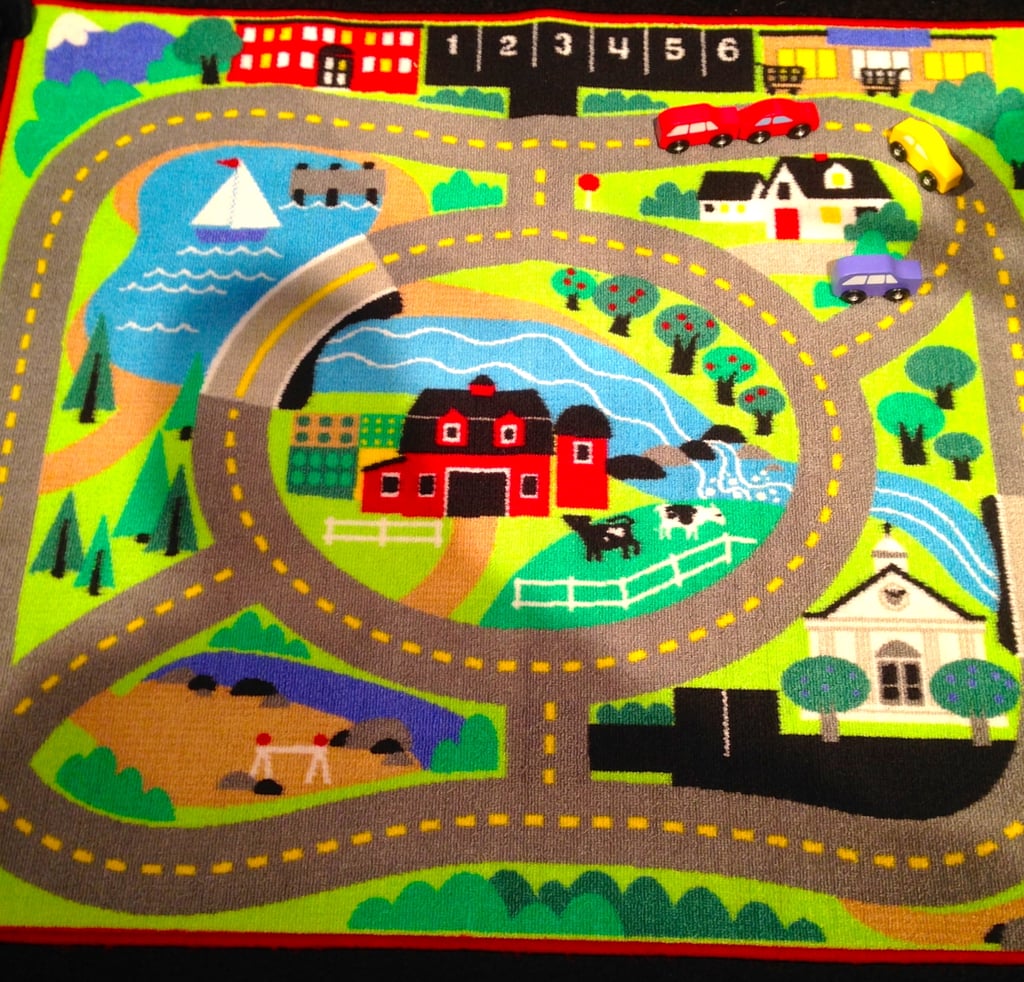 We love the folky feel (and manageable size) of this sweet play rug.
Play Toys Croquet Set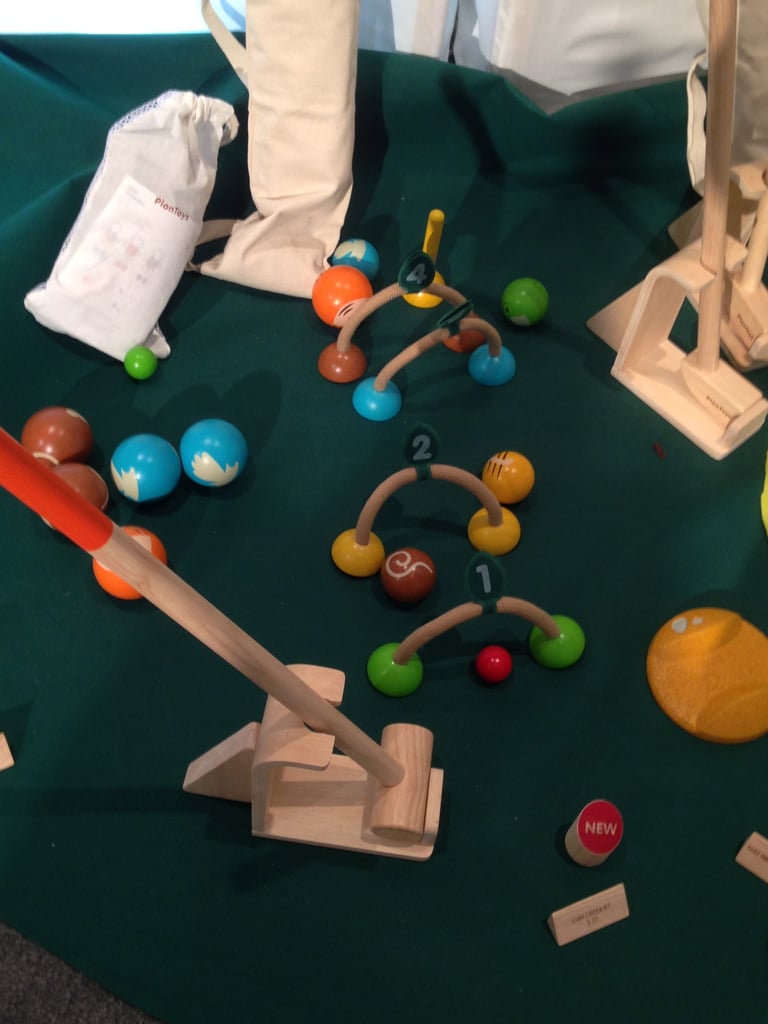 Spring-ready finds from Plan Toys include croquet, mini golf, and petanque.
Kaloo Denim Collection
Kaloo is introducing a denim collection that is sure to be a hit with new moms.
Playmobil My Secret Play Box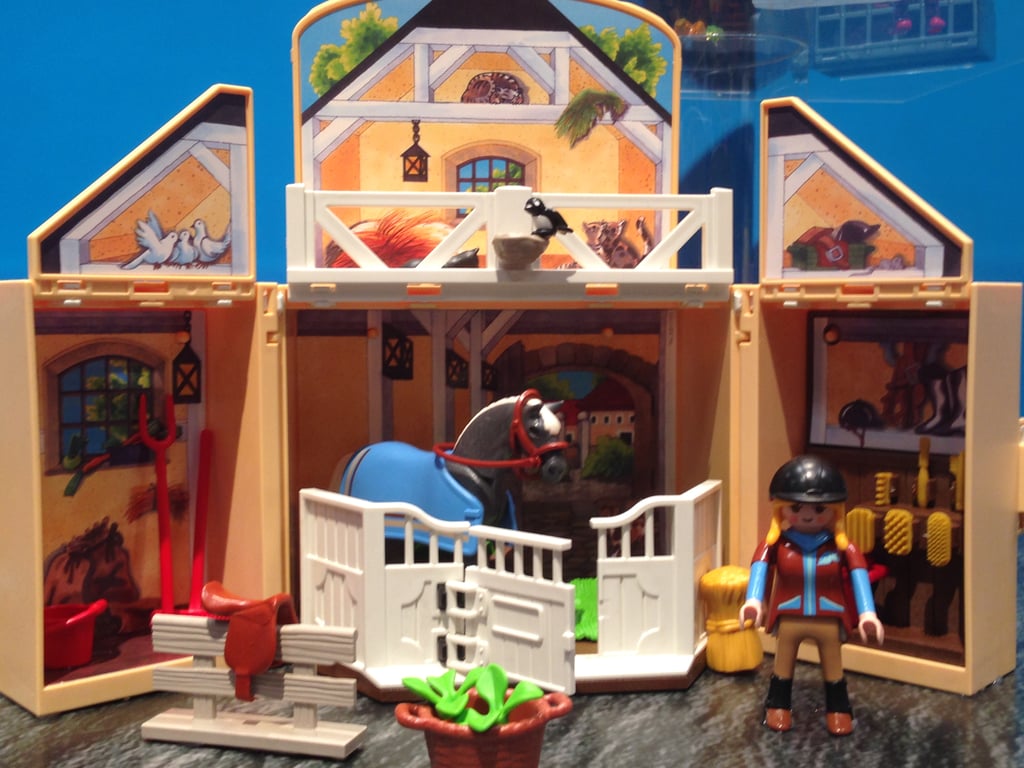 Debuting in March, Playmobil's "Secret Play Boxes" are great for on-the-go play. Pick from a horse stable, castle, dragon's lair, or police station.
Little Tikes Cozy Coupe Walker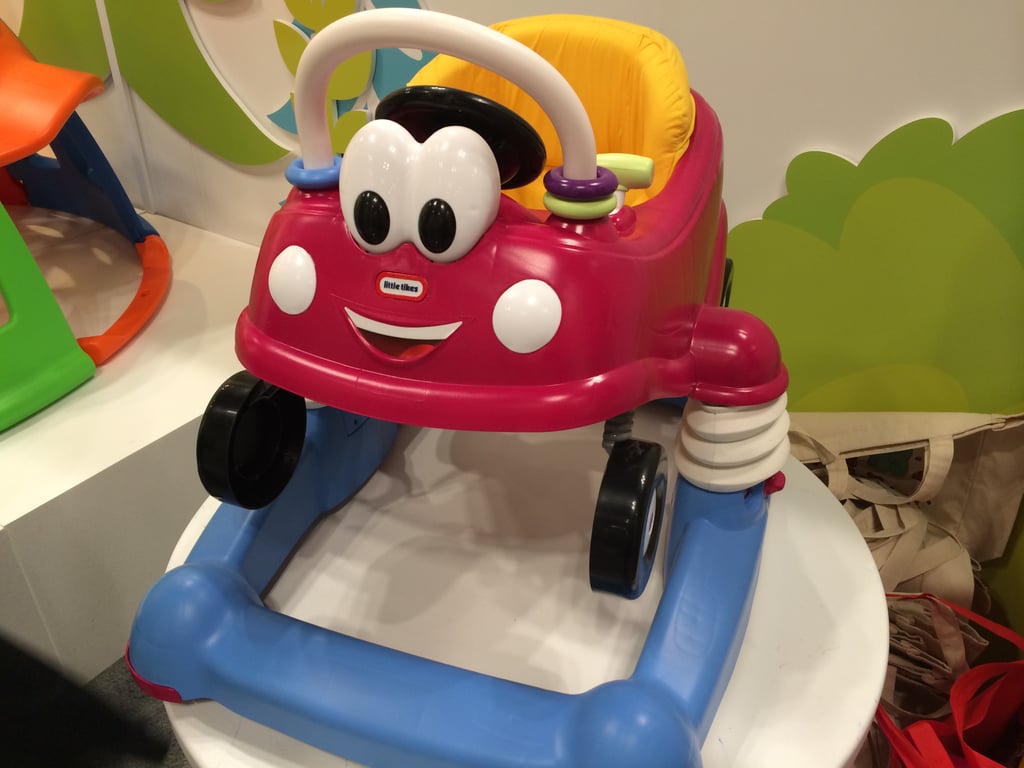 The Cozy Coupe goes for a spin as a walker for infants.
Imaginista Bracelets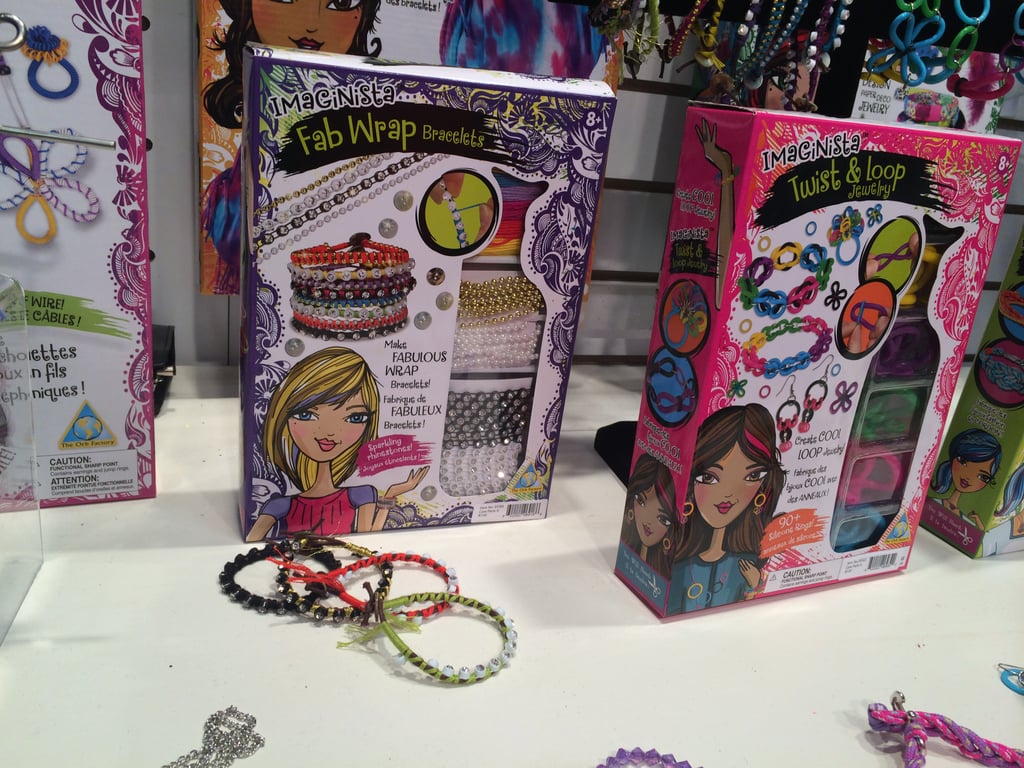 Bracelets are all the rage with The Orb Factory's Imaginista line, and tweens are encouraged to make their own.
Barbie's BFFs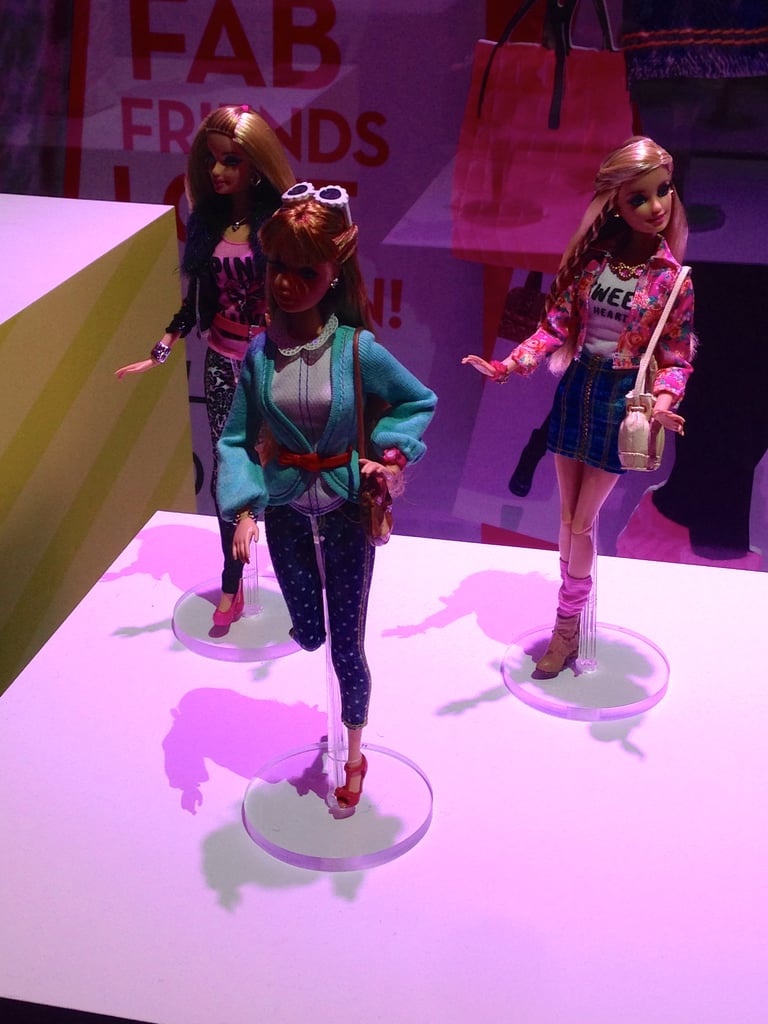 This year, the focus is on Barbie and her gal pals, and they're looking better than ever!
Silly Sam & Friends Cleanup Crew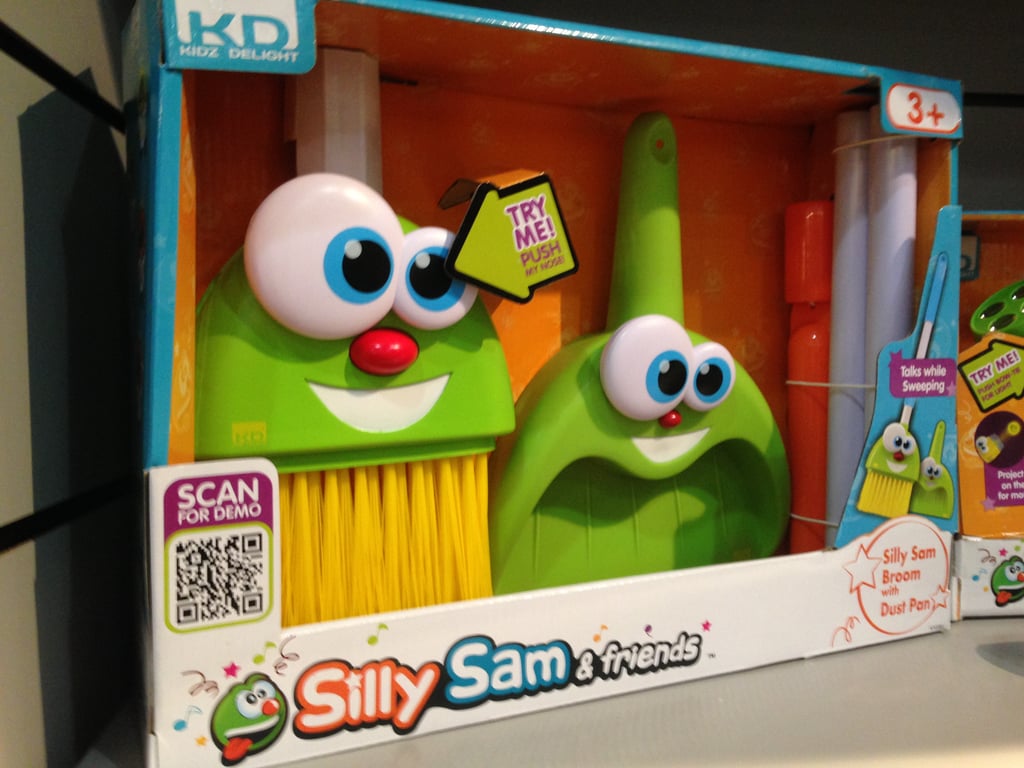 These smily faces make helping mom out with the chores much more fun!
Imaginext Cosmic Chaos Super Nova Battle Rover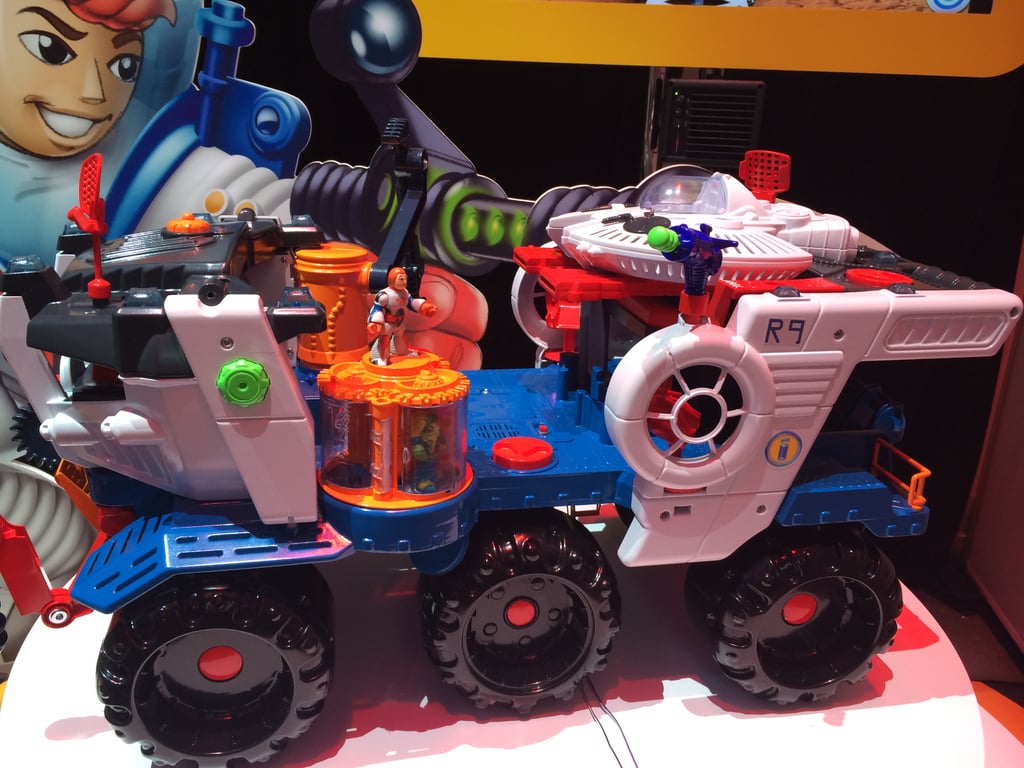 You won't believe the sheer size of the Imaginext Cosmic Chaos Super Nova Battle Rover — it's at least two feet tall — and it has tons of fun sounds and actions.
If You Mustache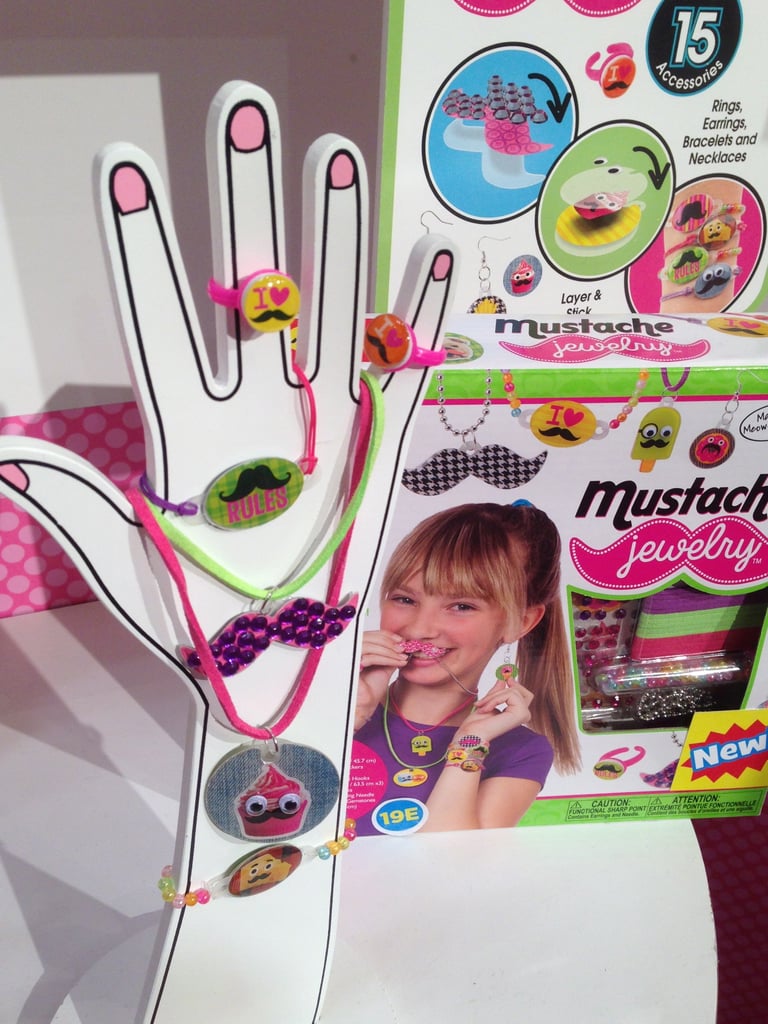 Another trend that's sticking around, mustaches are everywhere, even on kids' jewelry!
B. Toys Beach Toys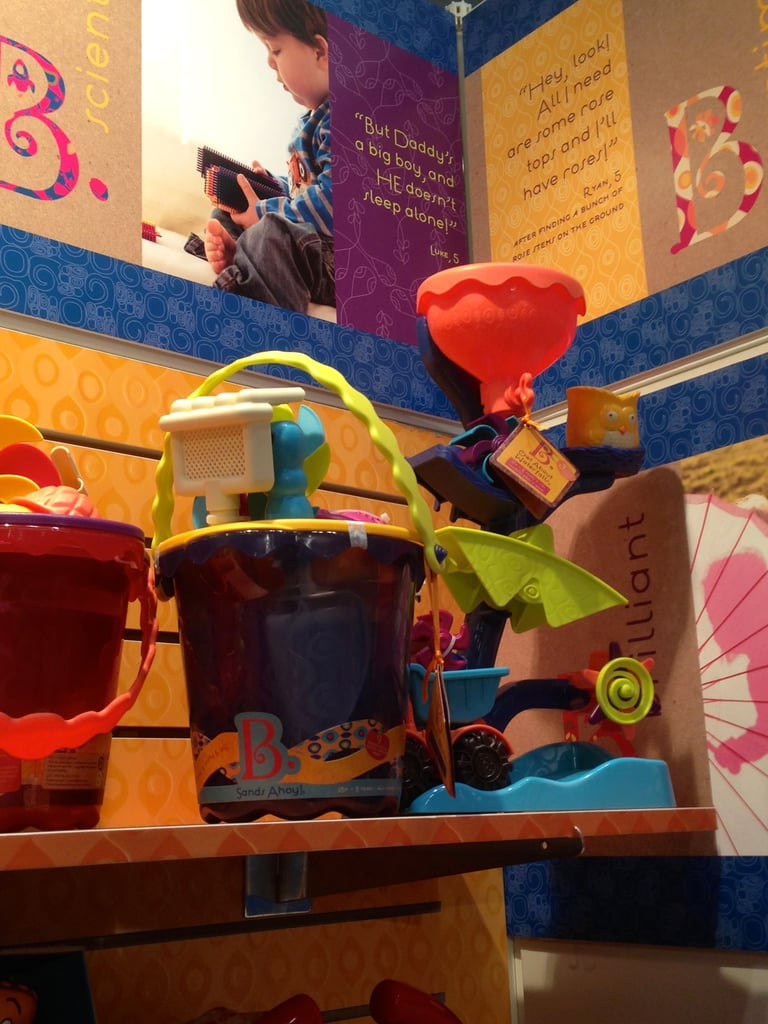 We couldn't get enough of all of the fun (and well-priced!) offerings from B. Toys' line of beach and sand toys.
Hexbug's Aquabots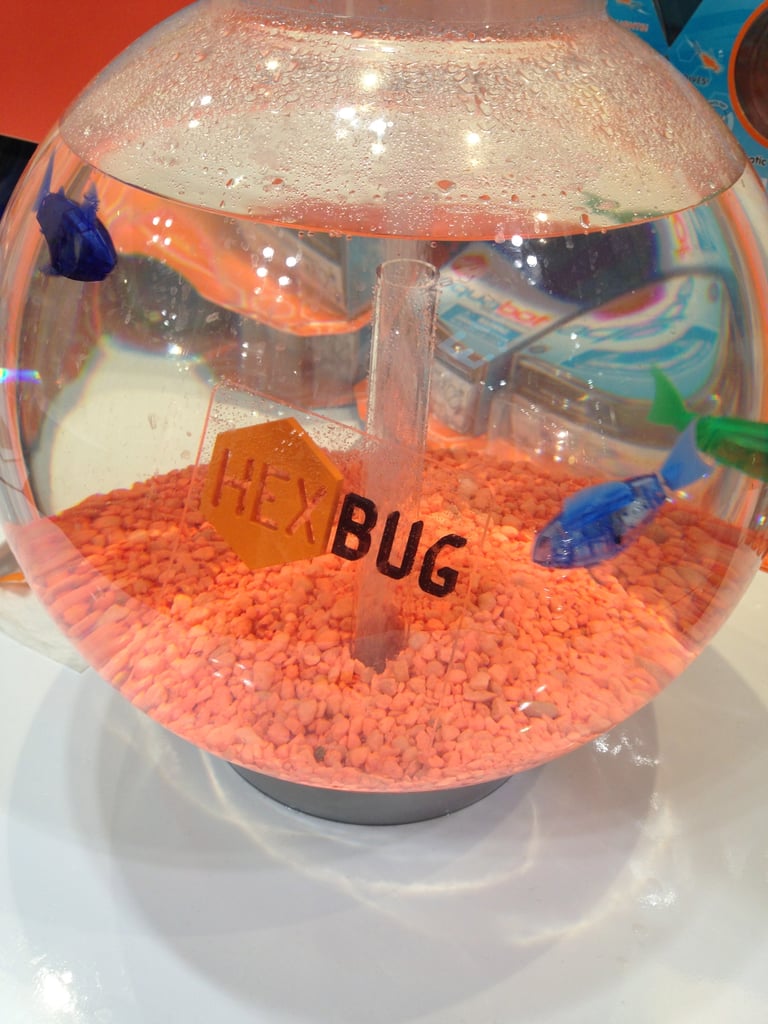 Nope, those aren't real fish — they're Aquabots — now with LED lights.
Playmobil Remote-Control Pirate Ship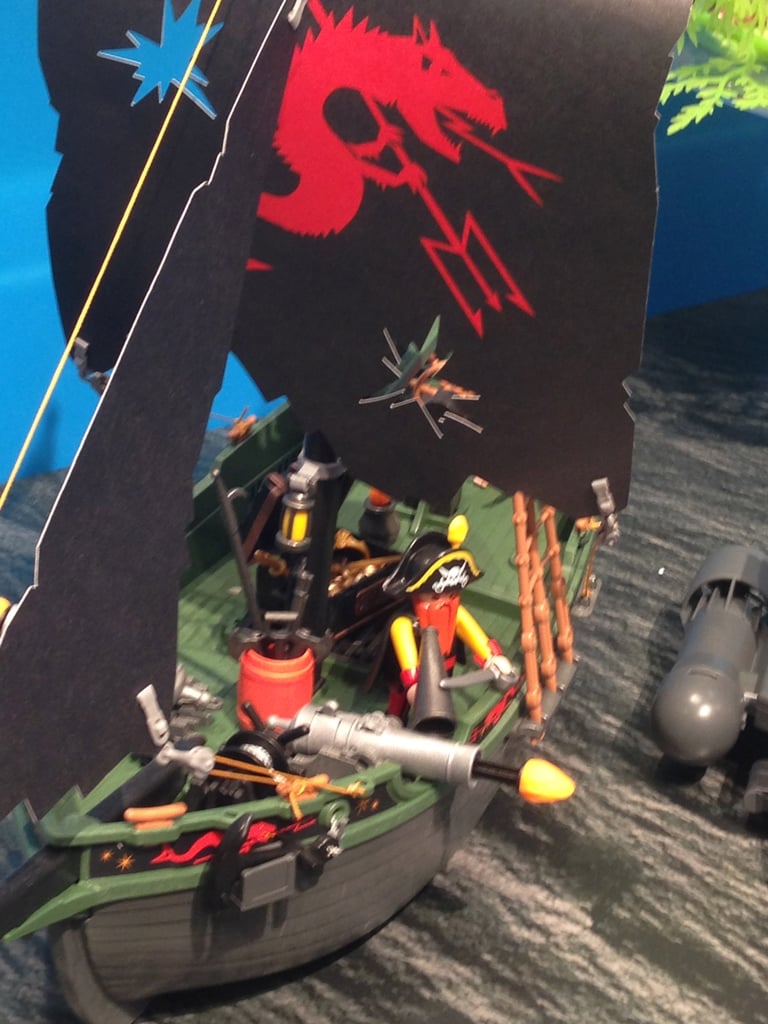 This remote-controlled (and water-ready) ship was a standout from Playmobil's 2014 lineup.
Janod Bikloon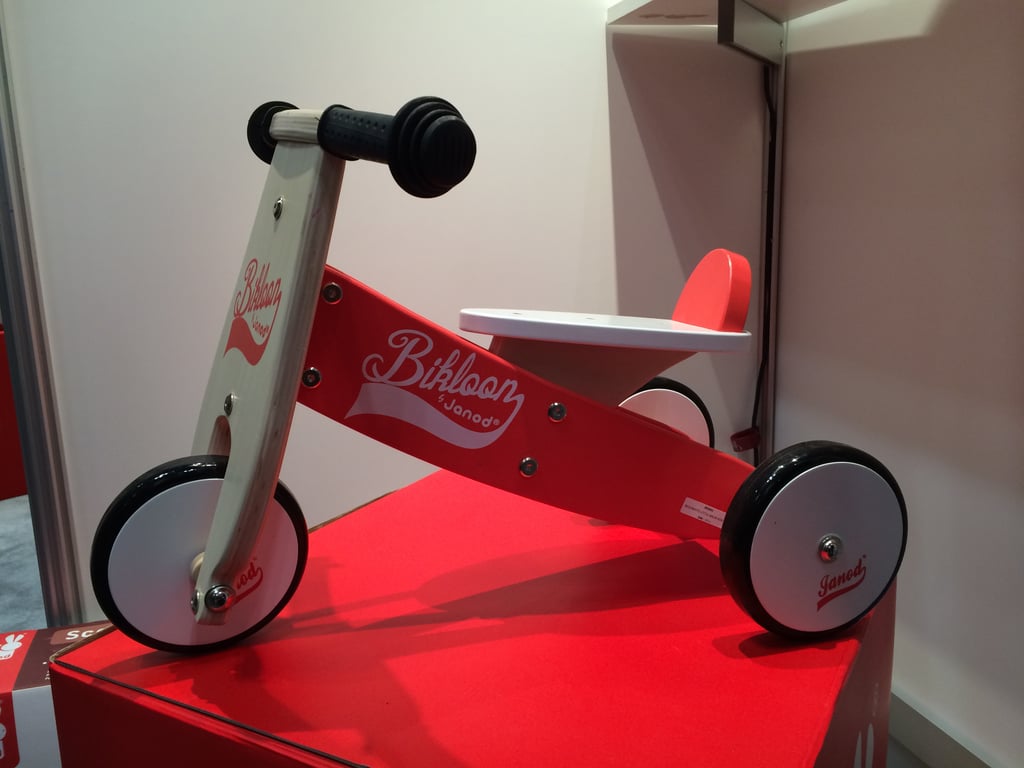 Designed for toddlers, this first ride-on toy is stylish precursor to a balance bike.
Automoblox Trucks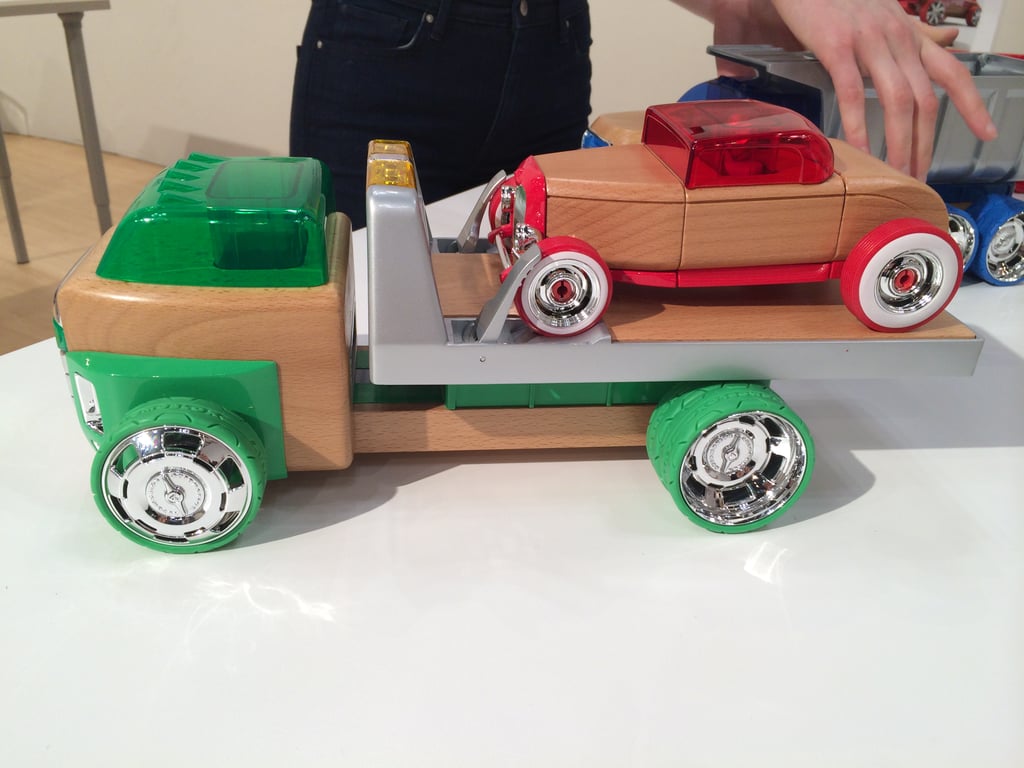 These car-carrying trucks are nothing short of awesome.
Sweet Dreams, Soccer Star!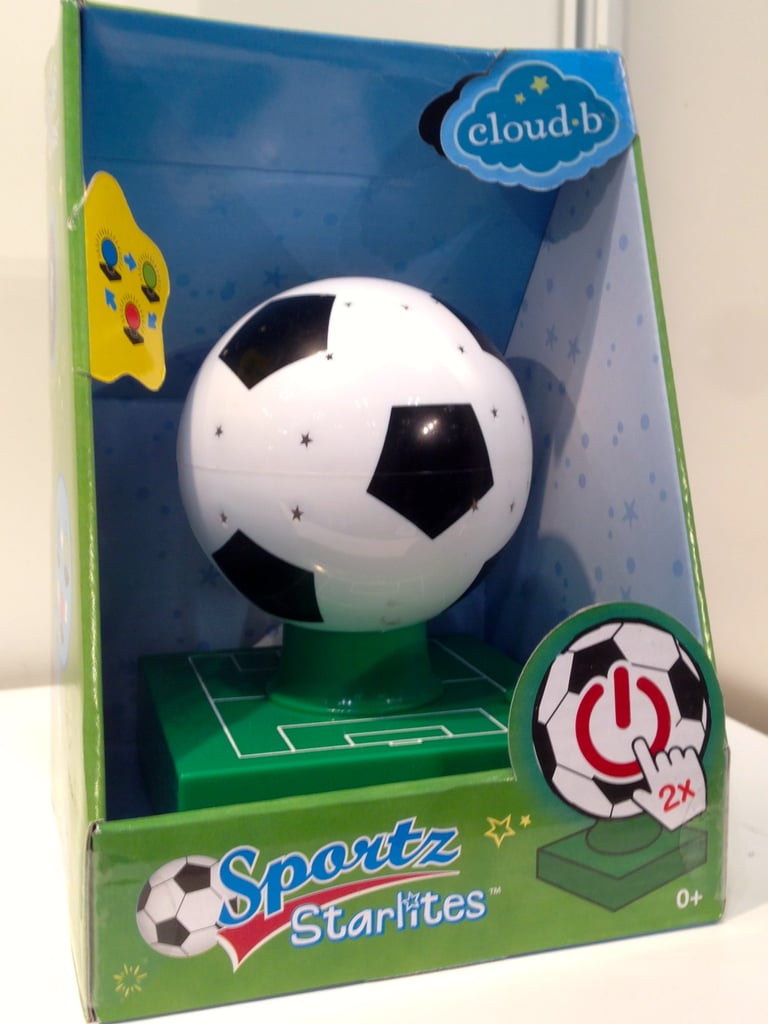 Cloud b.'s new Sportz Starlites lull your little athlete to sleep with the brand's signature projections.
Dusty Crophopper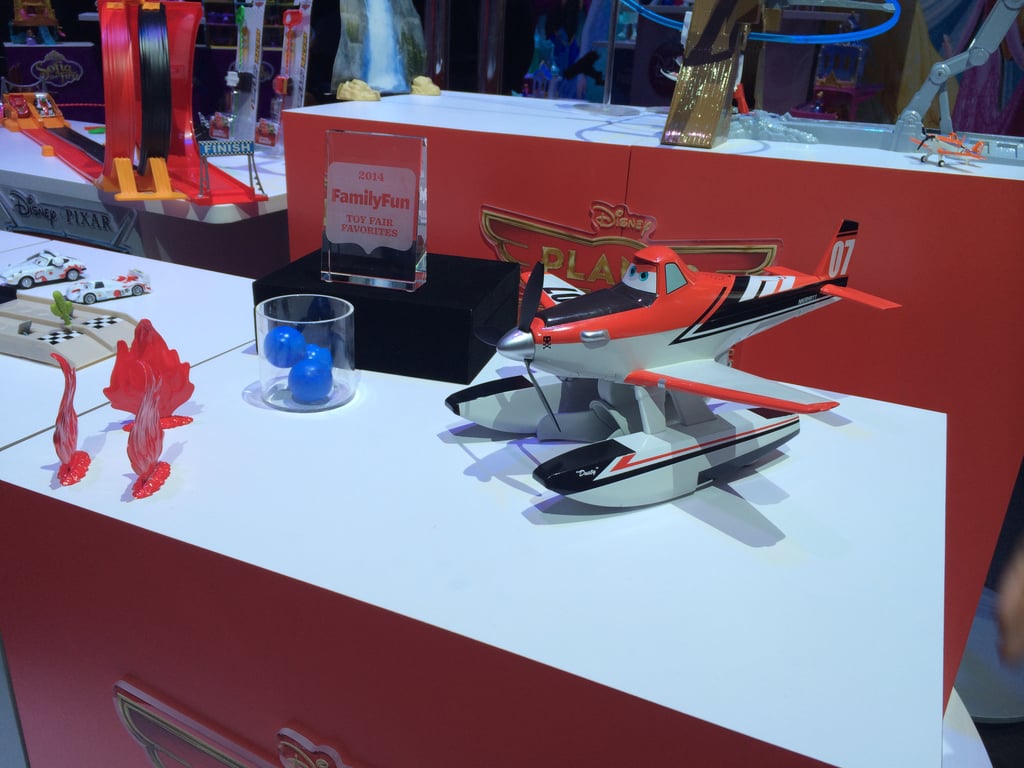 This Dusty Crophopper shoots out "water balls" to put out flames.
Gund Grumpy Cat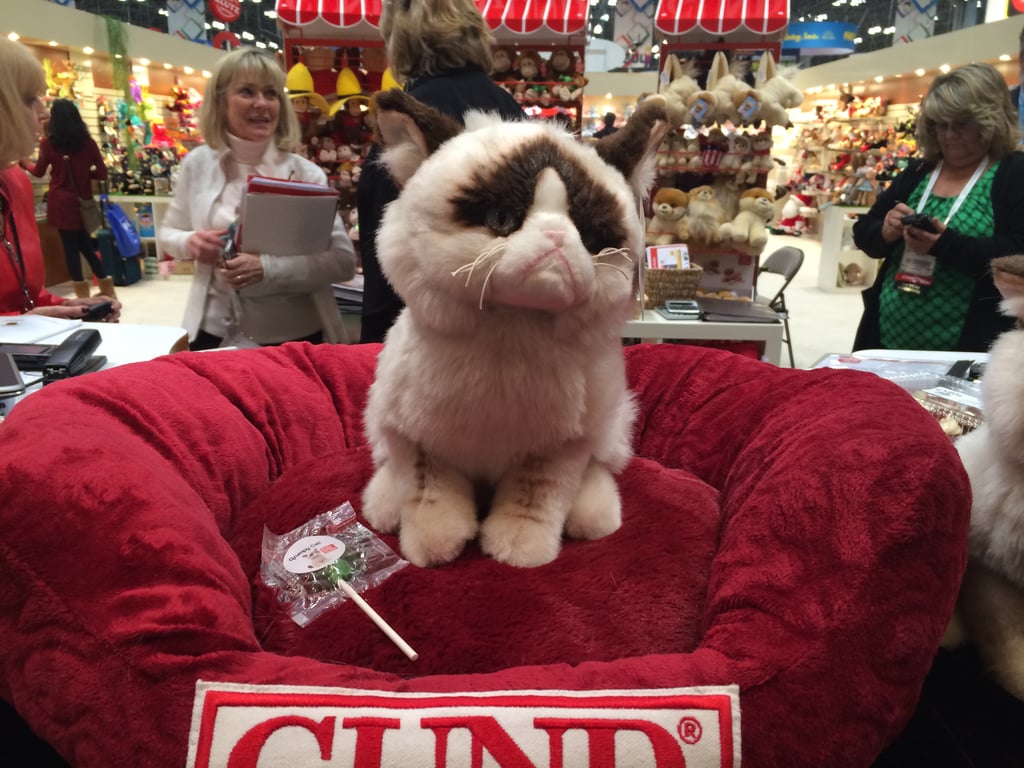 Gund will introduce a supersoft line of Grumpy Cat stuffed animals.
Hot Wheels Marvel Tracks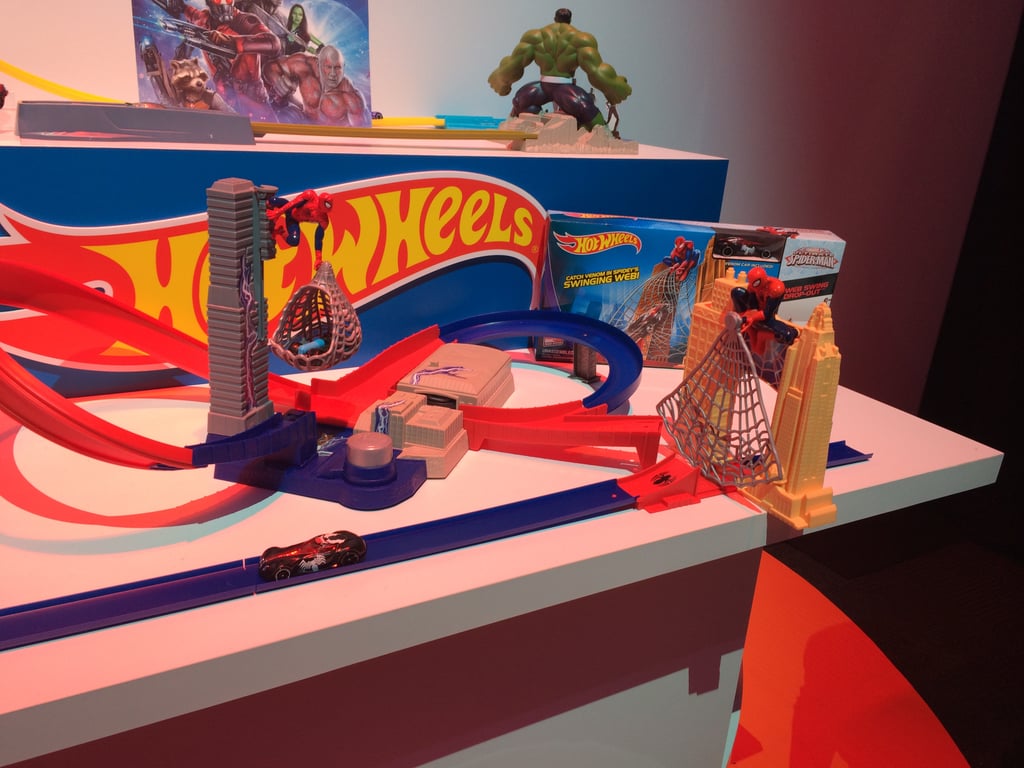 For the first time ever, Spiderman and The Hulk will appear on Hot Wheels tracks.
Fisher-Price Laugh & Learn Chair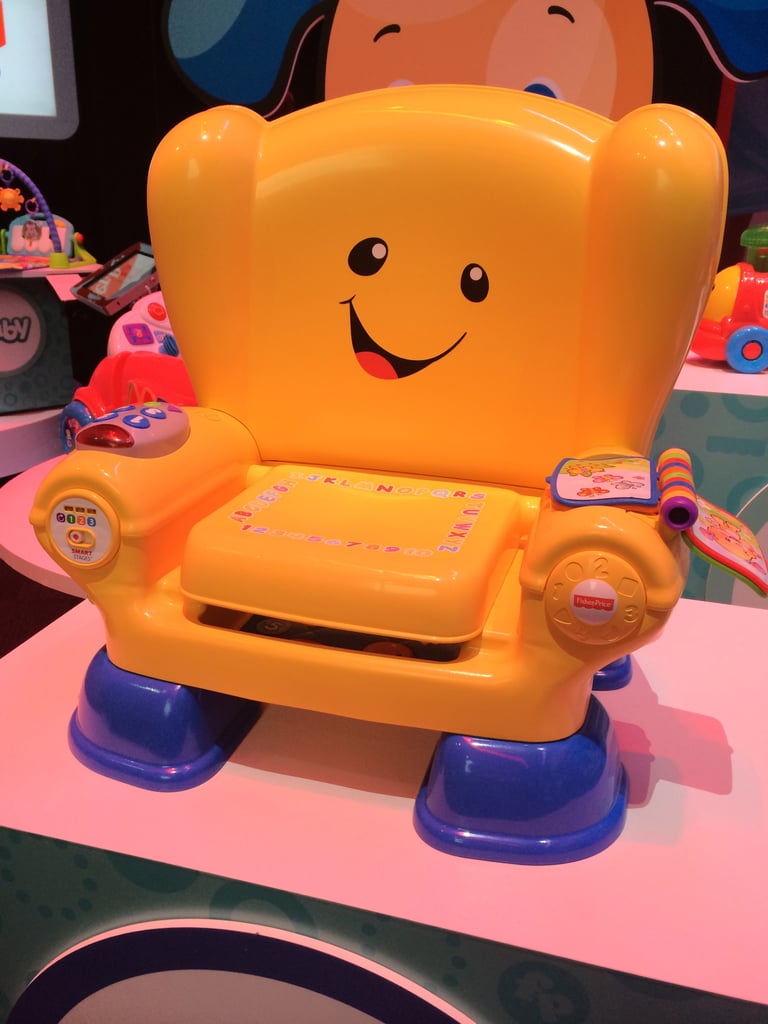 This chair does more than give kids a place to sit. It teaches them about over, under, in, and out.
Playmobil 1, 2, 3 Train Set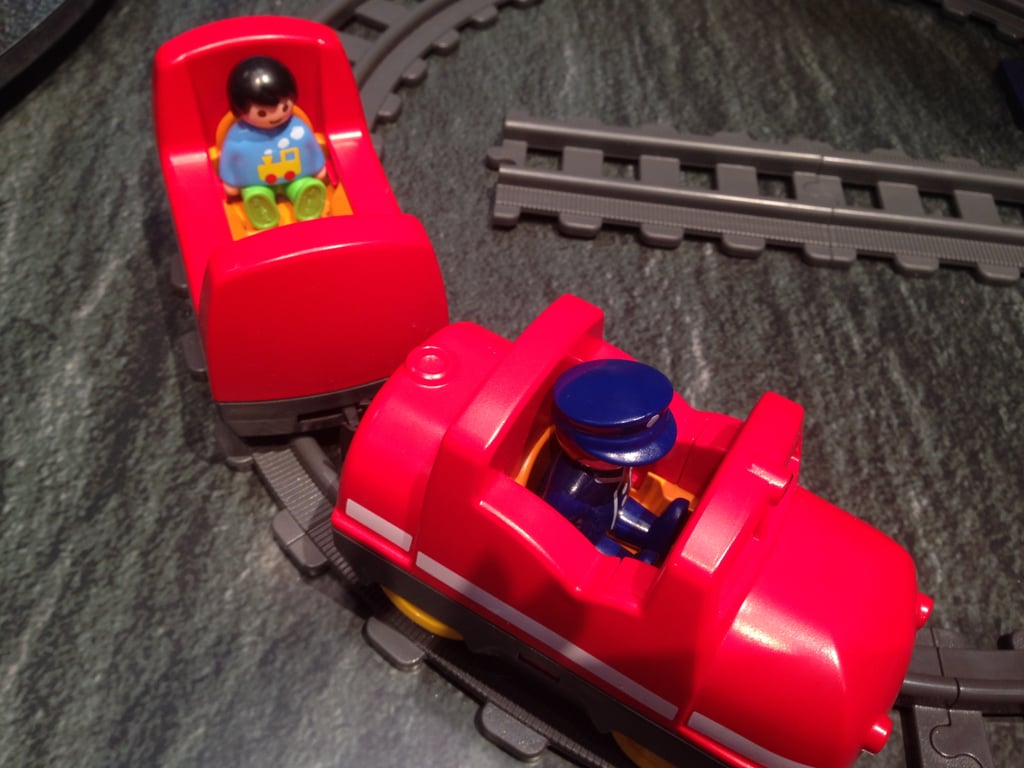 All aboard the choo choo train!
Wonderworld Click N Play Dinosaur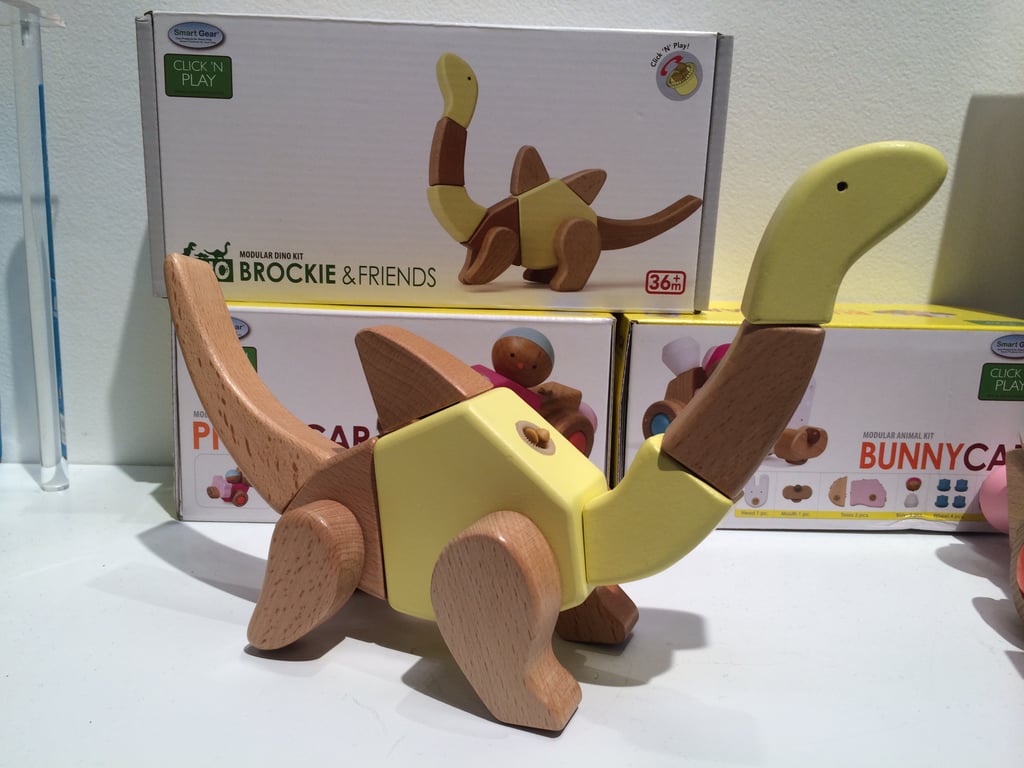 Mix and match the pieces of these Click N Play animals to create your ultimate toy.
Begin Again Dino Puzzles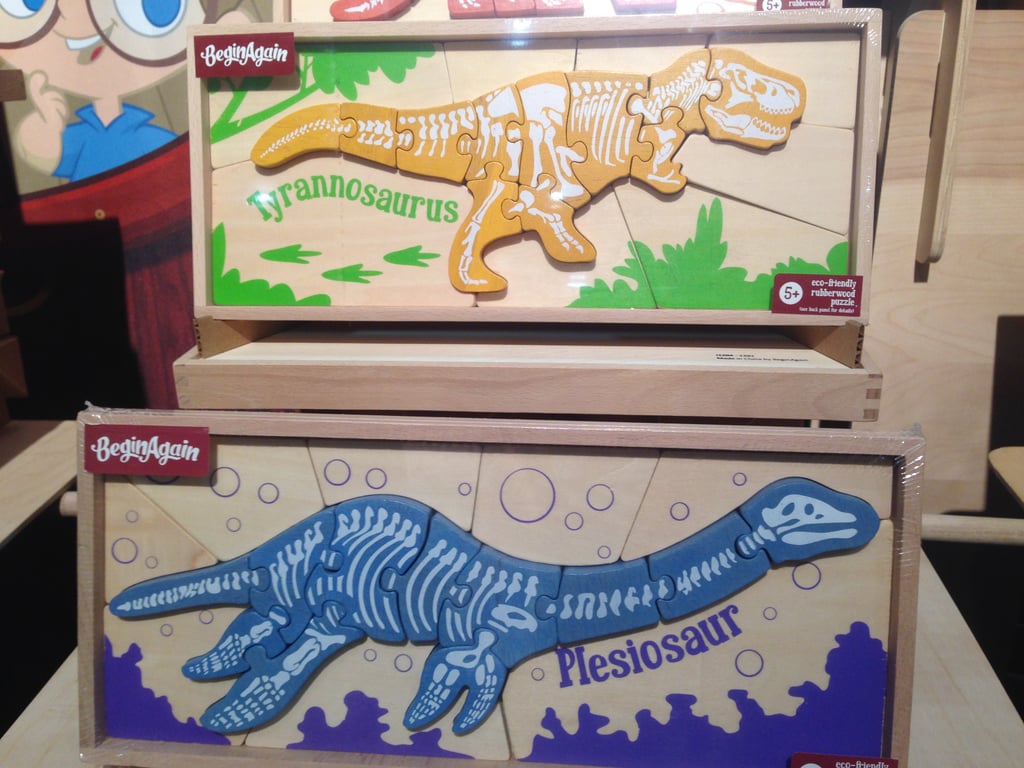 Kids can see what lies within their favorite kinds of dinosaurs with Begin Again's new fossil puzzles.
Playmobil Ark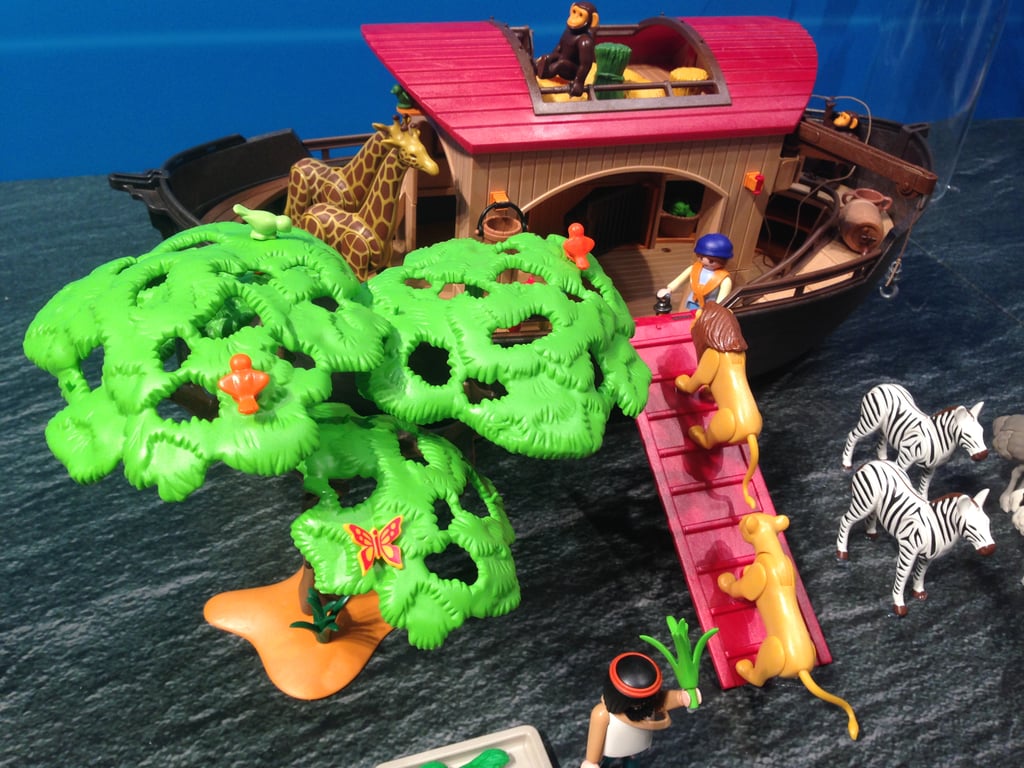 We loved the detail on this new release from Playmobil.
The Macabee on the Mantel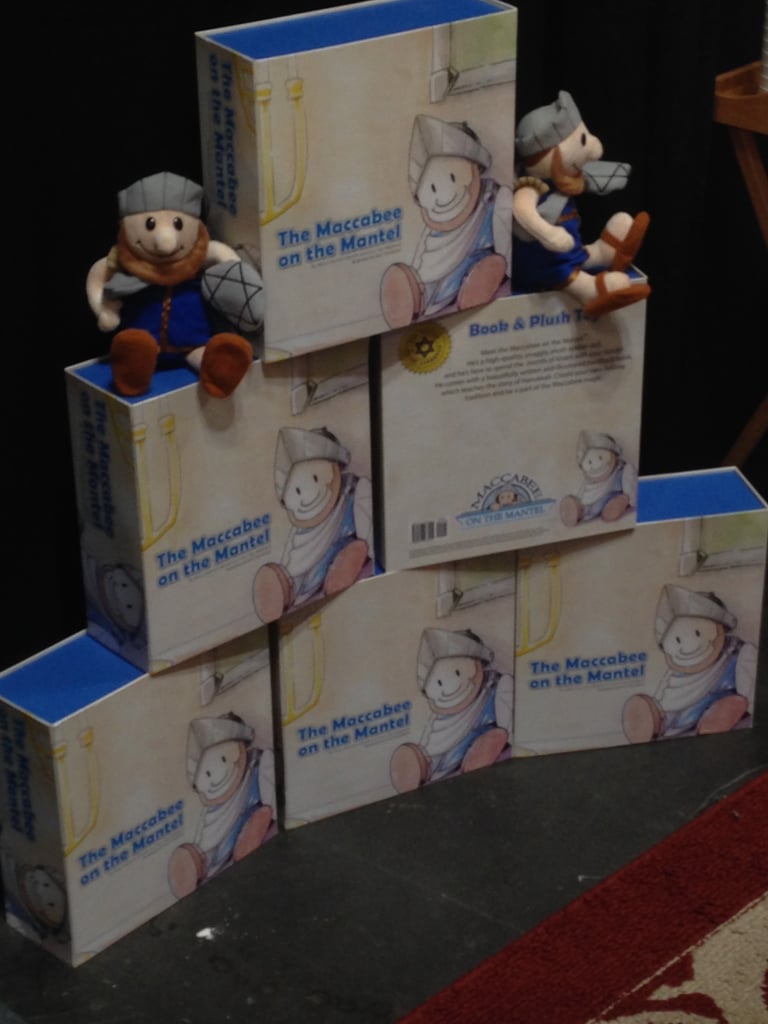 Because you shouldn't have to celebrate Christmas to get in on this seasonal friend fun!
Seedling Make Your Own Party Piñata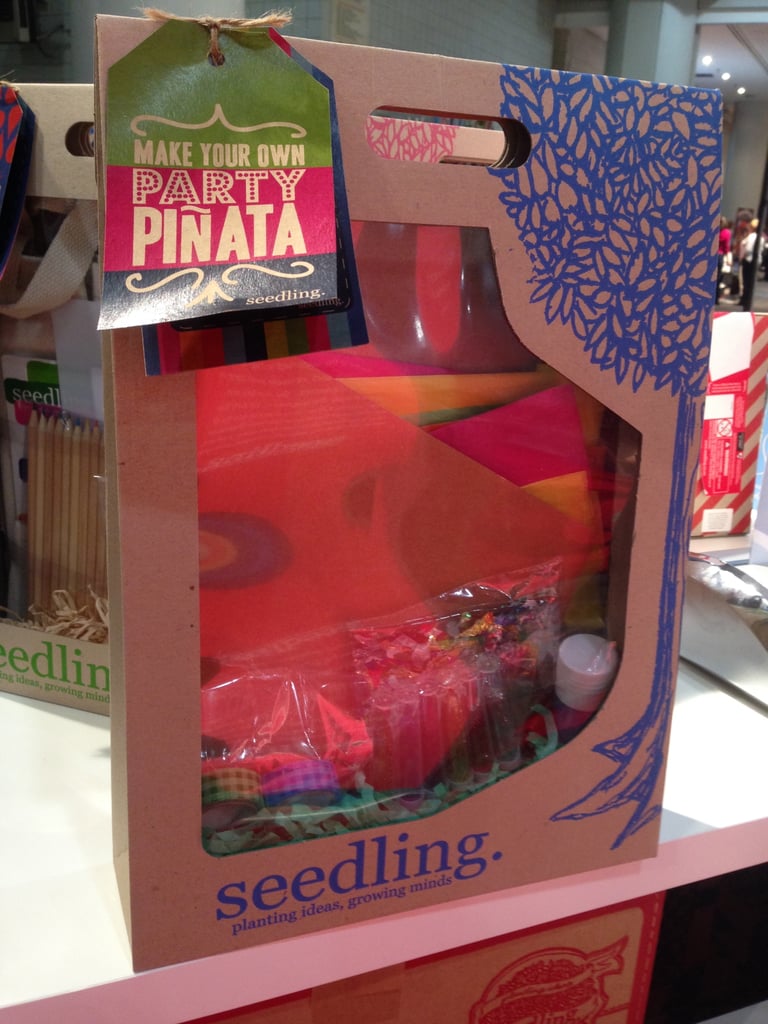 Get your party into full gear with a DIY [6] piñata kit — so cute!
Elf on the Shelf: The Board Game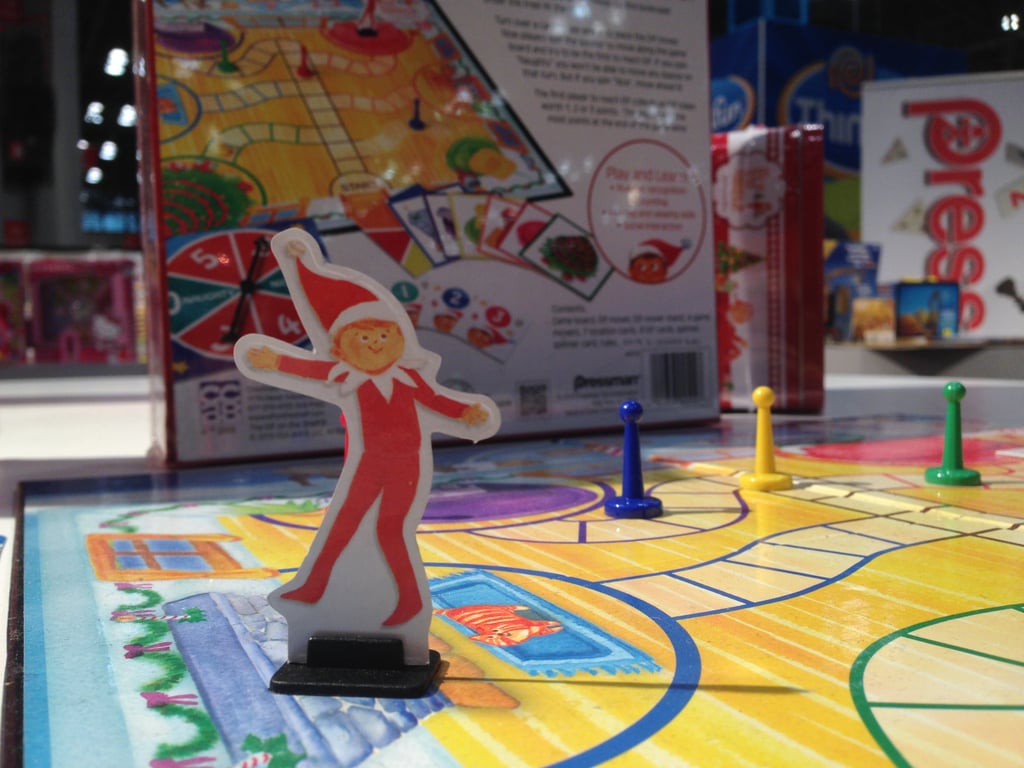 Because one can never get enough Elf on the Shelf . . .
The Magic Path of Yoga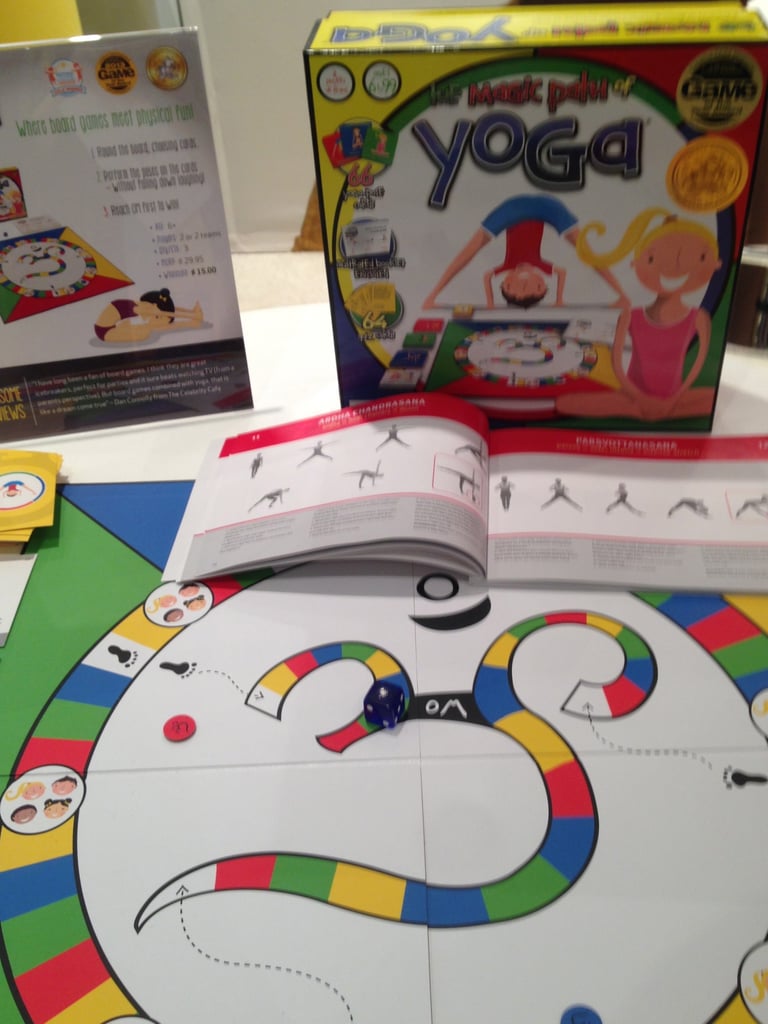 Introduce kids to the art of yoga with is fun game that encourages them to do various poses.
K's Kids Plush Owl Clock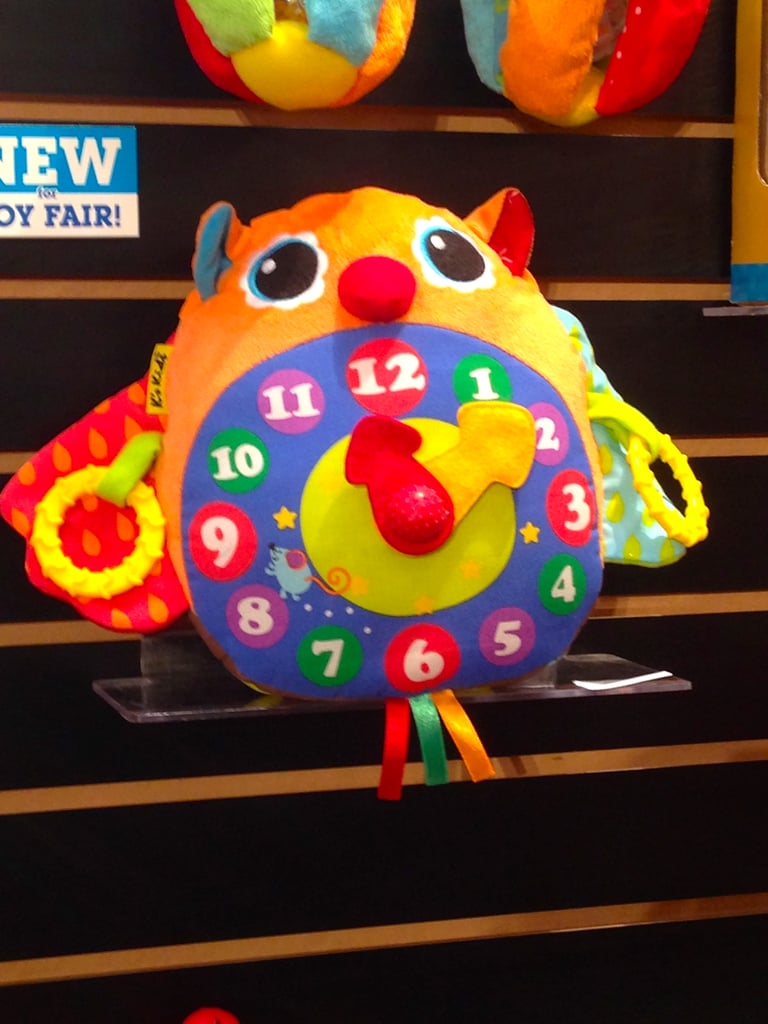 Whooo's ready to learn to tell time? This guy!
My Monopoly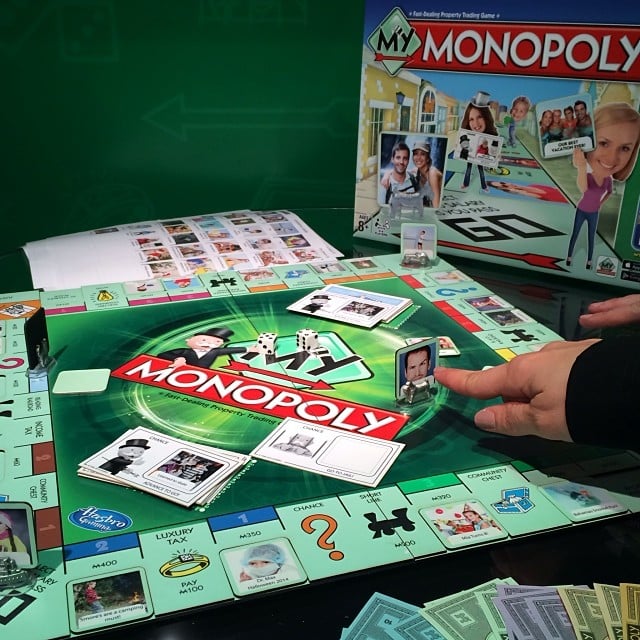 With My Monopoly, you will be able to create your own board with your images.
Hexbug's Tagamoto Race Track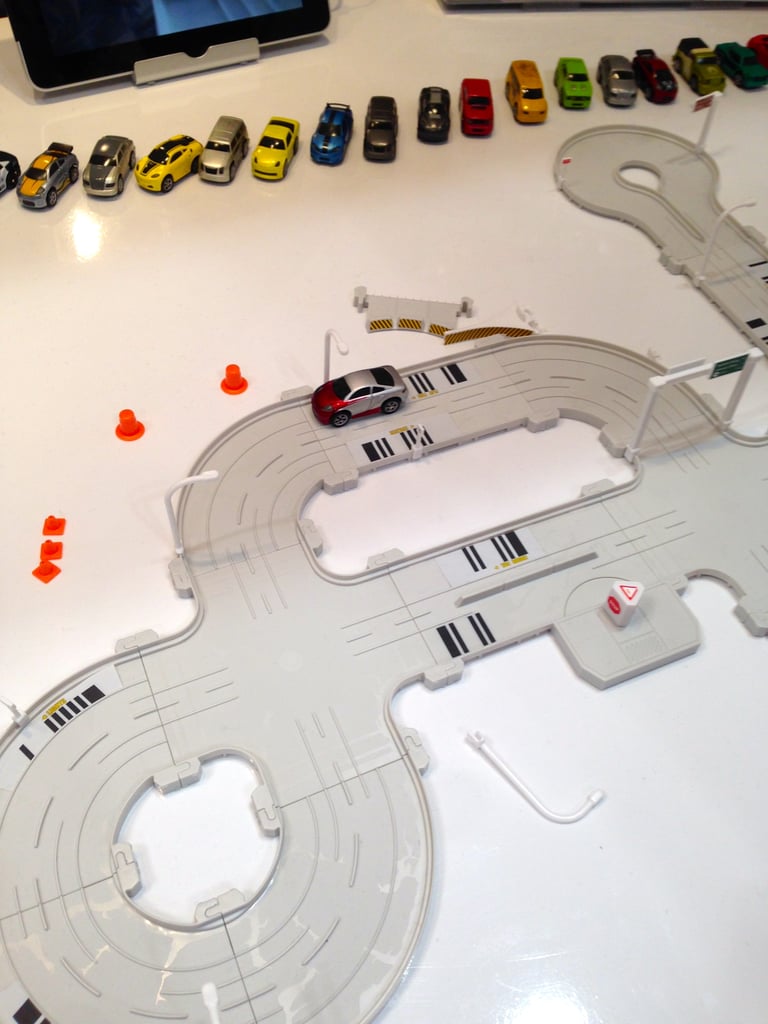 There's more than meets the eye with this sleek race track — it's lined with smart codes for race cars to interact with.
Pictopia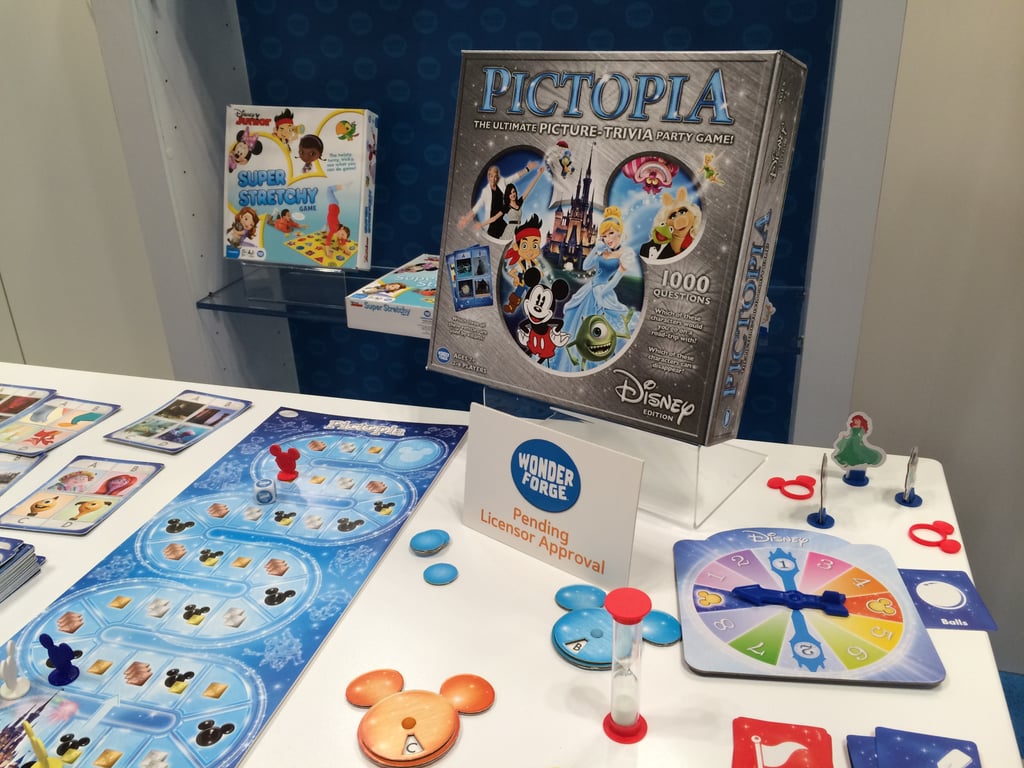 Disney fans will love everything about this board game that draws on your knowledge of Disney characters past and present.
Alex DIY Minipacks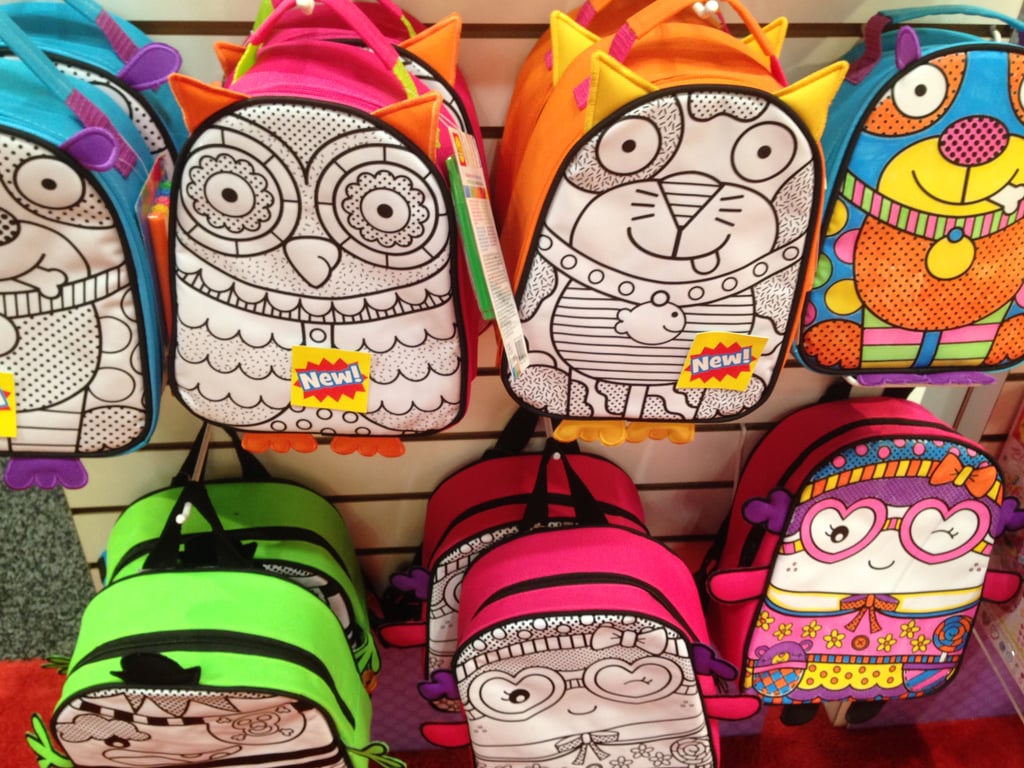 Your preschooler can be assured a backpack that's all their own when they color it in by themselves.
Hexbug Transformers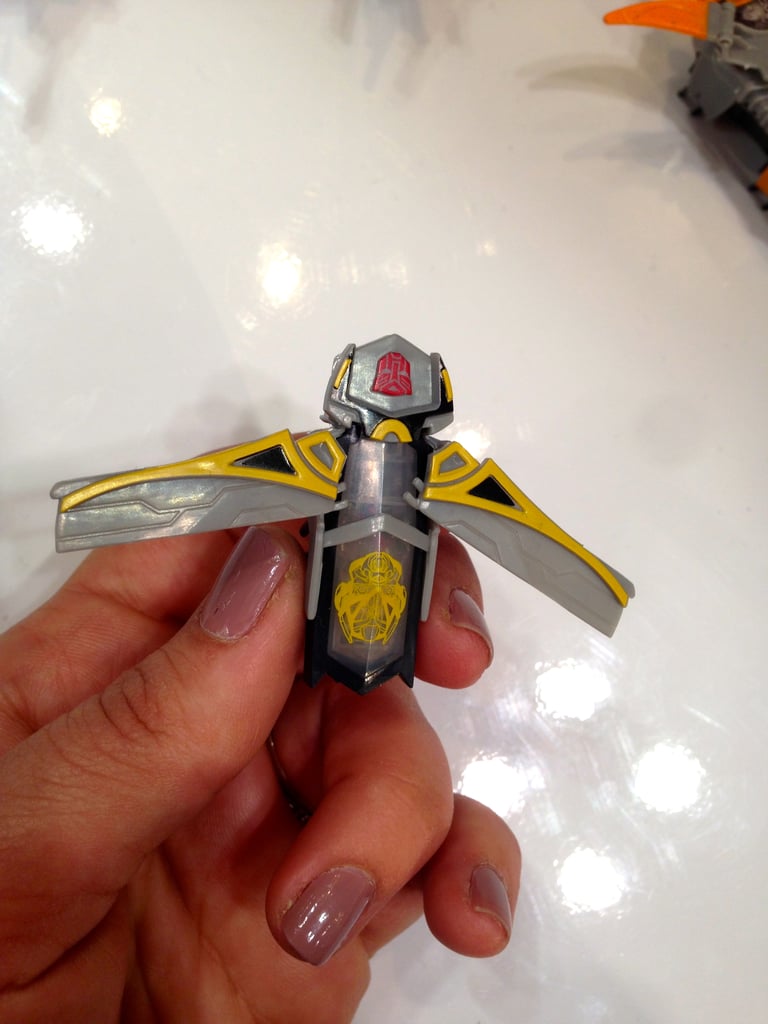 Hitting stores in late Spring, Hexbug teams up with Transformers for an action-packed new product line.
Lego Friends Jungle Bridge Rescue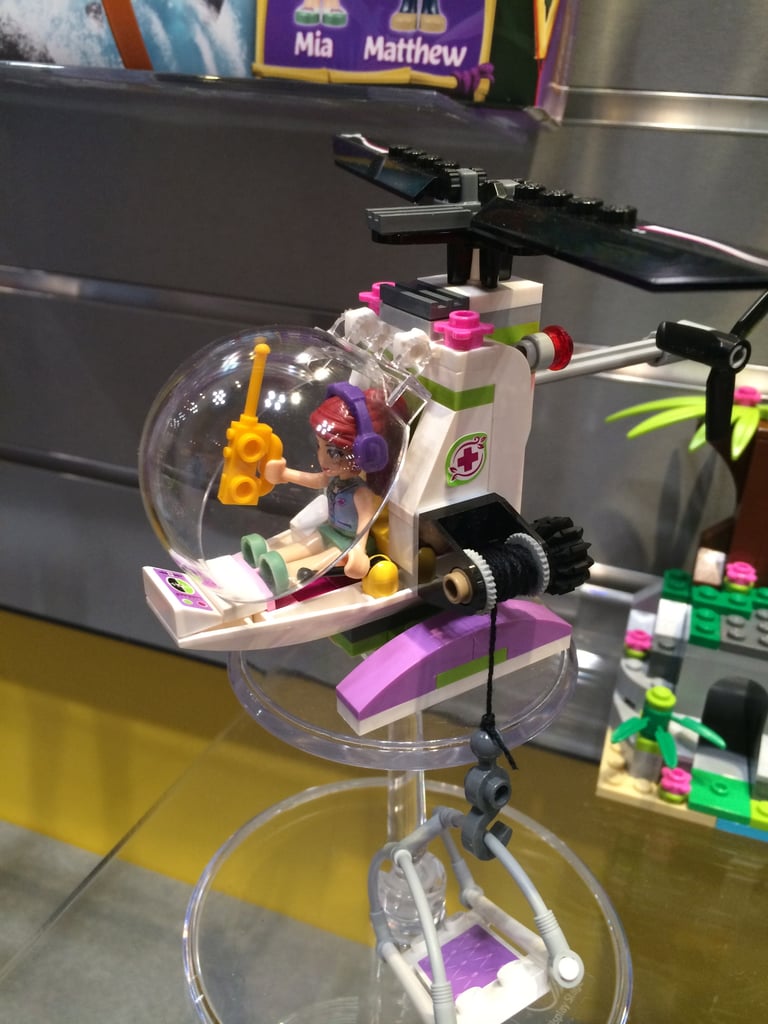 Lego Friends will introduce it's first helicopter as part of its new jungle theme.
Little People Playhouse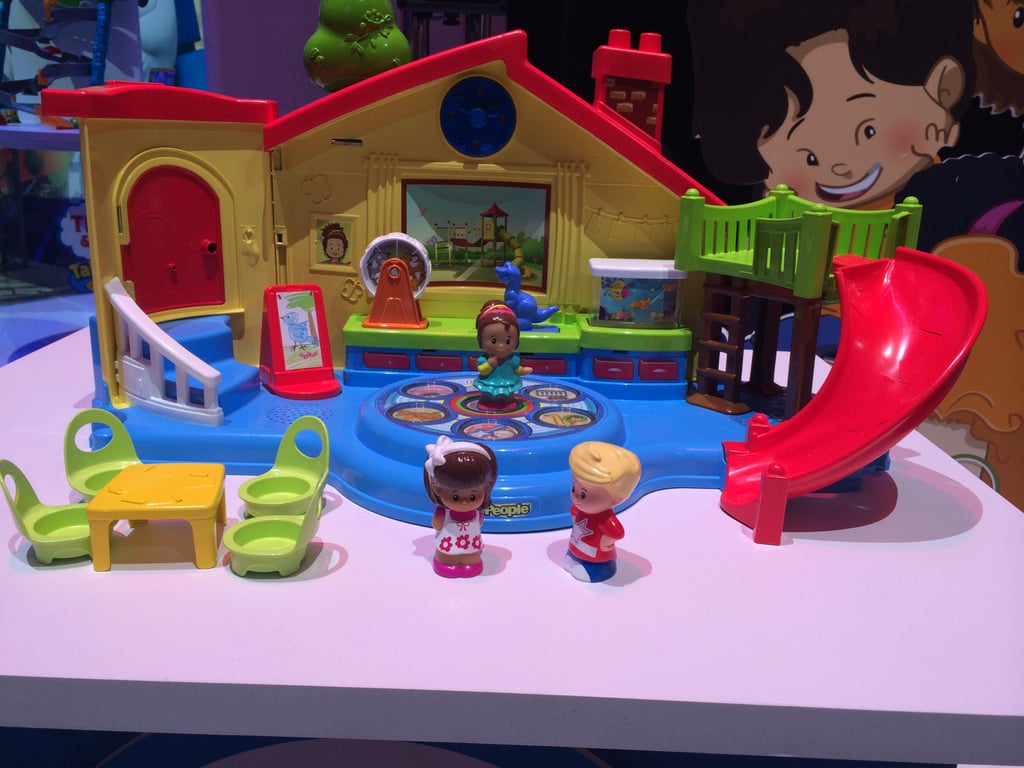 A little home for little people, complete with a swirly slide and tiny table and chairs.
Bounce Off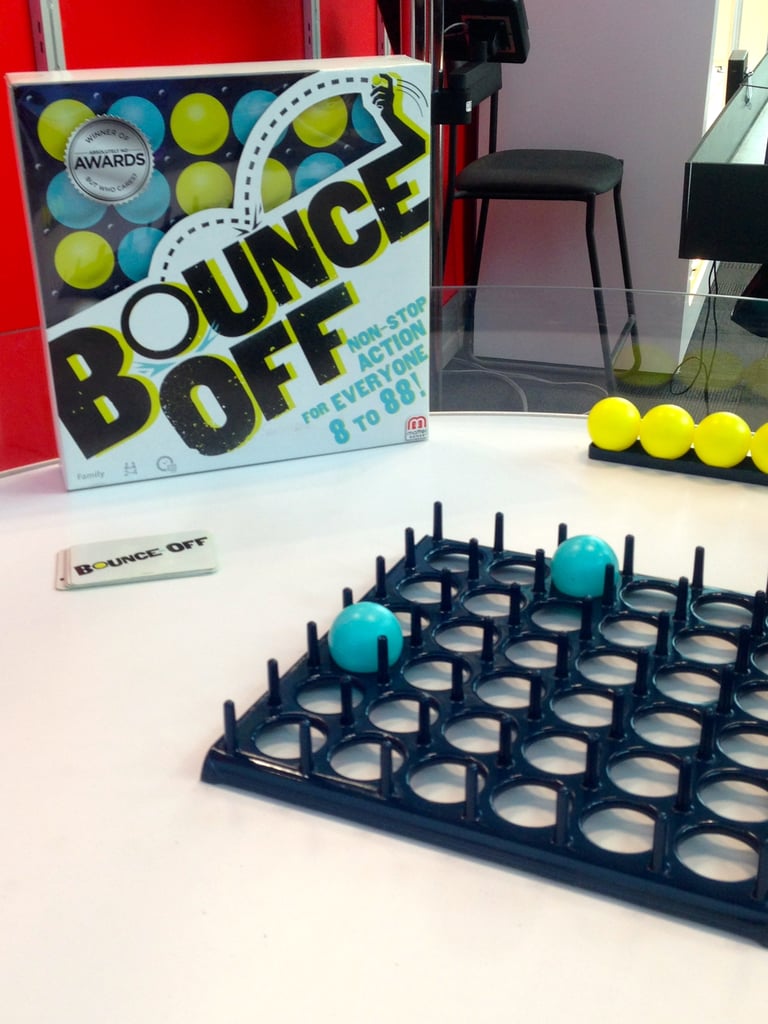 New for 2014, Mattel introduces a back-to-basics game that's perfect for family fun night!
Doc McStuffins All Better Game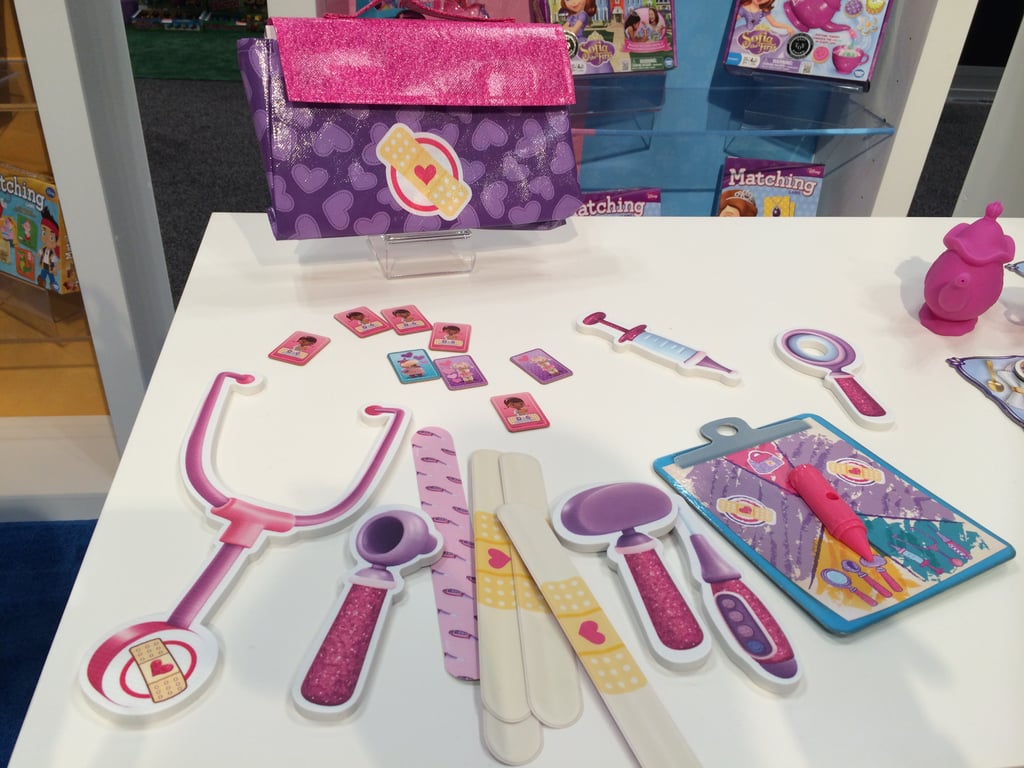 It doesn't get much cuter than Wonder Forge's game based on the popular Disney Junior series.
ZOKU Fish Pops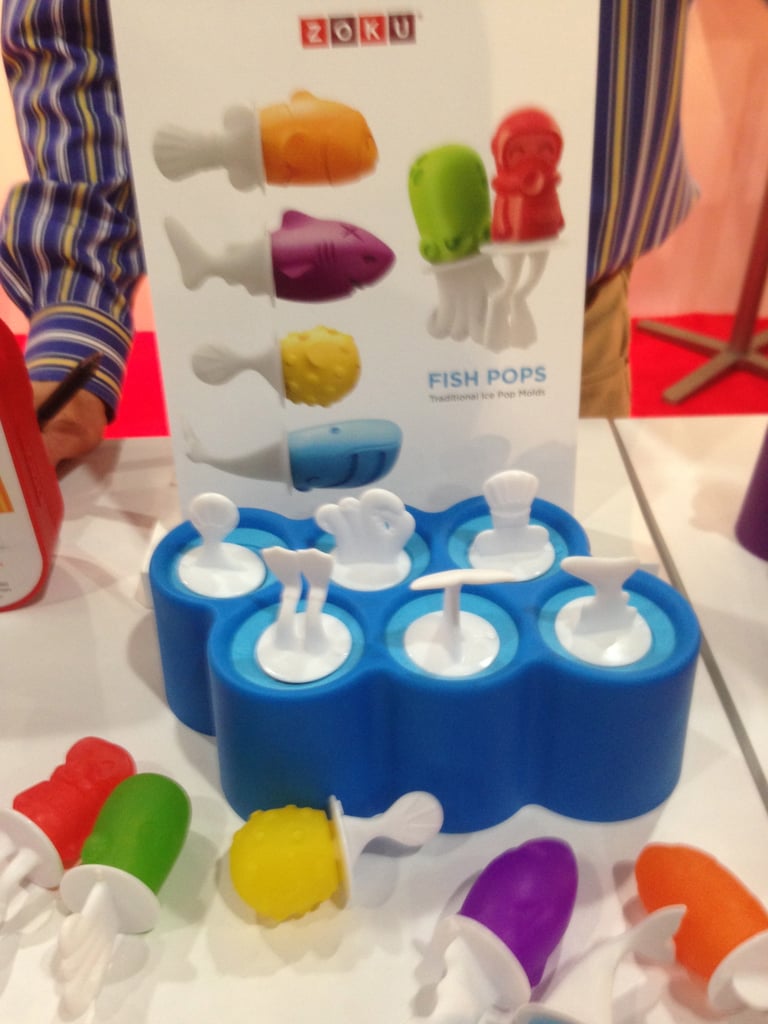 ZOKU is expanding it's line of quick freeze popsicles with Fish Pops, small, tot-sized ice pops in under-the-sea creature shapes.
Octonauts Play Set
A fun new introduction for Octonauts fans from Mattel.
Janod Garden Tools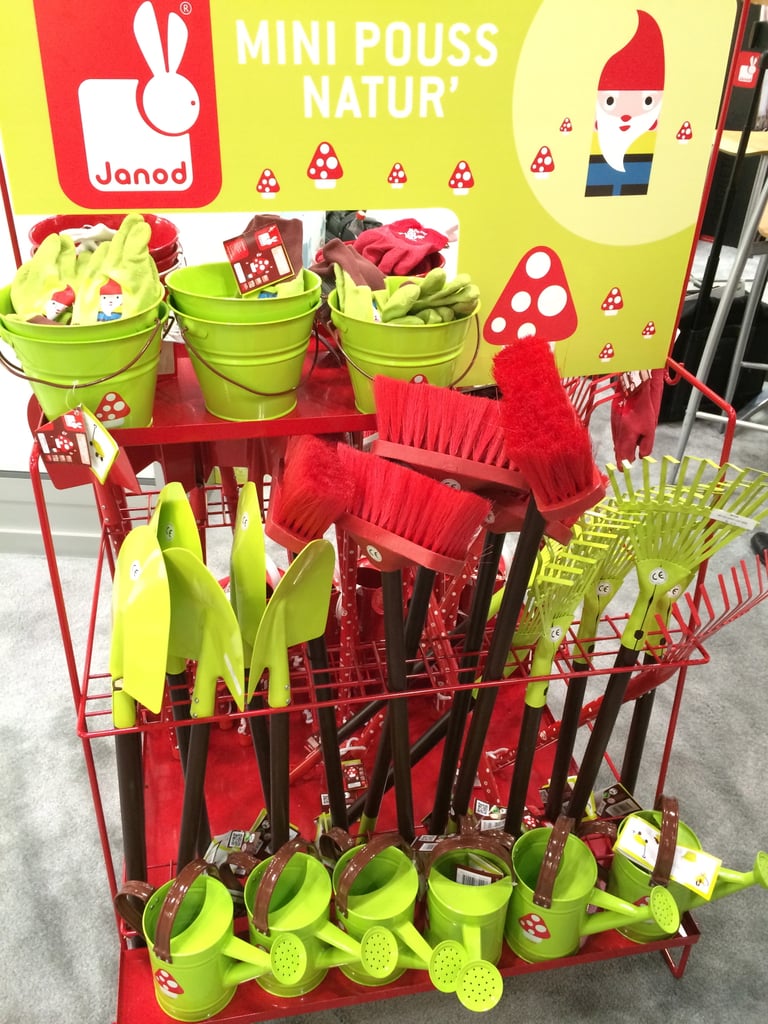 Tots will have a blast gardening with these pint-sized tools.
Uncle Milton In My Room Jr.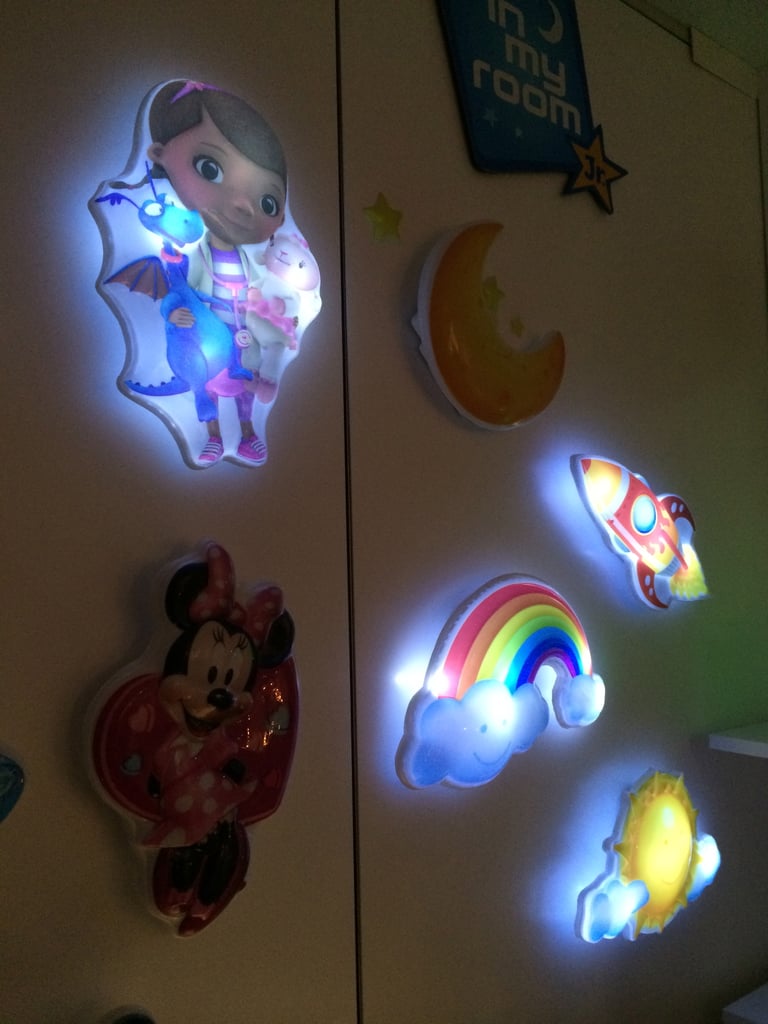 Uncle MIlton's popular wall lights will now be designed for younger kids with the In My Room Jr. line. They not only light up but play soothing music, too.
Oregon Scientific Gecko Camera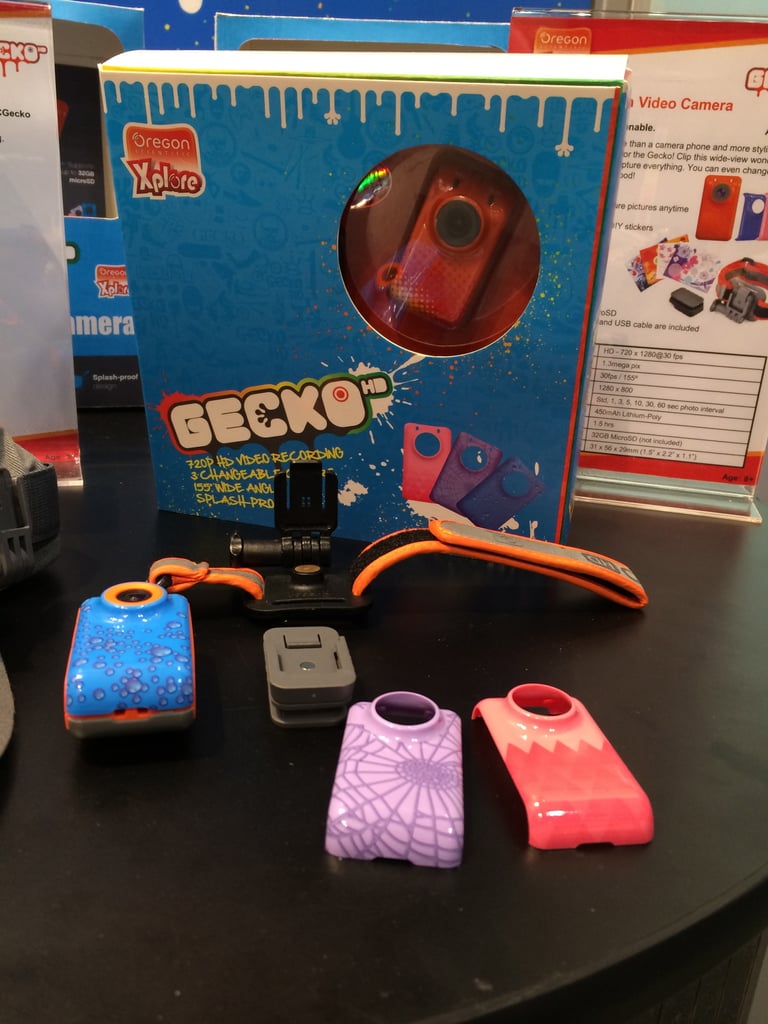 You can stick this wide-angle camera anywhere — on your wrist, on your bike — to take images while on the go.
Hexbugs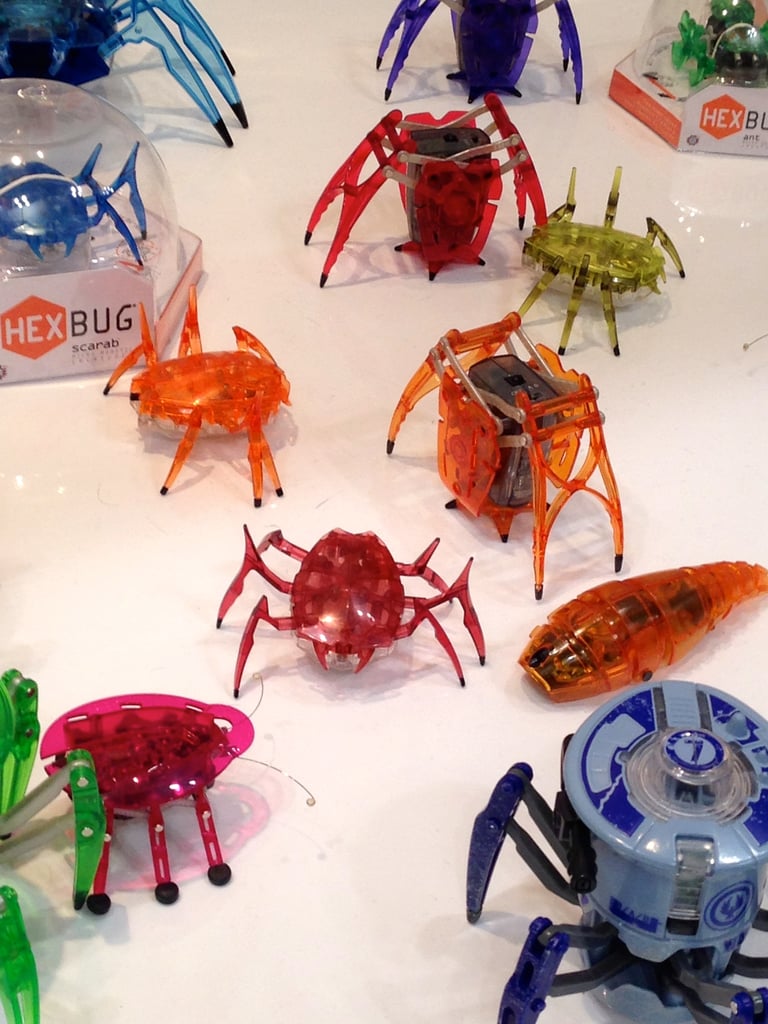 These creepy, crawly robotics feature cool new upgrades for 2014.
Uncle Milton Moonlight Mushroom
These cute mushrooms provide a magical light show on kids' ceilings.
Monster High Hair and Makeup Bust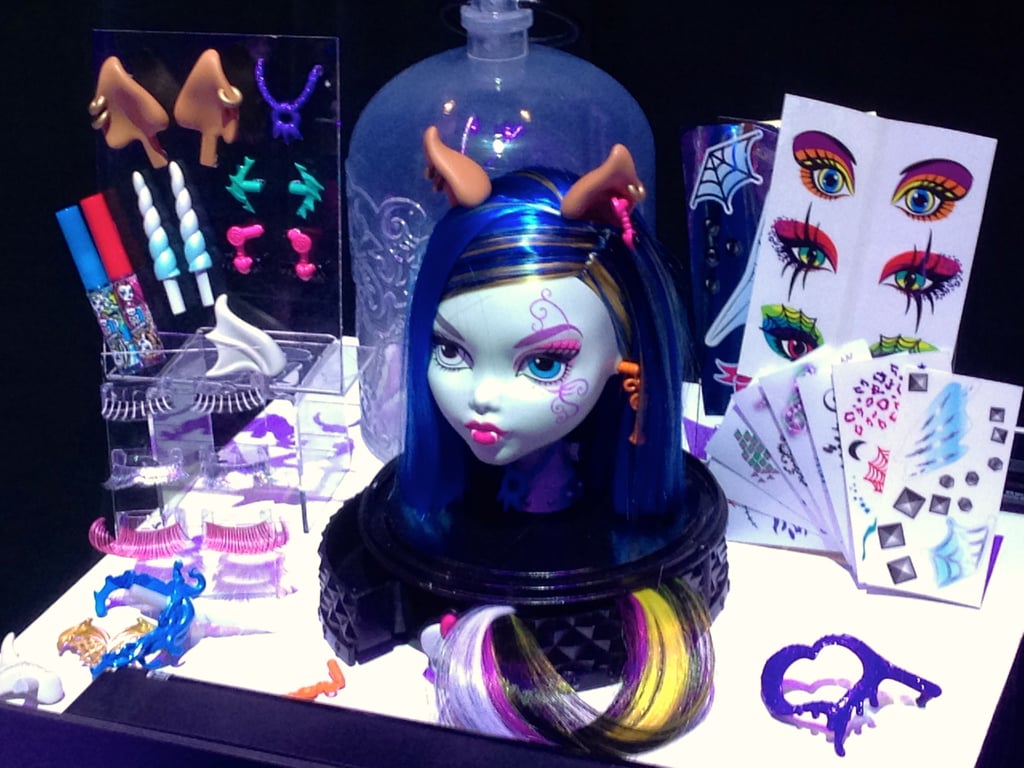 Guaranteed hours of styling and accessorizing fun.
Lego Metal Beard's Sea Cow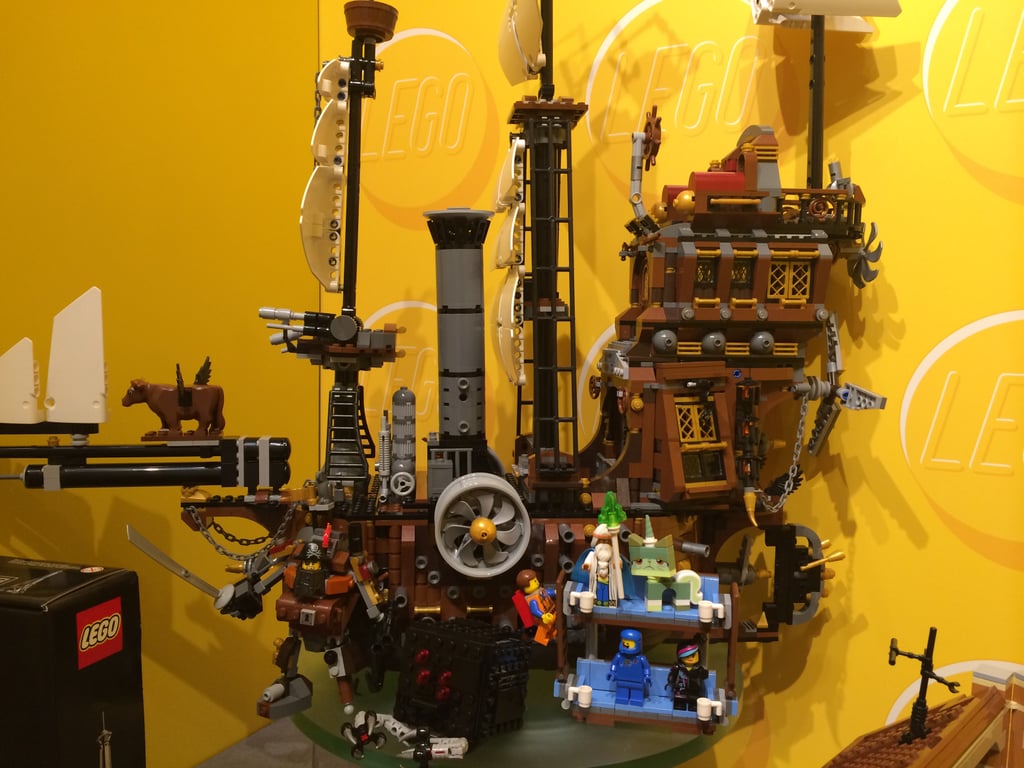 Also from the The Lego Movie is Metal Beard's Sea Cow, available in March.
Fisher-Price Little People Race Track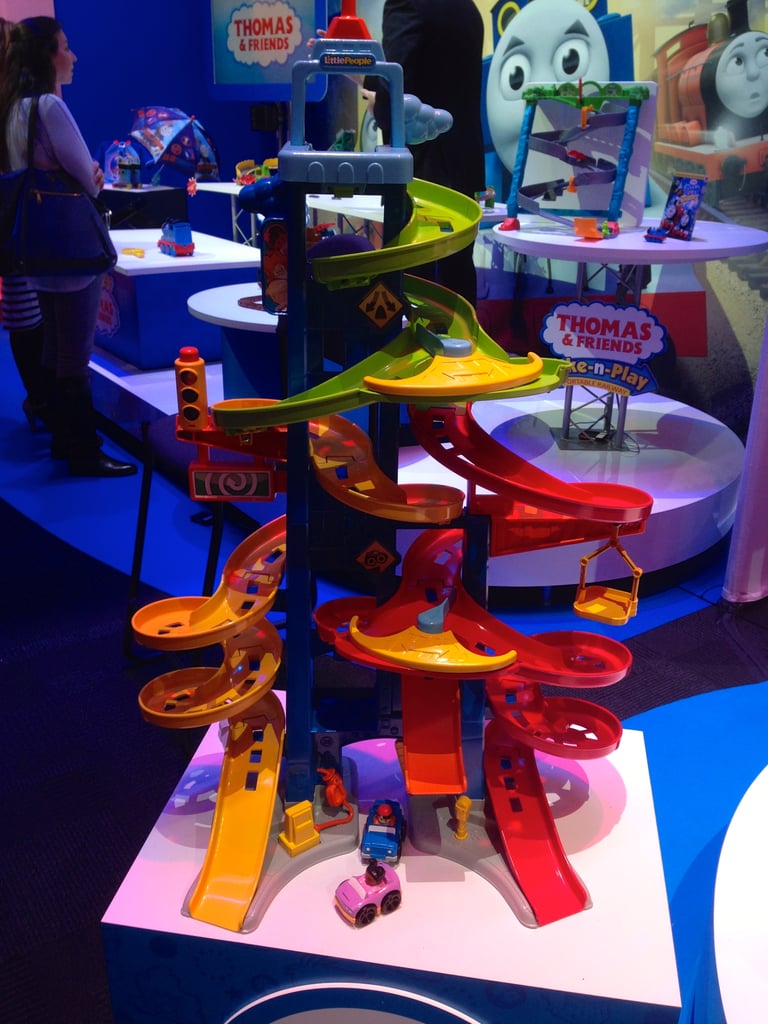 Send your favorite Little People on a spiraling adventure!
Janod Magni'stick Pirate Ship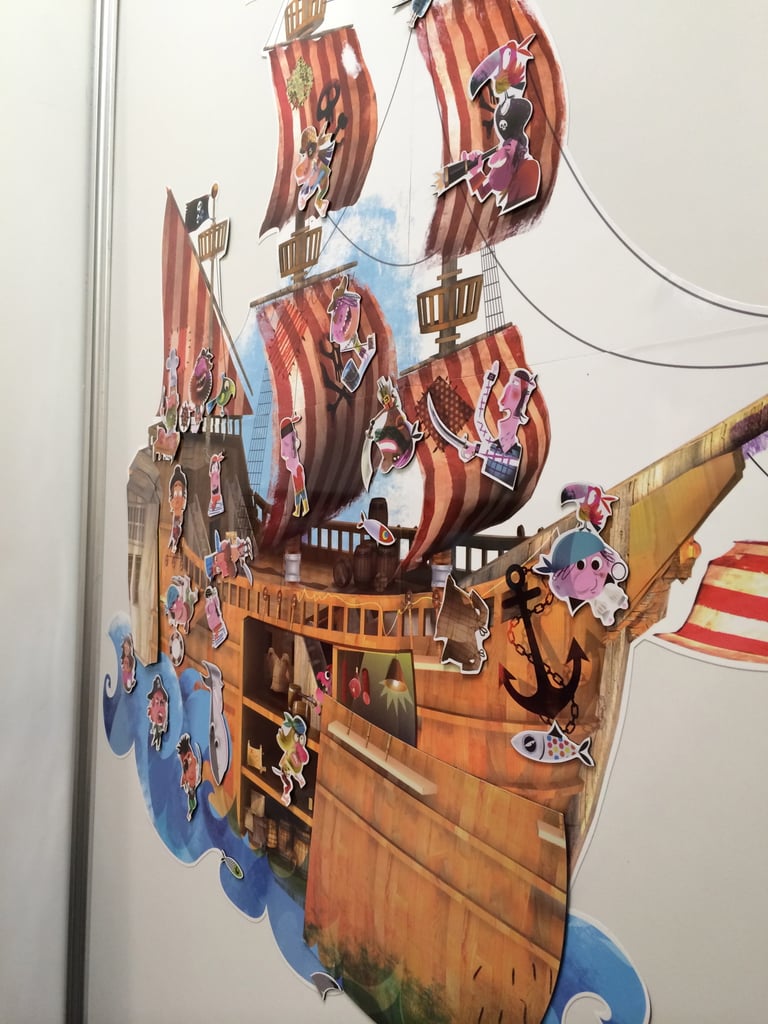 A wall decal that serves as a magnet is a great addition to kids' rooms.
Crayola Sketch Wizard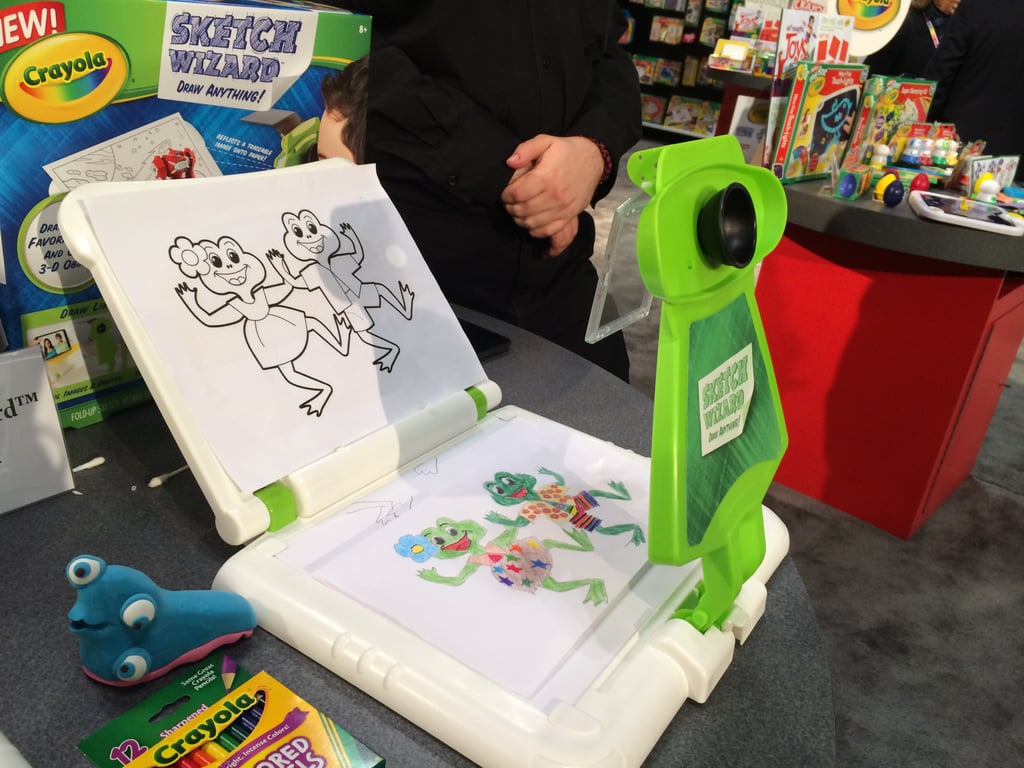 With the Crayola Sketch Wizard, kids can learn to draw the images they see in front of them.
Dance With Me Clover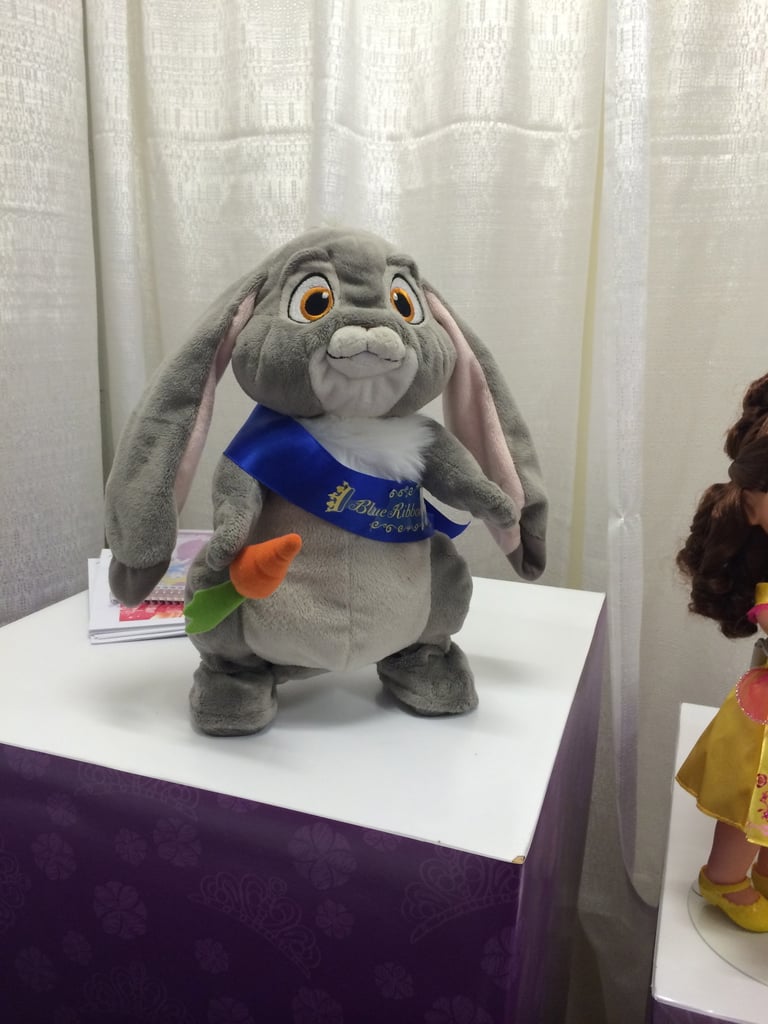 Fans of Sofia the First will love dancing with Clover, the rabbit from the show.
Quut Alto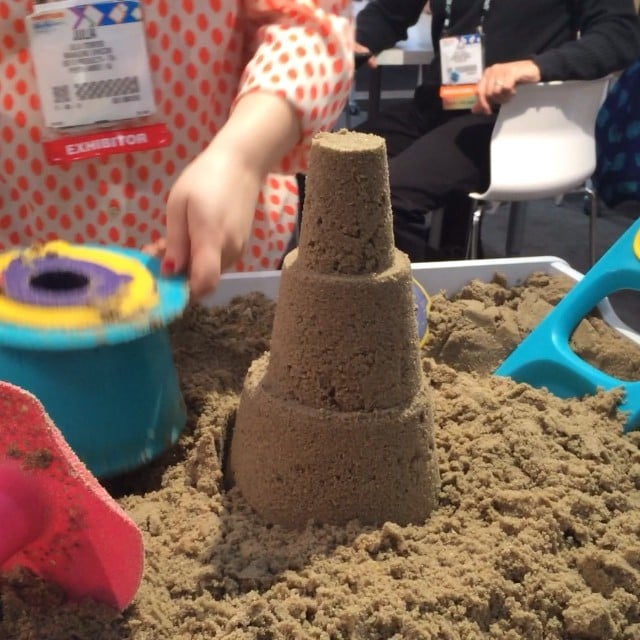 Kid-O's Quut Alto sand castle building kit will be a hit this Summer!
Begin Again Ark Puzzle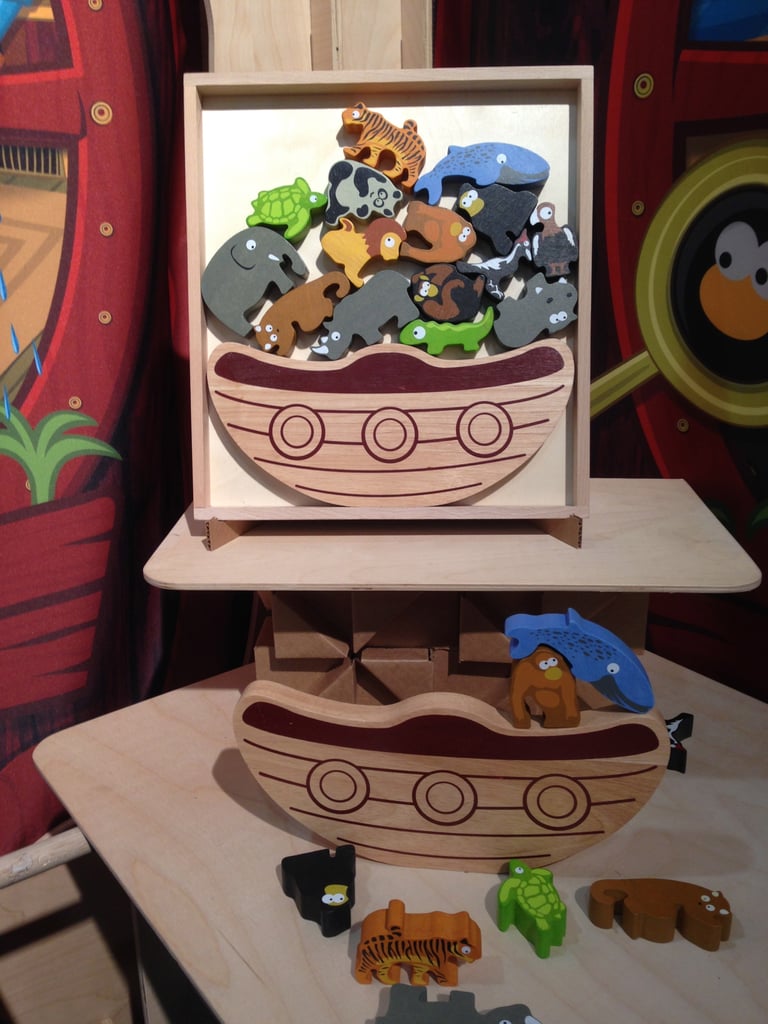 A sweet new addition to the Colorado-based company's eco-friendly toy line.
Planes Sky Race
Disney's Planes is turned into a fun game, where foam gliders must hit their targets around the room.
Klutz Lego Chain Reaction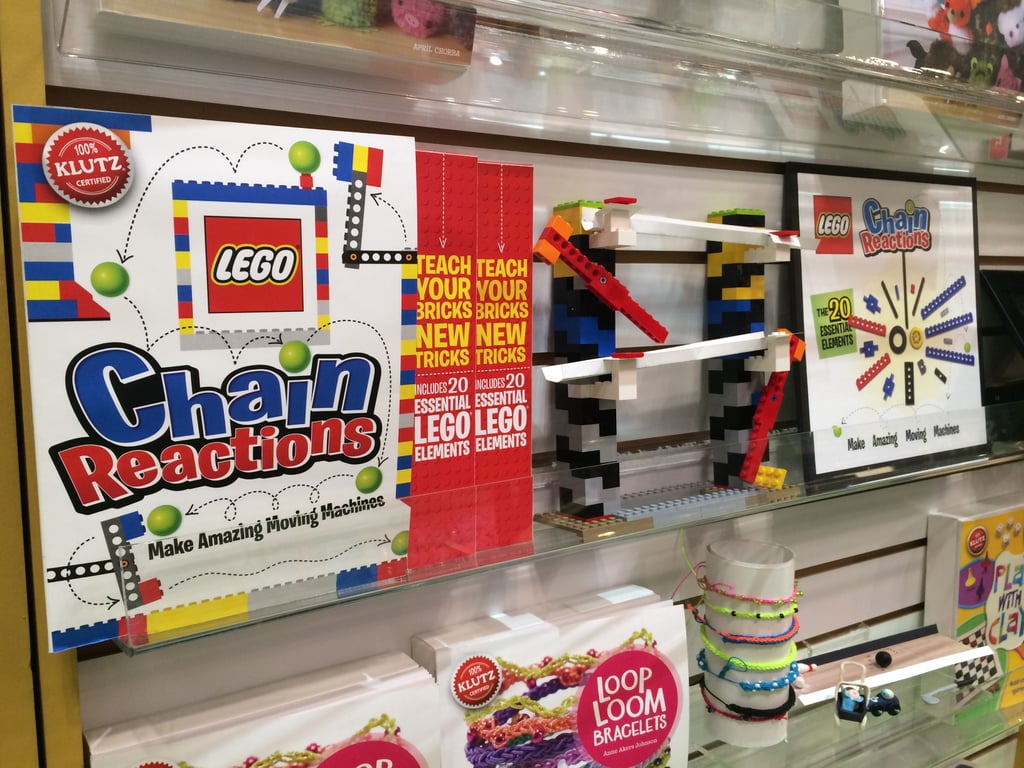 With the Lego Chain Reaction book, kids will learn about just how much their Legos can do!
Star Wars Command Line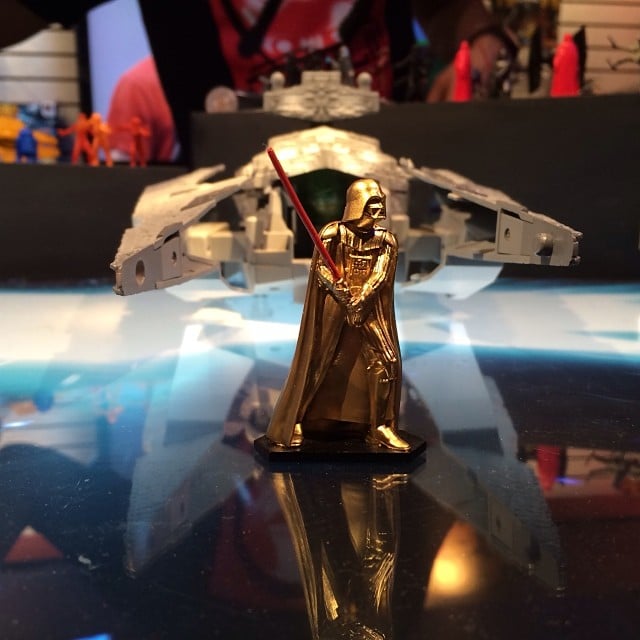 Think of the Star Wars Command line as classic army figure play with Star Wars characters.
Upside Down Games Yoga Spinner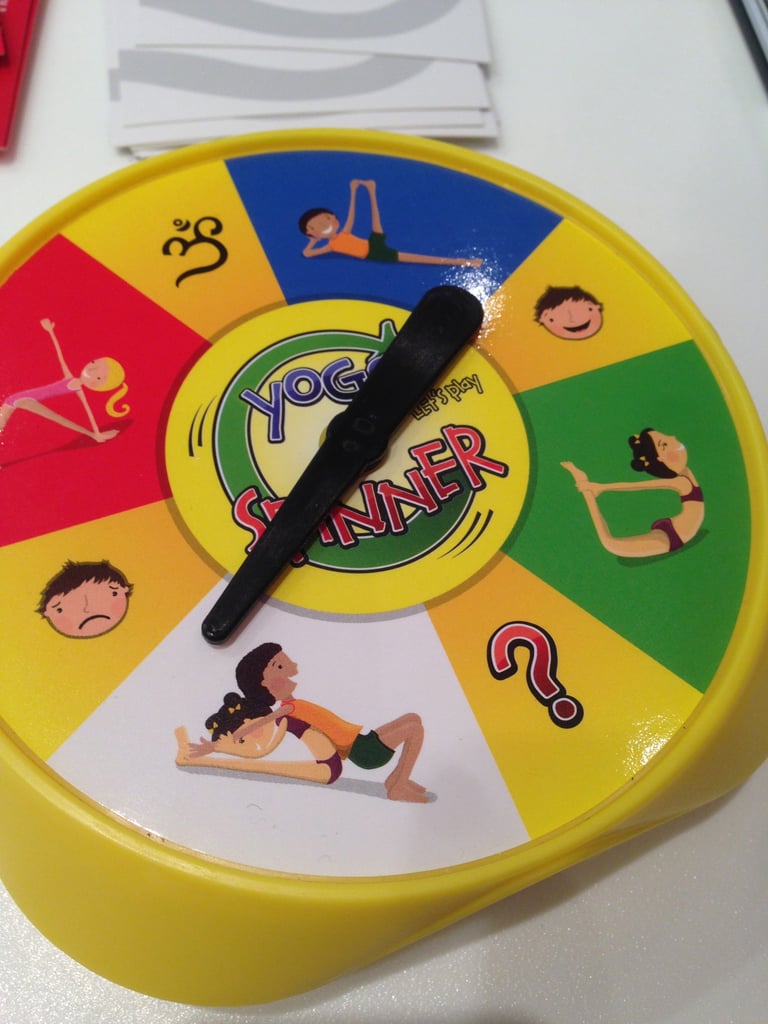 Go on, show us your best Down Dog!
Vivitz Fashion and Construction Sets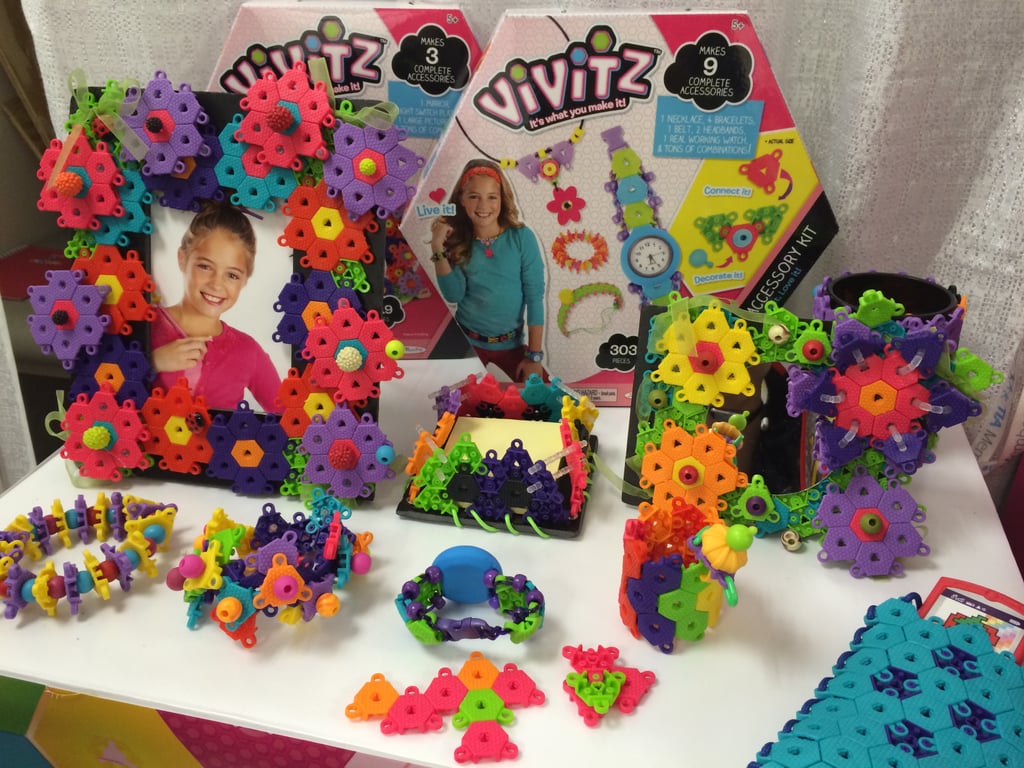 This "fashion activity system" combines construction and fashion to create wearable art.
Tiggly
One of the best app-based toys we came across, Tiggly uses real toys to teach tots about shapes, colors, and more on an app.
Minnie Mouse Playhouse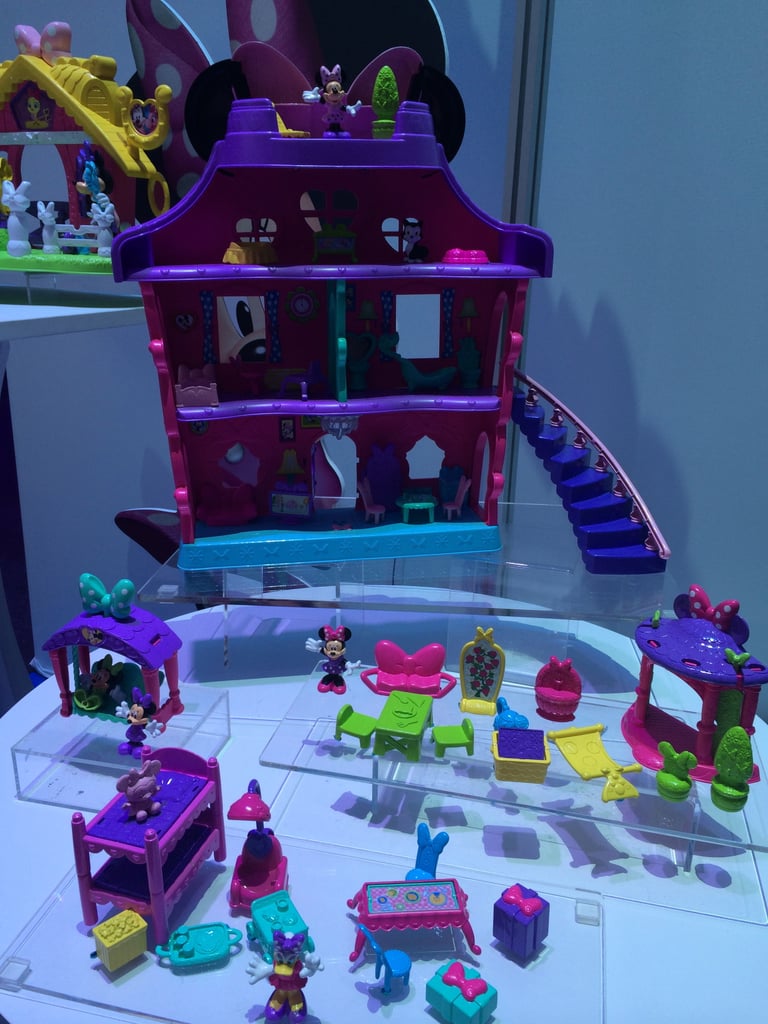 Get ready to play with Minnie Mouse and the gang in her huge house!
Lego Ultra Agents Mission HQ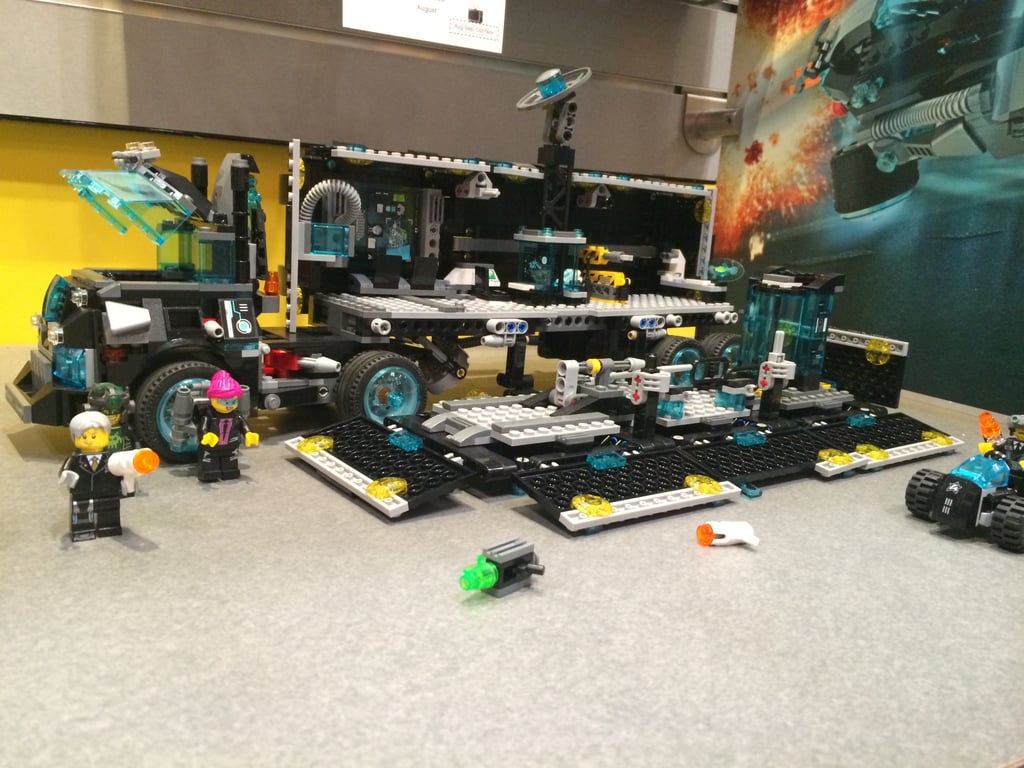 In August, Lego will introduce the Ultra Agents line complete with this 1,060-piece set.
Lego Duplo Batcave Adventure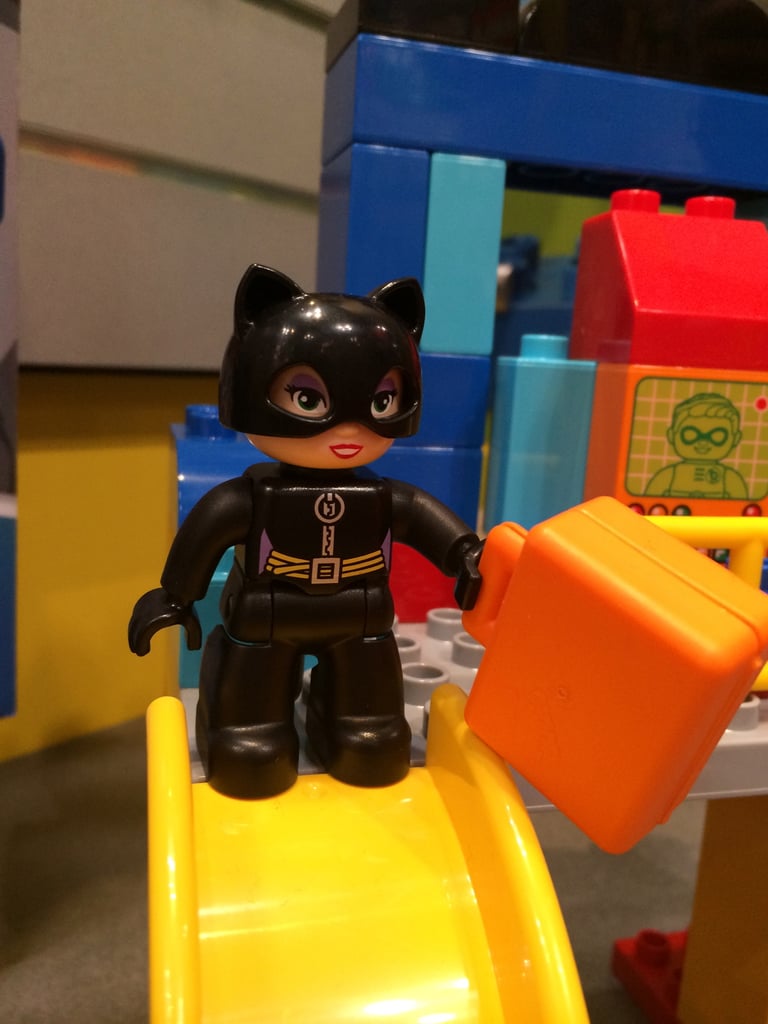 Catwoman makes her debut in this preschool play set.
Nintendo Ride-On Toy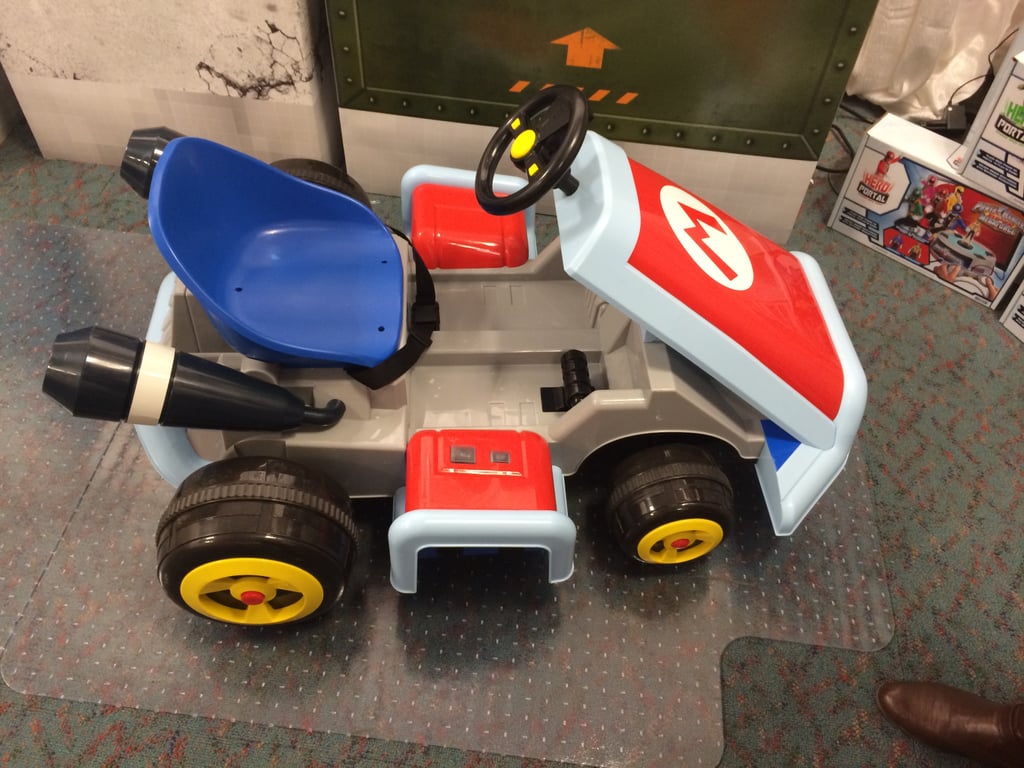 Take a ride down Mario's street in this motorized ride-on toy.
Googly Eyes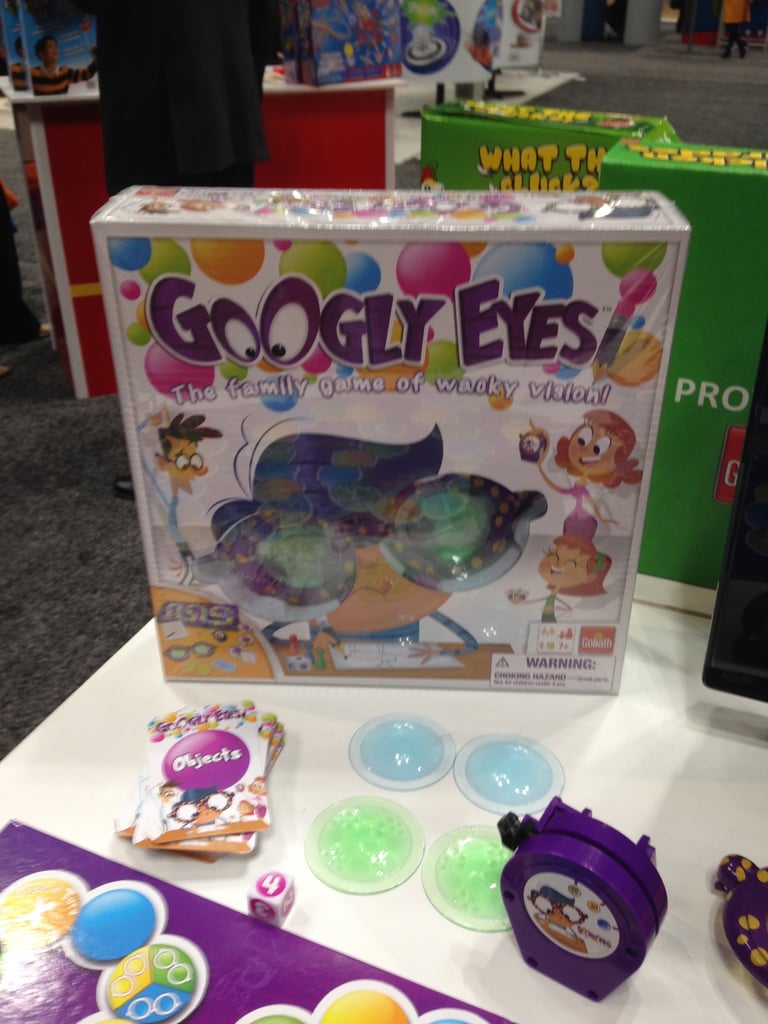 This one's officially Goliath's goofiest new game of 2014 — our prediction? Your kids will want to wear the glasses whether or not they're playing!
VTech Switch & Go Dinos Turbo Bronco the RC Triceratops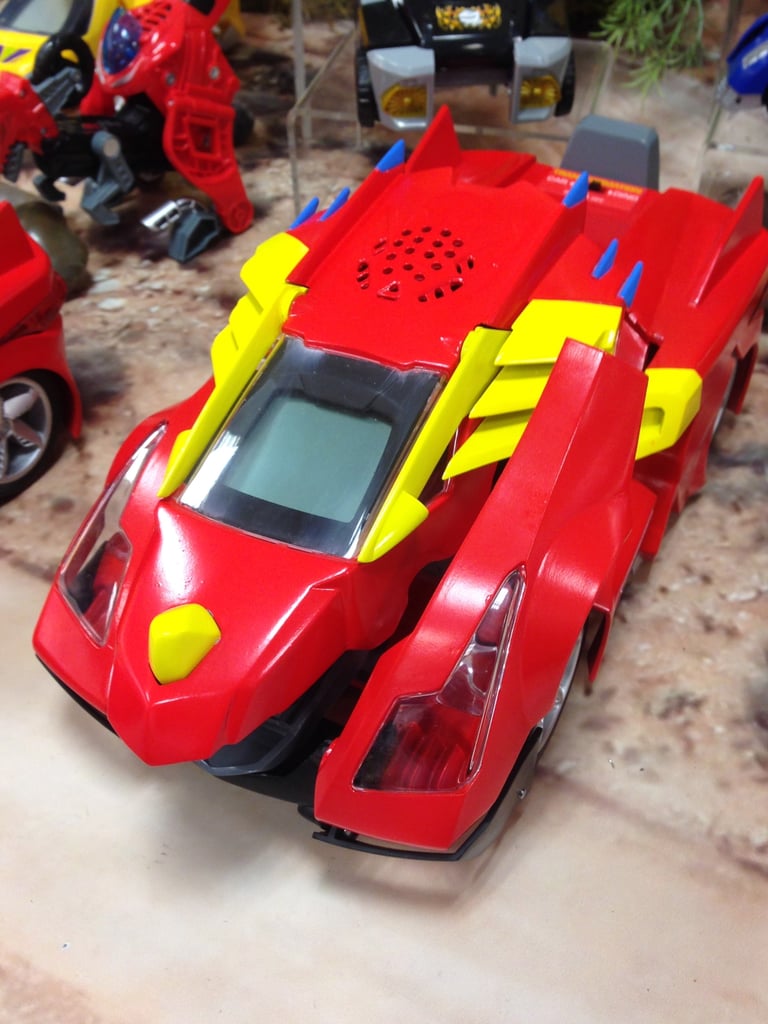 A remote-control dino car is likely to be a hot holiday wish list item for 2014.
VTech Smart Shots Sports Center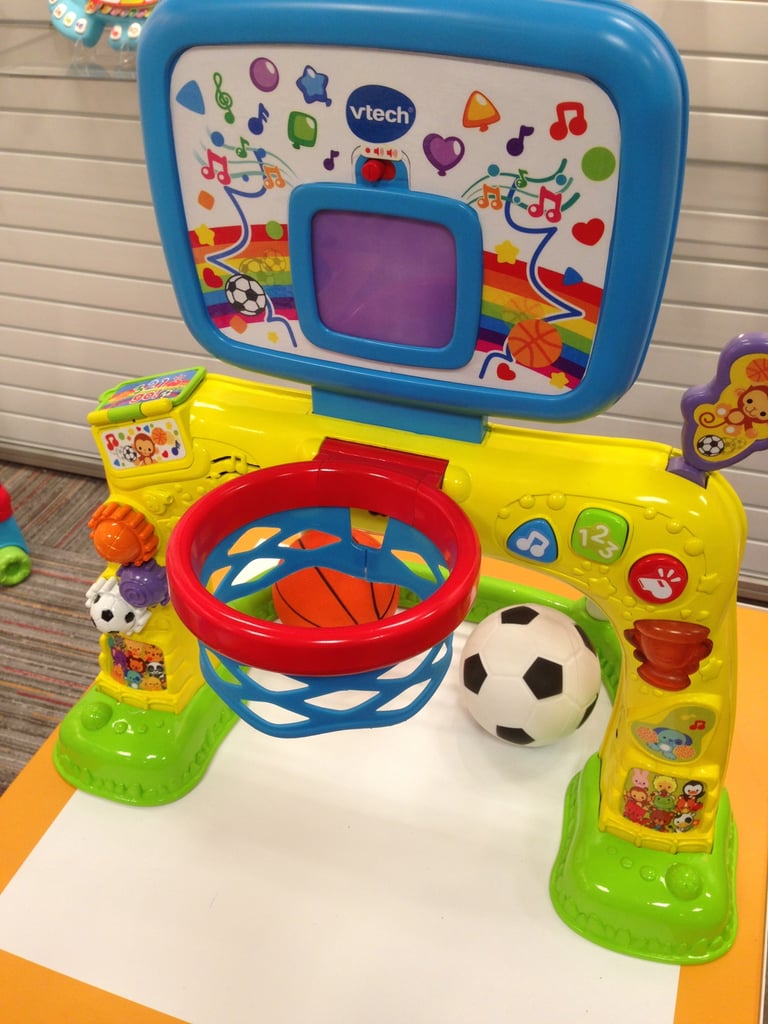 Who says toddlers can't slam dunk?
Cabbage Patch Kids Around the Wold Cuties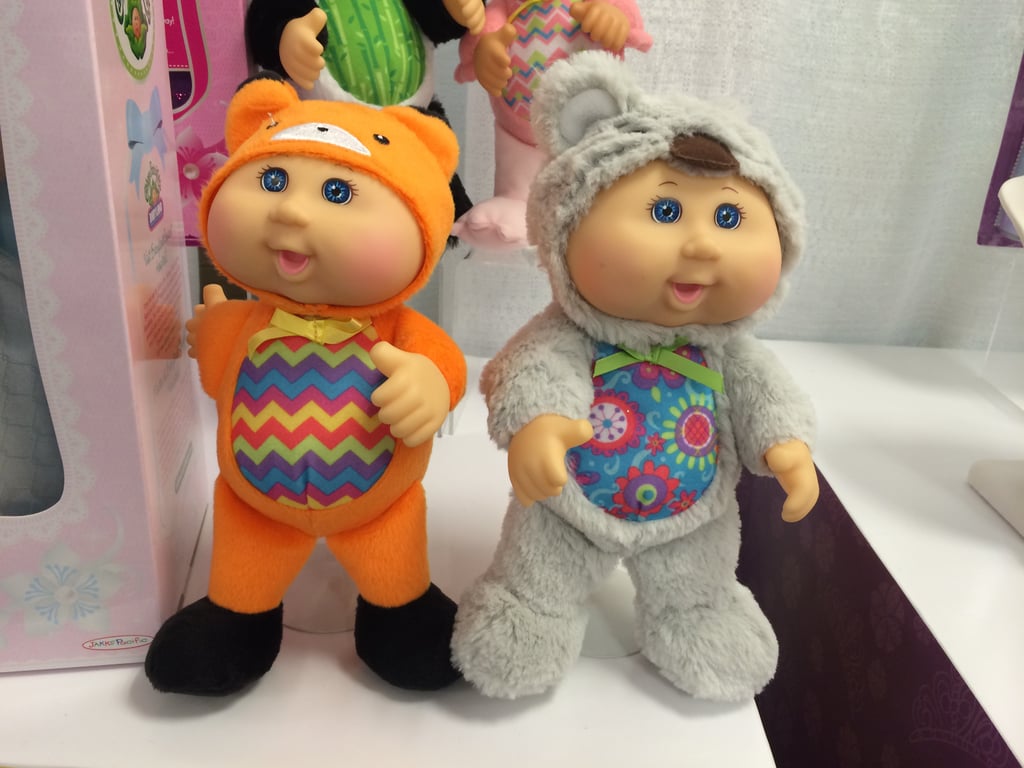 Cabbage Patch Kids will be introducing a line of international baby dolls.
Melissa & Doug Soft Books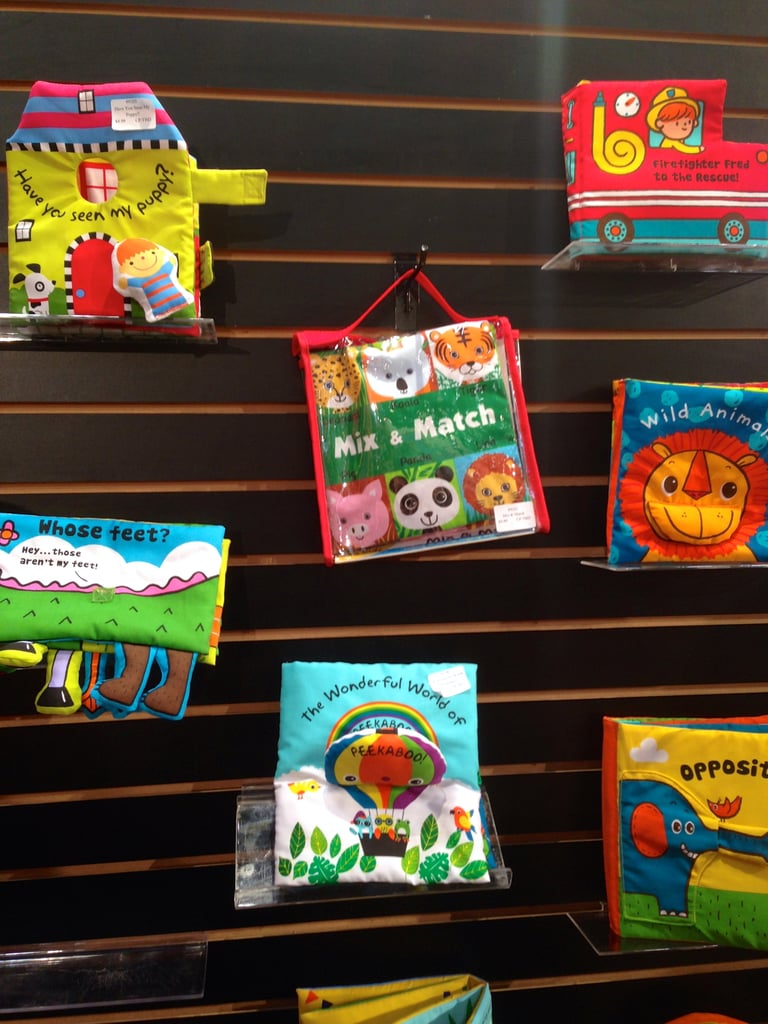 We're crazy for this new line of tactile (and machine-washable!) baby books.
Klutz Washi Tape Stickers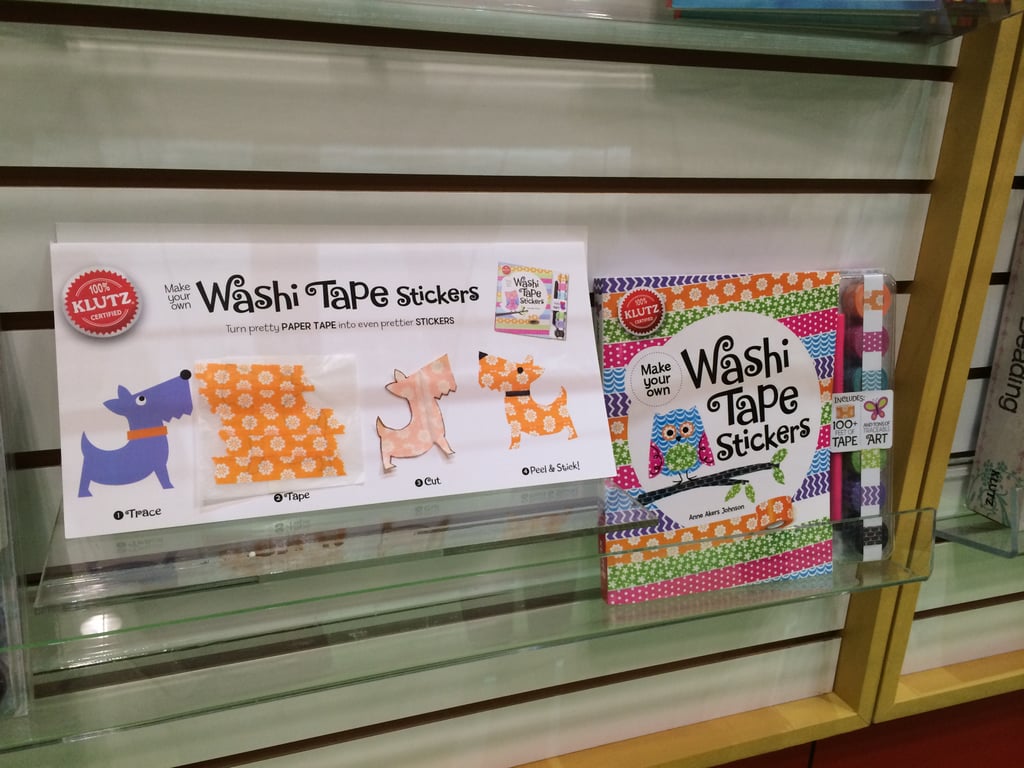 Kids can get in on the Washi Tape craze with this fun book of crafts.
Julius Jr. Play Set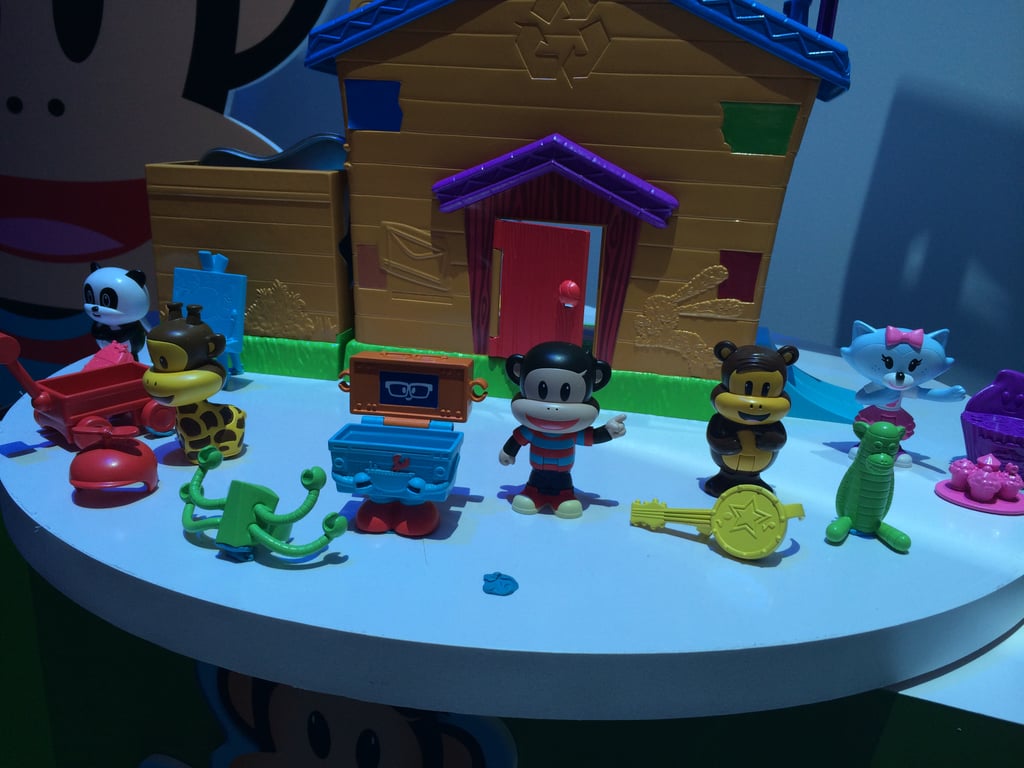 Based on the new show, this Julius Jr. play set features all of the show's characters.
Playmobil Remote-Control Police Car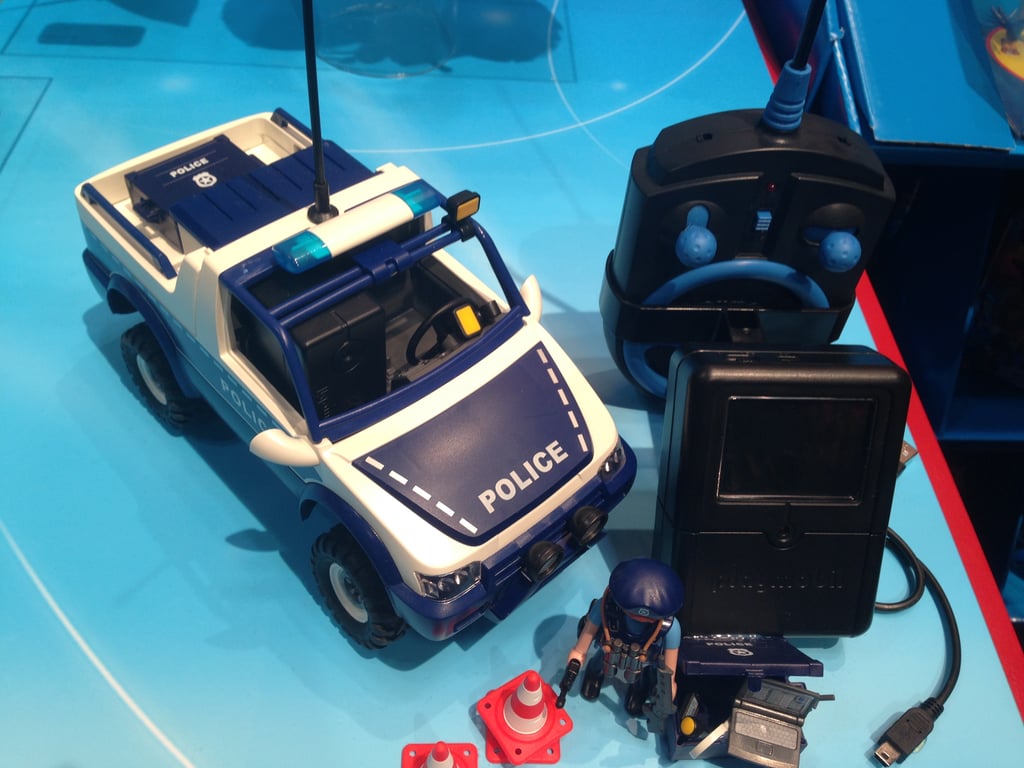 Remote-control toys were big at Playmobil this year.
Razor Crazy Cart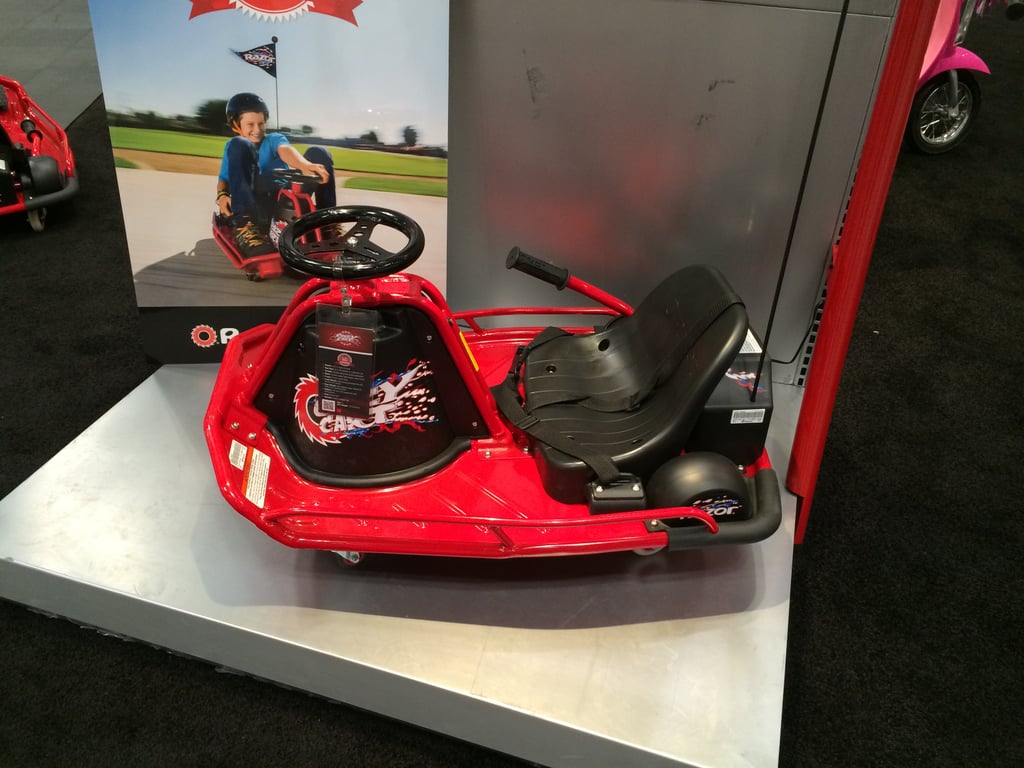 A true drifting machine, this is bound to be the coolest ride-on toy in your neighborhood.
Crayola Shoe Studio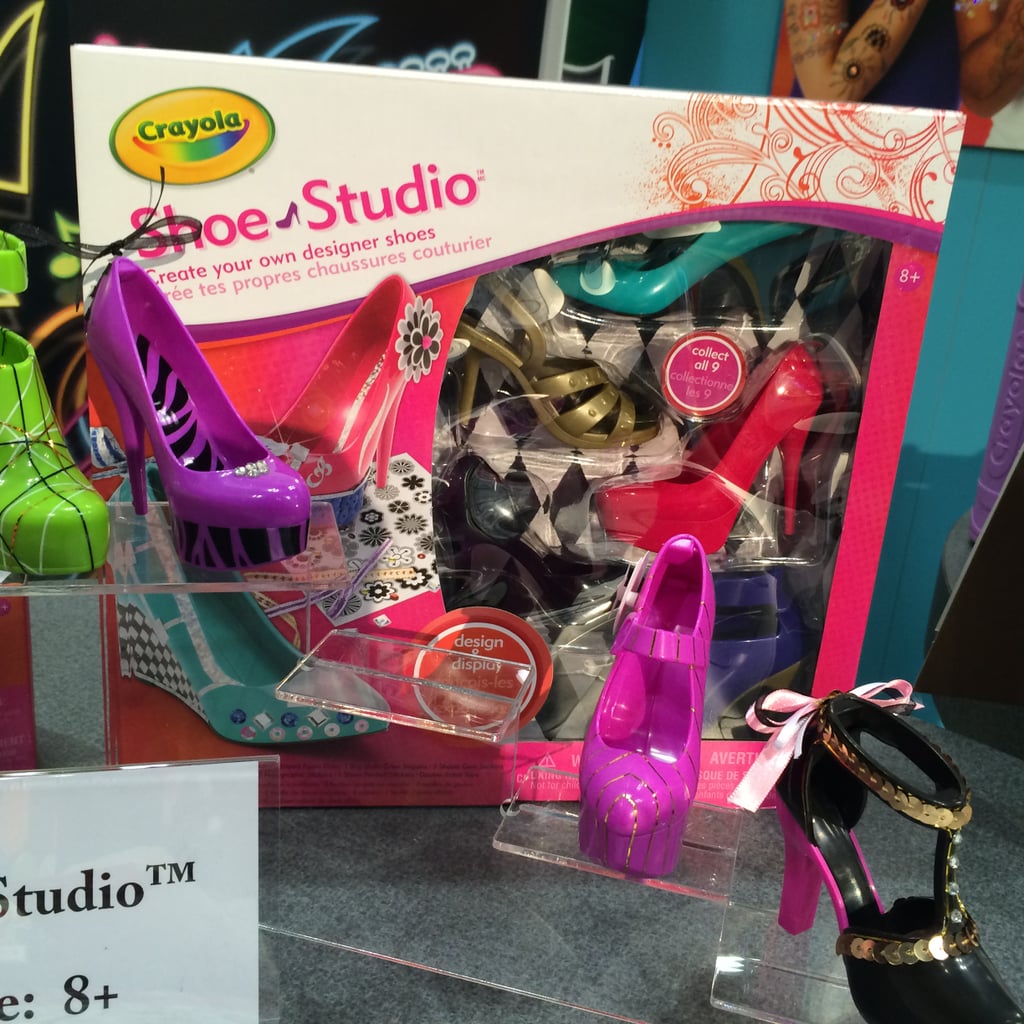 This tween line allows budding fashionistas to design their very own shoes.
Holy Smokes, Batman!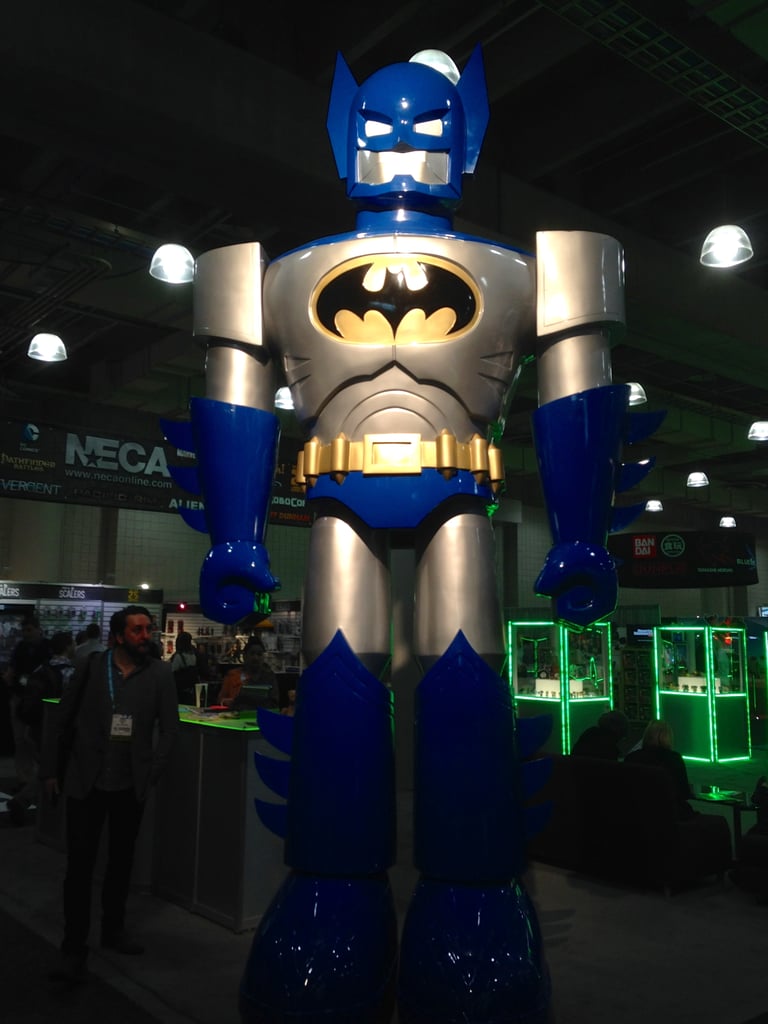 Talk about larger than life . . .
Cloud b. Twilight Buddies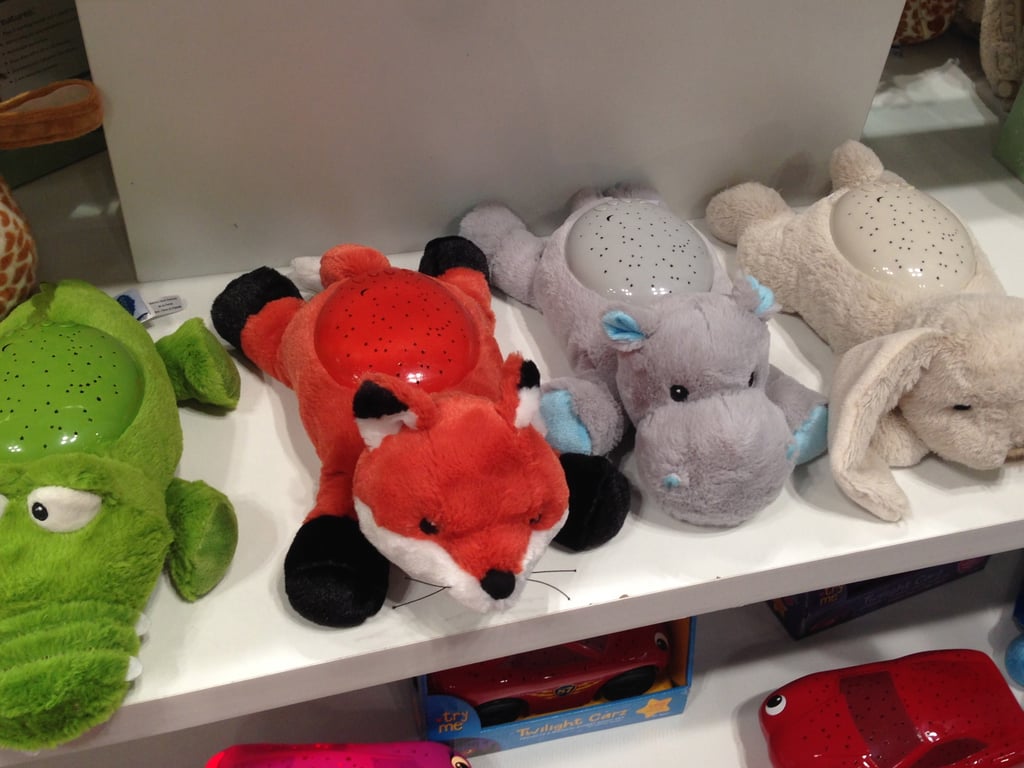 Beyond the turtle, Cloud b. puts its starry night magic into a new series of cute critters this year.
B. Toys' Carousel Bells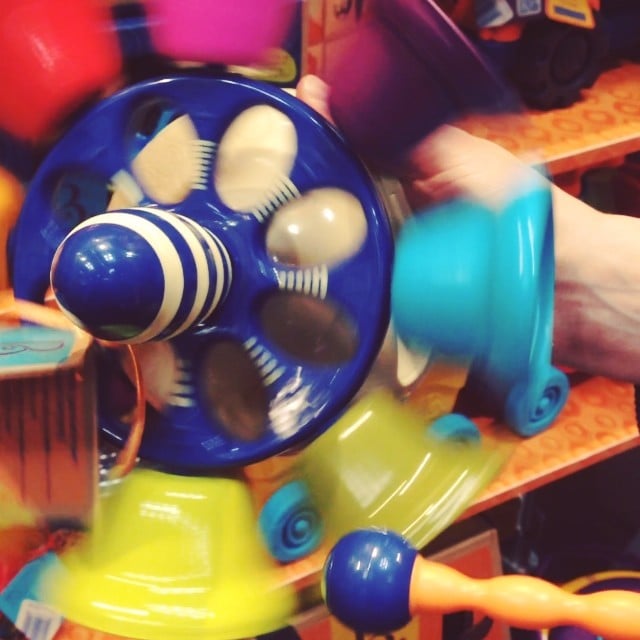 B. Toys' new Carousel Bells are a must have for your minimusician! So fun!
Plan Toys ASL Game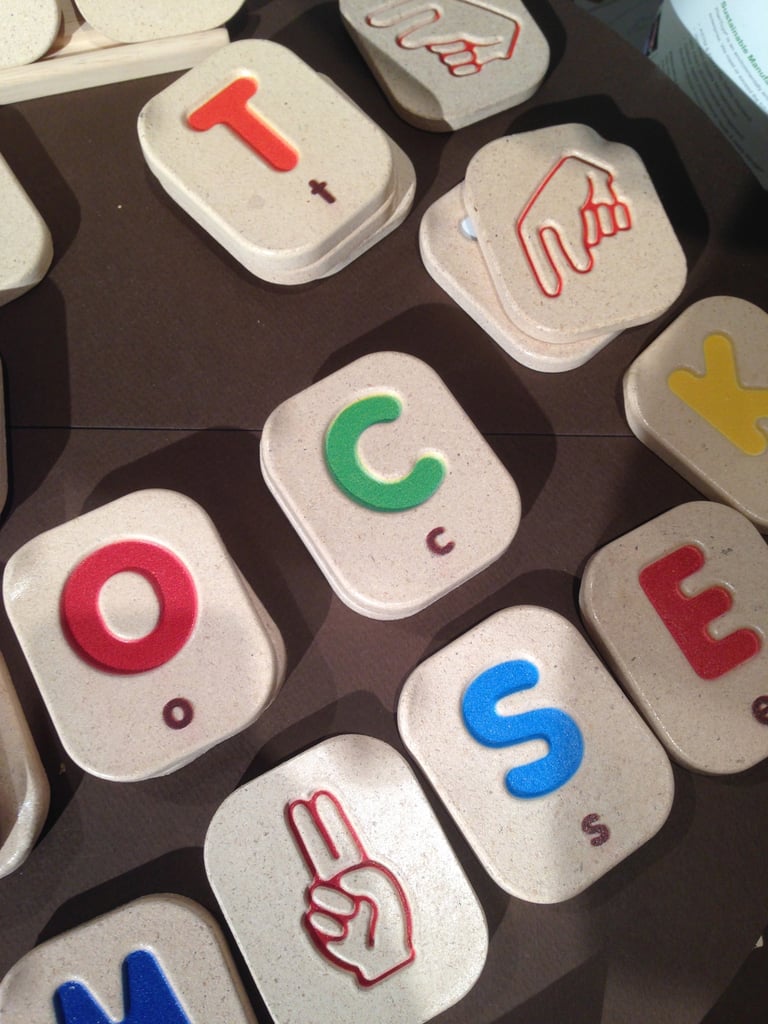 Learning the alphabet in American Sign Language is made fun with this wooden match game from Plan Toys.
Uncle Milton Wall Friends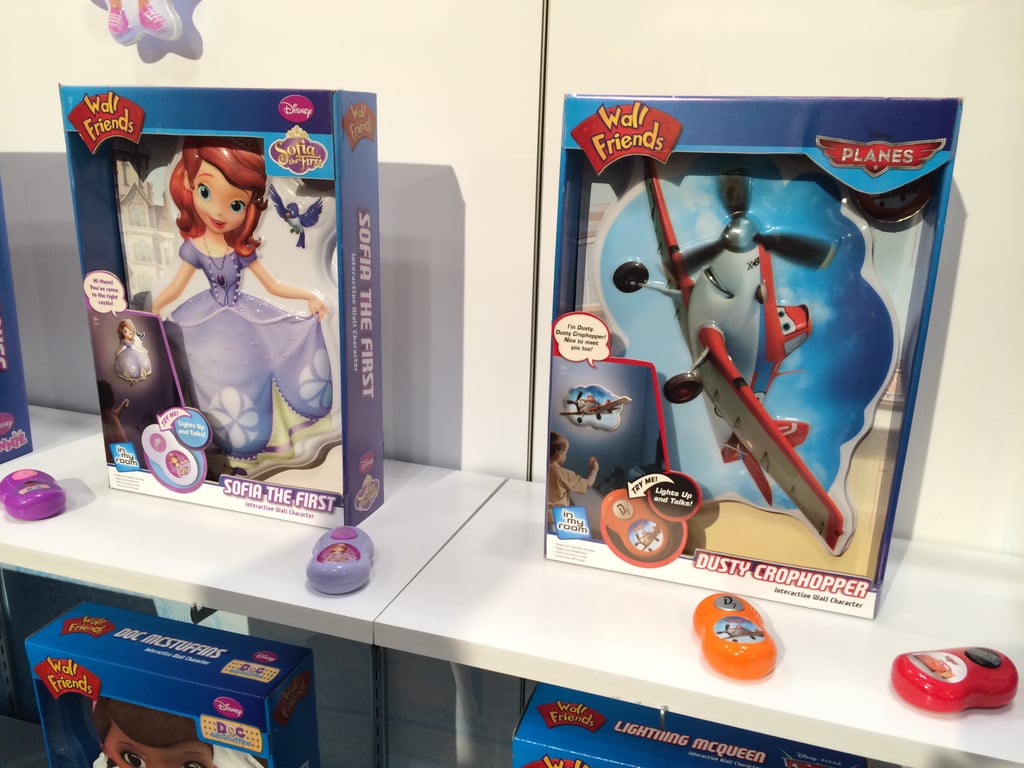 Uncle Milton is expanding it's Wall Friends line to include Sofia the First and Dusty Crophopper — both of which are interactive.
Goliath Quiz-a-Majig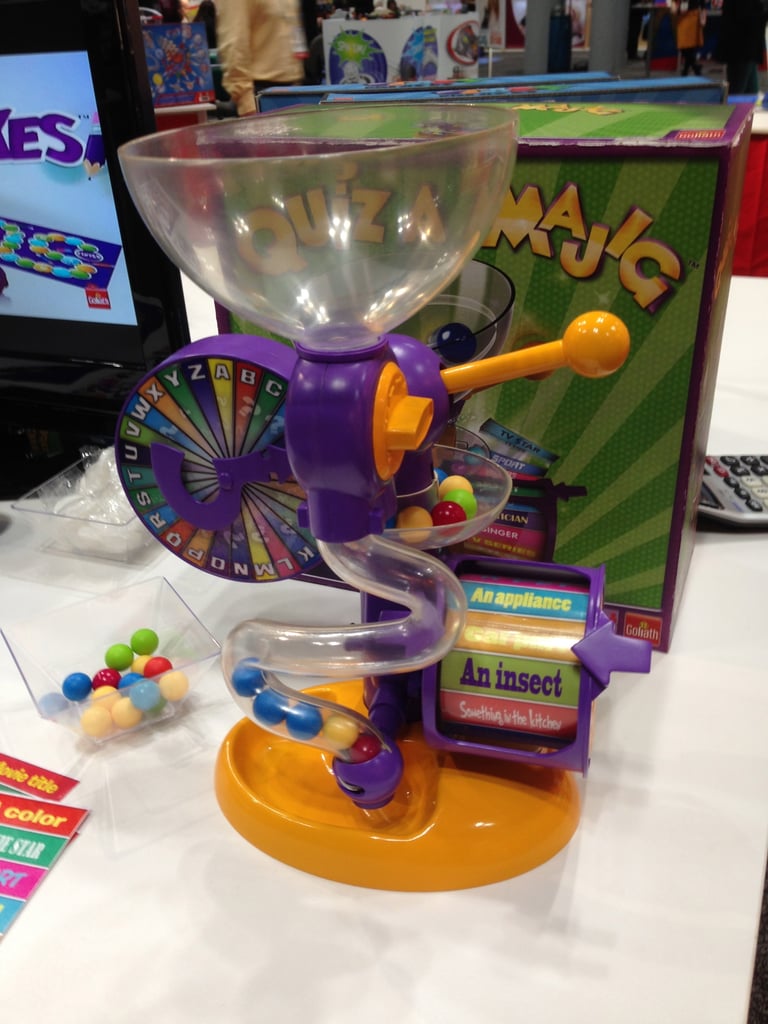 This would be a great addition to family game night!
X-15 Sno Ball Launcher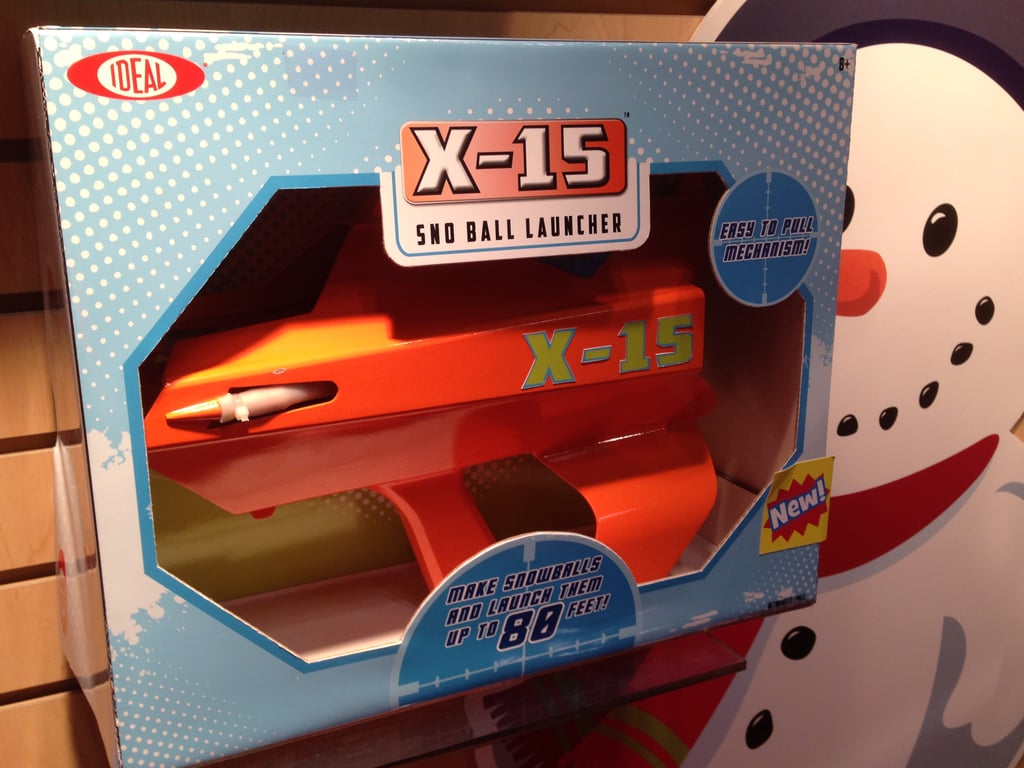 This is just a prototype, but next Winter, prepare for snowball fights to soar to entirely new levels.
Plan Toys Van Walker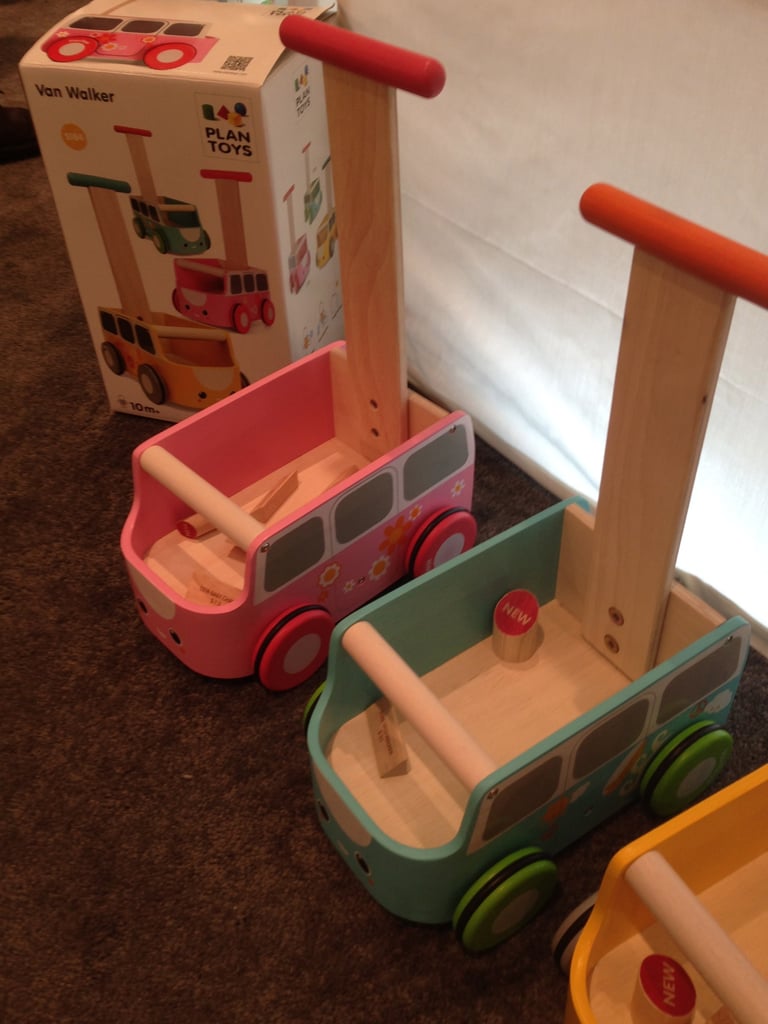 Go retro with Plan Toys' camper-themed miniwalker — it comes in pink, teal, and yellow.
VTech Go! Go! Smart Animals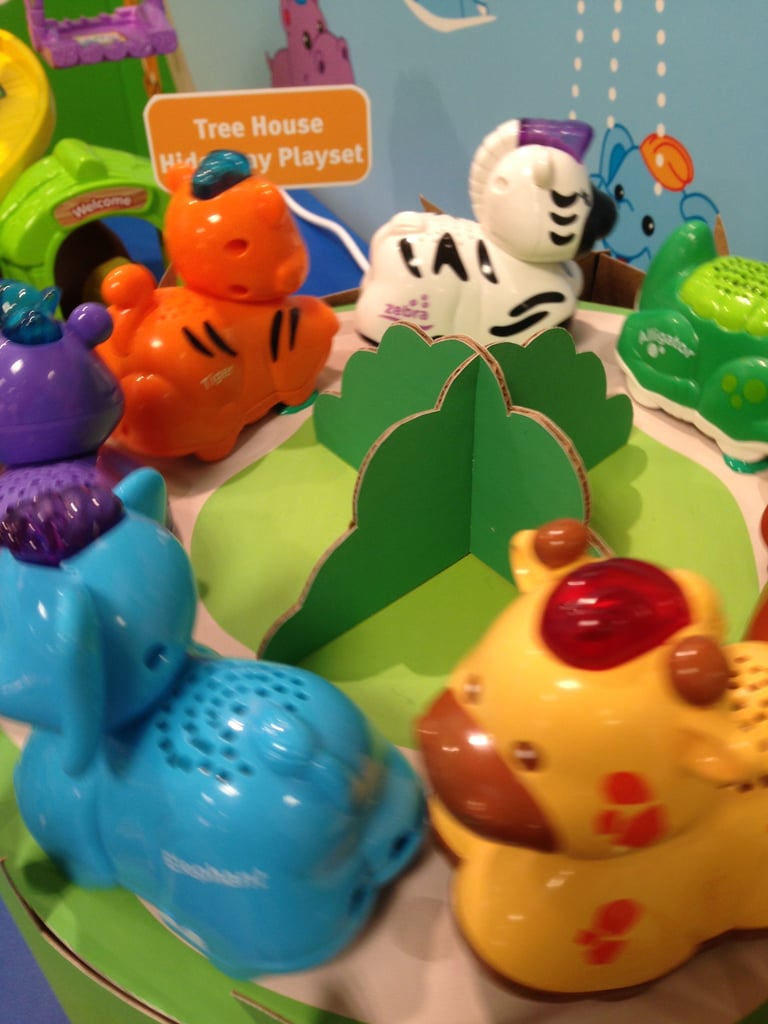 These cute little figures retail for just $8 each and operate off of "Smart Points" on a variety of different play sets.
Little Bits
This snap circuit toy is designed to encourage kids to create on their own.
Lego Mixels Make Their Debut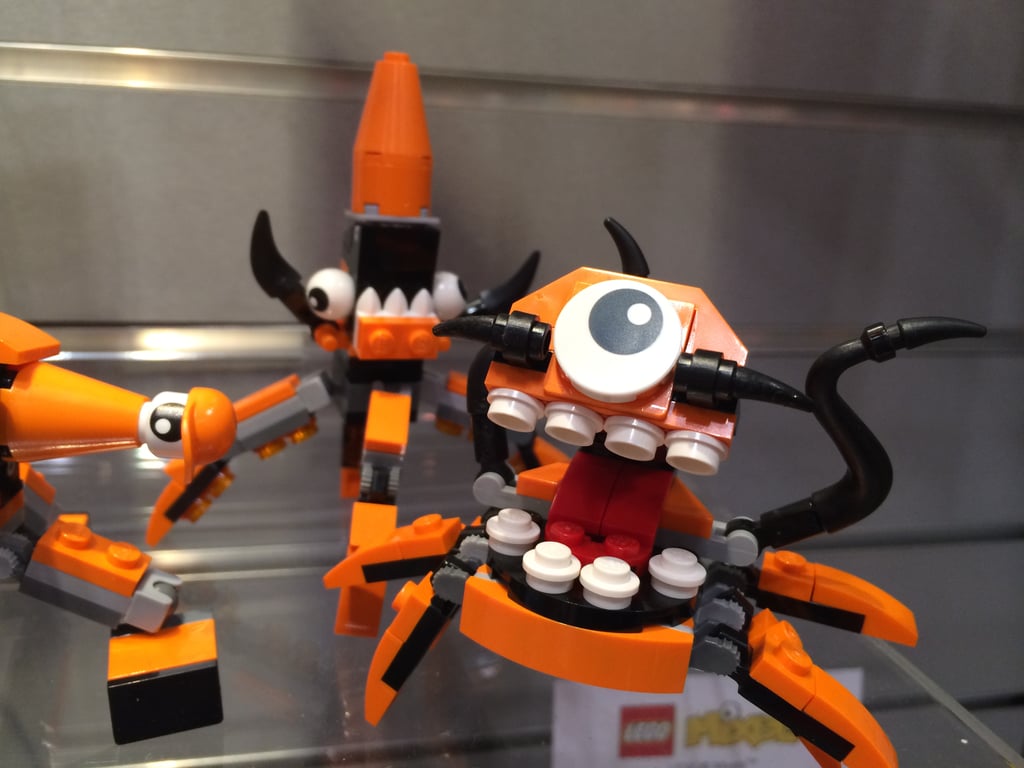 These cute characters were codeveloped with Cartoon Network. They'll appear in shorts between shows on the network.
Janod Bikloon Balance Bike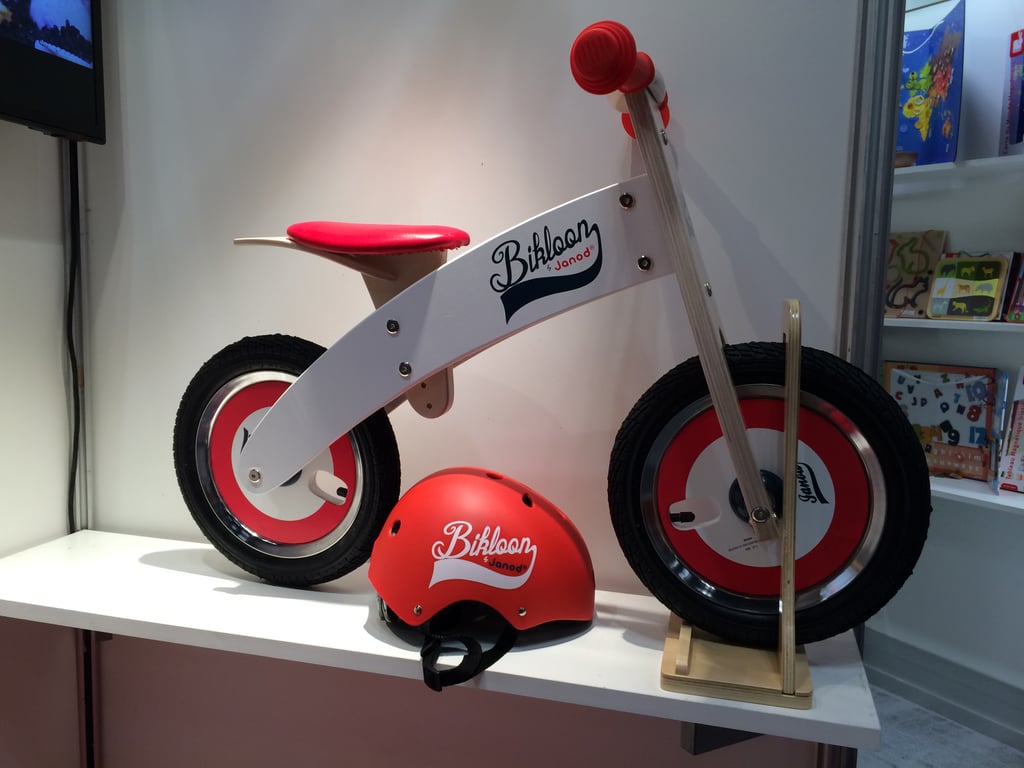 A stylish balance bike to get kids used to riding (with an equally cool helmet to match)!
The Orb Factory 3D Dinosaurs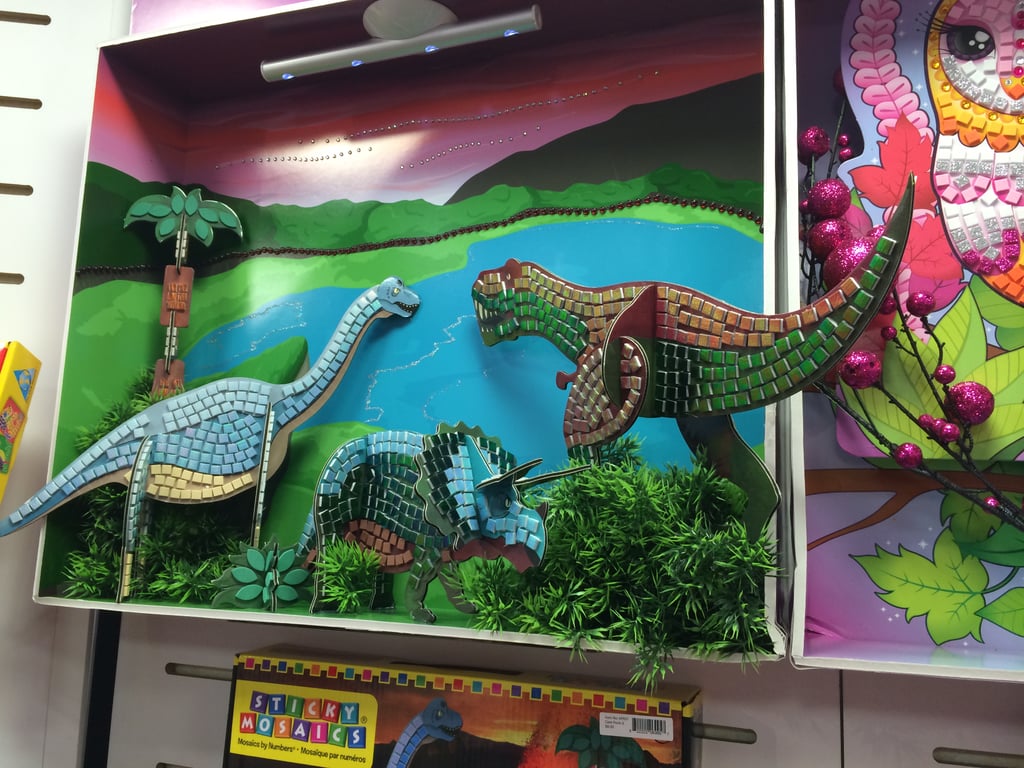 We love the new 3D mosaic dinosaurs that are joining the Orb Factory's collection.
Kid-O Marble Maze
Kid-O's new marble maze is addictive.
Crayola Paint Maker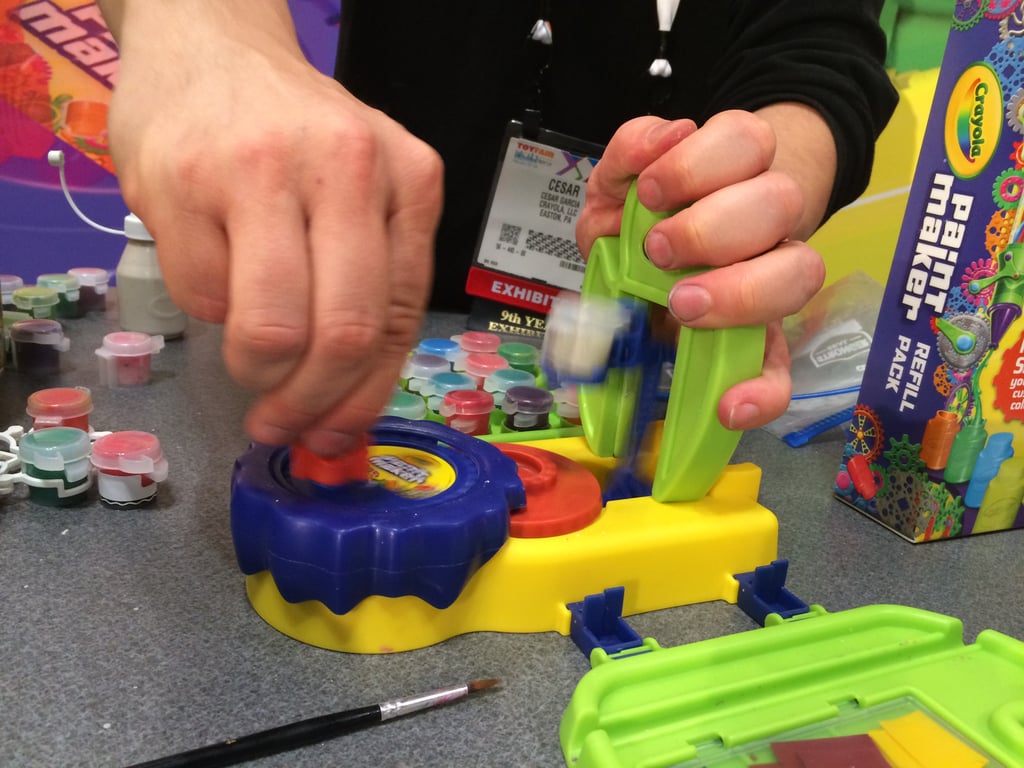 Now you can make your crayons, markers, and paint!
Entrepreneur Barbie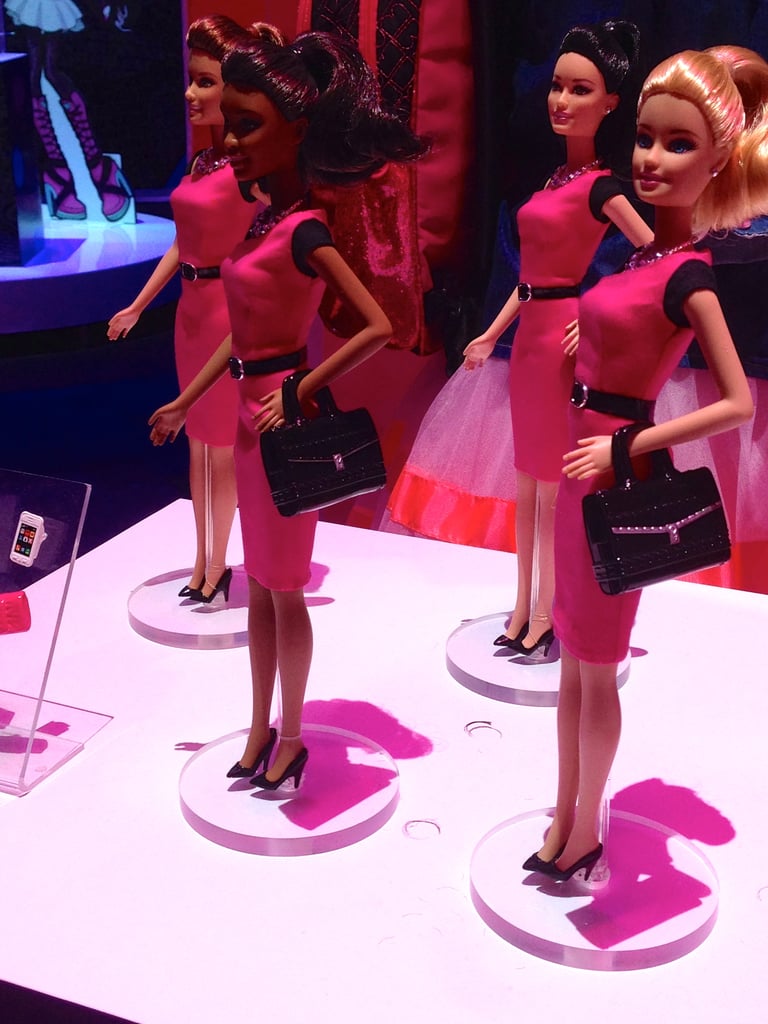 Over the past 50 years, Barbie's had more than 150 professions (how's that for multifaceted?!) This year, she takes off on her own as a ready-for-anything entrepreneur.
Plan Toys Parrot Walker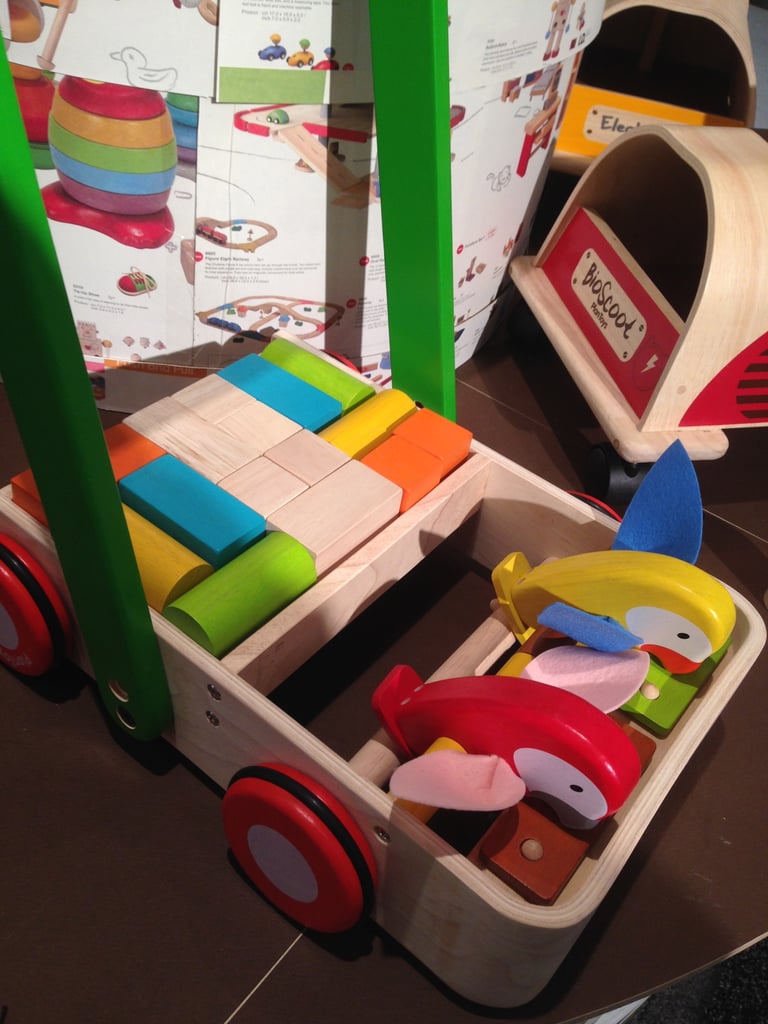 A great new addition for early walkers.
Little Live Pets
These life-like birds have 40 different sounds and repeat everything you say!
Spot It Splash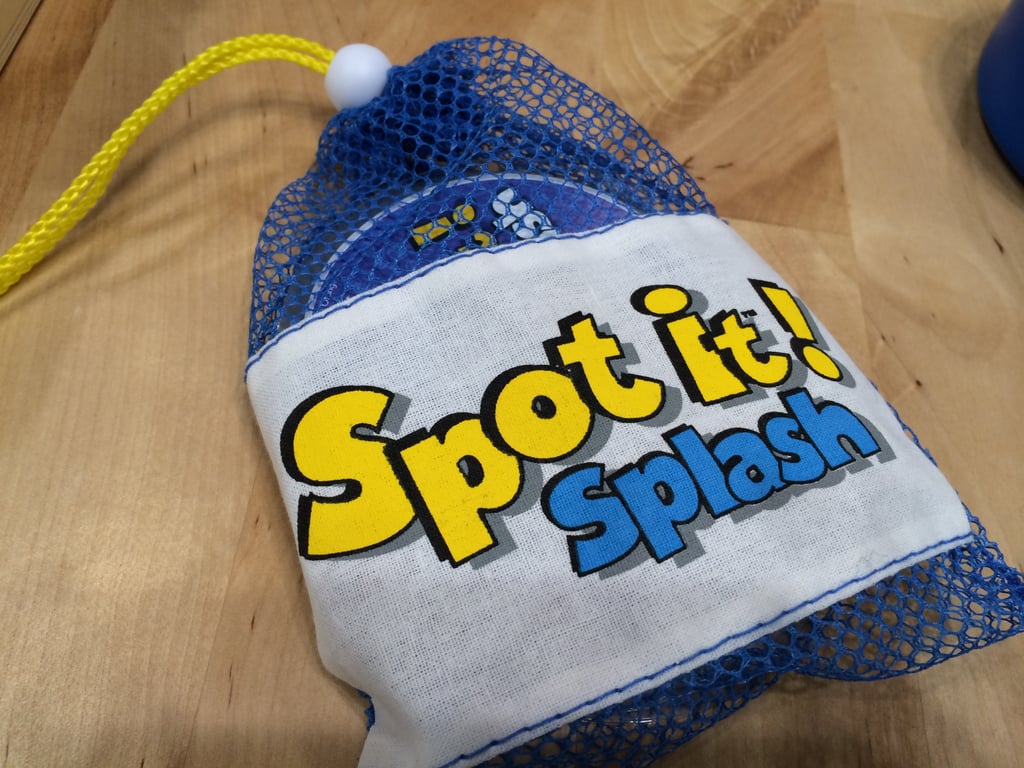 Get ready to take your favorite matching game to the beach, because this set is waterproof.
Lego Star Wars Mos Eisley Cantina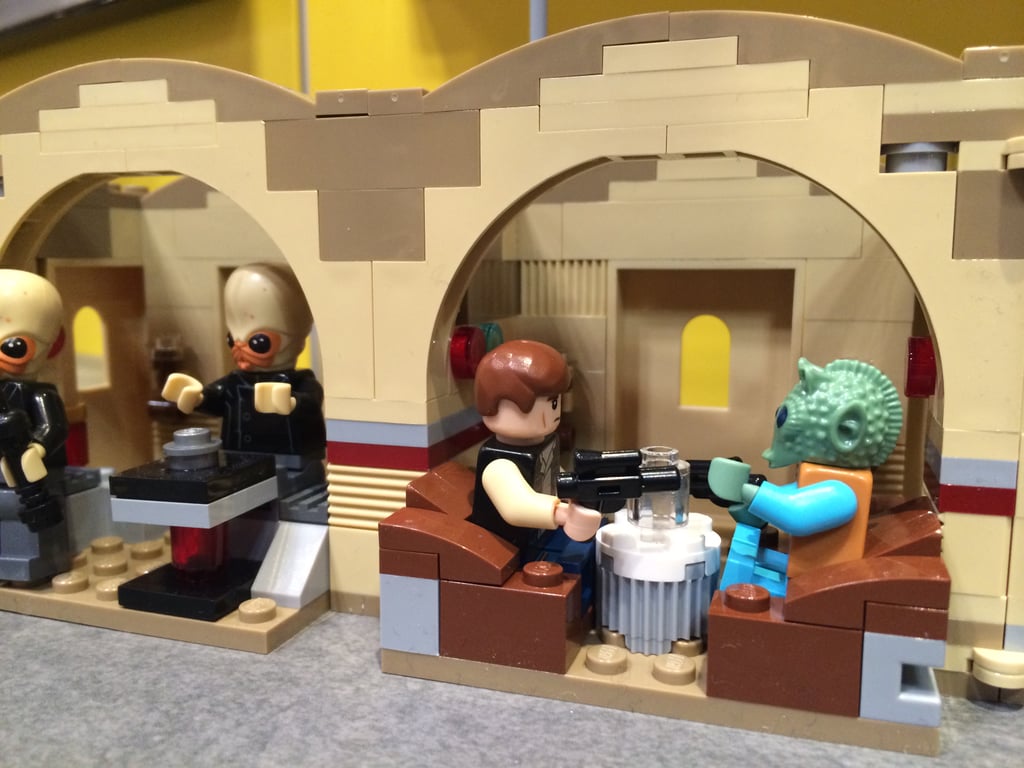 Star Wars fans are going to flip for the cantina scene done complete with minifigures of all of the interesting characters.
Lego City High Speed Passenger Train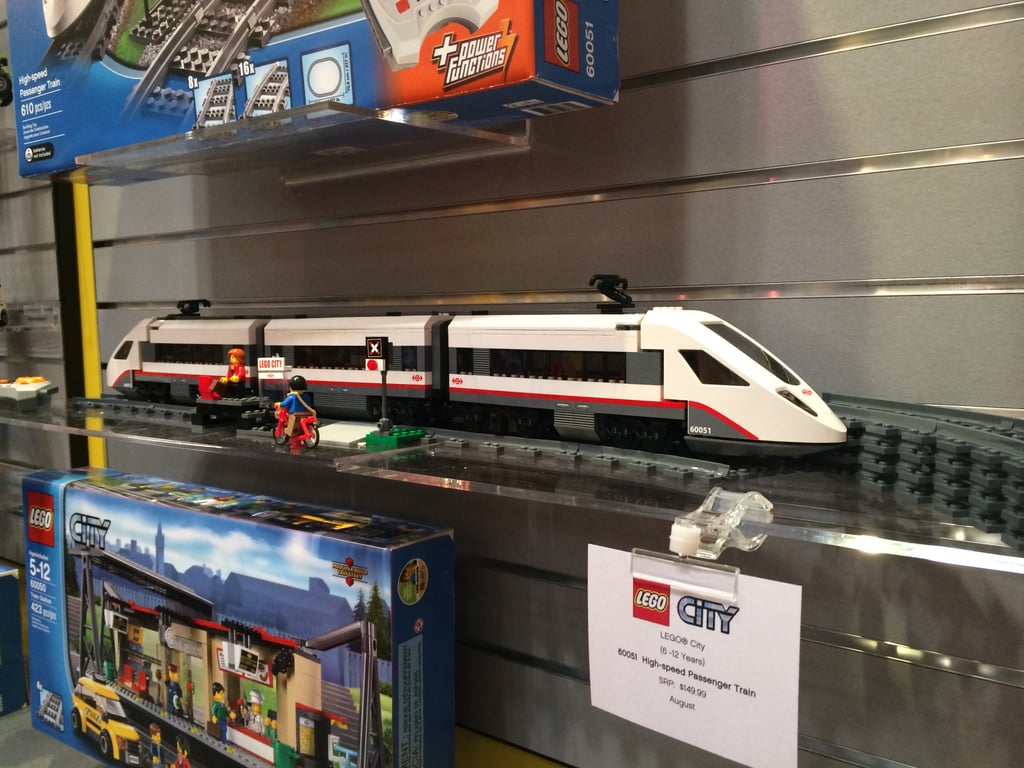 Lego City brings back its train, but this time it's remote controlled.
Calafant Cardboard Castle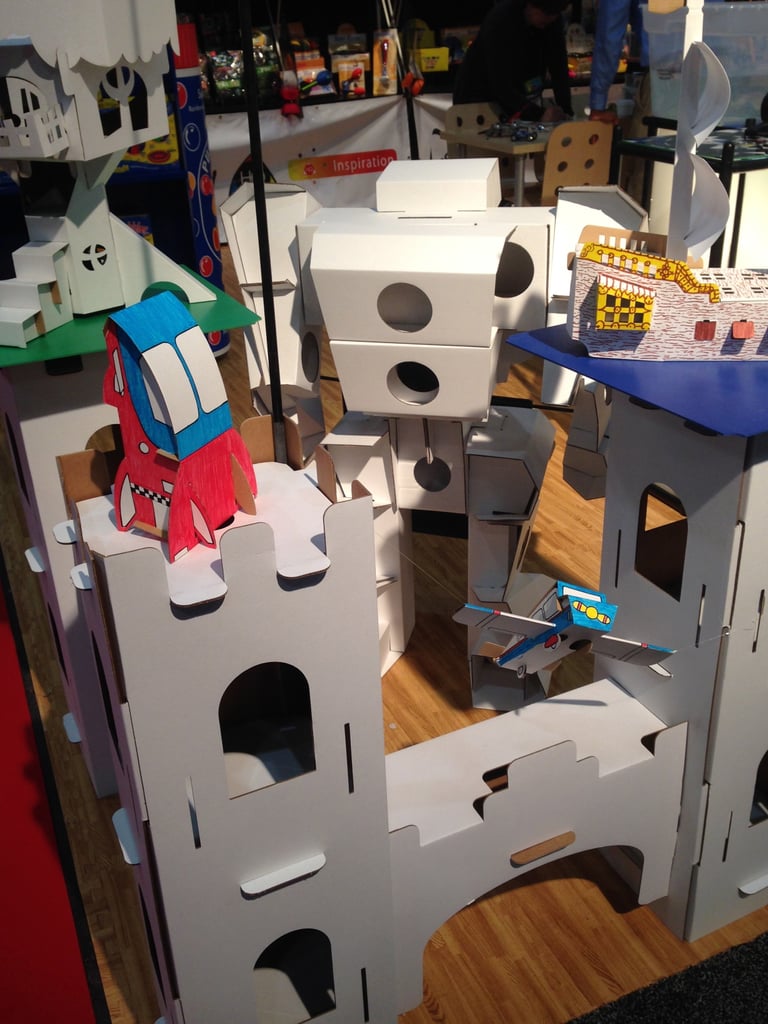 Construction doesn't have to be high tech — this cardboard castle would offer plenty of imaginative fun.
Teenage Mutant Ninja Turtles Sewer Spewer Numchucks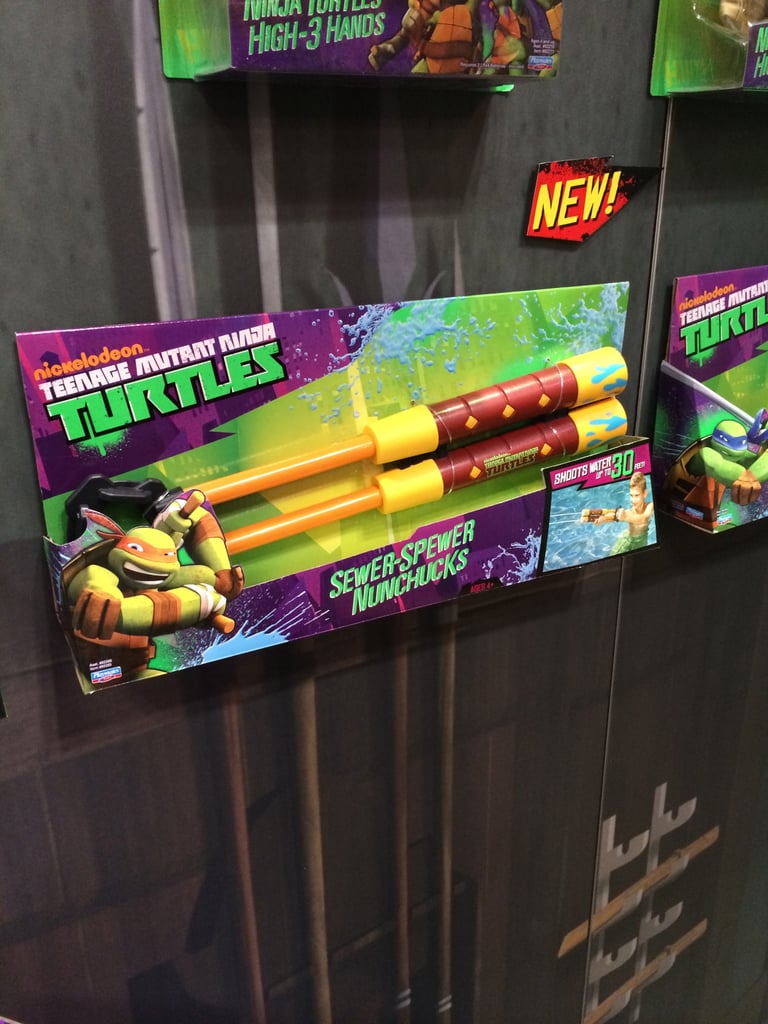 The turtles will enter the pool this Summer with some of their new water play toys.
The Uggly's Dalmation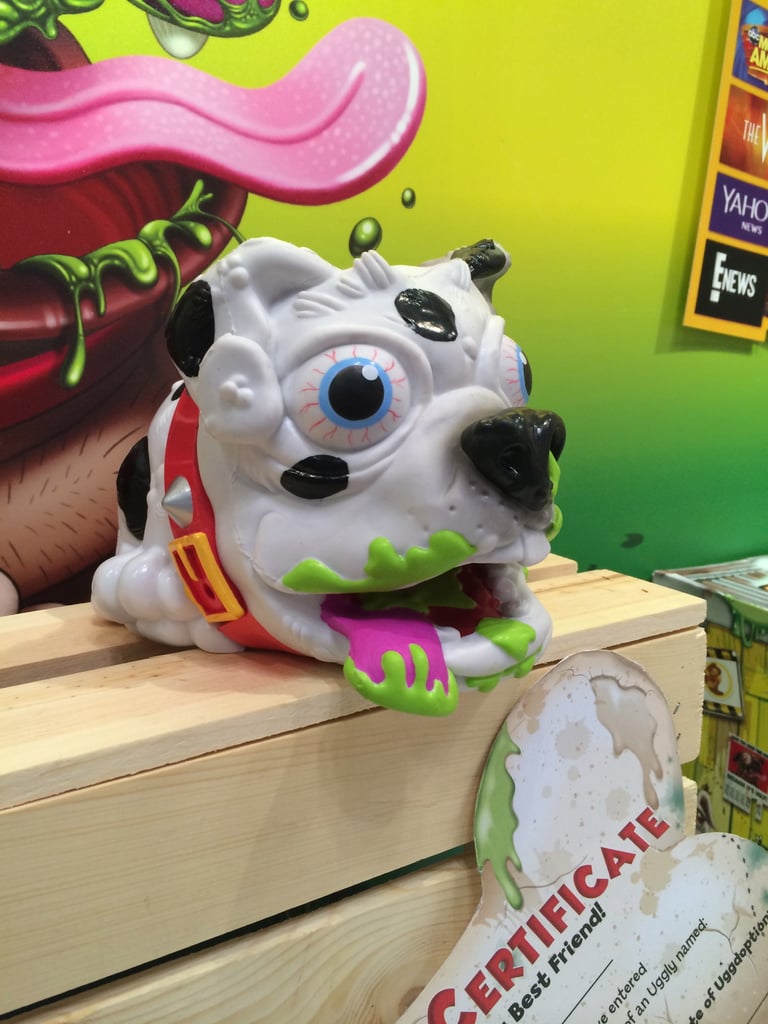 The Uggly's will expand their line with Dalmations and St. Bernards.
Lego Duplo Peter Pan's Visit
Peter Pan get's Lego-ified in this play set based on Jake and the Neverland Pirates.
Lego Juniors Pony Farm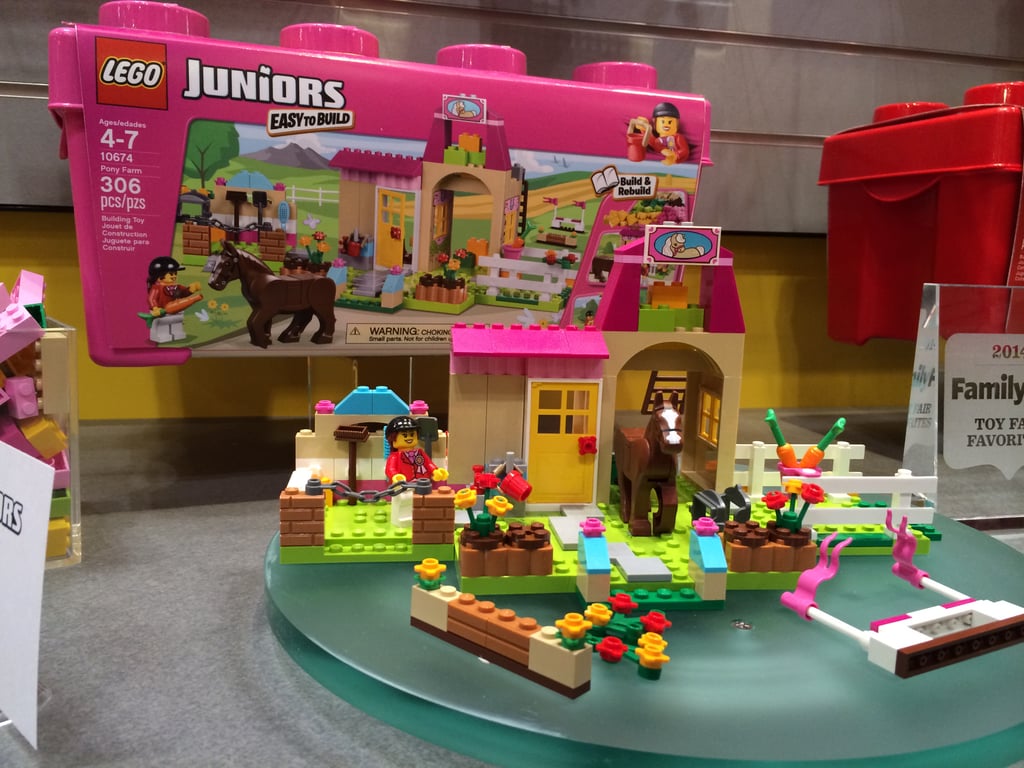 The Lego Juniors line will also include this pastel version.
Frozen Fun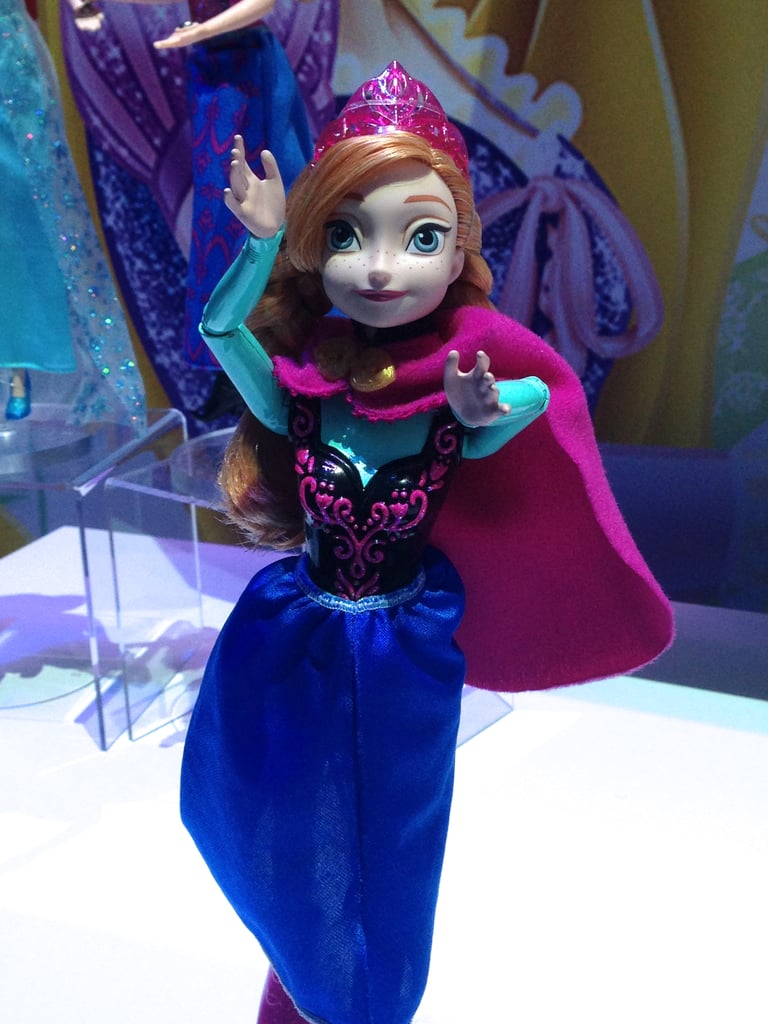 We have no doubt that your girls will go nuts over the new Frozen dolls from Mattel.
Girl Scout Barbies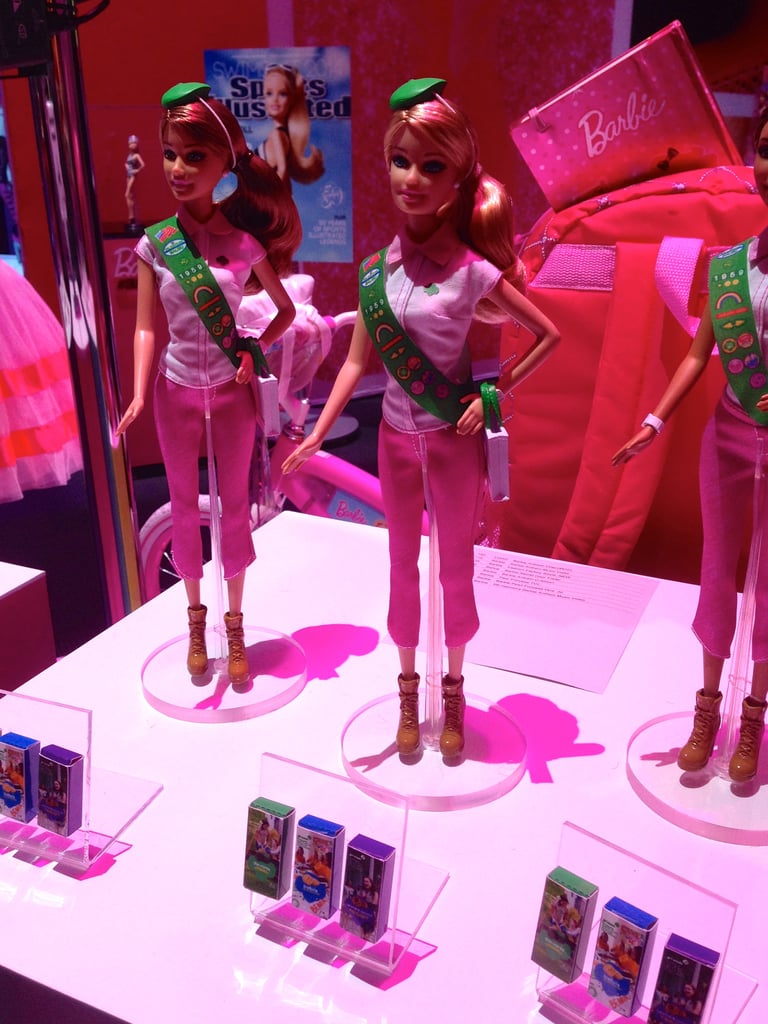 Complete with her requisite Thin Mints!
Alex Tattoo Glitter Party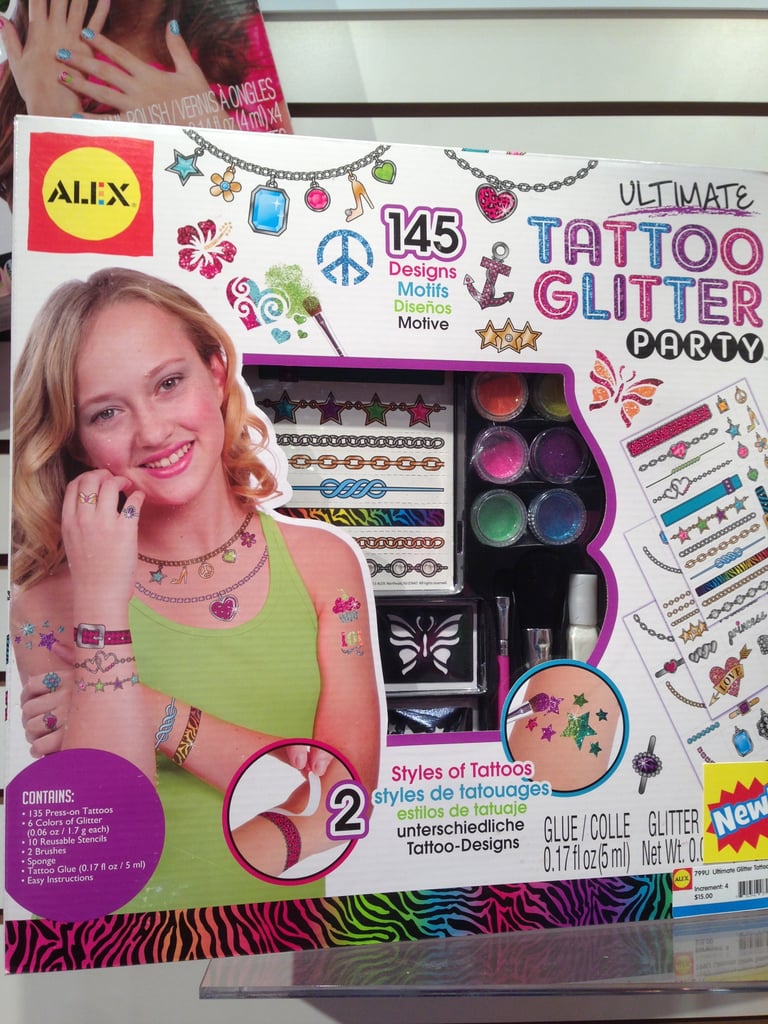 The perfect entertainment for your tween's next sleepover or birthday party.
Melissa & Doug Diner Play Set
This dual-sided play set has everything kids need to create their own diner at home' and the food pieces feature pictures of raw food on one side and cooked on the other!
Playmobil Camp Site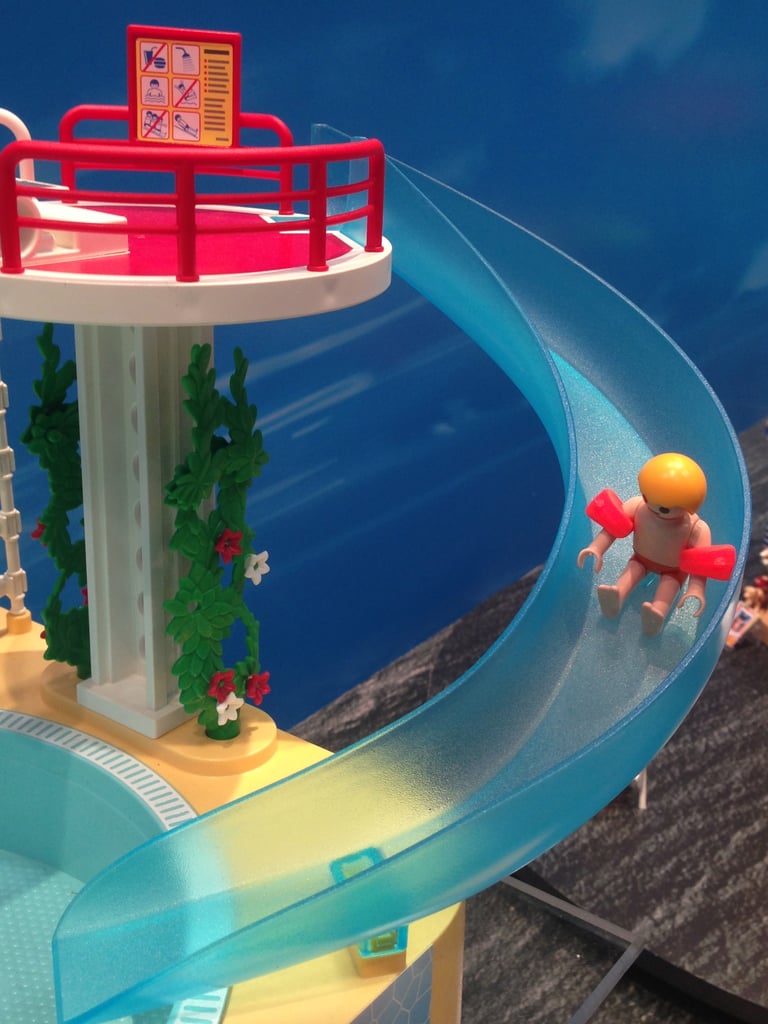 Fill up Playmobil's pool with real water for aquatic Spring/Summer fun.
Surfing in the Tub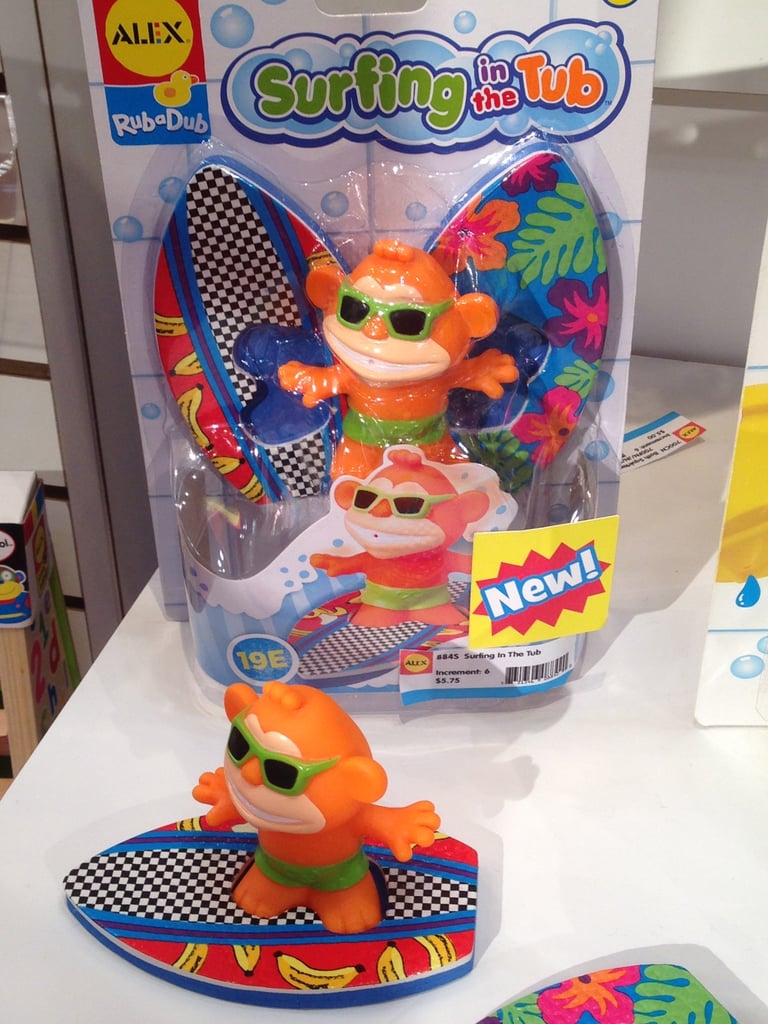 Alex's tub toys are tough to beat!