Four Ways You Can Help Shelters (Other Than Donations)
Like us on Facebook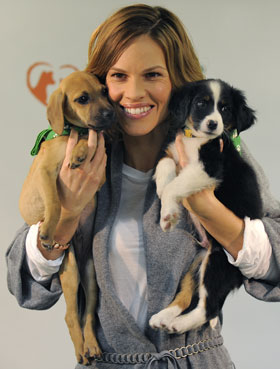 Acting as ambassador to the Iams Home 4 the Holidays campaign, Hilary Swank gets cuddly with some cute puppies. What a tough job! The program already has over 3,400 shelters in 17 countries participating in their efforts — you can search by location to see if there's an establishment or breed rescue near you.

If your home is not needing another furry face despite the temptation, find four other ways you can help out — and see more pics of Hilary and the pooches — when you

.
Dog walkers: Use extra time and get extra exercise by offering your talents as a dog walker on weekends or around your work schedule.
Foster homes: New kittens and puppies may need special one-on-one care so offer to help with the potty and litterbox training for a new babe — you may just fall in love in the process.
Cleaning staff: Someone's got to keep those kennels spotless — find out if you can help out either tidying up or bringing in supplies for weekend or holiday clean fests.
Adoption drives: See if the shelter is holding any special events where you could volunteer your time, playing with and showing off cute, available faces to potential owners.