For the Sisters Behind Ocoa Beauty Products, Curly Hair Is the Doorway to Self-love
San José de Ocoa is a mountainous province in the southern region of the Dominican Republic filled with rich, fertile land. It's also where sisters Nicol and Cory Varona's mother is from. The sisters now live in Pennsylvania, and in 2017, they underwent a natural-hair rediscovery journey that led them to understand new ways of loving themselves and their heritage unapologetically.
When the Varona sisters decided to share the hair-care formula they devised for their own hair with other women, they found it imperative that the name brand signal their own roots — the very place where their story began. And now, Ocoa, their curly-hair product line, is focused on messaging that honors this: their land, their sisterhood, and their natural hair.
"Our land is full of diversity and people who have this beautiful hair texture, and no one even knows what anybody's hair looks like because most people don't embrace their hair," Nicol tells POPSUGAR. "Hair care was that doorway to kind of understanding the self-love . . . we want people to embrace who they are born to be."
It all began when Nicol moved out of her parents' home and began to really get to know her true self away from her family's impositions. She underwent a self-love transformation that began with her hair, something many Afro-Latina women who were subjected to relaxers and hair-straightening practices know all too well.
"I literally woke up one day in my apartment and I was like, what happened to my curly hair?" she remembers. "My hair was straight and damaged, and I couldn't wear my hair curly because it [was] not there anymore. So I started to research, and I found influencers and videos on how to start your curly-hair journey."
That was when Nicol heard about the curly haircut and decided to chop off the damaged parts of her hair. It was 2017, and her older sister Cory had just had a baby. When she shared her experience and all she'd learned with her sister, Cory realized it was ideal for her, too — especially as a new mother. That's when the sisters began this journey of cutting their hair, learning about products, and eventually starting their own hair line together.
"Hair care was that doorway for us to embrace who we are authentically and know that this whole self-love journey started there for us," Nicol says. Eventually, the sisters decided to share this with other women. "We want other people to experience that, too."
The natural-hair journey has long been a way for Black and Afro-Latina women to stand up to a culture that consistently discriminates against them and their hair. In the US, it was defined as a movement during the civil rights era as a way to challenge the status quo and white-supremacist beauty standards. For Dominican women, the movement is reaching new peaks now, in 2023, in large part because of a sisterhood of women standing up to Eurocentric beauty standards.
In 2014, the Miss Rizos salon, owned by Carolina Contreras, opened in the colonial zone in Santo Domingo, spelling out a loud, new zenith for this form of celebration of natural hair, from fros to braids. The salon has long been a champion for natural hair and educating Dominican society. Yet this isn't the first time Dominican women have rocked their natural curls or natural hairstyles like braids, with small salons existing in the barrios and sought-out hairstylists working out of their homes. In this way, sisterhood has always been the foundation where Afro-Dominican women could seek out one another for tips on protective styles and ways of celebrating their hair — especially when the information wasn't readily available.
Still, though it's no longer uncommon to see women rock their curls and natural textures when taking a walk down the streets of Santo Domingo — from 4C to 3B and more — hair discrimination is still common in the workplace and private businesses, with relaxers and blowouts being encouraged. Recently, local women's advocate and journalist Elaine Feliz caused national reactions when she denounced that her daughter wasn't allowed into a nightclub because of her curly hair. Yet a future filled with hope for young girls persists, as women are taking a stand and embracing their roots.
"We were born in the DR, and we moved to the US about 20 years ago. We grew up with this whole 'pelo malo' (or 'bad hair') mentality. Our mom took us to the hair salon for any special occasion, birthday party, event, and that's all we knew as far as feeling beautiful and feeling great . . . having our hair straightened," Nicol remembers.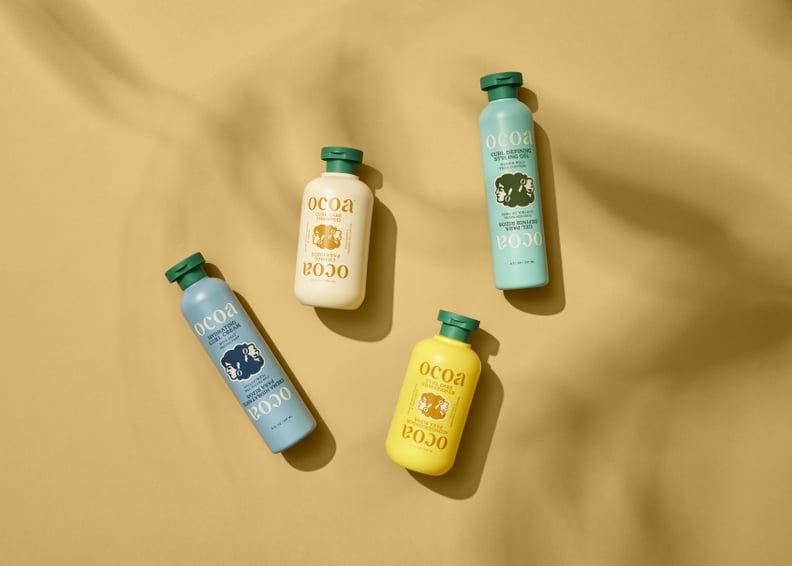 Because of this, the Varona sisters say it's important to them that their brand is a nod to their country's heritage, and in this way, they are part of a larger movement all about self-love. The ingredients were also a huge part of celebrating their island heritage. Cory got a certification for mixing products, and the sisters took a different approach focused not just on hair but also on skin care and how the hair products would feel on your hands. The main base of the formula then became inspired by local ingredients, from mango butter to hibiscus extract.
"We took a skin-care approach to the formulations for our products. So instead of using the heavy oils, we wanted to use lighter oils like sunflower oil and avocado oil, because those oils don't really weigh down wavy and curly hair, which is what we focus on," Nicol says.
And the feat was achieved. The line filled with soft ingredients includes a cupuacu- and apple-based shampoo, an avocado- and sunflower-based conditioner, and a light-scented curl-defining gel and hydrating cream — all inspired by the "rich natural beauty" of their family's land. The products maintain a softness and whipped feeling, while still providing the thickness necessary to comb through curly textures. The shampoo and conditioner nourish hair with rich products, while the medium-hold hydrating gel keeps the hair voluminous while not weighing it down. The hydrating curl cream keeps the hair moisturized through the week without saturating the hair strands.
As a small business, Nicol says they have had their struggles, yet staying true to their mission and sisterhood of championing curly hair has been key. As siblings, they realized how beneficial and meaningful it was to undergo this journey together. Through Ocoa, they are extending their connection to others.
"We just wanted to share these great products that we knew could change somebody's life. And that's something that we are so proud of," Nicol says. "When we get these messages from people saying, 'You're changing my life' or 'My daughter's trying your products and I'm a mom and your products have helped my daughter so much.' For us, that is what brings us joy and why we're doing this."