The Best Black Nail Polishes For Fall 2014
Get a Spooky Manicure With This Season's Best Black Lacquers
As POPSUGAR editors, we independently select and write about stuff we love and think you'll like too. If you buy a product we have recommended, we may receive affiliate commission, which in turn supports our work.
Outfitting your nails in black is perfect for Fall (and Halloween), but which polish should you pick? Allure investigated how several different shades measure up.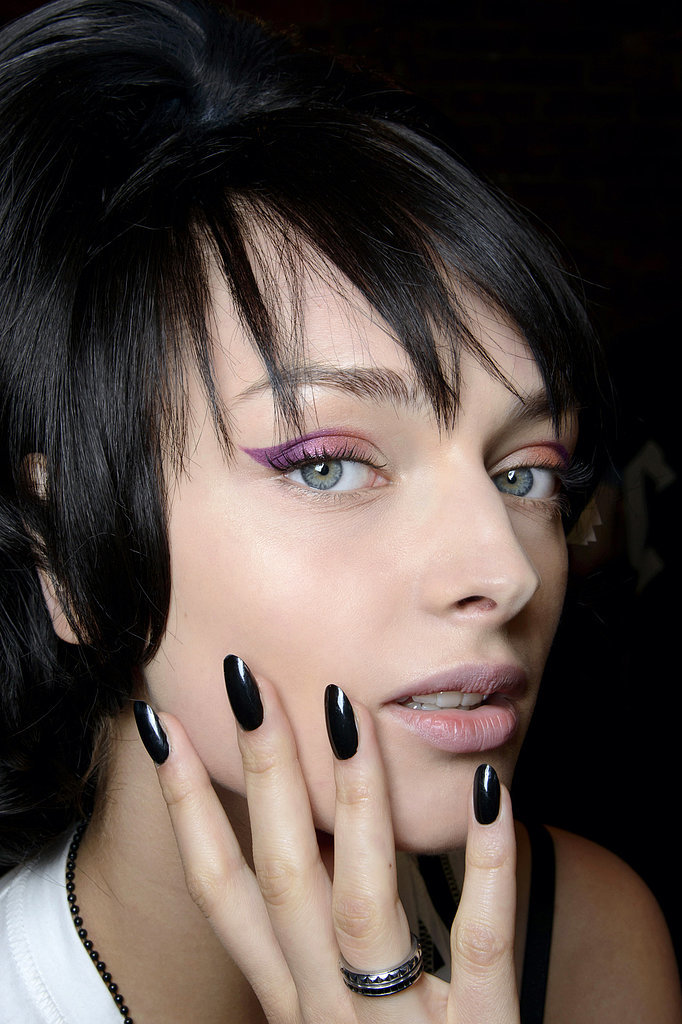 If you've ever thrown on a black shirt and pants assuming they'd match only to discover your top is more of a charcoal while the bottoms have a mossy-green cast, then you know that black is not always black. But when it comes to black nail polish, is there a difference? We tested a selection — including Chanel Le Vernis in Black Satin ($39), the polish zero that started it all — to see how they compare.
OPI Nail Lacquer in Black Onyx ($10). This three-free shade (with no formaldehyde, dibutyl phthalate, or toluene) dries into a classic black after two coats. It's easy to apply, and a topcoat amps up the shine.
Dior Vernis in Bar ($25). This has a luxurious, creamy texture that coats the nails beautifully. And if you look at it in just the right light at just the perfect angle, you can see a subtle silver shimmer.
Zoya Professional Nail Lacquer in Willa ($8, available later this year). The fine brush is perfect for lining the cuticles and edges of the nails, and when swept with light pressure, it fans out to coat each nail with polish. The color is a glossy vinyl-record black.
NYC New York Color Minute Quick Dry Nail Polish in Black Elixir ($2, available in drugstores). As the (long) name suggests, this polish sets quickly, making it ideal for that last-minute cat, witch, or Adam Lambert costume for Halloween. And although it's opaque, the formula is somewhat watery.
Formula X in Dark Matter ($11). This is the Sharpie of the group: really, really black, saturated, and unreflective. With a topcoat, this looks like pure inky pigment on your nails.
Chanel Le Vernis in Black Satin ($39). We know, we know, it's just another black nail polish. And maybe it's the fact that it has sold out over and over again, but there's something about this glossy, deep-onyx shade that's supremely chic.
Orly in Liquid Vinyl ($4). It's pretty. It's shiny. It's — you guessed it — black. And it's a little boring.
Conclusion: there are subtle differences between the polishes, but honestly, unless you're scrutinizing each one side by side with a magnifying glass in clear daylight while keeping your hands unnaturally still, they all look, well, black.
More from Allure:
Fashion Week Tricks to Emphasize Your Halloween Makeup
How to Give Your Mani a Fall Makeover
Go Full Freak This Halloween With an AHS-Inspired Look