Fresh Beauty Summer Skincare Sale
This Skincare Set From Fresh Is Discounted Like Crazy — For a Limited Time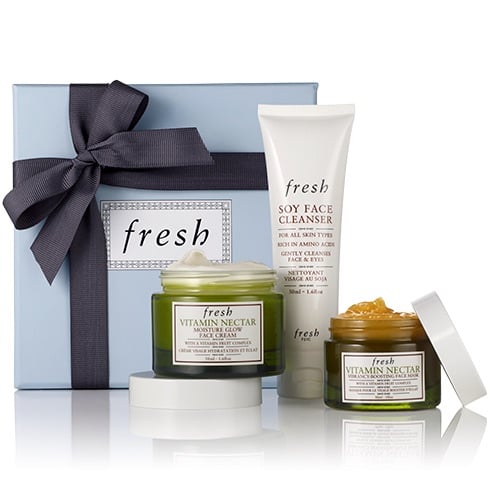 Good skincare products, much like good haircuts, usually don't come cheap, but it's a price many of us are willing to pay for dewy, Instagram-filter-forgoing skin. Luckily, Fresh has just released a set of food-based products designed to pamper and enhance your complexion for a reasonable price.
If you purchased all three items in The Glowgetter Trio separately, it would cost around $85. But for a limited time, this set only costs $58. That's 27 whole dollars you get to save and put back into your morning latte fund. Clear skin and ample caffeine? We're so in.
The Soy Face Cleanser is a gentle, plant-based wash that will scrub away your smoky eye without stressing your skin. It's the perfect pregame for the Face Mask, which is made of soothing citrus and sort of feels like a mimosa for your face. If you follow that up with the Glow Cream, which works to recharge skin, you'll be able to fake a whole night's sleep. Mimosa, anyone?