How to Quit Biting Your Nails
Beauty Resolution: Nail Biting Begone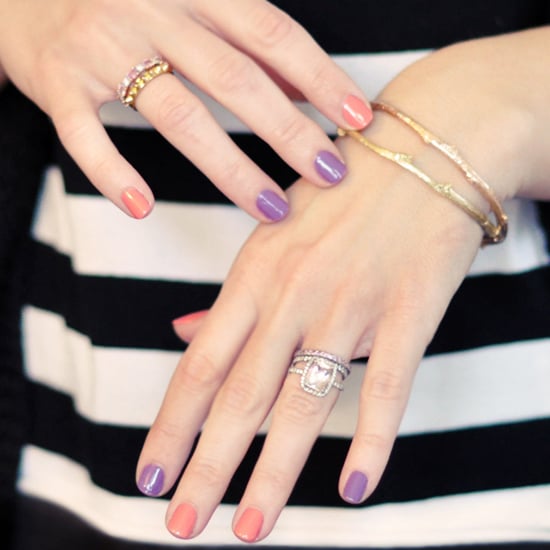 If you're like me, you've decided to make 2013 the year that you finally quit biting your nails. Unfortunately, keeping this resolution can prove to be harder than keeping your gym membership past February. Nail biting is a notoriously difficult habit to break, and if you feel like you've tried everything to win the war on nibbling, it can be doubly frustrating. But take a deep breath. Learn nail biting prevention that goes beyond that nasty-tasting polish, or wearing a rubber band around your wrist, when you keep reading.
1. Be aware of your nail biting: It's tough to quit nibbling on your nails when you don't even realize you're doing it — and absent-minded biting is a big component in a nail biter's habit. Take the time to really focus on when and why you bite: are you stressed out or bored? Identifying your triggers is the first step in winning the battle of the bite.
2. Carry a nail file: If you find that your need to nibble has a lot to do with nails that are cracked, jagged, or just not looking too hot, then carry a miniature grooming kit with you. Whether it's an emery board or a nail buffer, giving yourself a minimanicure instead of biting helps you in two ways: it's a healthy stand-in to biting and improves the look of your nails.
3. Strengthen your nails: Weak nails are easy to pick at and bite, and working to strengthen them can help you avoid putting them in your mouth. Pick up a nail-hardener, like Deborah Lippman Hard Rock Hydrating Nail Hardener ($20). Stronger nails are less vulnerable to biting, plus a shiny top coat will also keep them looking swell.
4. Reward yourself: Go a week without biting your nails? Buy yourself a new nail polish. Has it been a month? Your nails are probably long enough for a real manicure. Setting goals and giving yourself little rewards is a great way to stay on track and keep motivated. And once your nails are long, healthy, and beautiful, you'll have tons of swag to make them pop even more.
5. Relax: One of the things that gets me biting is stress, and when I know I'm trying to quit nibbling, it actually stresses me out more. With a vicious cycle like this, it's almost impossible to stop biting. So make sure to relax. Have a cup of tea, go for a walk, or pick up yoga. Having another outlet for stress will make the transition from nail biter to blissed-out babe that much easier.