How to Save Money at Sephora
18 Tips For Saving Big (Huge!) If You Love to Shop at Sephora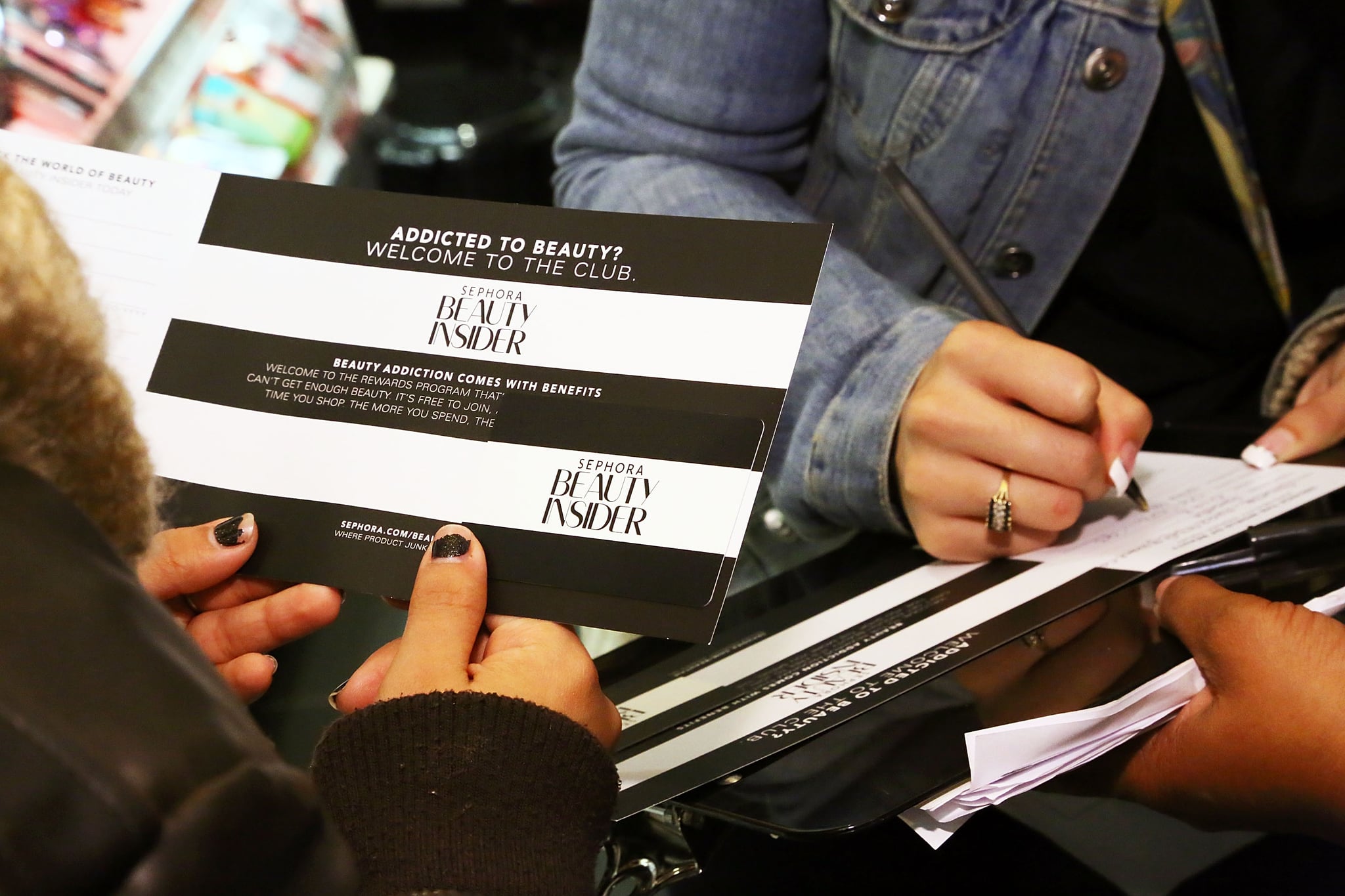 It's easy to get a bit carried away when shopping at Sephora (just ask this teen who accidentally racked up $733 on her mom's credit card in one visit). From the extensive fragrance section to the fully stocked checkout line (it can actually be a good thing if you play it right), the store is every beauty-lover's dream.
That said, there are ways to make your visits, either online or in store, a little less detrimental to your bank account. From becoming a follower to using discounted gift cards (and ensuring you cash in on every referral, rebate, and discount code along the way), read on as we break down 18 small steps you can take to save big.
Become a Follower
First thing's first: make sure you're following Sephora on Facebook, Twitter and Instagram for the latest updates, including social media-exclusive deals and giveaways. The brand recently had an entire Sephora Cream Lip Stain Vault worth $375 up for grabs.
Go With a Referral
If you're going to make an online purchase, do it through a cash back referral site. Ebates.com will cut you a check (last time we checked, it was for 4 percent of the total) and send it to you in the mail post purchase. In addition, the site often boasts Double Cash Back promotions, sign up perks (like gift cards), and special coupon codes.
Get an Extension
Before submitting your order, use a deal extension to do a quick check for last-chance discounts. Honey will run through a variety of related promo codes to make sure there aren't any you missed.
Hit the Bar
Purchasing in store? Download rebate apps that let you scan submit barcodes in exchange for cash back. With Ibotta, you'll receive your rebate credit within 48 hours of your purchase.
Use Your Student Discount
Certain websites specialize in offering discounted prices and rebates just for students. Become a member of StudentRate.com and receive up to 10 percent back on every Sephora purchase.
Shop Discounted Gift Cards
If you're looking to purchase a gift card for someone else, or are just looking for another way to get more for your money, consider making your purchase through a resale site. Last time we checked, Cardpool.com and GiftCardGranny.com were offering Sephora cards with savings of 8.5 percent.
Check For Weekly Specials
One of the benefits to shopping Sephora online is getting to take advantage of flash sales and other initiatives. Be sure to check the homepage for the latest (while you're typically looking at three bonus samples per order, we've seen them up the quantity and throw in deluxe sizes).
Scope Out the Sales
The Sephora site also features a special sale section, updated regularly with new markdowns. Be sure to give it another look following holidays, and act fast. It's not unusual to see items go out of stock before you're able to check out.
Become a Beauty Insider
Sign up for Sephora's rewards program to rack up points on every purchase that can be redeemed for samples (at the time this was written, there were lipsticks from Urban Decay, Marc Jacobs, and Bite on the table). You'll also score a special gift on your birthday.
Earn VIB Status
Take your rewards to the next level by becoming a Sephora VIB. Spend $350 in one year and you'll gain access to special savings and a free custom makeover. Spend $1,000, and you'll be sitting pretty in the VIB Rouge section, with free two-day shipping on all orders, a private Sephora hotline to access, and invitations to exclusive events.
Scout For Samples
While you're guaranteed to earn samples through Sephora's reward programs, it doesn't hurt to ask if there's anything additional available once at the register. Worst case? They say no. Best case? You walk out with swatches of that new foundation you've been meaning to try.
Try Before You Buy
Speaking of trying, you can also test-drive products right in the Sephora store to ensure you're not wasting money on the wrong formula, shade — the list goes on. Just ask an employee for a disposable applicator (or five).
Seek Professional Help
Still not sure about that blush shade? Ask an employee for his or her personal opinion. Better yet, ask if they can apply it for you, showing you a contouring tip or two along the way.
Go "Generic"
Sephora is quick to hop on the latest trends with an ever-expanding offering of its own goods. Shop the Sephora Collection in store and online for high-performing cosmetic and skin care items — we're also a huge fan of their brushes — at a fraction of the designer label price.
Experiment With Sephora Favorites
In addition to selling its own products, Sephora is known for curating Sephora Favorites sets that allow you to sample a range of beloved brands and products at a steep discount. This Extravagant Eyes set, for example, is valued at $134 but sells for $42.
Buy in Bulk
If you're already a big fan of a specific brand, opt for bundles that offer added value (you can typically find the latest here on the site). As for that shampoo you can't get enough of? Go with the economy size to save money (and multiple trips to the store).
Go Splitsies
If you're tight on space, split the cost of a value set with a fellow beauty-loving, money-savvy friend. Bonus points if you share selfies of yourselves rocking those new sheet masks.
Walk the Line
Especially great for testing new trends or purchasing items you don't see yourself using quite as often, be sure to check out the check out (line, that is) when at your local Sephora store for miniature versions of products.
Image Source: Getty / Astrid Stawiarz