Huda Beauty 3D Highlighter Swatch on Dark Skin
Huda Beauty's New 3D Highlighter Is Blindingly Beautiful, and We Have Proof!
As far as I'm concerned, the launch of every highlighter should be accompanied by mass hysteria and widespread fanfare, because highlighters are majestic additions to every makeup bag.
While many think less is more when it comes to the sun-kissed goodness of highlighters, I'm of the more-is-never-enough persuasion. So when the news hit that beauty influencer Huda Kattan planned to add a third 3D highlighter palette to her beauty line, I was beside myself, and rightfully so. Bronze Sands, which launches on Feb. 16, joins its popular predecessors Pink Sands and Golden Sands but has been formulated to "deliver an enviable glow for tanned to rich skin tones."
I managed to get my hands on the new launch before its official release, and my before-and-after picture speaks for itself: from bland to blinding. To say I'm in love with this palette would be an understatement.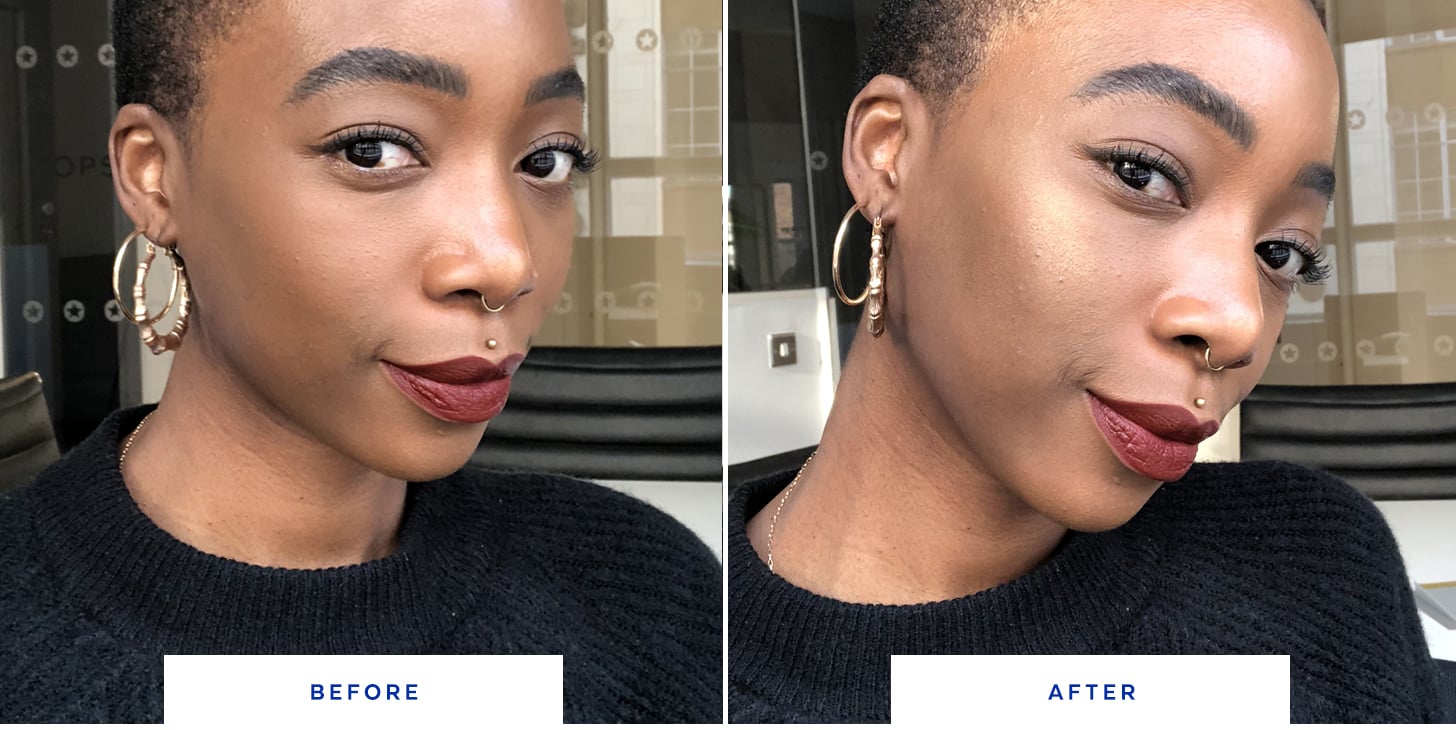 Image Source: POPSUGAR Photography / Florie Mwanza
Layering a highlighter can be a painstaking process on rushed mornings, but rest assured that you can wear each of these shades on their own. Barbados, which is a deep golden shade in a melted texture, is easily dabbed onto your cheekbones with your finger and would come in handy when you're on the run or need a subtle glow in the Summer. The next step, Maldives, is a gold powder that's so fine, it goes on like a dream and can be built up to your desired brightness. I've never personally used a highlight shade to contour, but the deep bronze powder that is Aruba has made me a convert; while it doesn't give a dramatic contour, it makes a lovely shade contrast to Maldives. Lastly, despite the bright, rosy hue of Bora Bora, it doesn't show up as much over the other shades, so it might be a great option to use on its own.