Jeremy Scott Makeup at New York Fashion Week Winter 2018
Gigi Hadid Has Basically Transformed Into Zenon For New York Fashion Week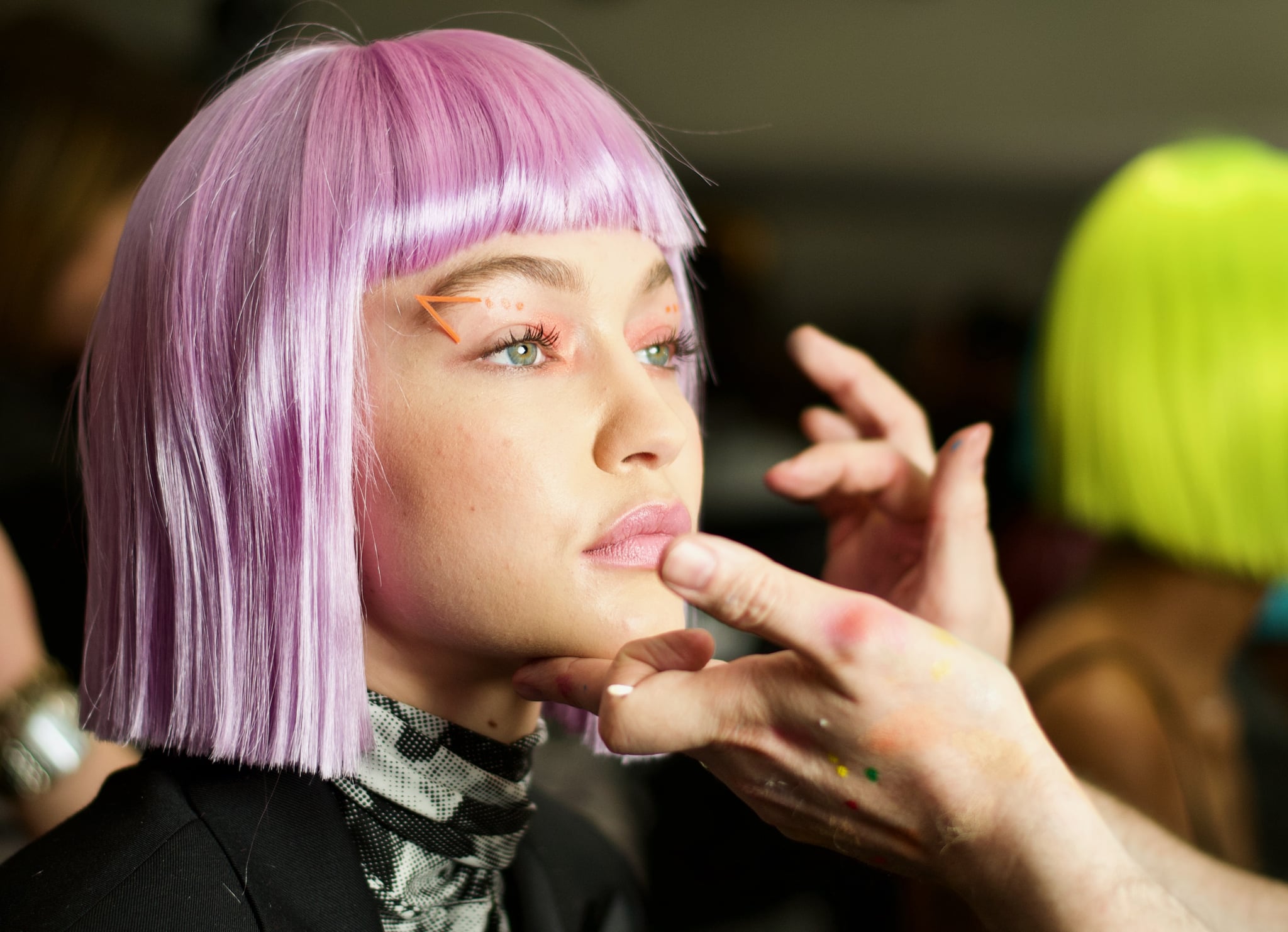 There are so many lovely, ultrafeminine looks at NYFW, many of which are certainly swoon-worthy. But when Jeremy Scott — who you know is gonna crank up the cool factor to 11 — comes splashing along with '80s-inspired, neon-raver-dream hair and makeup, the beauty community gets real excited. Add some of the world's most famous supermodels to the equation and, well, things become doubly interesting.
Hair & Makeup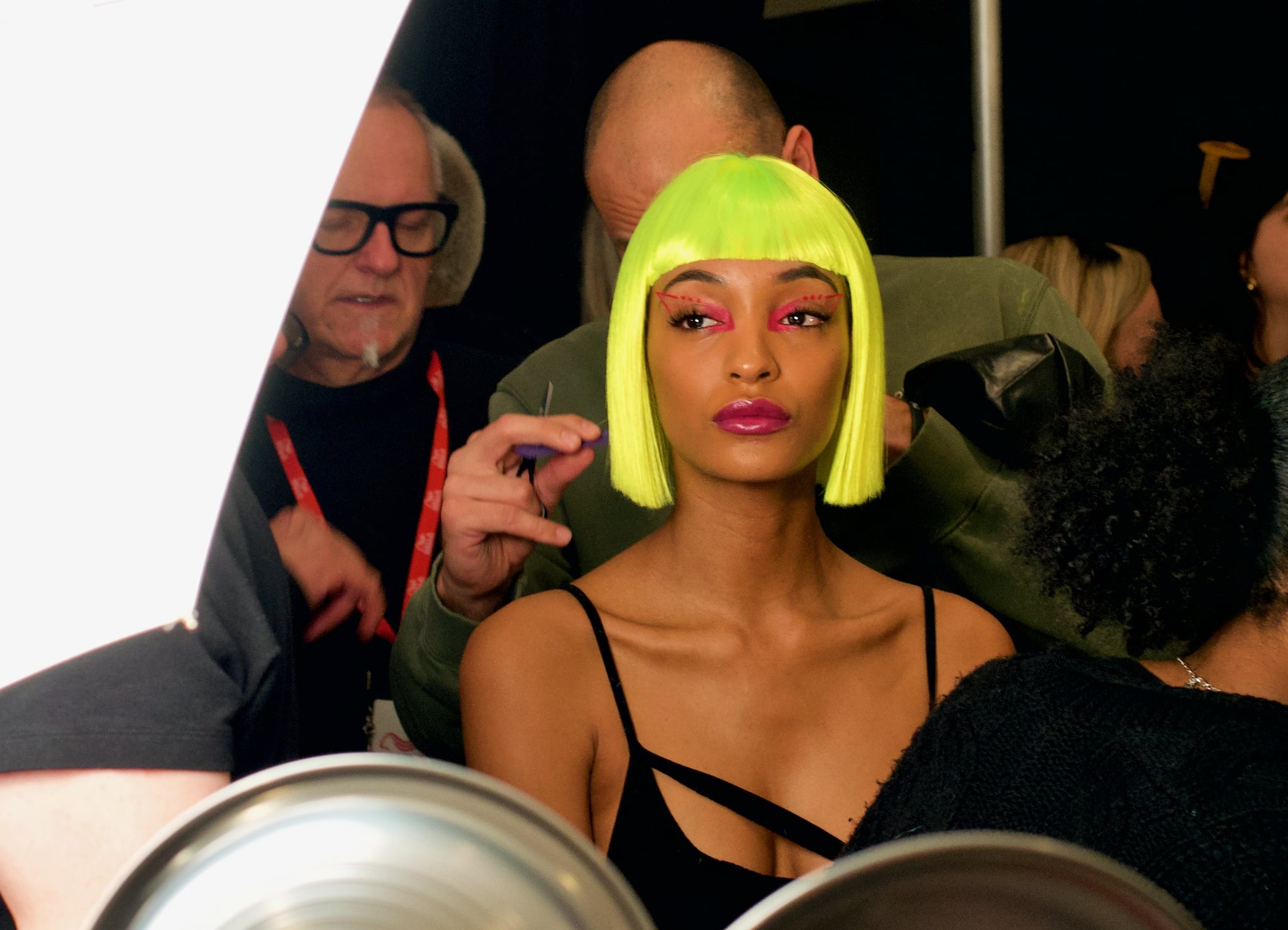 Gigi Hadid, Jourdan Dunn, and Stella Maxwell — known for their soft features — were almost unrecognizable in the electric neon wigs that hairstylists ripped out of bags, cut, and styled backstage using the Ghd Gold Professional Styler ($199) to make the strands perfectly smooth. They also wore a bright, 3D winged cat eye using products from Jeremy Scott's brand new MAC Cosmetics collection. The whole vibe was very Pulp Fiction meets Zenon: Girl of the 21st Century.
The eyes were created by hand-cutting plastic "wings" and outlining them in MAC Acrylic Paint ($23), then adhering them to the skin. The design continued onto the actual eye via a pixelated, geometric line, and the inner half of the eye got a burst of color from Jeremy's eye shadow collection in either orange, turquoise, pink, yellow, or green. (By the way, if you haven't checked out the collection, it officially launched in early February and will definitely bring you back to the boombox era.)
Nails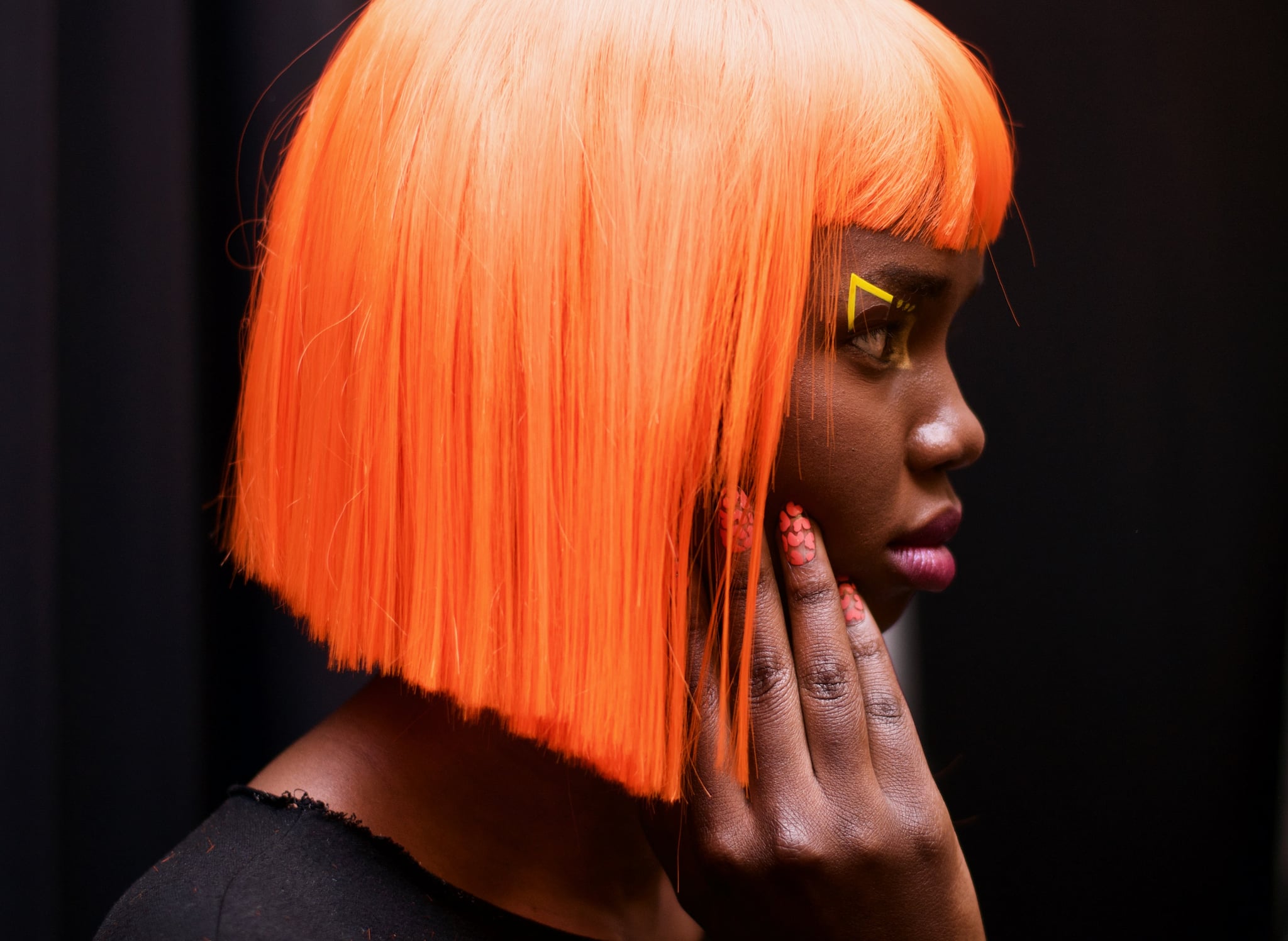 "The look is a techno animal print. I can, like, feel the music when I look at it," said celebrity nail artist Miss Pop backstage. "It's got swirls and curves and splotches, and it's super easy to do at home. I don't use any tools for this."
The colors used were Essie Tart Deco ($9), Bachelorette Bash ($9), and Playdate ($9). To create the look, she loaded up the brush with polish and then swooped it in tiny motions and filled it out with some splotches.
"His collection is very raver, playful, bright, saturated, neon. You know — wild. It's Jeremy Scott," she continued. "So we wanted to bring that feel of the excitement of the music to the nails."
BRB — gonna go scour Craigslist for an authentic boombox and paint our nails while jamming out.