Lucy Hale's Makeup in "You Sound Good to Me" Video
The Makeup We're Going to Copy From Lucy Hale's Music Video
This morning, our toes have been tapping under the desk along to the new single by Lucy Hale, "You Sound Good to Me" (which we put on an endless Spotify loop). She debuted her first music video for the single off her country album during the Pretty Little Liars Winter premiere last night. In the video, she lives the life of a country girl — road-trippin', partyin', and sangin'.
The beauty look for the debut was basic yet beautiful. "To achieve the effortless look, I kept the palette very monochromatic, sticking to all peachy nudes," said makeup artist Kelsey Deenihan. Scroll down to find out how to re-create her look on your next Tennessee trek (or for your average workday).
Step 1: Prep the skin with Murad Hydrodynamic Ultimate Moisturizer ($62). Then immediately top with Armani Luminous Silk Foundation ($60). "By applying the base directly after moisturizer, it allows the foundation to mix with the moisturizer and create a sheer coverage, which is what we wanted since we're not going for an over-the-top glamour look," said Deenihan.
Step 2: For cheeks, mix a sheer blush like Mark Just Pinched Instant Blush Tint ($9) with an illuminating product like Mark That's Brilliant Face and Eye Illuminator ($14). You can blend the blush with your fingers, but take Deenihan's tip and use a sponge for the highlighter. "By dabbing [the illuminator] onto the cheeks with a sponge, I was able to place the product on top of the blush tint and not move around any existing color."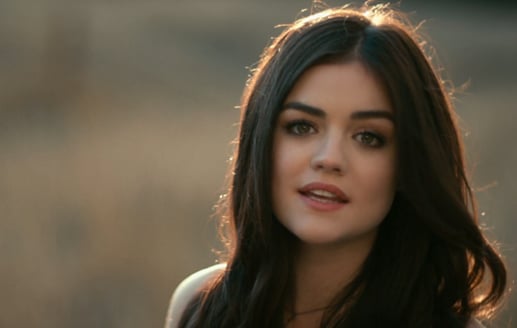 Step 3: Deenihan filled in Lucy's brows with Votre Vu Arch de Triumph ($17). To copy the eye makeup, use Mark On the Dot Neutral Eye Color Compact ($16). Apply the golden neutral hue all over lids, then add the darker taupe in the crease and on the outer corners. Finish the eyes by blending brown eyeliner on the top and bottom and applying mascara to top and bottom lashes, too.
Step 4: The finishing touch was a natural lip color, specifically Mark Make It Rich Lip Color Crayon in Punch ($11). "I applied it very lightly to give just a little tint to her natural lips," explained Deenihan. "No gloss or liner were used to avoid looking too dolled up for this day out in the country."