Peach & Lily Salmon Sperm Capsules
Salmon Sperm Is (Allegedly) the Key to Smooth, Perfect-Looking Skin
Another day, another weird subject line floats into my inbox. From doctors pleading with the public to not use Lush's new eggplant bath bomb as a sex toy to toe astrology, a lot of interesting pitches land in my email.
Peach & Lily, the brand who creates a serum I would fight to the death for — the Glass Skin Refining Serum — wanted to let me know that, "Salmon sperm is the next big thing. Here's why." Kudos to them, because there is no way anyone is not clicking that headline. Last week, the retailer sold out of a product that includes salmon DNA derived from its sperm. While they wait for a restock of the full-size product, they announced there is a 20-capsule refill pack available for the time being. (That refill is now also out of stock.)
Hearing that salsperm (as I'm going to call it) sold out and people are actually demanding a restock piqued my interests, as did the before and afters. Here's everything you need to know: the brand Shangpree, sold on Peach & Lily, created the Marine Jewel Caspule. It retails for $135 and includes 30 capsules, which look very similar to ceramide capsules you might get from Prevage or Elemis. Inside they contain a variety of oils, algae, and Royal Jelly to help calm inflammation, firm, and hydrate the skin — and which is, apparently, secreted by worker bees for queen bees so that, and I quote, "queen bees can thrive." I'm a queen and I would like to thrive, thanks. Sign me right up. Plus. it contains phytosphingosine, a fatty alcohol which is a water-biding ingredient that helps compromised skin. (I mean, Paula's Choice rates it as "best" on the ingredient scale. Enough said.) Have they sold you yet? No?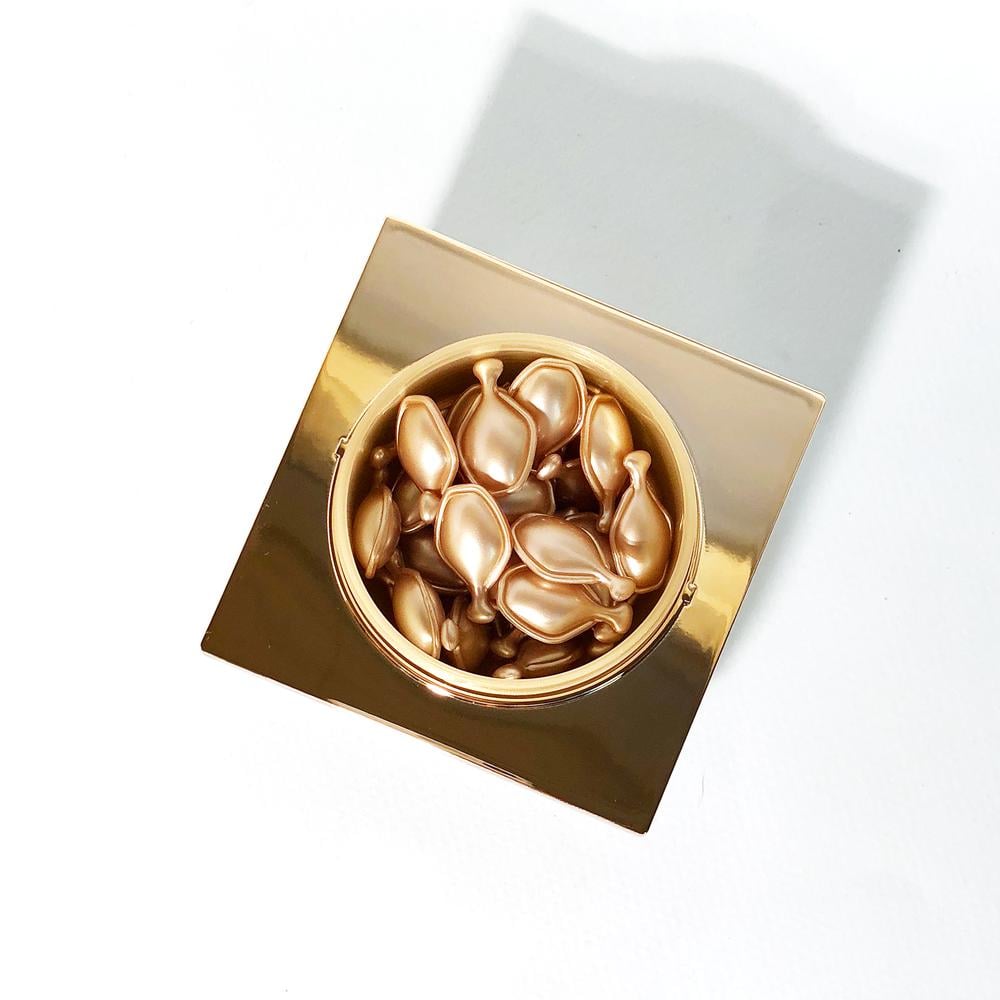 The ingredient they tout as the "star" of this fish fry called Sodium DNA. This ingredient is derived from DNA extracted from salmon sperm. Read: it's not the salmon sperm itself, which makes me feel a lot better about the fact that I plan on getting these capsules and slathering them all over my face. The description further explained that this ingredient in particular is trending in Korea because it gives the skin resiliency and strengthens it. I predict we'll see a slew of salsperm products popping up in the US soon, just on the basis that it's a huge ingredient in Korea.
And good news: if you thought this product would smell fishy, Shanpree said it doesn't. In fact, it smells floral. Delightful. The only downside is this isn't a vegan product, as you may have guessed.
Initially reading this email, I was horrified. But doing some research, I now fully want to get this product and test it for myself — it looks gorgeous, the ingredients seem legit, and the before and afters I saw were jaw-dropping. I don't tout these before and afters as photos only I'm privy to seeing, it's just that the images sent to me are extremely low resolution. I'm working on getting better options for you, trust me. Like I mentioned, though, the Marine Jewel Capsule is currently sold out, including the refill packs. Your only options are to pay hefty shipping fees by purchasing the product at Harrods or to sign up for the wait list.