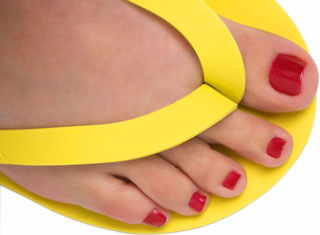 The season of open-toed shoes is almost upon us, and no amount of last-minute nail polish can disguise feet that have been ignored lo these last six months. Fear not, though, for I have devised a simple, time-saving plan for getting gorgeous feet that you'll be proud to show off. To get started, just keep reading.
To get started, you're going to need a cheap foot file, a towel, oil or lotion, and a bottle of bright nail polish. Here's how to do it:
Begin by applying the oil or lotion all over your feet, from your ankles down. Then, soak the towel in warm water, wring it out, and wrap it around your feet. Doing this on the couch in front of the TV or having a book on hand is recommended, since you'll need to keep the towel on for 15 minutes.
Unwrap your feet, and begin to work on them with your foot file, paying particular attention to the outside and bottom of your big toes, the balls of your feet, and your heels, because that's where skin tends to build up, and where people notice calluses.
Once you've gotten the dead skin off and your calluses are less noticeable, use the towel to wipe your feet off and remove any shavings. You can also rub the towel in circular motions across the tops of your toes and on the soles of your feet to gently exfoliate the skin there and increase circulation. Re-apply your lotion or oil.
Apply your bright nail polish. Cheery, attention-grabbing shades make your skin look healthier.