Renee Rouleau Rapid Response Detox Masque For Hormonal Acne
If You Experience Hormonal Breakouts, You'll Thank God For This Mask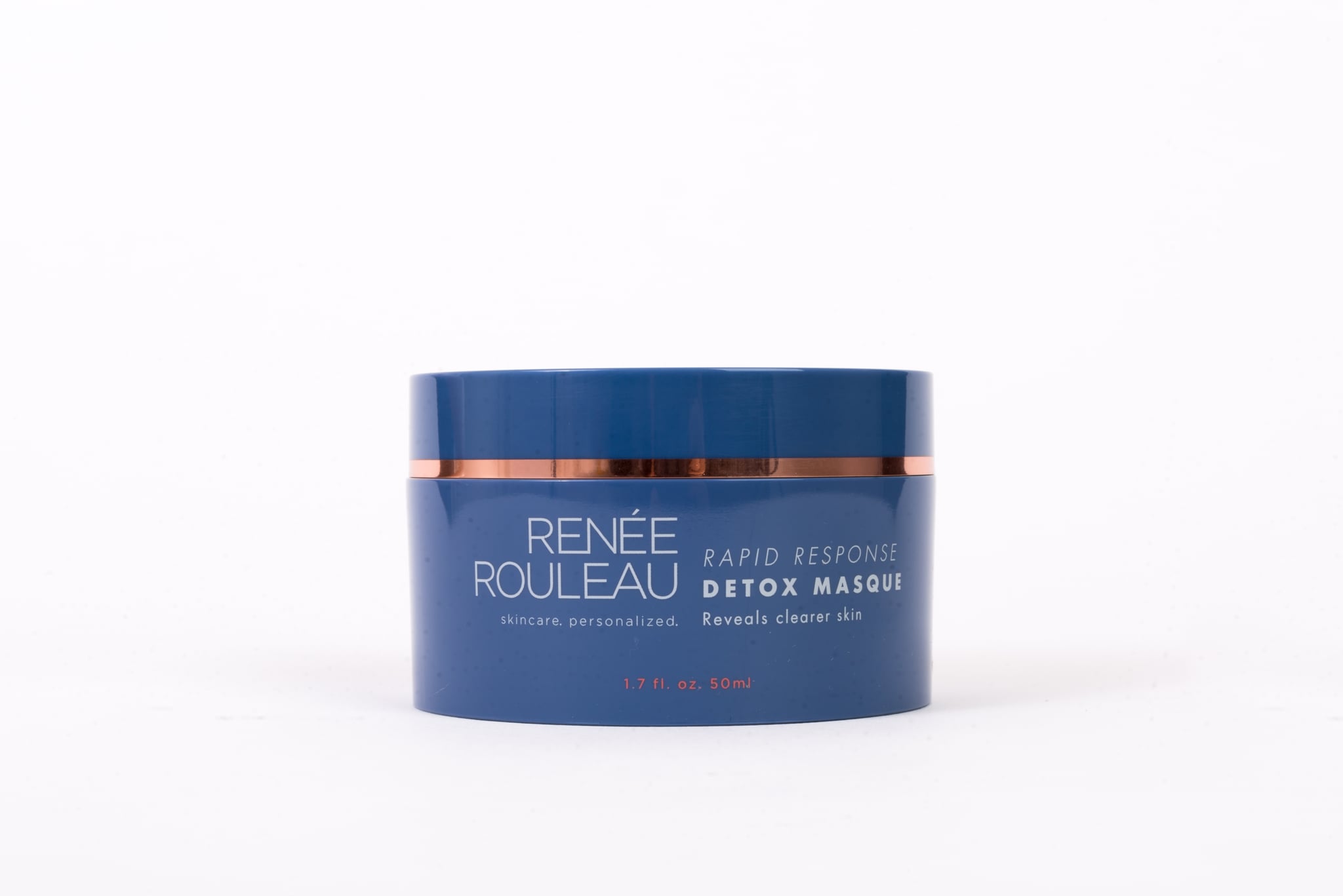 I've yet to find a woman who hasn't encountered this issue: you're about to embark on that time of the month, and your skin appears to be mirroring just how annoyed, inflamed, and pissed off you feel on the inside. (If you haven't, please DM me immediately so I can paint a full picture.) But I've found something that has helped my skin during this monthly visit — premenstrual, if you will — and it doesn't require removing my uterus. Yay! In fact, it's a face mask, and it's going to be something you will wish they sold at Costco. Someone just get me a giant vat of this stuff.
The mask comes from Renée Rouleau, Demi Lovato's go-to esthetician and Texas native. She has helped me with two major skin care woes in my life, issues that have plagued me. First, she is the one who identified that I had melasma when I was 25. Mid-20s me thought the dark spots on my forehead and cheeks, which could appear to be shadows to the naked eye, were remnants of my self-tanner that I wasn't able to wash off. (To be young and naive.) It was during a facial at her Dallas location that she gently brought up that I had melasma and informed me of what triggered it: my birth control.
This changed my life. Seriously. I got off birth control, something I was able to do without worry at the time. I stopped upsetting my melanocytes — the cells that produce melanin, or pigment, in the skin — with heated, aggressive treatments. (For the most part.) I wore a hat to the beach and aspired to stay out of the heat in general, knowing the temperature could set my melasma off. And although there's a little bit on my forehead, it's less noticeable than it once was.
Then, a few years later, I had a breakout after leaving the Coachella Valley. God help me. My cheeks were ridden with red bumps and pustules, something I knew wasn't normal, and I realized they recurred each time I left Palm Springs. My (since dropped) dermatologist was quick to prescribe me pills to kill whatever it was, but wanting actual answers, I wrote Renée, who is now based in Austin. She asked me a variety of questions about my weekend that helped her pinpoint what I was experiencing: acne cosmetica. Spending long days in the dry climate with heavy winds and an oil-based foundation meant my pores were being blocked by my foundation and increased my oil production, resulting in what looks like a breakout. She made an easy suggestion: wear powder foundation on your next trip. And you know what? I haven't had a breakout in the desert since!
Now you know that I trust this woman. She dug deeper than my dermatologist bothered to in order to find the right solution. This is incredibly helpful when you're trying to fix any skin issue you have; it is invaluable.
Visiting Renée over Golden Globes weekend, I got a chance to receive a facial and learn about her new products. First, she told me I needed to "put the fire out of my skin." It was inflamed as hell, and I had several cysts that I hadn't battled with in some time. And truth be told, it kind of comes with the territory when you're testing skin care products regularly, but she reminded me that I must be gentle. She took a minute to give my skin a chill pill in the form of a rubber mask, then introduced me to her newest baby, an anti-breakout solution for hormonal acne that won't dry out your skin: the Rapid Response Detox Masque ($61).
Is it too good to be true? No. It works. I've tested it for a month, and I'm currently wearing the sheerest foundation I own — a compact from Laneige — if that gives you any indication. It works to help with clogged pores that result from travel, hormones, and even sleeping with makeup on. Renée suggests it for premenstrual acne to help "disrupt the acne cycle." This is mask is lightweight and dreamy; when it dries, it doesn't feel hard, sticky, or taut. Renée suggests exfoliating before applying the mask, so lightly scrub or use a peel to help get rid of dead skin. The mask itself is a golden, shimmery gel. Slather it on and let the following eliminate your future breakouts: tea tree leaf oil is antimicrobial and an anti-inflammatory that helps with acne bacteria. Helping to stop inflammation is key when it comes to getting rid of your breakouts, which is why she also included lichocalchone, or Chinese licorice, which helps soothe the skin. Manuka branch/leaf oil helps with the microbial — or bacteria — count on your skin's surface, and she included a salicylic acid complex to help exfoliate and reduce oil.
This mask doesn't include parabens, synthetic fragrances, synthetic dyes, SD alcohol, or gluten, which my skin was thrilled about. I use it once a week, and it's recommended you leave on for about 15 minutes. (I tend to go over since I get distracted and forget I have it on.) Many masks take a few minutes to get off because they leave patches of product behind. This slides off the skin easily and leaves your with a glow afterward.
Investing in your skin, period, is always a good idea, but especially during that time of the month. My skin will take any help it can get!