The Halloween countdown is on! We've partnered with Sephora's Beauty Insider Community to introduce you to its Gallery page, where you can find a full spectrum of spooky and glam beauty looks to re-create.
Unless you're hiding behind a mask, no Halloween ensemble is complete without makeup to match. Scary, sparkly, or somewhere in between, a killer beauty look (no pun intended) can turn heads and help you secure the crowning title at any costume contest. With Oct. 31 fast approaching, it can also be the perfect solution if you're still scrambling to choose which character or theme you want to embody.
Luckily, we found the perfect destination for all of the last-minute Halloween beauty inspo you could ever want — and it's probably not what you're expecting! Instead of scrolling through Instagram or Pinterest for hours, turn to the Gallery page in Sephora's online Community. Populated with images from creative, talented, and passionate beauty junkies like you, it's overflowing with looks that span mythical creatures, colorful characters, and the perfect balance between glam and gore. The best part? Community members tag all of the products used so you know exactly how to recreate the looks you love. Read on as we break it all down.

What Is the Gallery?
In case you aren't already familiar, Sephora's online Community is a digital mecca where beauty-lovers can unite, share, and live out their passions. While the Conversations page allows users to exchange advice, tips, and product recommendations via a forum and the Groups page offers them a chance to interact with others who share their interests, the Gallery page is where things get truly visual. Practically overflowing with gorgeous looks, think of it as a curated feed of makeup and hair inspiration that actually feels attainable.
On that front, what truly makes the Gallery special is that you can instantly shop the products used in the look. It's all thanks to the handy product carousel below each photo. Noticed you share the same skin tone as the user in the photo and love her red-orange lipstick? You can own it, too — no guessing or trial and error needed. Rounding up the products you need for your Halloween look has never been more seamless or stress-free.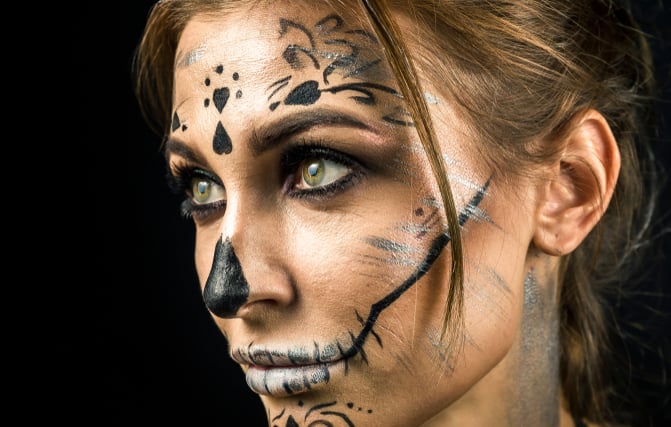 How Do I Use It?
When you first open the Gallery page, you'll see an assortment of the most recent featured looks. This makes it simple to catch a glimpse of what's trending, like this half-skull, half-glam look or this pop art zombie. If you already have a general idea in mind, however, you can narrow things down by entering a few keywords in the search field. Whether it's a cute unicorn or an "unzipped" special effects look, the Gallery has you covered.
Still weighing your options? You can save all your favorites photos in one place. Once signed into your Sephora account, simply click the heart icon next to each photo you "love." In the Gallery, the content you "love" is saved to your profile for safe keeping. You can also access all of your looks and favorites by clicking "My Looks," located underneath the search bar.
Can I Share My Own Photos, Too?
You bet you can! The Gallery page doesn't exist without user-generated photos, meaning your contributions are valued and highly encouraged. If you've already planned and perfected your Halloween look, spread the love (and the fawn-worthy inspo) by uploading it for other Community members to replicate. On the right-hand side of the screen, you'll see a button that reads "Add My Look" with a camera icon next to it. With a few simple clicks, you can upload and share your creation with the rest of the Community. It doesn't stop at Halloween, either; you can show off your holiday beauty look, your everyday look, or even new products or techniques you might be experimenting with.
Once you're a member of the Community, there are even more perks to explore. For example, there are Community sweepstakes on the Gallery page where users are randomly selected to win Sephora shopping sprees and other beauty prizes valued at $500 to $1000 — no favoritism or crazy artistry required. In fact, a little birdie told us there may be a sweepstakes coming up right after Halloween, so snap your pics and get ready to share. Head to the Conversations page in November to stay in the loop.