Should I Get Adult Braces?
Everything You Need to Know About Adult Braces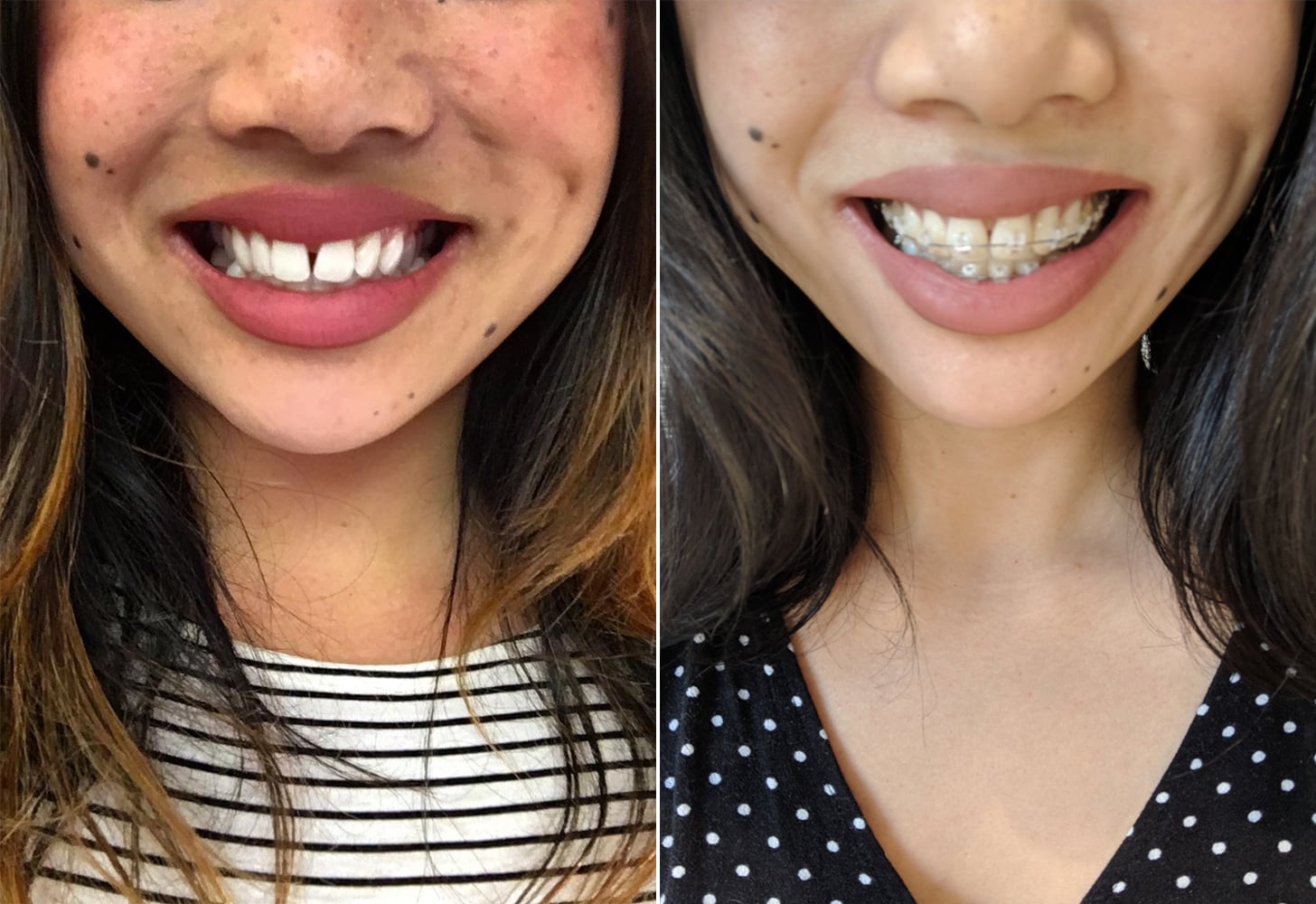 It's always been my lifelong dream to get braces. Strange, I know. Since I was a kid, I envied my classmates and their glistening, metal-covered teeth. Granted, they were also covered with remnants of their white-bread sandwiches from lunchtime. Yet they possessed an unmistakable "cool" factor — like a badge that represented adolescence. So, I often begged and pleaded with my parents for braces, but it was futile. They usually responded, "Kat, your smile is what makes you unique." In other words: "Keep dreaming kid; we're not spending $5,000 to put wires in your mouth."
Fast-forward 20 years. I was a full-grown adult. It was time to make my adolescent dreams come true. Apparently, I wasn't alone: according to a 2014 survey from the American Association of Orthodontists, adults make up nearly 1.5 million orthodontics patients in the US and Canada. So, right after my 30th birthday, I scheduled an appointment with an orthodontist. One consultation, a few awkward "before" photos, and thousands of dollars later, I was on my way to finally getting braces!
Now, each person has a different reason for wanting braces. For me, I have a small gap between my two front teeth that always made me self-conscious. I also have an overbite from sucking on my thumb throughout my childhood. While some have told me my gap and overbite were "quirky" or "cute," those comments were unhelpful. Actually, each time I heard them, they reinforced my desire for braces.
It's only been three weeks since I've had them, but I've already made some key learnings as an adult living with braces:
1. There are ways for them to be affordable.
We all know that braces aren't cheap, but did you know that affordable options exist? According to a survey done by the Journal of Clinical Orthodontics, the average price of braces runs between $5,000 and $6,000. Treatment using Invisalign aligners costs roughly the same as traditional braces. Prices will vary depending on where you live and what type of treatment your teeth need. I used my FSA funds and opted for traditional metal braces because they were cheaper in my case. On top of that, my orthodontist provided a 10 percent discount if I paid for my whole treatment in full.
If you are tight on cash, dentistry schools offer discounted pricing. However, the process takes much longer because an in-training dental student performs the procedure (under the supervision of a trained orthodontist).
2. You have to wear your retainers for the rest of your life.
Wearing your retainers each night is crucial for keeping your teeth straight and beautiful. Otherwise, they gradually revert to their original state, as teeth invariably shift once braces are removed. Retainers serve to prevent this natural tendency of our teeth to settle. Plenty of adults — including my husband, who wore braces for years — stopped wearing their retainers soon after their treatment ended. They still kick themselves today for failing to retain all the time and money they invested simply by not wearing their retainers.
3. Clear metal brackets stain easily.
During the decision process of which type of braces to choose from, I decided to go for clear brackets. They are less obvious than metal, and a lot of people don't even realize I have braces on. The downside to wearing clear brackets, though, is that the brackets stain rather easily. Now, I'm not saying you should stop drinking wine and stop living your life, but I will say that your wine and coffee habits can cause your braces to change color. The best tip I can offer is to rinse and brush your teeth as often as possible. I always carry a mini bottle of mouthwash and a portable toothbrush with me everywhere I go, which comes in handy after chugging coffee or wine.
4. Brackets on dental crowns are more likely to fall off.
I learned this lesson the hard way. After chomping on a delicious deep-dish pizza, I felt a few brackets pop off my back molars. I ended up eating one bracket and was able to spit out two others. After embarrassingly telling my orthodontist about my situation, she mentioned that when a bracket is attached to any other surface besides your natural tooth, it's more likely to fall off. Don't fret, though; they were able to glue it back on in a matter of minutes! And, yes, I'm still living on the edge and eating pizza on a normal basis. I'm just slightly more careful when chewing.
5. Appointments take up a lot of your time.
Having braces isn't just a monetary commitment; it will also take up a lot of your time. Aside from the initial consultation and actually putting the brackets and wires on my teeth, I didn't factor in the follow-up appointments or the event in which a bracket falls off. Thankfully, my dentist's office is only a five-minute walk from my office, so I am able to see them during my lunch break. During the 18 to 24 months that I'm supposed to have my braces, I have to see my orthodontist roughly every six weeks, which on average is about 16 30-minute appointments. Think about how many Netflix series you can binge-watch in that time!
6. The Waterpik Water Flosser is a lifesaver.
This handy-dandy machine shoots out high-pressured water to help clear braces of any extra food stuck between my brackets. When I'm at home, I use the Waterpik right after I brush and floss my teeth, and boy do my braces feel extra clean! I would emphasize that this does not replace flossing. You'll still have to floss each and every tooth at the end of every day.
7. You can keep your gap . . . if you want.
I've been on the fence about my gap. Over the years, I've gone through phases of either loving it or hating it. Right before I scheduled my initial orthodontist appointment, I hated it, but as soon as I got my braces on, I immediately changed my mind. Luckily, I learned that you can still keep your gap or remove it while having braces, but communicating with your orthodontist is key. I have until my next appointment to decide whether or not I want to put a spacer between my two front teeth and still be called "Gappy" by my lovely husband.
Braces are making a comeback, and I'm proud to embrace the brace! Sure, my wallet is aching and my teeth can feel a little sore from time to time, but I just keep telling myself that this temporary struggle will all be worth it! Either way, braces or no braces, your smile is your best accessory, so don't forget to flaunt it.
Image Source: POPSUGAR Photography / Kat Yazzie