Source: POPSUGAR Photography / Sarah Lipoff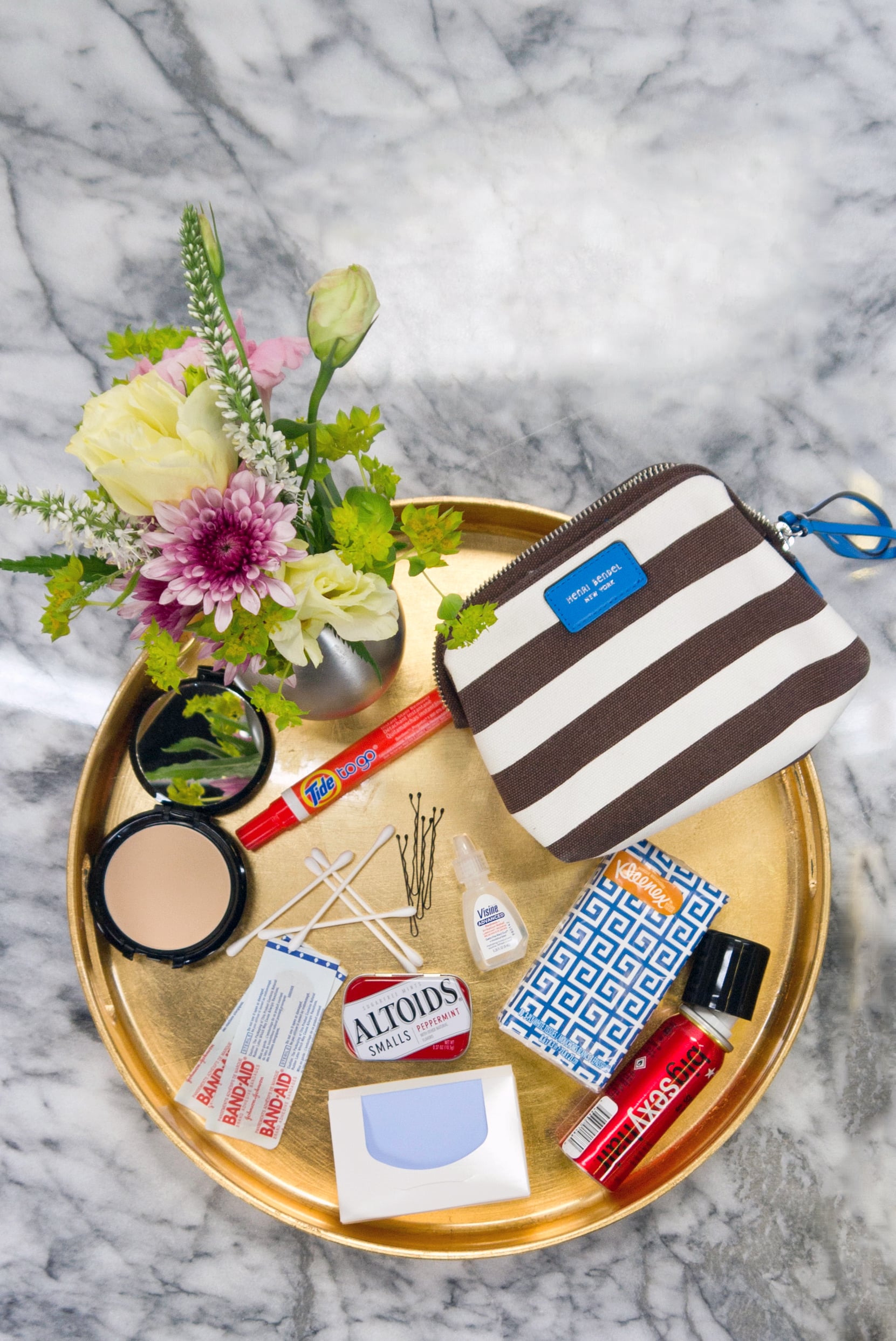 Beauty blunders can happen any day of the year, so we partnered with POPSUGAR Must Have to put together the ultimate wedding day emergency kit with a slick Henri Bendel cosmetics bag from your upcoming Must Have box. Hurry and get your July box now for yourself — or your bridesmaids — before they sell out!
You've solved the brainteaser of the year by finishing seat assignments for the reception, knocked your vows out of the park, and managed to spend some quality time on the phone with your great aunt before the big day — you've done a lot to get ready for your wedding. But because nothing ever works out the way you plan it, unexpected things can happen. Whether that aforementioned great aunt of yours leaves lipstick on your cheek or your hair gets a little flat before photos, here are all the items you definitely need to toss into your makeup bag before the ceremony.
Face Powder: The last thing you want is your makeup smearing. Keeping this on hand will enable you to touch up in a flash.
Tide To Go: You never know when you or one of your bridesmaids will get a noticeable stain. Clean it up fast.
Cotton Swabs: These are great to get rid of runny mascara and clean up underneath your eyes.
Hair Pins: Even if you're wearing your hair down, you may want to pull some of it out of your face during dinner or dancing. 
Tissues: One word: vows
Oil-Absorbing Sheets: A shiny forehead can really ruin wedding photos. Give yourself a quick touch-up before picture time.
Hair Spray: Hair can get flat after a few hours. Flip your head over and give yourself a spray for maximum volume.
Breath Mints: As cohost of the wedding, you'll be doing a lot of talking. Your mouth can get very dry and, well, funky.
Eye Drops: Because vows.
Bandages: Even if you broke in your wedding shoes, you'll be on your feet the entire day. 
More from POPSUGAR Must Have: Unwrap fabulous surprises from food, fitness, beauty, fashion, home, and more every month with your own POPSUGAR Must Have subscription!
Image Source: POPSUGAR Photography / Sarah Lipoff