What Is Double Cleansing?
Here's Exactly Why You Need to Be Double Cleansing
As POPSUGAR editors, we independently select and write about stuff we love and think you'll like too. If you buy a product we have recommended, we may receive affiliate commission, which in turn supports our work.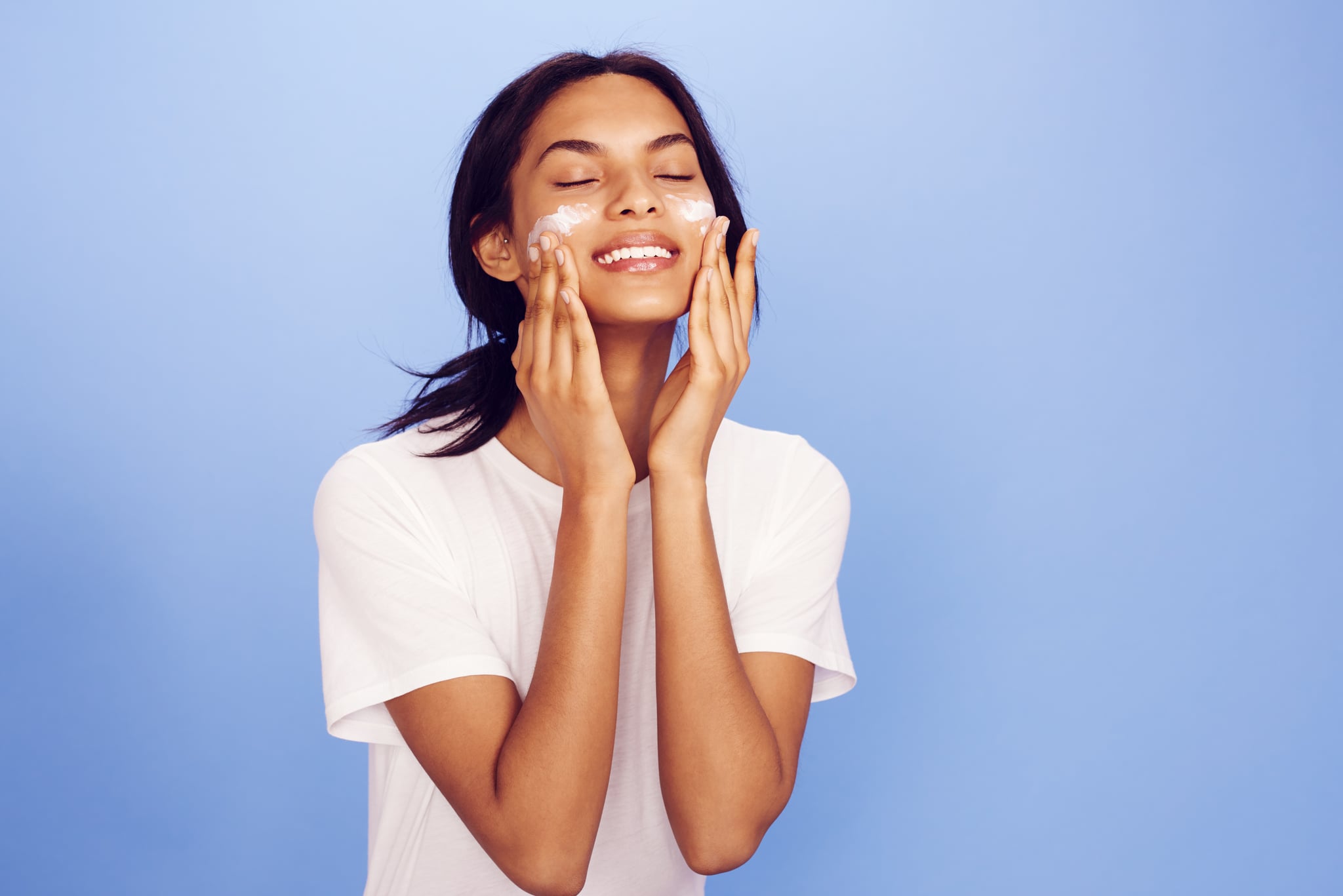 Double cleansing means exactly what you think: cleansing your face twice in the evening. And if you wear makeup, you definitely should be doing it! It's a simple and effective way to keep your skin in great condition. We tapped into the knowledge of Pixi's Global Makeup Artistic Director, Amanda Bell, to find out why it should be the basis of every makeup-wearer's beauty regimen.
What is double cleansing?
Double cleansing isn't using two face wipes instead of just one! It consists of first using an oil-based remover on dry skin, working this into the skin to lift off any makeup. It's then washed off and followed by a cream-based cleanser to ensure all makeup is thoroughly removed, and to aid hydration. This is done at night when you have been wearing makeup all day. One cleanse followed by moisturizer and SPF is enough for your morning routine.
What are the benefits?
Amanda says "double cleansing ensures that all last vestiges of make up and sunscreen are removed." This way the skin is completely clear from makeup residue and the second cleanse leaves the skin "soft and hydrated, keeping skin healthy and clear." Poorly-removed makeup is one of the main culprits of blocked pores and, subsequently, blemishes. With double cleansing you can be sure that you've removed everything.
Is it an effective method of cleansing for all skin types?
"Oil works like a magnet, effectively lifting dirt and pigment from the skin, so that skin is actually cleaner and fresher after using an oil cleanser as the first step," says Amanda. Those with oily skin should not fear that they will clog their pores with oils as they are being washed off, lifting all the grime as they go. You'll find they are doing the opposite to pore clogging! "The second element of the cleanse should be the treatment part, this is the cleanser that can improve the texture and treat the skin further." This is where you can use a cleanser to meet your specific skin type to improve the skin's texture.
How does double cleansing effect the products used after?
"It leaves skin superbly soft and also hydrated." Because of how hydrated and clean the skin feels, you will find you will use less serum and moisturizer because cleansing has done a good job beforehand. Prepped and clean skin provides the perfect base for serums and moisturizers to work their magic and absorb deep into the skin.
How does double cleansing help makeup application?
Good makeup always starts with good skin care! Amanda says that "with nightly double cleansing the skin is kept clean and the texture improves, it can potentially improve the clarity and hydration of the skin which means that essentially you need less foundation or base, as skin is fresh and flawless." Foundation always sits better when the skin is hydrated and has been well prepped. Doing a night-time double cleanse not only removes makeup and refreshes the face after a long day but also prepares the skin for the next day of makeup application.
What product is recommended for anyone looking to start?
You can use any oil-based and cream-based cleansers you like, but Pixi has collaborated with skin care expert and blogger Caroline Hirons to produce Pixi + Caroline Hirons Double Cleanse ($38), which contains the two steps in one tub, and is perfect for newbies! "It has been created for all skin types, even the most sensitive. Both cleansers work perfectly together so it takes the guess work out of the equation, you know that both cleansers work in complete synergy with each other. Leaving skin immaculately clean but perfectly prepped."
For those wanting to up their skin care game even further, use the infamous Pixi Glow Tonic ($15) after cleansing. Trust me, you'll be glowing.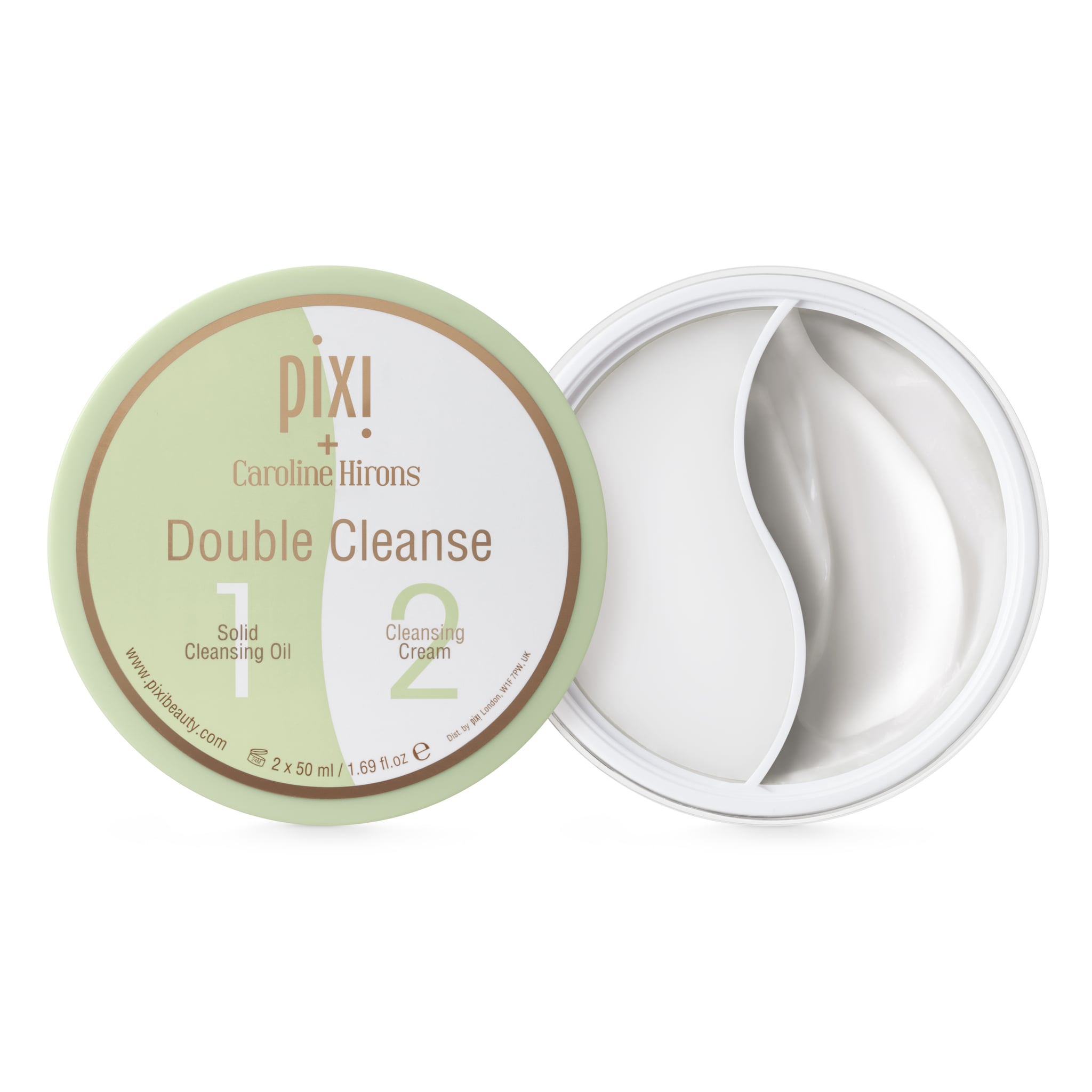 Image Source: Courtesy of Pixi