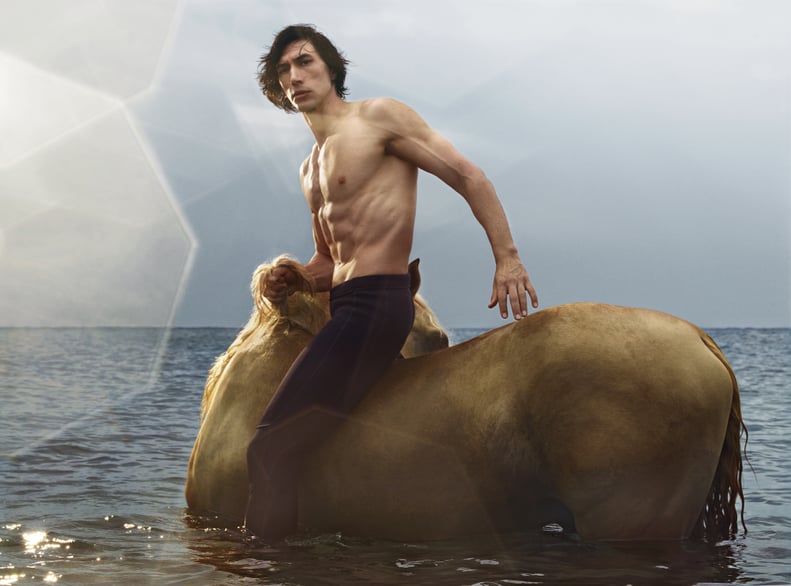 Burberry
Burberry
Update: One year after Adam Driver took the internet on a wild ride with his otherworldly Burberry ad, in which he dutifully transformed into a shirtless centaur, it seems the brand thought it best to pony up another. This time, the campaign features an extended version you didn't get to see during its first run for the cologne Burberry Hero, but fear not: it's got all the horsepower you loved about the original.
Saddle up and check out the new ad below, then keep scrolling to see its predecessor — and all the responses that came thereafter — for yourself. Can you spot the difference?
Original story:
As I write this, I am fresh off the heels of a two-week vacation galavanting across Greece. This is not to brag, by the way, but rather to segue into how in that time I learned my share of Greek mythology, including but not limited to that of the mystical half-human, half-horse creatures known as Centaurs. Allegedly, they were drunks. Fathered by Zeus. Responsible for the slay of the all-mighty Hercules. Just your standard stuff.
Still, despite the layers of factoids I unraveled on my trip, nobody prepared me for what would follow me back home. I'm talking about Adam Driver's latest cologne ad for Burberry Hero.
If you haven't an earthly clue what I'm talking about, allow me to explain: Burberry recently released a campaign video featuring a shirtless Driver swimming in the ocean with Zoolander-like precision, casually transforming into a centaur by the end. Again, totally standard (and we presume no Herculean half-god was hurt in the making of said ad). Behold the thirst trap that all of the internet neigh saw coming for yourself:
. . . Any questions?
"I wanted Burberry Hero to encapsulate modern masculinity, to play on the essence of primal human and animal instincts, channelling the duality between strength and sensitivity," the brand's chief creative officer Riccardo Tisci said in a press release. "[Driver] has this incredible depth in articulating what masculinity means today — how strength can be subtle, and emotions can empower."
Clearly, as all good things go on the internet, people have . . . feelings. From the collective swoons to the "WTFs," it seems everyone on Twitter couldn't quite reign it in. Alas, some of our favorite musings ahead: