What to Eat to Get Sexy, Flawless Legs — Straight From Alex Morgan
As POPSUGAR editors, we independently select and write about stuff we love and think you'll like too. If you buy a product we have recommended, we may receive affiliate commission, which in turn supports our work.
Let's face it: Alex Morgan has it all. She's a World Champion, Olympic gold medalist, she's married to the love of her life (that's Servando Carrasco of Major League Soccer's Houston Dynamo), and seemingly everyone wants to work with her — she has a bevy of partnerships, including ChapStick. (She'll never go without lip balm again!)
I sat down with Alex, who discussed her emergency kit and what it takes to get gorgeous legs, and she even gave a few tips on her workout regimen. Manicure and Pedicure Secrets
POPSUGAR: How do you keep them in check when you're constantly active, wearing tennis shoes and on the field?
Alex Morgan: Well, actually, my pedicures stay really easily. As long as when I get the pedicure I don't work out that day. I have to have soccer practice and then get a pedi afterwards. The next day it's fine — it seriously doesn't move for like three weeks!
PS: I know — what's the deal with pedicures staying so long?
AM: With manicures, it's like two days and they're gone. I literally just painted mine last night while watching Game of Thrones! Sometimes you just don't have time to get a manicure. Even though they take 15 minutes, it's just annoying. So I keep a little emergency kit with some colors in my bag.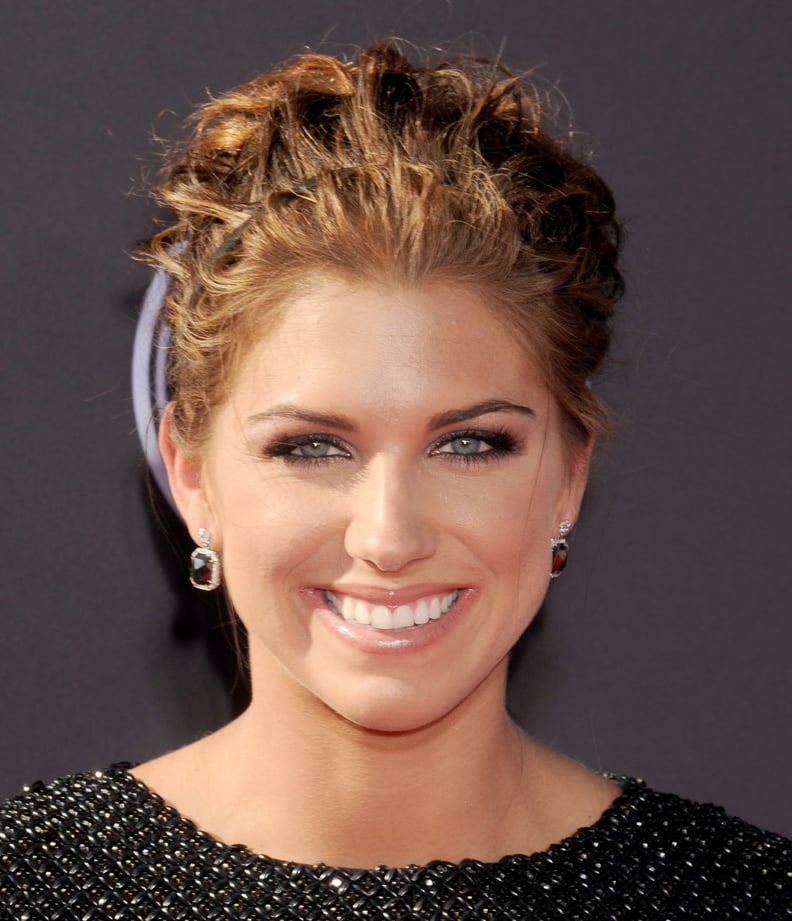 Beauty SOS
PS: That's great! So what's in your emergency kit?
AM: I definitely like facial towelettes because when you travel on the airplane, you need towelettes. So I go to the drugstore and get those. Also, ChapStick Dual-Ended Hydration Lock. It's important for me because I'm in different elements all the time: in altitude, not in altitude, by the beach, in the desert. It's important for me to have the different types of moisture for my lips.
And I like a good eye cream! I'm always looking for new eye creams, so if you have any recs . . .
PS: Estée Lauder has a new one that I'm obsessed with.
AM: Send that to me! What else . . . Since I recently started Invisalign for my wedding prep, I keep a toothbrush, toothpaste, and a little floss in my kit in my purse.
Another thing is if I don't want to take my makeup off with towelettes, when I'm traveling, I'll use those blotting papers. Boscia has great blotting papers!
PS: The green tea papers?
AM: Yes, those!
PS: Do you have an SPF that you swear by when you're playing?
AM: You know, I've heard different things about SPF, but I know [you should] stick with a good SPF 30. I like Alba Botanics. It's natural and paraben free. ChapStick also makes Sun Defense, but I'm sticking to the Hydration Lock now that it's available. It's definitely important to have SPF, especially since I'm out in the sun every single day. I've seen some retired soccer players that didn't take care of their skin, and it's not a good sight.
PS: Do you have a beauty idol? Who do you take a photo of to the salon or to your makeup artist?
AM: Typically? Jessica Alba. She's so naturally gorgeous, and her hair is always on point. Her face always looks so effortlessly put together.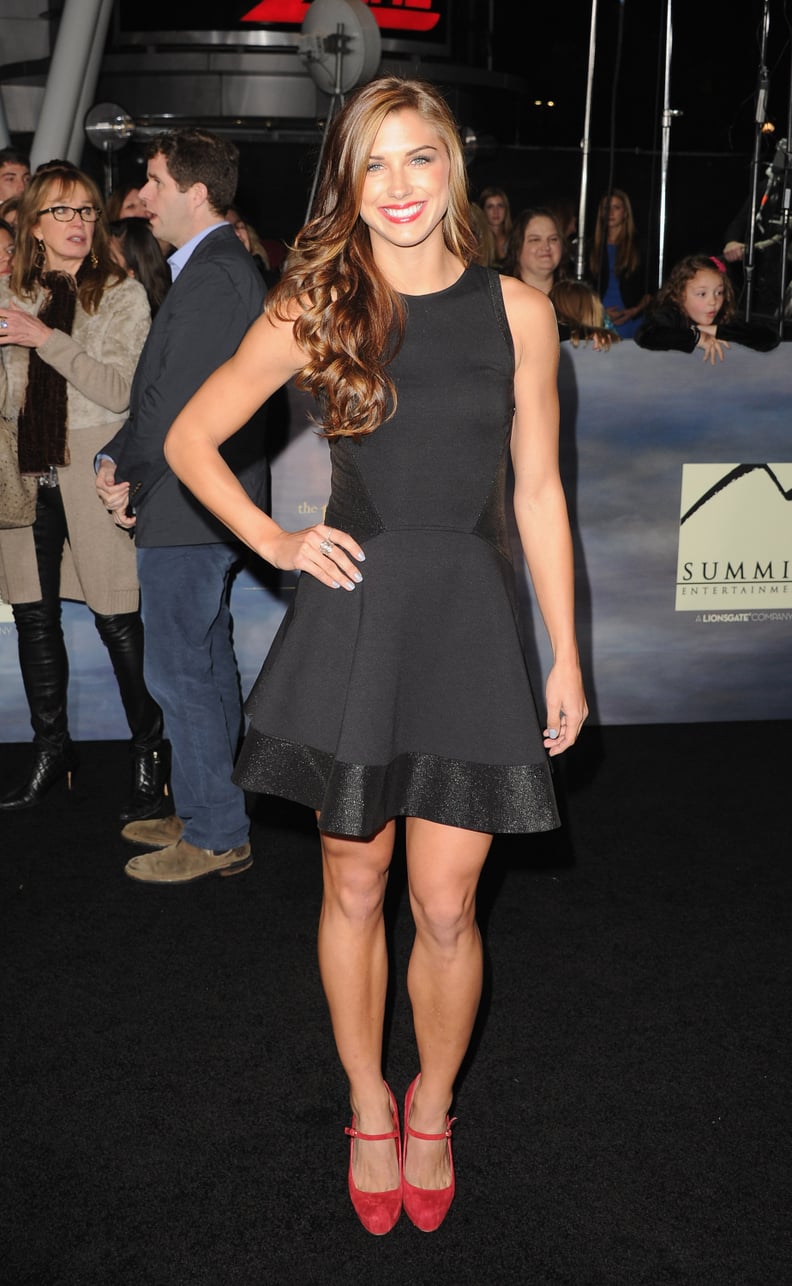 So That's the Trick to Getting Flawless Legs?
PS: Let's get this out there: you have fabulous legs. What are your tips for glam legs? How do you deal with bruises? Is there a shaving technique?
AM: Honestly, I think it's less about focusing on the shaving and the moisture and more about focusing on the vitamins and supplements. And make sure that you're not — I mean, this sounds weird — but that you're not anemic. And you have a good iron level, because when you are fatigued and you have low iron levels and you don't get in your daily supplements, you bruise easily. I don't bruise easily, and naturally I'm olive complected, so my bruises don't show up that easily.
I don't wake up and think "I need to shave so my legs look good"; I think it's kind of natural through my daily eating.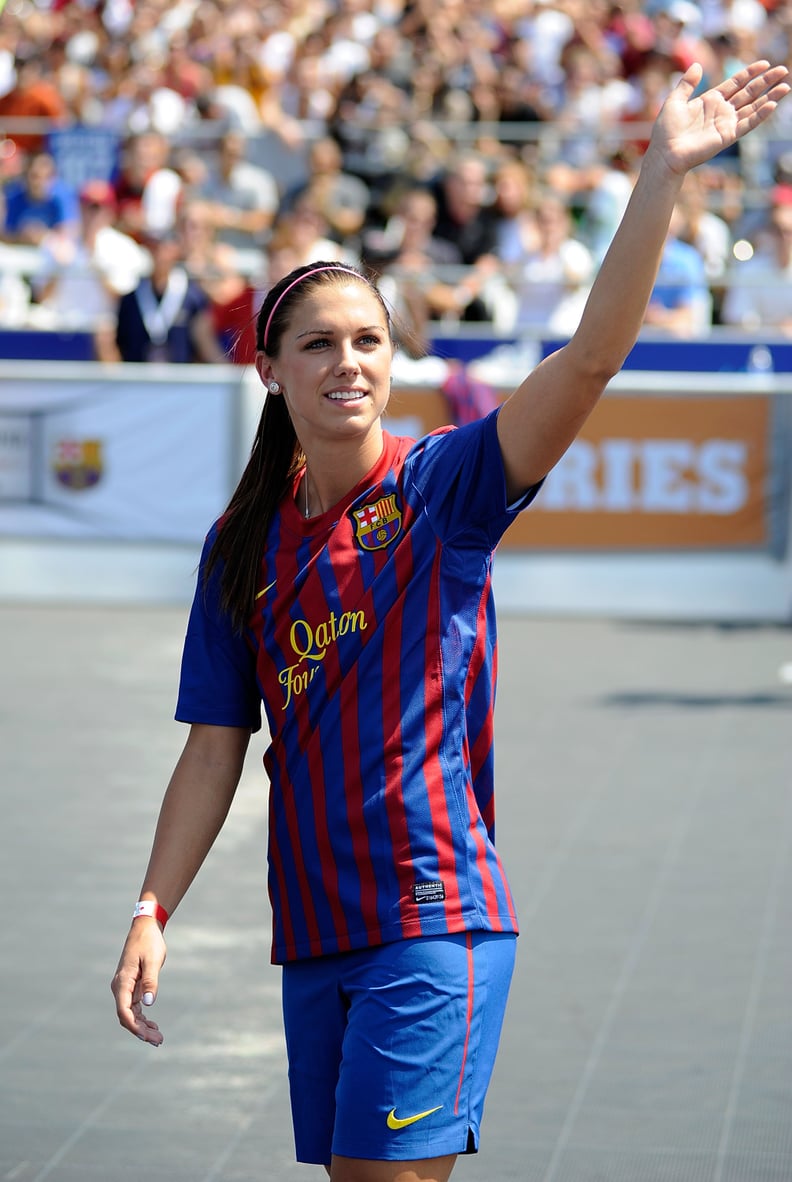 What's the Key to Staying in Shape?
AM: I love yoga! Vinyasa yoga. I do a lot with Thera-Bands and a lot of bodyweight stuff. It's not always about packing on the dumbbells or the bar, but it's also about making sure that you're balanced and that you're using your entire body to strengthen instead of just certain muscles. I've never tried CrossFit, but I've always wanted to. I've stayed away from it because I've heard of injuries happening. And I enjoy a good paddleboard session. You use every muscle in your body!
PS: We know sleep is important to recovery. How much sleep do you get per night, on average, during the season?
AM: I try and get nine hours. But I can't get less than eight. I think eight/nine and a half is my ideal.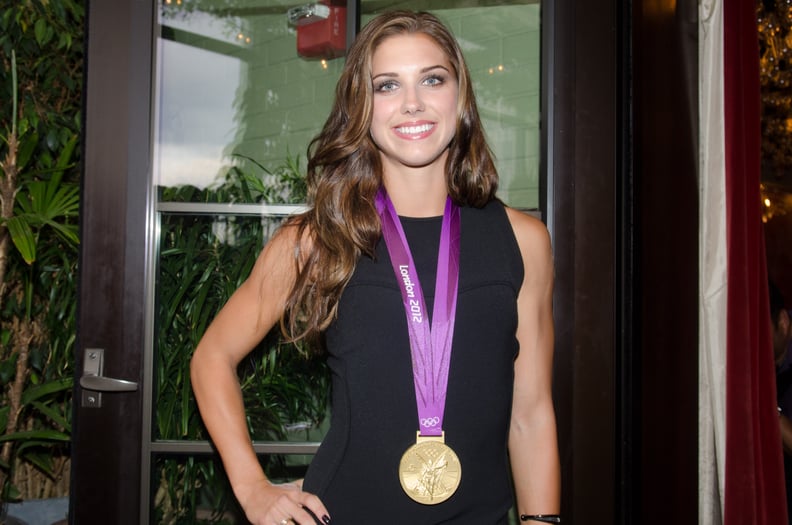 And What About All Those Followers?
PS: You have one million Twitter followers and half a million Instagram followers. First off, what does it look like when you get on Instagram?
AM: Sometimes I try to look at the comments, but . . .
PS: You can't even go through them all?
AM: I actually don't think I can go through them all! It stops! But it's really fun to interact with my fans. Instagram is a little more fun for me than Twitter because it's less thinking and more doing. It's seeing through your lens, whether it's scenery or a selfie.
PS: So what are you tips for taking the perfect selfie?
AM: It's hard to tap the screen to focus it while you're taking a selfie, but it is essential!