How This 1 Product Will Save Your Dry, Rough Skin (and Your Time)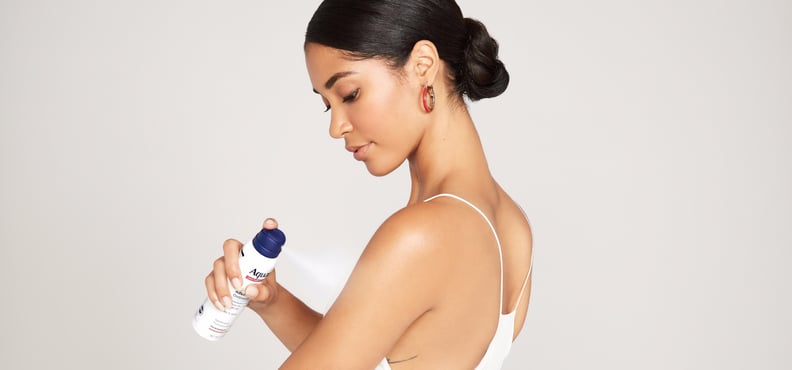 Every editorial product is independently selected by our editors. If you buy something through our links, we may earn commission.
You know what's better than an effective beauty routine? An effective beauty routine that's easy to breeze through and requires minimal to no touch-ups. If you have dry, rough skin and the thought of this level of beauty bliss seems like a distant dream, then today might be your lucky day. Aquaphor® — the brand behind one of the beauty industry's top-rated, widely loved multipurpose ointments — just introduced a breakthrough innovation. Prepare yourselves, because this one is totally unlike anything you've seen before. And we really mean that.

Introducing the newest innovation from Aquaphor®: the Advanced Therapy Ointment Body Spray. It's the brand's miracle-working, cult-favorite Healing Ointment, reimagined in the form of a fine, continuous spray that's ideal for covering large areas in a simple swipe. Eager to find out how it can be just as beneficial to your time-strapped lifestyle as it can be for relieving the discomfort of dry, rough skin? Read on to learn three ways to use it, plus helpful tips for multitasking.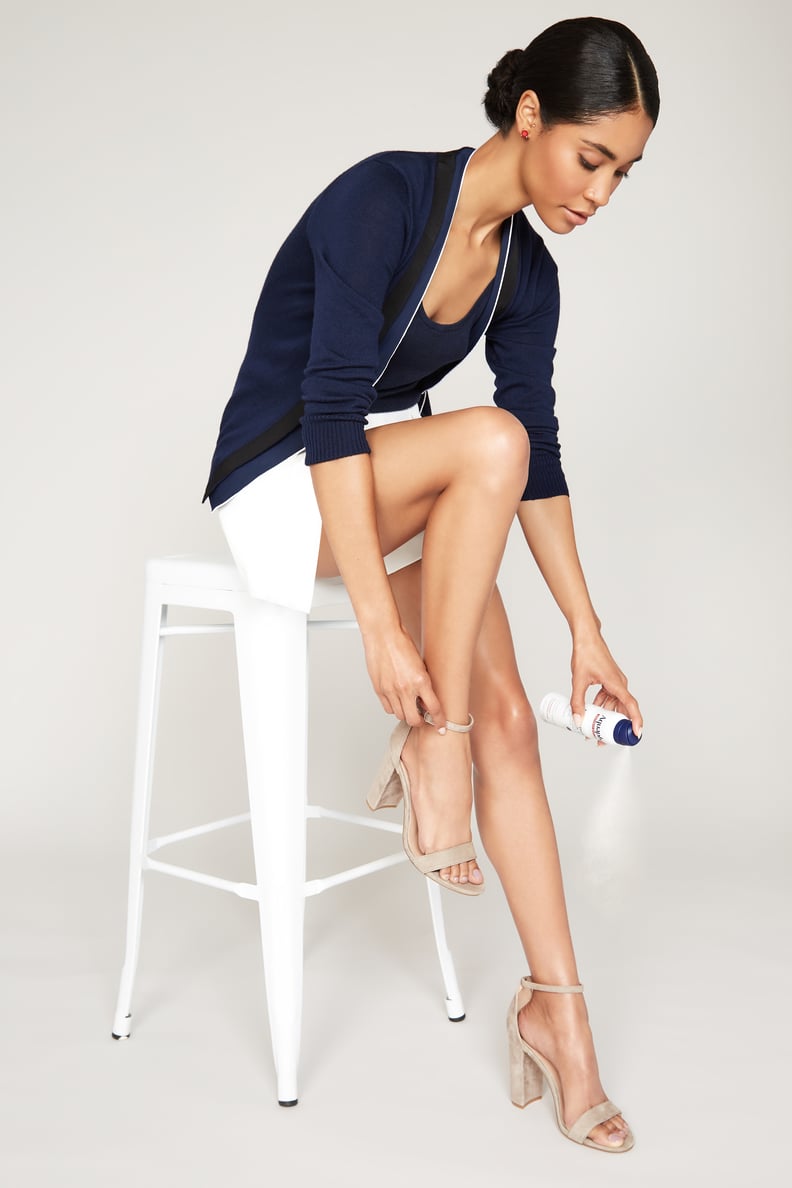 On Your Legs
In comparison to the rest of your body, legs can get extra dry — especially the lower legs. But because there's so much surface area to cover, remembering (not to mention, committing) to slather moisturizer on them postshower can feel like a daunting extra step. That's where the Aquaphor® Ointment Body Spray ($11) comes in. All it takes to cover your entire leg is a quick shake and continuous mist from three to five inches above your skin. Whether you choose to go up or down, in circular motions, or vary the length of your strokes, the ointment will remain equally effective and ensure moisture stays locked in for an entire day. You can even spray it as you step into your shoes when you're in a rush to get out the door.
Bonus: the formula, with a combination of hydrating and soothing ingredients — bisabolol, glycerin, panthenol, and petrolatum — leaves behind a naturally dewy, healthy-looking glow that's especially attractive on your legs. And better yet, it lasts all day.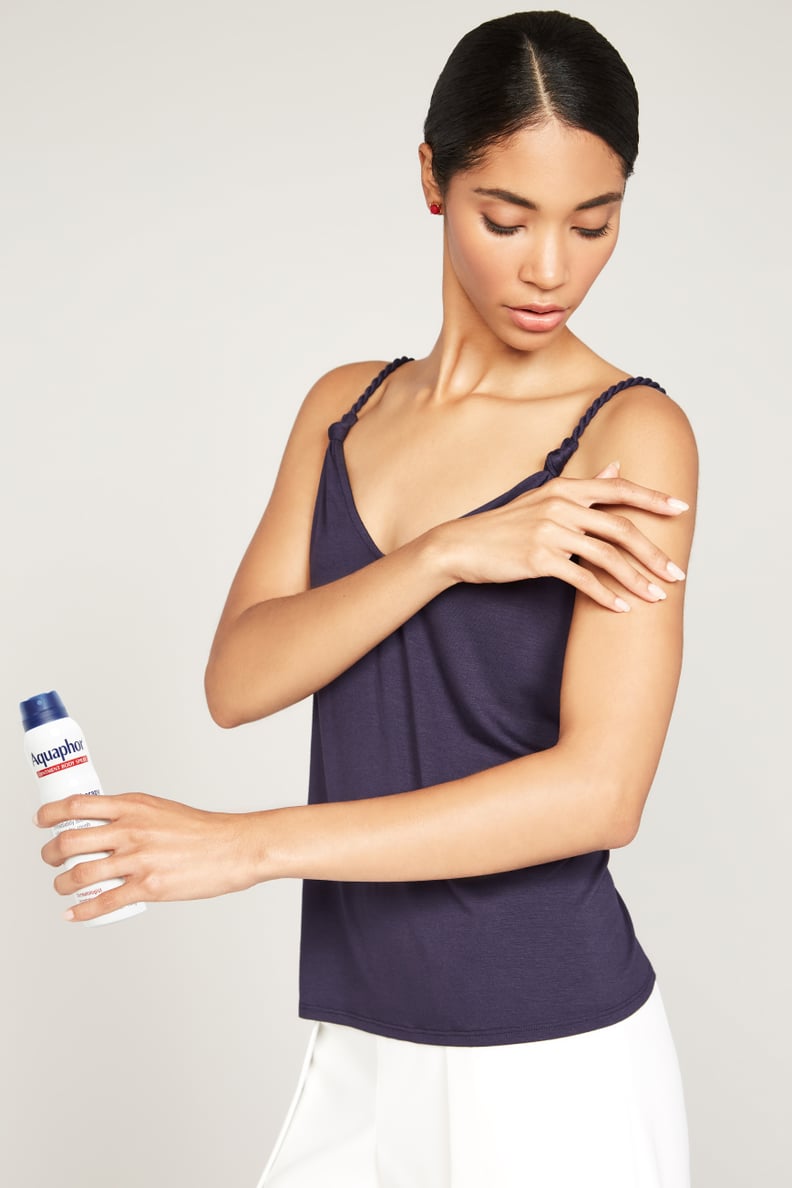 On Your Arms
Because arms are one of the most exposed parts of your body, they can easily affect your confidence or outfit choices. Daily use of the Ointment Body Spray will help reduce dry patches and roughness, plus prevent dryness from returning all day. Different from regular lotions that can feel too light or noneffective for those with very dry skin, the fine, even layer created by this ointment spray provides long-lasting moisture that truly makes a noticeable difference.
Similar to your legs, you can cover your arms in a few quick strokes for complete protection. We even suggest replacing your desk drawer or glove compartment lotion with a can of this when you need an extra boost of moisture before heading into a meeting or after a long day of running errands. For those very dry, cracked spots (like your elbows or cuticles), complement the spray with the staple Healing Ointment.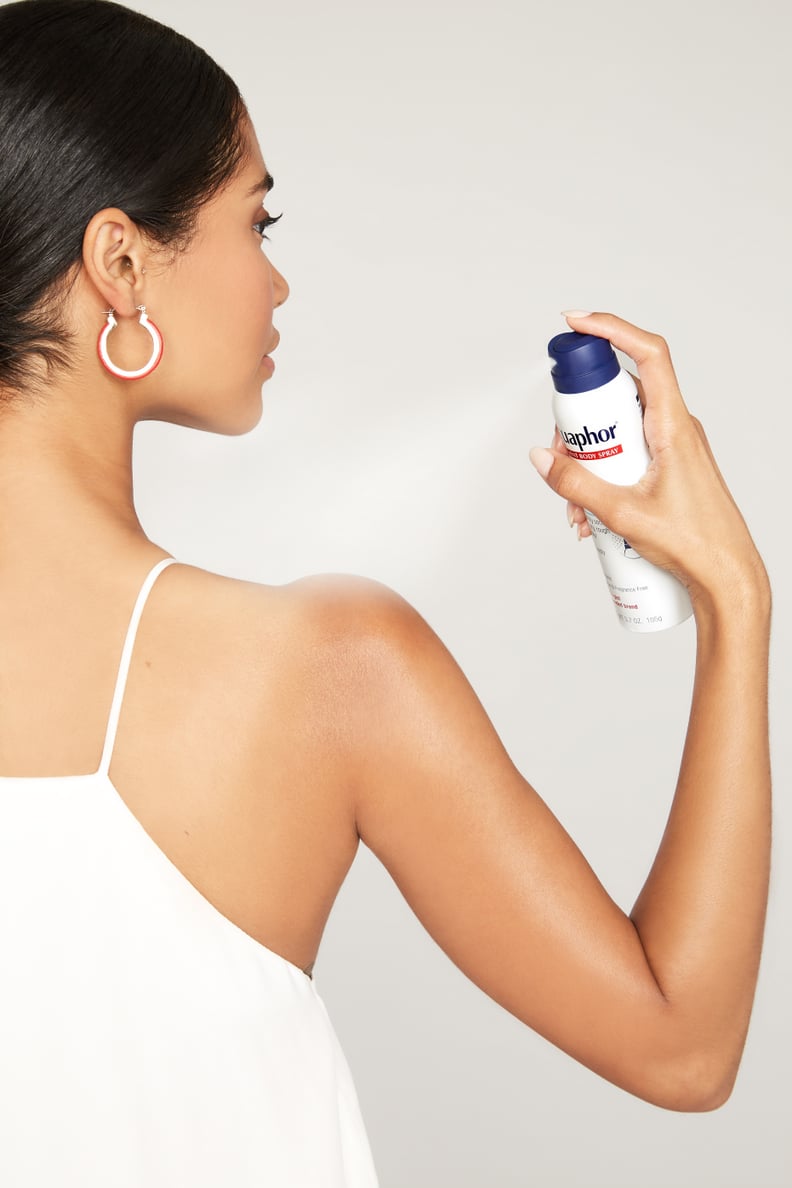 On Your Back
Isn't it ironic that one of the largest areas of our bodies is the absolute hardest to take care of? With the Aquaphor® Ointment Body Spray, gone are the days of awkwardly contorting your body in painful positions that don't even guarantee coverage. The innovative application format allows for an even, continuous spray that'll hit those hard-to-reach areas of your back (right between your shoulders, for example). It even sprays when upside down!
Pro tip: While rubbing the product in ensures a truly even layer of coverage, it's not necessary to be effective. So no need to worry about those especially difficult-to-reach areas.

Credits:
Photography: Diggy Lloyd
Art Direction: Melissa Medvedich
Production: Andi Hensley and Kerrie Cline
Hair and Makeup: Brenna Drury
Wardrobe Stylist: Erin Turon
Model: Jordan Andrews