DIY This Easy Gatsby-Inspired Nail Design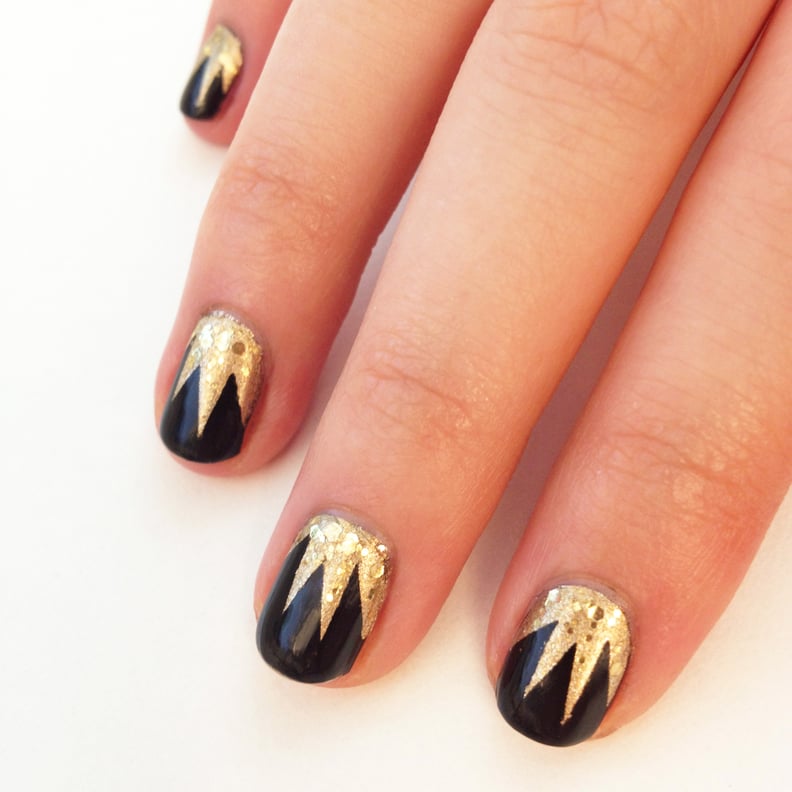 From the amazing soundtrack to the designer costumes, there's plenty of Jazz Age inspiration from The Great Gatsby, and I turned to the art deco style of the period for this striking nail design. This look is surprisingly easy to DIY; all you need are scissors, tape, and black and gold polish.
First, I applied two coats of Nails Inc. Black Taxi ($10) over my base coat. Once my nails were dry, I started cutting pieces of tape into small triangles to form the angular design. (You can see how the technique works from this starburst nail art tutorial.) I placed the cut pieces of tape onto the parts of my nail that I wanted to stay black, using three pieces of tape per nail to create four gold points shooting out from the base of my nail. Once the tape was laid down, I went over my nails with the gold-toned Deborah Lippmann Nefertiti ($19). I made sure to rip the tape off right after, or else you won't get crisp lines as the polish dries. Next, I added a little flapper flair with the glittering Deborah Lippmann Boom Boom Pow ($20) on top of the gold polish. Seal everything in with your favorite top coat, throw on a sparkling headband, and you're ready to hit a Gatsby party.