This 21-Year-Old Artist Turns Body "Flaws" Into Beautiful Rainbow Art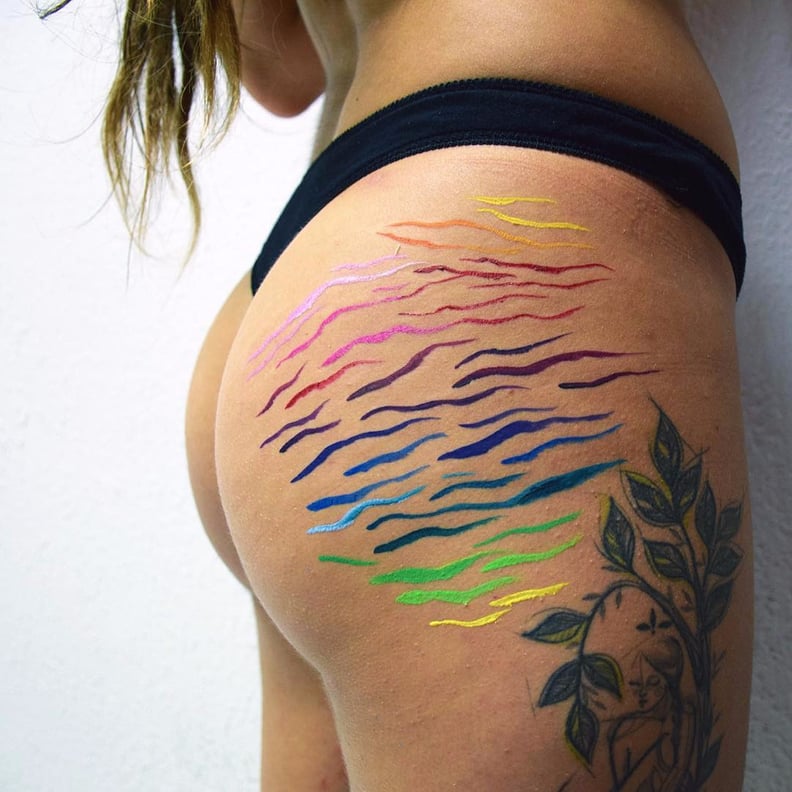 Cinta Tort Catró, who also goes by the name Zinteta, is a 21-year-old artist from Barcelona who is not only is taking the art world by storm, but is also using her talents to protest sexism. She highlights her inspiring artwork on her Instagram account, where she's leading a conversation about body "flaws." By filling in her subjects' stretch marks and painting rainbow period stains, Cinta is beautifying the things women are frequently told to change or feel embarrassed about.
"I have not always felt comfortable with my period and stretch marks. Overall, I have not always felt secure with my body," Cinta told POPSUGAR, sharing that her own past of feeling ashamed over her own figure heavily inspired her work. "Over the years, and after internal reflection, I saw that if I did not accept anything [about] my body — hair, stretch marks — I could never love or accept me."
Cinta's projects, which she calls "artivism" (art + activism), all explore topics like feminism and anti-racism. "I try to break these injustices," she said, "When I make my art it's for me, to show what's affecting me on the inside. I like that I can reach other people and they are reflecting, it's a precious process."
As for her most recent works focused on rainbow stretch marks and menstruation, she aims to show that "all bodies are equally valuable." She continued, "It's very important to me that people are conscious that we are all different, that our bodies are different, but everyone has beauty and their own essence. We need to fight against the aesthetic pressure and accept once and for all that we are different and in diversity, there is richness."