What It's Like to Go to Paris Fashion Week as a Celebrity
I'm sitting across from Ashley Benson and two friends at a corner table for brunch, talking about everything from beauty to food, like old friends might. It would be a normal Saturday for a reporter, save for we're at LouLou's in Paris, located a stone's throw from the Louvre in the courtyard, where we're about to be treated to a private tour.
As we sit under the sun, Benson reveals that she uses hair extensions to get her short, blond bob — two small tape-ins that frame the front of her face, add length, and introduce a pop of blond. She makes me feel better about my entire head of fake hair. And despite being a self-proclaimed novice at makeup, Benson carries foundation and a Beautyblender in her purse at all times.
I'd never think I would be casually getting brunch with the actress, but I'm here attending Paris Fashion Week with her and makeup artist Sir John, who are both ambassadors for L'Oréal Paris. The brand told me I'd be spending some time with them during my five-day trip, but what I didn't realize was that I'd be spending most of my time with them — not just 20 minutes for an interview.
Ever wonder what a week with a celebrity is really like? Here's what transpired during those five days at Paris Fashion Week.
Day 1
12 p.m. After touching down at 7 a.m., I'm finally situated in my room in the Opera district. I'm preparing for lunch at the trendy L'Avenue restaurant. Upon arrival, I'll be meeting up with Benson and her manager.
Stationed at an outside table together, Benson is warm and friendly. She is chewing on a toothpick, which I learn tastes like cinnamon and tea tree oil; Benson says she uses them for calming her anxiety. (Upon further research, they're typically used to freshen breath and in some cases to help quit smoking.) We exchange stories about everything, really: Scientology (which she is not affiliated with), traveling, well-done salmon (which we both ordered), upcoming projects she has in store, including Her Smell, which debuted at the Toronto International Film Festival, in which she costars with Elisabeth Moss, Amber Heard, and Cara Delevingne.
L'Avenue is a paparazzi's dream; it's not so much a sixth sense that you're going to get photographed, it's more like it comes with the territory. As we're leaving lunch, Benson sees a camera; she slips away to the car as we follow after.
2 p.m. To wind down our lazy afternoon, we grab a drink at Hotel Costes before heading to the Mandarin Oriental Spa for a massage. At Costes, Benson picks up a bottle of room spray. "I spray this on my clothes. I love it," she says. She's remodeling her LA home and mentions she's using the decor and ambience of the hotel as her inspiration.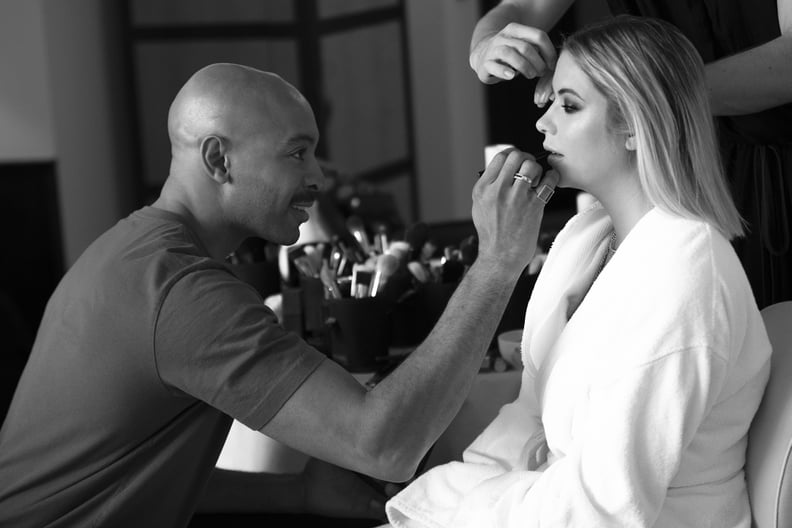 Day 2
7 p.m. The beginning of day two is spent lounging, but the evening is our first day attending a show: Isabel Marant. Everyone is excited for this one, given the relationship Marant has with L'Oréal Paris. The designer launched the five-piece Wanted collection the week before, including an eyebrow gel, an eye gloss, and, my personal favorite, a siren-red lipstick.
The show, which is set up at the Tuileries, embodies what many envision a disco at a high school gym might, complete with silver streamers and hardwood floors. Benson arrives decked out in one of Marant's Fall 2018 ensembles, with a splashy blue eye created by Sir John. Asking him about the look, he flubs and calls glitter "disco." Fitting, to say the least.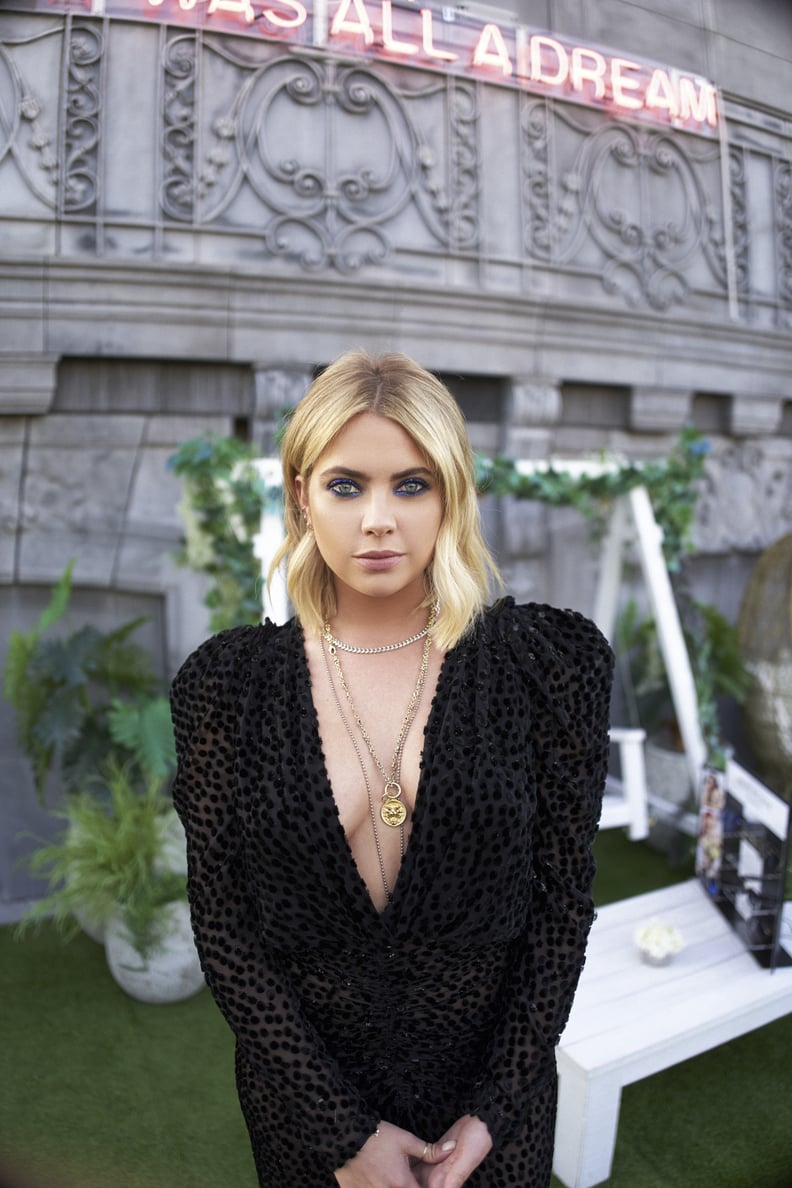 Day 2
9 p.m. We've made it inside the venue for the show, which is running behind. Here's the thing about sitting front row at a fashion show: you're subject to any and all photos taken of you, almost as a gift back to the designer. If they dress you and seat you front and center, you hold up your part of the deal and let yourself be photographed. Benson doesn't mind, even when a woman in a rainbow getup approaches her for not one but four different personal photos. Although, when asked if she does this often, she says it's not her scene. "I hate waiting around," she replies happily.
Witnessing this, I think about how this must feel so transactional for Benson. People rarely speak to her during these encounters, at least during the several exchanges I've seen; they want the money shot to post online. It's sad and empty. Benson is unfazed.
During the exchange, she's also getting filmed and photographed by photographers, at times with reckless abandon. I now understand why those front-row photos often feature celebrities with a deer-in-headlights gaze in what looks like a Renaissance painting.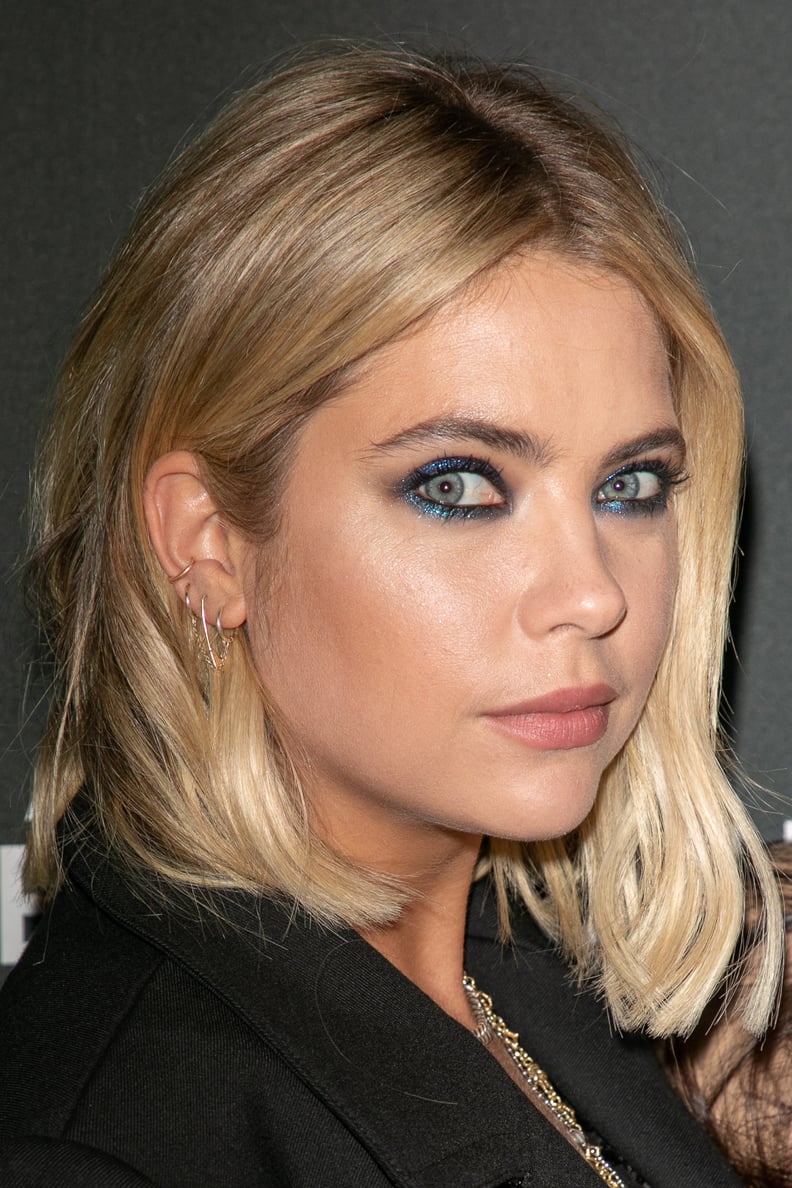 Day 2
9:45 p.m. The show has commenced and is full of metallic, denim, and puffy sleeves. The music is '70s hits, opening with Donna Summer's "I Feel Love," which I'd say is a great way to get everyone in the mood to party. Afterward, Marant takes her own walk, heads over to the wall of metallic streamers, and pulls them back to reveal the afterparty.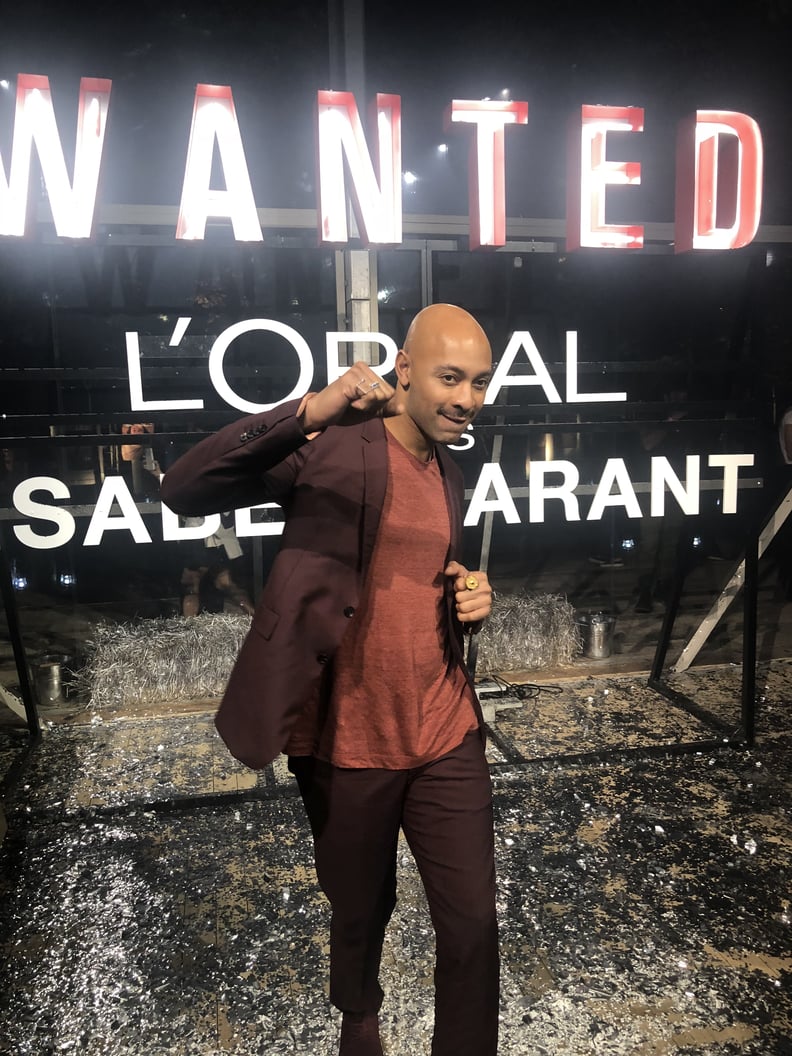 Day 2
10 p.m. Benson, somehow, slyly slips out and heads to the Privé Revaux party, held at Cafe de l'Homme by the Eiffel Tower, while myself and Sir John grab a drink and dance, witnessing plenty of Whos take a moment to be photographed.
For anyone in the beauty industry, Sir John might be intimidating. It's hard not to worry about what you look like around him, but it's unnecessary. He has just arrived in Paris after a jam-packed week; that weekend he accompanied Beyoncé at the On the Run II tour in Los Angeles, then flew to his hometown of Buffalo, NY, shortly after to be with family. He hasn't missed a beat all day, despite hopping off the plane and heading directly to lunch with myself, Benson, and L'Oréal executive Mora Neilson at The Four Seasons before the show. He's full of little Bey tidbits, although he's careful to protect her. Our editors wanted to know how tall she was IRL.
"She's 5'7" — she's not that tall," he says. I mean, Bey does look larger than life; it's hard not to think of her as a statuesque goddess. "She has a tiny little head and wears a ton of hair."
He shares that she took over two apartments at a hotel in Paris when shooting "Apesh*t" and that it's impossible to hide from the paparazzi since plenty of hotel employees tend to dish on her location. In terms of the upcoming visit we'll be taking to the Louvre, in which we'll have a private tour, he quips, "I mean, I think I had the most iconic Louvre experience you can have, right?" I have to agree.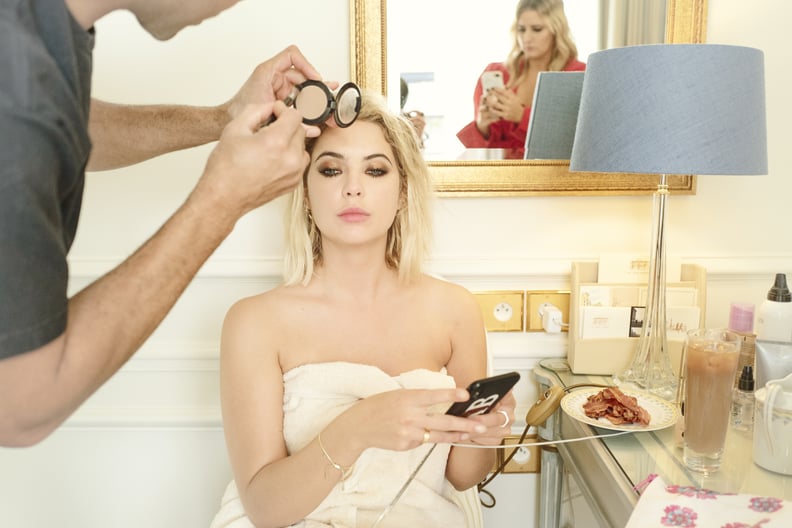 Day 3
7:30 a.m. Despite our late night, we're up with the sun as Benson will head to Balmain. (Front row, of course.) We don't need to leave until 11 a.m., but the call for hair and makeup is 7:30 a.m.
Upon entering her suite — the door is propped open — there are bags of the designer displayed throughout the entryway. Outfits, shoes, and the like are strewn about. Benson greets us in a towel, like we're a couple of old girlfriends who didn't just meet 48 hours before. This is fairly typical of Benson: she's unguarded and open, even with acquaintances.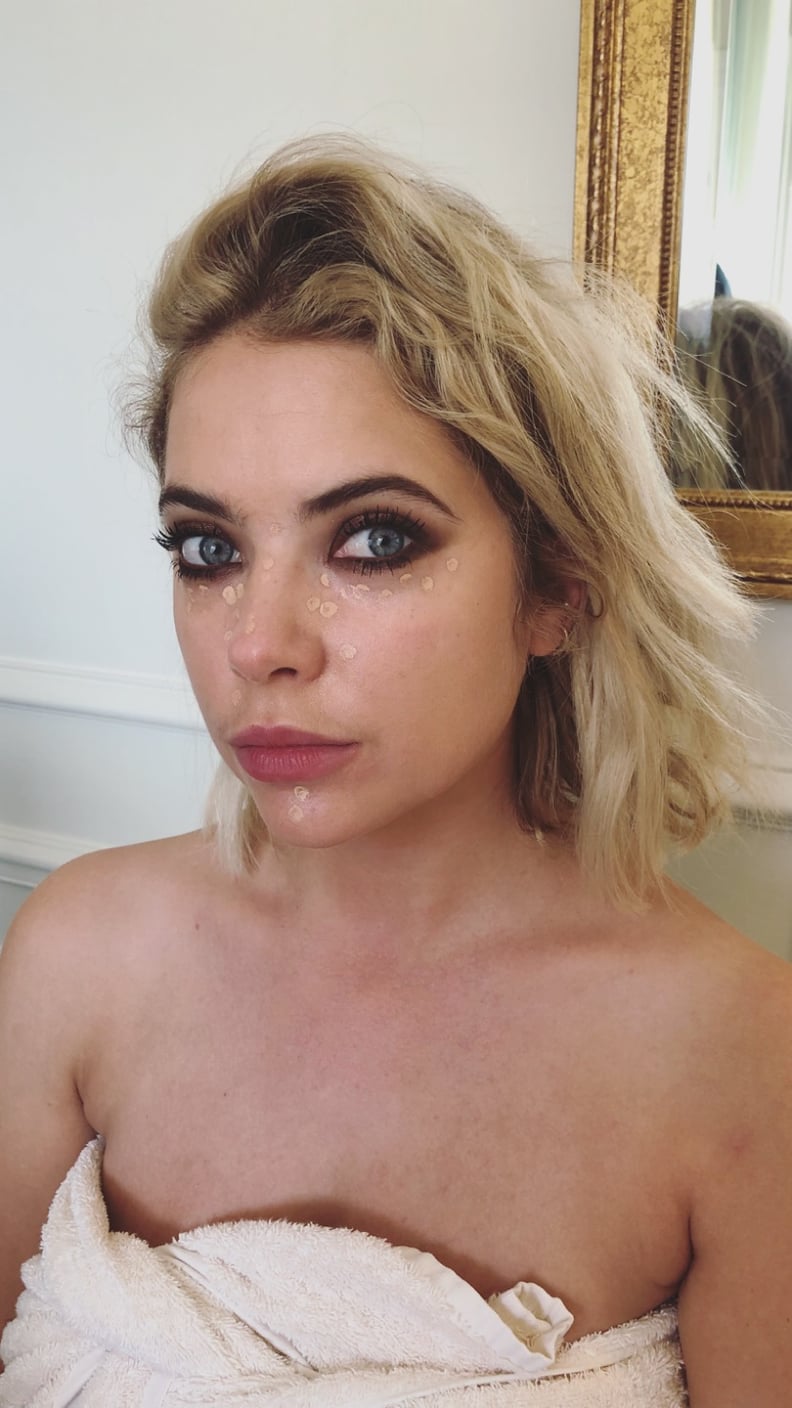 Day 3
8:30 a.m. The suite could be straight out of a film. Corner room, with a gorgeous balcony overlooking the Paris skyline. Benson puts on a playlist from Spotify and orders us all breakfast: french toast, bacon, OJ, coffee. She snacks, still in her towel, while Sir John does her face: brows first, then eyes, finishing with a light application of foundation — L'Oréal True Match, of course. It looks like she's wearing virtually nothing on her skin, which makes me feel better about the fact that I wear foundation religiously because of my melasma.
Day 3
10 a.m. When it comes to outfits, Benson sifts through the Balmain bags and asks me to help her decide from three choices. We both think the blue and black blazer is the look, especially with the slicked wet style she's going for with her hair. Her eyes are adorned in bronze smoky shadow. I know Benson has been to a few fittings while in Paris, but I'm surprised that a stylist isn't on hand to make sure everything is perfectly applied and accessorized. Like I mentioned, though, Benson does not seem like the fussy type.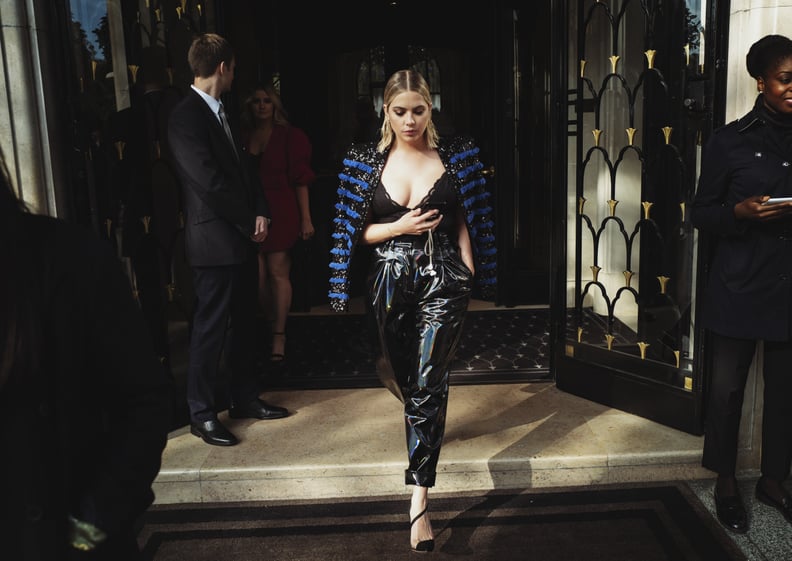 Day 3
10:45 a.m. We're ready to leave for the show ahead of time, which is surprising; I'm unsure if this is actually the norm for Benson. "I don't want to be late," she says. You can tell she's eager to leave.
On the way to the venue, we experience standstill traffic, which does not behoove us. Not wanting to risk not being admitted, we all exit our van and walk two blocks.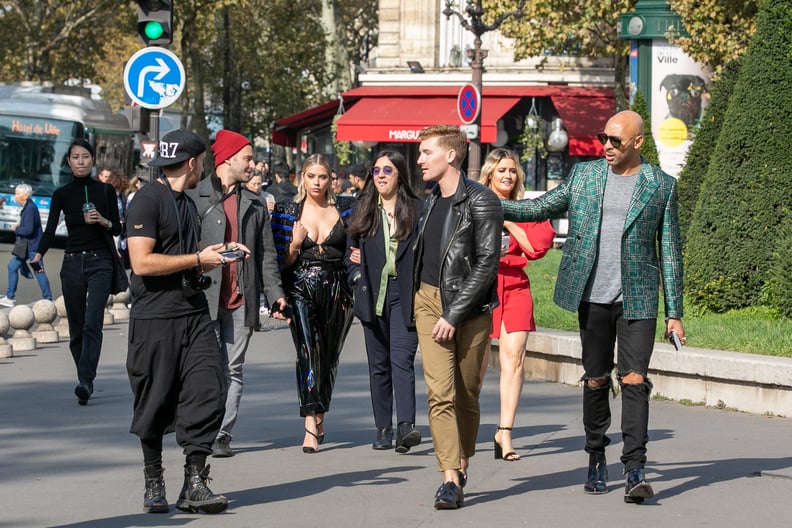 Day 3
11 a.m. Paparazzi have tracked the car and are already in front of us on the street, snapping and filming Benson. As we near the venue, she stops for a few street style photos in front of a wall made of photographers, then makes her way through a packed crowd for the entrance.
As she's working her way through, people are calling her name. One teen fan is trailing her, holding her arm as far in front of her and Benson as possible, attempting to get a selfie — all while the actress is attempting to navigate her way through a standstill crowd. It seems bizarre and frankly unsafe that she doesn't have security or a bodyguard. Her manager has taken the lead and makes sure she makes it through unscuffed.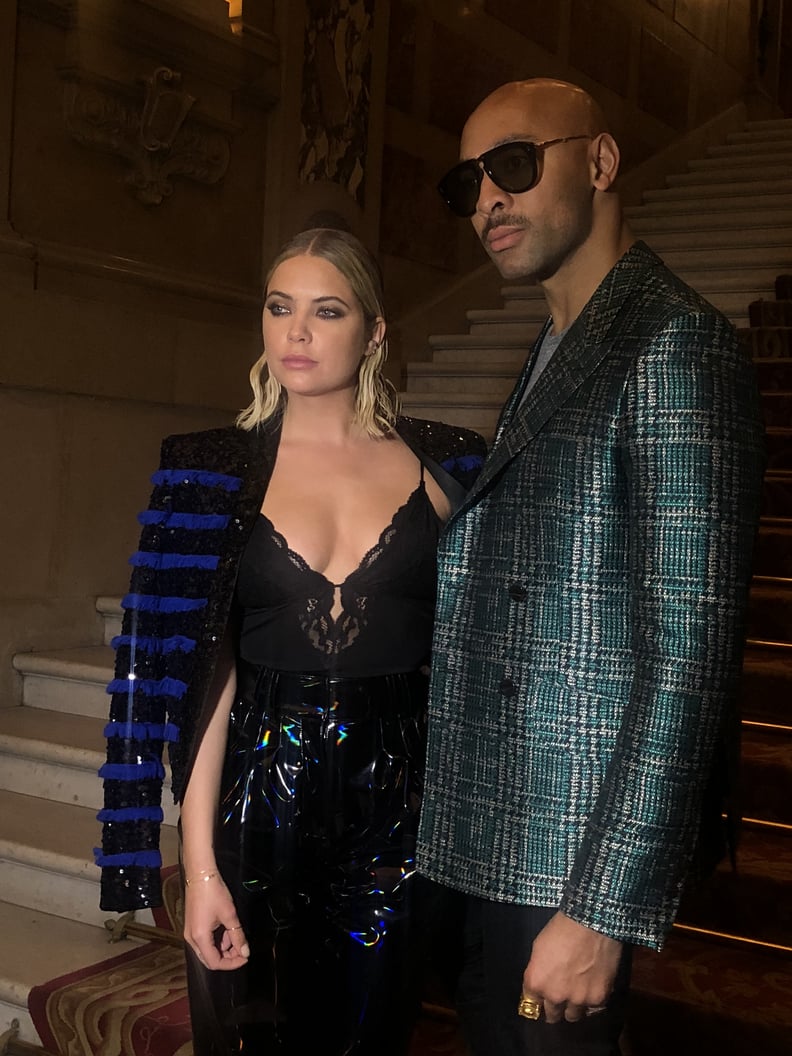 Day 3
11:10 a.m. Benson finally makes her way into the venue and is seated, and shortly thereafter, editor Anna Wintour takes her seat; the show begins. It's a newsworthy show in that it's Balmain, but also that Cara Delevingne opens and closes the show, stepping out of fashion retirement since she started focusing on acting full time.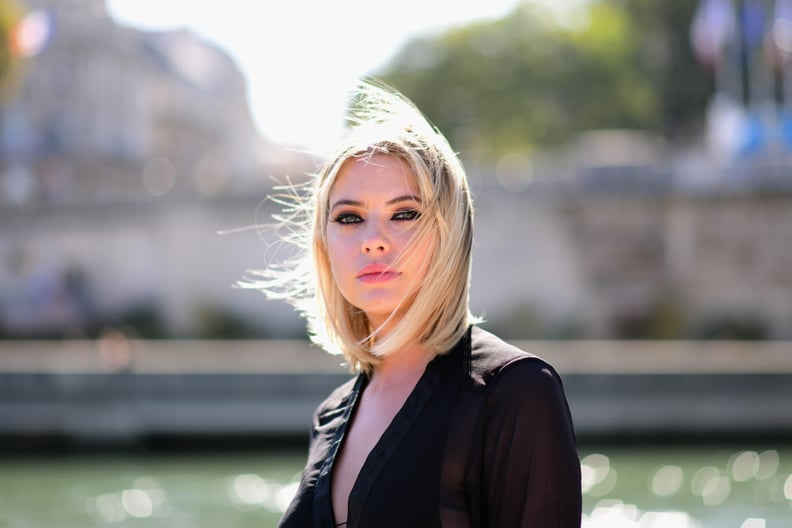 Day 4
1 p.m. Benson, Sir John, and myself are taking in the scenery from a yacht on the Seine River, where the week is culminating at the L'Oréal Paris Defile Show. It's open to the public and chock-full of celebrity spokespeople, showing off some of the designer looks from throughout the week.
I learn a lot about Benson during this trip. She is beautiful; not that I needed to meet her to know that, but rather I am shocked to hear it's not 100 percent effortless. She wears foundation, and because you can't see any line of demarcation on the skin, it looks as if she has nothing on. She's dabbling in several different ventures outside of acting, like launching sunglasses brand Privé Revaux with Jamie Foxx and Hailee Steinfeld. She says she is still close with Troian Bellisario and Shay Mitchell, her costars on Pretty Little Liars. When she's papped at sporting events, she's usually eating 100 percent of the time. (She shows me an unflattering yet hysterical photo of herself chomping on popcorn, not dissimilar from Amy Schumer's monologue in which she explains her experience sitting courtside with Dianna Agron.)
During the boat ride, Benson talks to me about a gamut of things: from being a Christian to her plans for Halloween to the competitiveness of the business. She wants to see everyone succeed. There is a gentleness to Benson, and I believe her. She's vulnerable, like she isn't a woman who has legions of fans tracking her every move, hanging on every social post. She's just a girl from Orange County. "If you don't want to see your friends succeed, what are you doing?" she says. "I want people I care about to do well. Everyone should."