This Viral Foot Peel Gave Me Baby-Soft Skin in 9 Days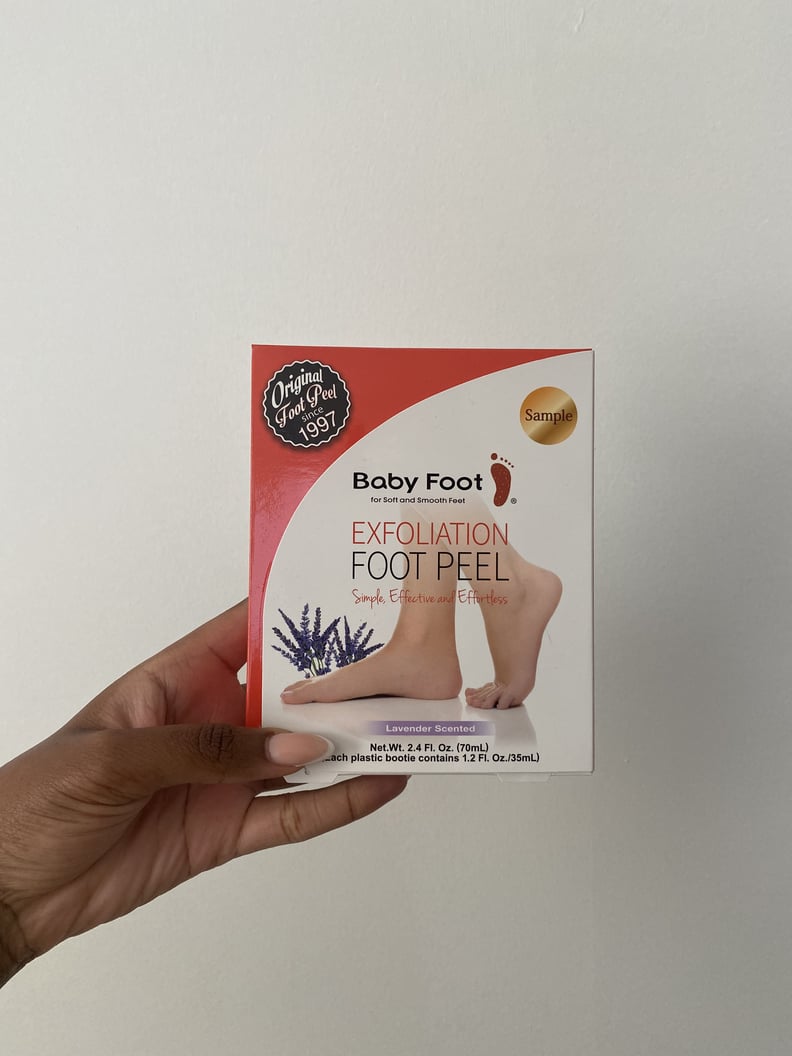 POPSUGAR Photography | Ariel Baker
POPSUGAR Photography | Ariel Baker
Every editorial product is independently selected by our editors. If you buy something through our links, we may earn commission.
As summer approaches, people are looking for ways to get their feet ready for sandal season.
The Baby Foot peel has gotten rave reviews for its ability to transform callused feet in just a few days.
One editor put Baby Foot to the test and couldn't believe the results.
With summer right around the corner, it was time for me to have an honest talk with myself. My feet haven't been in horrific condition, per se, but even I had to admit that the random foot scrubber I bought on sale at TJ Maxx was no longer doing its job, if you catch my drift.
For quite some time, I had been looking for ways to address my rough, callused heels that were increasingly causing runs in my sheets. One day, I took my search over to Google and came across a foot peel with over 3,000 reviews on Target: the Baby Foot Original Exfoliating Foot Peel ($25). The reviews raved about how this peel left people's feet supple and soft, with many of them professing their loyalty only to this product for their foot-care needs going forward. With baby-soft skin on my mind, I had to try it.
The product came in a box that had two plastic booties and tape to secure them on your ankles. The instructions said to cleanse or soak your feet prior to doing the treatment. I decided to spend some extra time in the shower to give them a few minutes to soak in the hot water and immediately put on the booties once I was out. Putting on the booties was a fairly straightforward and easy process; the only drawback was that I had to sit idly for an hour, as it is not recommended to walk or do any movement while they're on.
After the hour went by, I washed my feet and proceeded to go to bed as normal. For the next few days, everything looked completely normal, so much so that I wondered if I'd done the peel correctly. Then, after about five days went by, I was at a Pilates class and felt something akin to the feeling of tape stuck to the bottom of my foot. I took a closer look, and it turned out that "tape" was actually dead skin — and it was shedding off onto the floor.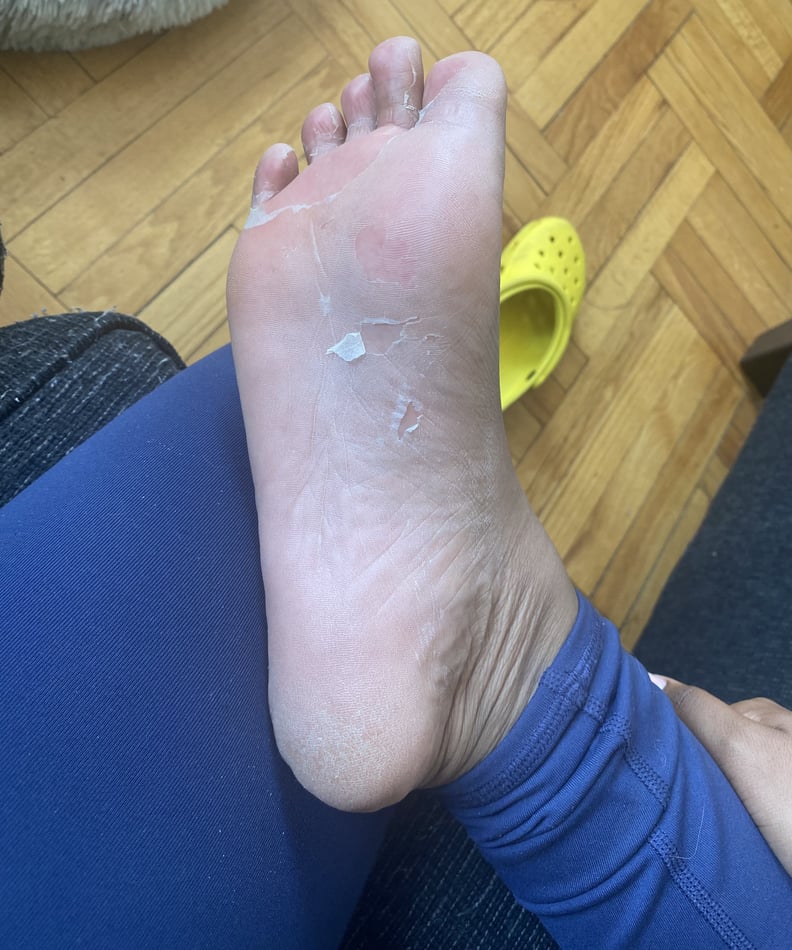 As mortifying as it was for the peel to choose that very moment to start working, I was also extremely glad, as I could already feel softer skin underneath.
As you can see, once it started peeling, it went full force. I'm not sure if it was the fact that I was walking quite a bit that morning or the shoes that I was wearing, but the amount of peeling that was occurring definitely caught me off guard. Still, it was only the beginning of what was to come in the next few days.
Slowly, the process continued, and since it was recommended not to moisturize your feet during this process, I often found bits of dead skin in my bed or just on the floor where I was walking. Taking a hot shower definitely helped to soften the skin, so while the peeling wasn't painful, I took a few extra minutes each shower to allow my skin to soften and subsequently come off easily when I dried my body.
It has been four days since my feet initially started to peel and nine days since doing the treatment. My feet are almost fully back to normal, save for some of the areas that were harder to deal with in the first place (i.e., my heels). These more callused areas, like the edges of my heels, do appear smoother, but they don't feel as soft to the touch as the rest of my foot, so it might take another, more targeted treatment to get rid of those problem areas for good. Unfortunately, since this is a single-use product that goes over the entire area, it would be hard to address one singular problem area.
Still, this peel was a fantastic treatment as summer, and therefore sandal, season inches closer. My feet are exponentially softer now than they were before the peel, and after the treatment is complete, maintaining them will also be much easier. Does it live up to the hype? Absolutely, and this peel will now be a staple part of my summer routine.
I highly recommend giving it a try if you want to hit reset on the appearance of your feet ahead of summer or just want softer feet that are more manageable to maintain.
Rating: ★★★★★