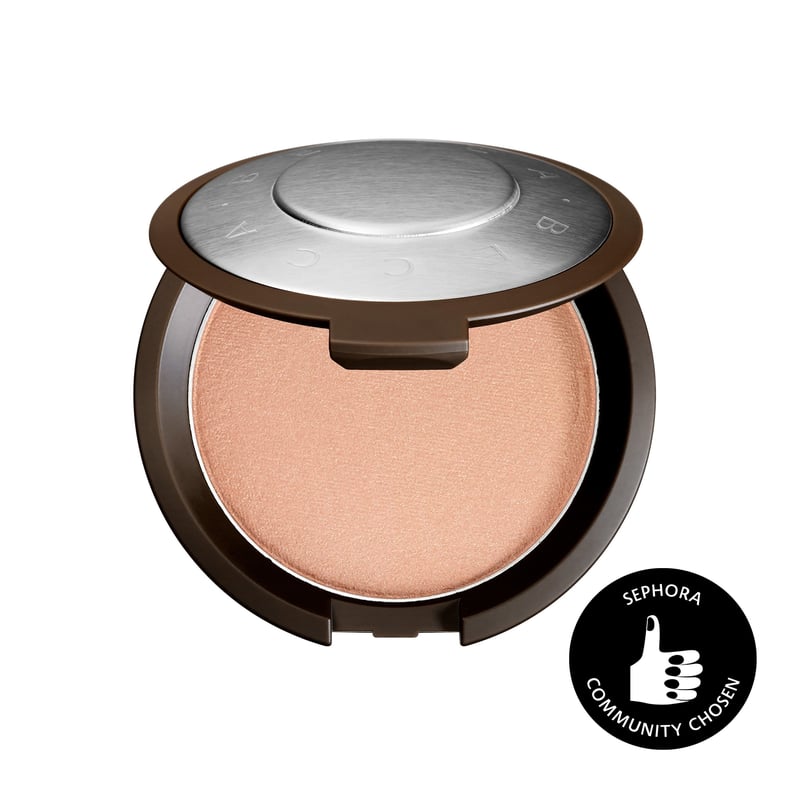 Every editorial product is independently selected by our editors. If you buy something through our links, we may earn commission.
Becca is famous for creating some of the best highlighters on the market, but no hue is more iconic than Becca Shimmering Skin Perfector Pressed Highlighter in Champagne Pop ($38). I finally decided to give the shade a try after seeing it recommended on Sephora's Beauty Insider Community and discovered that the beautiful color can be used in a variety of ways. Since becoming obsessed with this highlighter, these are the five ways I've been using it on my skin.
1. To highlight your favorite features
My favorite way to wear the shimmery powder is to highlight the high points of my face. I dust the light rose gold powder over my cheekbones, on my cupid's bow above my lips, and on my brow bone to make my features stand out.
2. Under your foundation
If you want to look lit from within, dust a sheer layer of the powder over your entire face with a large brush prior to foundation. Next, dot a matte foundation onto your face using a makeup sponge, and see your complexion look better than ever.
3. As eye shadow
Make your eyes stand out by spreading the buttery powder over your lids with your finger. Follow up with mascara for an easy and showstopping look.
4. As a lip topper
Want to make your lips look fuller? Put on your favorite nude lipstick or gloss, and dot a bit of the champagne powder on the center of your lips.
5. On your body
Don't stop at highlighting just your face! Take the powder all over your body by brushing it over your collarbones, on your shoulders, and down the center of your legs.