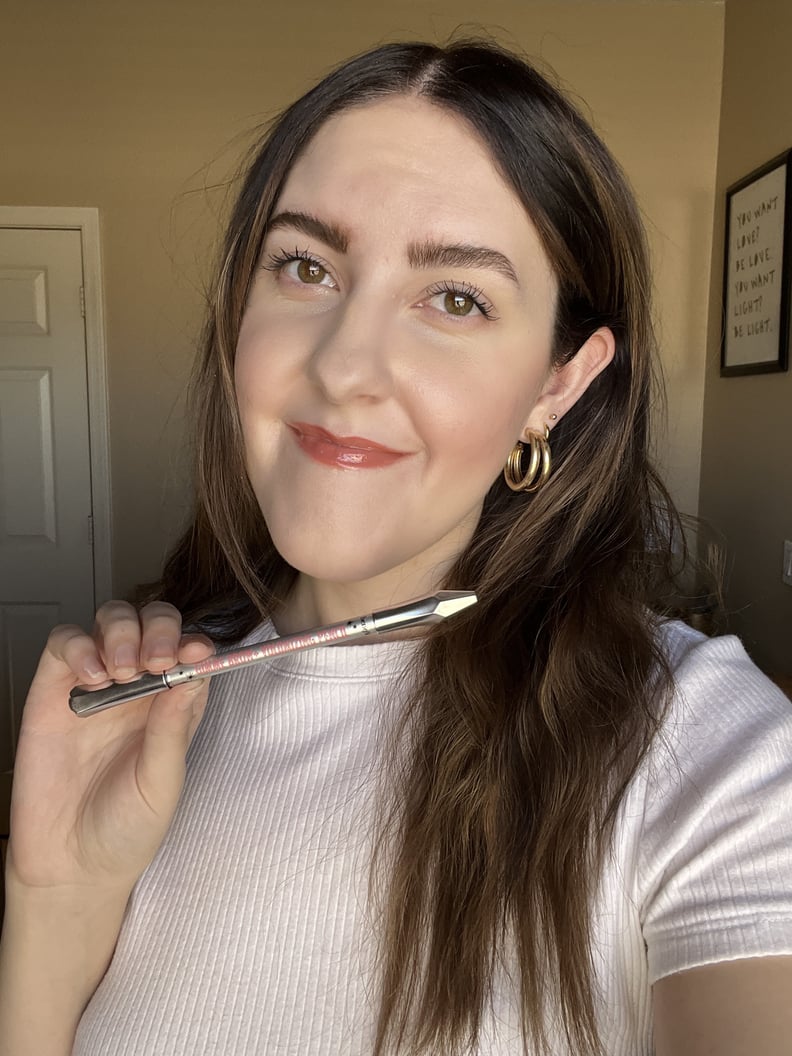 POPSUGAR Photography | Kyley Warren
POPSUGAR Photography | Kyley Warren
As POPSUGAR editors, we independently select and write about stuff we love and think you'll like too. If you buy a product we have recommended, we may receive affiliate commission, which in turn supports our work.
I, like so many tweens and teens of the early aughts, had a pretty notable obsession with tweezers and tiny eyebrows. Spend five minutes scrolling through old Facebook photos, and you'll see the proof of my tweezer-happy days brought to life — complete with misshapen eyebrows, a larger-than-life forehead, and one year of high school in particular where I'd plucked my brows down so much, they were hardly noticeable at all (it was a traumatic time in my life, I'll admit).
Fast-forward to today, and my eyebrows are, rather miraculously, fuller and healthier than ever before. And while I wish I could erase the memory of those tiny, sperm-like specks that I whittled down precollege (unfortunately things really do live on the internet forever), that season of my life taught me the importance of taking proper care of your eyebrows — and the value in knowing when to leave them the hell alone, too. Full disclosure: I don't even know where my tweezers are at the present moment (growth!).
As a result, I am always scoping out new eyebrow products that can help me to volumize my brows, all while keeping them clean and defined, too. My latest and greatest eyebrow-perfecting discovery comes in the form of the Benefit Cosmetics Gimme Brow+ Volumizing Fiber Eyebrow Pencil ($25) — which, courtesy of TikTok's recommendation, has quickly become my favorite brow pencil to date. Read on to see my honest review of the internet's new favorite brow product and why I'll never leave the house without it again.
What I Like About This Benefit Brow Pencil
Unlike other brow pencils that require quite a bit of work to give your eyebrows any real shape, this tool works pretty quickly in providing fuller, instant results — and all in under two minutes. Because of the product's dual-purpose design, I can quickly comb through my eyebrows with the soft brush tip (which is composed of silk cotton tree fibers), and then fill in the gaps with the powder particles that are blended into the actual pencil. With only a few swipes, my eyebrows appear healthier and more defined — and with a still natural-looking finish.
I've also discovered that a little goes a long way, meaning I'll be able to enjoy extended use with the product without having to worry about when I'll need to restock it. Given that I don't plan to leave the house again without this brow pencil in tow, I'll definitely have no problem restocking the product when the time does come, especially with that feasible $25 price tag!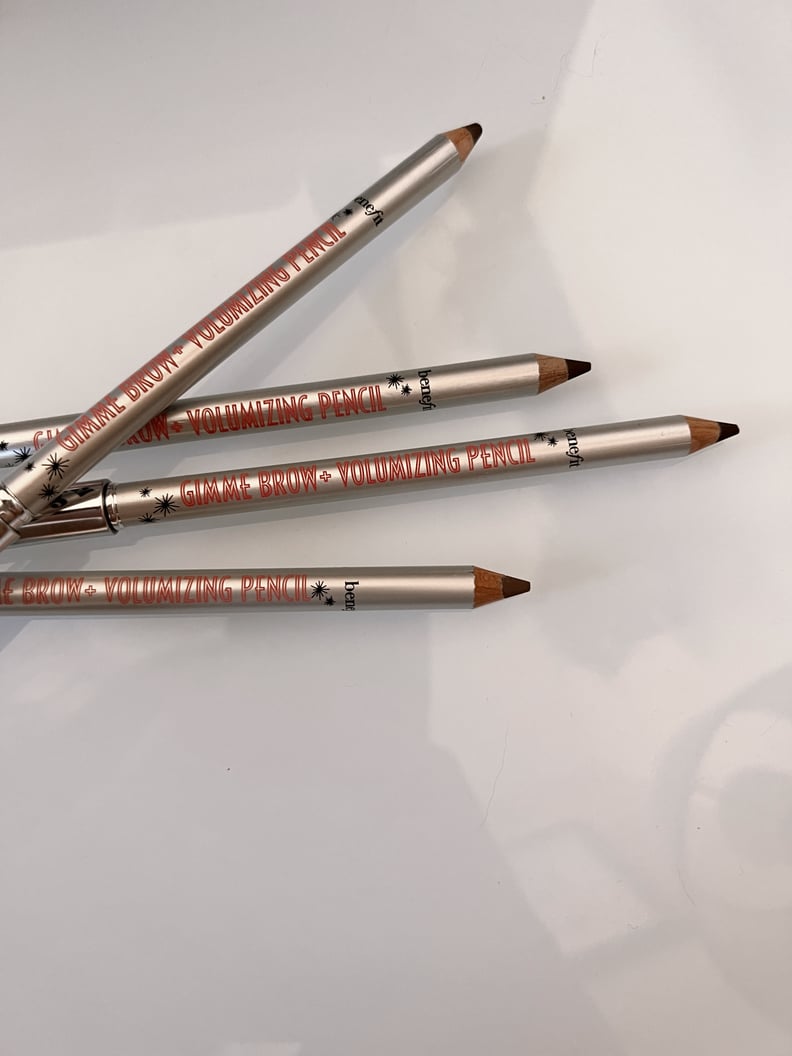 What's Worth Noting
While the product definitely helps to shape and volumize, as someone with bushier eyebrows, I still need a gel or wax product of some sort to help ensure that my brows retain their shape throughout the day. I've been a longtime fan of E.l.f.'s Clear Brow and Lash Mascara, which I'll usually put on as the final step in my eyebrow routine (I can't believe I'm at a place in my life where I actually have an eyebrow routine). I'll admit, I've found that the brow pencil doesn't hold up as great with this brow formula paired on top; sometimes my eyebrow just looks less filled in, or, as a result, it might even smear a bit. If you're someone who needs an extra shaping layer on top of your filled-in eyebrow, I would just recommend using a bit less of the product (to avoid watering the color down) and just lightly fill in the open spots.
The Gimme Brow Volumizing Pencil is also available to shop in a variety of colors, including over 10 different shades, so regardless of your eyebrow-hair color, there's bound to be a version of the pencil that suits you. The 3.5 Neutral Medium Brown coloring is my shade of choice and also the product I used on my brows in these review photos.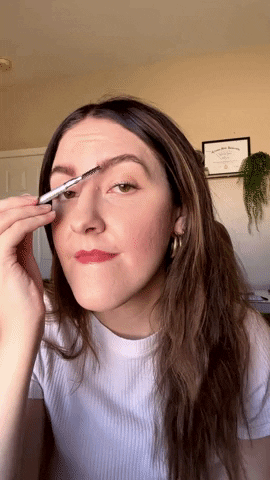 Who Is This Benefit Brow Pencil Best For?
This brow pencil is perfect for anyone looking to add some more definition to their eyebrows without having to do too many extra steps to achieve it. I'm all about minimal, effortless makeup, so I appreciate that I can build out my brows in under two minutes each day — thanks to this brow pencil from Benefit, of course.
Where Is Benefit's Brow Pencil Available?
The Gimme Brow+ Volumizing Pencil is available to shop at Sephora, Ulta ($25), Nordstrom ($25), Saks Fifth Avenue ($25), and Benefit Cosmetics ($25).
Additional Details
The product marks Benefit's first foray into an eyebrow product with both fibers and powder.
Benefit's new brow pencil is formulated with silk cotton tree fibers, which seamlessly blend with the skin and hairs to create a more volumizing and defined look.
The beauty tool is available in over 10 colors, including a neutral medium brown (my go-to), cool soft black, warm deep brown, and warm golden, among many others.
Rating:
★★★★☆