10 Buzzy Burt's Bees Products Using the Power of Honey, Coffee, Lavender, and More
As POPSUGAR editors, we independently select and write about stuff we love and think you'll like too. If you buy a product we have recommended, we may receive affiliate commission, which in turn supports our work.
Chances are, at some point, you've spotted the unmistakable yellow tube of Burt's Bees original beeswax balm — there's a reason it's been going strong for 30 years! But, there's more to be familiar with beyond that lip treat from makeup to haircare, too.

All their products feature natural ingredients including honey, plant extracts, and even repurposed coffee grounds so you can feel good about what's going on your body. Whether you want a cleaner upgrade to your current face wash or you're looking for a miracle (balm that helps dry skin), we've found a Burt's Bees solution that fits. See what the buzz is all about and shop our favorite beauty and skincare goodies from the brand ahead.
Burt's Bees Beeswax Lip Balm
If you're familiar with only one product from this brand, it's likely the iconic Burt's Bees Beeswax Lip Balm ($4), created back in 1991. In addition to beeswax, there's also moisturizing vitamin E and a touch of peppermint oil for a wintry tingle inside every tube.

While this makes a practical gift anytime of year (even to yourself), opting for the Burt's Bees Personalized Lip Balm ($20 for four) means you can choose any flavor and then add a name or custom message for bachelorette parties, birthdays, and more.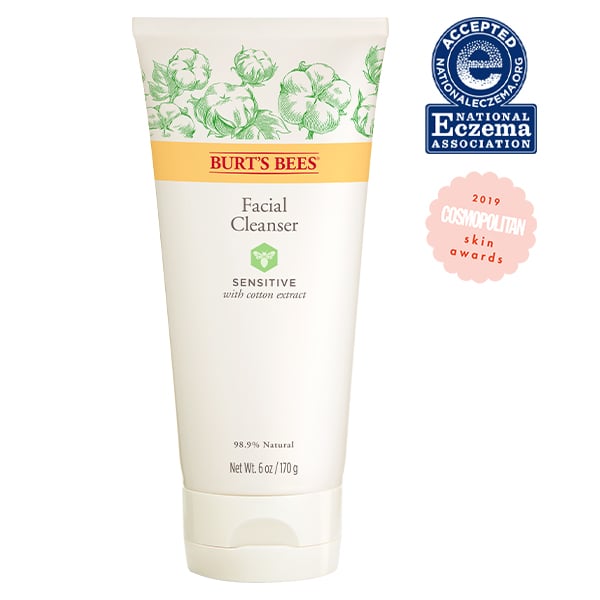 Burt's Bees Sensitive Facial Cleanser
Trying out a new face wash can be daunting for anyone with reactive skin, especially those prone to dryness. However, this Burt's Bees Sensitive Facial Cleanser ($10) gently removes dirt, oil, and makeup while moisturizing at the same time.

The true hero here is cotton extract which softens skin and shields it from potential irritants long after it's rinsed away, but there's also a touch of soothing aloe, too. (And, naturally, there are no added fragrances, parabens, SLS, or soap inside at all.)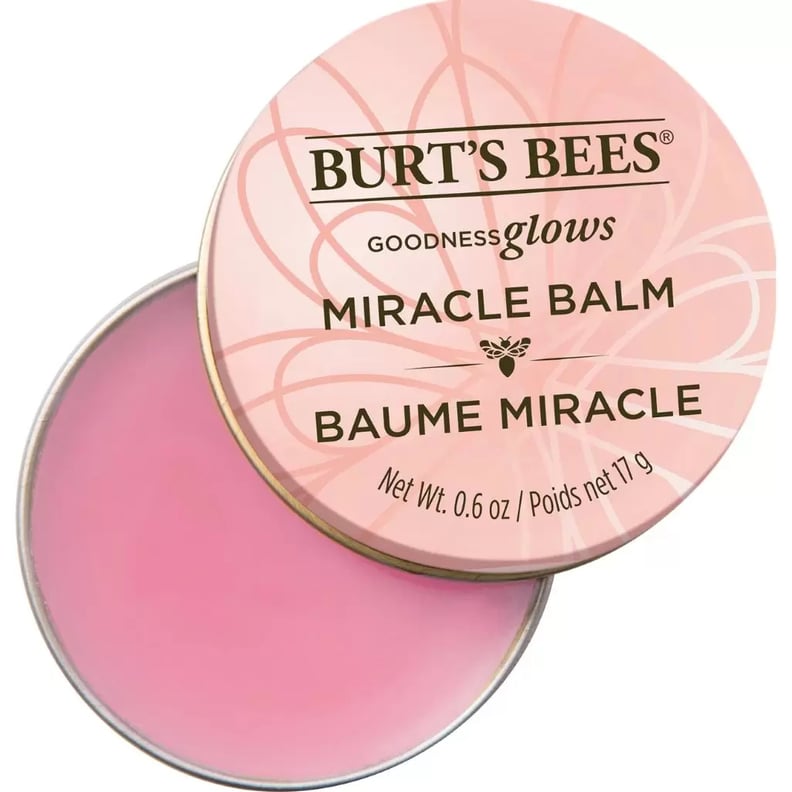 Burt's Bees Goodness Glows Miracle Balm
Yes, the name offers a hint at the magic inside but Burt's Bees Goodness Glows Miracle Balm ($9) can actually work on so many parts of your body, it's easy to be a believer. Lightweight and non-greasy, this product quickly helps soften dry skin on your elbows, knees and beyond.

Of course, it can be used as a gloss on dry lips, but it can also serve as a highlighter on your cheeks as well. Perhaps you're looking to tame eyebrows and even baby hairs? Works there, too.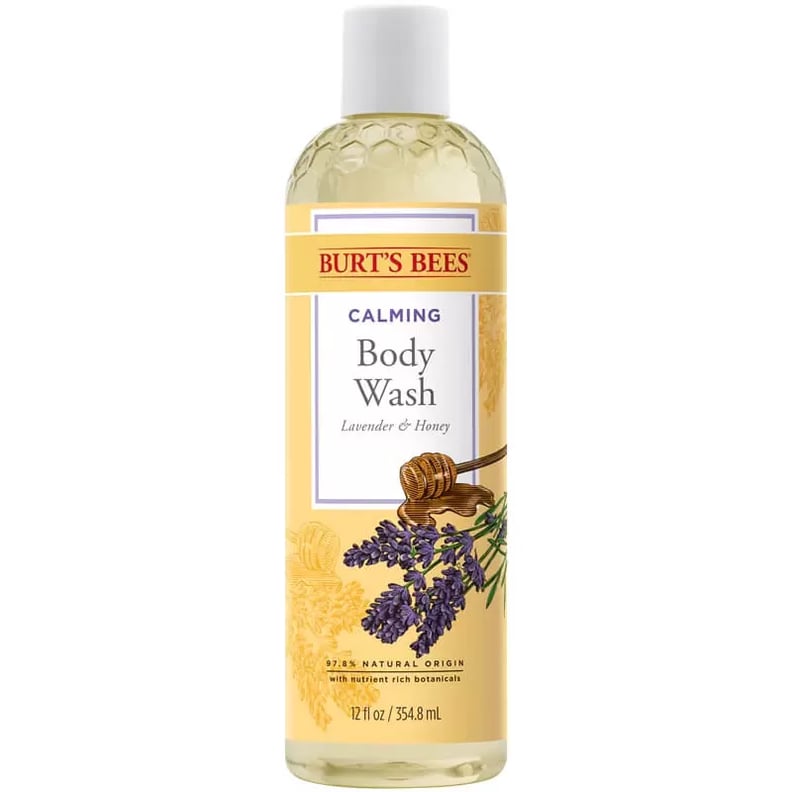 Burt's Bees Lavender and Honey Body Wash
The last year and a half has been stressful enough but, with the holiday season approaching, now is an even better time to swap in standard soap for something that helps you at least find a few moments of zen each day.

Perfect before bed, this Burt's Bees Lavender and Honey Body Wash ($9) offers a relaxing lavender scent in a plant-based cleanser that suits sensitive skin, too. Even though there are no parabens, phthalates, petrolatum, or SLS, there is still enough lather to even swap this in for shave cream as you please.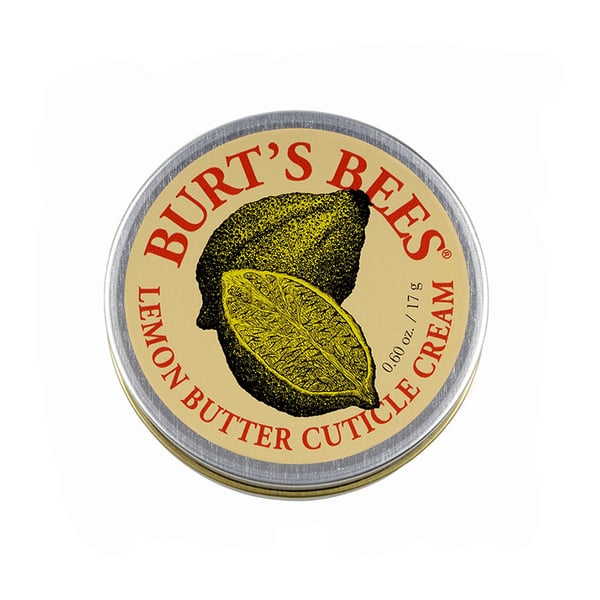 Burt's Bees Lemon Butter Cuticle Cream
Looking to soften cuticles and/or help brittle nails before an at-home manicure? This Burt's Bees Lemon Butter Cuticle Cream ($6) packs almond oil and cocoa butter to moisturize skin and vitamin E and sunflower oil to nourish nails so both those problems are sorted.

However, there's no need to wait 'til that time to use it as dropping temperatures (and repeated hand-sanitizer application) can cause dryness every single day. You just may find yourself massaging in this 100-percent-natural cream every single day — the scent (from lemon oil) is just that fresh.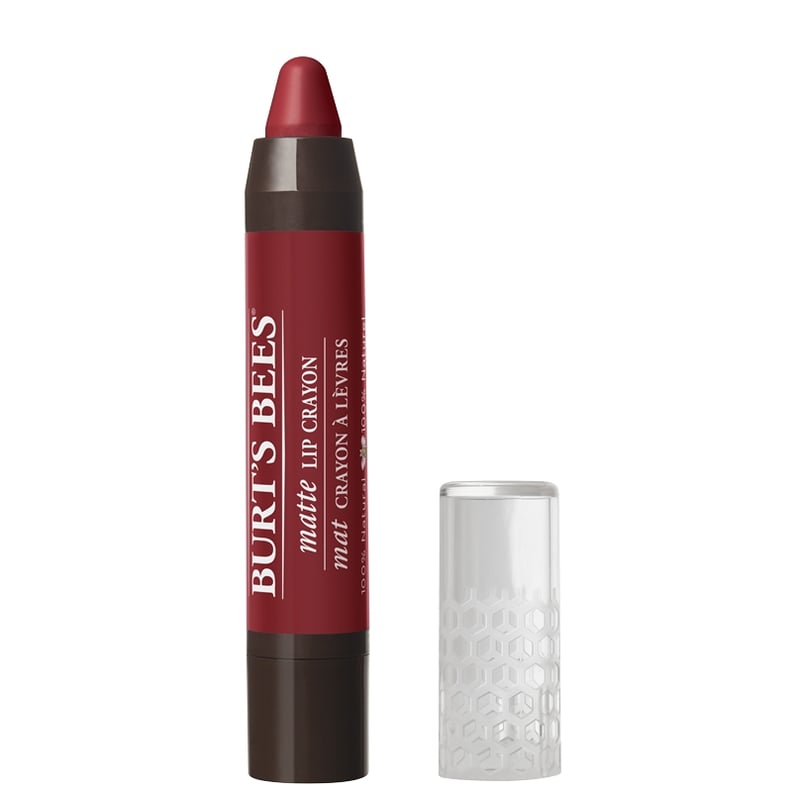 Burt's Bees Matte Lip Crayon
This Burt's Bees Matte Lip Crayon ($9) takes hydrating shea butter (and other nourishing oils) and adds full-coverage color so lips feel soft and smooth, and look great at the same time.

The creamy stick never needs to be sharpened so it's easy to twist up and down with zero product wasted. And, since it's 100 percent natural, it's no surprise that several reviewers also rave about swiping these sticks on as cheek color as well.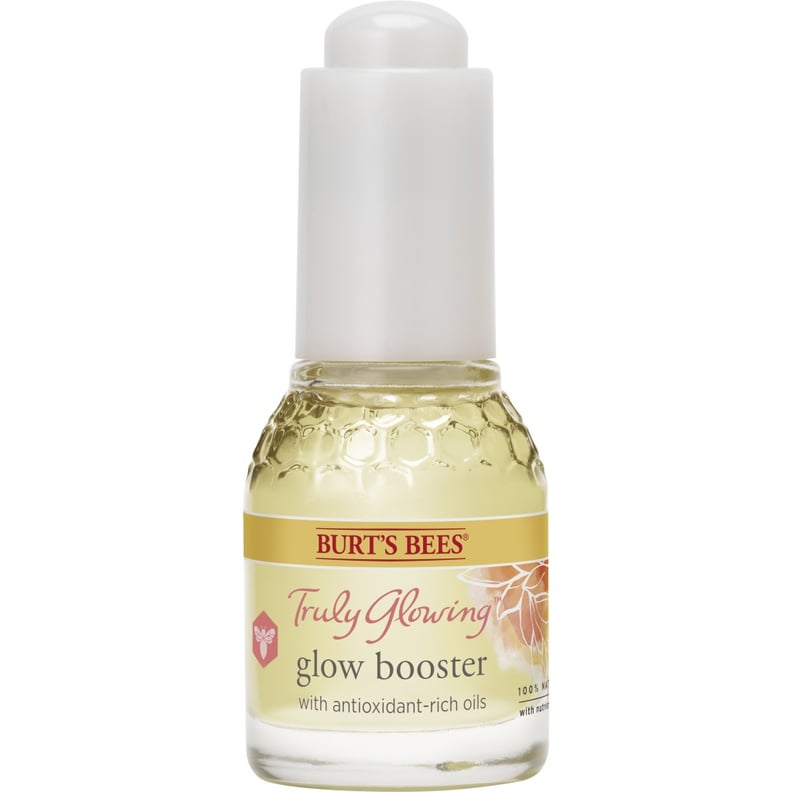 Burt's Bees Truly Glowing Glow Booster
Only a few drops of Burt's Bees Truly Glowing Glow Booster ($18) smoothed into clean skin daily can help bring back a bright complexion that may have seemed lost forever. This product packs a range of antioxidant-rich oils that take on damage from daily dulling elements like dirt, oil, makeup, and pollution, and leave your face hydrated and smooth.

As a bonus, there's also the retinol-alternative bakuchiol inside to combat dark spots, redness, and wrinkles at the same time.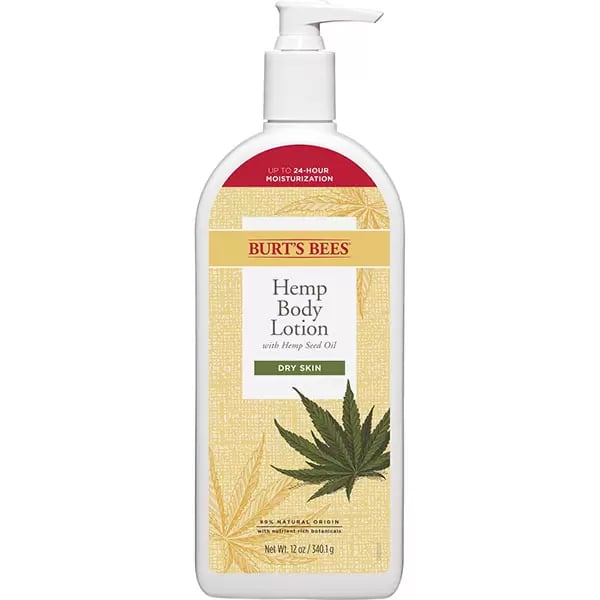 Burt's Bees Hemp Body Lotion
Burt's Bees Hemp Body Lotion ($10) makes skin soft and supple this winter and beyond . . . because flaky, itchy patches are the worst any season at all. The cream is lightweight and quick-absorbing, but still rich enough to keep your body moisturized for 24 full hours, no matter the temperature.

While it's hard not to love the vitamin-E-rich hemp oil that nourishes skin, even more irresistible is the subtle basil and verbena scent that keeps things cool.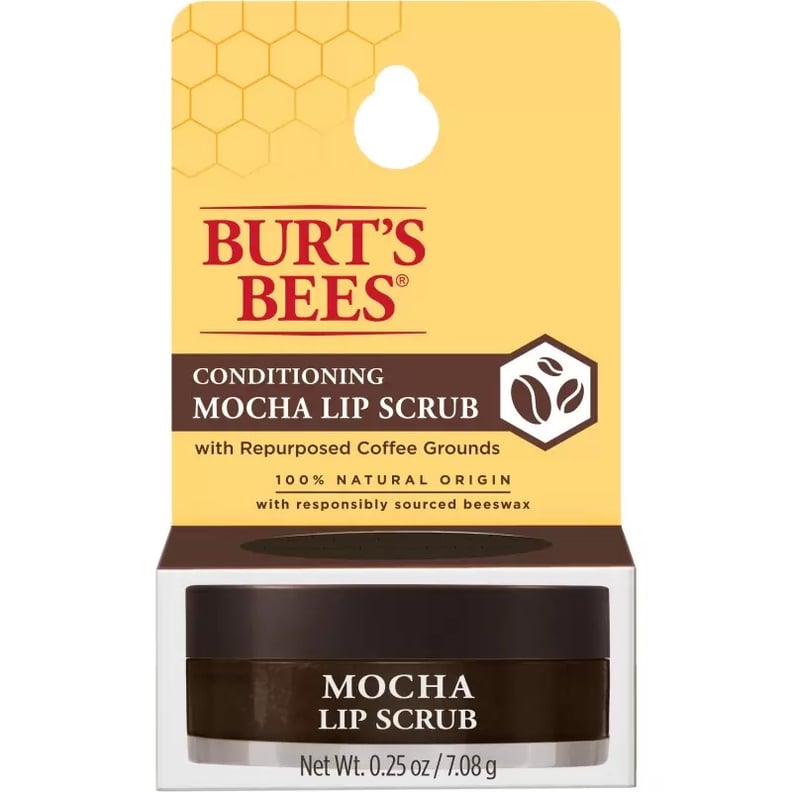 Burt's Bees Conditioning Mocha Lip Scrub
When your lips could really use a little extra T.L.C., dip a finger into this Burt's Bees Conditioning Mocha Lip Scrub ($9). It exfoliates skin with repurposed coffee grounds so your mouth looks — and feels — softer instantly.

Warning: You just may find yourself wanting to use this every day to also get a whiff of that tempting chocolate-and-coffee aroma but stick to a few times a week to watch roughness (a.k.a dead, dry skin) rinse right down the drain.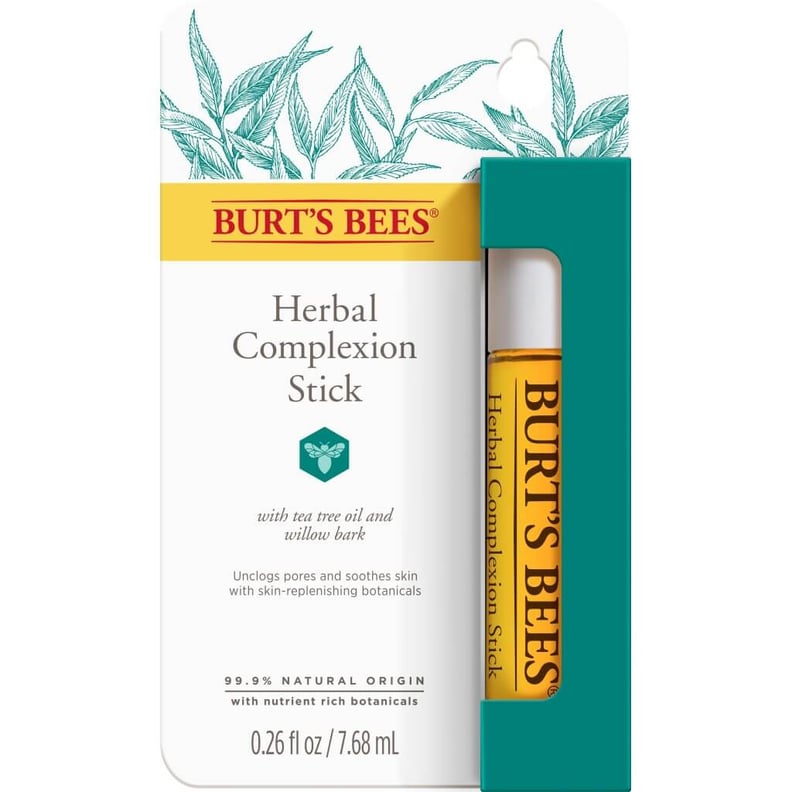 Burt's Bees Herbal Complexion Stick
Packed with tea tree oil and salicylic acid, this Burt's Bees Herbal Complexion Stick ($8) treats blemishes in a pinch, thanks to a built-in rollerball on top. In fact, since you don't need cotton pads, it's easy to tuck this into a suitcase (or purse) so those ingredients — along with other plant extracts — exfoliate and unclog pores wherever, whenever. Poof, smoother-looking skin in no time at all.