There's no denying it: the Internet is obsessed with celebrity hair changes. Whether it's a major trim or bleach job, we are fascinated and inspired by the subtle and dramatic transformations A-listers undergo. But some cuts and color changes have become truly trendsetting, pioneering looks like lobs, pixies, fringes, crayon-colored streaks, and ombre dye.
So how can a spotlight-seeking star propel their hair transformation above the rest? Thanks to social media,
celebrities have taken to Instagram and Twitter to share their major mane moments. Taylor Swift broadcasted her haircut on Instagram, as she chopped her long, girl-next-door blonde locks for a sophisticated bob. Beyoncé showed off her platinum, angular bob on Tumblr. And, let's not forget when Kim Kardashian #broketheInternet again by bleaching her almost-jet black mane ice blonde.
If you've been thinking of trading your platinum locks for auburn or chopping your Rapunzel mane for a bob, perhaps these celebrity makeovers will give you the guts to reinvent your look. Keep reading to discover some of our favorite iconic cuts and color changes in Hollywood history.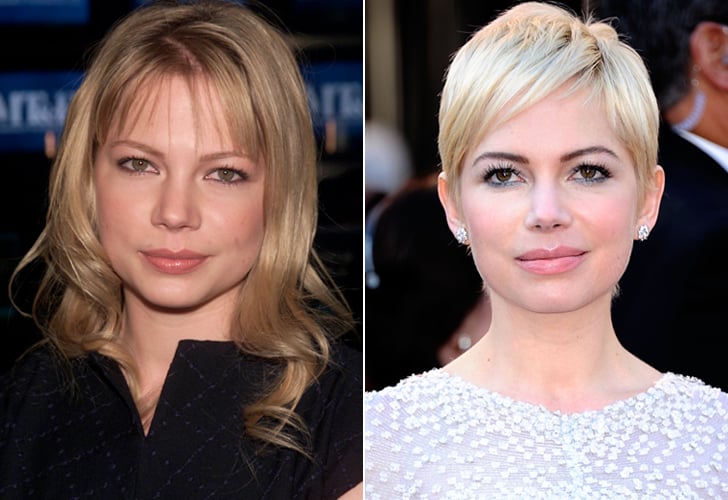 Michelle Williams: Beachy, blonde curls to platinum pixie
You might remember Williams as Jen Lindley in the late '90s teen drama Dawson's Creek, rocking effortless, honey-blonde waves. But in 2010, Williams traded her goldilocks for a length-erasing platinum pixie with a side-swept fringe. As one of the first stars to start the supershort trend, Williams proves that women can look sexy and feminine with a boy cut. In 2011, Williams shared in an interview with British ELLE that she chopped her mane because her late ex, Heath Ledger, was a fan (proving straight men do like short hair).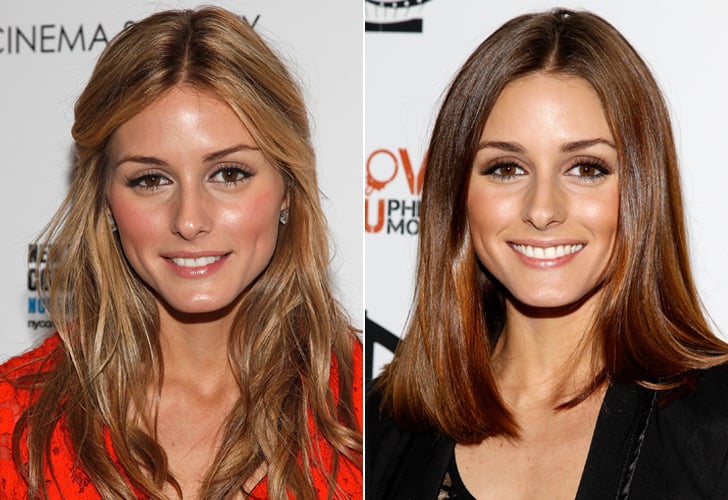 Olivia Palermo: Long textured hair to a sleek lob
Olivia Palermo is a style pro, but it doesn't stop at her wardrobe. The fashion-forward socialite has always been enviable for her perfect middle part, volumized roots, and glossy soft curls. In 2010, Palermo got a sleek-over with a sharp lob. As a pioneer of the long bob, Palermo's hairdresser Andre Davis told Vogue that what made Palermo's chop unique was the blunt cutting technique and long layers — it provided both structure and movement.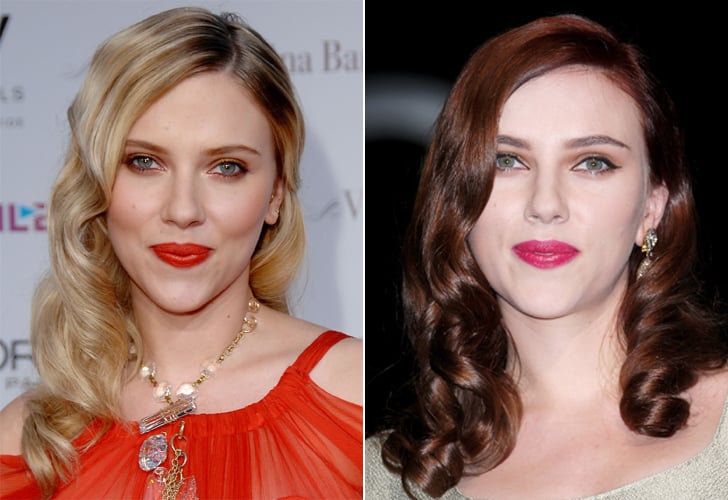 Scarlett Johansson: Blonde to red
Scarlett Johansson is famed for being the blonde seductress in many of her film roles, but in 2009, she dyed her champagne hair auburn to play Natasha Romanoff in The Avengers. Celebrity hair colorist Lorri Goddard says she dyed Johansson's scalp one color and a lighter version for the rest of her head to create depth and texture. If you're considering going red, Goddard advises to pick a shade that's within your natural base color. For more inspiration, look to other Hollywood actresses, like Jennifer Lawrence, Blake Lively, and Rachel McAdams, who have embraced hints of ginger hues and shades of strawberry honey.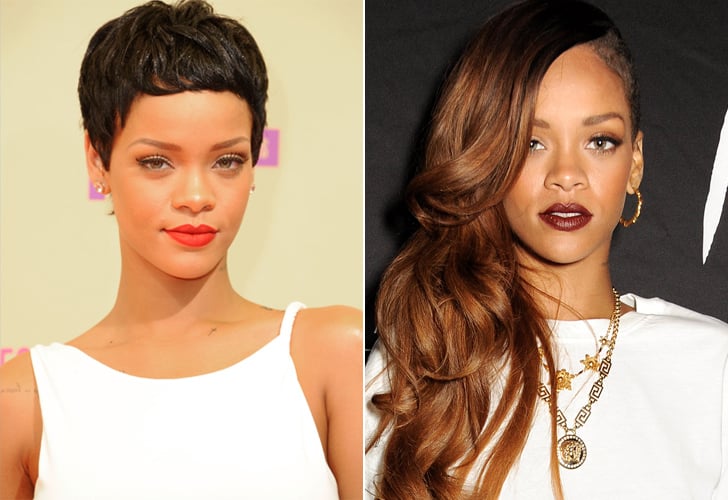 Rihanna: Jet black pixie to half-shaven ombre
The badass musician is not afraid to take beauty risks with her hair. Throughout the years, she has tested everything from punky pixies to mermaid-long extensions and asymmetrical bobs. In November 2012, Rihanna graced the cover of Vogue for the second time and sported her most natural look: a black pixie. But the R&B princess took a beauty gamble again in early 2013, rocking an edgy, half-shaven ombre hairstyle with a buzz cut on one side and long hair extensions on the other side. This half-androgynous, half-feminine cut has inspired different hybrid hair looks. Who says you can't have it both ways?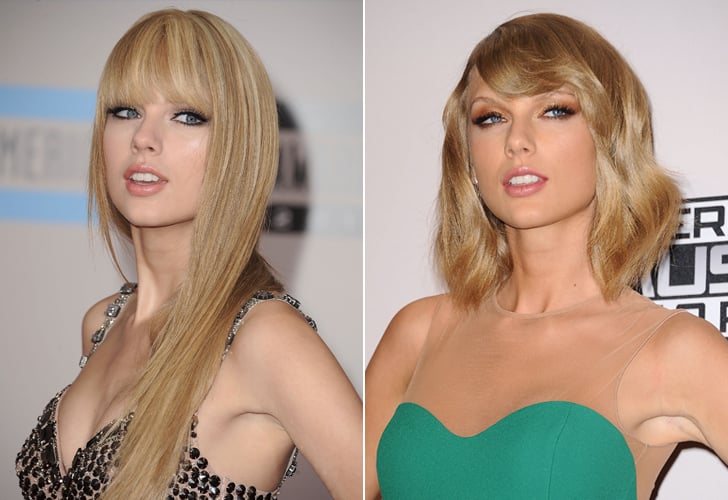 Taylor Swift: Long hair and blunt bangs to lob with side-swept bangs
As Taylor Swift has evolved as an artist, her hairstyles have matured, too. When she was a country newcomer, she sported girly girl tendrils, as seen at the 2008 CMT Music Awards. Then in 2010 at the American Music Awards, Swift revealed a more mature look with slick-straight hair and a full fringe. But in February 2014, Swift had her most reinvented look yet — a bob with side-swept bangs. The chop was so major that she posted a teaser clip of her haircut on Instagram. Today, Swift has upgraded to a modern shag style.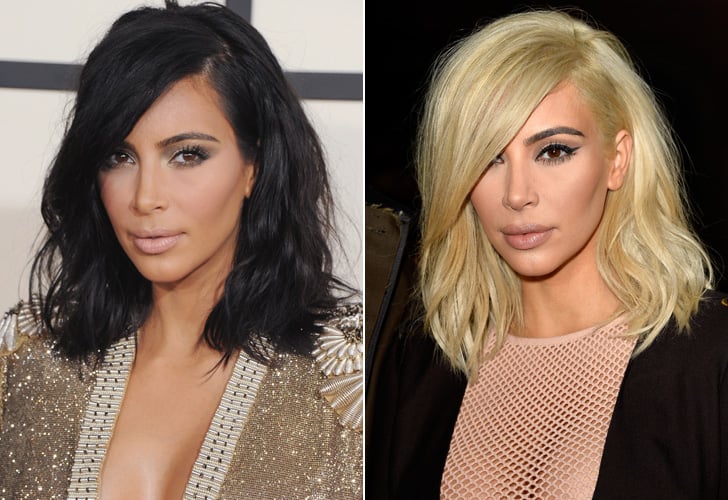 Kim Kardashian: Dark brunette to ice blonde
If you're raven-haired like Kim Kardashian and thought you couldn't pull off the ice blonde look, think again. Lorri Goddard, hairstylist to the reality TV star, took Kardashian from brunette to platinum blonde in one dye job. The Internet-savvy Kardashian was careful not to unveil her new blonde look before Paris Fashion Week in March 2015, hiding it with a black beanie. A few days later at the Balmain show, she revealed her icy locks. And just when you thought Kardashian had her fill of blonde ambition, she went even lighter, rocking a center part and loose waves at the Givenchy show just a few days later. Kim claimed Madonna inspired her color choice.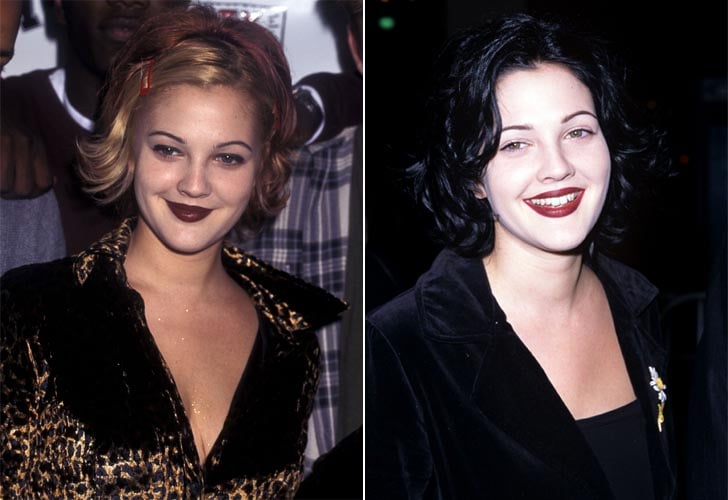 Drew Barrymore: Blonde to jet black
For the 1996 cult film Scream, a 21-year-old Drew Barrymore dyed her natural blonde locks jet black. Barrymore was one of the first celebrities to embrace the darker side; and many fair-haired beauties, like Reese Witherspoon, Cameron Diaz, Jennifer Lawrence, and Scarlett Johansson, have experimented going dark brunette to jet black since then. Brunette hair can help accentuate your other features, including the color of your eyes and the pink in your lips.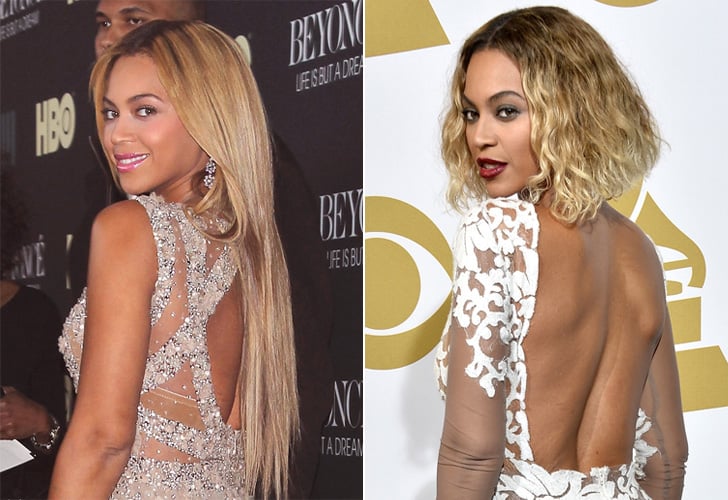 Beyoncé: Long hair with blonde and brunette highlights to ombre bob
Beyoncé constantly reinvents her look and keeps her mane in #flawless shape. The pop queen is often seen rocking sleek long hair with shades of honey blonde and brunette highlights. Fortunately for the musical powerhouse, her oval-shaped face gives her versatility so she can pull off virtually any hairstyle. In January, she debuted an asymmetrical platinum bob at the 2014 Grammy's, just when many of Hollywood's leading ladies started embracing the hair trend.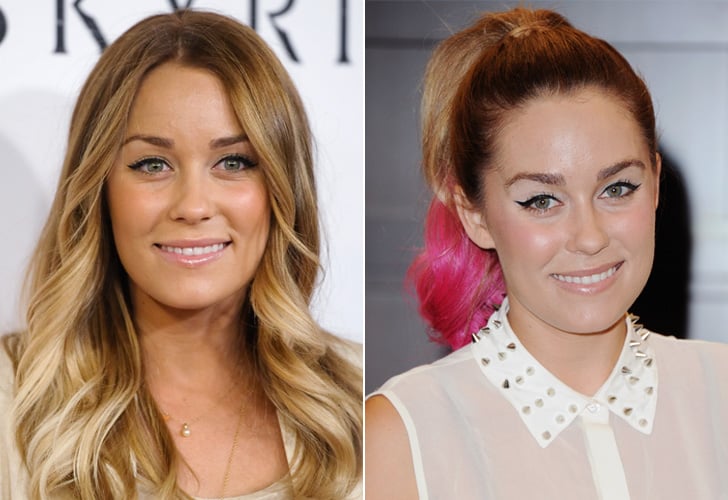 Lauren Conrad: Blonde waves to cotton-candy pink
Lauren Conrad isn't someone you'd expect to make a bold statement with her hair, but in January 2012, she shared a photo of her cotton candy pink bun on Instagram. It was Conrad who introduced us to the world of hair chalking, and she served as the inspiration behind countless other candy-colored hair jobs. Unlike hair dye, chalking isn't permanent, but it makes a head-turning statement. Later that year in April, Conrad finally took that plunge and sported a hot pink ponytail at her book signing for her teen fiction, The Fame Game.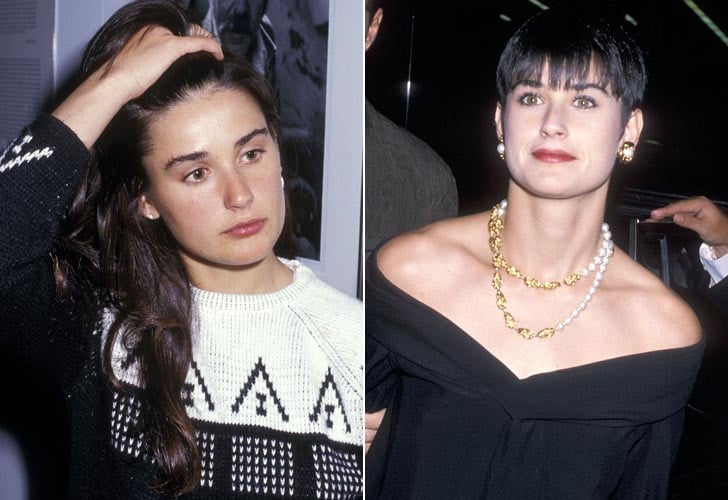 Demi Moore: Long hair to boy cut
Demi Moore has worn a variety of hairstyles from long to short throughout the years. But it was her short boy haircut with a brow-length fringe in 1989 for her role as Molly Jensen in the all-time romantic film Ghost that was most memorable. It inspired different grungy boy cuts and androgynous looks of the late '90s, such as Winona Ryder, Halle Berry, Gwyneth Paltrow, and Meg Ryan.