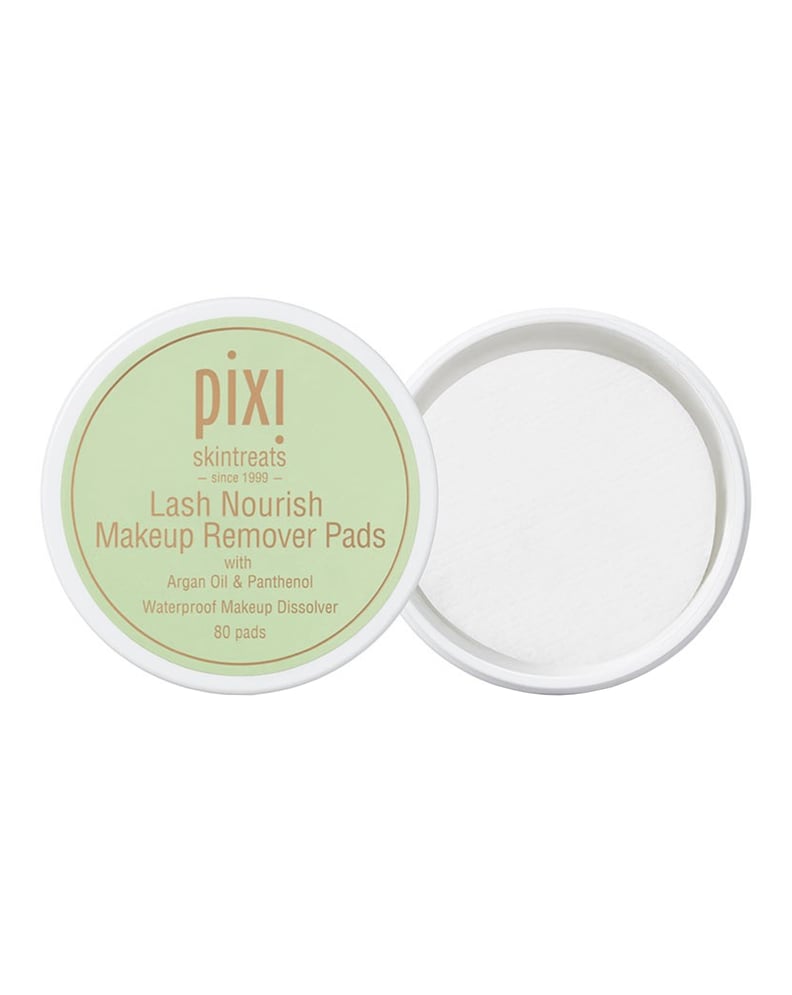 As POPSUGAR editors, we independently select and write about stuff we love and think you'll like too. If you buy a product we have recommended, we may receive affiliate commission, which in turn supports our work.
It's hardly as glamorous as the shadowing, lining, and swiping that we do to transform our tired eyes to a smoldering stare, but wiping our lids and lashes clean of all that beauty goodness every night is a fact of makeup-wearing life. Thankfully, there are some all-star formulas that melt away even the most heavy-duty, smudgeproof products with ease while still remaining gentle enough to rub over your eyes without stinging or burning (yes, even for you extrasensitive types and contacts wearers).
Here are the eye makeup removers that strike the perfect balance between powerful and pampering.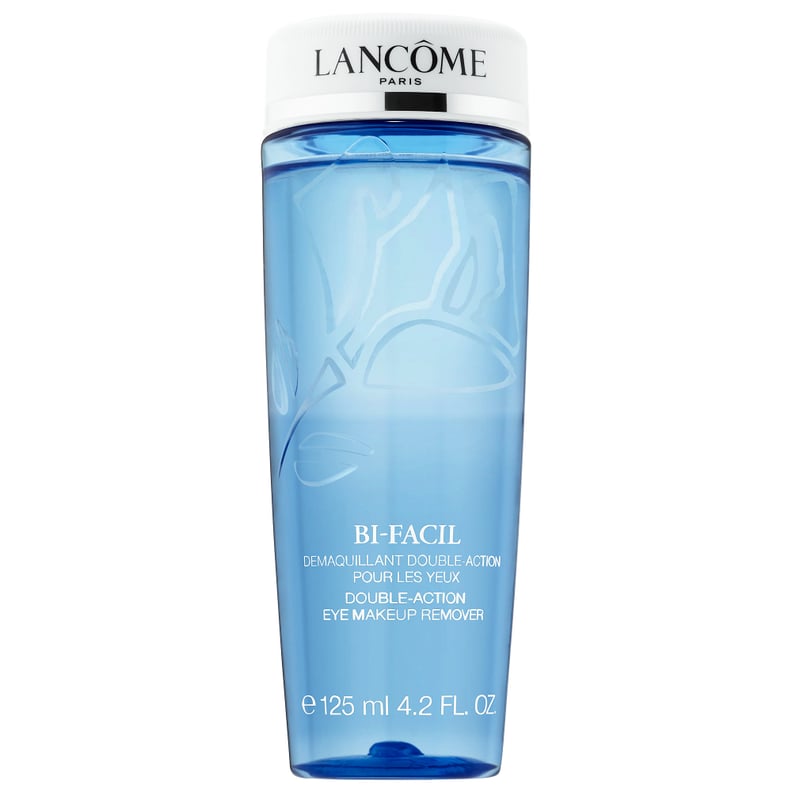 Lancome Bi-Facil Double-Action Eye Makeup Remover
You probably first saw this product perched on your mother's vanity when you were growing up. It's been a beauty staple for decades, and one whisk of the fresh-scented liquid over your eyes will explain why. This fancy oil-in-water formula ($40) quickly dissolves even the most stubborn waterproof eye makeup in seconds, and all without a sting or greasy residue.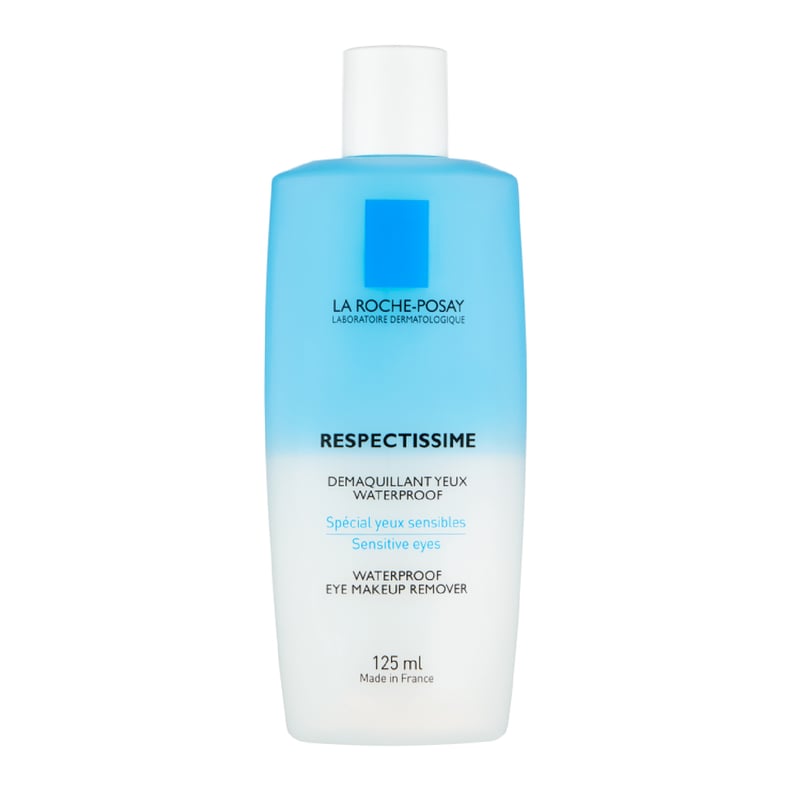 La Roche-Posay Respectissime Waterproof Eye Makeup Remover
The cool-looking La Roche-Posay Respectissime Waterproof Eye Makeup Remover ($20) consists of a water-based cleanser formulated with calming oils and poloxamer (the same gentle cleanser used in contact lens solution, so you can cross any fear of stinging or burning off your list of concerns). Once combined through some aggressive shaking, the solution wipes away any mascara, shadow, liners, and anything else you layered on your lids with zero rubbing or irritation.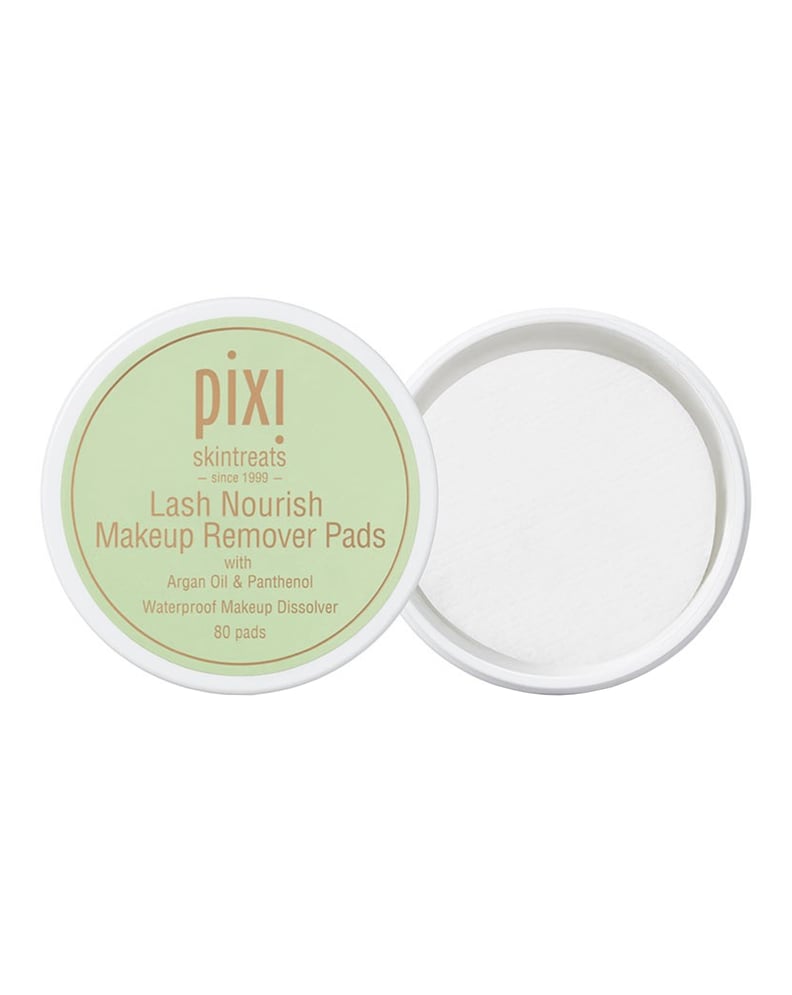 Pixi Lash Nourish Makeup Remover Wipes
If the name isn't convincing enough all on its own (who doesn't want to nourish their lashes?), one swipe of the presoaked Pixi Lash Nourish Makeup Remover Wipes ($10) will hook you. The round pads are loaded with aloe vera and botanical oils (like olive, argan, and castor) that soothe and condition lashes and lids as you wipe away the beauty artistry of the day.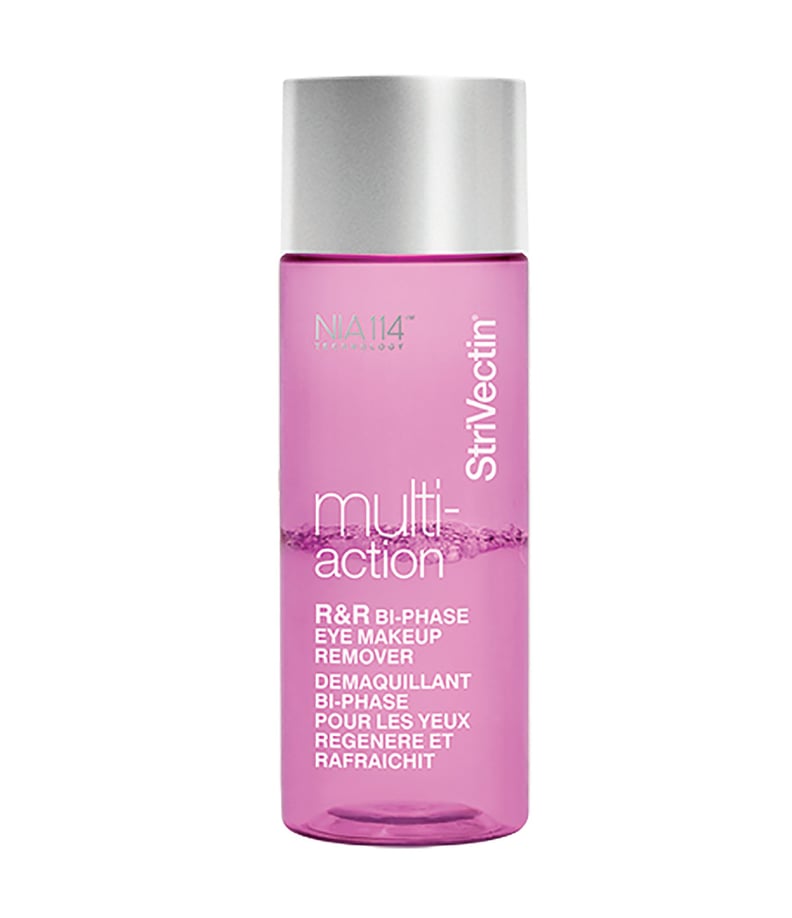 StriVectin Multi-Action R&R Bi-Phase Eye Makeup Remover
This overachieving formula ($25) combines the gentle makeup-melting benefits of a reliable waterproof eye makeup remover with the skin-loving elements of a fancy treatment essence. Packed with a cocktail of fancy oils and extracts (including evening primrose, watermelon, and sunflower), the formula leaves your delicate eye area makeup-free, soothed, and hydrated all in one easy step.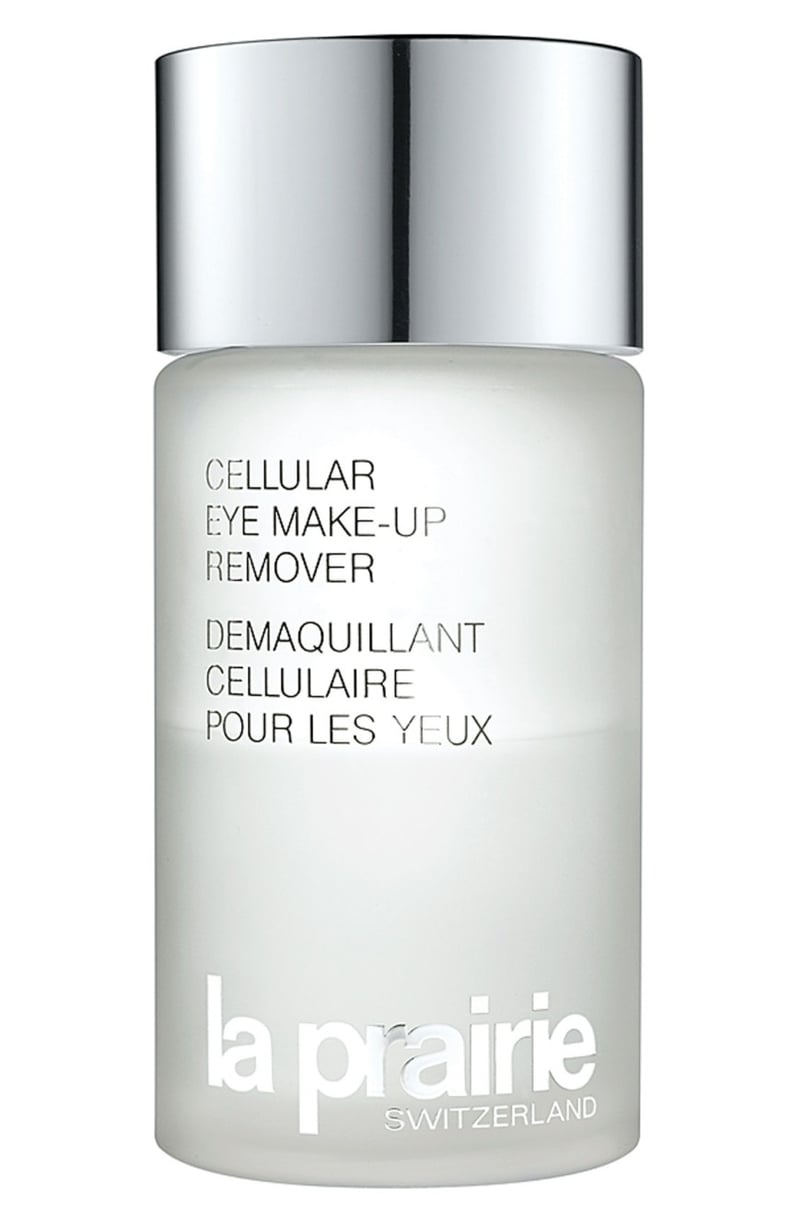 La Prairie Cellular Eye Makeup Remover
We know what you're thinking: $65 for a bottle of eye makeup remover? Yes, it's a splurge, but it's an investment that will spoil your skin for months. The pretty glass bottle will last you a lot longer than you think — I'm going on my fourth month with plenty of formula left to go. And you'll have a hard time regretting the cost as you wipe away that smudge-proof smoky eye with a single swipe. It even makes lashes feel conditioned and reduces puffiness around the eyes (thank you, rose flower extract!).
Maybelline Expert Eyes Oil-Free Eye Makeup Remover
This no-fuss fragrance-free eye makeup remover ($4) may look basic, but it has serious makeup-dissolving powers that lift away everything in its path without leaving a slimy residue in its wake. And for less than five bucks, what else could you ask for?

Dermalogica Soothing Eye Make-Up Remover
As a contact lens wearer, I genuinely appreciate a nonirritating eye makeup remover that will wipe away makeup without sending me into a "contact attack" burning frenzy. This advanced formula ($25) includes silk amino acids that smooth skin texture, condition under the eyes, and even strengthen lashes sans sting.
Yes to Cotton Comforting Eye Makeup Remover Pads
Yes, they're as soft, gentle, and comforting as they sound, and that's precisely what we love about them. Formulated with cottonseed oil, these conveniently sized eye-makeup remover pads ($8) wipe away a smoky eye with ease and offer a cocktail of soothing and calming properties (like vitamin E and omega 3s) so there's no burn or sting, even for you extrasensitive types.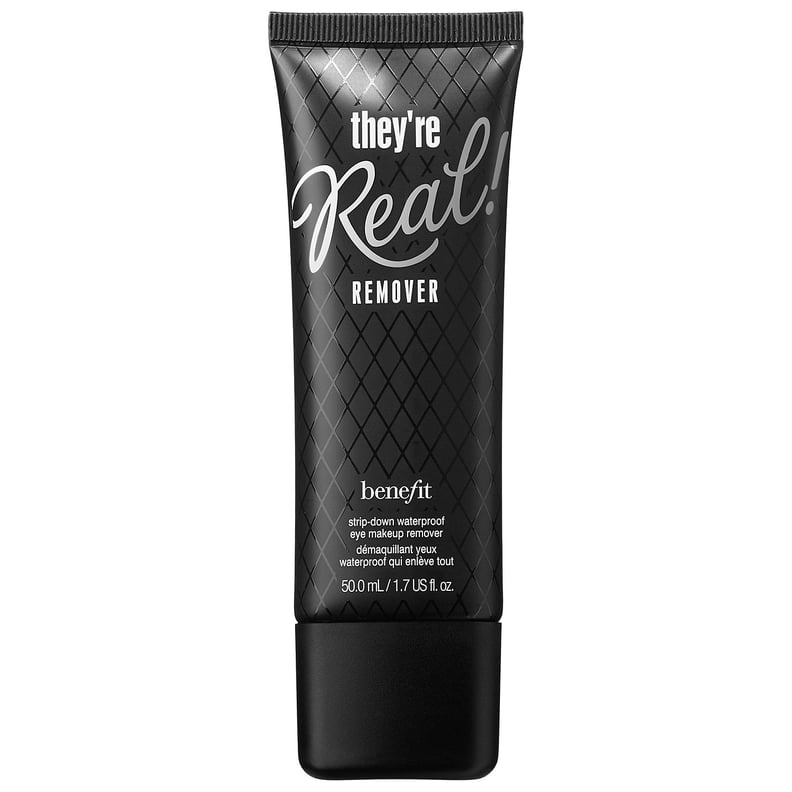 Benefit They're Real Eye Makeup Remover
If you've ever tried to get Benefit's They're Real Mascara off of your lashes, you know it's no easy feat (yet a struggle well worth enduring for a long, voluminous flutter). Leave it to a remover that shares the same name to dissolve all that dark, inky goodness without so much as a tug. The cream-based formula ($12, originally $18) gently lifts away waterproof everything, leaving eyes feeling hydrated instead of stripped of all moisture.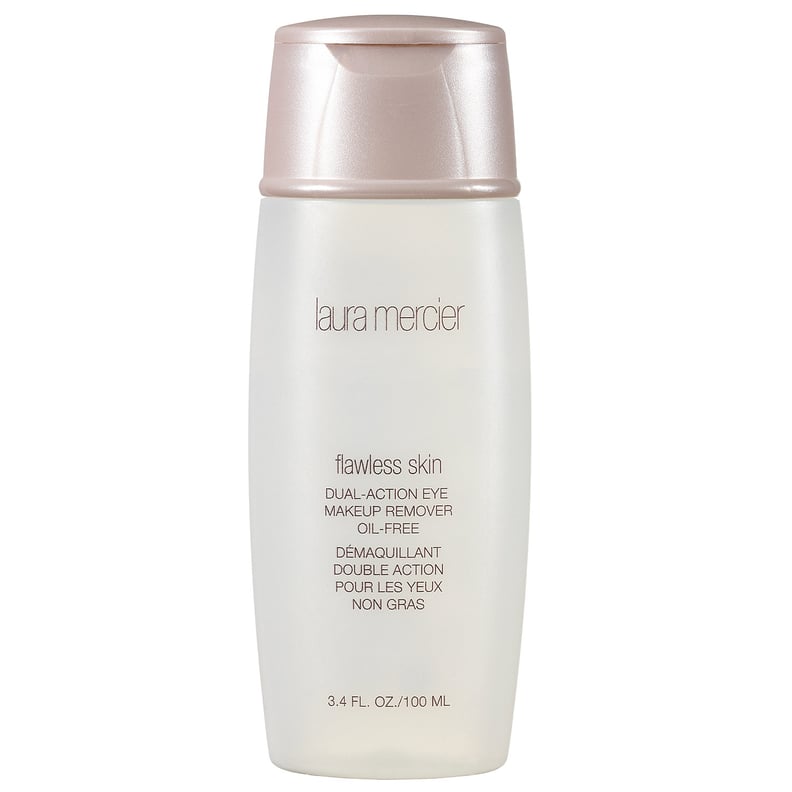 Laura Mercier Flawless Skin Dual-Action Eye Makeup Remover Oil Free
There is something about the pretty, minimalist packaging that instantly transforms the daily chore of makeup removing into a skin-pampering experience. The fragrance-free, oil-free formula ($24) makes it extra gentle for rubbing around the eyes (and extra soothing, thanks to cucumber extract), but don't let that fool you. It whisks away your eye makeup as well as any other all-star in this lineup.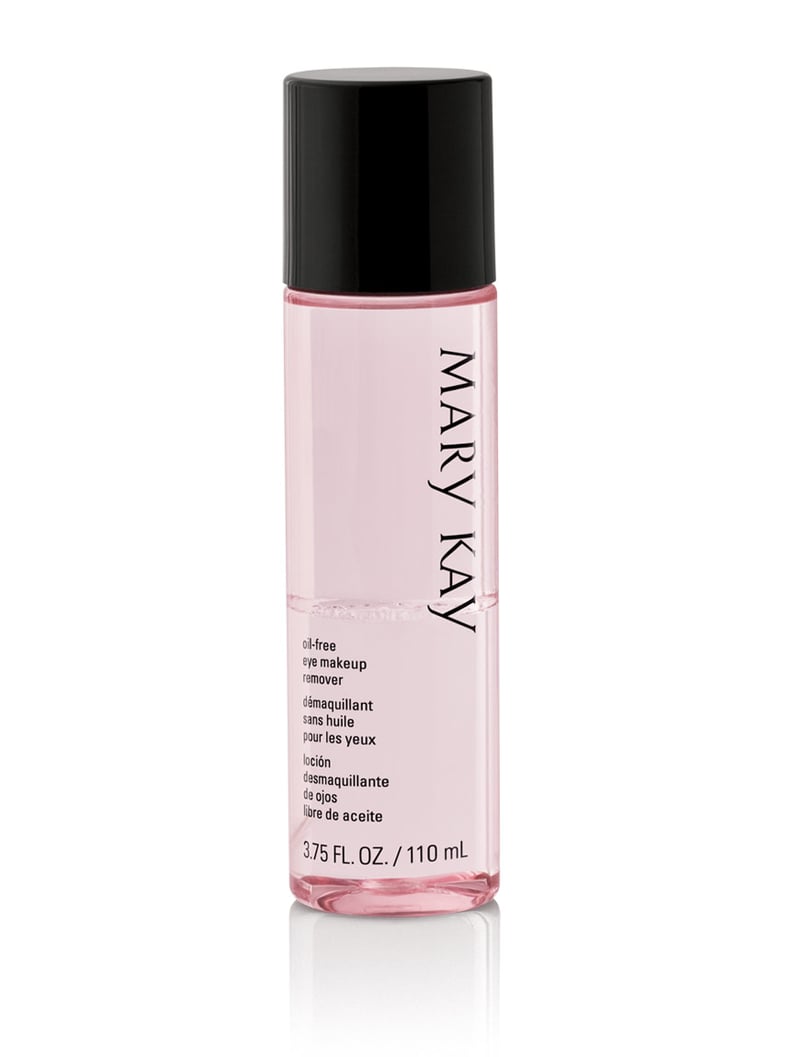 Mary Kay Oil-Free Eye Makeup Remover
The Mary Kay Oil-Free Eye Makeup Remover ($15) has adopted a cult following, and it's easy to understand why. It somehow manages to wipe away any and all signs of that sizzling smoky eye without leaving skin slick or greasy.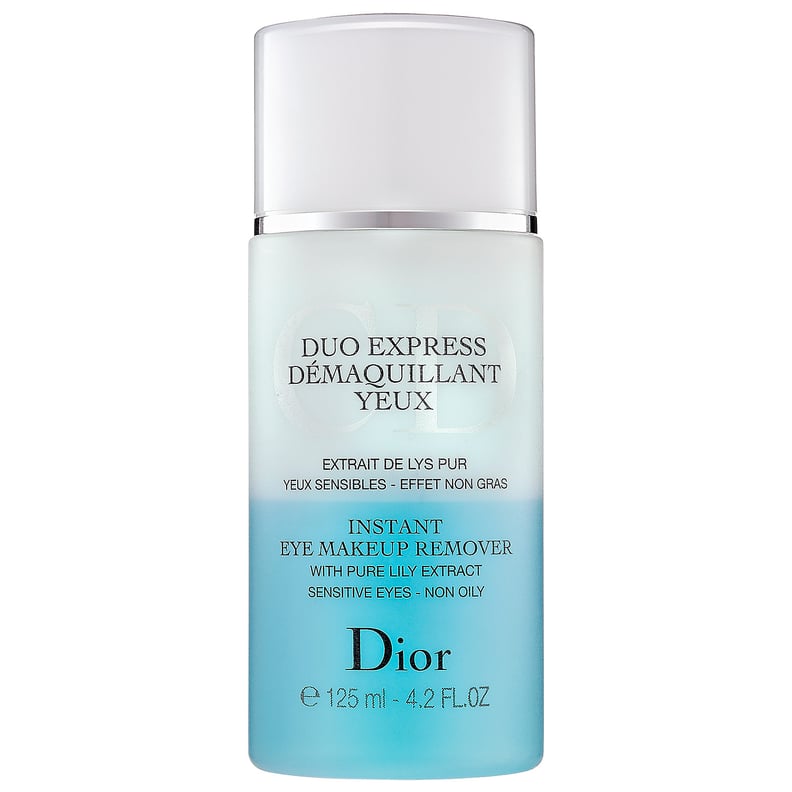 Dior Duo Express Instant Eye Makeup Remover
This Dior Duo Express Instant Eye Makeup Remover ($30) is spiked with pure lily extract, which soothes and softens as you wipe away any traces of a night out. The nonoily formula removes waterproof everything just as well as any quality eye makeup remover, and thanks to the extra hydration, lashes and lids are left feeling silky and conditioned.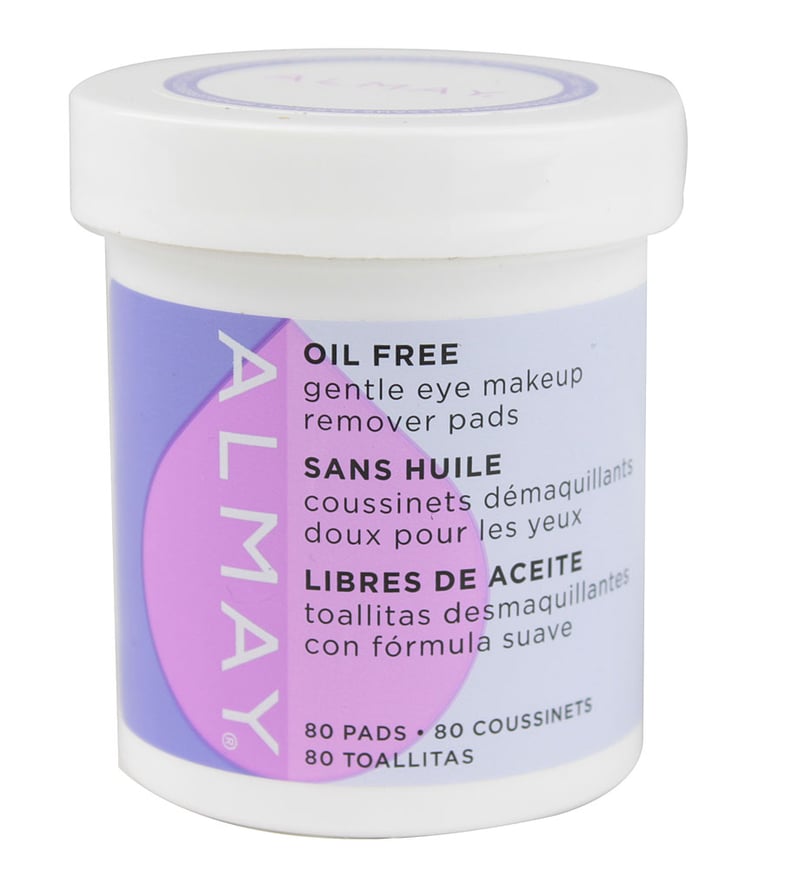 Almay Oil-Free Gentle Eye Makeup Remover Pads
There's a reason these little cotton pads ($6) have maintained their spot in almost every beauty editor's lineup for over a decade. Not only do they wipe away waterproof and smudgeproof liner without all the aggressive rubbing, but they also feature cucumber and green tea extracts that help to instantly brighten skin.