10 L'Occitane Skincare Saviors Every Wannabe French Beauty Girl Needs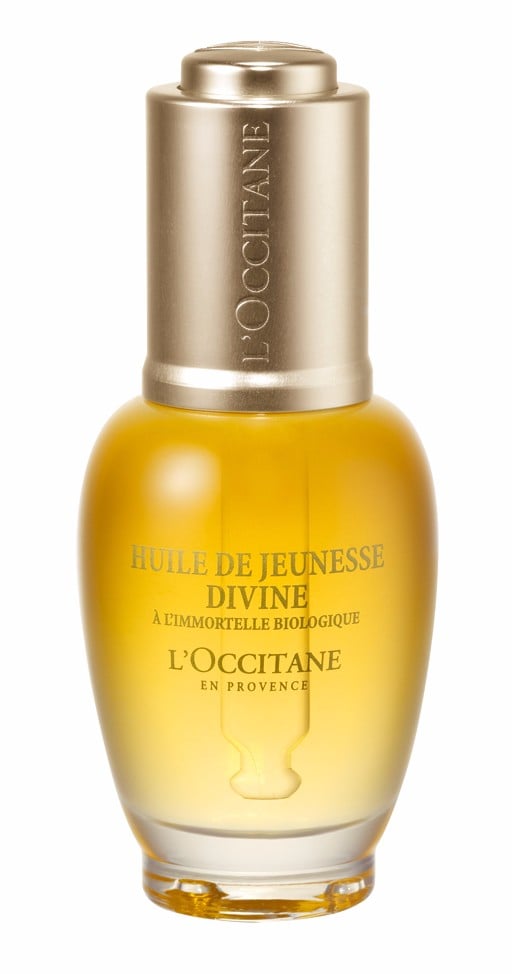 As POPSUGAR editors, we independently select and write about stuff we love and think you'll like too. If you buy a product we have recommended, we may receive affiliate commission, which in turn supports our work.
If Belle from Beauty and the Beast were real, I bet her favorite skincare brand would be L'Occitane. Both the Disney princess and the line hail from Provence, France. I imagine Belle using the lovely scented products on her delicate skin. When I say these products smell fantastic, I mean it!
I've actually been to the South of France with L'Occitane to see how the products are harvested. Ingredients like lavender and almond oil truly hail from Provence and offer outstanding skincare benefits. The gorgeous yellow immortelle flower is the star of the newly relaunched antiaging line (out this September). Keep reading to learn about the relaunch as well some of my favorite products from this beloved heritage brand.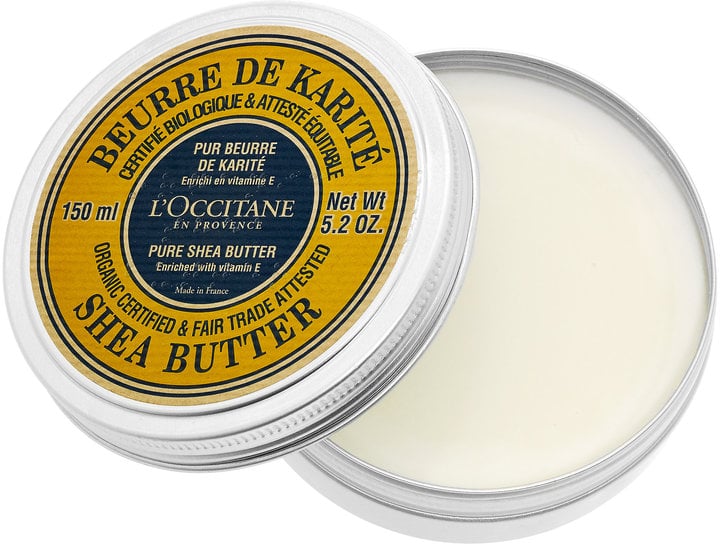 L'Occitane 100 Percent Pure Shea Butter
There's just one ingredient in this little pot of joy: organic shea butter. L'Occitane is known for its shea-butter-infused products, but owning the it in its purest form has many benefits. This do-it-all balm is a must pack for trips (especially long flights) to keep lips, cuticles, elbows, and any other dry spots nourished. You can also swipe it on your eyebrows to tame them.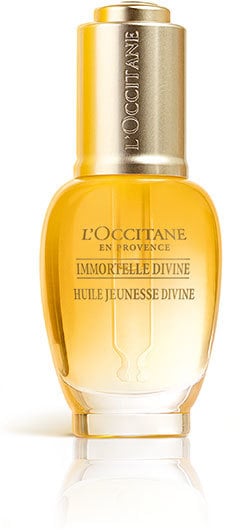 L'Occitane Divine Youth Oil
The immortelle flower is a star ingredient in many of L'Occitane's skincare offerings. It's known as the everlasting flower since its vibrant yellow color doesn't fade — even after it has been picked. The flower itself is rich in essential oils, and when combined with other oils (as it is here), it's a true power. Add a few drops to your palms, rub them together, and pat the luxe oil into your face. You can also cocktail it with your favorite moisturizer to bump up its hydrating factor.

L'Occitane Almond Shower Oil
This is my favorite L'Occitane product of all! The sweet almond scent is just as decadent as the formula. It starts as an oils and lathers into a light foam, so you can even use it as a shaving cream. It leaves skin with a slight fragrance and moisturized feeling.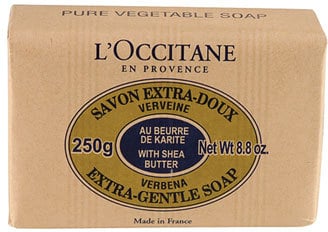 L'Occitane Verbena Shea Butter Extra Gentle Soap
Verbena is one of the ingredients harvested in Provence and beloved for its fresh lemon scent. While verbena is used in many L'Occitane products (including a perfume!), when combined with shea butter in this soap, it's heavenly on the skin. Use it in the shower and as a hand soap, or gift it to your favorite hostess.

L'Occitane Immortelle Precious Mist
There are many face mists on the market, but this one — infused with immortelle floral water — is especially aromatic and nourishing to your skin. Try it on a trip, after the gym, or anytime you feel sleepy at your desk.
Spray it over makeup to reset and help it last longer.

L'Occitane Shea Butter Hand Cream
I could go on and on about the benefits of shea butter, but you probably should just try it yourself! This hand cream is considered a cult product from L'Occitane and offers outstanding hydration thanks to the aforementioned ingredient. The rich hand cream contains shea butter, honey, sweet almond extract, and vitamin E. The essence of jasmine and ylang-ylang gives it a slightly floral aroma.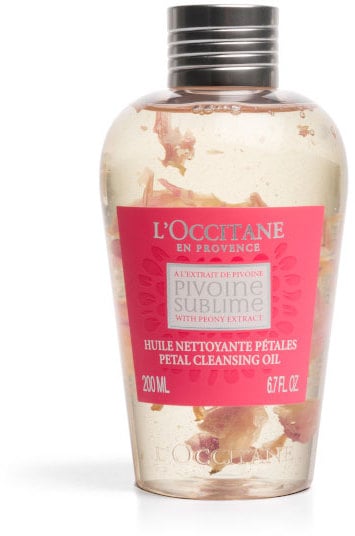 L'Occitane Peony Petal Cleansing Oil
Actual dried flower petals from Provence infused in this cleansing oil make it as authentic as it gets. The velvety texture takes off all of my makeup while leaving my skin feeling dewy. Also, how pretty is it displayed on your vanity?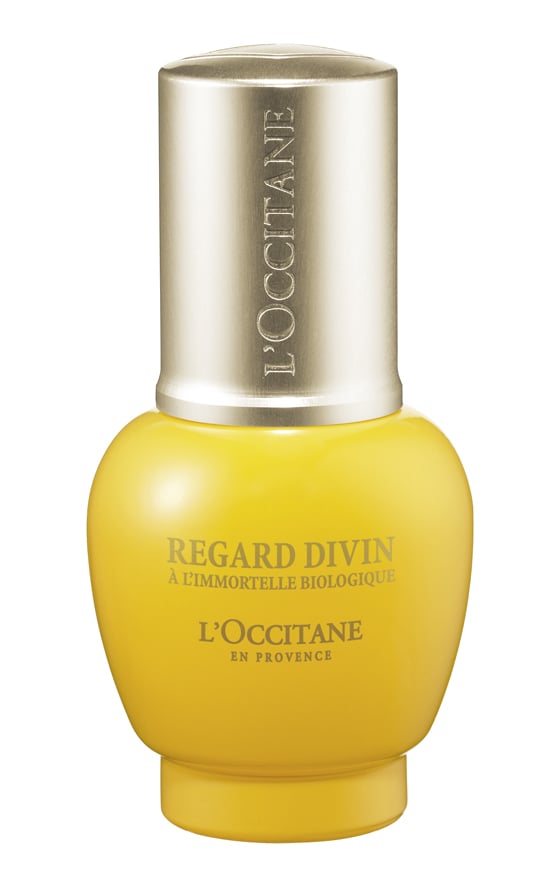 L'Occitane Divine Eyes
This serum-like eye cream instantly cools and smooths the delicate area. It's so light that it easily slides on under concealer and foundation so you can use it in the morning. And yes, it has that famous immortelle essential oil for long-term antiaging benefits.
L'Occitane Divine Eyes ($79)

L'Occitane Lavender Relaxing Roll-On
This is a product I keep by my bedside and in my travel carry-on. It's so relaxing when rubbed on temples and wrists. I love to take a sniff and enjoy the aromatic properties of lavender. Plus, the fragrance mentally brings you to Provence, which is filled with lavender fields.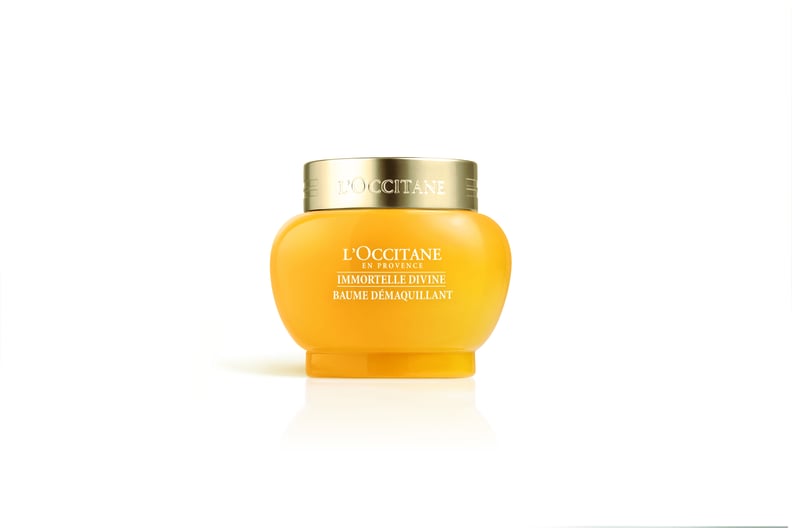 L'Occitane Divine Cleansing Balm
On Sept. 6, this new cleansing balm — inspired by Korean beauty products — launches. As an early tester, I fell in love with the soft feeling of the balm. It's not too sticky or too tough to break down. Put it on dry skin, massage it in, add water, and watch it transform into an oil that makes makeup slide off your face.
L'Occitane Divine Cleansing Balm, available at loccitane.com on Sept. 6 ($44)